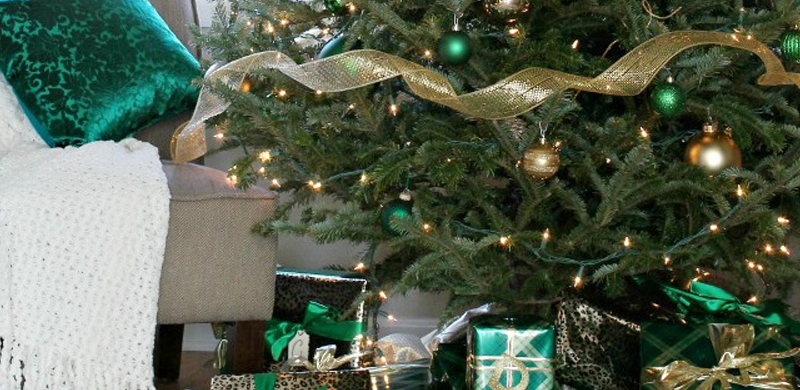 12 Dec

10 Budget Friendly Christmas Entertaining Ideas

Hey party people!

This season is not only the entertainer's moment to shine. Just about everyone will have to put on that hat from now until the New Year.

How do you keep the budget under control while doing that? Here are 10 Budget Friendly Christmas Entertaining Ideas and Tips to get you started: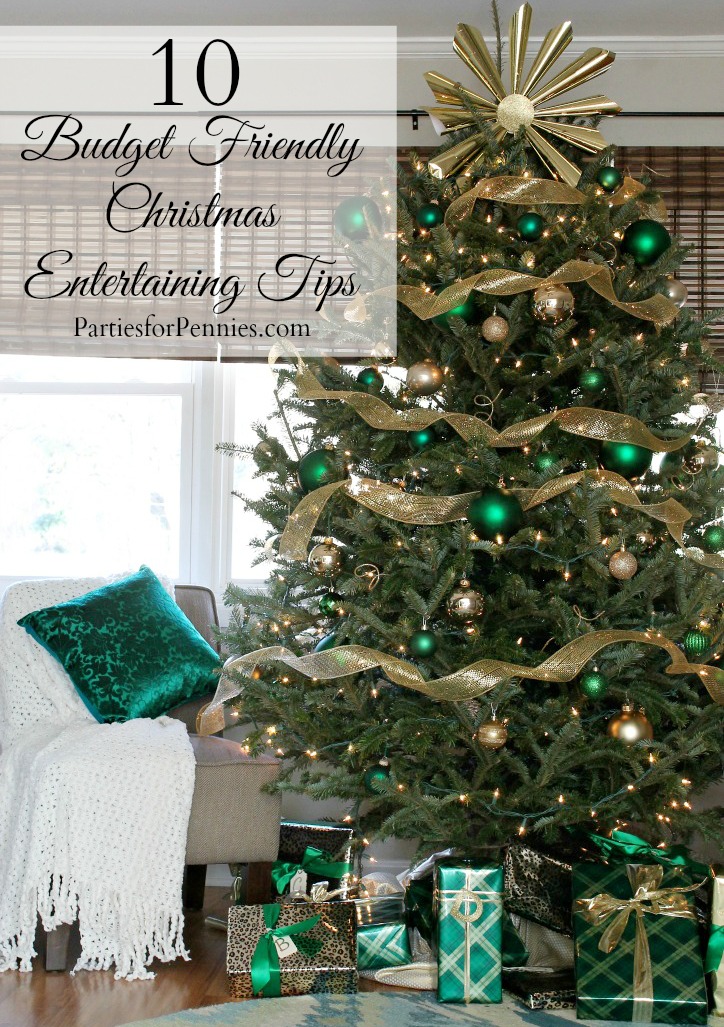 1 | Plan out a landing zone. 
From the moment your guests walk in the door, plan out a place for them to hang their jackets and purses. This doesn't have to be anything elaborate. You can simply designate the bed in your guest room but think about this ahead of time so you have one centralized place.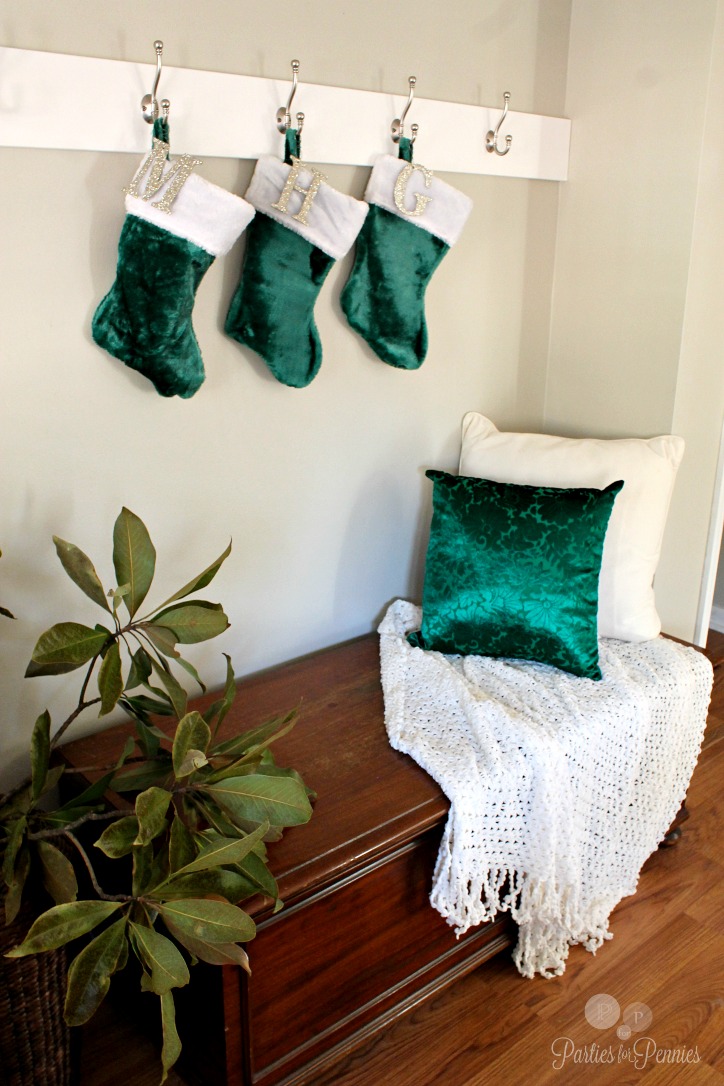 I adore those beautiful bench and hanging rack pieces but in order to save some money, we created our own by using an old family cedar chest, a wide mdf board, & some coat hooks. It cost us less than $40 to create our imitation.
2 | Bring In the Outdoors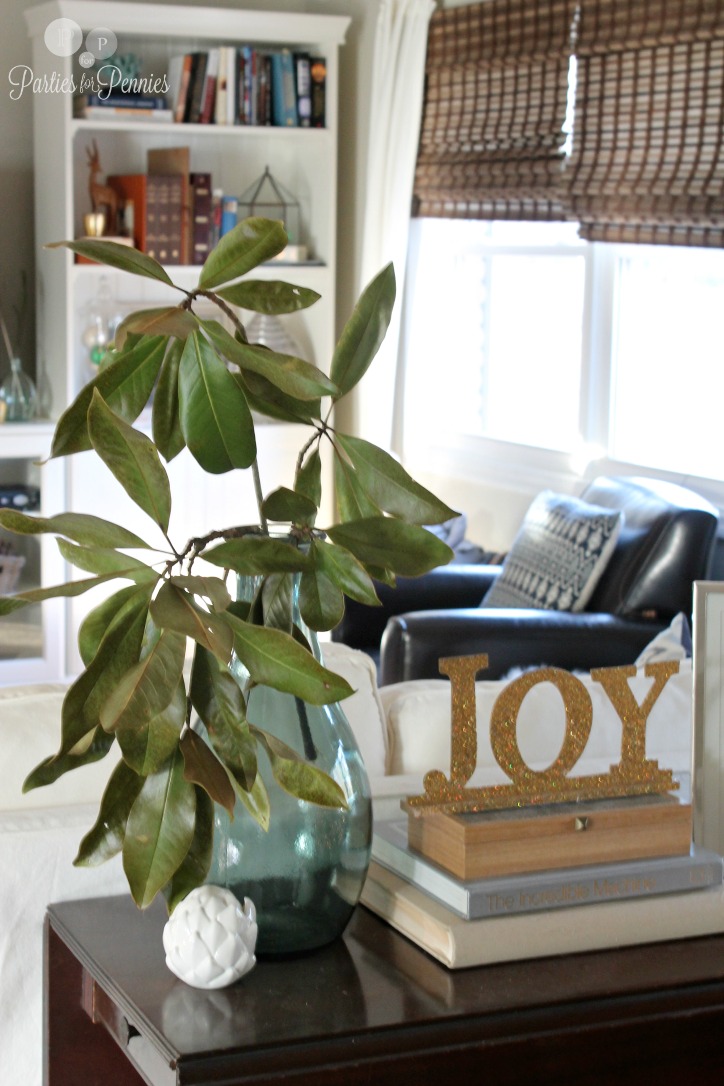 When you're having someone come to your home, for a party or just for some hot chocolate, you want your home to feel welcoming and calm. One of the best ways I like to create that environment is with greenery. There's a reason why people say they feel at peace out in nature. It evokes a sense of calm.
These magnolia branches are from the tree in our yard. I spread them out throughout our home and all it cost me was 10 minutes and a little wrestling with our garden shears. You can do the same thing with pine branches too.
3 | Multi-Purpose Wrapping Paper
One thing that's super inexpensive that you always have on hand during the holidays is wrapping paper!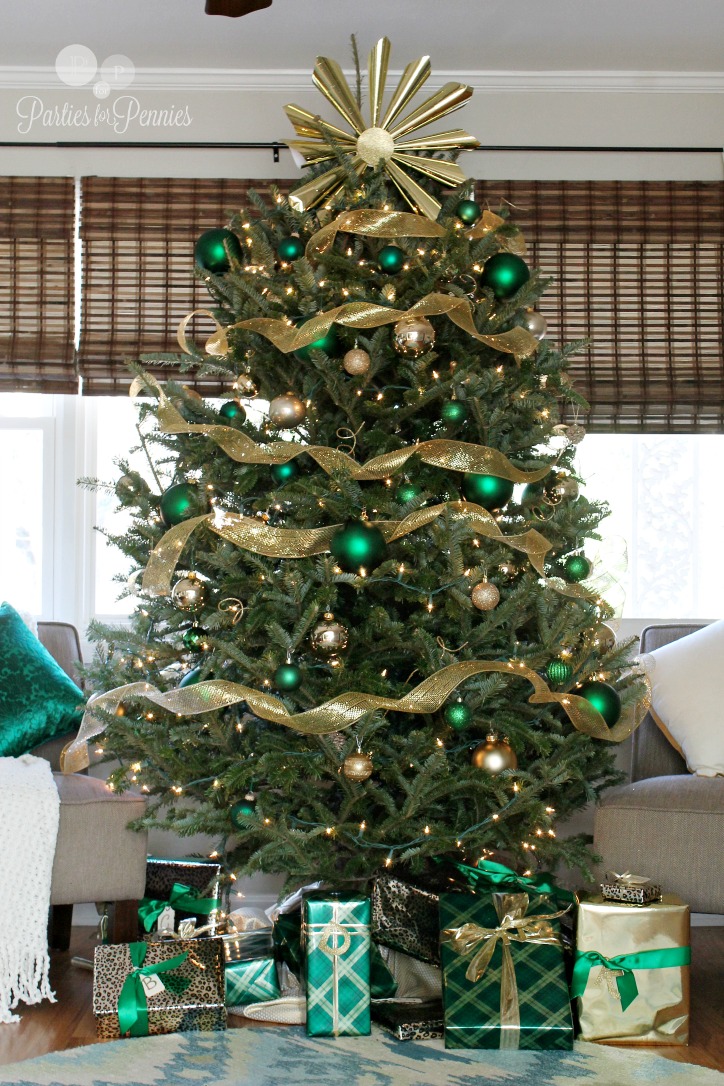 Not only can you use wrapped gifts throughout the house as decorations, but you can use wrapping paper –
 as a table runner,
cut it in strips & loop together to create a gigantic bow,
serving tray liners,
create festive vases by wrapping plain vases in wrapping paper secured with double-sided tape,
make cones out of them & stuff with candy or treats as a party favor,
or create a tree topper…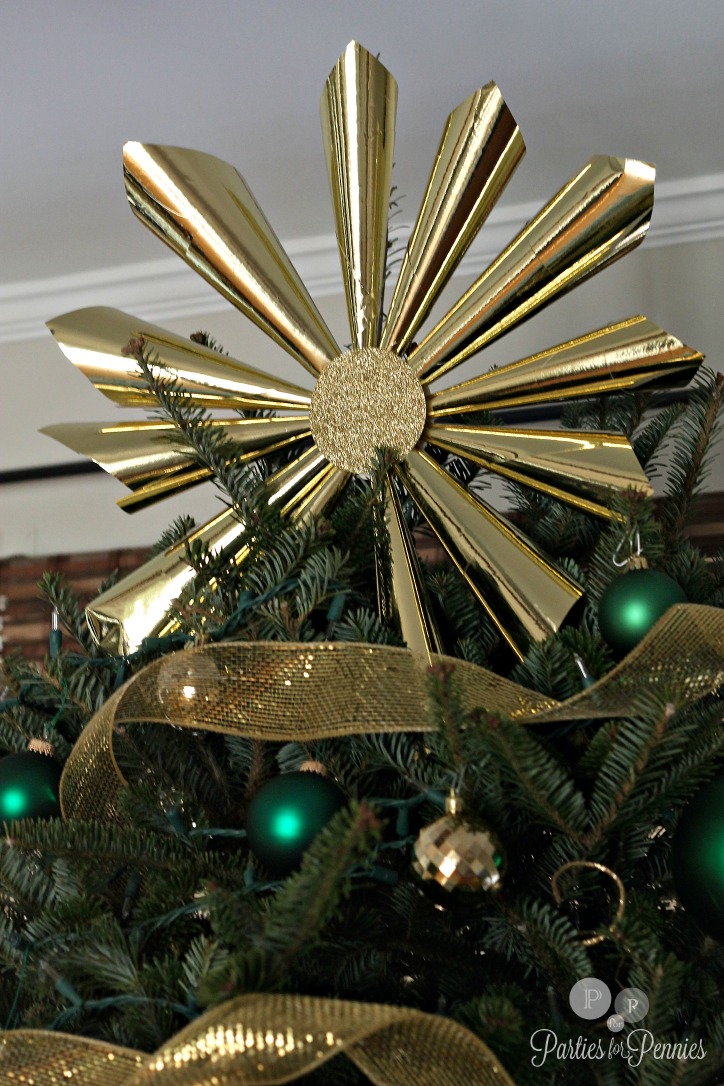 …like ours.
I didn't have a gold tree topper for our green & gold decor. I already felt like I had spent enough of my budget on the green ornaments so I made my own tree topper from gold wrapping paper.
I simply cut a 7×7 square out of the paper, formed it into a cone, secured with tape and hot glued to a circle of cardstock. I kept going around until I had it filled up, then I placed a sparkly gold circle on top with a glue gun.
If you're throwing a Christmas party or holiday get together, grab a few rolls of wrapping paper (maybe two patterned & one solid…like my leopard & plaid paper with the gold/green) and use that to decorate your entire party table! You could literally decorate an entire event with a few rolls of wrapping paper!
4 | Have Some Treats on Hand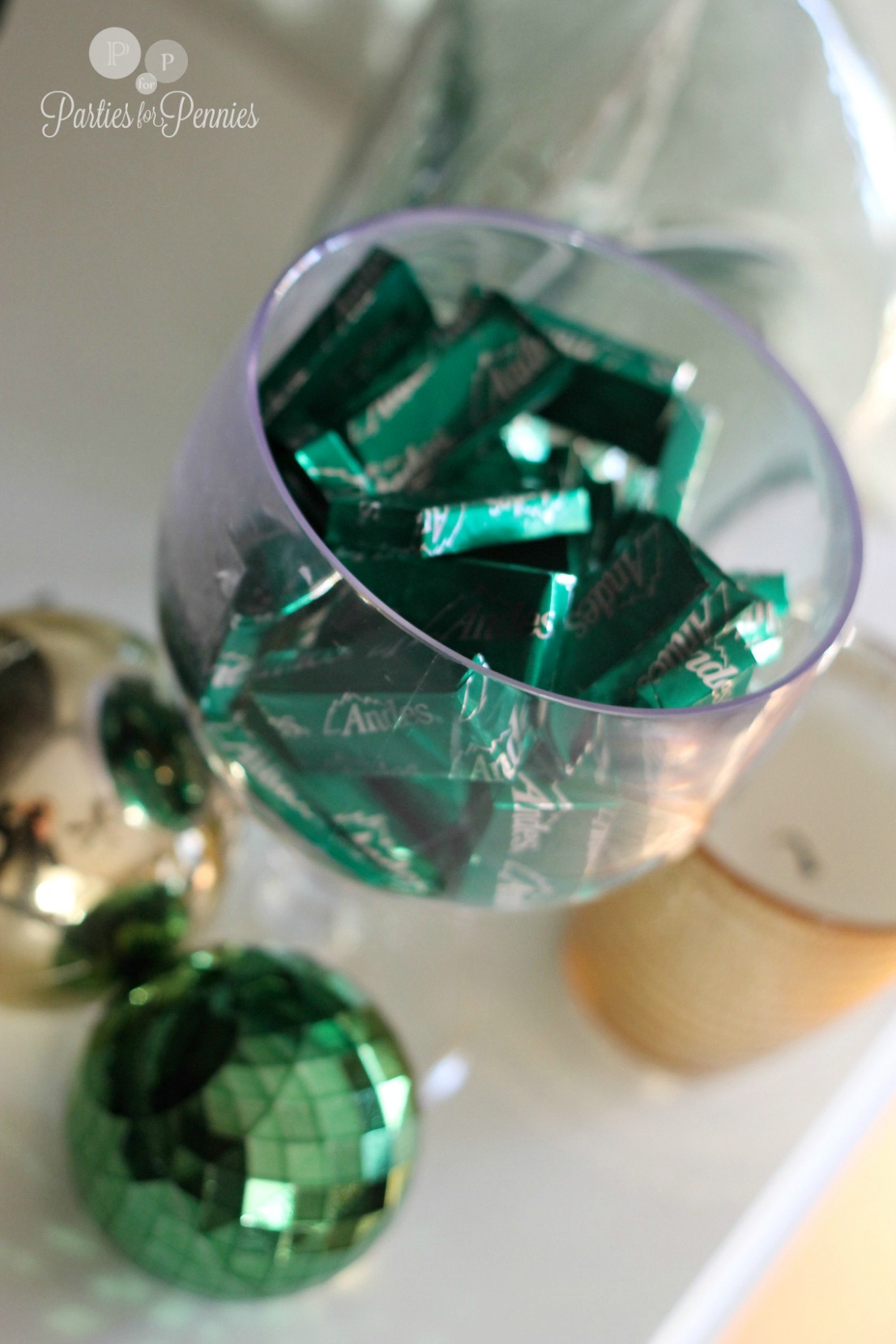 Is the family coming over after the Christmas production? Make it easy on yourself by serving some drinks and have ready to go treats throughout your house. Not only does it add to your festive decor but it makes it easy to grab and place on a tray of coffee for the munchies.
5 | Ready to Go Beverage Station
Nothing is more comforting in the winter than something to warm your insides. Make it easy on yourself by setting up a little table with everything for hot chocolate or hot cider,  so all you need to do is heat up the water or milk.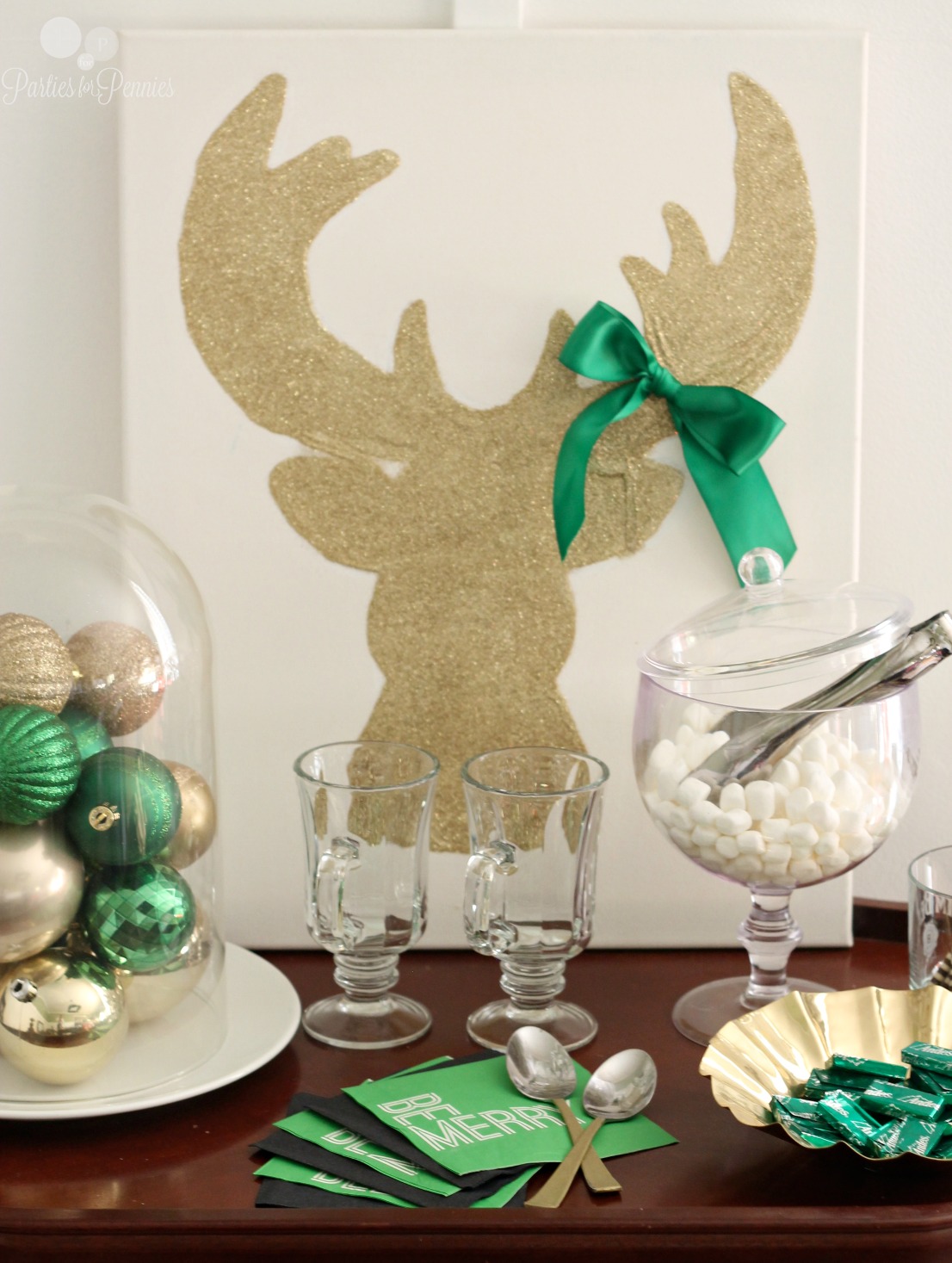 Funny side story about that gold deer: it was a fail last year but I decided to try & redeem it this year with a pretty bow.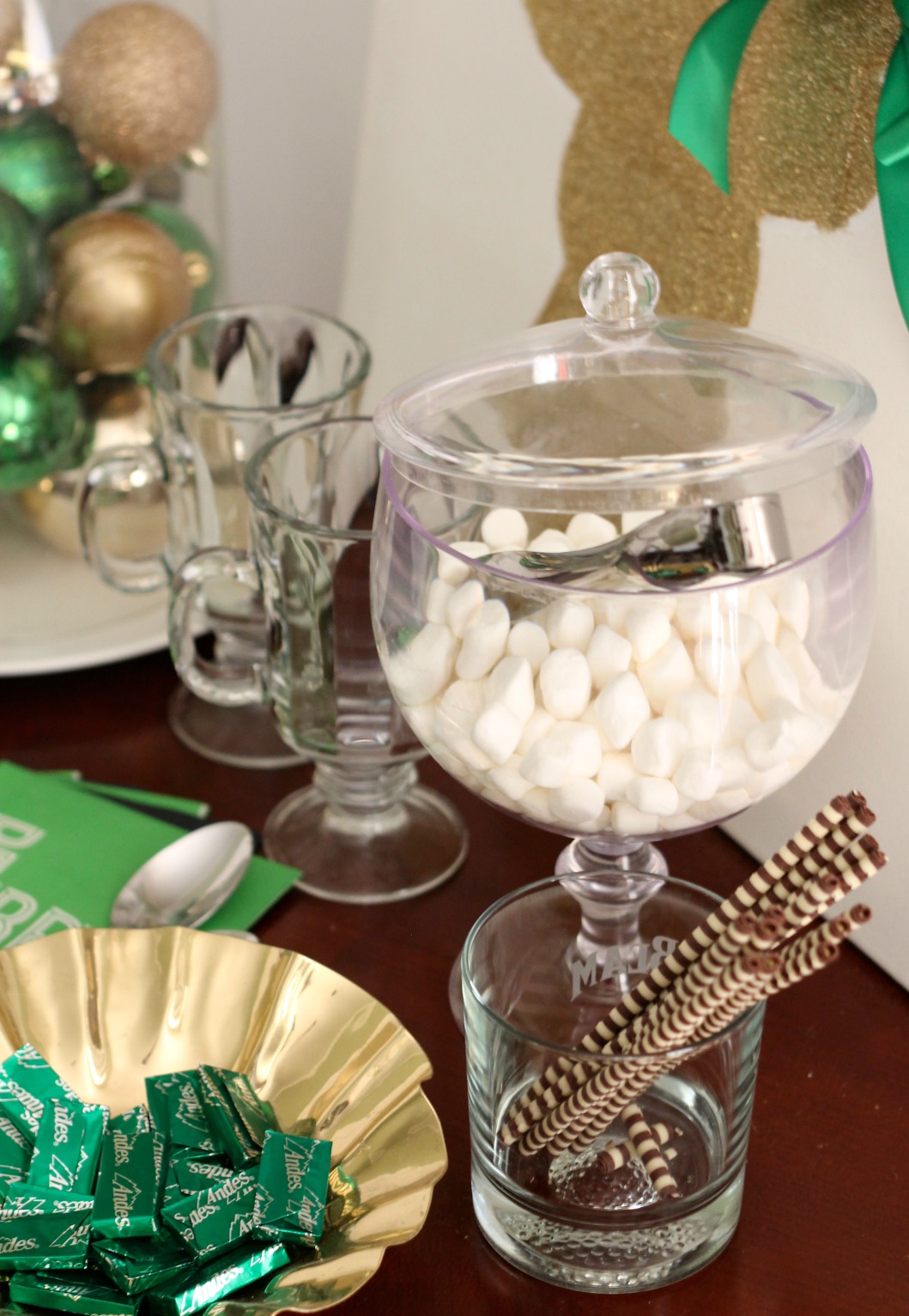 Place some marshmallows in apothecary jars (you may notice this one from this post), some chocolate stirrers, and some treats & you've got a ready to go hot chocolate station.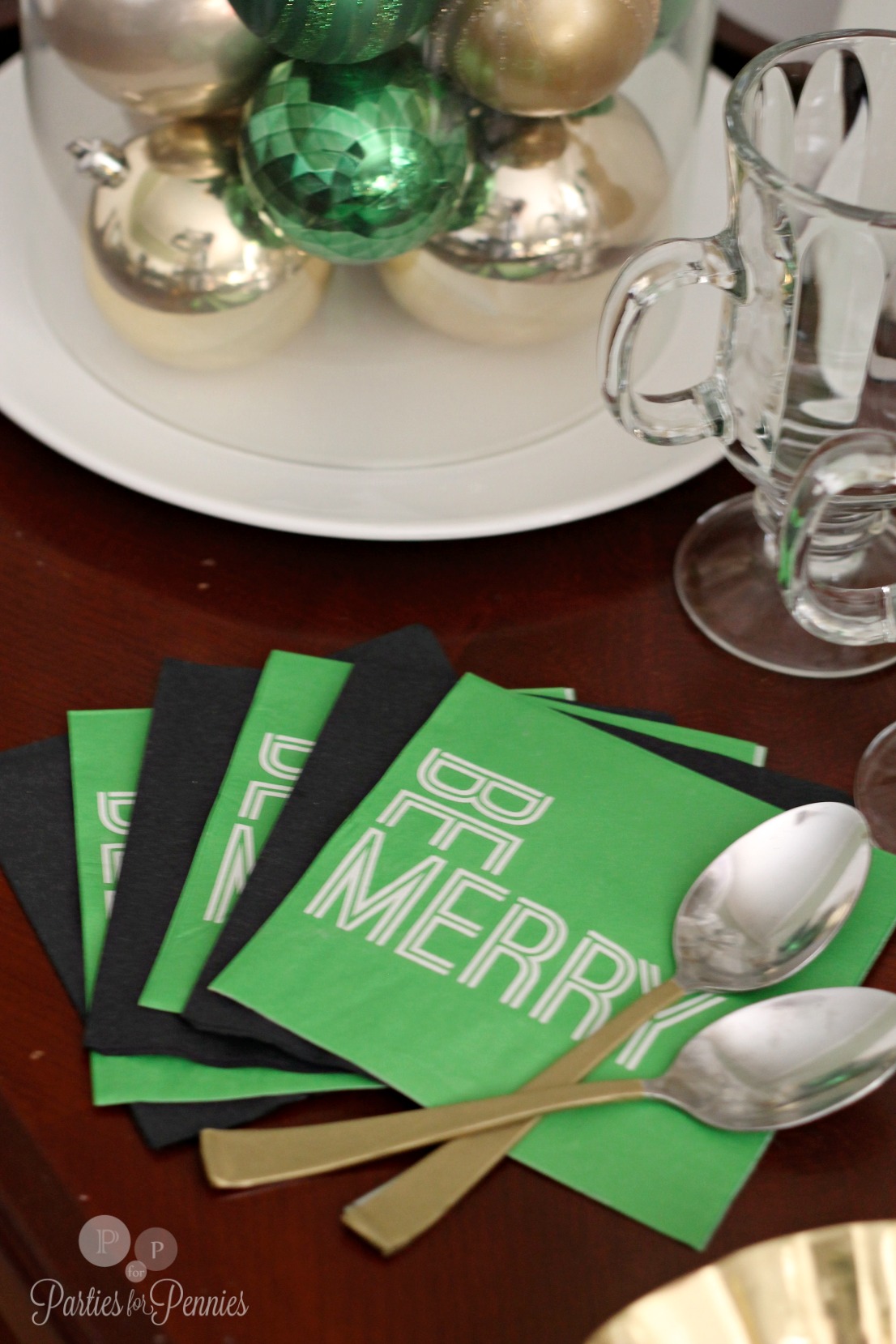 Add some cute napkins & pretty ornaments and you've got a functional & festive hot chocolate station.
If you'd like to make your own golden silverware, go here.
6 | Use Your Traditional Christmas Decorations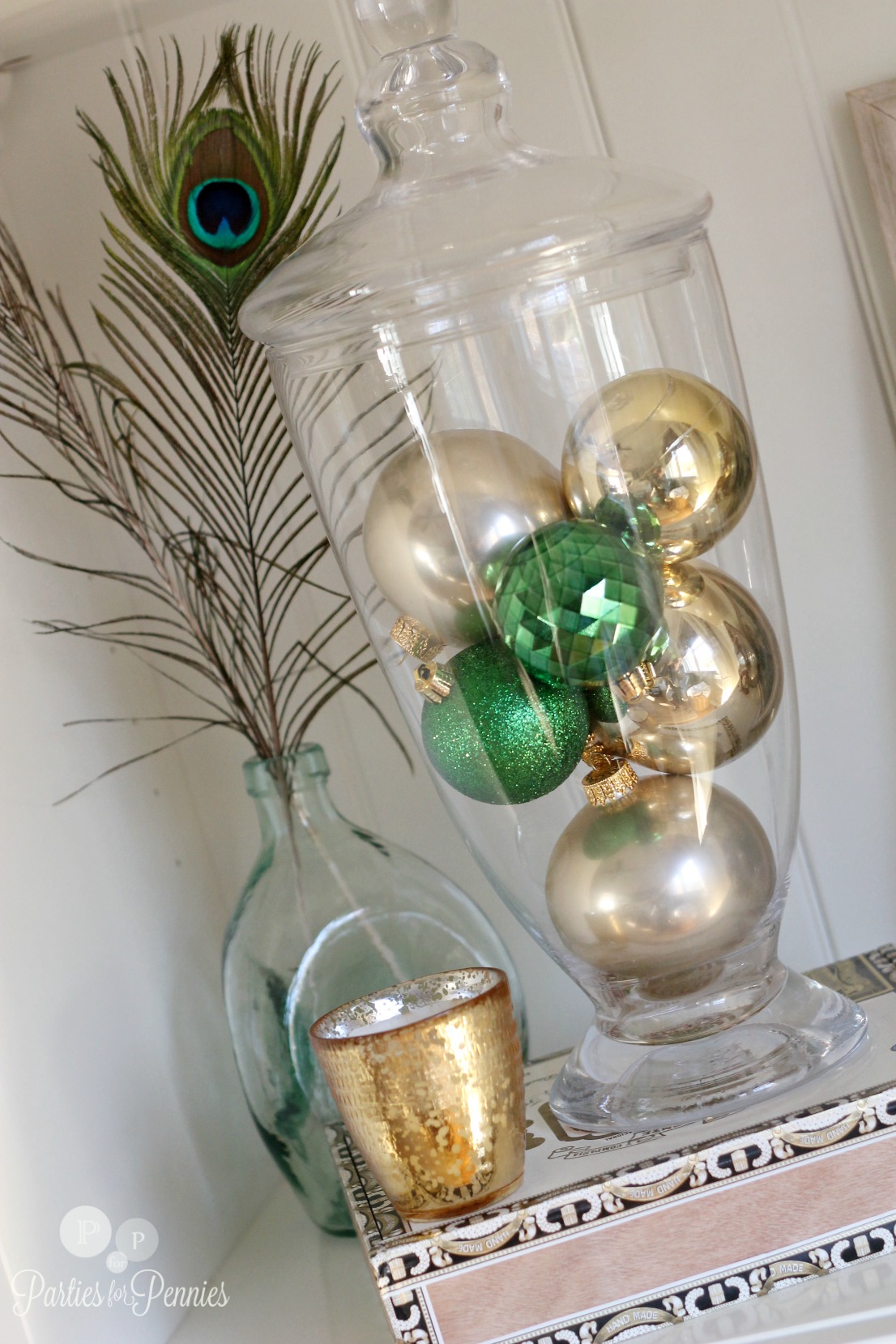 Since I just used gold & green this year, I didn't have a ton of decorations. I bought a bunch of ornaments from WalMart & the Serv Store (awesome store in Canton, Ga) and went crazy placing them wherever I could!
Add to apothecary jars, vases, bowls, baskets, etc.
Another idea is to use Christmas cards as art.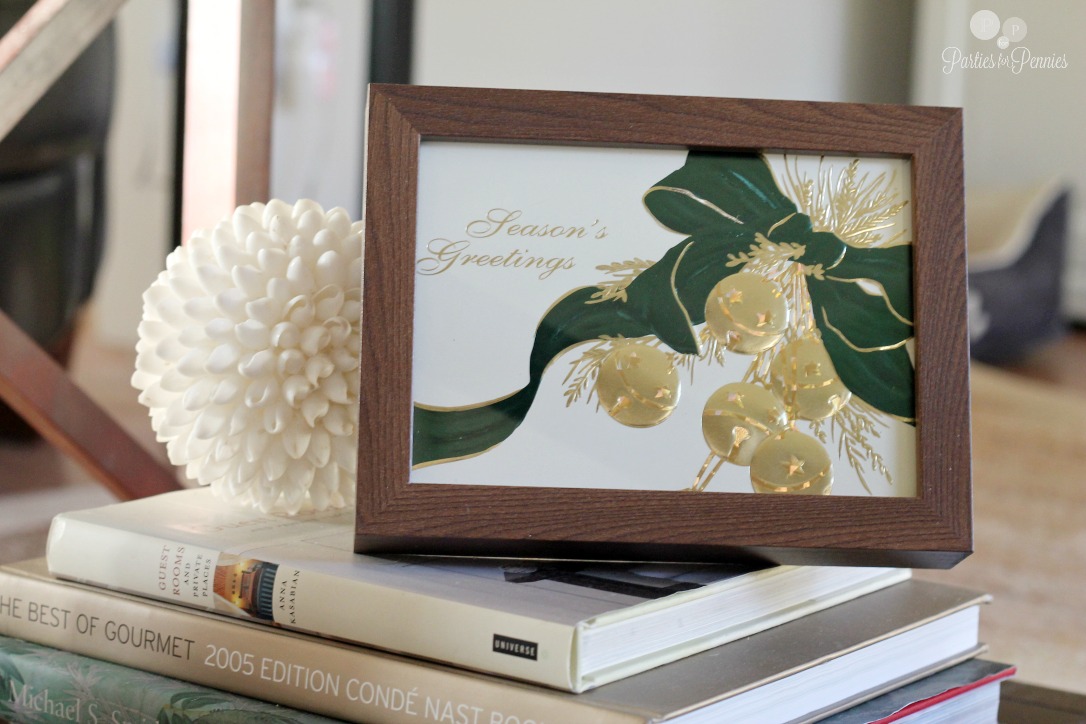 We got this card last year & it's what inspired the green and gold color scheme. I just added it to a simple Ikea frame.
This would make fun place settings, great decor for your party table, or a fun way to display the different menu items.
7 | Don't Forget the Bathroom 
Okay so this may sound weird but I'm big on making sure the bathroom my guests use feels serene & pretty.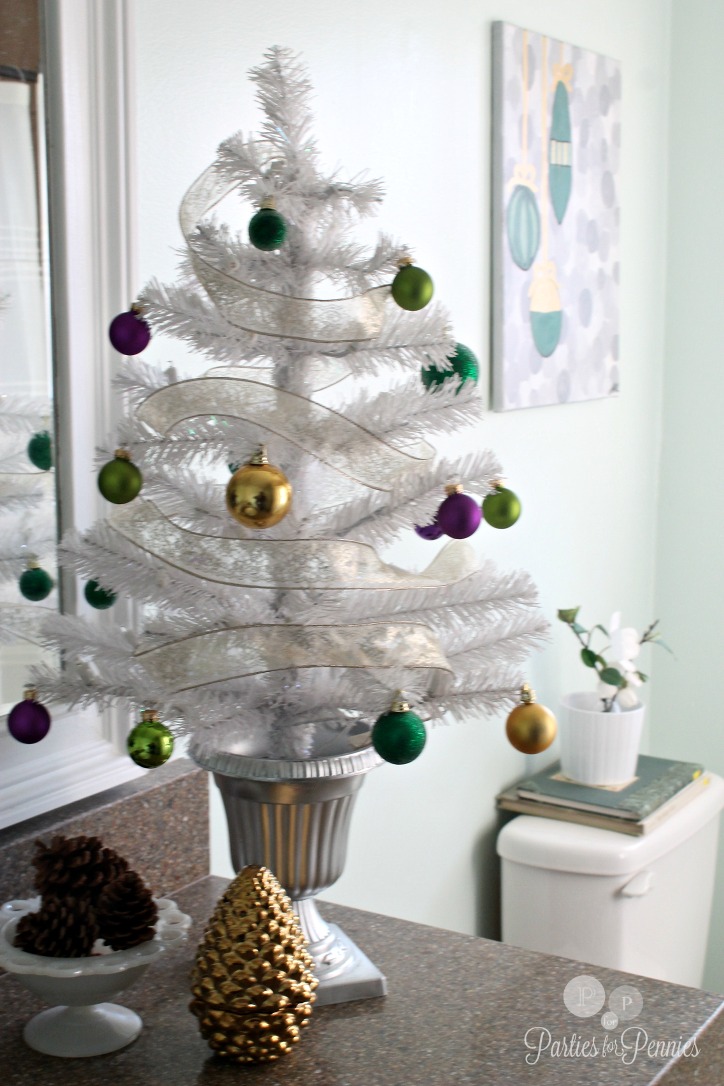 Don't leave the bathroom out of the decorating! It can be as simple as a festive candle and bowl of ornaments.
I went a little crazy and added a mini light-up tree as well as some art work.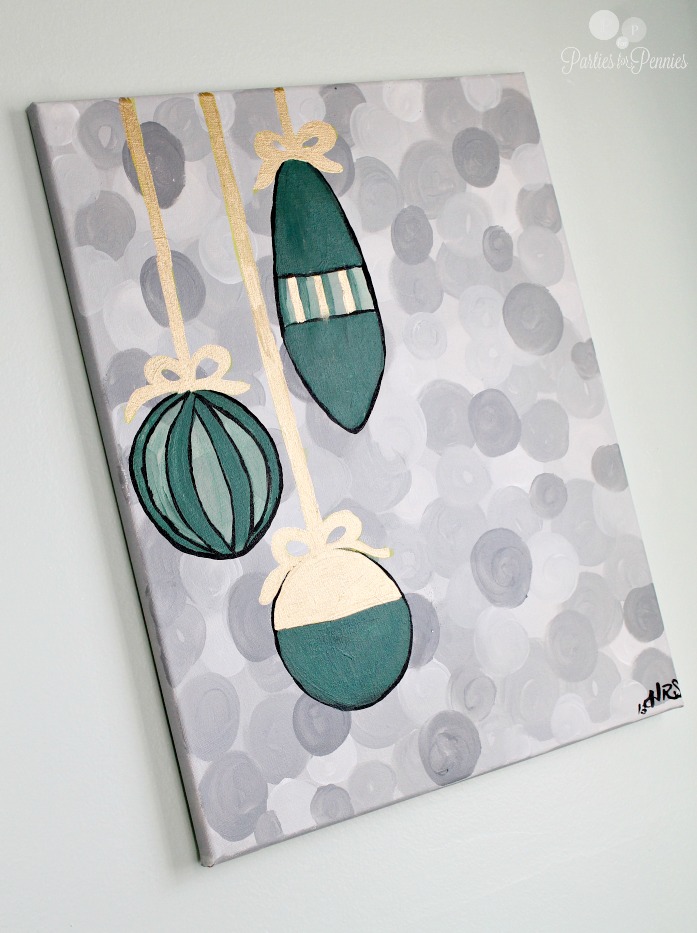 This artwork I did with my friend Kate during a Paint Nite party! It looks better if you stand back from the screen & squint a little. That's what I do when I do my own nails too.
Another tip for your bathroom is to have a little dish of peppermints. I'm being vulnerable by sharing this but when I go to the bathroom at a party or dinner, I try & do a breath check to see if the food has had an impact. I always like to keep some peppermints in the bathroom for guests so they can freshen their breath, if they need to. You can take or leave that tip.
8 | Freeze, Freeze, Freeze
I am a big proponent in freezing! Having guests over can throw you into a stress overload some times. It should not be that stressful!
For easy breakfasts, freeze muffins for up to 3 months ahead of time. Simply set them out to defrost the night before and you have a stress-free breakfast.
Do this with cookie dough, bread, etc to save you from some of that stress!
9 | Plan on One Specialty Drink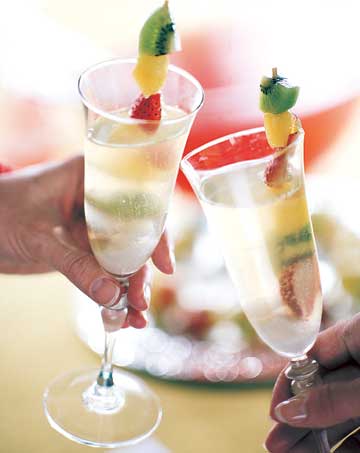 From Better Homes & Gardens with a list of 10 Holiday Drinks (non-alcoholic too)
I have fell into this trap multiple times. I try & have a ton of drink options for my guests. This can get pricey. Instead, opt for one special drink to serve, along with water  & coffee, and it will save your wallet & your stress level.
10 | Pantry to Plate Appetizers
During this season, always keep some pantry to plate appetizers on hand. What are those?
PTP apps are those that can be transferred straight from your pantry to the plate. No cooking. No stirring.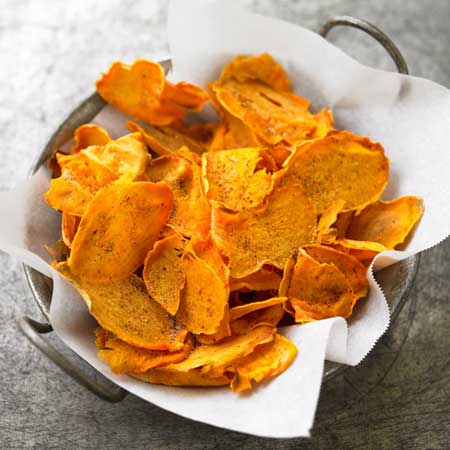 Source – Stacy Knows (Check out these spicy sweet potato chips)
An example of this are sweet potato chips! They're a little fancier than regular potato chips but just as delicious. Serve these in a collander lined with parchment paper and a side of vanilla greek yogurt topped with brown sugar & walnuts.
Having these kind of appetizers on hand will save you time and money.
Do you have any budget-friendly Christmas entertaining ideas?  Share them with us in the comments!
Speaking of appetizers…I have a round-up coming for you this Friday!
Until then…Party On!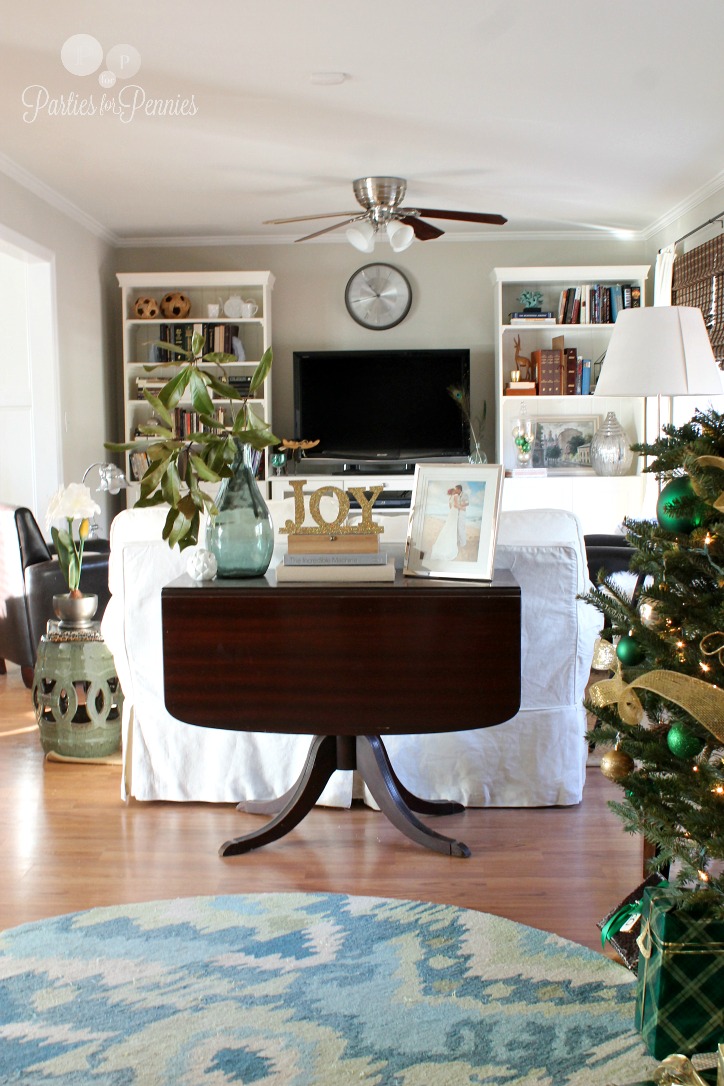 p.s. This is YOUR official invite to the party… join in on the Parties for Pennies Facebook page, Twitter, Pinterest, Instagram & Bloglovin!