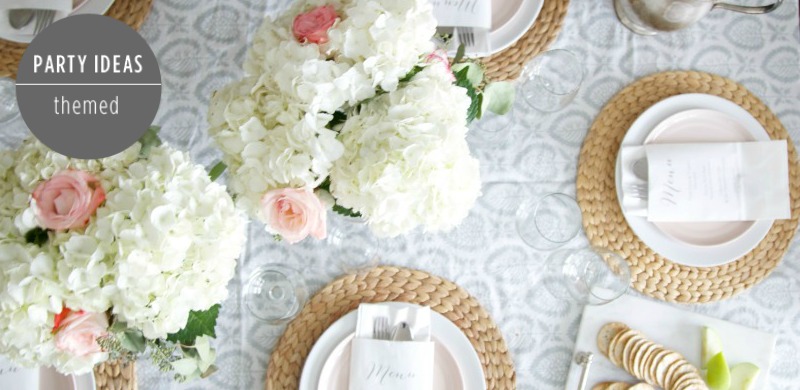 15 Jan

10 Budget Friendly Dinner Party Ideas

Hey party people!

Last weekend, I threw a dinner party for some friends. It was so fun and easy on the budget. I thought I'd share some of the budget-friendly ideas I used. Here are 10 Budget-Friendly Dinner Party Ideas to make your dinner a success!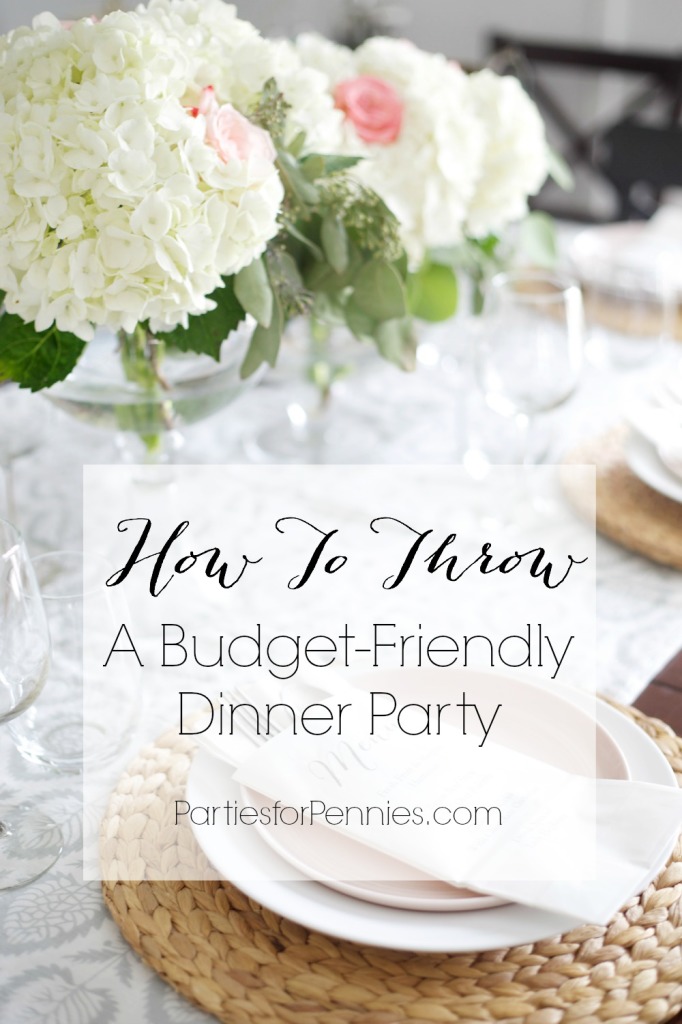 First things first. I'm a realist. Meat is expensive. I mean, when you're planning a meal for 8 people, it can really start to add up. Have you ever found a recipe that looks amazing, decide you're going to make it for people, then realize at the checkout line you will now have to take a 2nd mortgage on your house to pay for the cut of meat it called for. Happened to me. A dinner party for a total of 4 people and the meat cost me almost $70! I have learned my lesson.
Here's a list of the least expensive cuts of meat.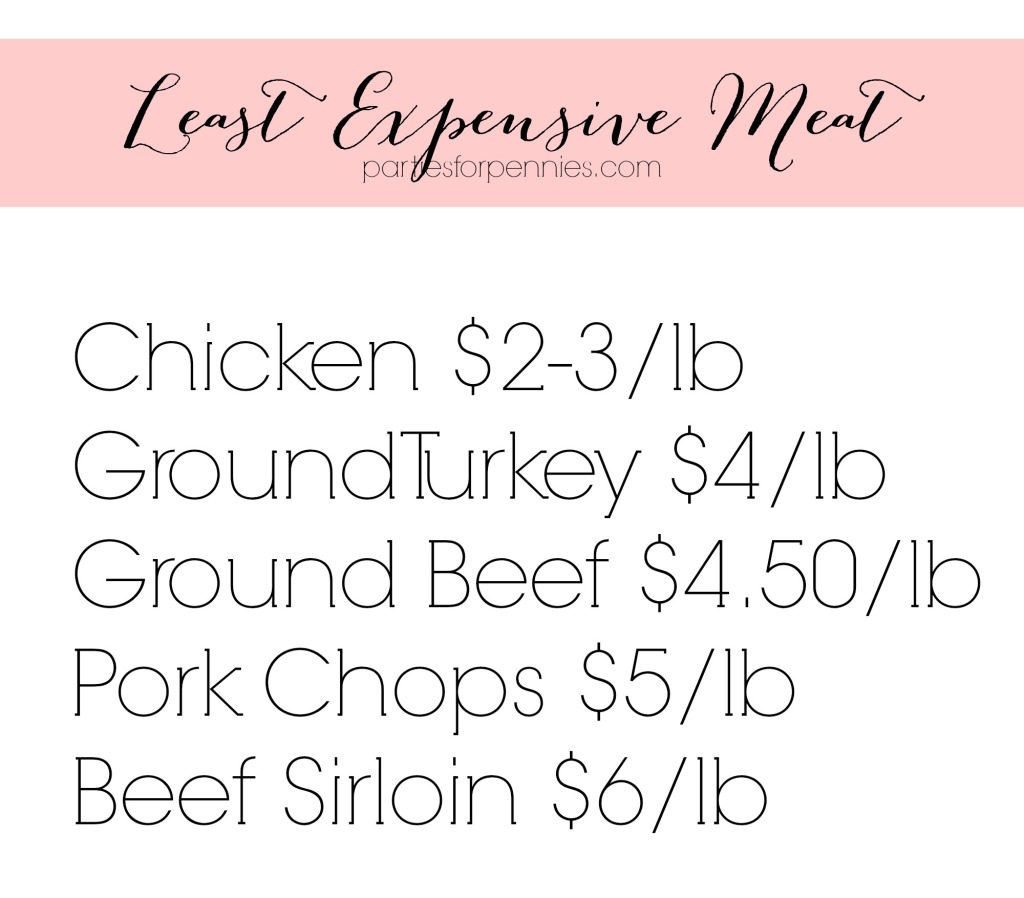 This is a guide that will help you decide what dish to make, depending on your budget. One pound can feed about 2-3 people. That, of course, depends on how much bone and fat comprise the cut of meat.
If you decide on chicken, check out recipes for whole or shredded chicken. Whole chickens are usually the least expensive per serving. An average whole chicken can feed between 6-8 people.

I should've named this "Ingredient Share." The show "Wife Swap" got stuck in my brain and then it wouldn't leave.
Basically, an easy way to save money on dinner parties is to share ingredients with other dishes. For instance, if you're using carrots in a stew for the main course, consider doing a shredded carrot salad. Making honey mustard chicken? Create a honey mustard vinaigrette for your salad.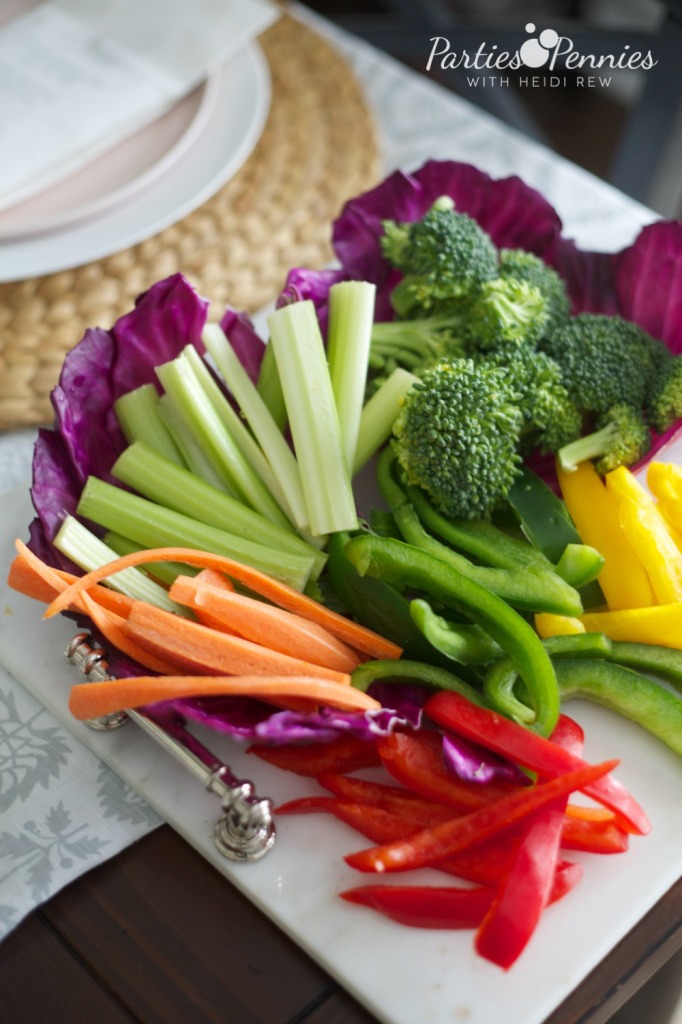 The dish I made for my dinner party was a Bacon Beef Stew that included cabbage in it. I used the cabbage leaves to display my veggie and fruit appetizer.

There is nothing better than a homemade dessert. They just taste different somehow. It's probably all the love that's thrown in. I know they take a little more time, but usually homemade desserts can be less expensive than store bought desserts. Mainly because we tend to have most of the main ingredients already on hand.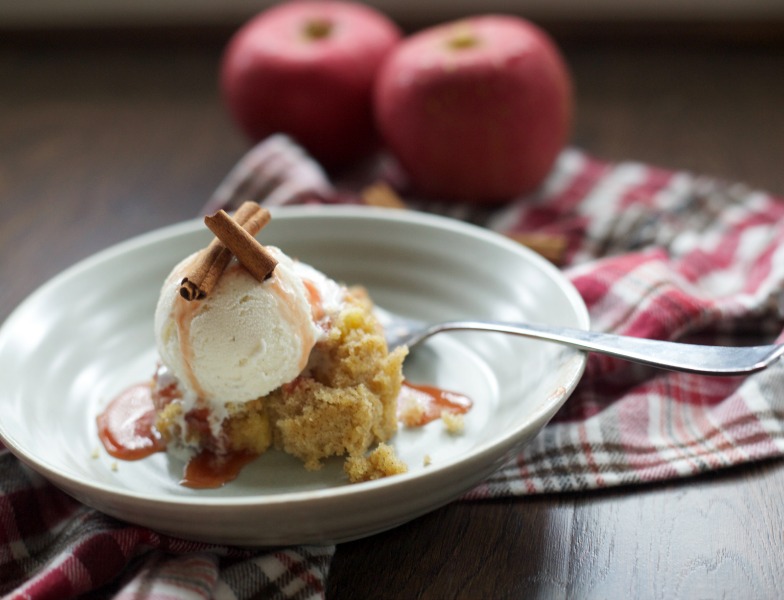 Apple Cake with Spiced Cider Sauce
Two things I will say about making desserts for a dinner party – 1 | Whatever you choose, make sure you can make it the night before and 2 | Look in your pantry to see what you already have on hand.
The dessert above is my spiced apple cake, but I actually made a Paleo chocolate cake with chocolate ganache for my dinner party. I already had the majority of the ingredients in my pantry, which made it cost-efficient.

I got those cute little pink Crate & Barrel plates with a gift card I got for Christmas. I really wanted to use them for my tablesetting, but I wasn't sure if I had any table linens or decorations to go with them. So, I went shopping around my house and found this old curtain I had. I folded in half and it was the perfect table runner.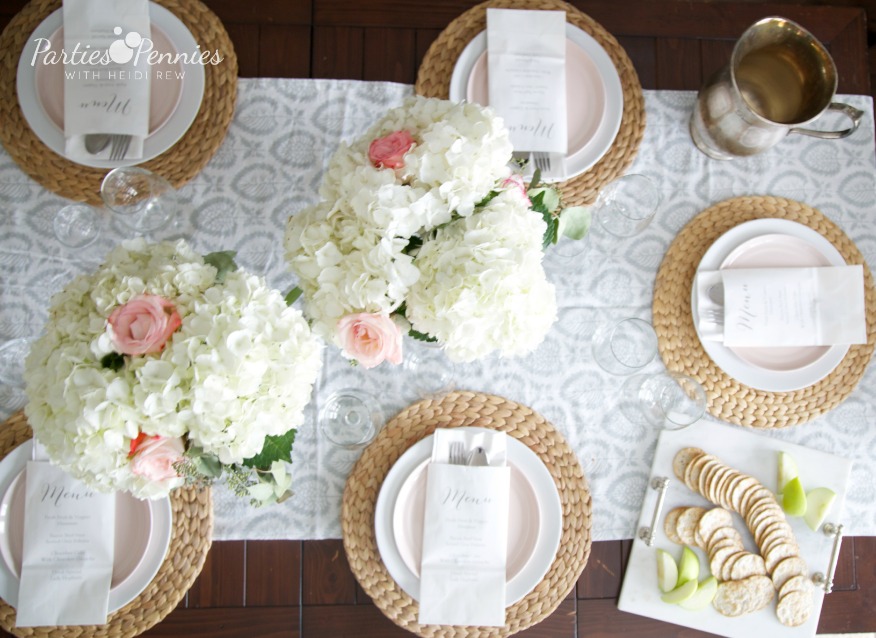 I also wanted some big flower arrangements and found a couple of large apothecary jars I had. You never know what items you have around your home that would be perfect re-purposed for a dinner party.

Although, even small flowers I won't deny. 🙂
If you're looking for a "wow" flower arrangement that's easy on your wallet, this is my formula –
Hydrangeas (usually can get them at Trader Joe's for $5.99) + Smaller Flower (the roses I got were $4.99 for 8 stems) + Greenery (Seeded Eucalyptus Stems – $2.99) = Wow Arrangement for under $15!
In all, for two arrangements, I used 2 bunches (3 stems) of hydrangeas, 1 rose, and 1 eucalyptus bunch. That's two arrangements for a little over $20.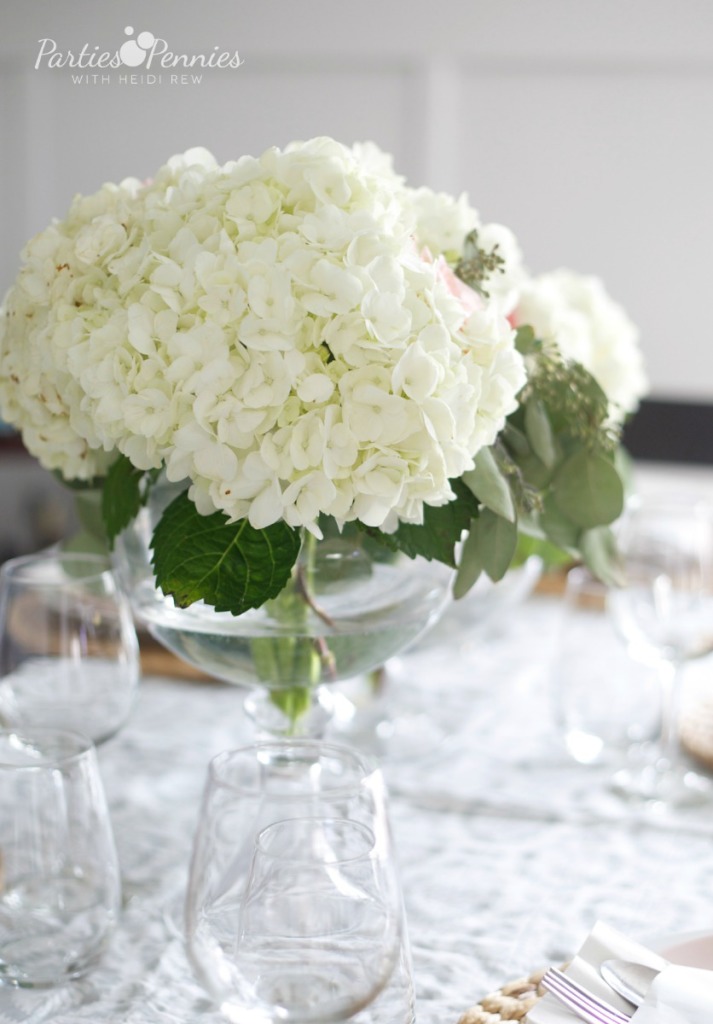 Accessorizing – the way you can take a basic dish and make it pretty. Here are some ideas for you –
LAYER – Instead of separating your meat and side dishes, layer them. If you're serving mashed potatoes, chicken, and asparagus , layer the mashed potatoes on the bottom, then the chicken, then top with a few pieces of asparagus. Dust with some shredded parmesan and parsley and you've got a beautiful dish. Layering doesn't just work with the main course. Serve your salad in a trifle bowl, but layer the ingredients.
ADD SOME JEWELRY – What I mean by jewelry is what you top your food with. For meats, think herbs, cheeses, even dried fruit. For desserts, think fresh fruit, powdered sugar/spices, and sauces.
Source Unknown

You probably already know this, so this is just a simple reminder. Candles go a long way. It's such an inexpensive way to add a big impact.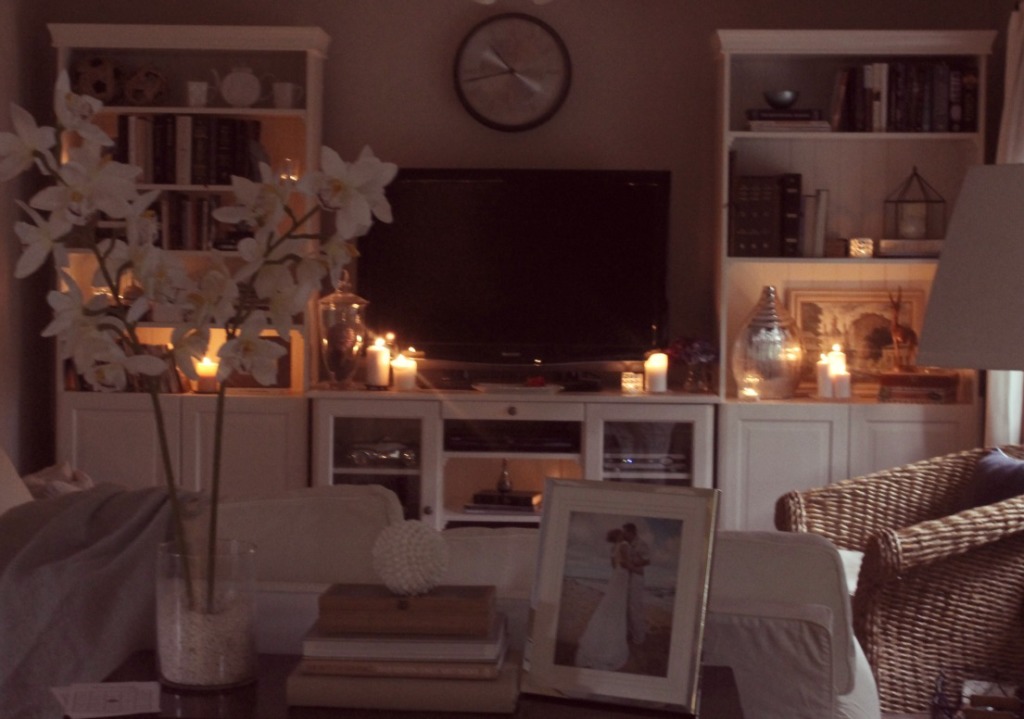 I tend to buy place settings in sets of 6. Part of that has to do with room to store the stuff and part of it has to do with budget. When I got ready to host my dinner party last weekend, I realized 1 | I didn't have enough chargers and 2 | I have a bunch of mis-matched silverware.
If you come across this issue, you don't have to go out and buy matching items just for the dinner party. Sometimes mis-matching can work.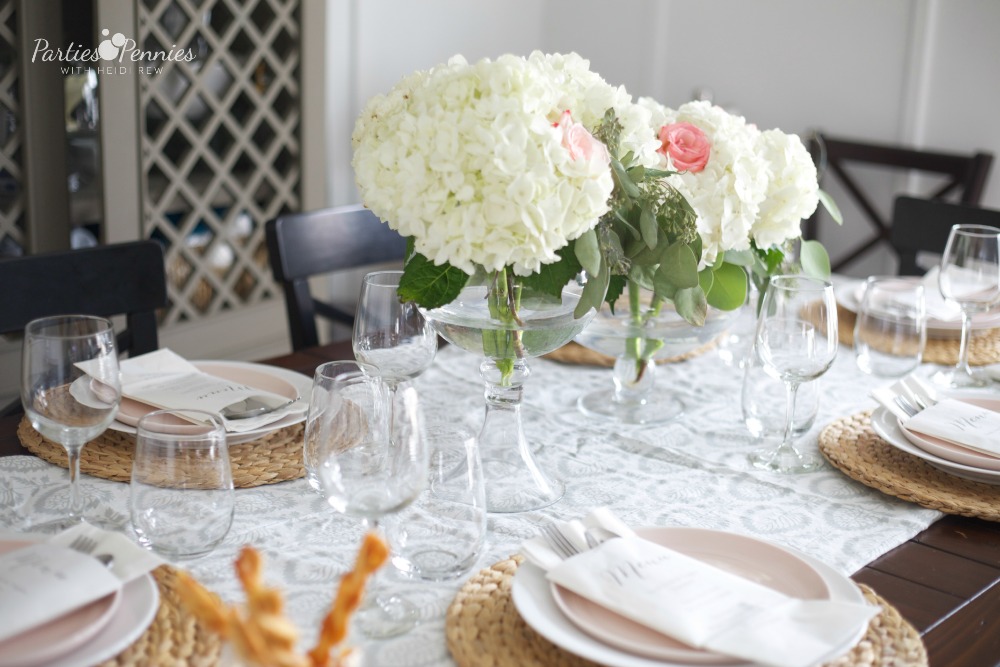 I don't have them in this photo, but I ended up alternating between these rattan and my silver plate chargers. It actually added a little more interest to the table.
The second issue with the silverware was solved by my next tip/idea. Instead of showcasing the mis-matched silverware, I hid them in paper bag menus.

Special touches truly can make a dinner party. They don't have to be elaborate or expensive. My table needed something else. I had an issue of mis-matched silverware. So, an hour and a half before my dinner party started, I looked through my paper supplies. I saw these white treat bags, which offered the perfect solution to my mis-matched silverware and added a special touch.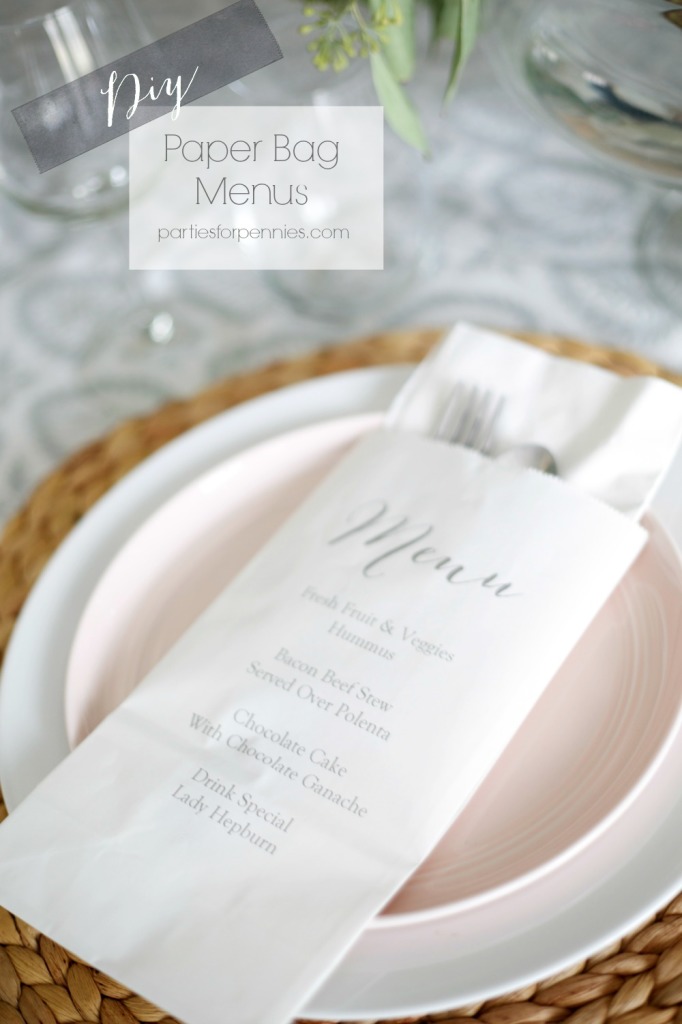 Whether it's printing a menu on a paper bag or card stock, this offers a special touch that doesn't cost much. Some other ideas of special touches –
– Have a collection of tea cups? Let each person have a different one at their place setting. Attach a piece of cardstock, cut out in the shape of a tea bag and write each person's name. If you have a story behind the tea cup, it'd be fun to write a clue of where you got it from and let your guest guess.
– Is there a magnolia tree in your yard? Pick off some leaves, wash them, then write the menu on them with a gold paint pen.
– Leftover herbs from your meal? Wrap twine around your napkin and silverware, then stick a bundle of the herbs in the twine. It adds a beautiful touch and makes the table smell so good.

I am not a bartender and I, honestly, don't know a ton about mixing drinks. There are two ways I get around that when entertaining – 1 | Keep it simple 2 | Be creative (aka make stuff up).
When in doubt, set out a juice and basic drinks. Just offering cranberry juice and champagne (with a side of some fresh fruit to put in the glass) makes a great drink to offer your guests.
Sometimes you can just work with what you have to create a special drink concoction. For my dinner party, I found a drink that I already had all the ingredients. It called for gin, cranberry juice, orange juice, grenadine, and champagne. I didn't really like the name, so I called it Lady Hepburne.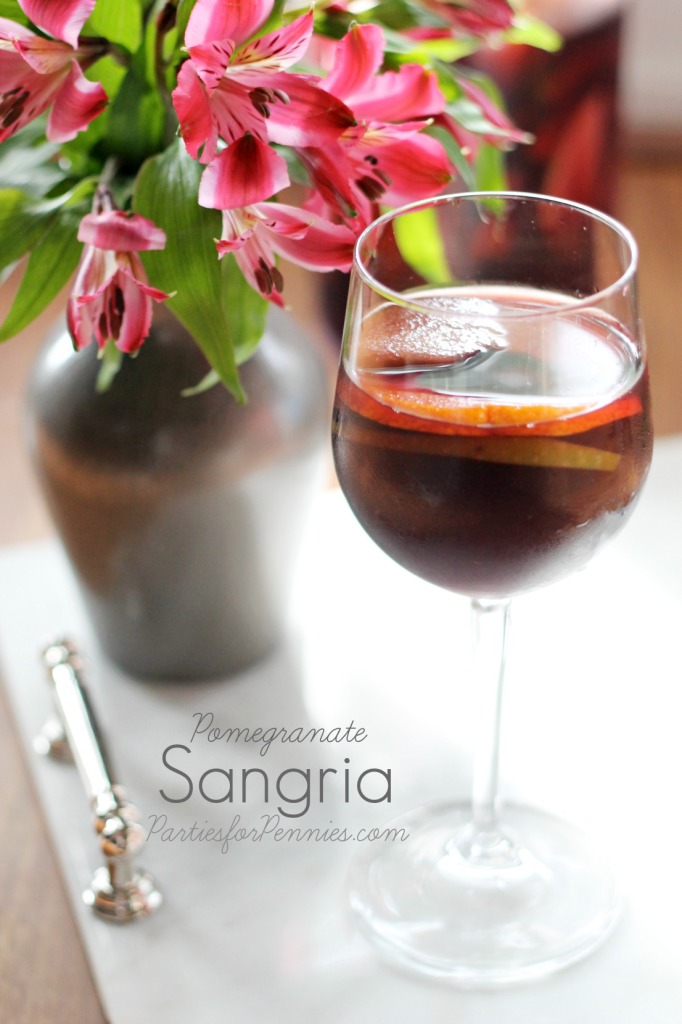 These 10 Budget Friendly Dinner Party Ideas will hopefully help you save money, but the basic ingredients for a successful dinner party are Great People + Food (it doesn't even have to be great…many hilarious stories are told from kitchen disasters) + Great Conversation.
Do you have any tips to add? Any dinner parties gone wrong?
Hope you have a beautiful day and Party On!