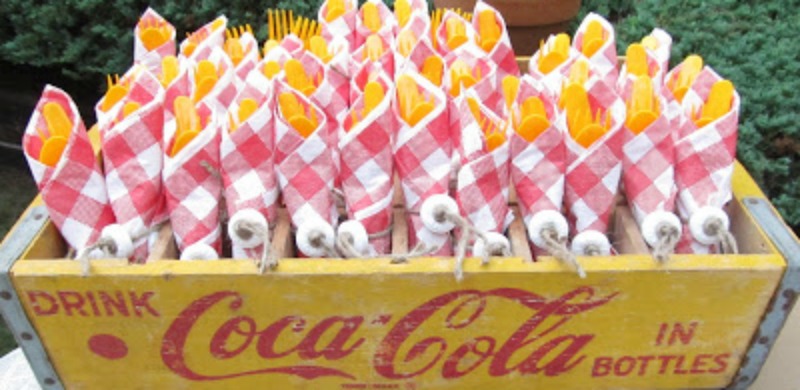 How was your weekend? I hope you had as beautiful weather as we did!
Mike & I went to an amazing party this weekend & it was soo much fun! You know I have to show you all the pictures so here you go…
The above three pictures I took…the pictures with the "KH photography" watermark were taken by my talented friend Kimberly Herbert. You see the amazing difference b/w a professional photographer (Kim) & a non-pro (me). ;p If you click on her photos, it will take you to her website.
This, my friends, was the location of the low country boil spread! It was soo yummy!
The cones were filled with red licorice & swedish fish.
This white chocolate popcorn was Ah-Mah-zing!
I loved how Michawne used the boat to display these meringues.
Talk about an easy appetizer. Cream cheese, olives using a pot base as a dish with a tea light underneath.
I am on a frantic search for this recipe! This was music to my mouth!
Isn't this just beautiful…the old coca-cola box with the utensils & the lifesavers?!
Everyone was able to write their name on the red & white label so no mix-ups!
Loved, loved, loved, loved this idea! Michawne put the bottle drinks in their canoe! Brills!
Such a simple way to add to your party decor with little money. Wrap a hand wipe bottle with scrapbook paper & a label.
This is Mike & me in our "Hampton Preppy" gear. I kept trying to pop my collar up. ;p
Tony, the birthday boy. His last name is May…isn't that awesome?!
He & his beautiful wife Tiffani. You may remember her as the model from the Mad Men party pics.
This is Michawne & her husband Justin. Great couple! She & Tiffani were the ones that did the whole party. Can you believe she made the photo backdrop???! She is one creative gal. She has thrown some really awesome kid parties too & she gave me permission to share the pictures with you! Lucky us!

I'll post at least one of the parties this Friday.
I didn't get a chance to meet this couple, but I wish I had. They look fun! ;p
We stopped by Starbucks on the way to the party & I used all of my willpower not to blurt out to Mike, "Honey, get your coffee & let's go. We're going to be late to the country club party." (said in a "Lovey" Howell voice…from Gilligans Island) ;p
Michawne & Tiffani…you guys put on an absolutely fabulous party! Thank you soo much for all your hard work.
So…what did YOU do this weekend? Any good weather in your parts?
Hope you are able to stop back by this Wednesday for a great 4th of July party project!
p.s. You can now LIKE Parties for Pennies on facebook! Click here.