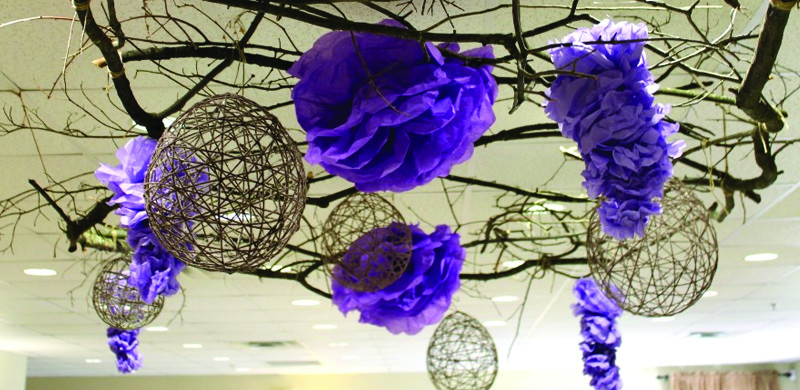 Hey my party peeps!
I've got a fun & EASY tutorial for you today. Remember when I posted about the Secret Garden Baby Shower here? When I made the pergola for the shower, I imagined cascading purple flowers (like wisteria) hanging from it. In my mind, it was breath-takingly beautiful. However, when I sat down to do it…I thought, "Okay…how am I going to execute this??" Like Tori Spelling says in Craft Wars, "Crafts are not just about ideas but about execution!" Ideas? Check! Execution? No. Idea. :p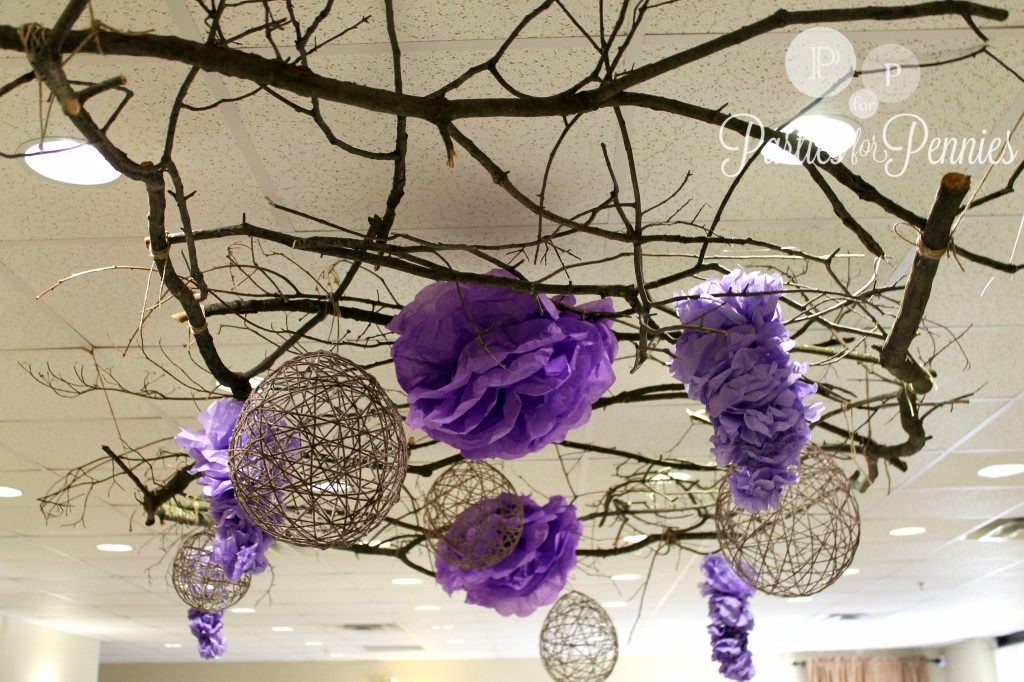 I tried one failed experiment then I thought, "Wait…I KNOW how to do the tissue paper pom poms…so I'll just do a different variation." And I think they turned out great. My only issue…I wish I had done more of them!

Here's how to make wisteria tissue paper flowers.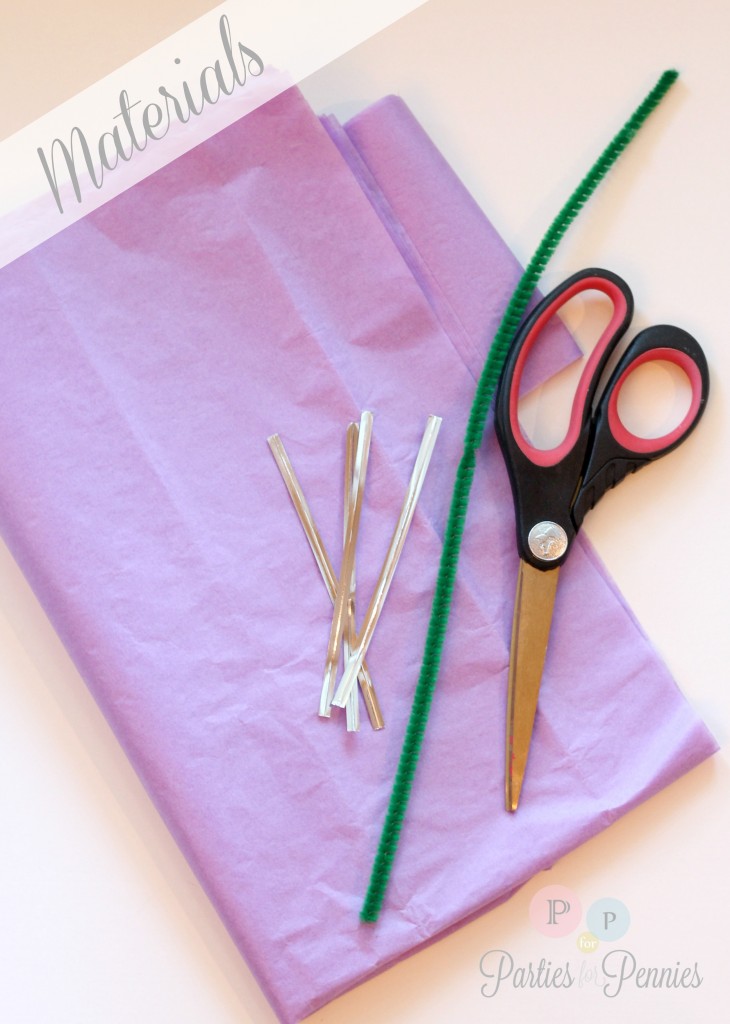 Here's what you need to gather from your craft stash. Tissue paper (you can probably get about 2 wisteria flowers from a pack of tissue paper…maybe 2 & 1/2), twist ties (or string), green pipe cleaners & scissors…oh yeah…and a ruler.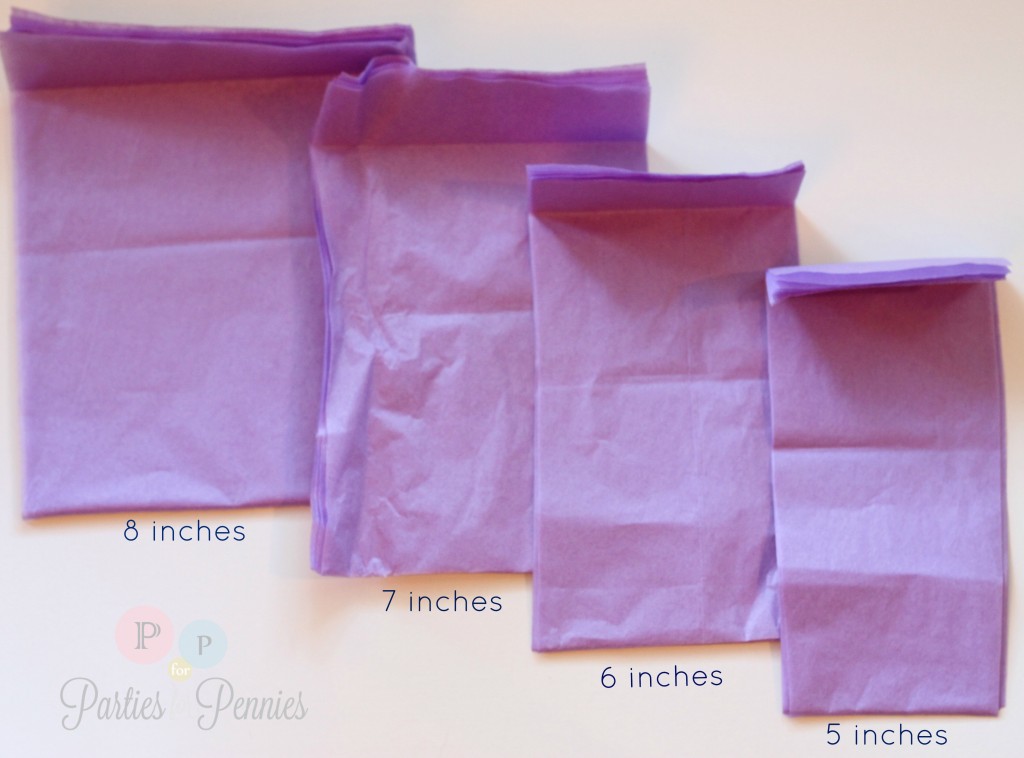 Cut 4 rectangles from your tissue paper. (I used 8 layers of tissue paper for mine) The first one should be about 8 inches across the bottom & 4-6 inches length-wise. The second one will be an inch shorter across the bottom but the same length as the first one. Continue until you have all four cut.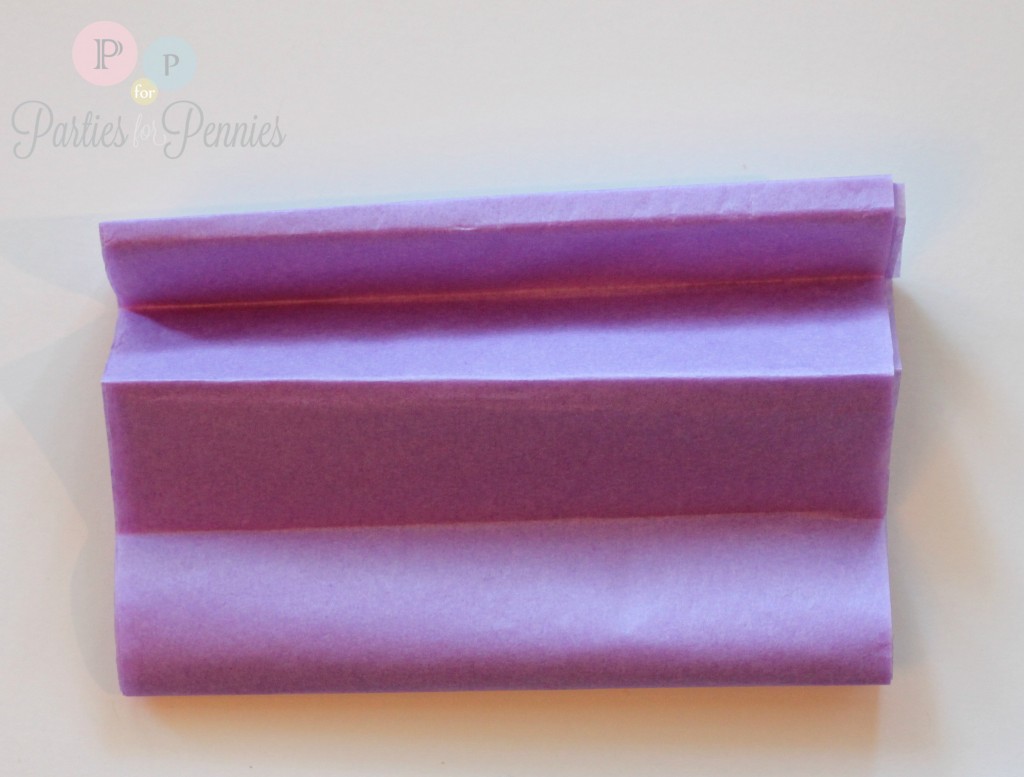 Take your first rectangle & fold it like an accordian.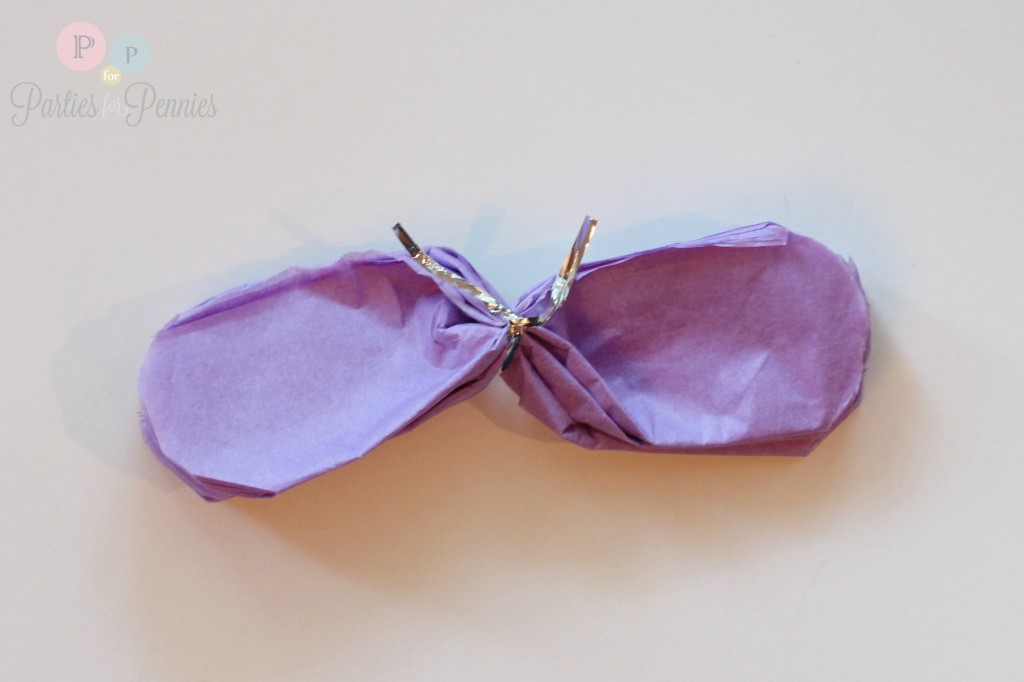 Once you have your accordian-folded piece, gather it, round out the corners & secure the middle with a twist-tie.
Now…here is my trick for getting pretty-looking pom-poms without tearing the tissue paper…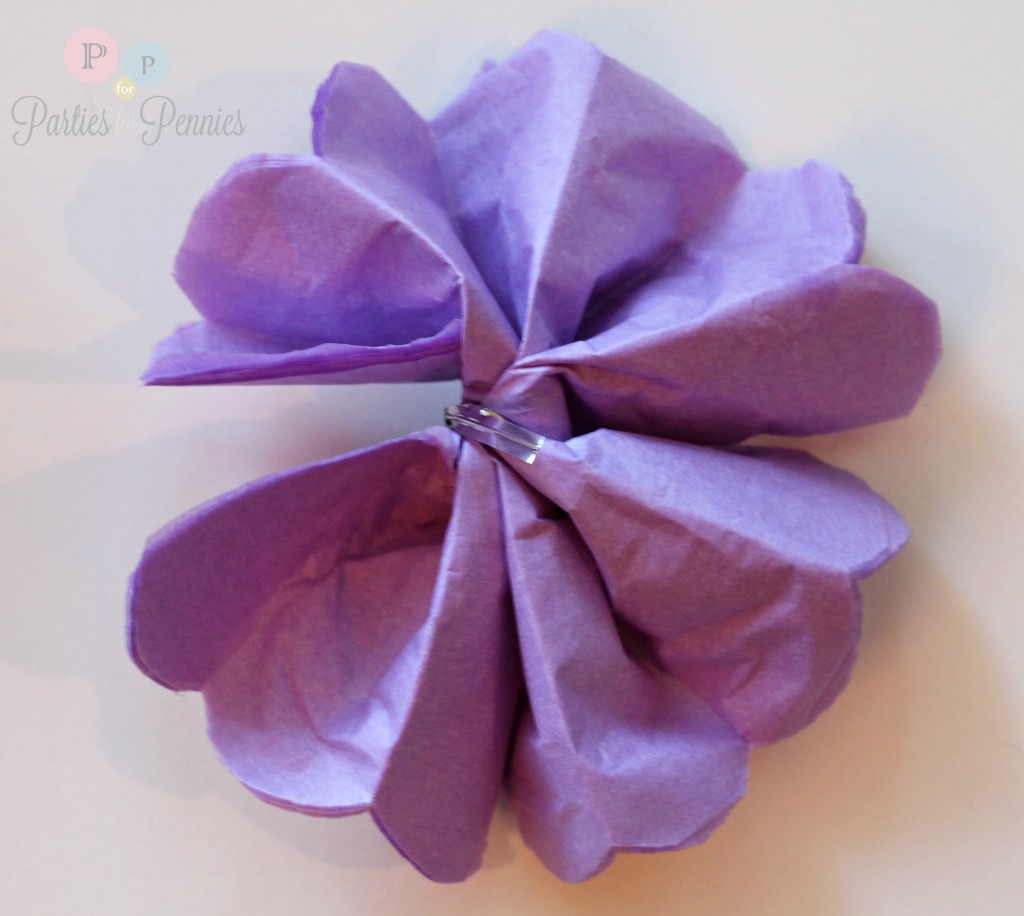 First, fan out BOTH sides of the accordian-folded tissue paper. You can really pull the tissue paper in this step without tearing.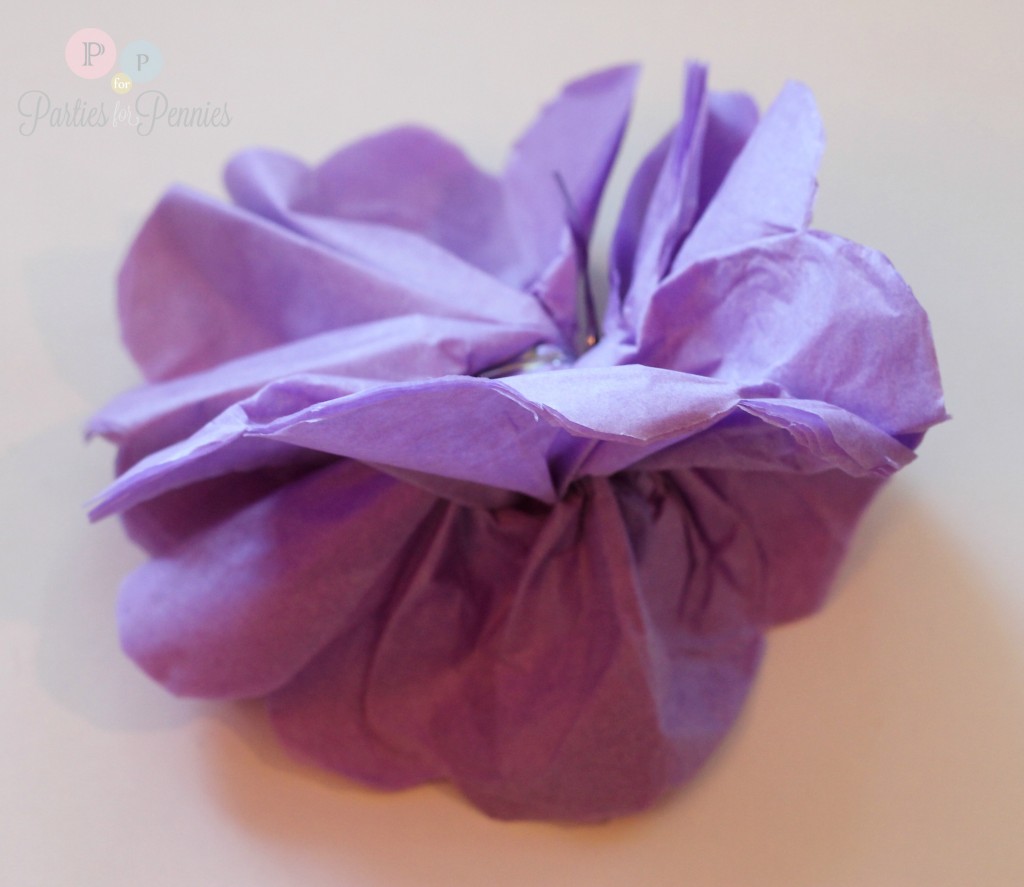 Once it's fanned, pull apart 4 sheets of the tissue paper (or half of how many you're using) on one side of the fan. Pull these away from the other sheets. Do the same thing on the other side. This allows you to manipulate the pom poms while the tissue paper is strong enough to take the pulling. Once you're done, you should have four sections you've pulled apart. Now you can take one sheet at a time & pull it away. This results in a really full, beautiful pom pom….without any tears (in this case you can use "tears" interchangeably ;p).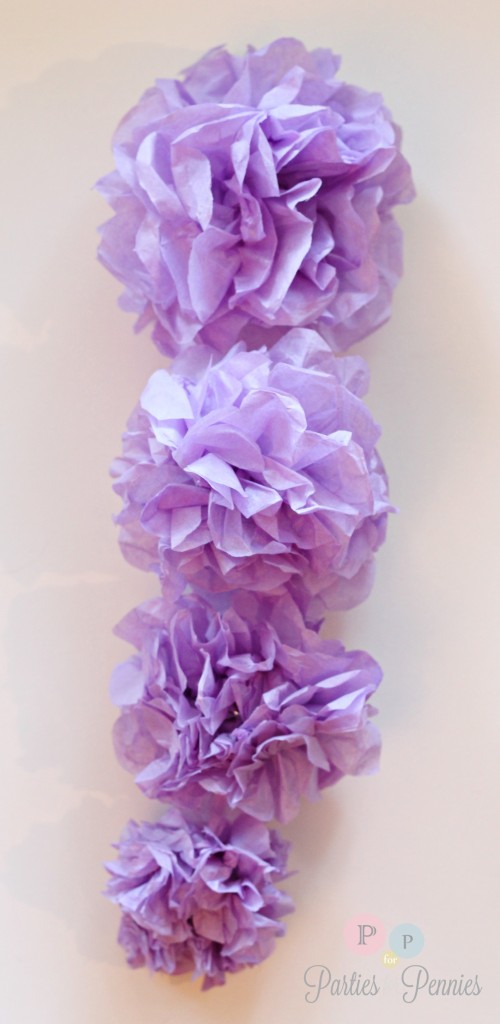 When you've finished with all four pom poms, they should look like this. Now…to attach them…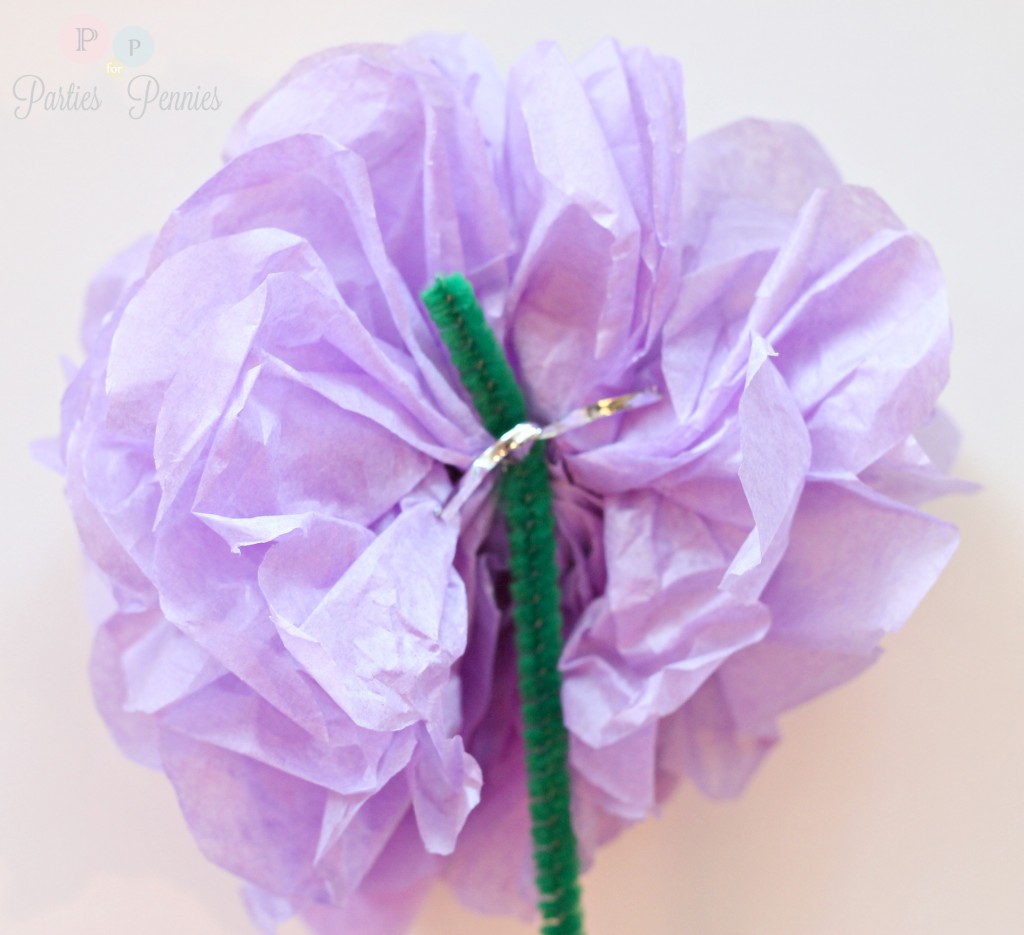 Find your twist-tie amongst all the pom-pom fluff ;p & attach it to the top of your pipe cleaner. Continue this all the way down with your remaining pom-poms.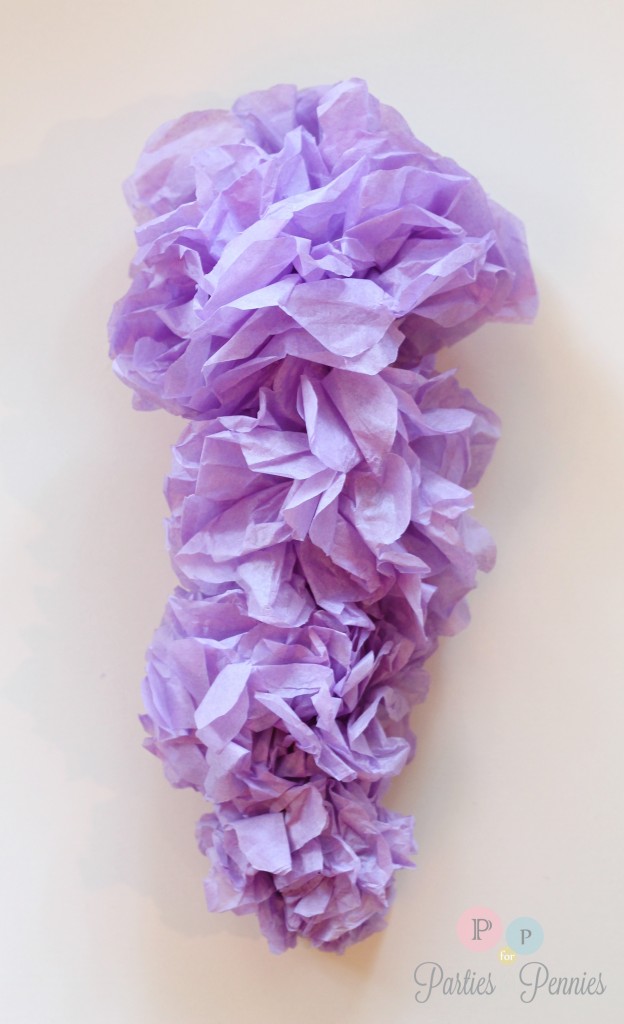 Now you have your own paper wisteria flowers. And you can create your own cascading wisteria flowered pergola. Husbands: Beware…this may entail your wives asking you to drag over a whole dead tree from your neighbors yard…or maybe that's just what I asked my husband to do. (here) Wife of the Year right here. ;p
Hope you have a great week! I'm working on a camp-themed banquet this Saturday & can't wait to show you the pics next week!
LINKING TO:
UnCommon Designs Blog (you'll love this blog)
p.s. You can now LIKE Parties for Pennies on facebook! Click here.