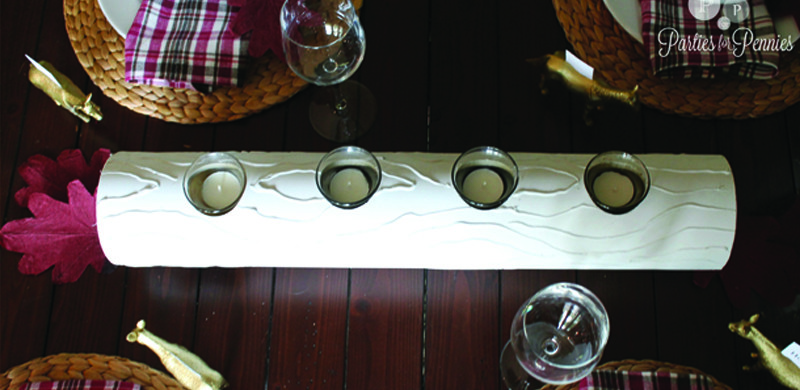 Hey Party Peeps!
Fall is in the air & I'm so excited! I love fall…the fashion, the food, the festivals, the weather, raking millions of leaves (oh, wait…I don't actually like that part but let's concentrate on the positive ;p).
This Fall, my goal was to create a tablescape that was:
Unique, Thrifty & Easy to Recreate.
I'll let you judge whether or not I accomplished my goal.
What do you think? The candle "log" in the middle is made from PVC pipe. I bought a 24 inch pre-cut piece of PVC for about $7 & then followed these steps…
1) With a pencil draw a line down the center of the pipe & mark 4 sections equally spaced apart.
2) Use a Bi-Metal Hole Saw & a drill
3) Drill four holes (mine were 2 1/2″ but it will depend on your tea lights) down the center.
4) Using old jar lids, hot glue two lids to either end of the pvc pipe (on the opposite side of the holes). This allows the log candle holder to stand up & not roll around. You could use other things but I wanted to save money & had these suckers underneath our kitchen sink.
Once you have the holes drilled…
(1) Sand down the PVC pipe
(2) Take a glue gun & draw tree veins with the glue
(3) Spray the entire thing with primer & then paint the outside white
(4) Once the paint has dried, cover the outside with paper & spray the inside with gold or silver spray paint. (This took several coats to completely cover the inside. Spray one side, let it dry then spray the opposite side.)
Insert your glass tealights. The tealights I used were a little wider at the top than the bottom. The diameter of the top portion was 2 3/4″ so I used the 2 1/2″ hole saw attachment so the tealight holders slid right in.
Since I was headed in the "woodsy" direction with my pvc pipe candle log, I picked up some plastic animals at the dollar store. Funny little story…I thought I had picked up 4 horses & 2 lambs (just because there weren't enough horses). It turned out I had picked up two horses & 2 donkeys. In NO way was I trying to send a subliminal message to my "guests." ;p I mean…I guess if there was a certain family member you disliked you could set a donkey at their seat but this was not intentional on my part…just a ditzy moment. See…I even gave MYSELF a donkey, so you know there's not a double-meaning. ;p
I primed my little flock of animals first then sprayed them with pretty gold spray paint. When they had fully dried out in the sun, I brought them in & did a little surgery.

I used my exacto-knife to make a slit on the top of their backs. I uttered, "I'm sorry, I'm sorry, you won't feel a thing…" mutiple times while performing this surgery. Strange, I know…but I still felt really weird.
My awkward surgery paid off. ;p
The plaid napkins were made from fabric that was on sale. I bought a yard & 1/4 & squeezed out 6 napkins but I'd recommend getting at least a yard & a half (maybe even 2 yards, just to be safe). I don't have a sewing machine so I made these the lazy girl way (not really lazy but I made them while watching reality tv, so I'm labeling myself that ;p). I used a napkin I already owned as a template & traced 6 of them onto the fabric, cut them out & used the iron-on strips to hem the edges. 1-2-3, Party ease.
Another party-cheap option for the napkins would be using guys flannel shirts from the thrift store, like I did for this camp party.
Those burgundy leaves were also from the dollar store. I got a pack of ten for…you guessed it…$1. ;p
Just so you can see it all lit up.
So, I want your honest opinion…do you think this is a really strange looking fall tablescape?? What's YOUR must-have Fall food?
Hope you have a great week!
p.s. You can now LIKE Parties for Pennies on facebook! Click here.
Linking Up to these Awesome Blogs: