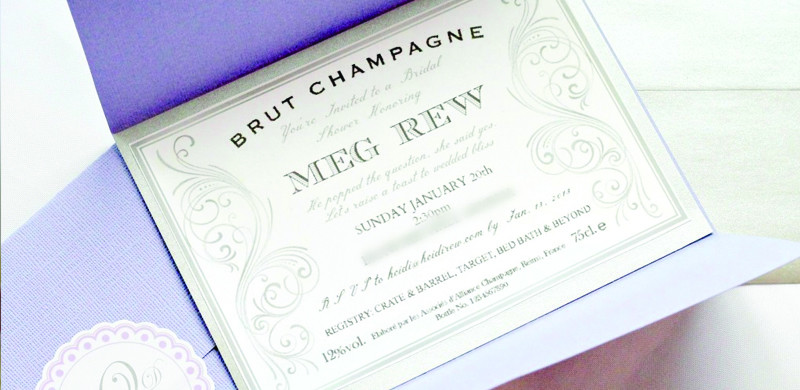 Hey party people!
Finally!
You get to see my sister's champagne bridal shower! This was one of my favorite parties. I loved the theme but I most of all loved who it was honoring.
My sister and I are best friends. We're only 19 months apart but ofcourse, as anyone that has a sister knows, our relationship hasn't always been slumber parties and giggly girl talk. We shared a room for the majority of our childhood so there certainly were some tense moments. One day, I finally had enough so I drew a line in the middle of the room. I had my half of the room, she had hers. Poor Meg…my half was the side where the door was. ;p I'm the oldest, so as you can guess, I was the typical bossy sister and she was the sweet younger sister. Thankfully, I've grown out of my bossy stage and thankfully, she's still super sweet.

There are few gifts in life I consider greater than my sister. She has been my confidant, my shoulder to cry on (like gasping breath, snot-flying cry), my comic relief, my biggest supporter, my BEST shopping buddy, my keeper of secrets and the grestest friend I could ever ask for. She's seen me through boy issues and has loved me, in spite of my stupid decisions. She lavishes grace on me, in a way I so don't deserve. It is rare to find a best friend that has been with you, every step of the way, from the time you were a baby.
I think the world of my sister. She is gorgeous, caring and a champion for others. Not only are there deep, wonderful reasons I cherish and admire her…but there are not so deep reasons. I love that we can borrow each others clothes, shoes,and jewelry! She has great taste! I love her deviled eggs…even though they may be cut in a way no other human has imagined…I love her sock-it-to-me cake…even when she leaves it in the bundt pan and we have to dig it out with spoons…I love every recipe she makes because it's always a little different than anyone else's version. That's because she's unlike anyone else and I love that about her. I love her ditziness…it makes for the BEST stories and I, of course, can relate.
I know I rambled on and on but sometimes you realize that you don't tell the people that mean the most to you just how incredibly awesome they are…just how amazingly they enrich your life…and how life wouldn't be the same without them.
I'm not sad Meg is getting married. David is a great guy and I know he'll take good care of her…but I would like to quote a classic song from a classic Christmas movie by saying, "And Lord help the mister that comes between me and my sister…" Just let us have our sister time and no one will get hurt! :p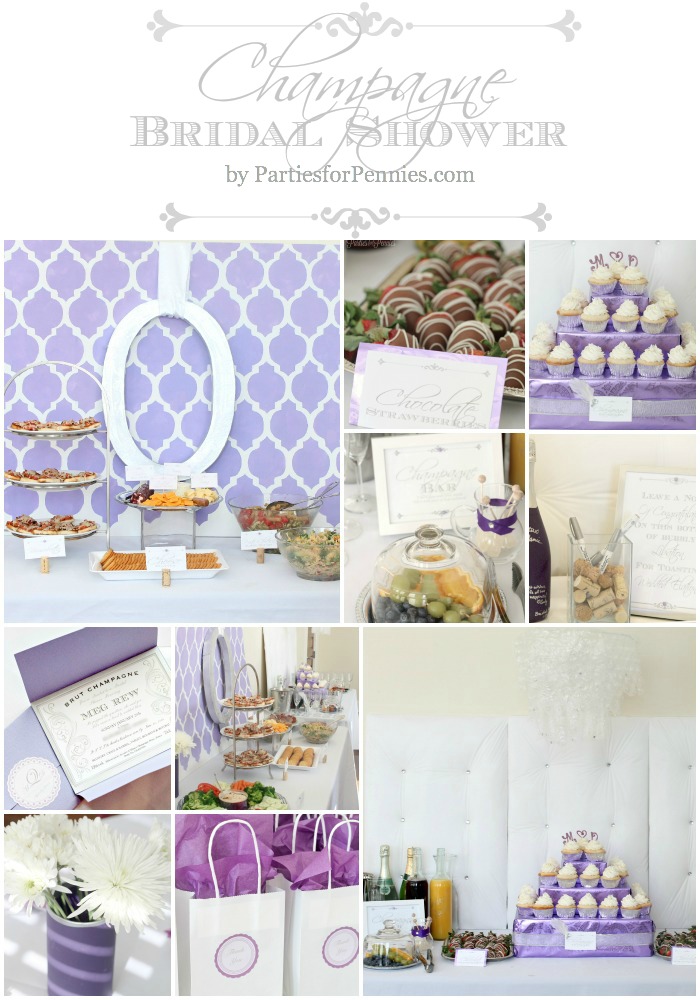 Now…let's talk about a certain bridal shower, shall we? The reason I went with a champagne-themed shower was because Meg came back from a business trip raving about a champagne bar she visited. She loved the vibe, the decor and, of course, the champagne. I wanted to create that same vibe for her shower.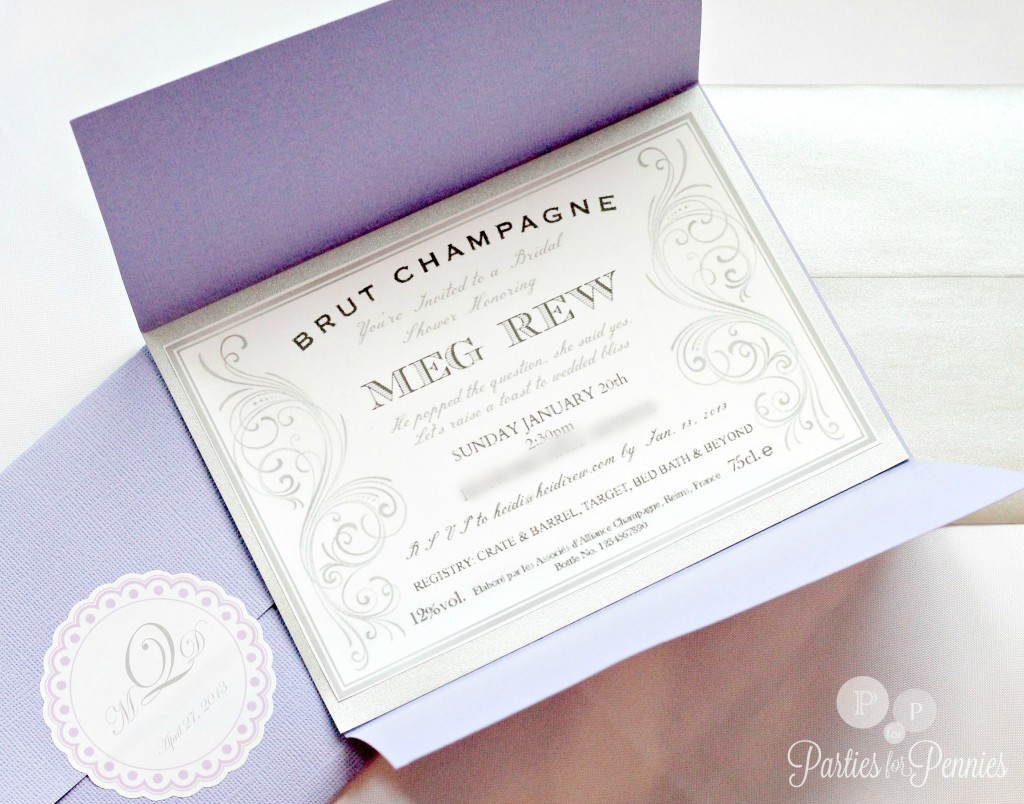 To save some dolla dolla bills, ya'll I decided to design the invitations myself. You can read all about how I did that here.
The shower was held at Brawner Hall in Smyrna, GA. It's a beautiful, historic building that is rented out for weddings and events. It is very affordable and the staff was soo wonderful. They really impressed me. The studio room we rented was only $50/2 hours ($15/extra hour). They allowed us to use their chairs and tables so I think $50 was pretty inexpensive. They also do weddings, if you or someone you know is interested (the weddings are also very affordable…some of the cheapest I've seen in Atlanta). They didn't give me any discount or advertising dollars to say that…it's just the twuth!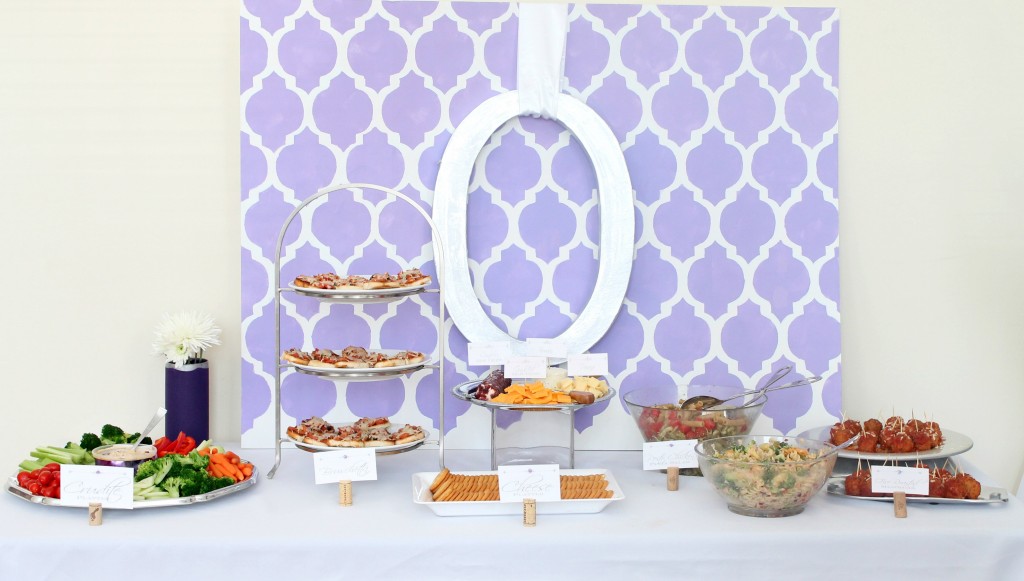 This was the savory table. I asked several bridesmaids to help bring some items, which was a huge help.
The backboard is just a tri-fold foamboard, stenciled with a stencil I used on my hallway. I couldn't figure out what I wanted to do for this table, so I started looking around at what I had. I already had the stencil and the acrylic paint so that's what I went with. I got the foamboard for $4.99 at WalMart and the "Q" (I know…it looks like an "O" from here ;p) from JoAnn's for $5 (there was a 50% off sale). I already had some silver paint and the ribbon it's hanging from was from my collected bags and bows box. Total $ for the backdrop: $10
Oh…and if you were wondering about the "Q," it's because Meg's new last name will start with a "Q."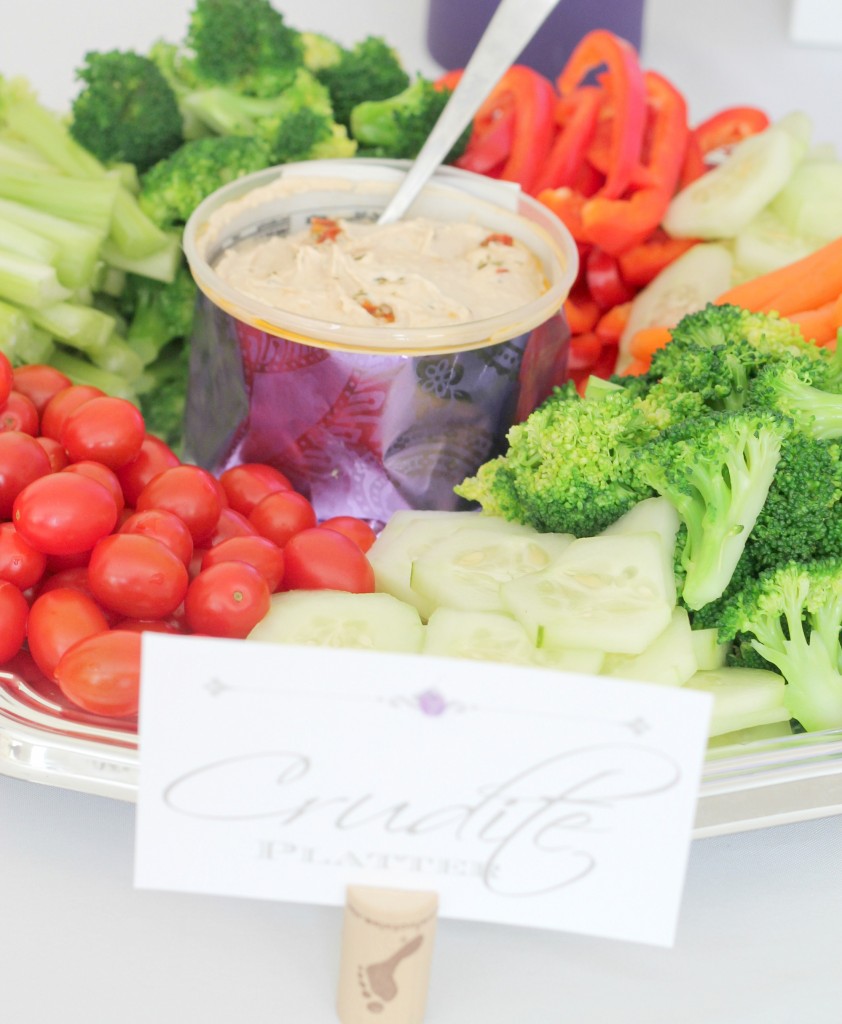 This crudite platter is thanks to Emily (a bridesmaid) who taught me a cool trick. See how her broccoli is so pretty and green? She blanched it for just a few seconds. She said it takes the bitterness out of the broccoli…and it looks prettier, too.
Party Tip: We didn't have any dish to put the hummus in, so we cut out a small piece of wrapping paper and taped it around the plastic container. It allowed less mess and it still looked pretty.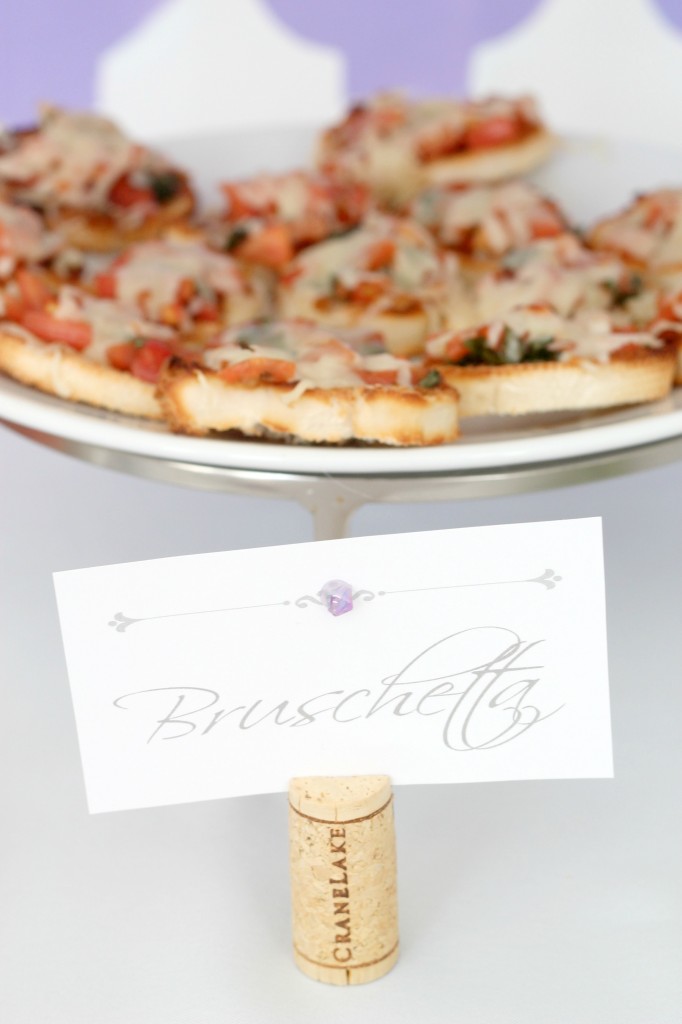 Jana (bridesmaid) made this divine bruschetta! I heard several people raving about it.
And…the menu card holders are just old wine corks. I used my exacto-knife to cut a slit in it, then slid my label in. The labels I created using PicMonkey. I happened to find some of these purple jewels in my craft stash so I added them as a little embellishment.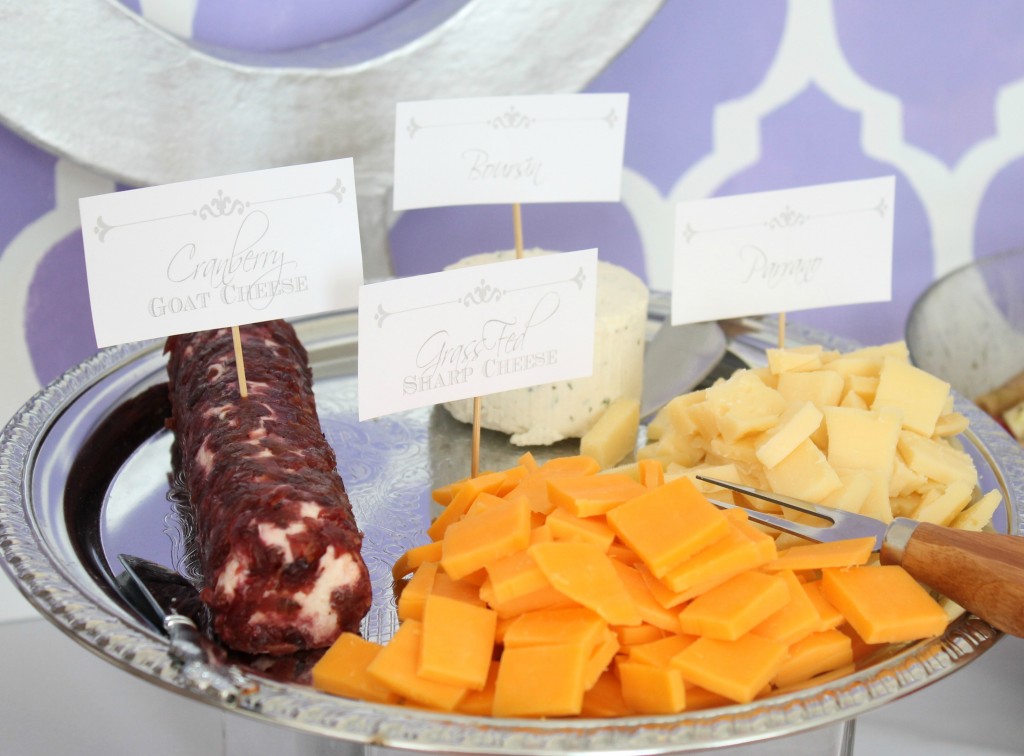 Jessica (bridesmaid) brought awesome cheese and crackers. I love how she cut up the hard cheese to make it easier for the guests. Great idea!
The cheese labels are simply taped onto toothpicks.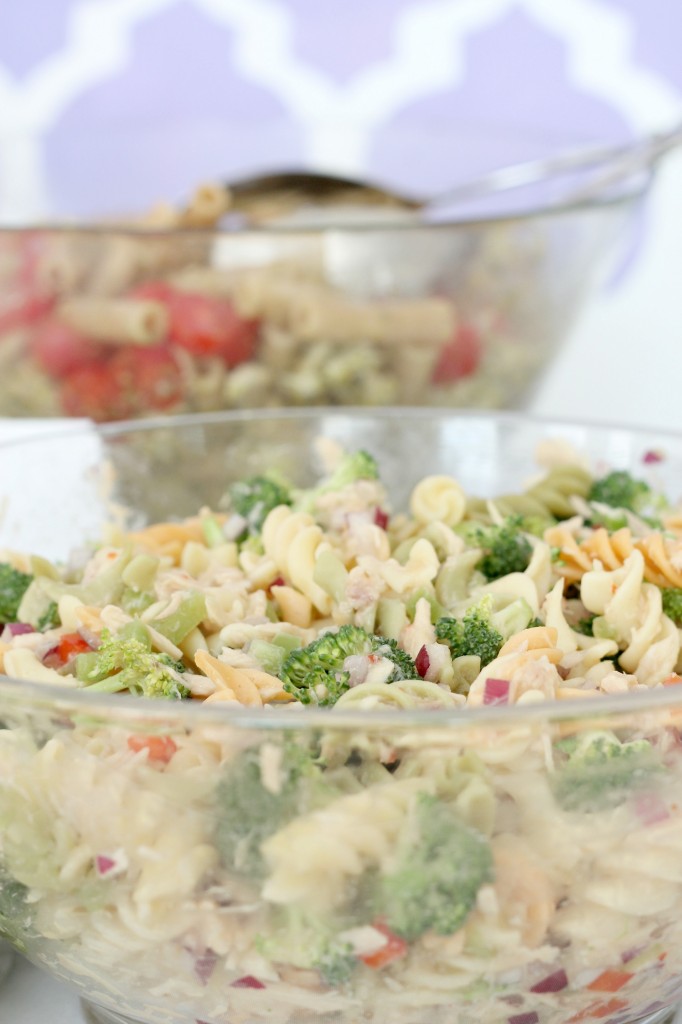 My mom (M.O.B.) brought these yummy pasta salads. One is a tuna salad and the other is a chicken pesto salad.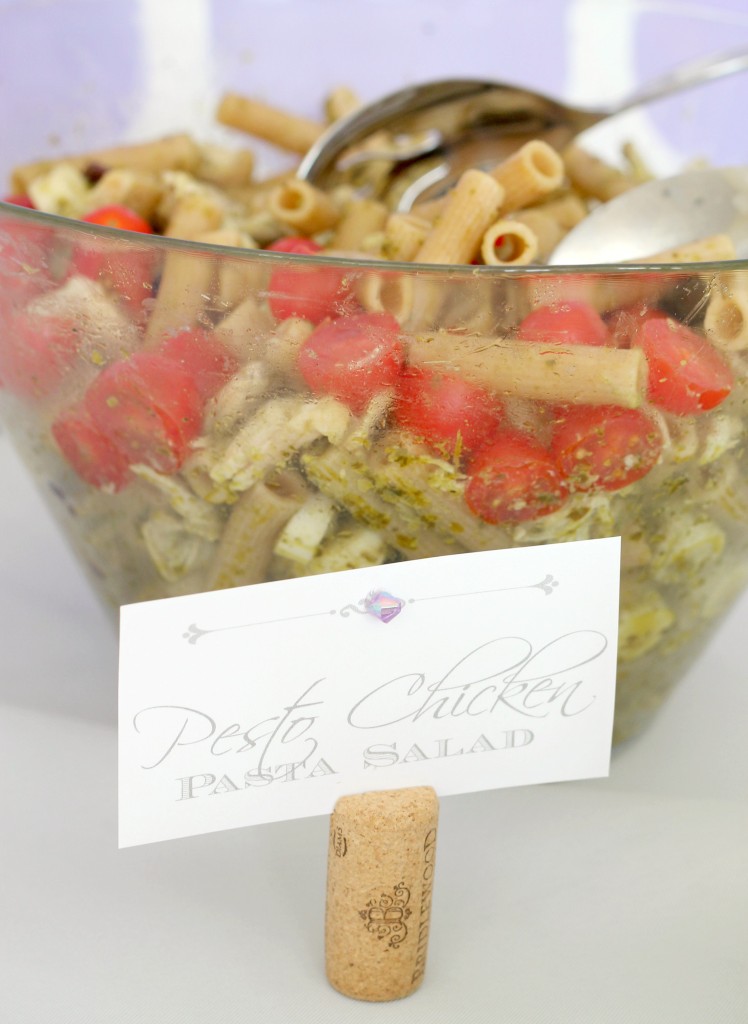 This recipe is from Real Simple. It was Real delicious and simple, so there you have it. Get the recipe, here.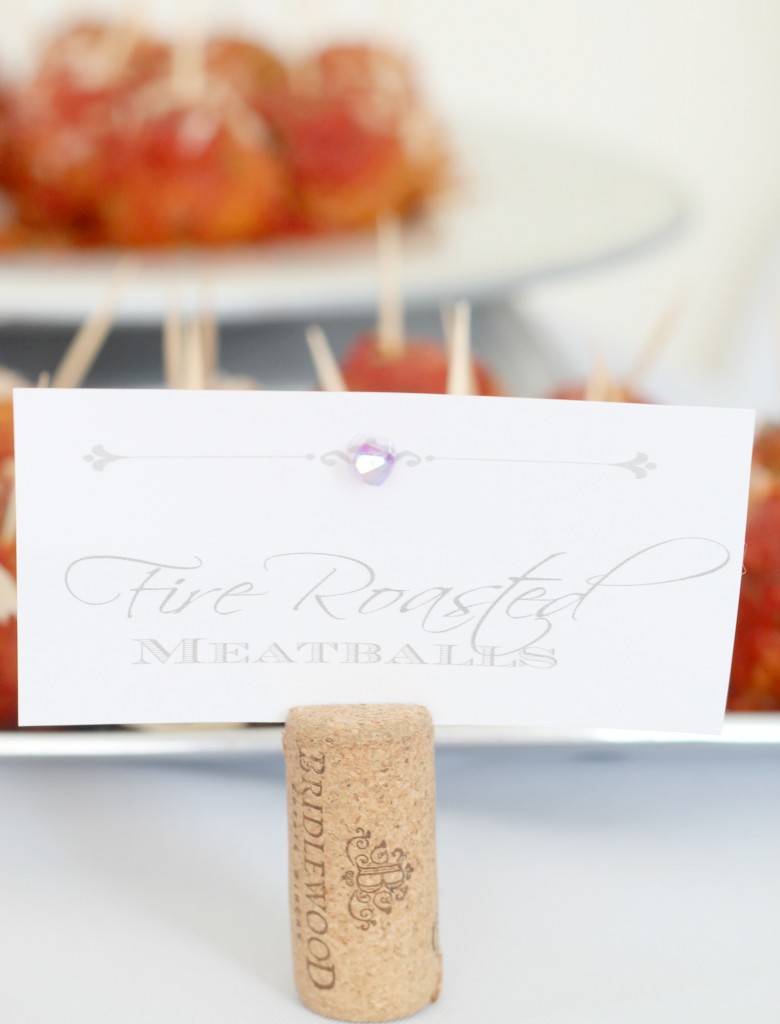 The fire-roasted meatballs were my contribution to the savory stuff. I really needed something that'd be fast and easy. I had to set everything up and do all the desserts so I knew I couldn't handle anything complicated.
These are just frozen meatballs cooked in a crockpot, drenched in Barilla fire roasted tomato sauce. Fast and easy…that's what I wanted. I tried to pretty them up by sprinkling parmesan cheese and parsley on top.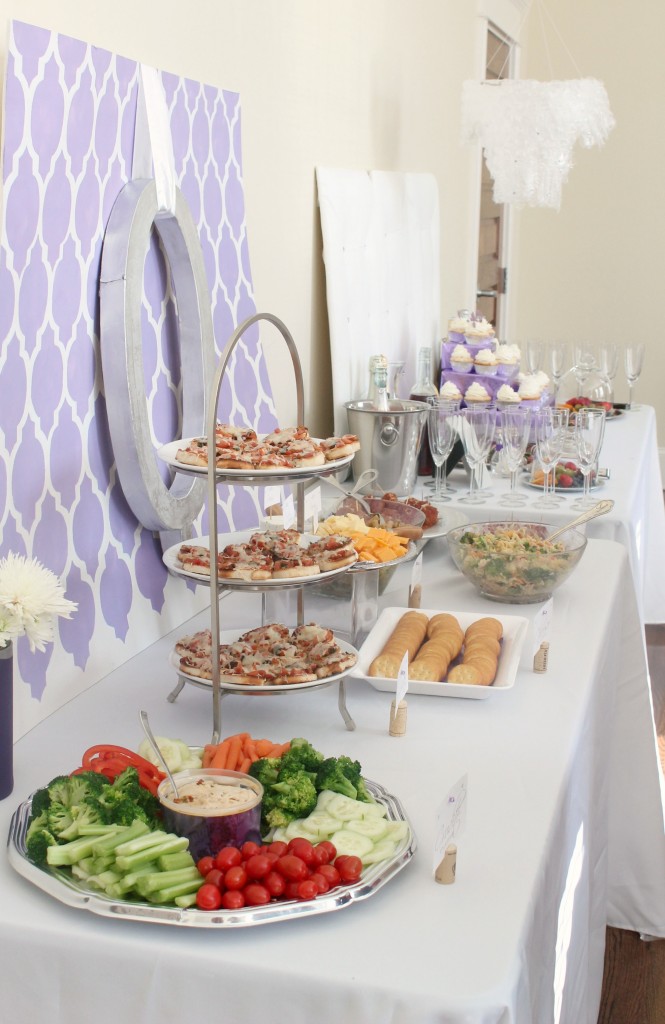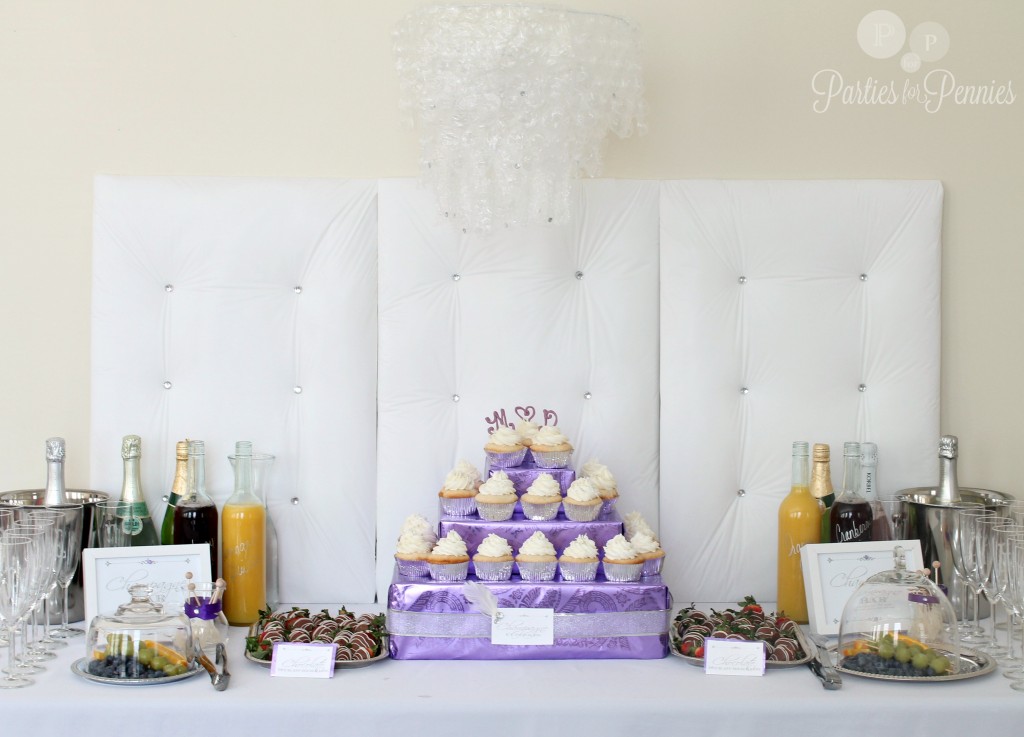 Remember when I showed you how I created a tufted backdrop? Here it is!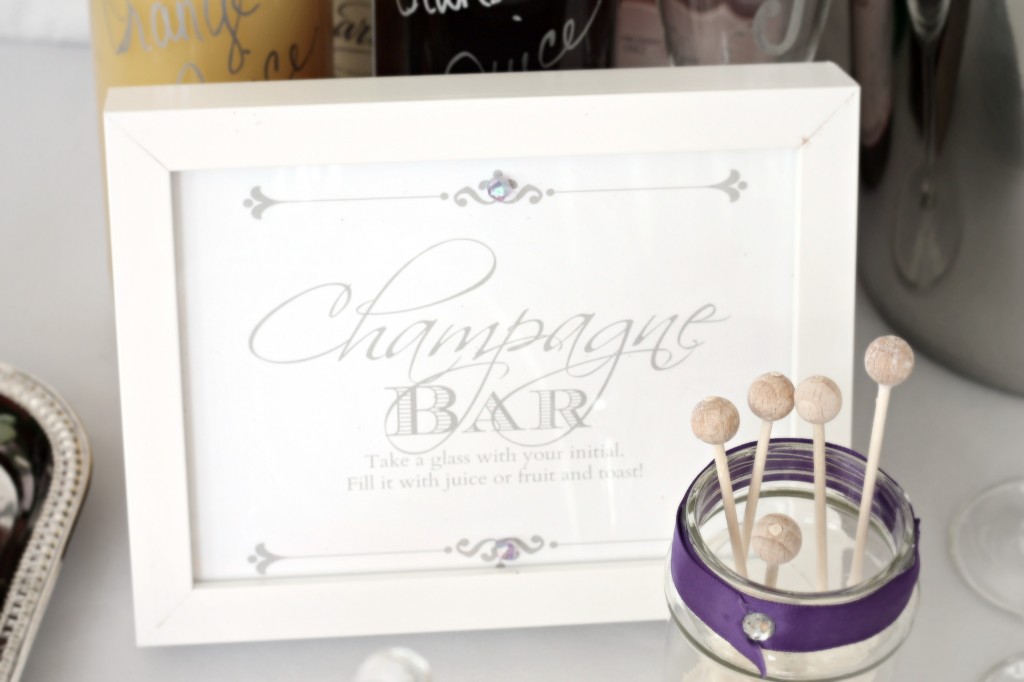 You can't have a champagne-themed shower without champagne!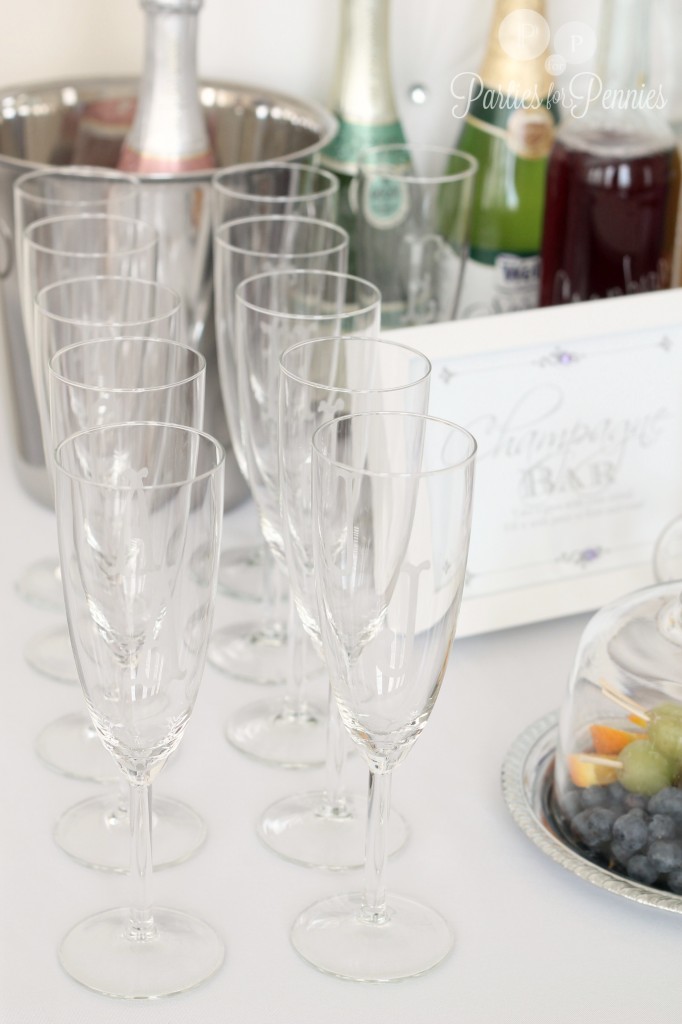 The party favors serve two purposes: 1) as party favors and 2) personal drinking glasses. I etched everyone's initial on a champagne glass and that was the glass they used during the shower. Then they were able to wash it out and take it home.
It turned out to be a very economical favor. Ikea had a box of 6 for $4.99. I already had the etching cream, so the favors were under $1/each! To see how I etched them, click here.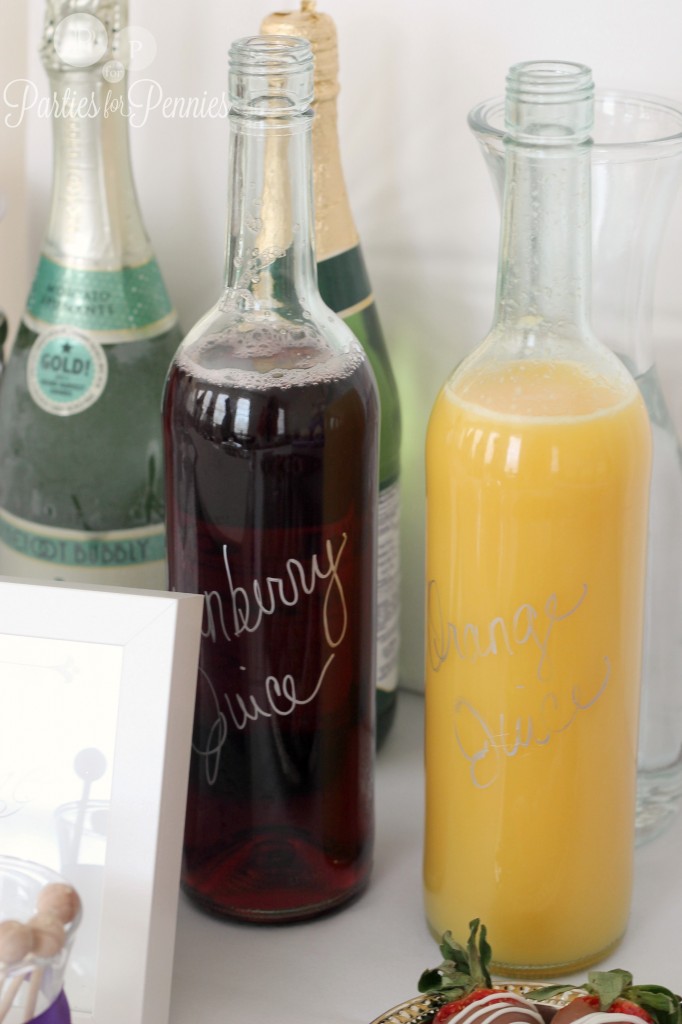 On our champagne bar, I had champagne (of course), sparkling grape juice, water, orange juice and cranberry juice. I didn't have enough pitchers and I didn't want to purchase any so I used wine bottles. Because I didn't need to keep the pitchers, I labeled them using a silver paint pen.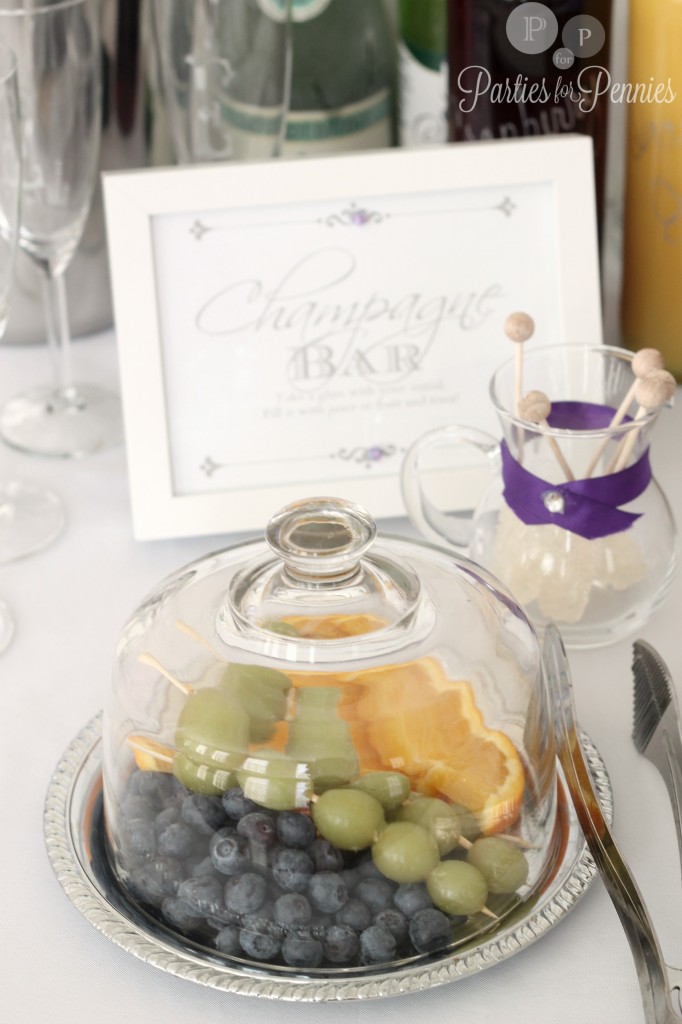 We also had a spread of fruit to add to the glasses: blueberries, frozen grapes, oranges and strawberries. I also found these fun swizzle sugar sticks that I added to the spread.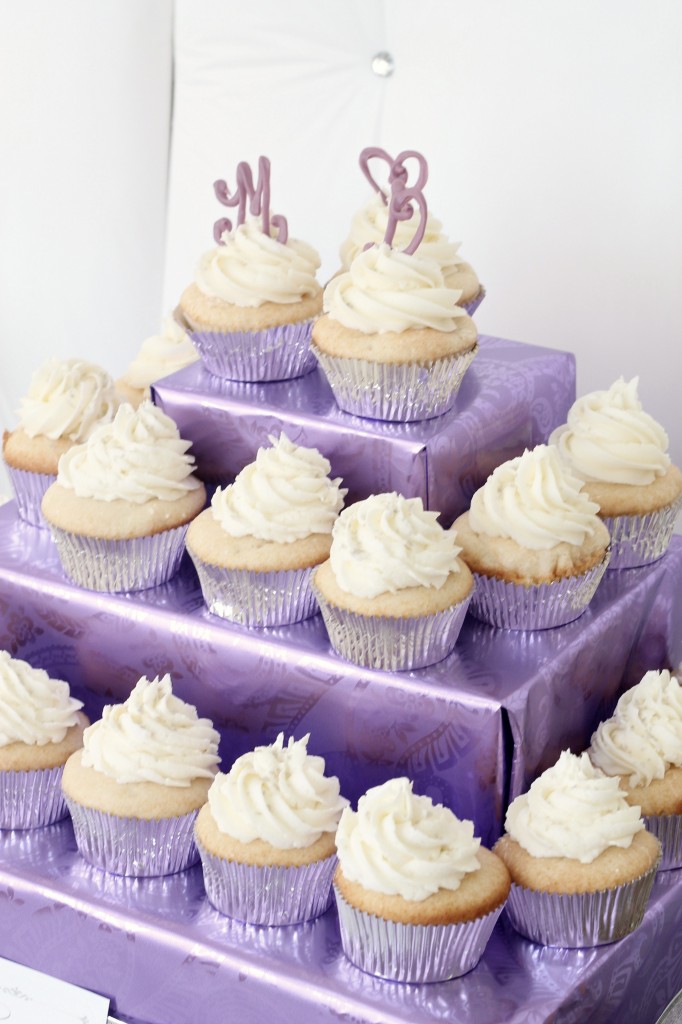 My cupcake tower was created from old boxes and purple wrapping paper.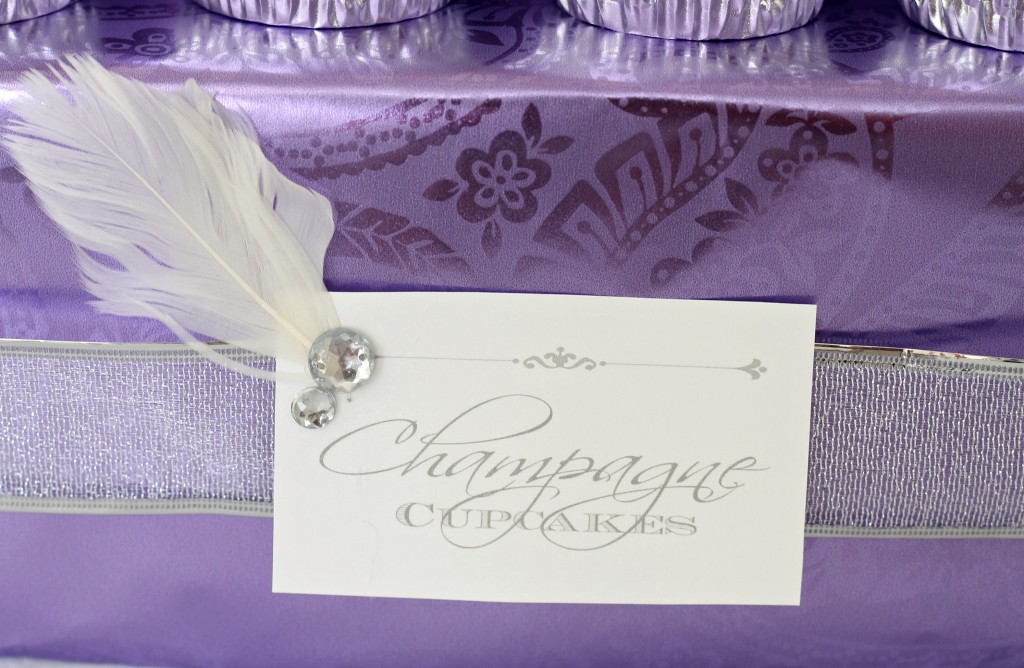 I figured it'd be appropriate to have champagne cupcakes for a champagne-themed party. These are super easy. Here's what you do:
* Mix one box of white cake mix with 3/4 cup of champagne.
* Bake according to the package directions.
* For the icing – Mix 3-4 cups powdered sugar with 2 sticks of softened butter (1 cup), 1 tsp almond extract and 1-2 tbs. champagne. If the icing is too thick, add a bit more champagne.
* Decorate and enjoy! (Side note: I used french vanilla boxed cake mix & it was yummy)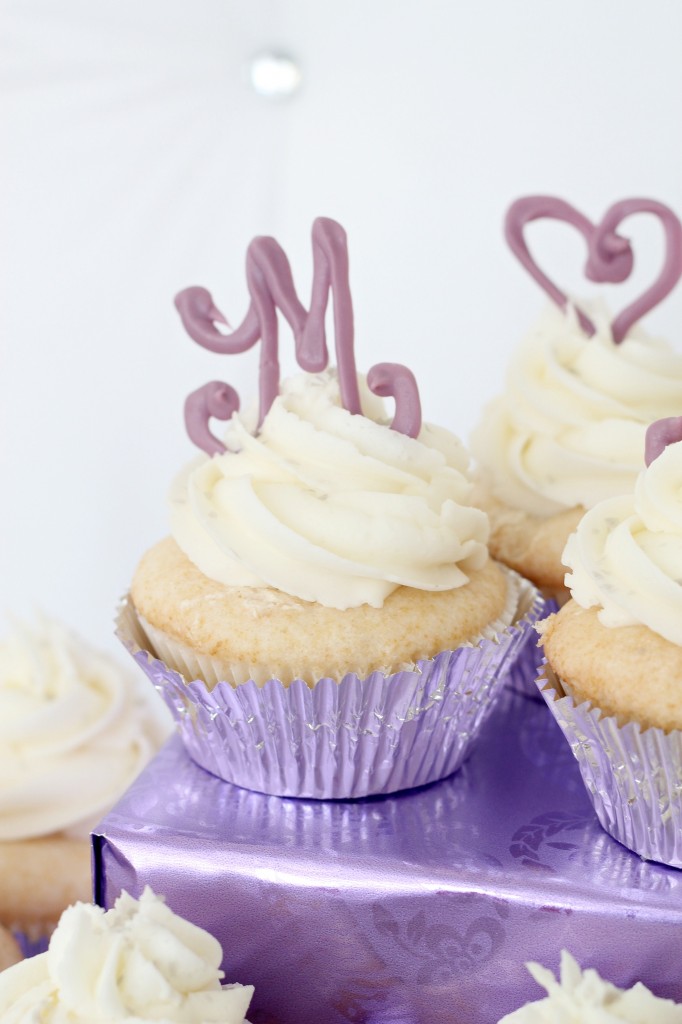 The cupcake toppers I made were "M" for Meg, "D" for David and a heart symbol. I did these similar to these Christmas cupcake toppers.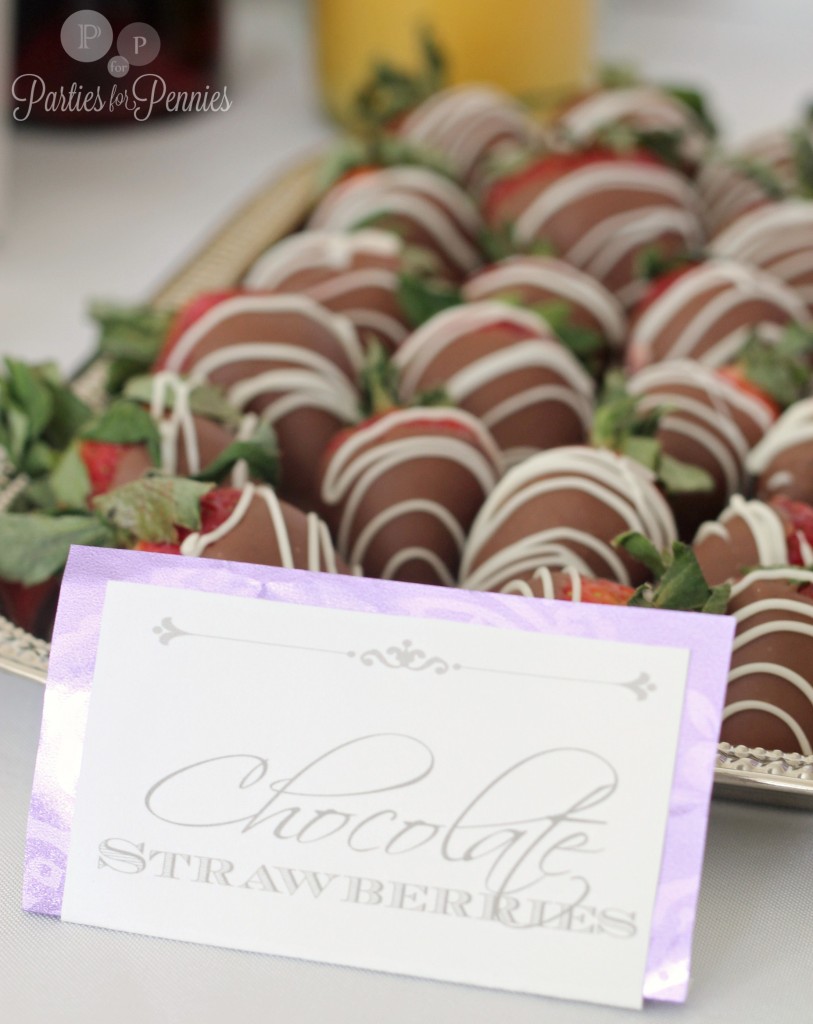 Chocolate-covered strawberries just seem to go perfectly with champagne. Don'tcha think?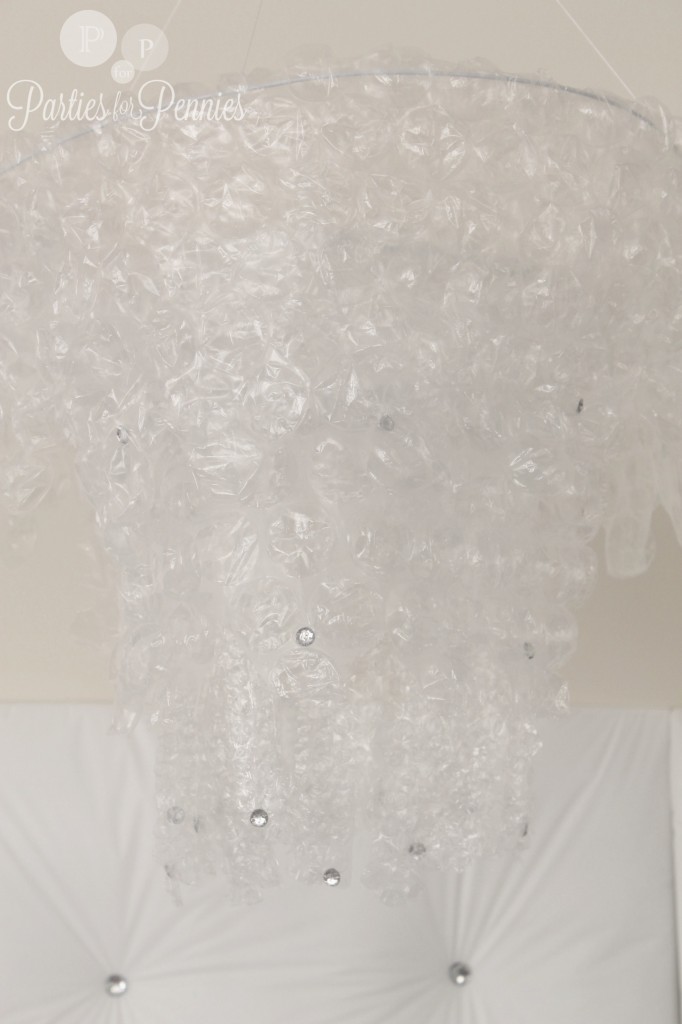 I really wanted to give this bridal shower a glam feel…but you know me and my penny pinching ways. Instead of shipping over a chandelier from Paries, I made one…from bubble wrap.
I used three wire hangers shaped into circles, taped the bubble wrap to them and added these diamond embellishments.
Around the bottom of the bubble wrap sections, I cut out a pattern like the one below. The bottom ring is just strips of bubble wrap.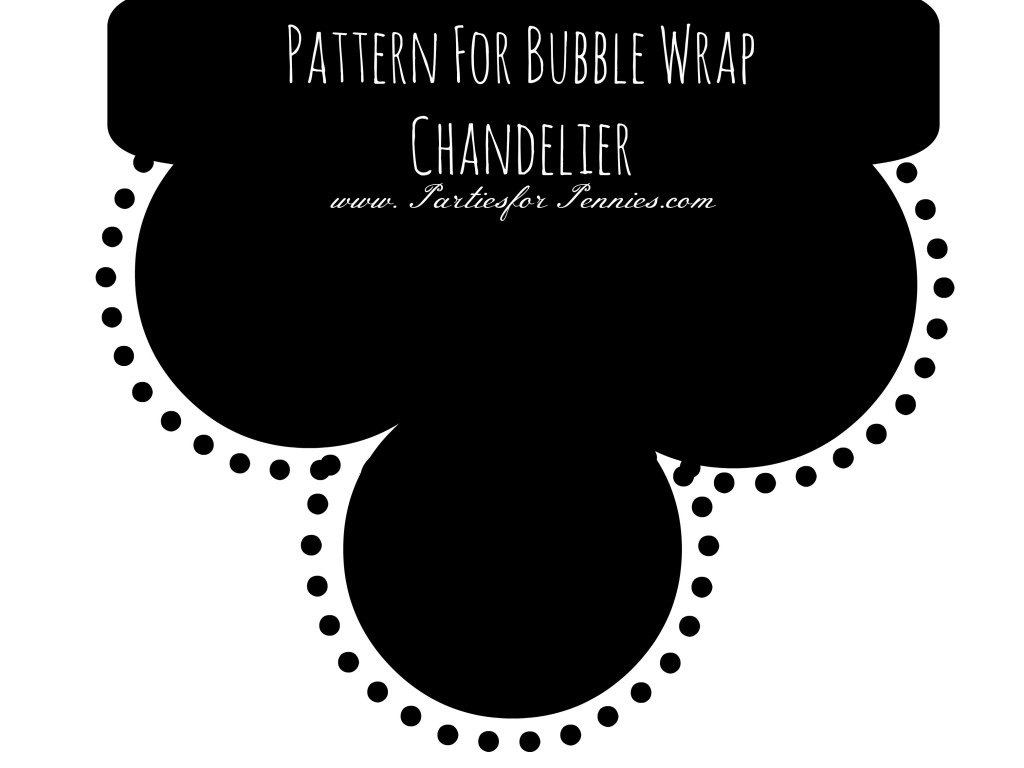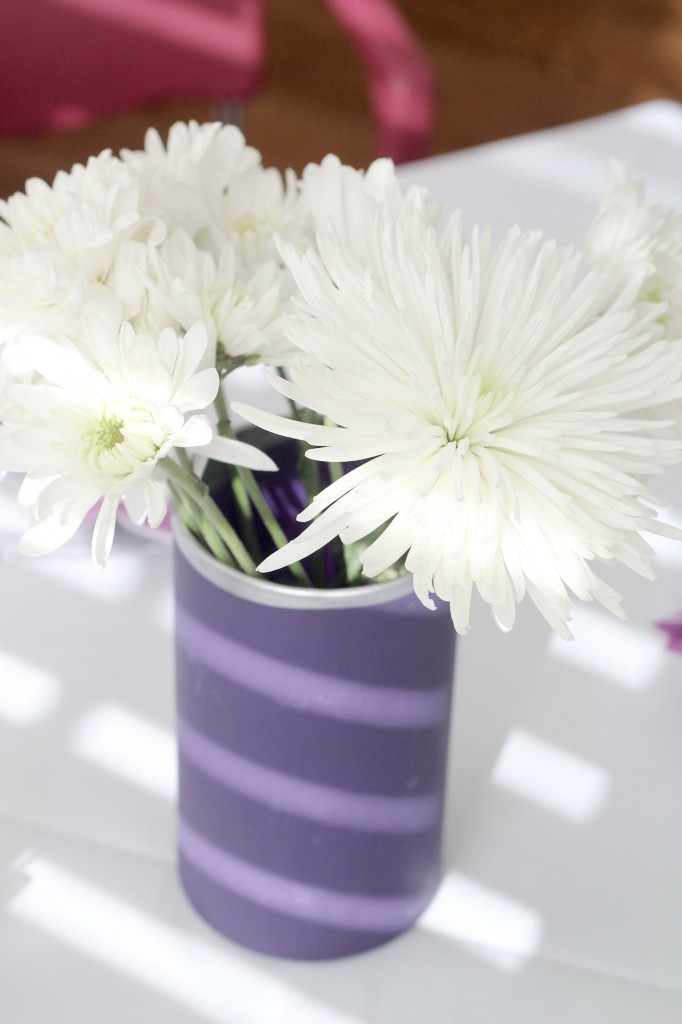 I created the centerpieces using $0.77 vases I got from the thrift store. I painted them with purple acrylic paint and then dipped the end in silver paint. I spent about $12 on white flower bouquets. I made 6 centerpieces so that ended up to be less than $4/centerpiece.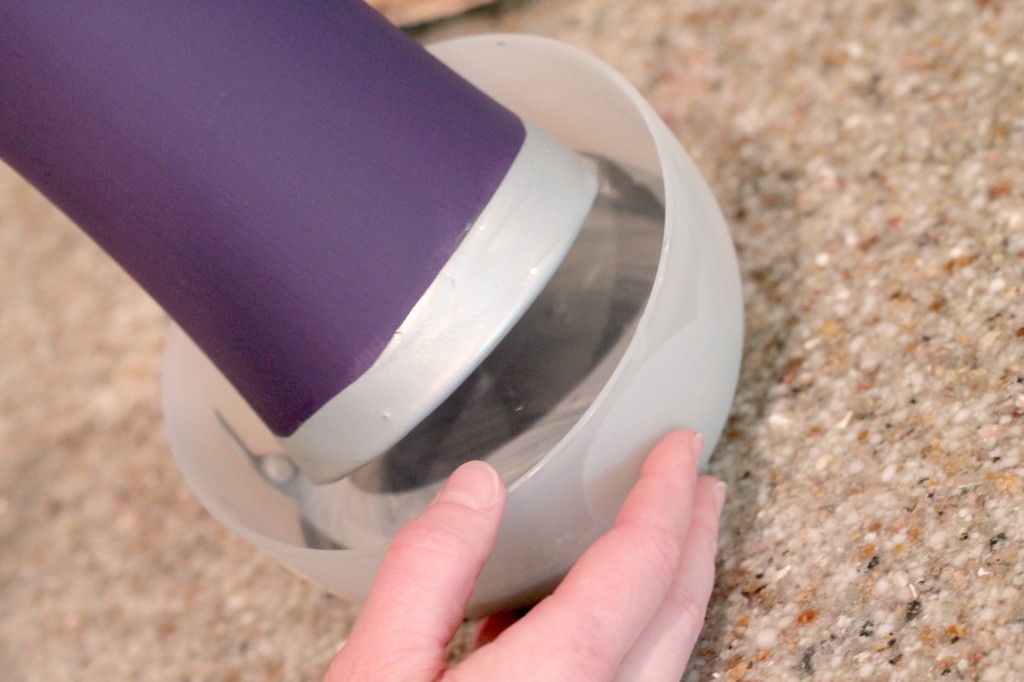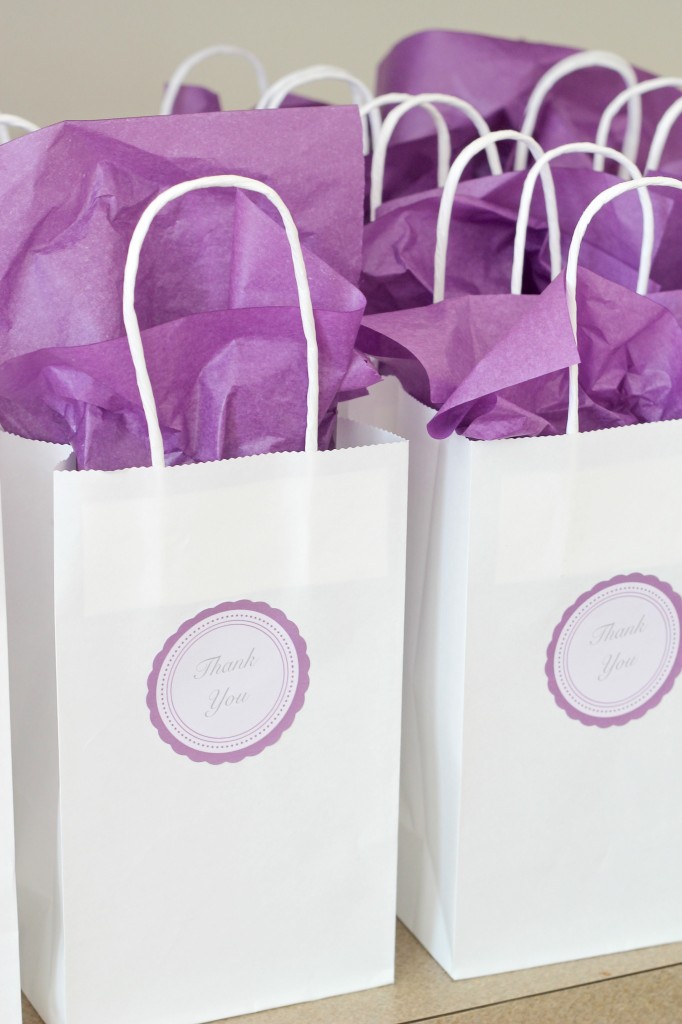 These were the bags the girls took their etched champagne glass home in. I also added some mints to the bags for a little something extra. If you're admiring the amazing tissue paper job…the credit goes to my husband, Mike. I know, right?? He was so sweet and came to help me set everything up. One of the things he did was stuff the bags with tissue paper. Pretty impressive, eh?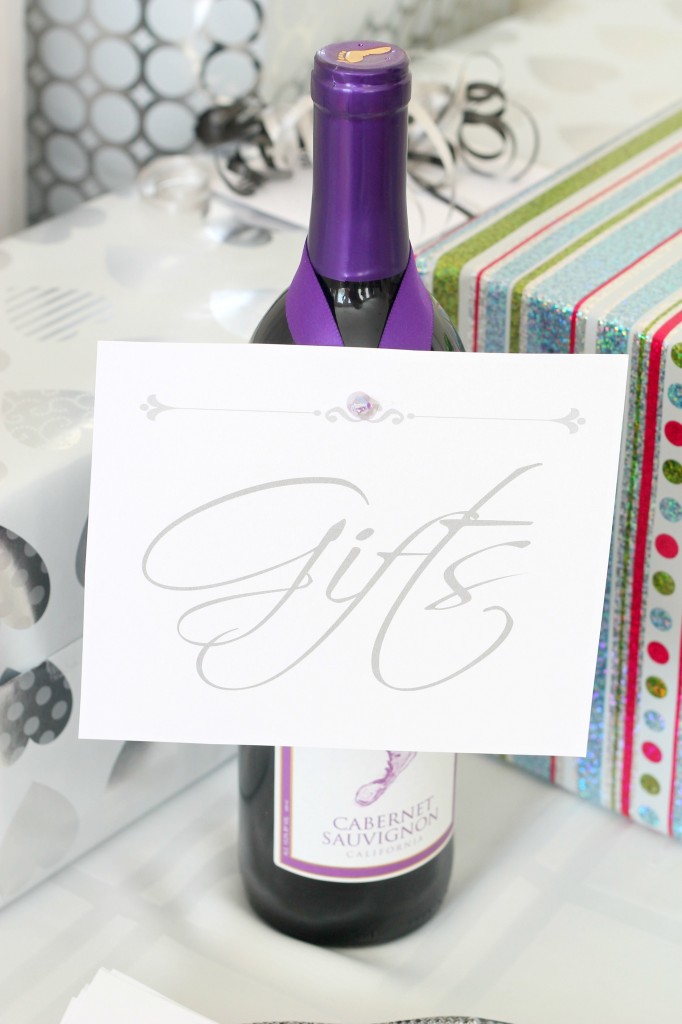 I ran out of frames to put signs in…so I improvised. Bottle of wine? check. Ribbon? check. Tape? check. Gift sign? check.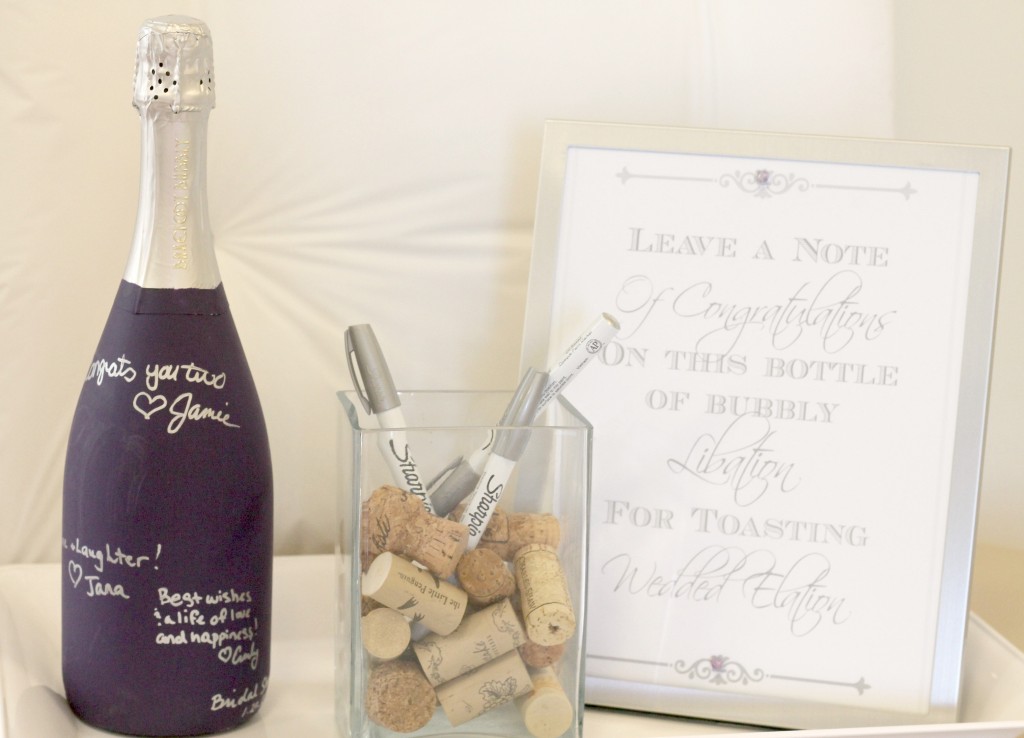 Instead of having a guest book, I painted a champagne bottle with purple acrylic paint and had the girls write congratulatory notes to Meg and David.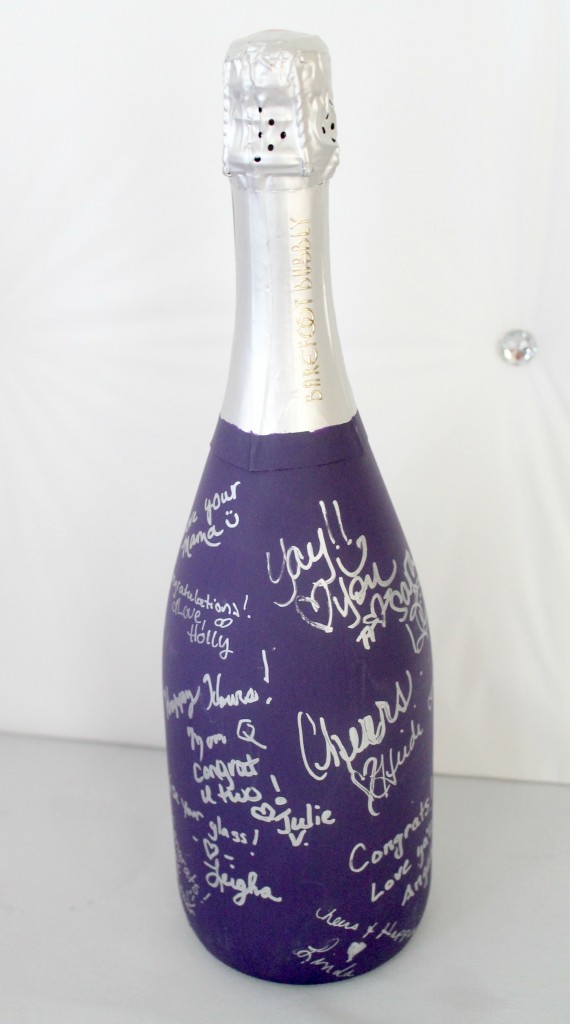 Meg and David can open this on their first anniversary or on their honeymoon and enjoy reading all the notes. After they've enjoyed the champagne, they can still enjoy the well-wishes.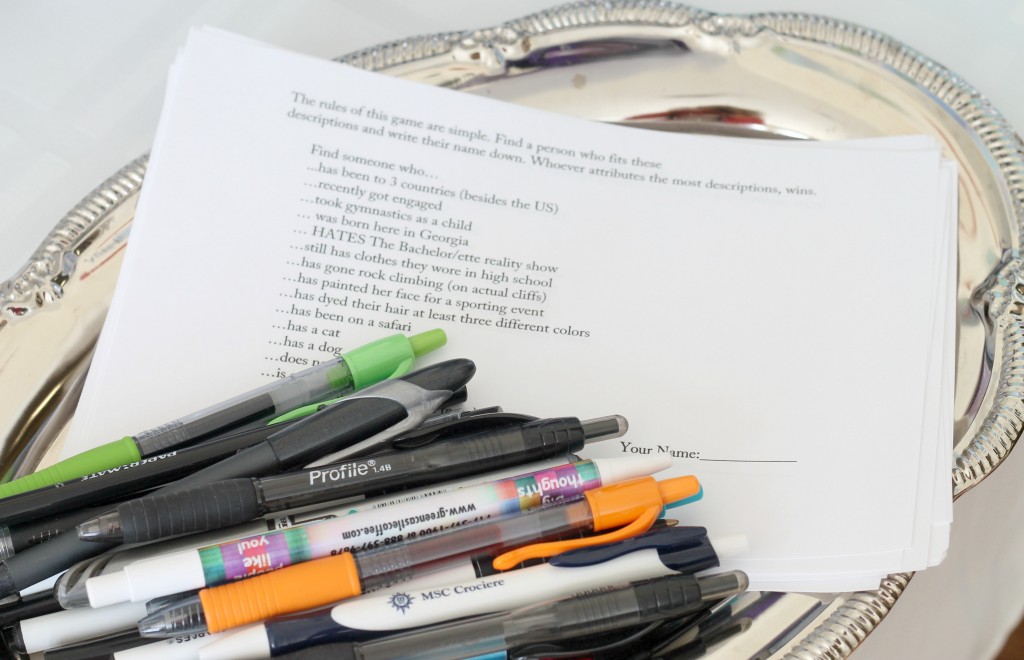 I'm not big into the usual shower games. We did however have an activity, called "Someone Who." I had 15 descriptions of experiences or opinions and the girls had to find people that could relate to them. For instance, one of the descriptions said "Someone who has been on a safari." The girls had to find someone else at the shower that had been on a safari.
The main purpose of the activity was to get everyone talking and getting to know each other. A lot of times, groups of friends are converging whenever someone gets married. The better everyone knows each other, the more fun the reception/wedding will be. Think about the time you've been to a wedding and only known the bride/groom. Four hours of ceremony and reception can seem like an eternity. I had hoped that this activity would get conversations started.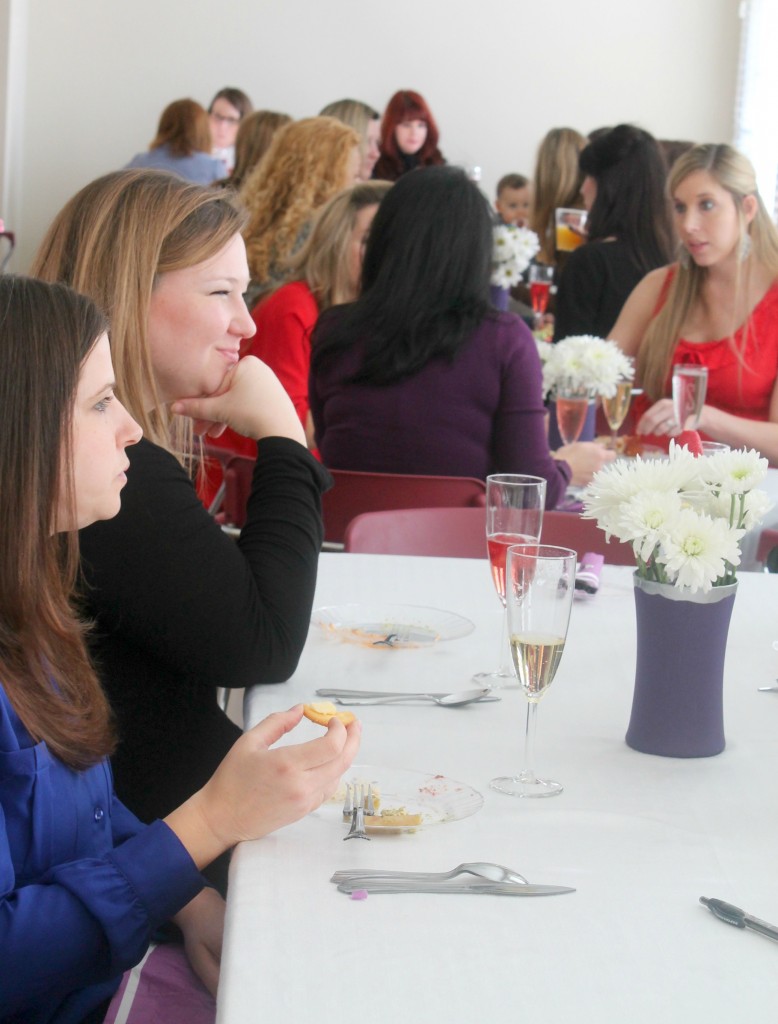 I think everyone talked.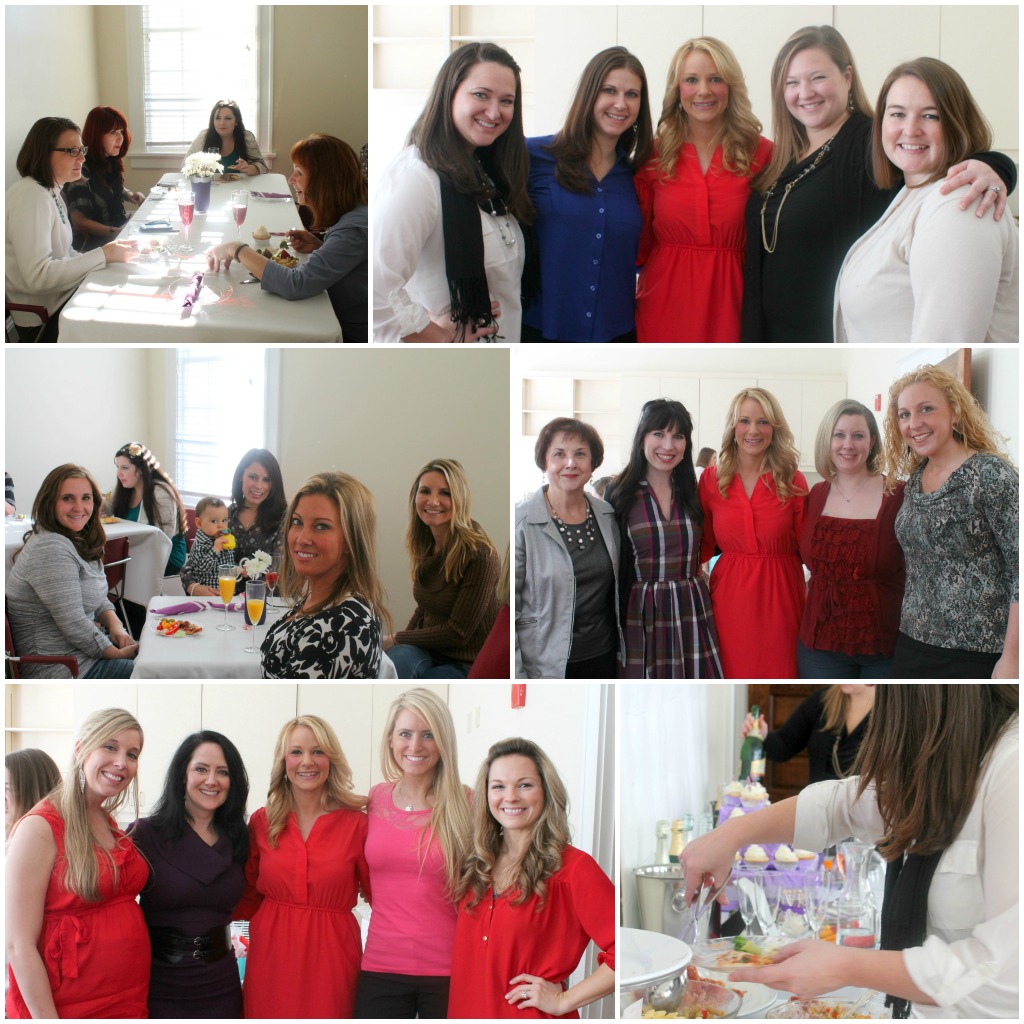 Meg really has some of the grestest friends…and soon to be in-laws!
We are both really blessed with amazing and wonderful in-laws!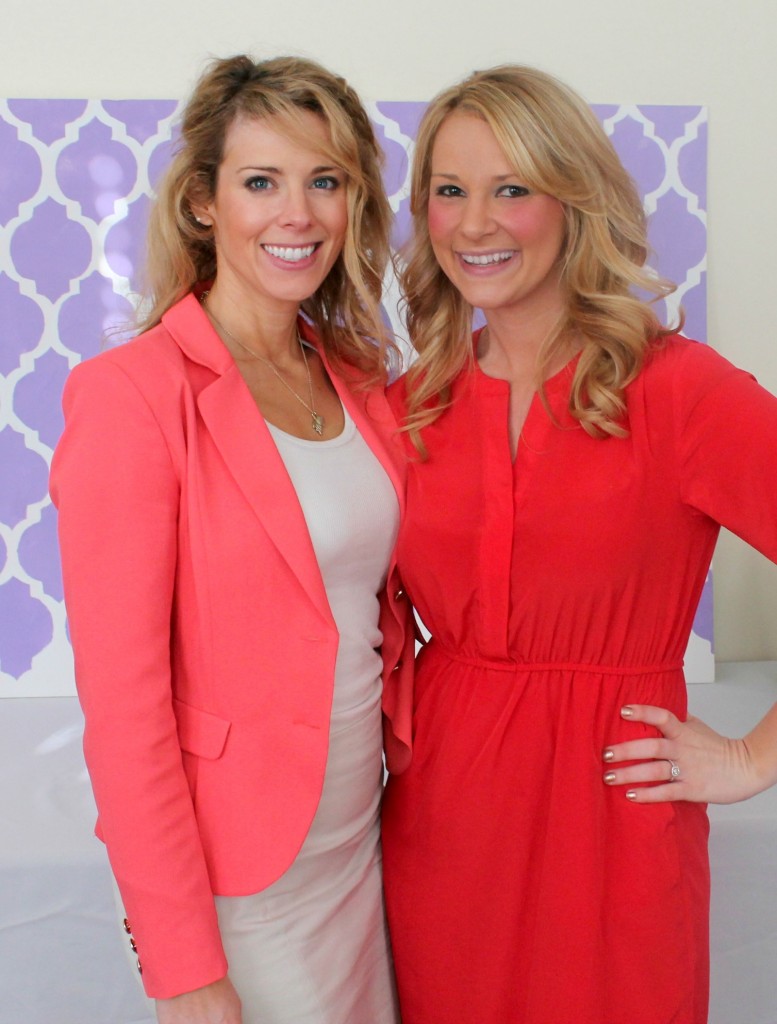 The best part of the whole shower was honoring the most beautiful bride in the world! I hope she felt as cherished as she is. Can't wait for the big day coming up soon!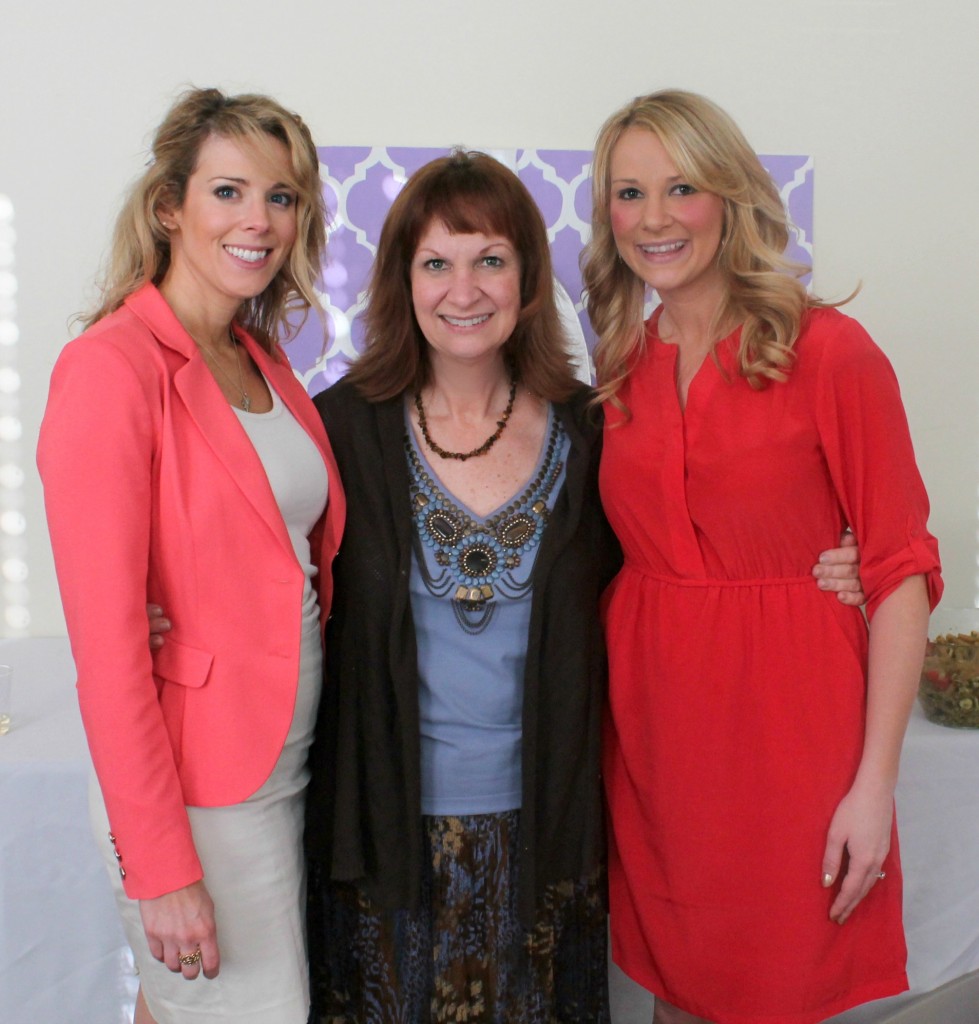 I really need to frame this picture. This is me, my mom and my sister. I seriously don't think I could've thought up a better mom. She always…I mean ALWAYS helps with my parties. She and my dad. They'll drive almost 4o minutes to help out. So…thank you, mom, again for helping me.
And thank YOU for being patient with me as it took a little longer than I had expected to post this!
If you want to see how I created the tufted backboard and the photo backdrop, click here and here.
Hints at what is coming up next here at Parties for Pennies…an announcement, something that smells good and something that tastes good.
You know what to do…party on!
p.s. This is YOUR official invite to the party… on the PartiesforPennies facebook page!  Click here.
LINKING TO: