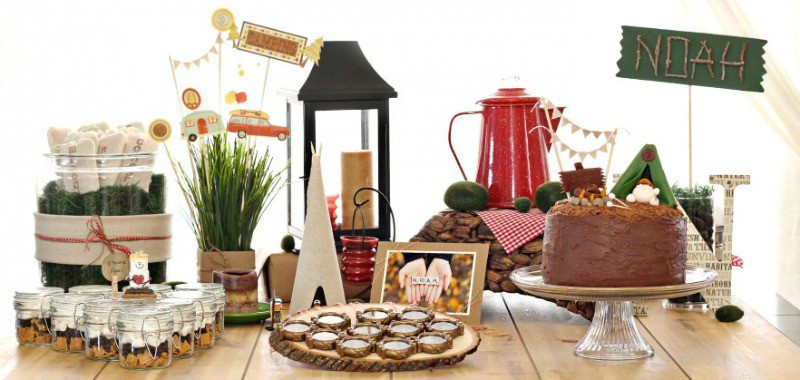 Hey party people!
On Mondays, I've been sharing answers to popular party questions. You can find out when to send out invitations, how much food to prepare, the #1 party tip, how to set up a dessert table, and get a free party budget printable.
Today, I'm going to try and answer a question from one of our fellow P4Pers.
Amy wrote:
I have boy/girl twins that will be turning one October 3rd. Do you have any inexpensive ideas for a birthday party theme that would work for both genders? We're on a strict budget but want to make it fun because we will have adults and children attending. Thank you for your time!
First of all, thanks so much Amy for writing. Second of all, hats off to you. I know twins can be exhausting…then again…being a mom is exhausting. ;p Just know I think you rock!
Here are a few1 yr old birthday party ideas I thought would work for a boy & girl, fun for adults, and keep money in your pocket.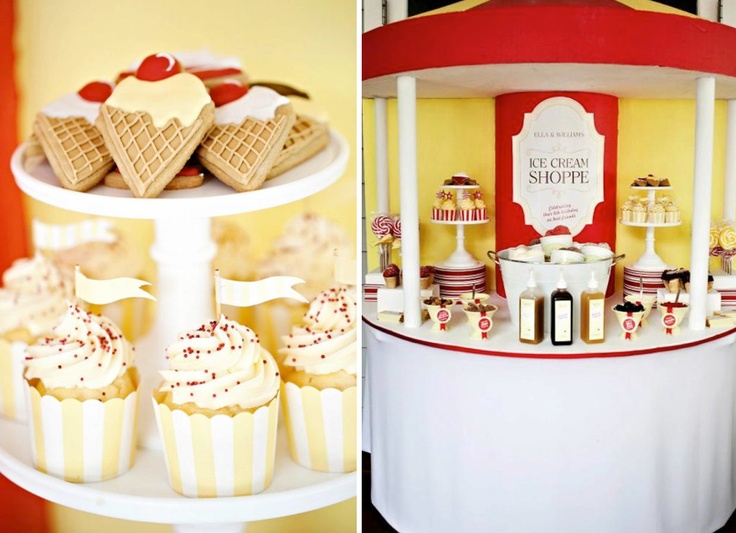 Ice Cream Party by Kara's Party Ideas
Who doesn't like ice cream? Sticking to one central food item will keep it cost effective and less work for you. Get plain vanilla and offer various toppings for guests to create their own delicious masterpiece.
Keep the decor simple by using a rainbow of colors…think sprinkles.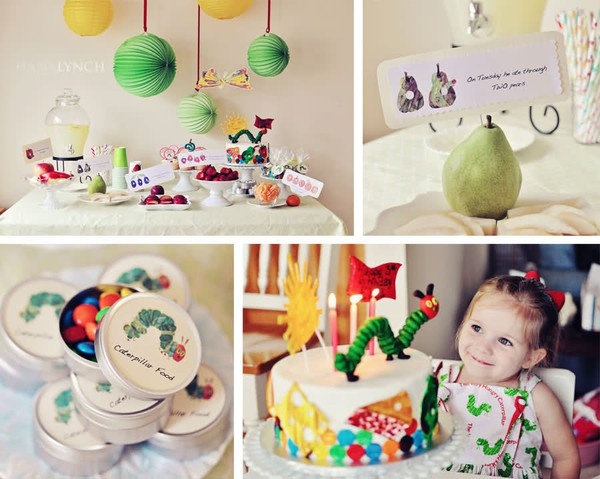 Caterpillar Party by Lilsugar.com
Boys & girls adore the Very Hungry Caterpillar. How can you save money with this party?
No need to be an amazing cake decorator, just take multiple green cupcakes & add a red one on the end to create your own edible caterpillar. You can also have a caterpillar greet guests by stringing a waving line of green balloons with a red one on the end. Add some eyes & antenna from construction paper and you've got a statement piece for a little over $1.
For food, serve apple slices and other fruit. You can even use a few green gummy worms strategically placed to look like it's munching on an apple slice.
For favors…don't worry about getting those little tins. Just use some inexpensive plastic treat bags. Add a little tag that says "Caterpillar Food" and add some candy.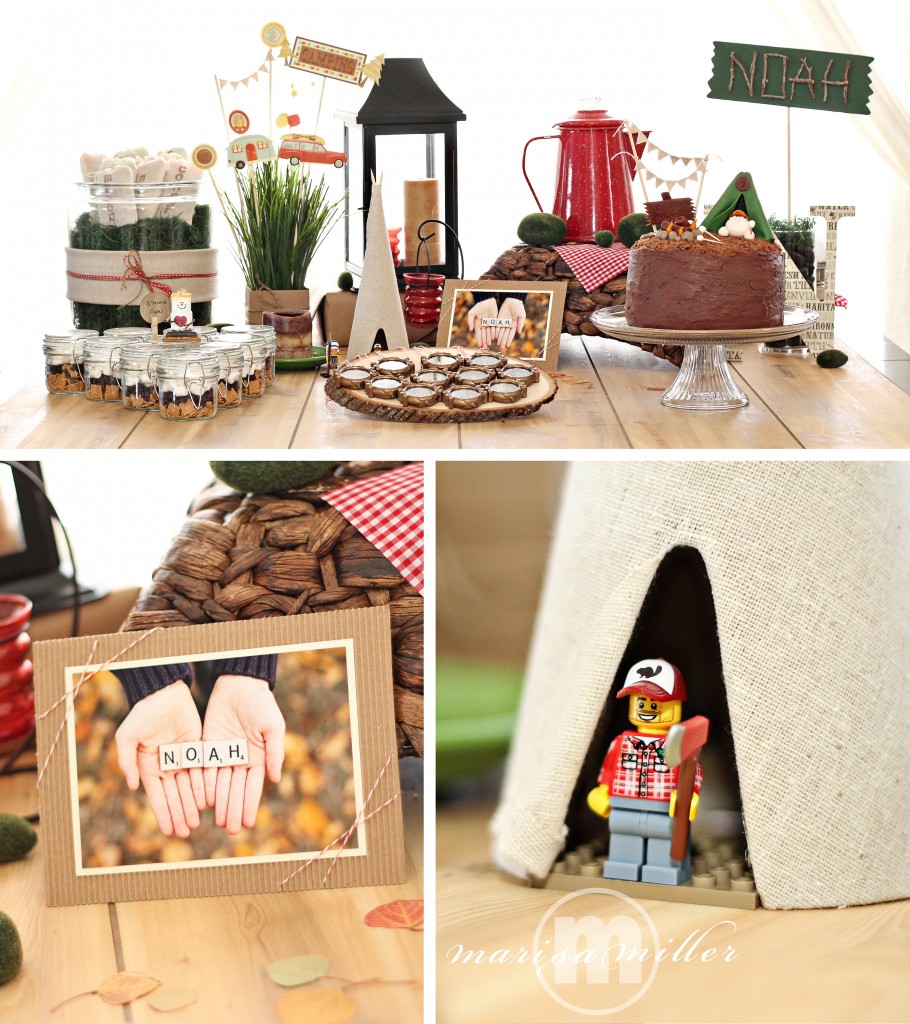 Camping Party by Project Nursery
Since the party will be in October, s'mores would make the perfect party treat! A backyard bonfire or even indoor s'mores will make a fun treat for all ages.
Since it's a camping theme, you can cut back on the food budget by offering brown sack lunches. Fill it with a pb&j sandwich, trail mix and some celery sticks. This not only saves money, but it saves time too.
If you have any camping supplies use those as props to make the table festive. Use a rolled up sleeping bag to add height to the table (like in my How to Set Up a Dessert Table) or a lantern to give some interest.
Wanting to save money on labels? Use cut up/ripped pieces of old brown grocery bags (I always save my Trader Joe's bags) for your labels.
For favors, send them home with their own family set of s'more sticks. These can be made from cheap wire hangers you can get at the dollar store. Undo them and customize each set by adding felt handles to one end or just wrapping yarn around one end. You can get away with an entire family favor for around $1/ea (or less). Another option for the adults are personalized matchboxes. You can find out how I did some for our wedding reception here.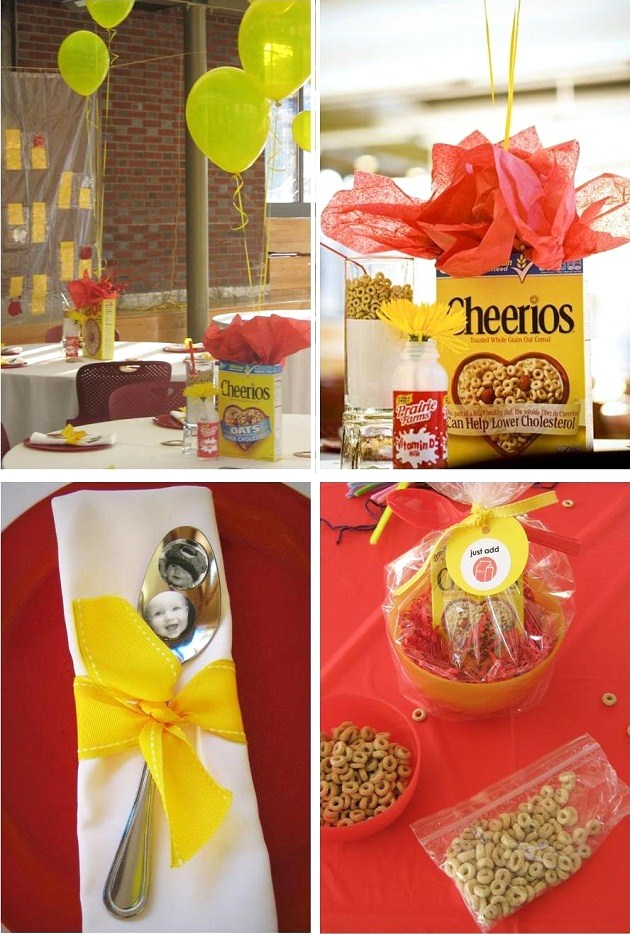 Cheerios Birthday Party via Celebrations at Home
I think this may be one of my favorites. Have you ever, ever met a 1 yr old that doesn't like Cheerios? Have you ever met an adult that doesn't like Cheerios? They are the bomb and I'm head over heels for this party theme.
Since the party isn't until October, you can hoard some old Cheerios boxes until then. They'd make great decorations and if the kids eat cheerios anyways, it's no extra cost to you.
For the cake, just do a regular cake with white icing and pour some cheerios on top. It will be the perfect blend of "milk" & cheerios.
For favors…you can get the mini boxes of cheerios or create your own cheerio trailmix. Maybe try the recipe for the chocolate-powdered sugar chex mix using cheerios?
Another idea is to serve mini cake doughnuts to make them look like extra large cheerios.
Hope these themes gave you some inspiration, Amy! Please share the pictures after October! We can't wait to see them.If you have any more questions or need any other ideas, just let me know.
Does anyone else have any ideas for Amy? Anyone else have to throw birthday parties for twins? What do YOU do?
p.s. This is YOUR official invite to the party… on the PartiesforPennies facebook page! Click here.