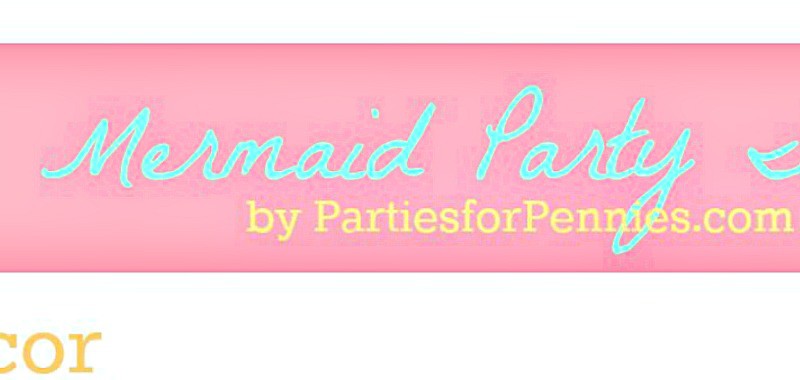 Hey party people!
I've been getting a lot of requests lately for party inspiration (or what I call partyspiration boards).
Parties for Pennies member, Bess, emailed me & said her daughter is turning 8 and having a Mermaid party. She wanted to see if I had any mermaid party ideas that would help her save money but create an amazing party for her daughter.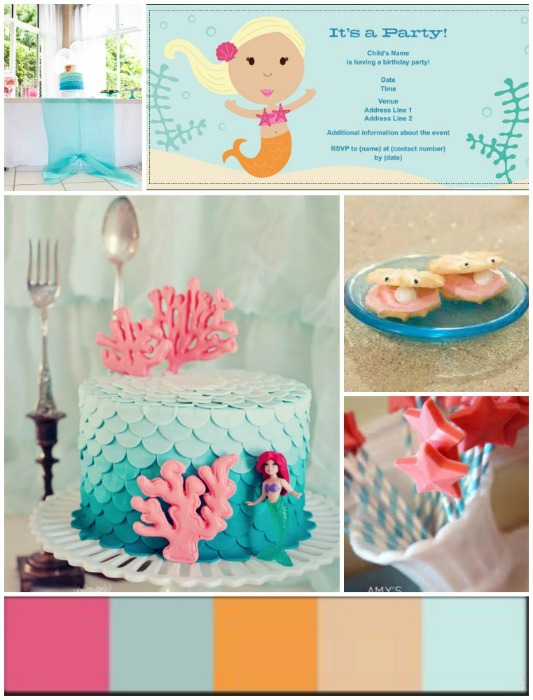 Bess sent me a picture of the invitation she created using Vistaprint. You can see it in the top right-hand corner of this Partyspiration Board. I used that to create a color scheme. I always try & start with a color scheme and, sometimes, textures of a party. Sometimes the hardest part of party planning is making decisions. With Pinterest, we have so many ideas at the touch of a pin. Creating a color palette helps guide inspiration and create cohesiveness.
If you want to find out more about the ideas I included in this Partyspiration board, here are my sources:
* Mermaid Tail Table Decoration (top left): Amy's Party Ideas
* Scalloped Cake (middle): Chickabug Blog
* Oyster Cookies (mid-right): The Complete Kids Party
* Mermaid Wands (mid-right): Amy's Party Ideas
I had a few more ideas for Bess regarding decor & activities. Here's what I came up with: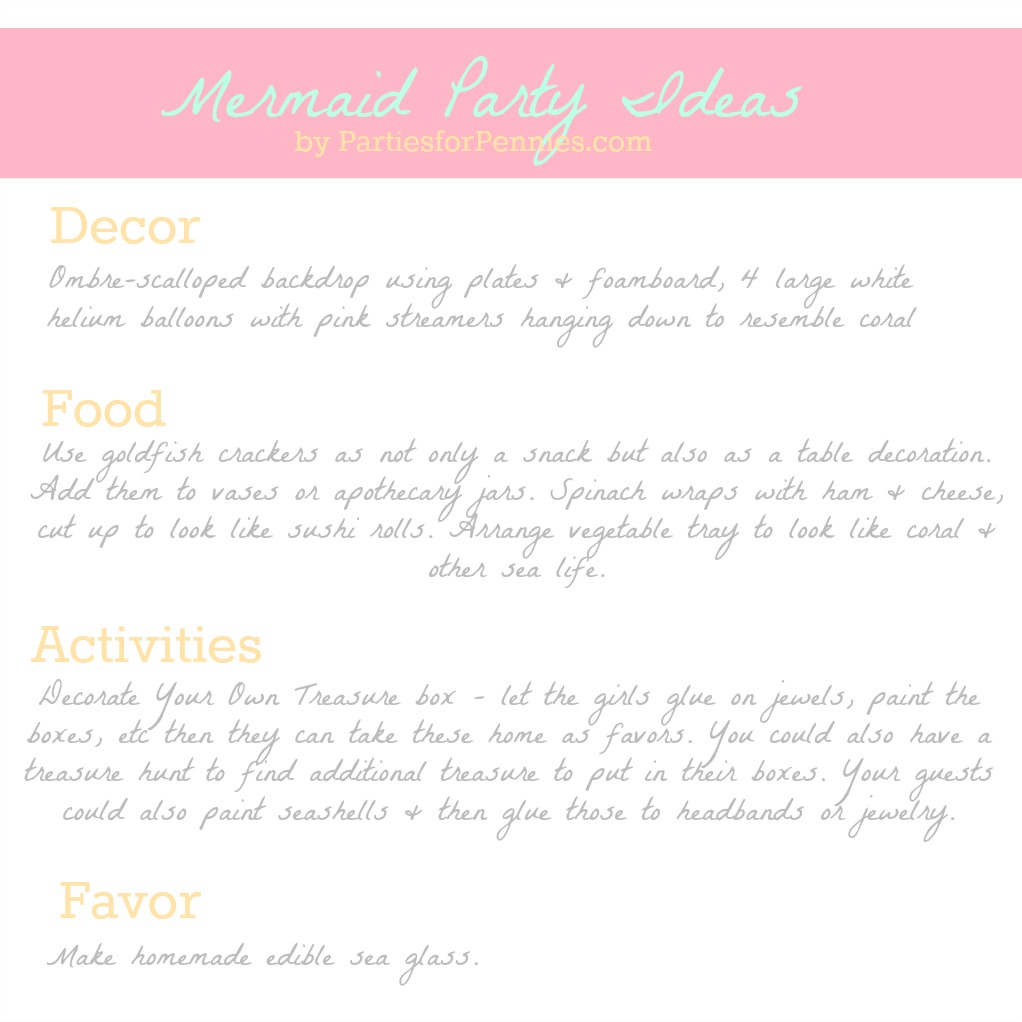 For the decor, I recommended that Bess use a tri-fold foamboard as a base & attach paper plates in a scalloped pattern on top of it. Using several different colors of blue plates, you can create an ombre-type look. Begin at the bottom with the darkest blue & go lighter towards the top. Attach the plates to the foamboard with either hot glue or a stapler.
The scalloped plate backdrop will be inexpensive & give the food table an "under the sea" vibe.
On either side of the scalloped backdrop, anchor two large white helium balloons (one a tad higher than the other). Attach pink streamers (you can fringe them or leave them as is) to where the balloon string is to give them a coral-type feel.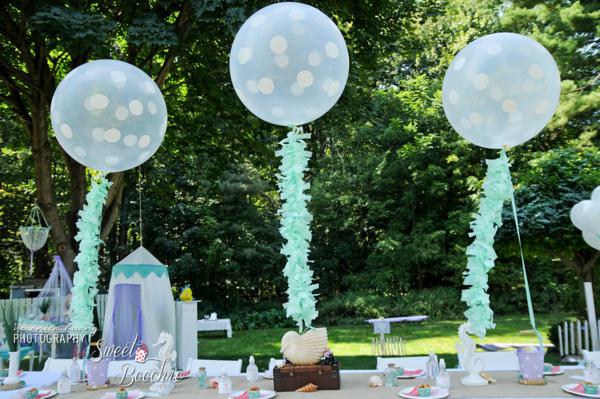 This Mermaid Party on Kara's Party Ideas blog gives you an idea of the balloons I was thinking about.
For the food, use goldfish crackers to fill up space on your food table & also add some decor. Fill up apothecary jars with them or even vases. You could even fill vases with the crackers, then top with your serving dishes (like this old Parties for Pennies post here).
As for the favor idea, if you need a good recipe for making edible seaglass, check this one out.
Hope these ideas helped, Bess!
Do you have a little girl that wants a Mermaid party? Or an Ariel party?
I loved the Little Mermaid as a little girl! I used to go around singing that song she sings that goes, "Look at this stuff, isn't it neat? Wouldn't you think my collections complete?" I knew all the words. Except…I used to think she said "…pregnant women…" instead of "…bright young women…" Classic case of incorrect song lyrics. I'm a habitual offender.
Stop back in on Wednesday because I've got a way you can decorate for Memorial day without having to spend a fortune!
Until then…Party On!
p.s. This is YOUR official invite to the party… join in on the Parties for Pennies Facebook page, Twitter, and Pinterest!