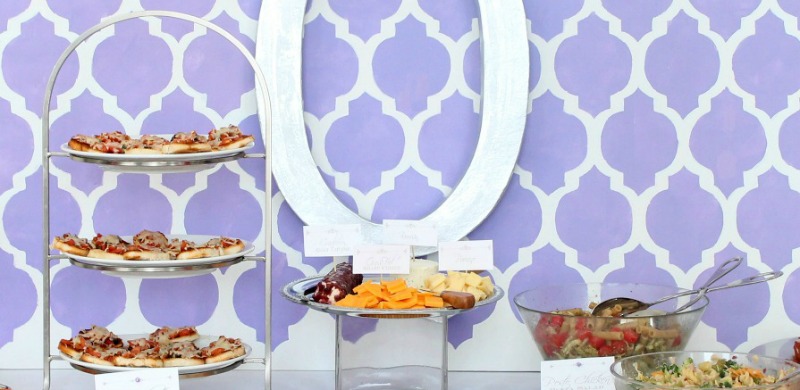 Hey party people!
A couple years ago, I fell in love. I fell hard. I fell fast. I began dreaming of the future from the first time I laid eyes on my love. You could say I had it pretty bad. But I didn't care. It was destiny and my love continues to grow to this day.
No, no, I'm not talking about my husband (although I guess I could…he's pretty wonderful). I'm talking about stencils!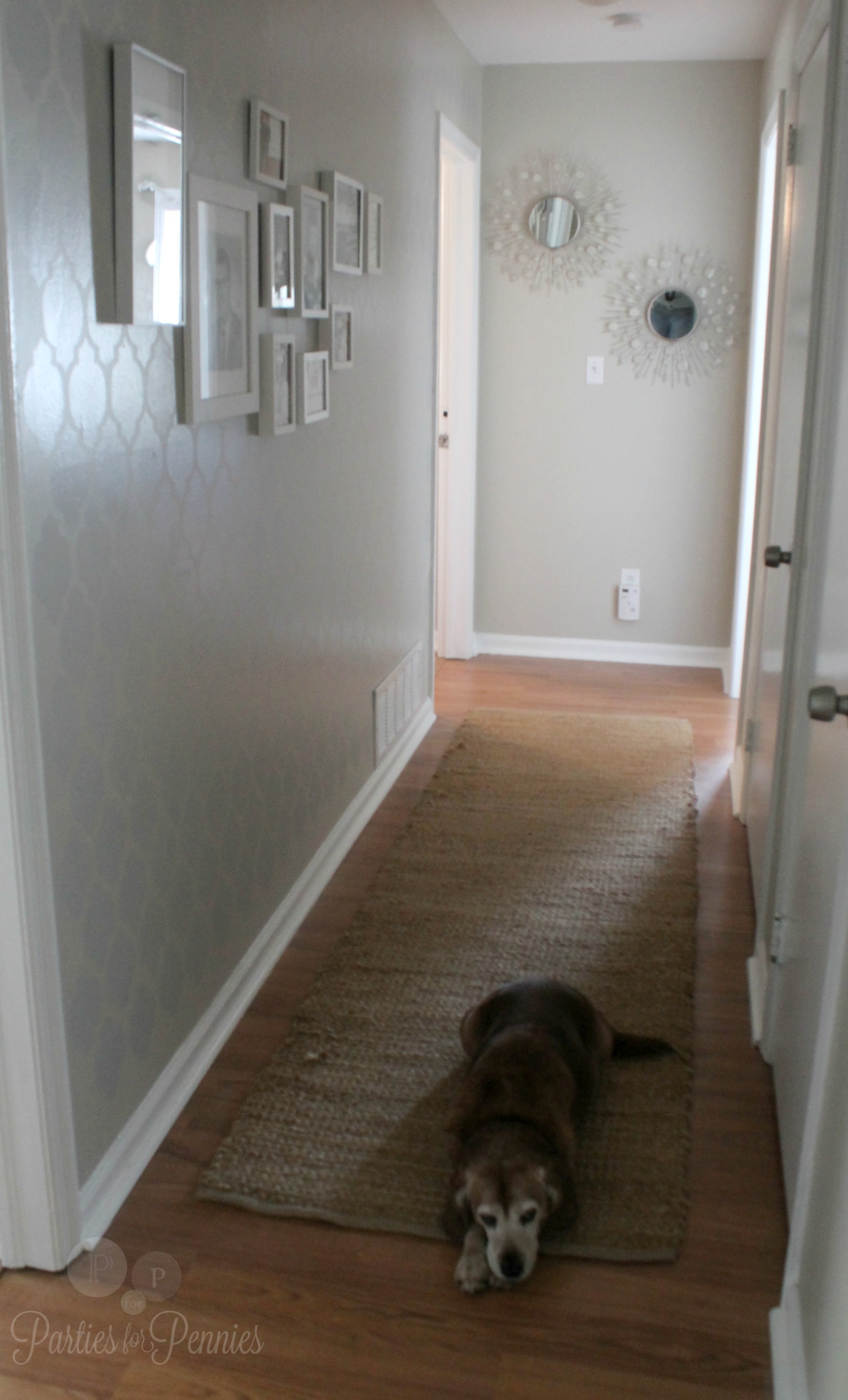 It all started with this blah hallway that needed some oomph. The stencil was the perfect solution for giving this hallway a little facelift.

I loved it so much, that I used it for this party backdrop too.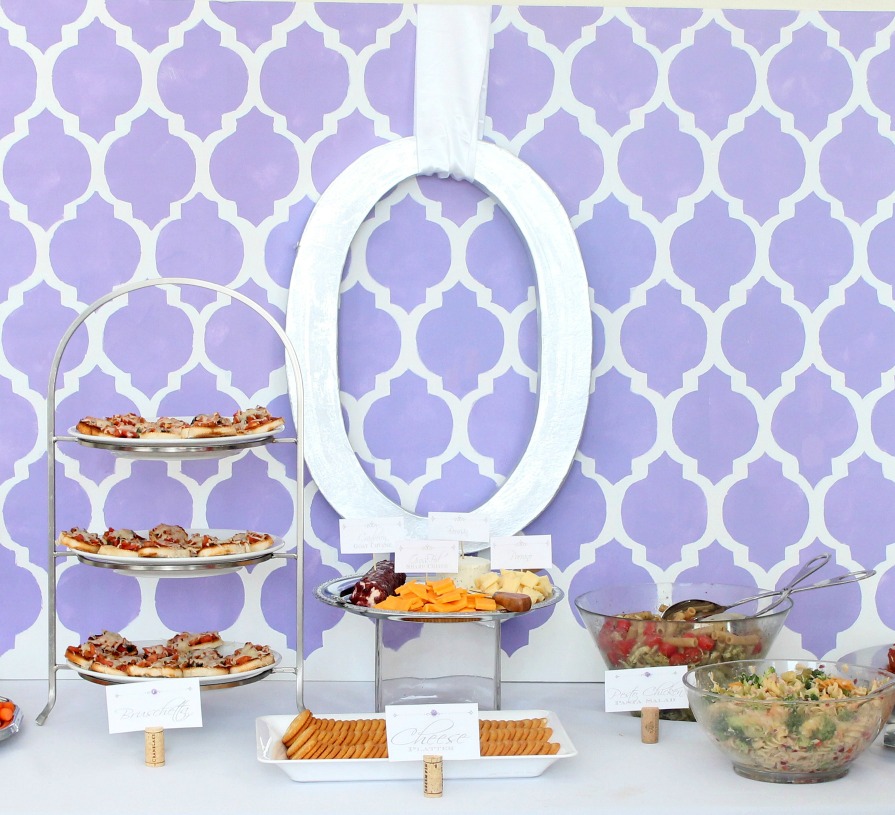 Fast forward to today.
I'm helping plan & host a baby shower for a friend of mine next weekend. I really wanted a tablecloth with a specific design & a specific color. Tablecloths can get really pricey, though & I just wasn't finding what I wanted.
I remembered my sweet love of the stencil and Royal Design Studio & thought…hmmm…what if I created my own stenciled tablecloth?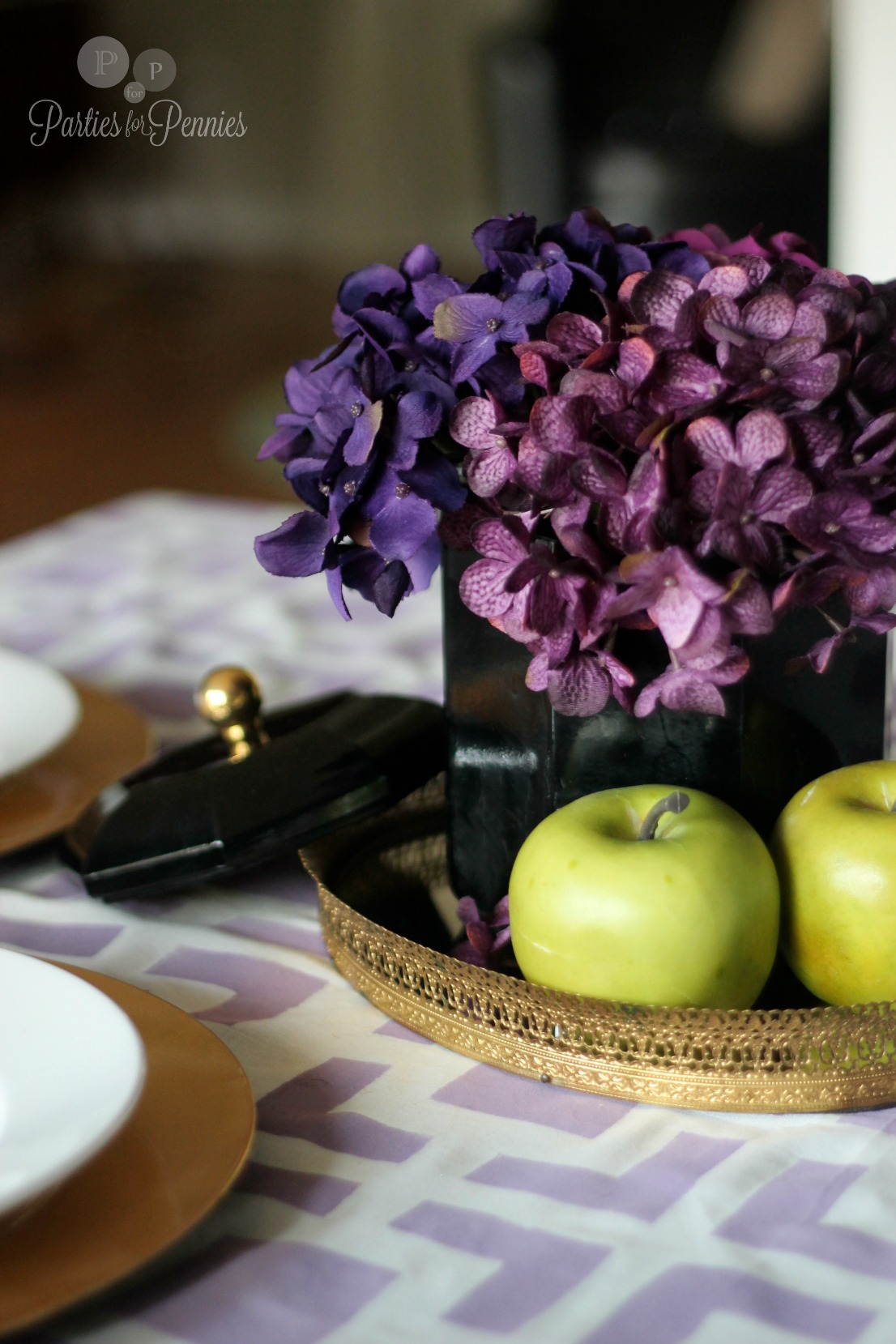 Royal Design Studio's Hollywood Squares stencil (large) was exactly what I needed.
To save money, I bought a flat twin sheet at IKEA for $3.99 to use as my tablecloth.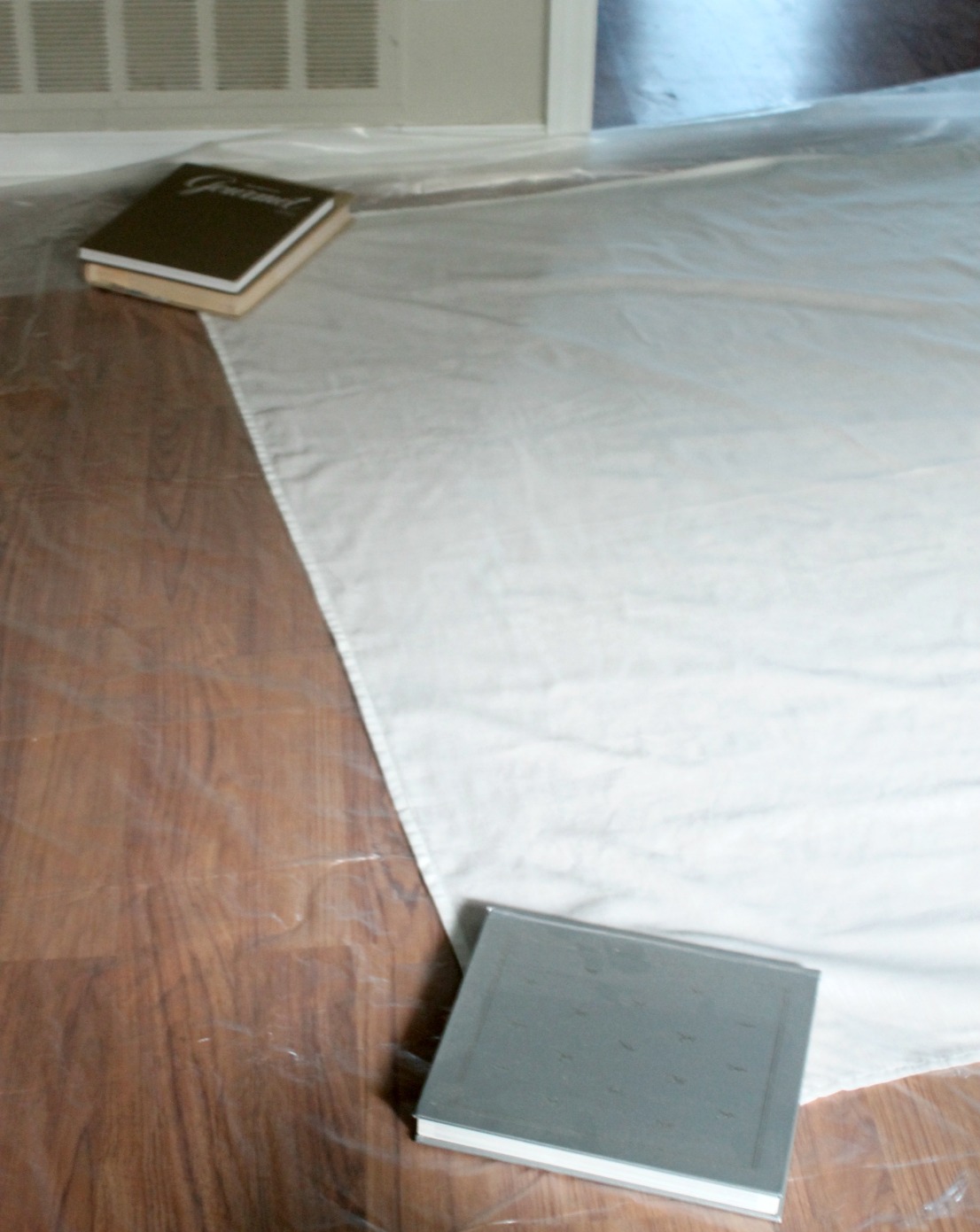 I washed the sheet, ironed it and laid it out flat on top of a plastic drop cloth.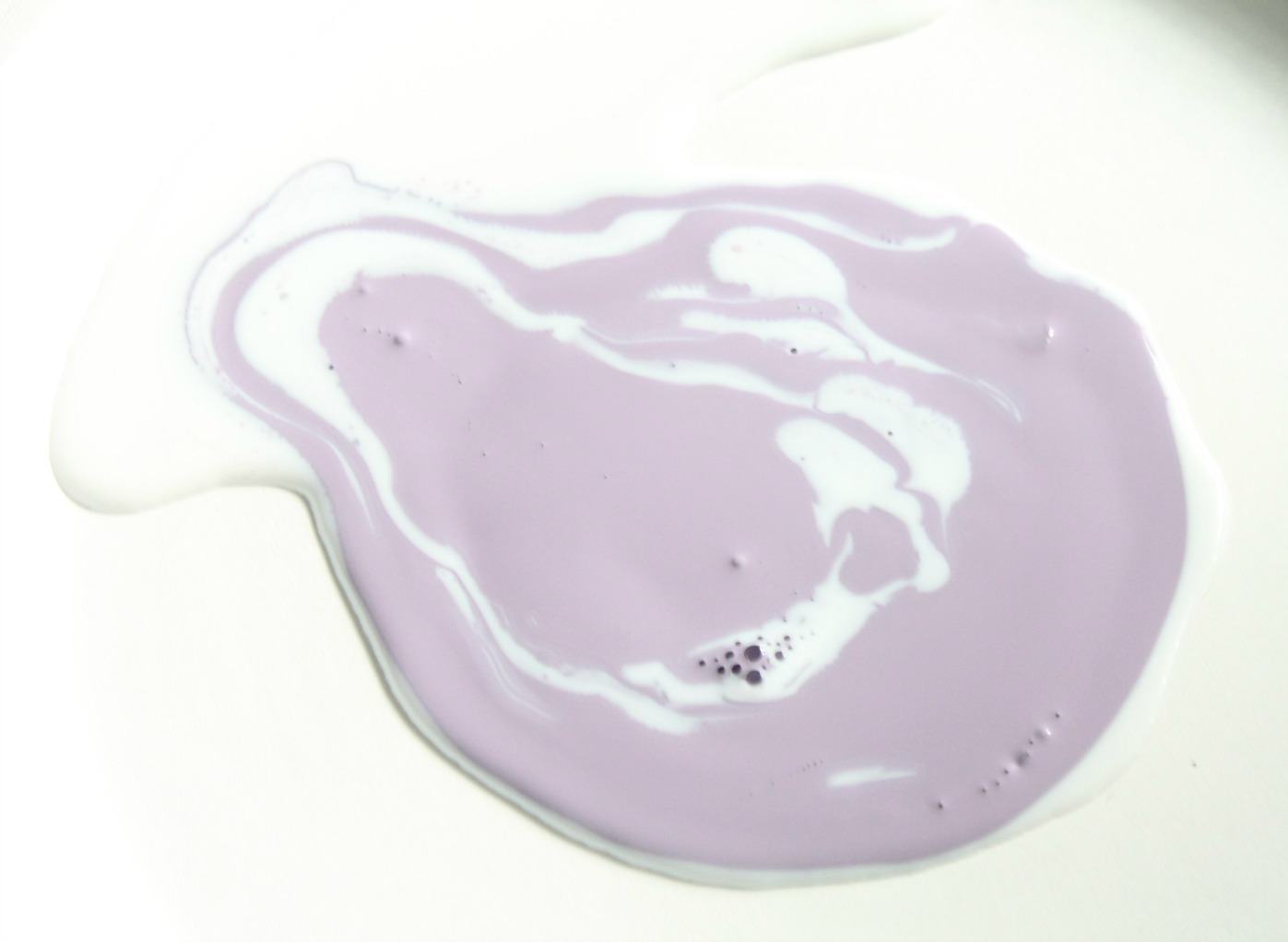 For the paint, I used acrylic paint mixed (equal parts) with fabric medium.
Royal Design Studios also has an amazing line of stencil creams. I was going to use their purple cream but it ended up being too dark. Instead, I mixed regular acrylic paint with fabric medium.
Royal Design Studio's stencil creams go a really long way and are fine to use on fabrics.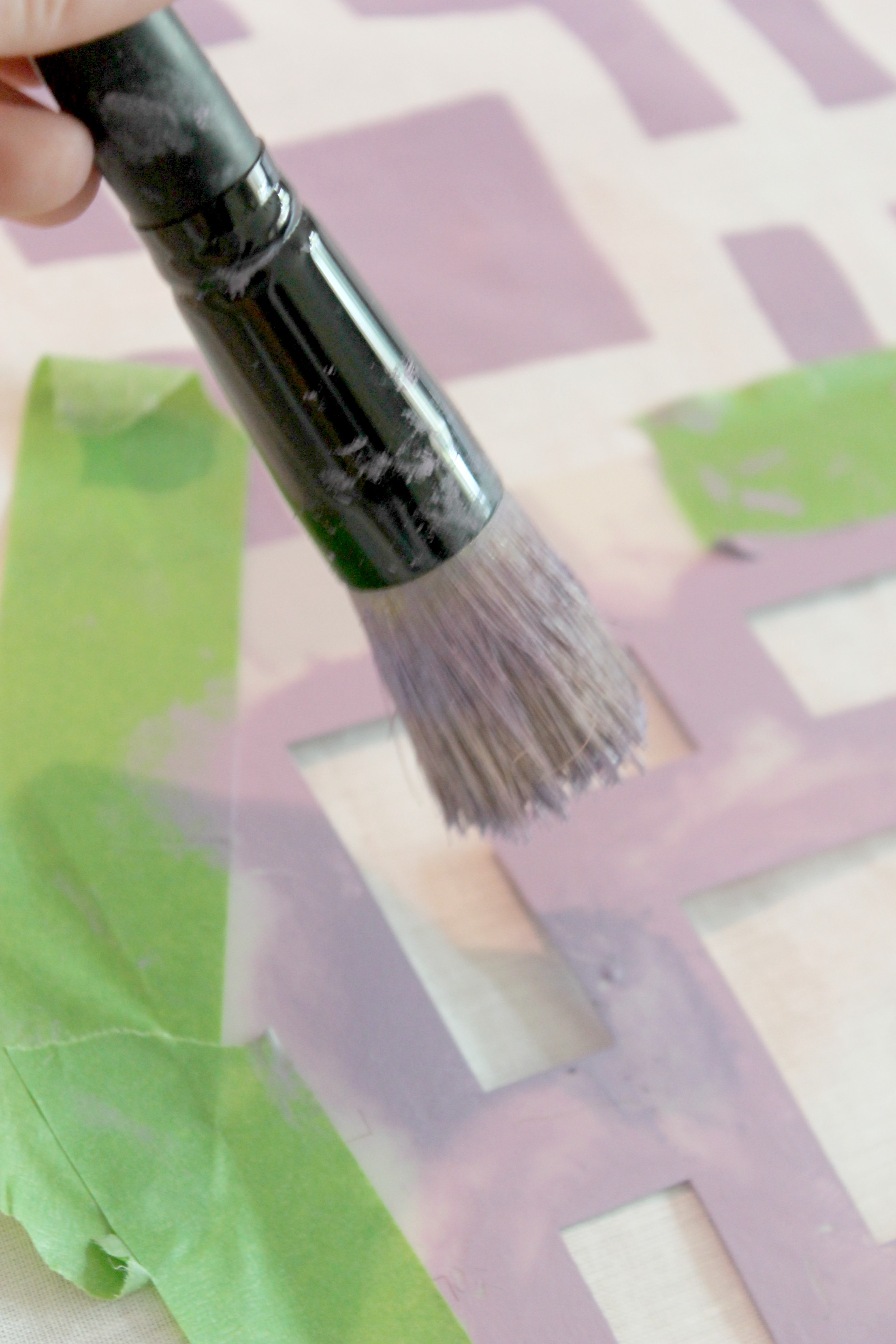 Make sure the sheet/tablecloth is laying flat, tape the stencil to the tablecloth using painters tape and begin painting.
I've used regular paint brushes and rollers with my Royal Design Studio stencils before & I highly recommend you purchase one of their brushes. It makes all the difference in the world!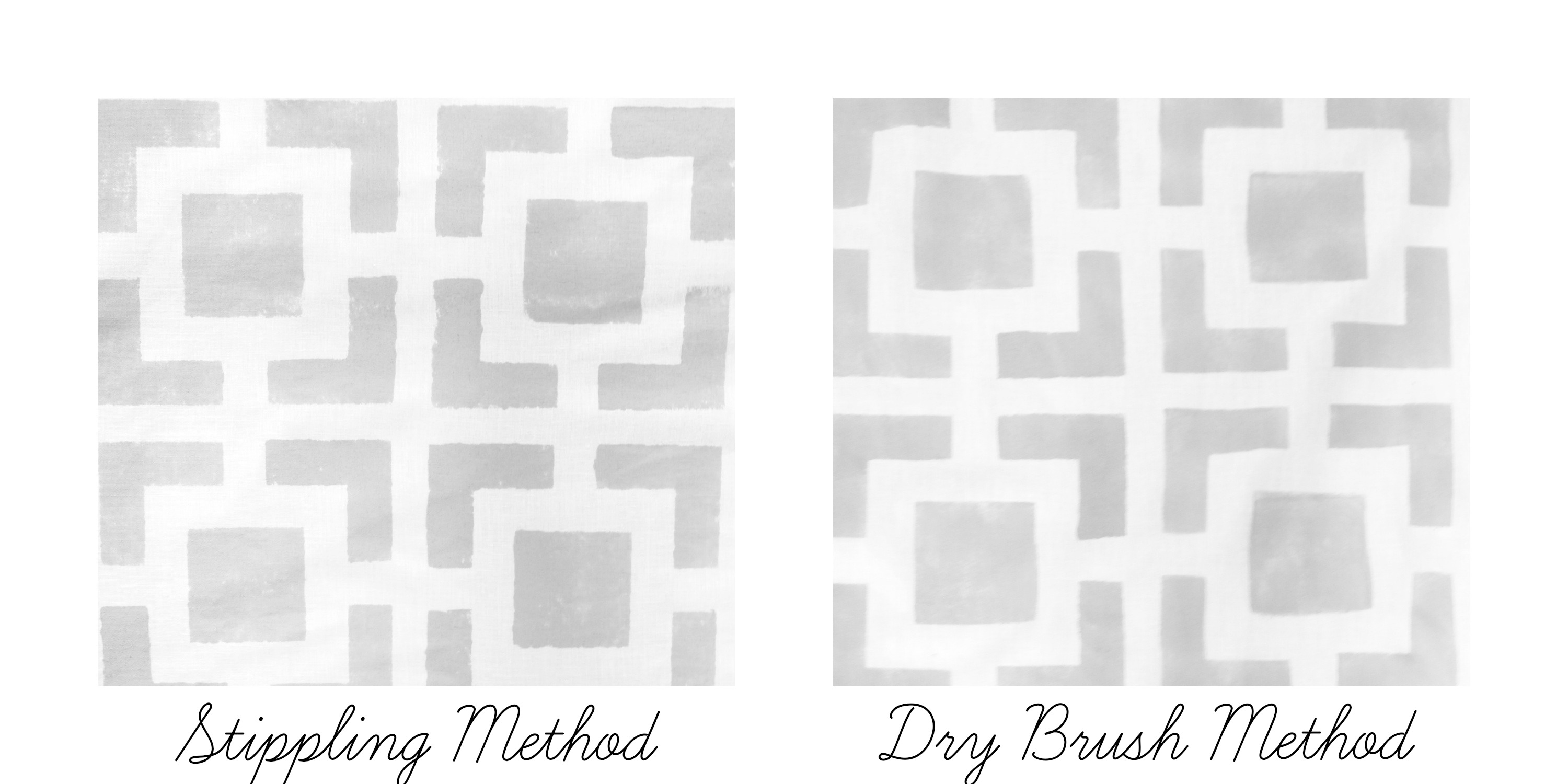 Another thing that makes all the difference is how you stencil. There are two different brush strokes I tried. The first is the stippling method. That's when you take the brush and "pounce" down on the fabric. You end up with more of a grainy texture.
The second method is called dry brushing. Dry brushing is when you dip your brush in the paint, then dab the brush so excess paint comes off and with a circular motion paint your stencil.
I preferred the dry brush technique because the lines were straighter.
I was a little nervous about working with stencils but thankfully, Royal Design Studio has a whole page that features how-to videos and instructions.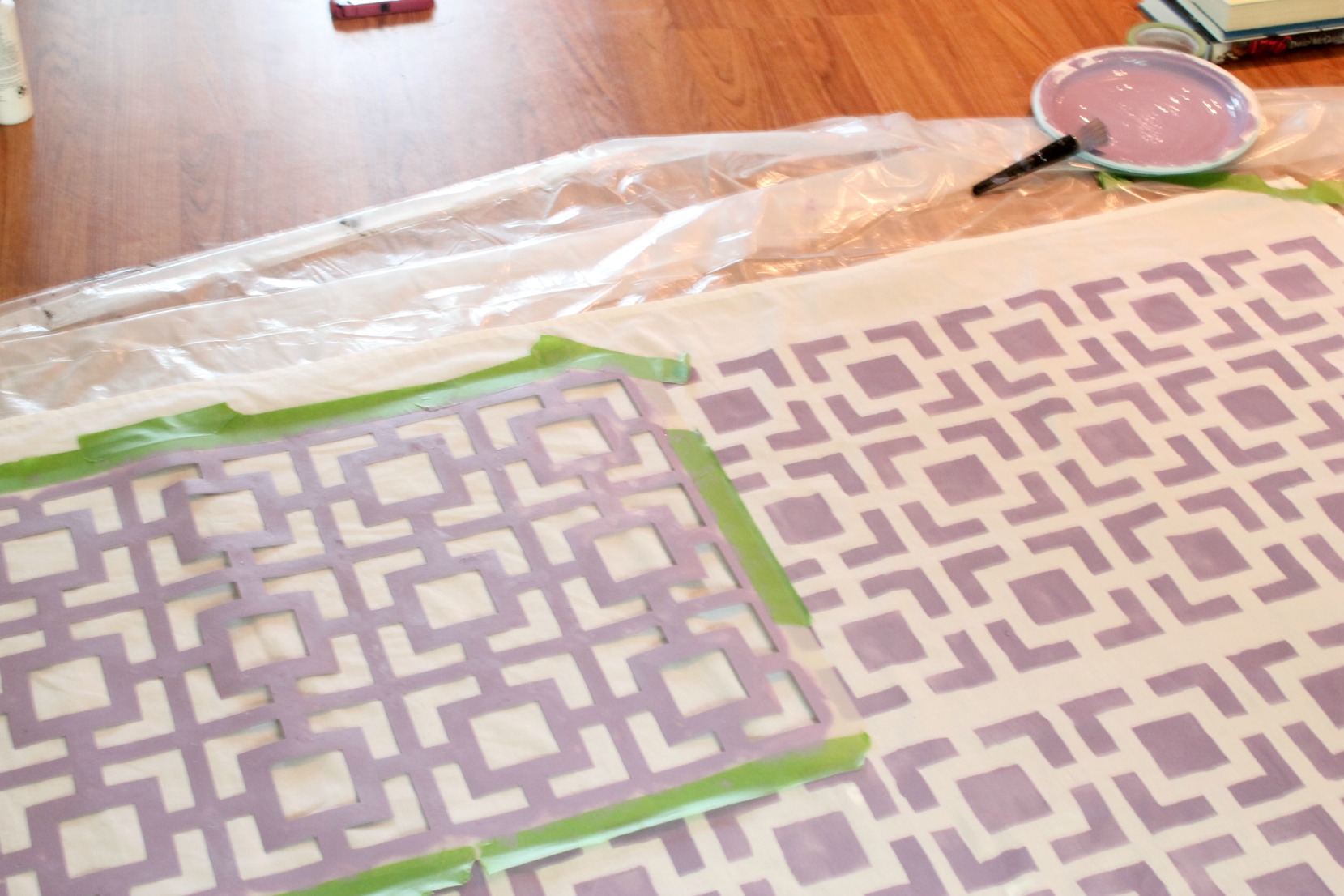 I miscalculated and ended up with a wider stripe on one portion of the tablecloth but it didn't end up mattering once I got the tablecloth on the table. (So…if you mess up, don't freak out. It will be okay once you step back and see the big picture)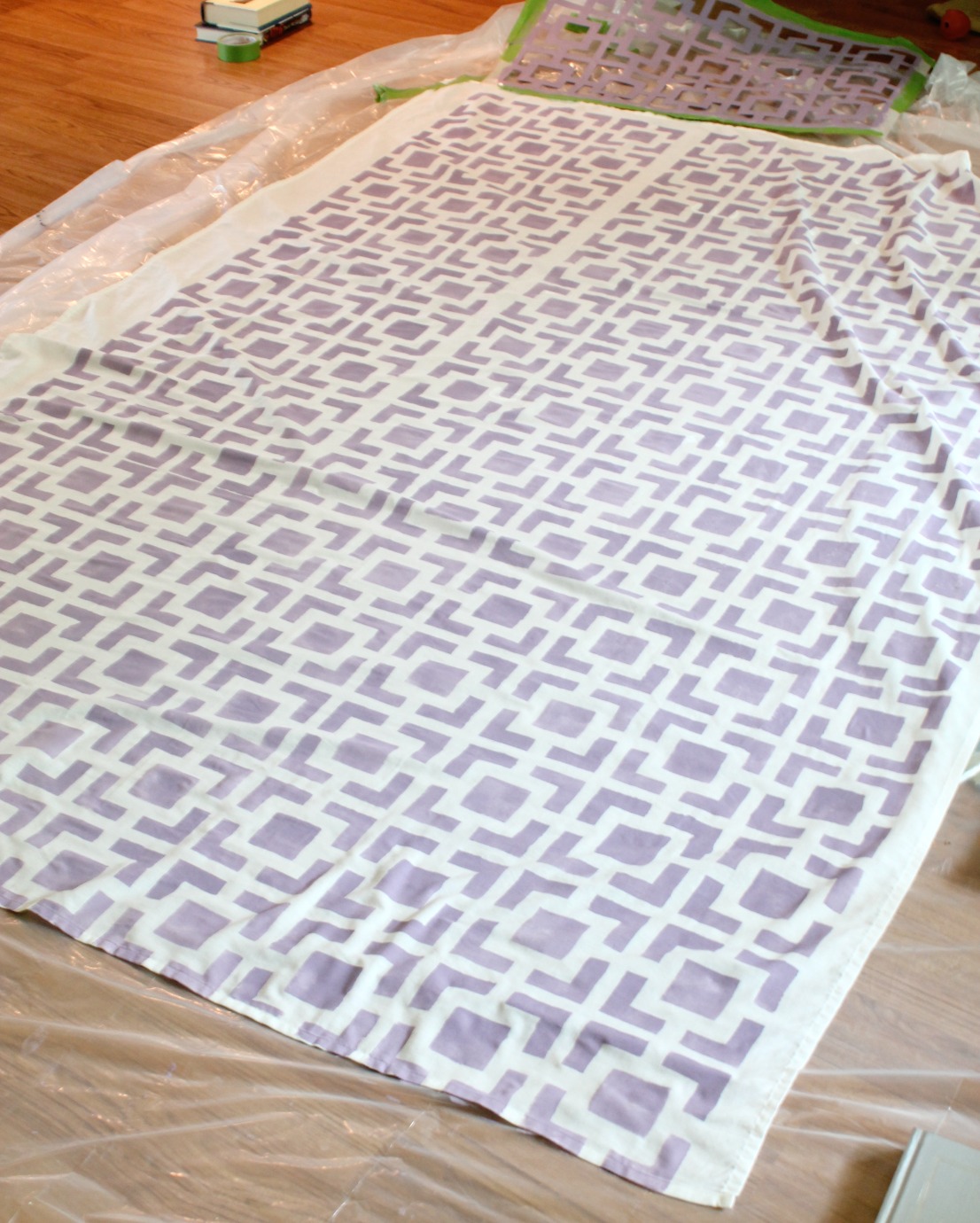 I LOVE how it turned out. That's exactly what I wanted for the baby shower.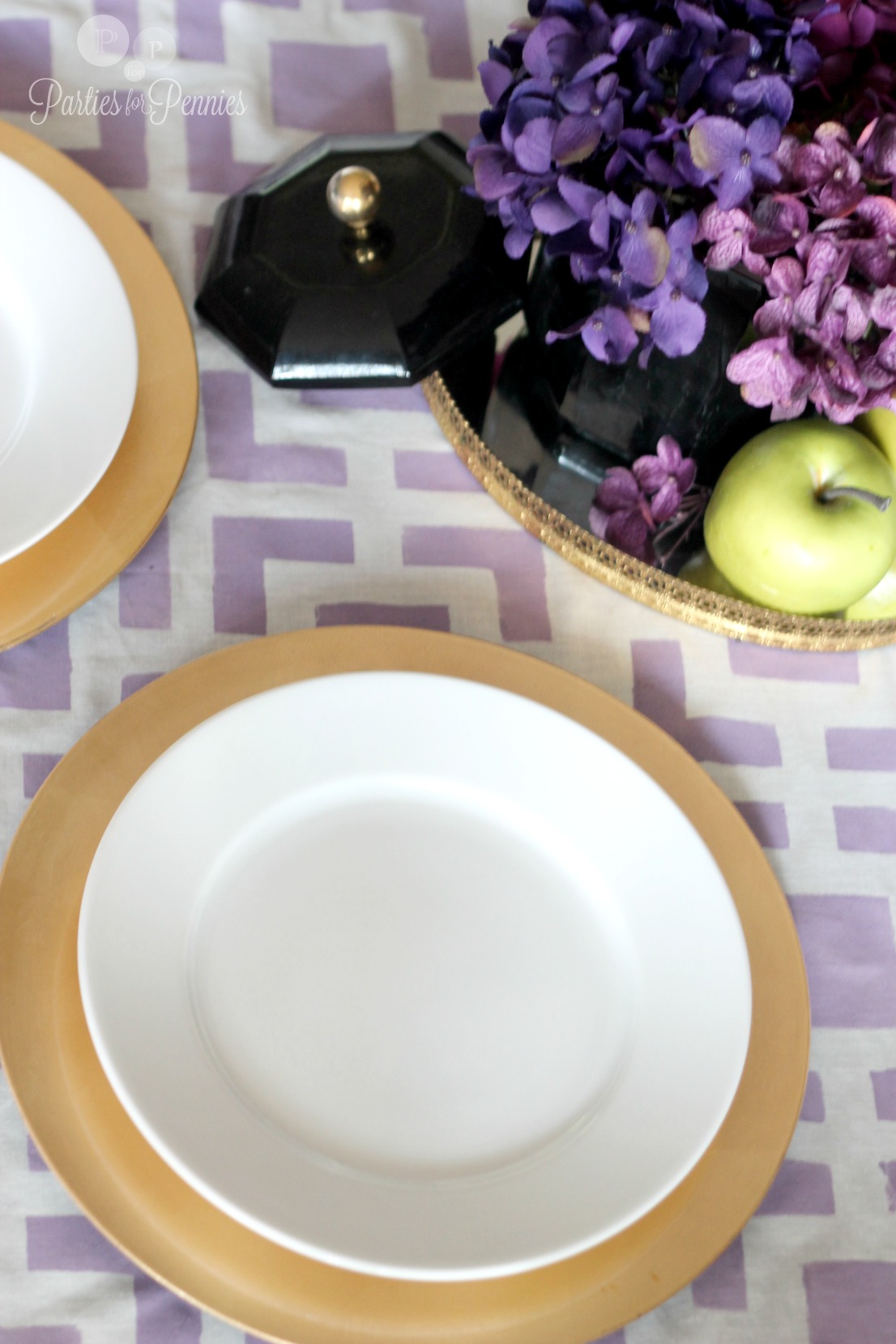 Create a one of a kind tablecloth for your dining room or your next party with stencils from the Royal Design Studio.
You don't have to just stick to tablecloths! Here are some other ideas…
Party Backdrops
Gifts – hostess apron, dishtowel, grocery/tote bag, artwork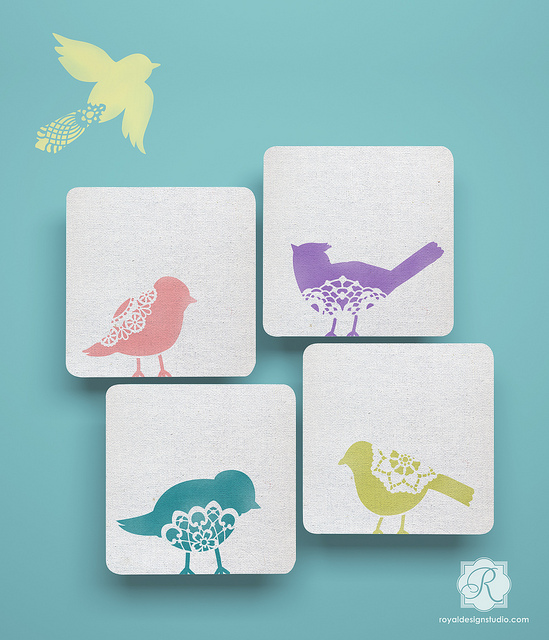 Sweet Tweets Lace Bird Stencil
Create a statement wall in your home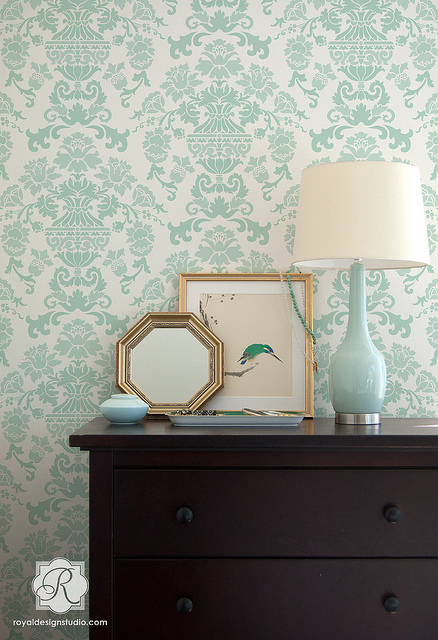 Wrapping Paper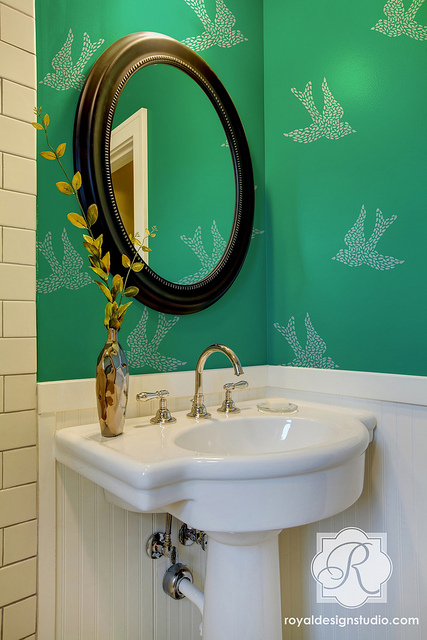 Large Fly Away With Me Stencil
Spruce up furniture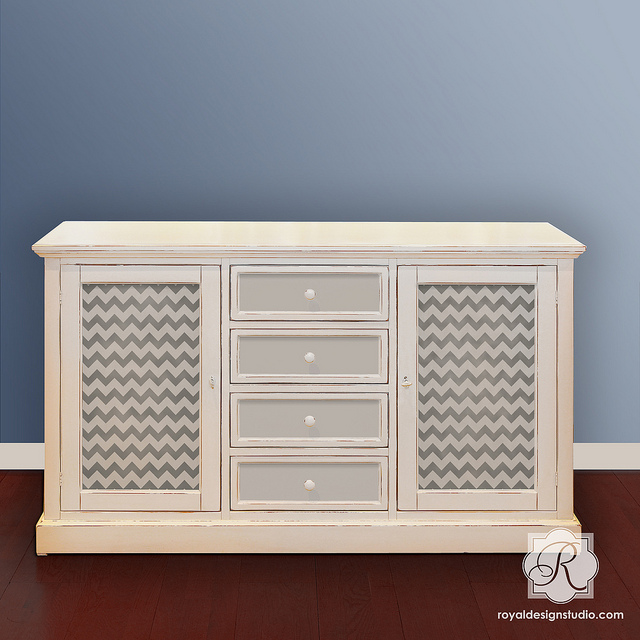 Drapes
The list goes on & on!
What would YOU like to stencil?
Thanks to the awesome crew (they really are incredible…so helpful & sweet) at Royal Design Studio, they're giving you a chance to WIN!
Stop by Parties for Pennies tomorrow for a chance to win your own Royal Design Studio stencil!
Until then…party on!
Disclosure: I received one or more of the products or services mentioned above for free in the hope that I would mention it on my blog. Regardless, I only recommend products or services I use personally and believe will be good for my readers. I am disclosing this in accordance with the Federal Trade Commission's 16 CFR, Part 255: "Guides Concerning the Use of Endorsements and Testimonials in Advertising."
p.s. This is YOUR official invite to the party… join in on the Parties for Pennies Facebook page, Twitter, and Pinterest!
LINKING TO:
Celebrations at Home, The Celebration Shoppe & Bird's Party Link Party