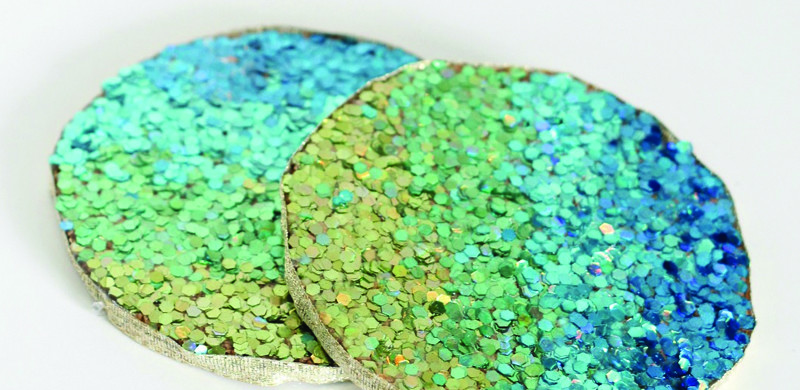 Hey party people!
Where do you find your inspiration? From party magazines? Pinterest? Blogs?
I find my inspiration all over. It could come from my backyard, a bouquet of flowers, fabric, or just a color combination. Lately, I've been so inspired by Kate Spade's designs. I even have a Kate Spade Inspired Holiday party idea to share with you soon.
The other day I came across these gorgeous glitter coasters from Kate Spade. I fell in love. I thought they'd be the perfect accessory to a Christmas/Holiday or even New Years Eve party. I'm even thinking these would make fun gifts.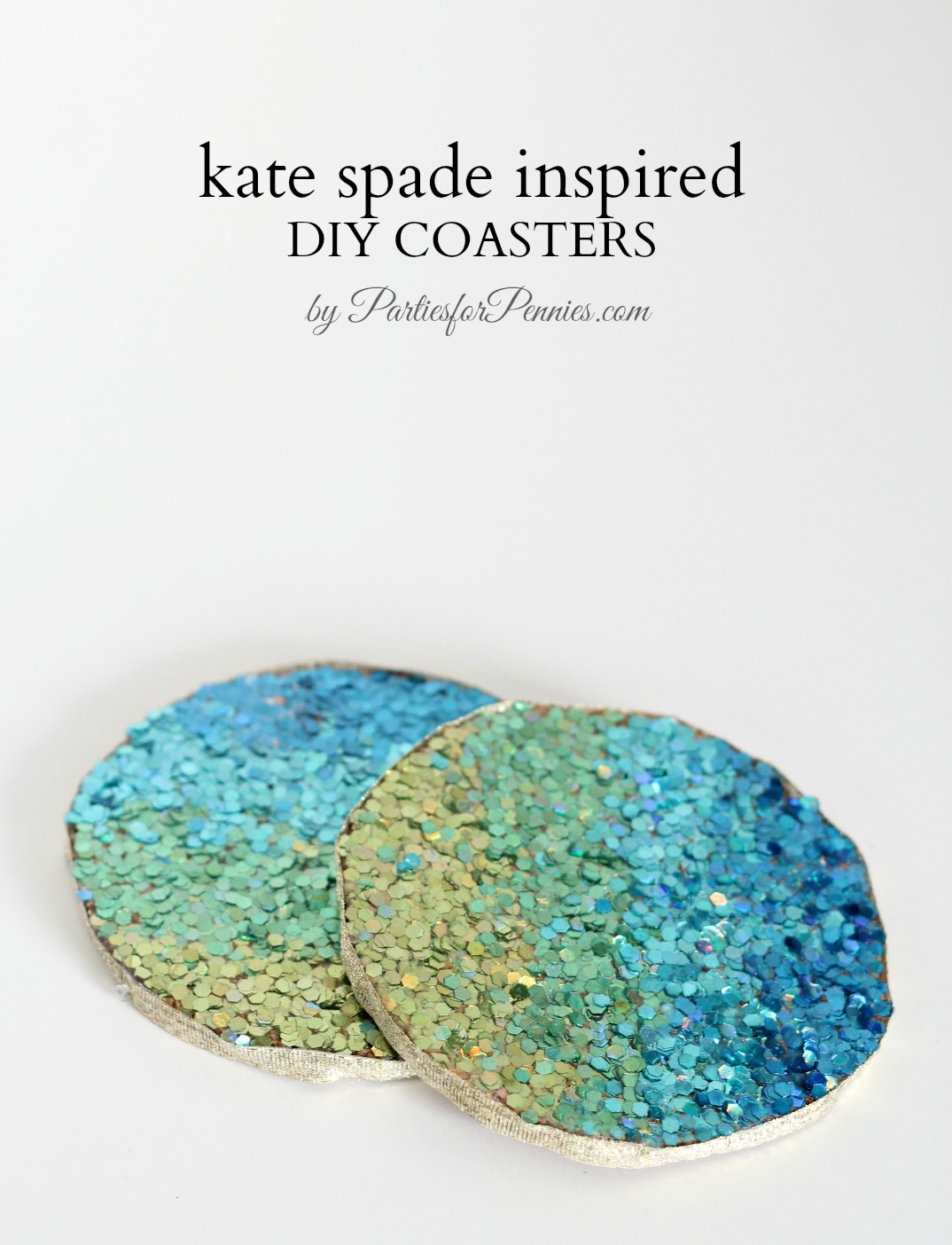 I put my own spin on them but I love how they turned out!
Here's what you'll need to create your own: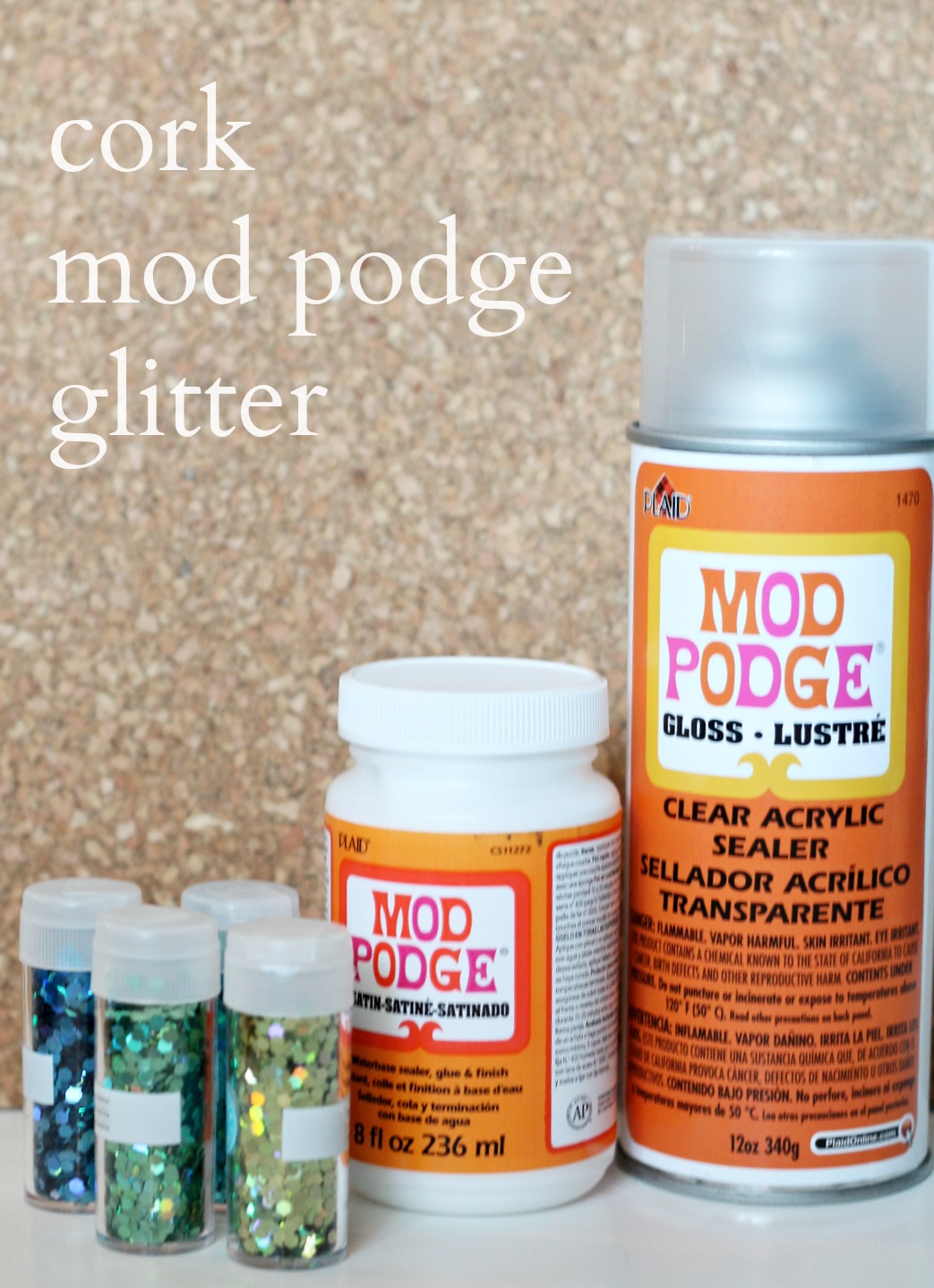 Forget that the Mod Podge sealer is there. You actually won't need it. You just need cork (which I bought at my local craft store…they were cork tiles), regular mod podge, and glitter (but it needs to be a certain kind). The glitter itself needs to be large. I bought a pack of Martha Stewart's assortment, as you can see in the picture.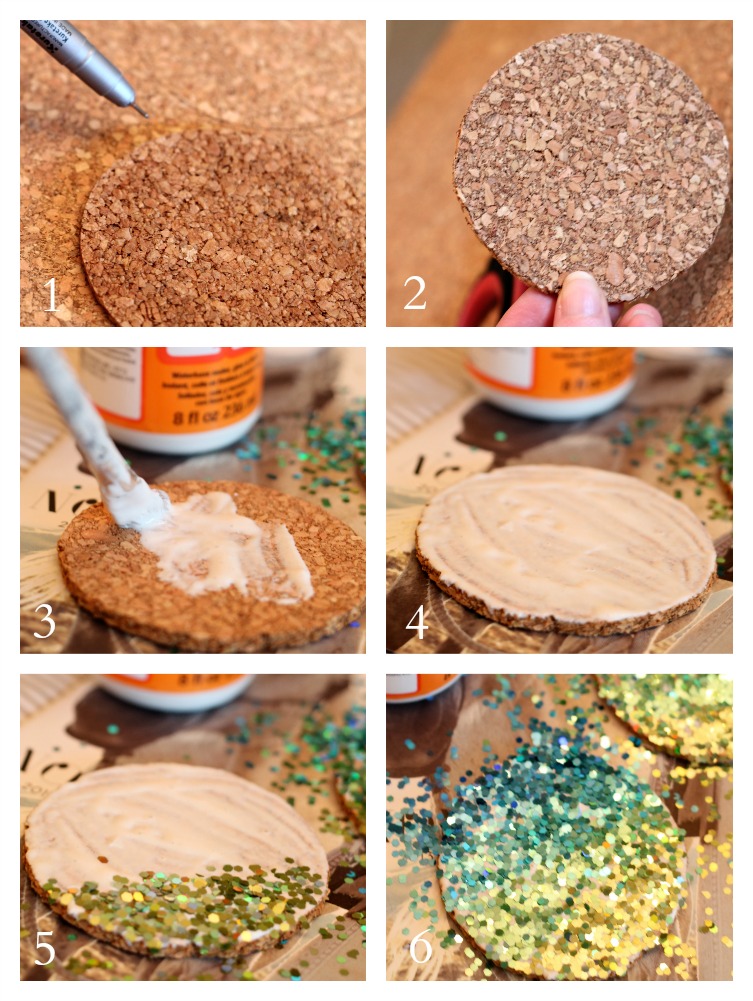 1| Start by using another coaster to trace an outline.
2| Cut it out.
3| With a paint brush, start covering one side of the coaster with mod podge.
4| Continue to cover the entire area.
5| I decided to do an ombre effect, so I added a greenish-gold glitter to a fourth of the coaster then three other sequential colors. Just pour the glitter on & it will stick to the coaster.
6| Once you're finished, let this dry completely (overnight or for at least a few hours). Once it's dry, cover with a generous amount of mod podge (just the side with the glitter). Allow this to completely dry.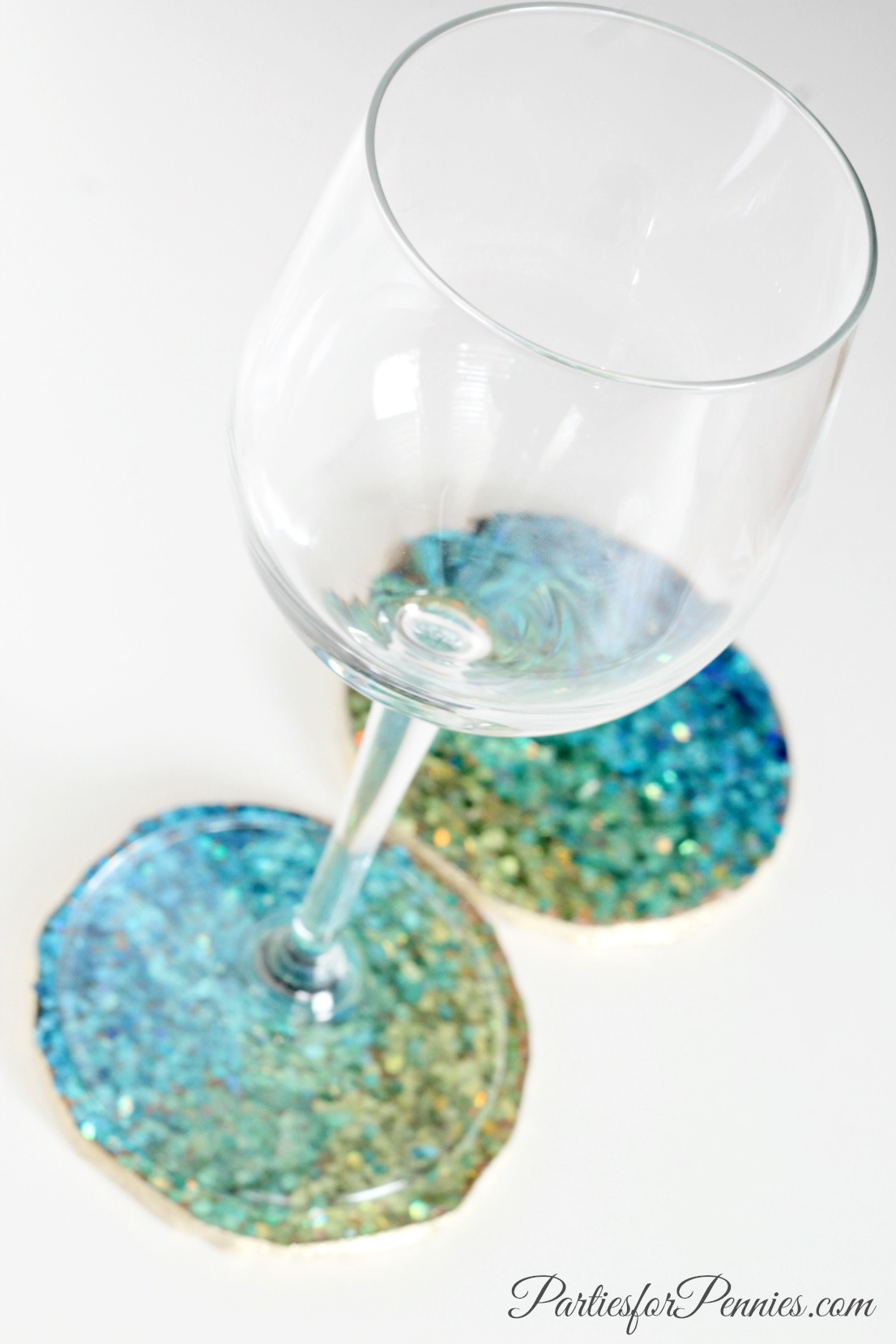 Now you've got some beautiful coasters that will take your entertaining to a whole new level of fun!
My only conundrum with this project were the edges. Because they're cork, they're a little rigid. My cousin Katie suggested adding some ribbon around them. I had the perfect thin gold ribbon that I ended up attaching with some hot glue. Do you have any other ideas on what to do for the edges?
After this project, I became a little obsessed with making coasters. In fact, I brought some of the materials to our Thanksgiving dinner in case anyone wanted to do crafts. We usually go to my aunt & uncle's lake house with no TV and spotty internet connection. We definitely play a lot of games but I thought it'd be fun to have the option of crafts too. The funniest thing was that my dad & uncle were the first to join in. I soo wish we had gotten that on video. They added a whole element of engineering to the crafts. They were coming up with ideas on how to do things more efficiently. It was awesome!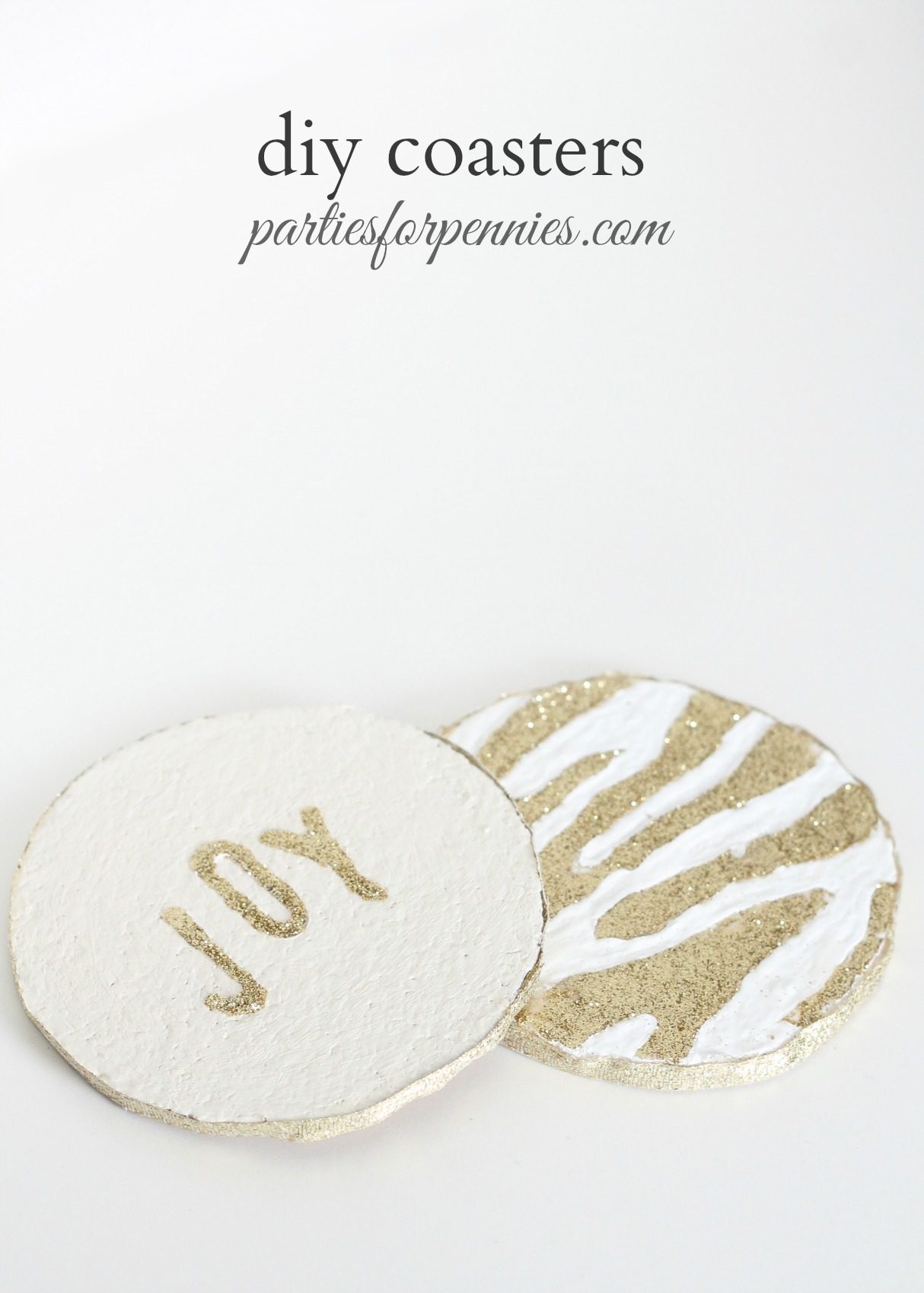 These were a few more designs I created during our Thanksgiving craft session.
TIP: If you end up using regular glitter, just spray with a clear coat afterwards NOT the mod podge. It will end up muting your glitter.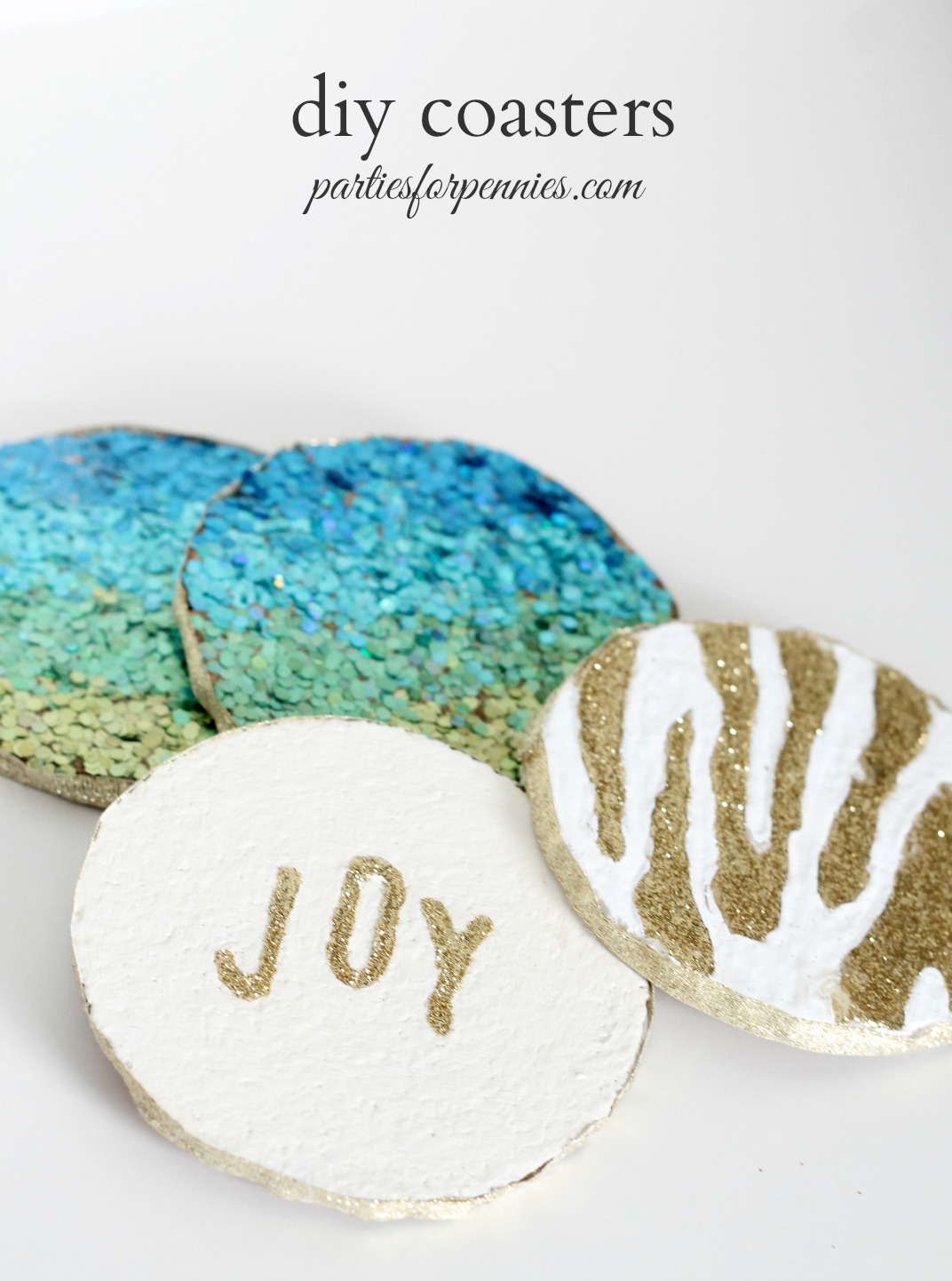 My plan is to create fun little gifts out of these. I'll add a coaster, a tea or hot chocolate packet, a personalized spoon, and some little treats to create a fun gift. Everyone has plenty of mugs…but who has a specially made coaster?
What do you think? Good idea or bad idea?
What are you making for Christmas gifts this year?
p.s. This is YOUR official invite to the party… join in on the Parties for Pennies Facebook page, Twitter, Pinterest, Instagram & Bloglovin!