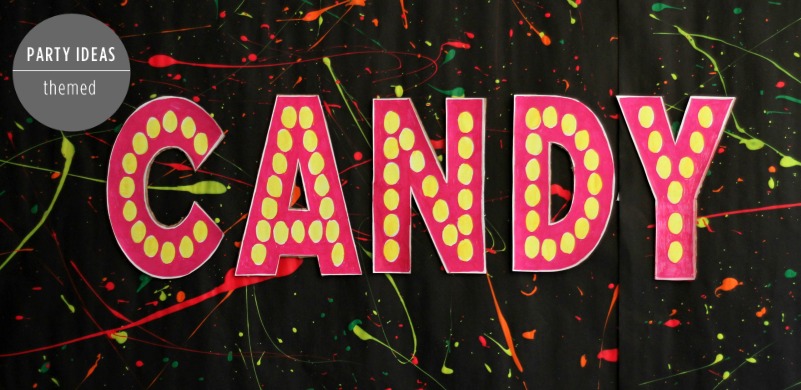 31 Oct

80s Party

Hey party people!

Last weekend, our friends broke out their aquanet, teased hair like there was no tomorrow and brushed up on their tight-rolling skills. Last weekend, we hosted an 80s Halloween party & it was totally rad!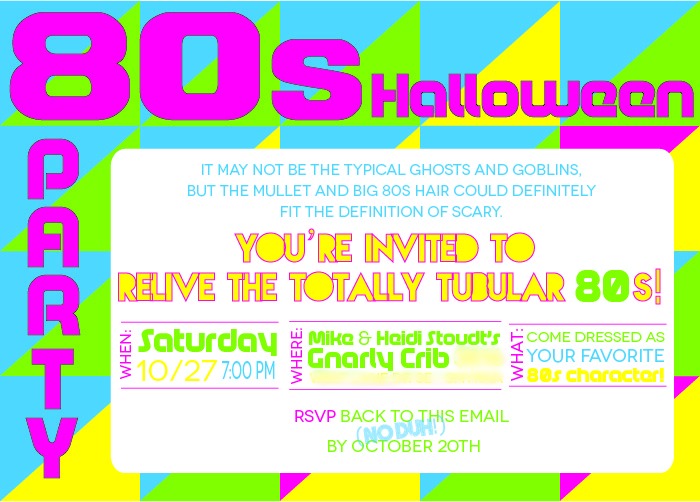 One of my best friends Jenny, from Vivian Elle Invitations, designed the invite. You can see other invites she's done for me here and here. I also just ordered our Christmas cards from her. She has some of the best Christmas card designs I've seen. You can check out her etsy store here.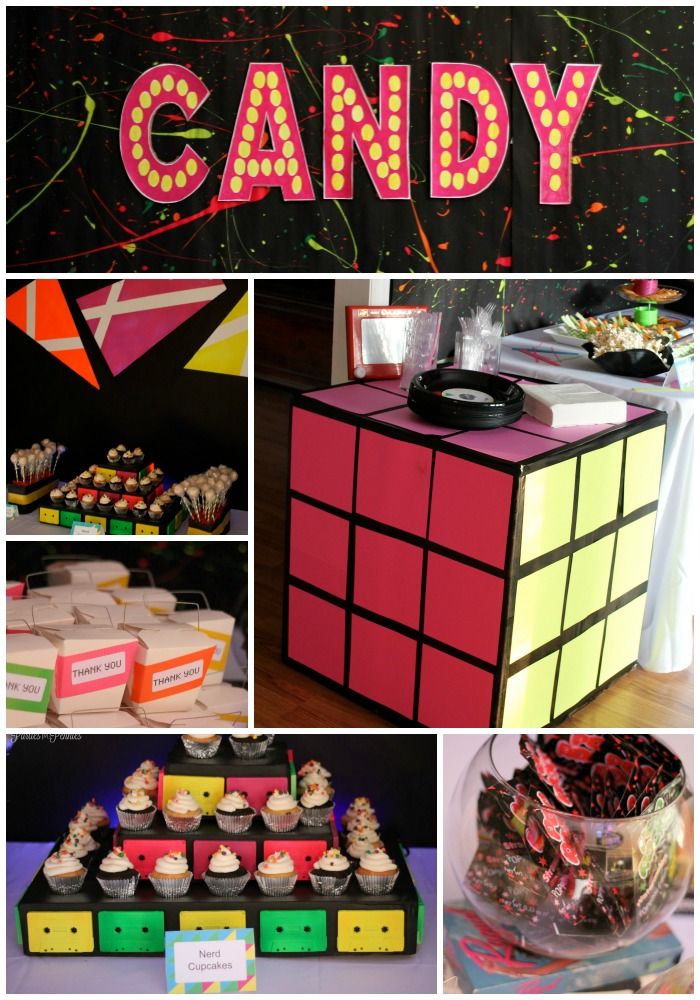 Usually the parties I throw are planned months in advance. This one was planned just a little over a month in advance. I knew that it'd be tight to get all the addresses together and mail out an invite so I opted for an email invite. Jenny is so uber talented. She designed this invite in no time & it looks gnarly.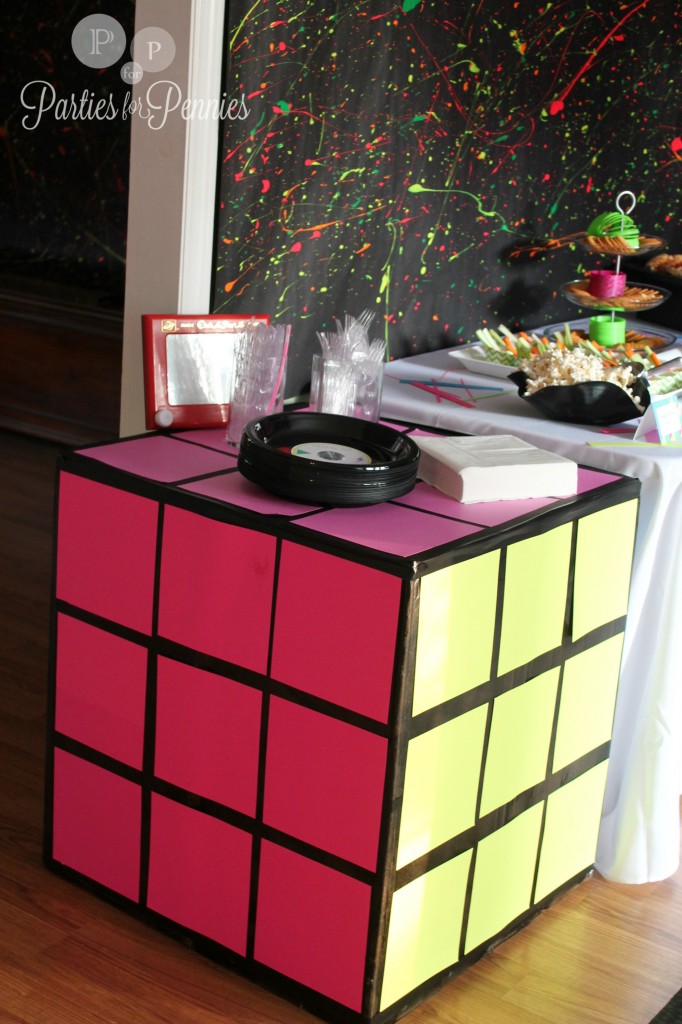 I couldn't have an 80s party without a rubik's cube. I've seen rubik's cube cakes & cookies but I wanted something different. Mike had four tall boxes left from something he got in the mail so we spray painted them black, attached them, then took pieces of neon cardstock to create the cubes.
It is currently sitting in our living room. I just can't bear to part with it. If you would like it & live in the Atlanta area, let me know. I want it to go to a good home! ;p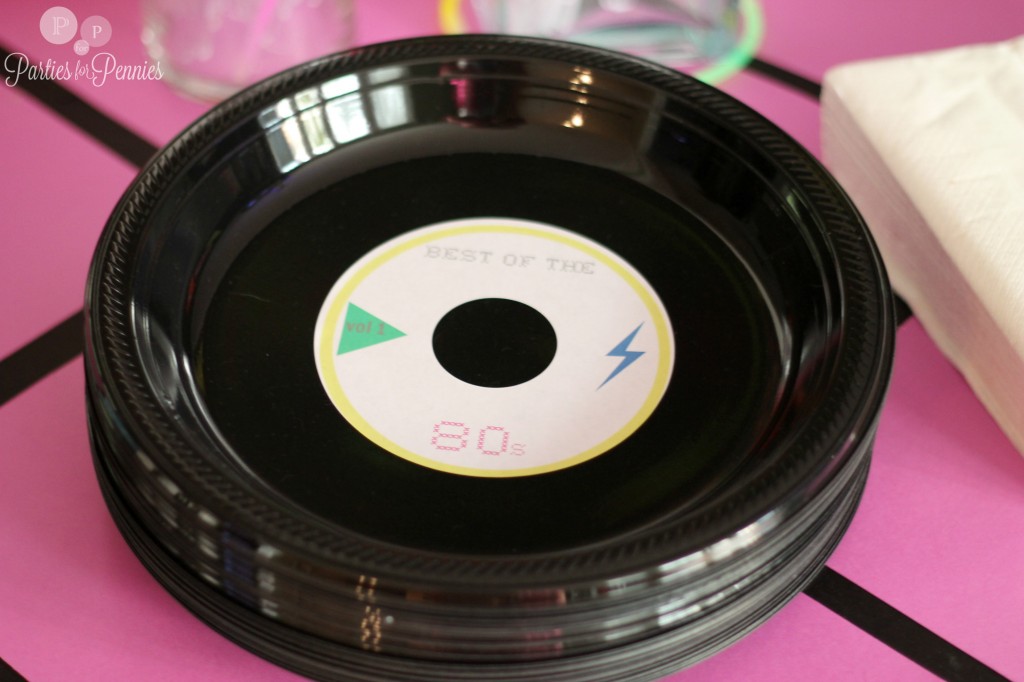 For the plates, I created DVD labels and attached them so they resembled records.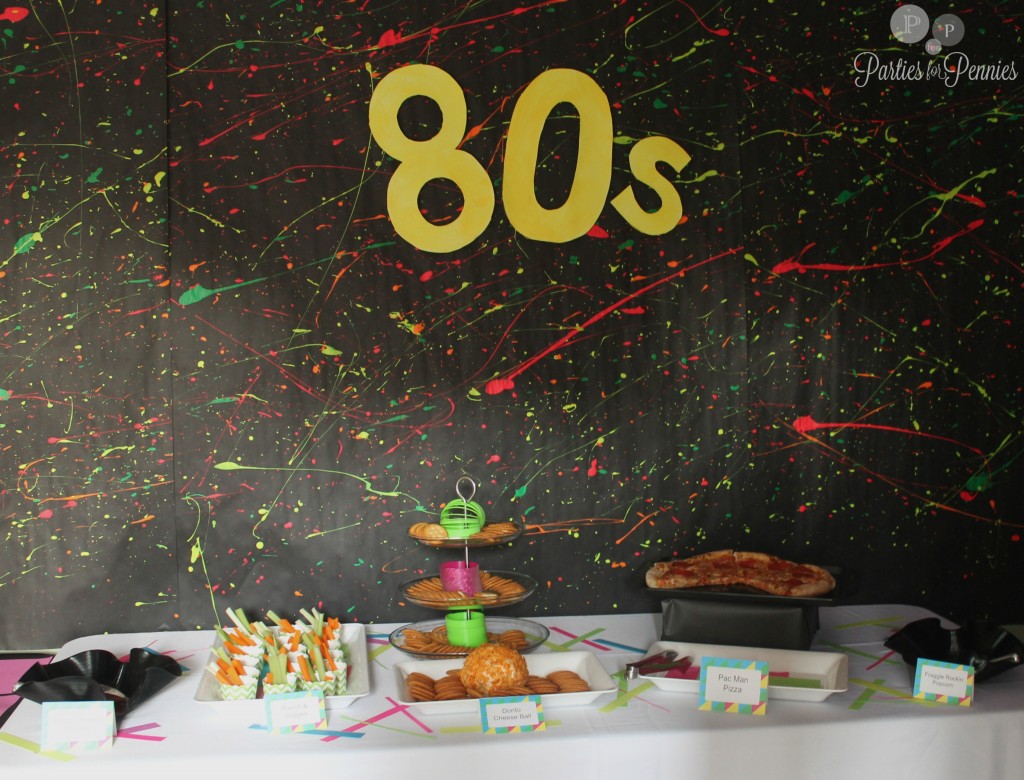 The food set-up area is our dining room. I was able to transform it by using black bulletin board paper. The fun part was doing the splattering. ;p The paint I used was just acrylic paint from the craft store. I was going to create my own black light paint by adding laundry detergent but the glow in the dark/black light acrylic paint was the same price as the regular paint. I just cut out the 80s characters from posterboard and painted it.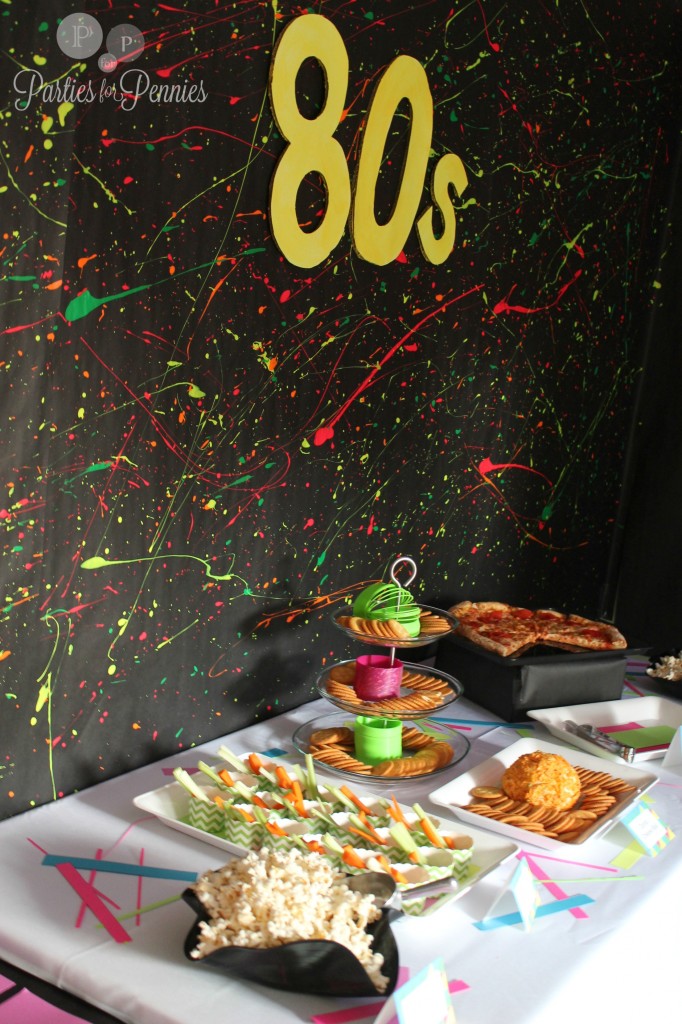 Since the tablecloths are white, I wanted to add some pops of color. Those neon accents are just leftover scraps from my rubik's cube.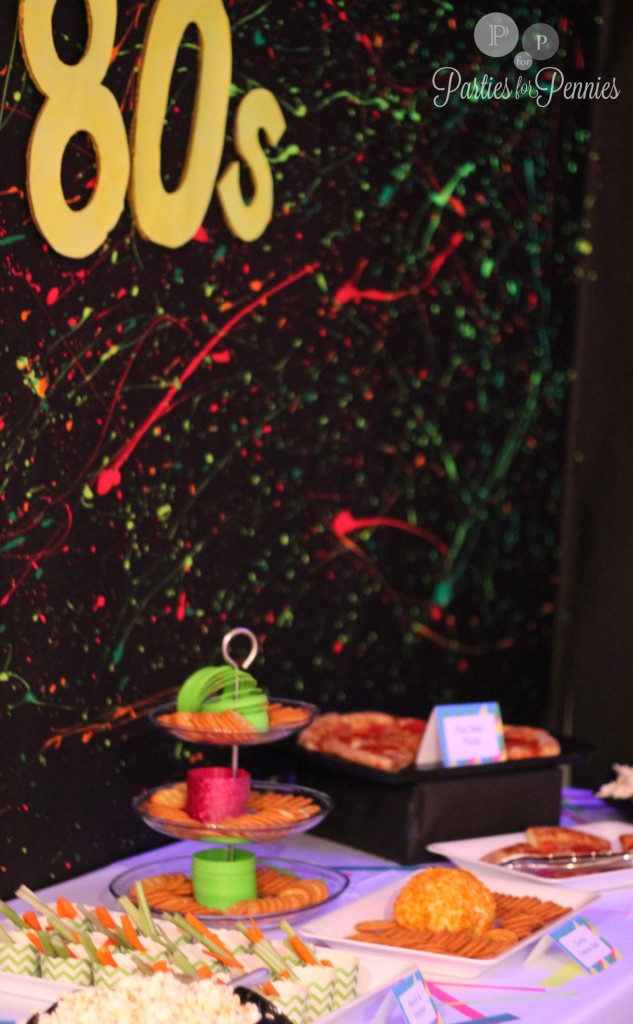 You can see this is the full-on blacklight affect. I bought a few blacklight bulbs from the hardware store and exchanged them for the regular bulbs in our dining room chandelier. I was pleasantly surprised at how well they worked.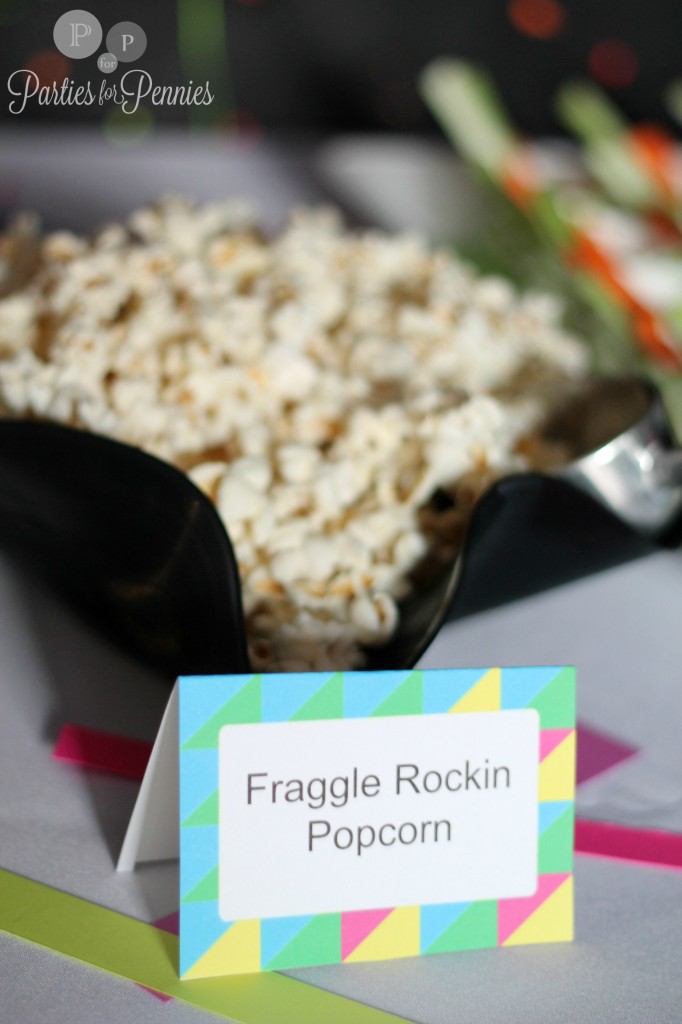 This was a fun project that took less than 10 minutes. This was the tutorial I followed. It's so simple. Preheat your oven to 200 degrees. Lay an oven-safe bowl on top of a cookie sheet & place the record on top of it. After about 8-10 minutes, the record will begin to fold over the bowl. Take it out of the oven and immediately shape with oven mitts.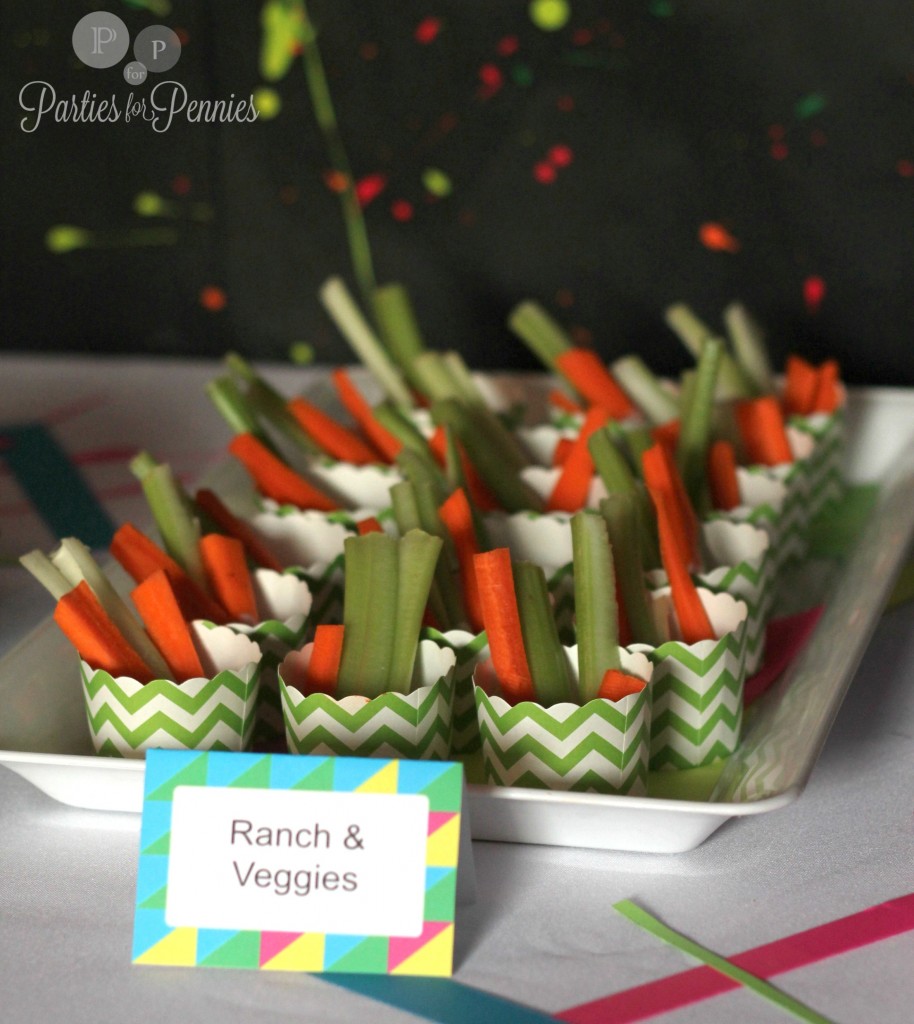 My love for Ranch dressing was born in the 80s so I thought it appropriate to offer a healthy option of veggies and ranch. I always try & offer a healthy alternative at my parties but I always end up with leftovers. ;p
The cute green chevron cups are from Pick Your Plum (see the side button on the website for a link).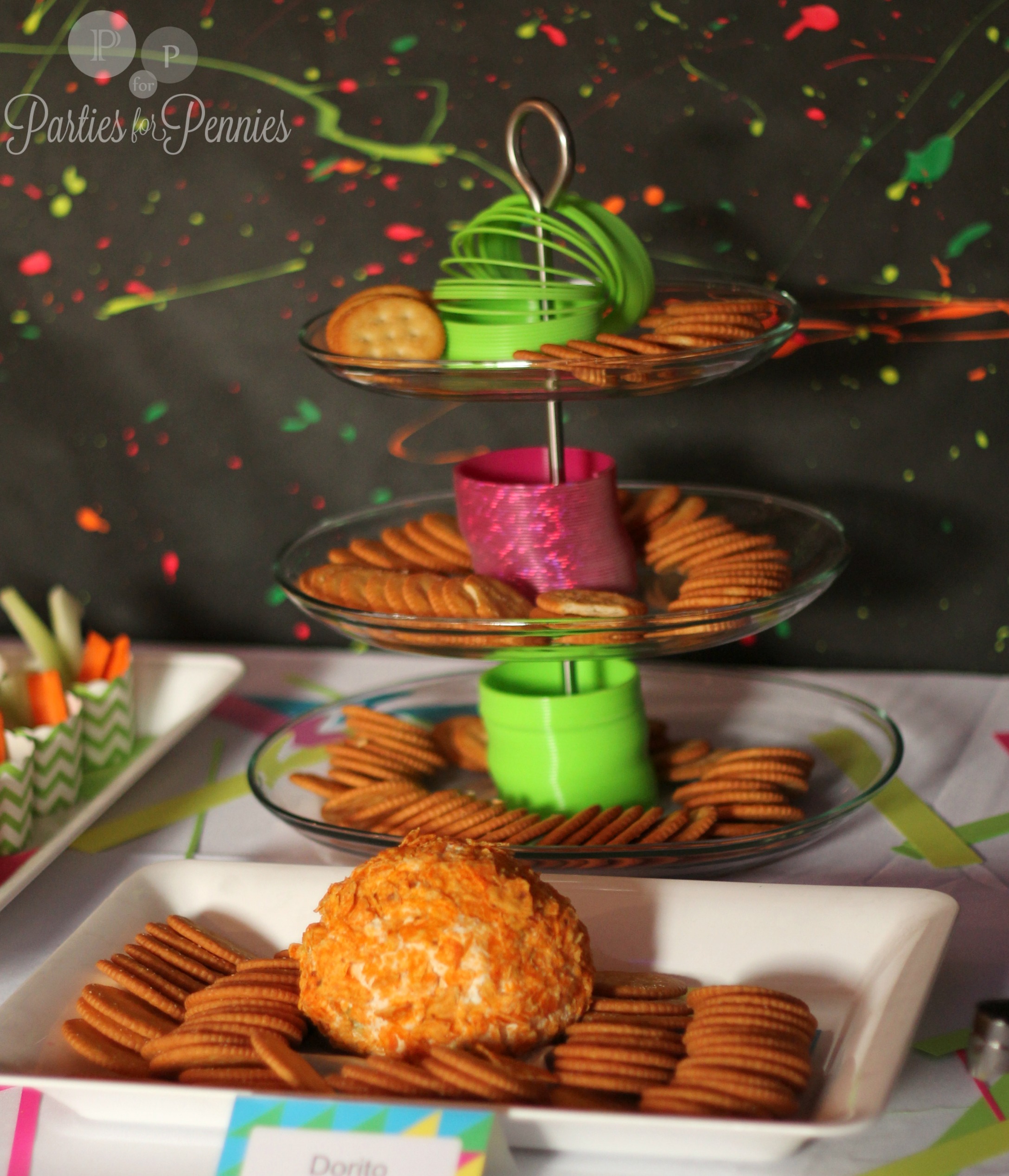 The slinky serving dish is a $10 serving tier that I got from Ikea awhile ago. I knew I wanted slinkys in between the levels but most of the slinkys I found were $6-$7. That was not going to work for my penny-pinching ways. When I ran across these in the dollar store, I jumped in excitement, audibly said, "yes" and grabbed em faster than fast. There were little kids around when I did this & they did give me a look that said, "Creepy!" ;p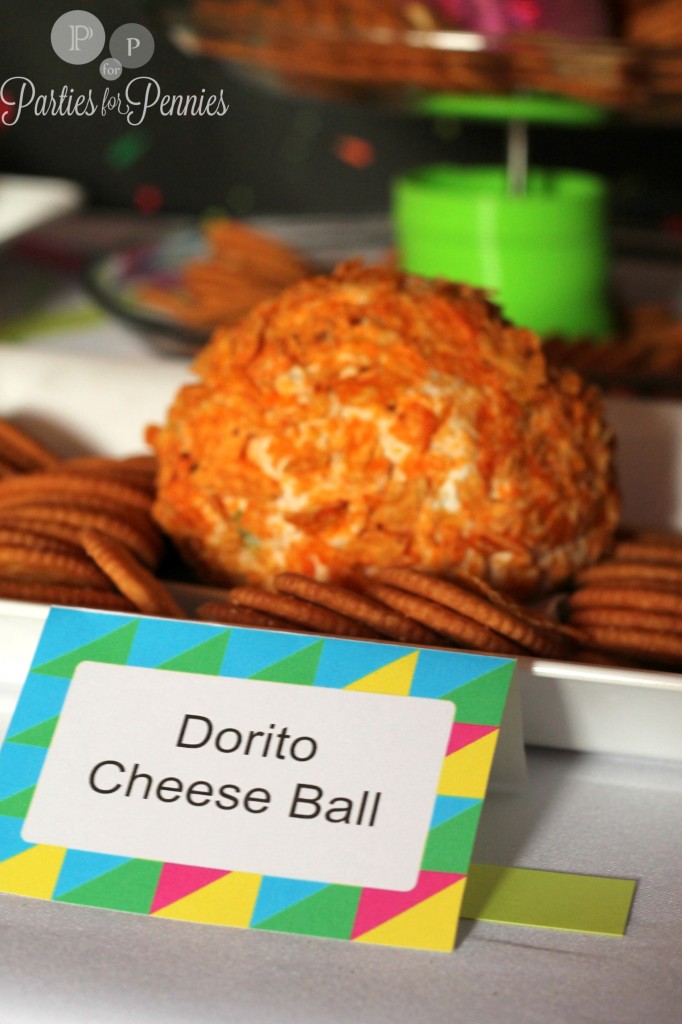 Another staple in our house during the 80s was Doritos! You couldn't have a party in the 80s without Doritos. In fact, I remember my mom used to be one of those sample ladies at the grocery store. One time, she brought home these cheddar jack doritos that were new and oh my goodness they were delicious. I was so proud when I went to school the next day with a bag in my lunch. I told all the kids that they were brand new and you couldn't buy them yet. I was lucky to have a bag. Much to my humility, one of my friends pulled out a bag from their lunch. Guess they weren't as special as I thought. ;p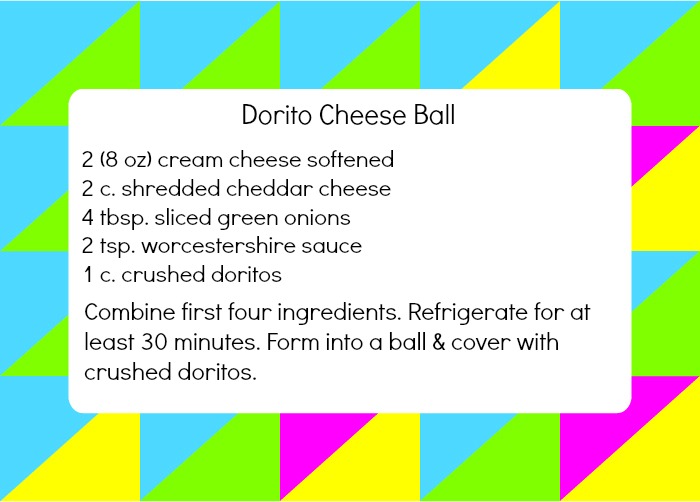 Here's the recipe, in case all the talk of Doritos made your stomach growl.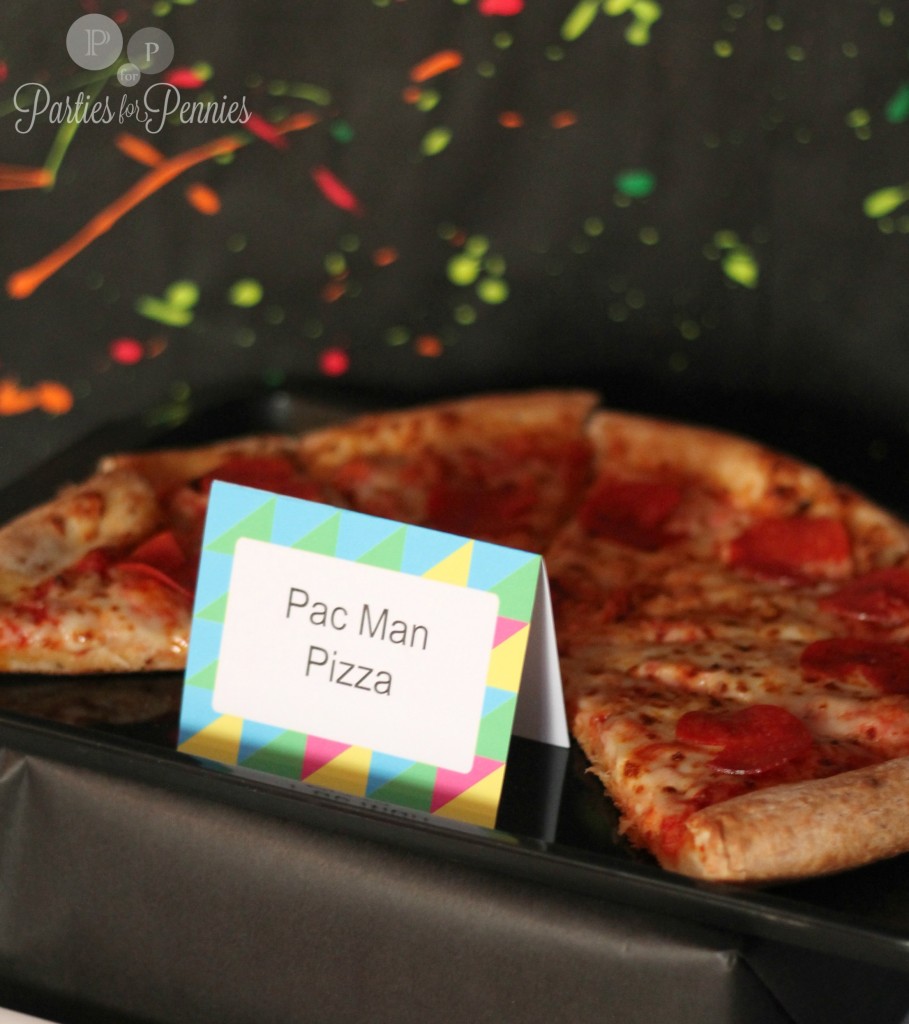 For Mike's Mad Men party, I was working in the kitchen up until the last minute. Thanks to my mom, my sister & JoAnn ( a co-worker), I would've NEVER gotten it finished. This party I wanted to spend less time in the kitchen so I ordered pizza & added my own 80s themed topping. I simply took pepperoni and cut a thin triangle to make them look like pac men.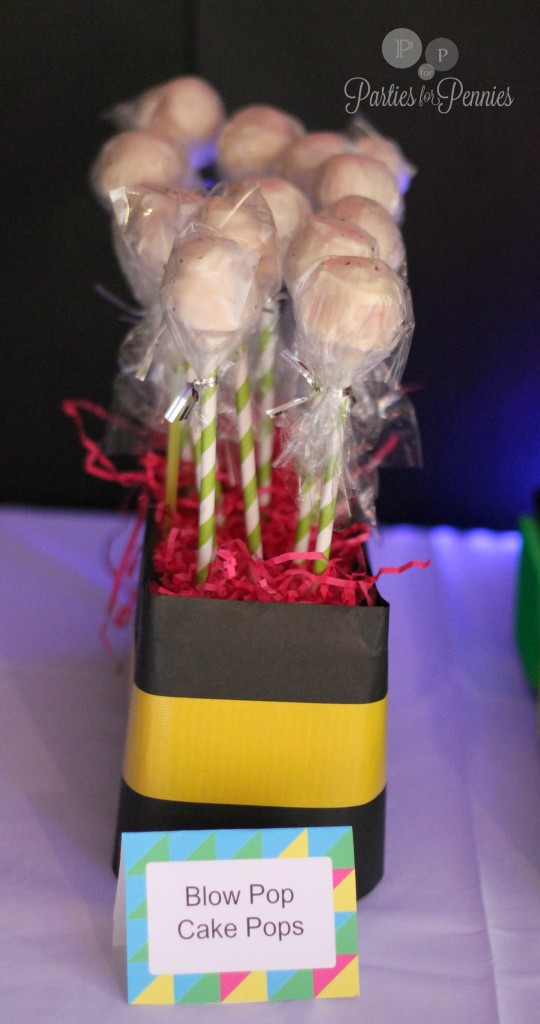 Cake pops that taste like bubble gum. Oh yes, this happened and they were delish. They were really easy to make. I just made the cake pops as usual except I added red food coloring to the cake to create a pink hue. For the icing, I added a bubble gum flavor (a little over $1 on Amazon) and mixed it with the pink cake.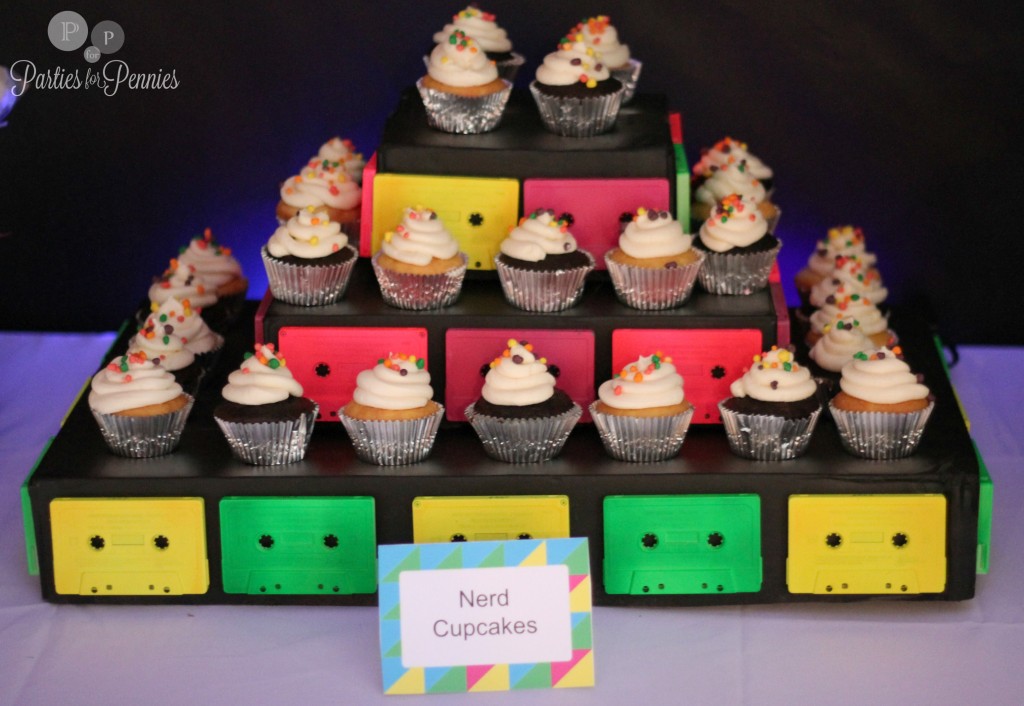 The cupcake stand is just old boxes (if you don't have any at home, ask at work…most times they throw away a ton of boxes) spray painted black. The cassettes were part of an audio book set from Goodwill. There were like 50 tapes and I got it for $3. I first primed the cassettes, then spray-painted them in flourescent colors. A little hot glue and I had my cassette cupcake tower.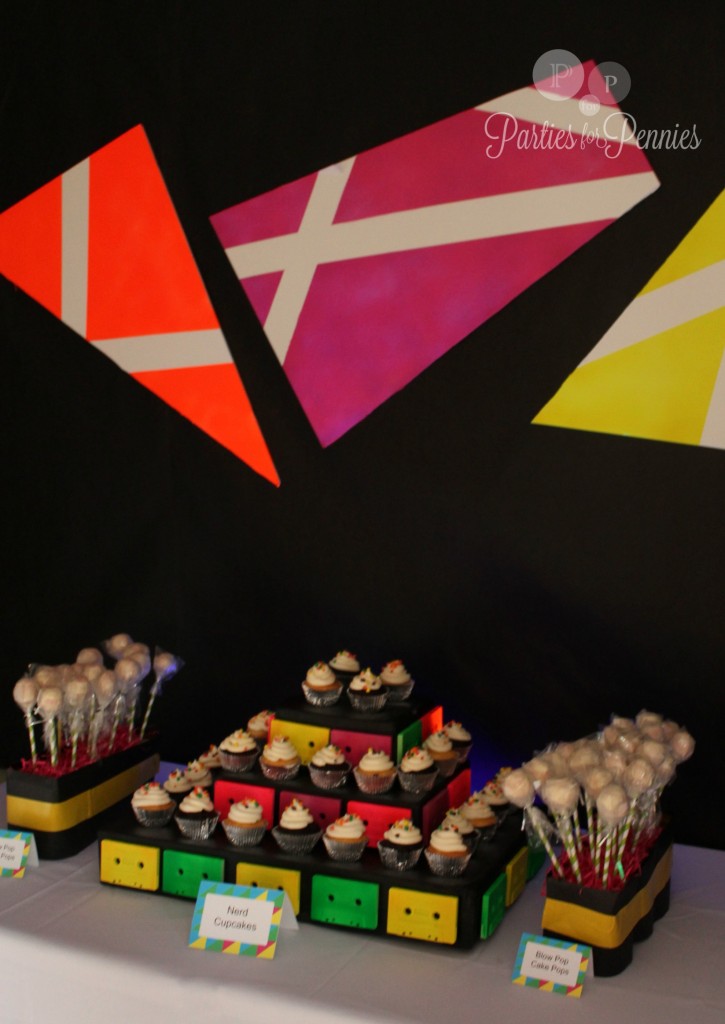 The cupcakes were just vanilla and chocolate with vanilla icing but I sprinkled some nerds on top to add something fun.
The orange, pink and yellow backdrop art was made from white foam board. I dug out my frog tape, created a design and went to town with my spray paint. Wham-bam-thank-you-ma'mm 80s party art! 🙂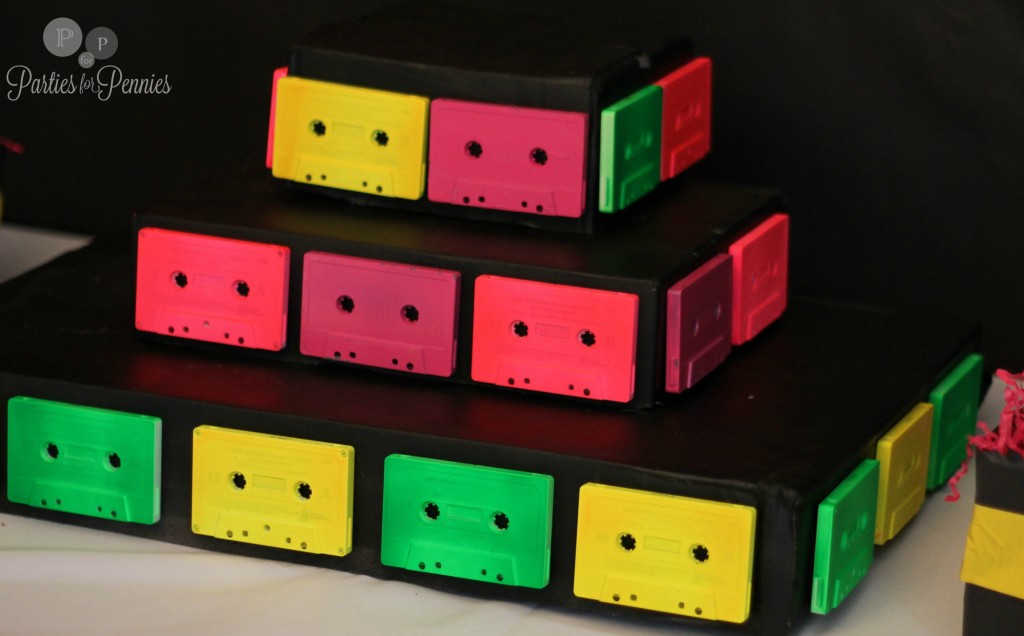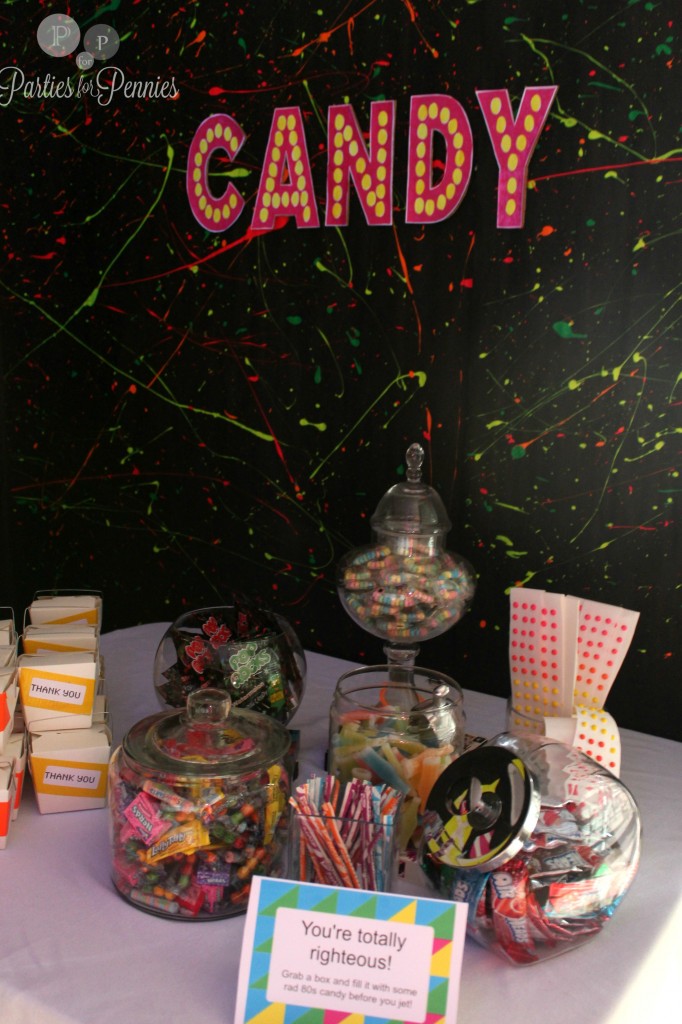 For the favors, I decided to do a little candy bar with some favorite 80s candy.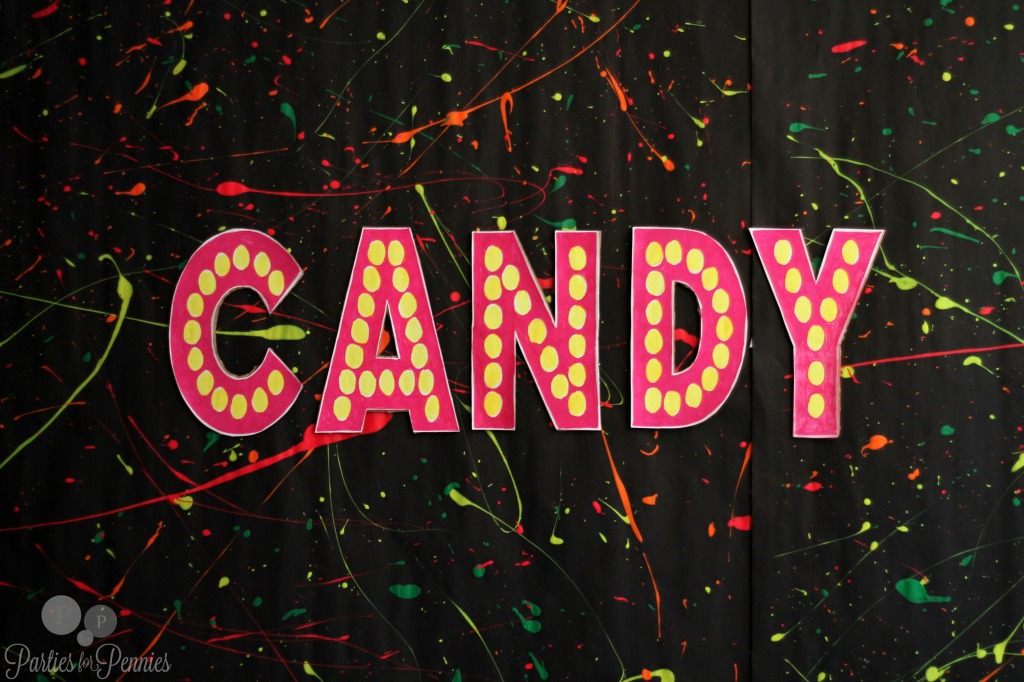 I created the "candy" sign by printing out the letters on cardstock and painting them. The yellow dots were neon glow in the dark paint. It was fun to see em' pop under the black light.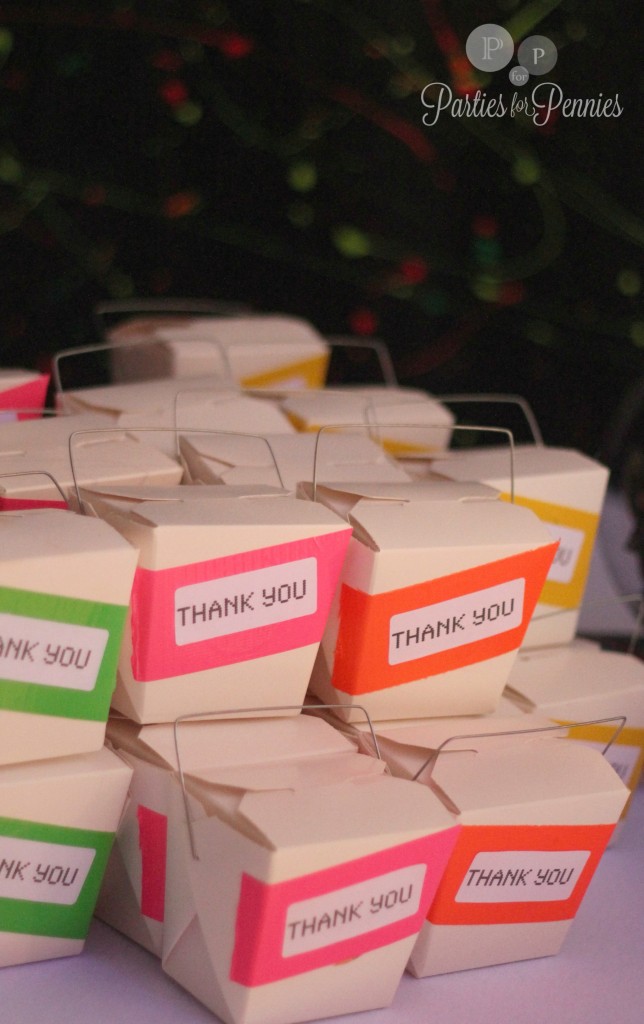 Several months ago, Gail who runs the talent agency I'm a part of (Houghton Talent) gave me a ton of goodies she had in her basement. She had a lot of leftover party supplies and asked if I wanted to take some off her hands. In the name of helping her clean out and get organized, I was happy to take these cute little takeout boxes along with some other goodies. A lot of the boxes had a small round sticker on the front because they were leftover from her granddaughters wedding. I just slapped a strip of neon duct tape on em' with a regular mailing label I had in our office stash.

Here are a few snapshots of the candy I had: pop rocks (those went FAST!), candy buttons, wax bottles, pixie sticks, candy bracelets, airheads and an assortment of nerds, laffy taffy, gobstoppers and smarties. I already had the glass containers so those were free. I did spend a few dollars on some 80s VHS tapes from Goodwill to add some height.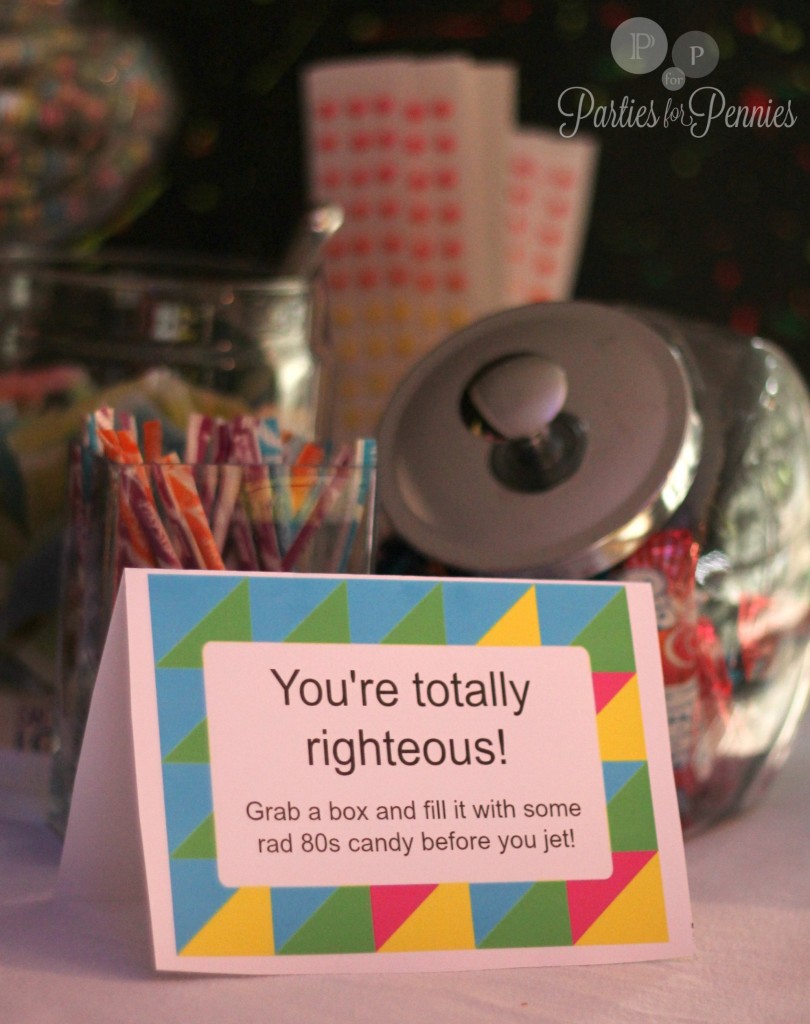 After Jenny did such a great job on the 80s invite, I asked her if she would mind sending me just the outline of the invite so I could create labels for everything.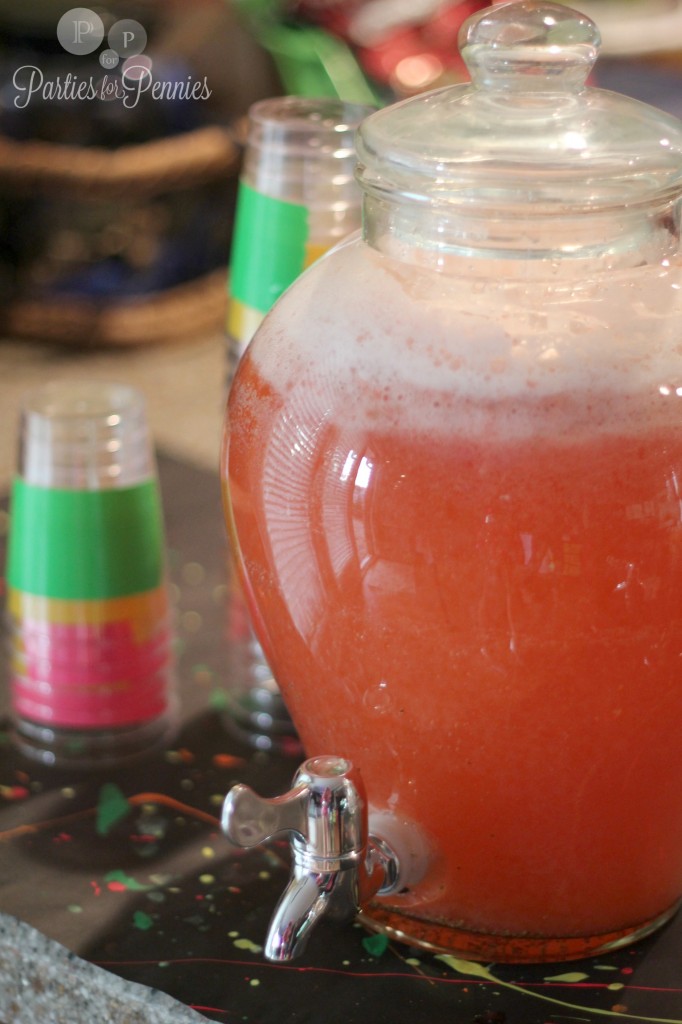 I called this Pretty in Pink punch. For the glasses, I used ordinary plastic cups & added strips of duct tape to give them an 80s vibe. It also allowed the guests to keep up with their cup by adding their name to it.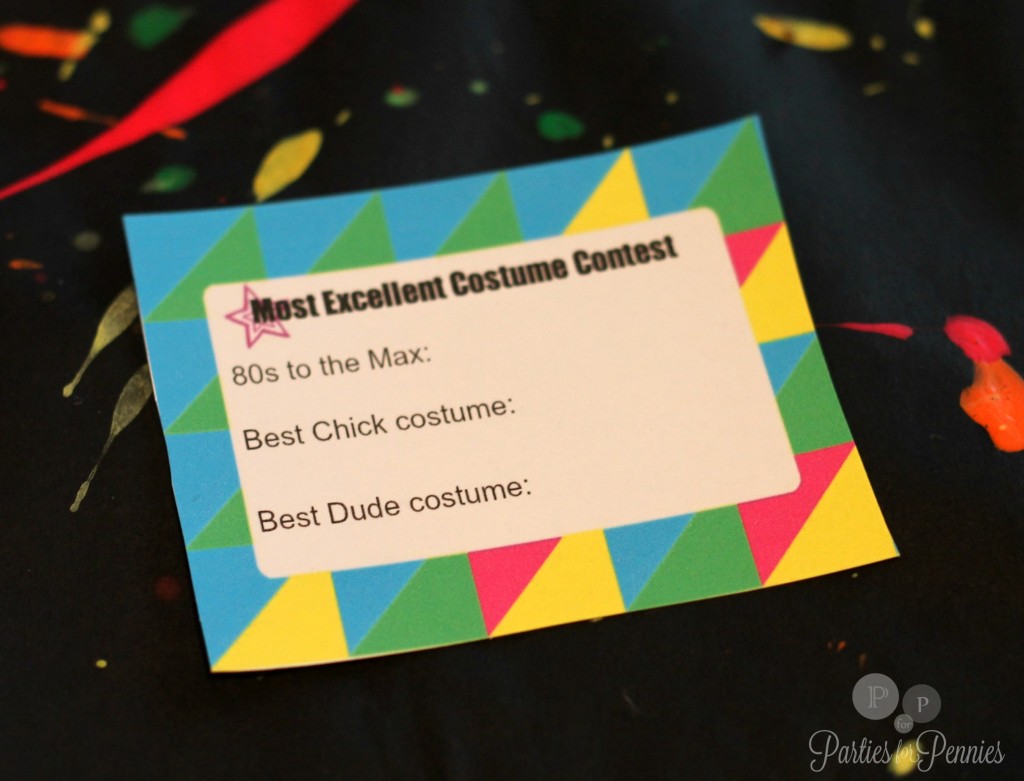 I'm not big on party games but I do like to offer something interactive that allows people who may feel uncomfortable with a night full of small talk a break. I ordered an 80s Scene-It game off Amazon for under $10 and divided it up girls v. guys. The guys took home the glow-in-the-dark prize. I ordered a bunch of the glow-in-the-dark slat glasses from Oriental Trading company for a few bucks.
We also had a costume contest. I love to be able to give out good prizes but don't like to spend a ton of money (surprise, surprise). A couple years ago at our Halloween party, I bought Groupons as prizes and they were a big hit! This year was even better because I had a big credit from Groupon (from referrals and a credit from an issue with a Groupon). The 80s to the max costume winner got a $50 La Grotta gift certificate (it's a really nice italian restaurant here in town), the chick costume winner got a gift certificate for a manicure and the dude winner got a $10 Chipolte gift certificate. The best part…I didn't spend any $$ on them!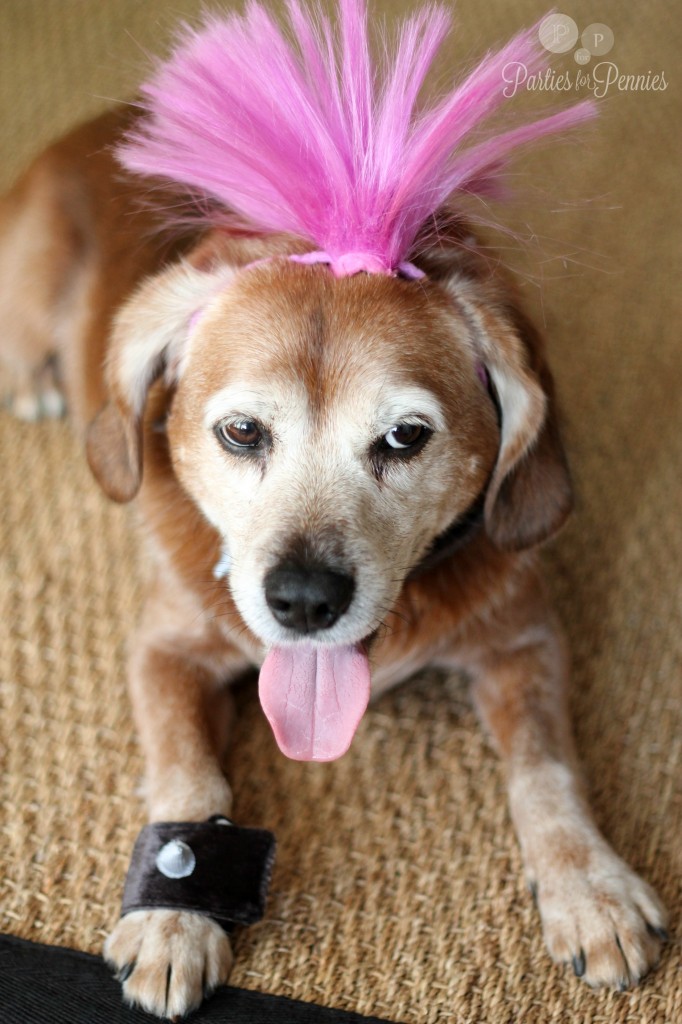 I was quite shocked that our little punk rocker Guinness didn't go home with any of the costume prizes. 🙁 I gave him some extra treats for enduring this get-up!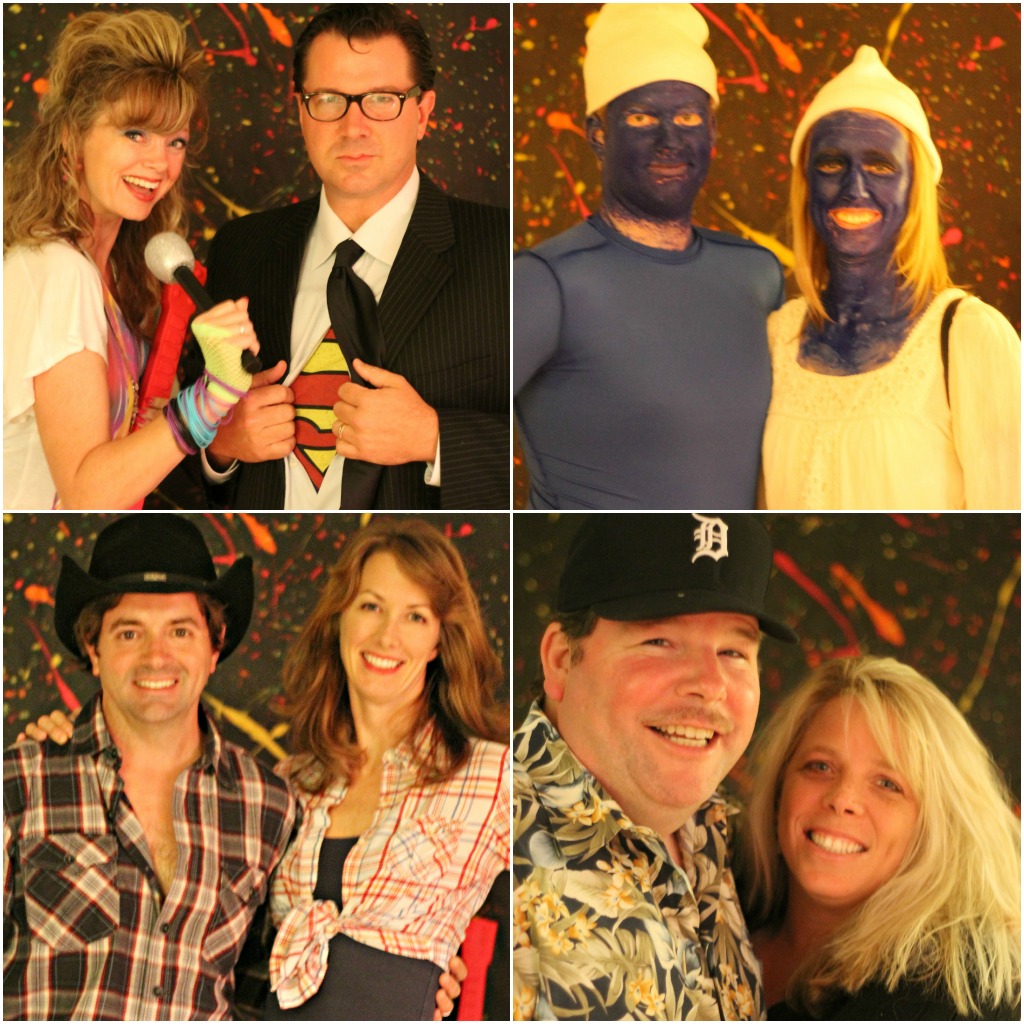 Here are some snapshots of some of the great costumes. I tried to get everyone's pic but I still missed a good amount. Top Left: 80s rocker & Clark Kent. Top Right: Smurfs. Bottom Left: Luke & Daisy Duke. Bottom Right: Magnum PI & his love interest.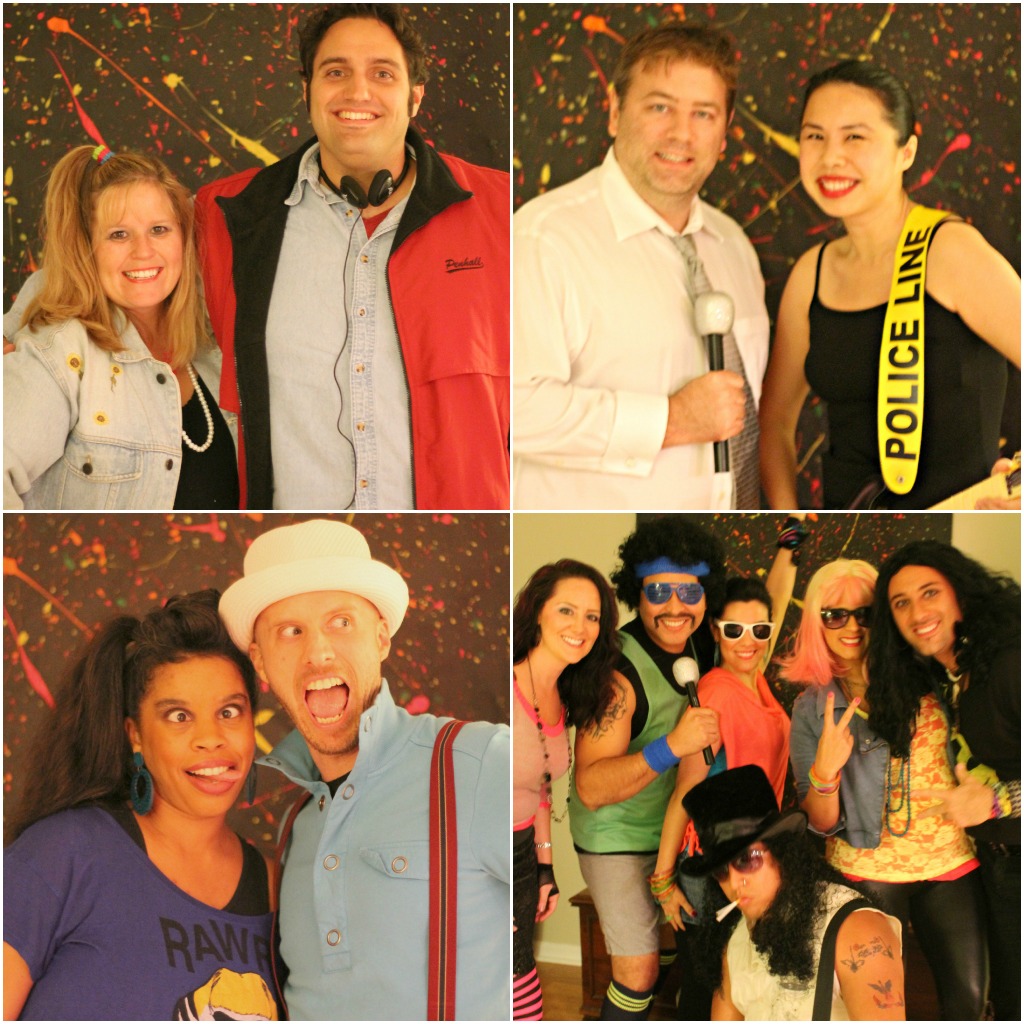 Top left: 80s rocker & Marty McFly. Top Right: Robert Palmer & a backup dancer from Addicted to Love. Bottom Left: Totally rad 80s couple. Bottom Right: Slash and a bunch of his groupies.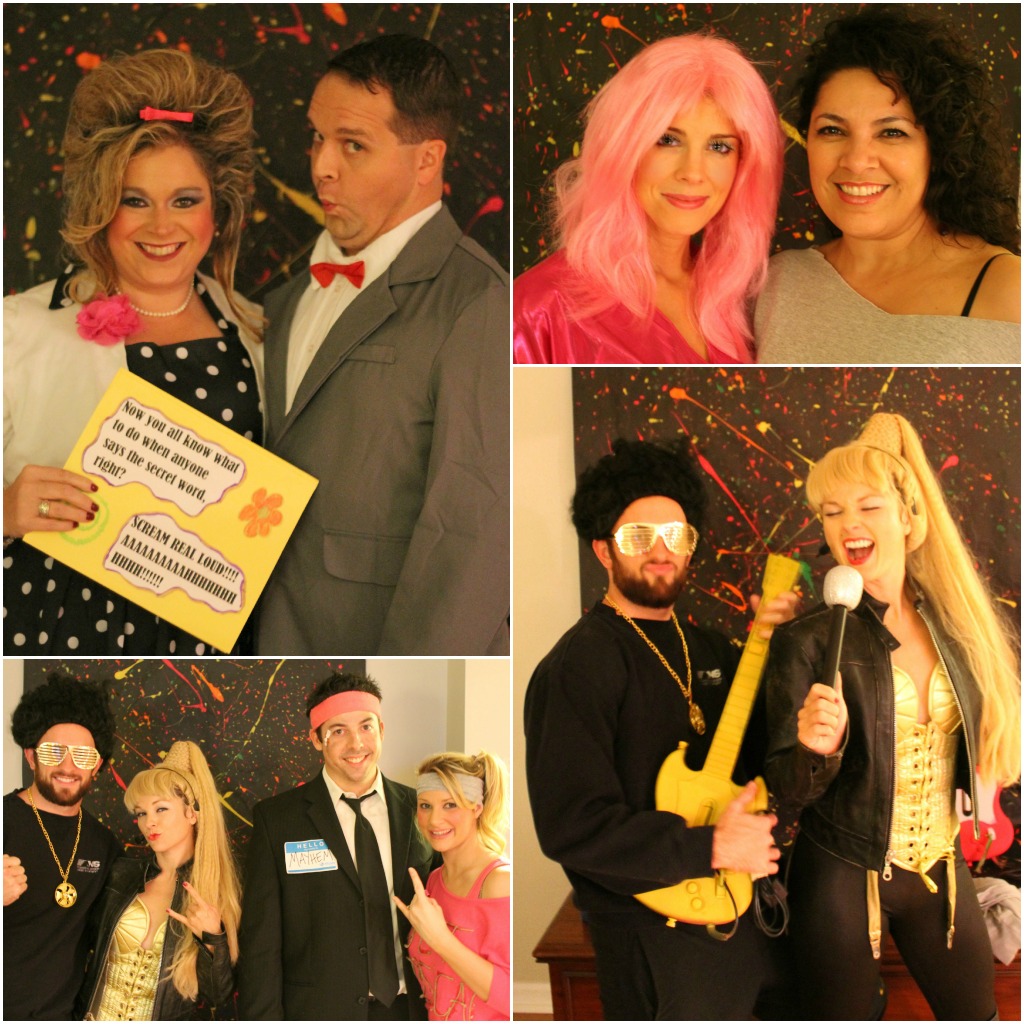 Top left: Pee Wee Herman and Miss Yvonne. Top right: Jem and Jennifer Beals. Bottom left: Madonna & I can't remember what Andy was supposed to be…maybe one of her dancers?, Allstate Mayhem guy and Olivia Newton-John.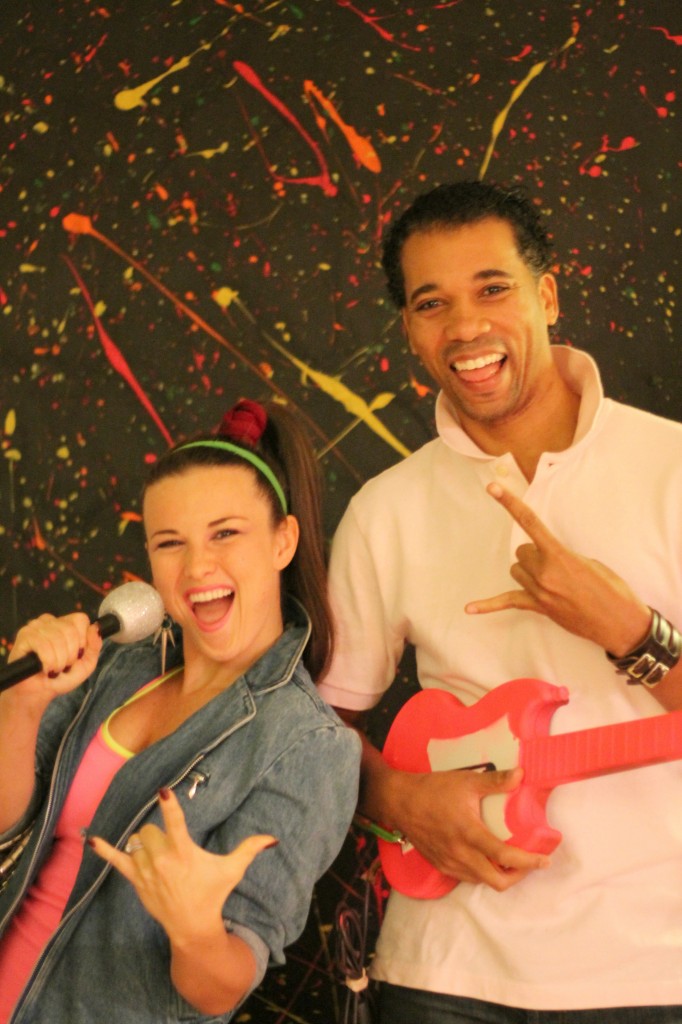 We even had a celebrity at our 80s bash! The beautiful girl on the left in the picture above is Tara Simon, who was recently on the X-Factor. That's her husband Terrence next to her.
Click here to see her on the XFactor & hear her amazing voice!
She is one of the sweetest people I've ever met. I feel soo horrible with how they presented her on the X-Factor. If I ever thought there was actually reality in reality TV, I'm convinced otherwise now. They spliced so many random moments together to make her out to be a villian on that show & my heart just breaks for her. So…let this be said…I've met her and she is soo kind and not like they portrayed her at all.
Her & her husband Terrence were really fun. Terrence even got a lesson…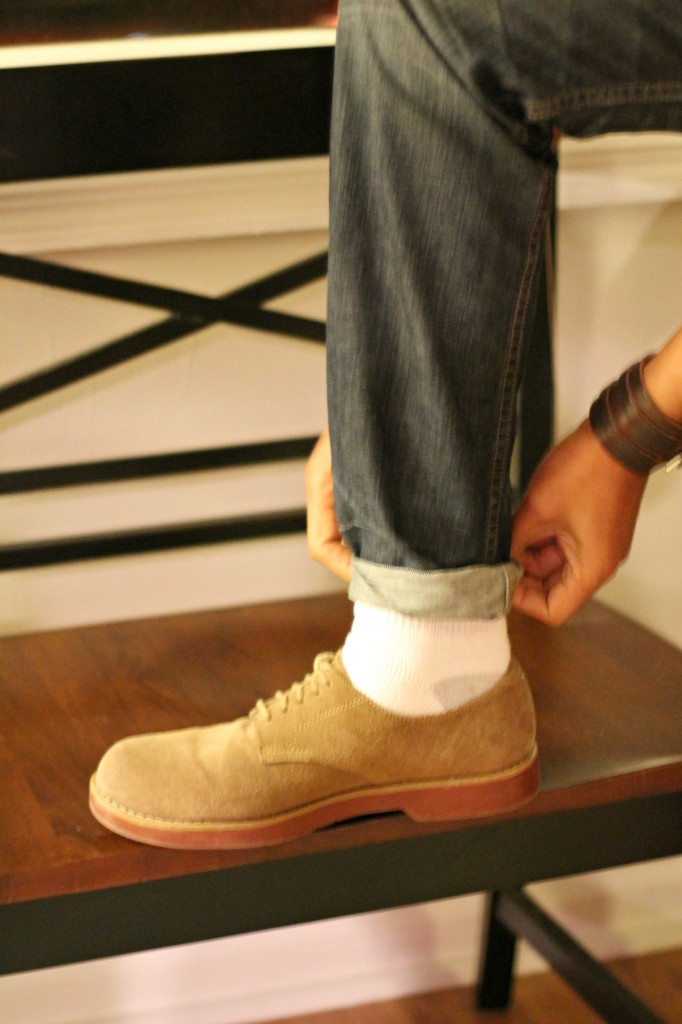 …a lesson in tight-rolling his jeans.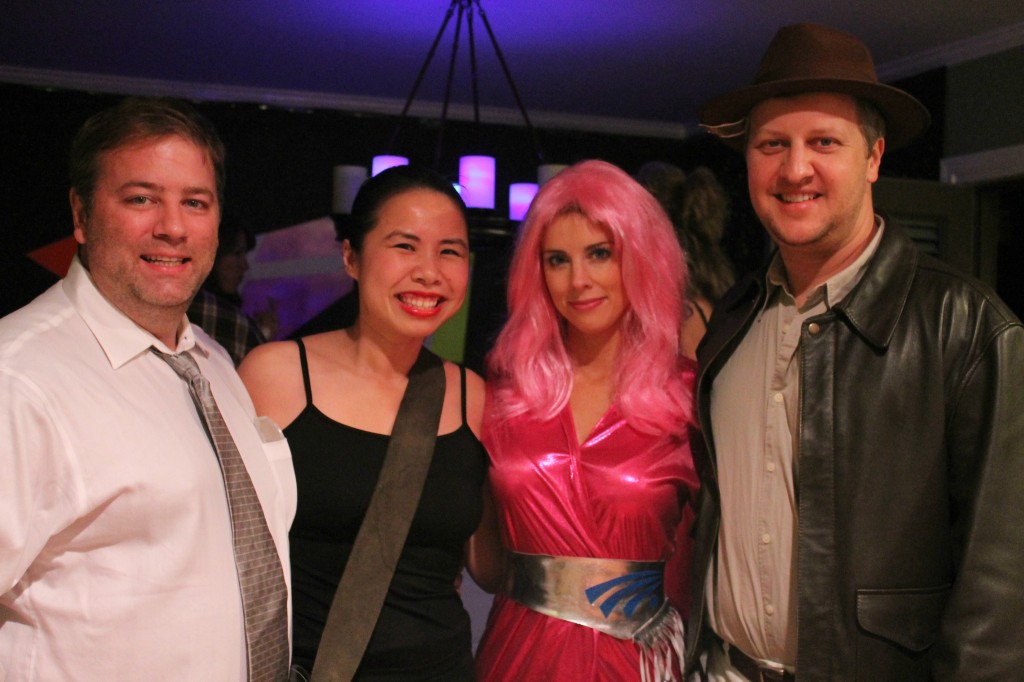 This was the only picture I got of my handsome Indiana Jones. 🙂 He looked great…while my wig would NOT stay put. We're in the picture with our friends Aaron & Eve.
What was your favorite part of the 80s? What costume do you think won?
Hope you have a wonderful Halloween/Fall Festival!
p.s. You can now LIKE Parties for Pennies on facebook! Click here.
LINKING UP TO: