03 Dec

Christmas Decorating Ideas

Hey party people!

A lot of my facebook friends posted pictures of their Christmas trees and decorations. Are you in that crowd? Did you do a little trimming of the tree? Here are a few Christmas Decorating Ideas.

I started on mine last weekend but finished up this past weekend. I attempted a project inspired by a pin from Bliss at Home who got the idea from Daisy Dreaming. "Attempted" is the key word here. My project was a fail…sortof.

I tried to make my own reindeer silhouette art using a canvas and gold glitter. I free-handed my silhouette (1st bad idea), then filled it in with elmers glue (not a bad idea), smothered it in gold glitter, let it dry for 30 minutes and was sooo excited that it had turned out so well that I hung it up (2nd bad idea). My impatience was the cause of my demise. I kept walking past it, smiling, patting myself on the back…but one of the times I walked past it…it was crying! Seriously. There was a big LONG white tear that seemed to roll down from one of the antlers. Ahh…I took it off the wall and realized I should've let it dry for MUCH longer.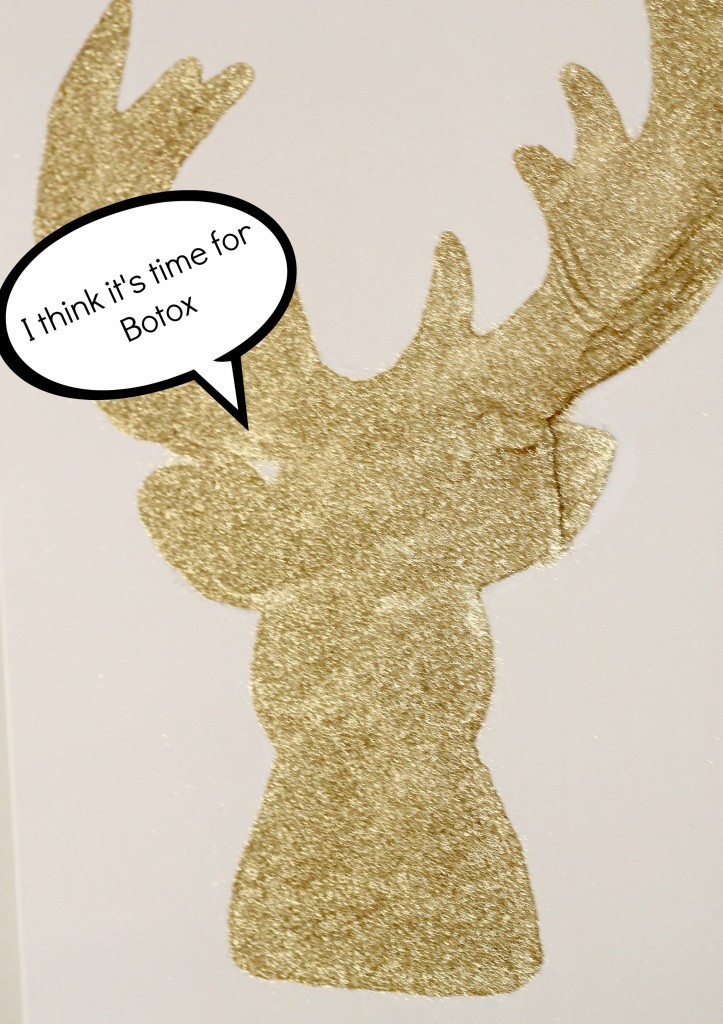 After I tried to patch up this beglittered reindeer, he still looks a mess. Can you see where the glue dripped down from the right antler? Oh my broken glitter dreams…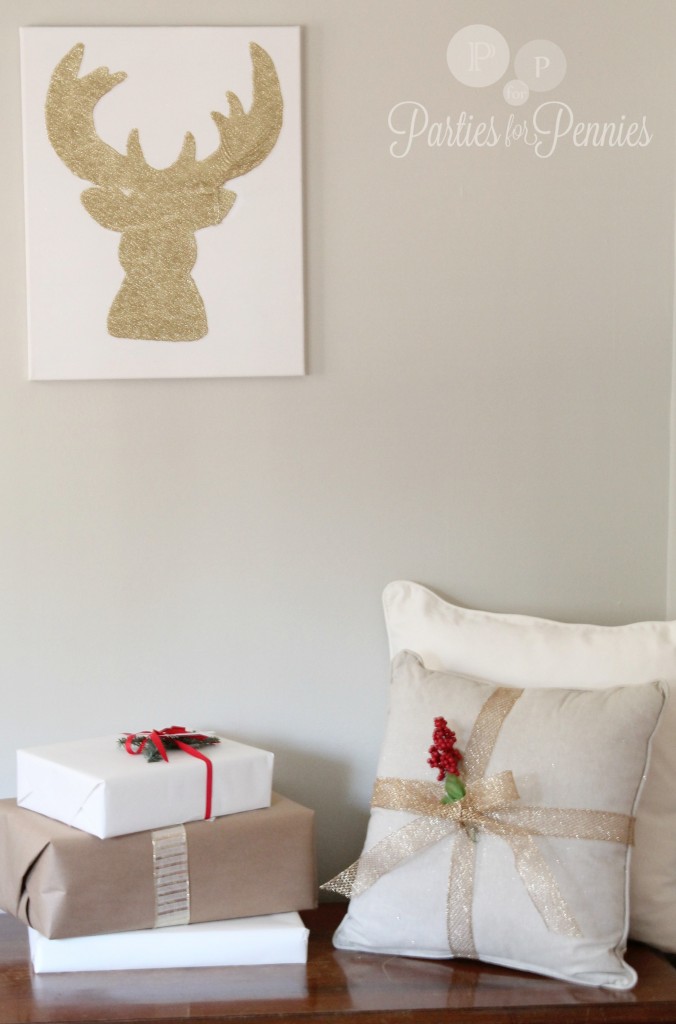 Wouldn't ya know…I still hung that sucker up. ;p It's like my nails after I paint them myself, if you squint they look awesome!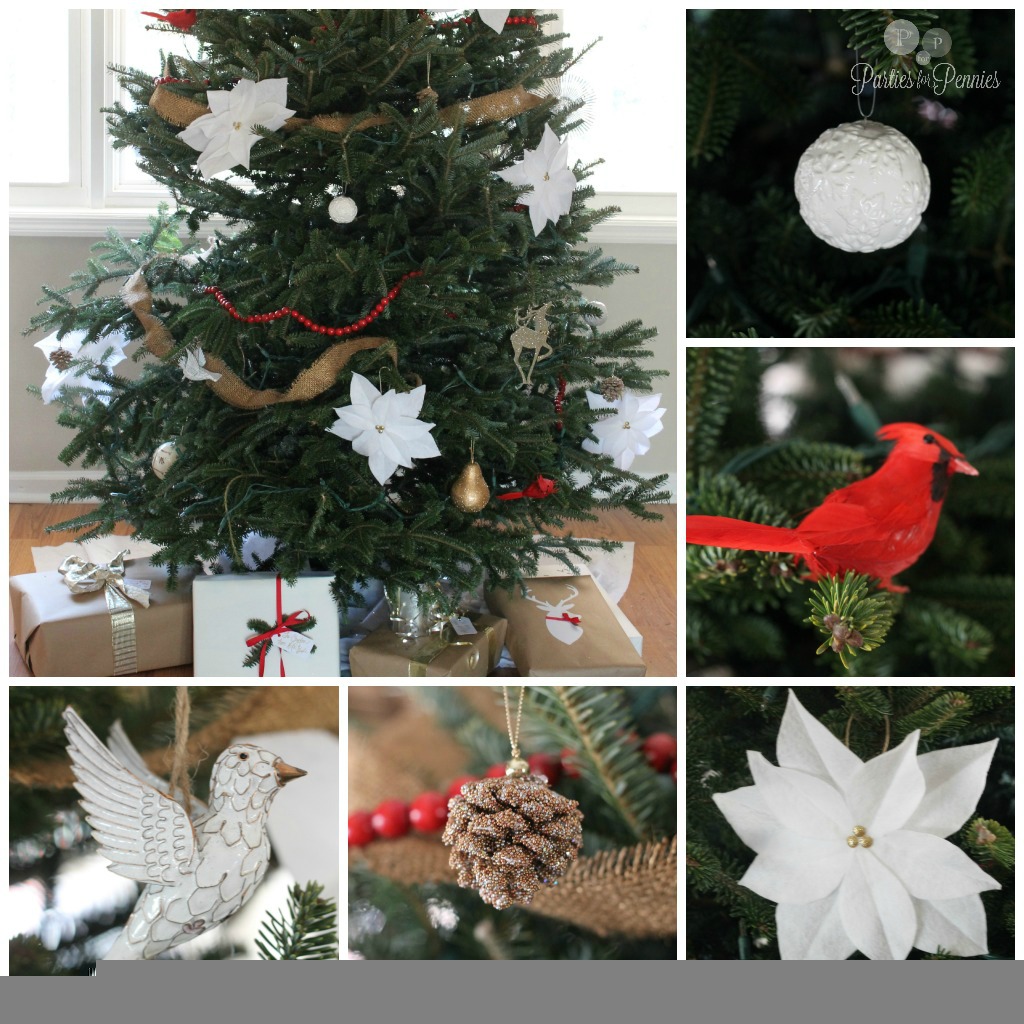 I love opening my Christmas decoration boxes. The reason why is because after Christmas, I give myself a budget of about $20 (last year I spent less) and I buy clearanced Christmas items. It helps me resist buying full-priced items each year and it gives me something to look forward to. Last year I made out at the Pottery Barn outlet and Crate & Barrel (not that kind of making out…although if Mike suddenly gave me his credit card at the Pottery Barn outlet & said, "Have at it" I would probably make out with him in PB :p). I got the gold-toned burlap ribbon (although I should've gotten 2 because it didn't make it all the way around the tree ;p) & the dove at Pottery Barn. The white balls and pine cones were from Crate & Barrel. The ornaments were only $0.50 and I think the burlap ribbon was $0.75. The white felt poinsettas were the ones I made last year.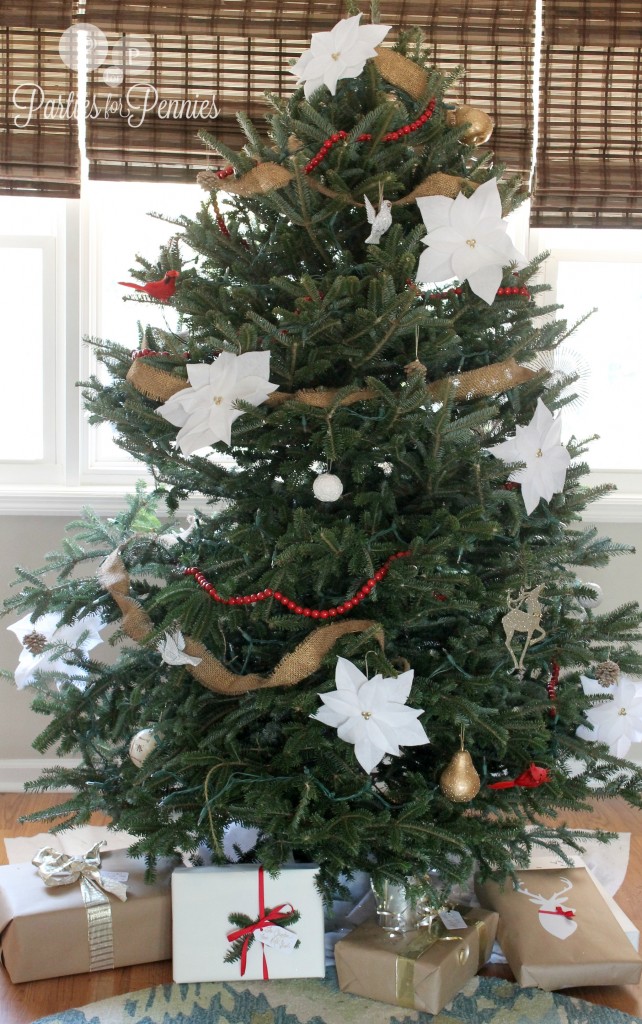 Our tree is still kinda bare so I look forward to shopping for more ornaments after Christmas to fill in the gaps. 🙂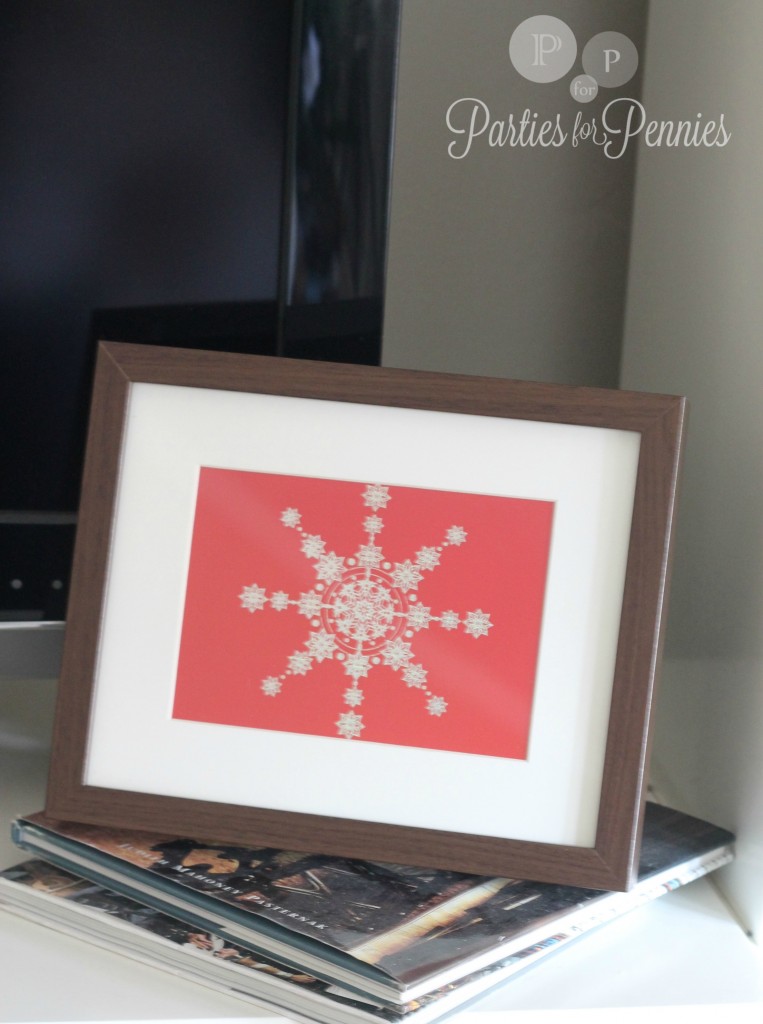 I will confess to you that I have bought one Christmas item this year. IKEA has a pack of 5 Christmas postcards for $0.99 that I picked up. For $0.99, I was able to replace every day photos to give each room a touch of the holiday.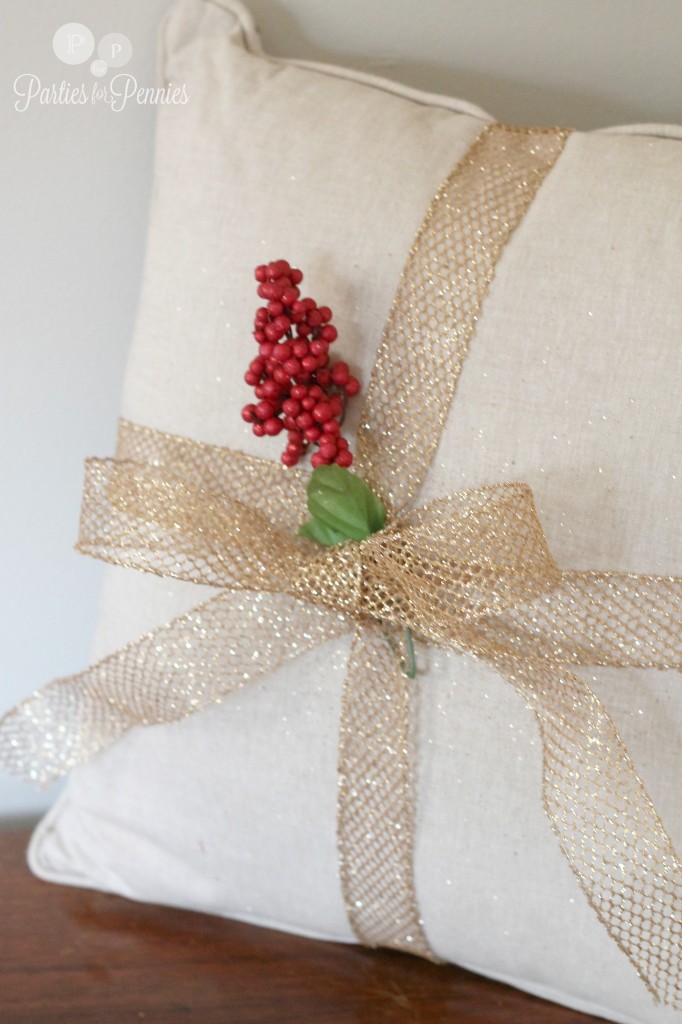 Aren't there so many adorable Christmas throw pillows out there? Target has some unbelieveable ones this year. However, I've got a budget and it doesn't include $30 for a throw pillow. 🙁 Instead of having to buy one, I made my own. This is throw pillow I had already. In fact, if you flipped it around you'd see yellow flowers on it. (sneaky, huh?) I just tied some gold ribbon around it like a present and stuck some red berries on it.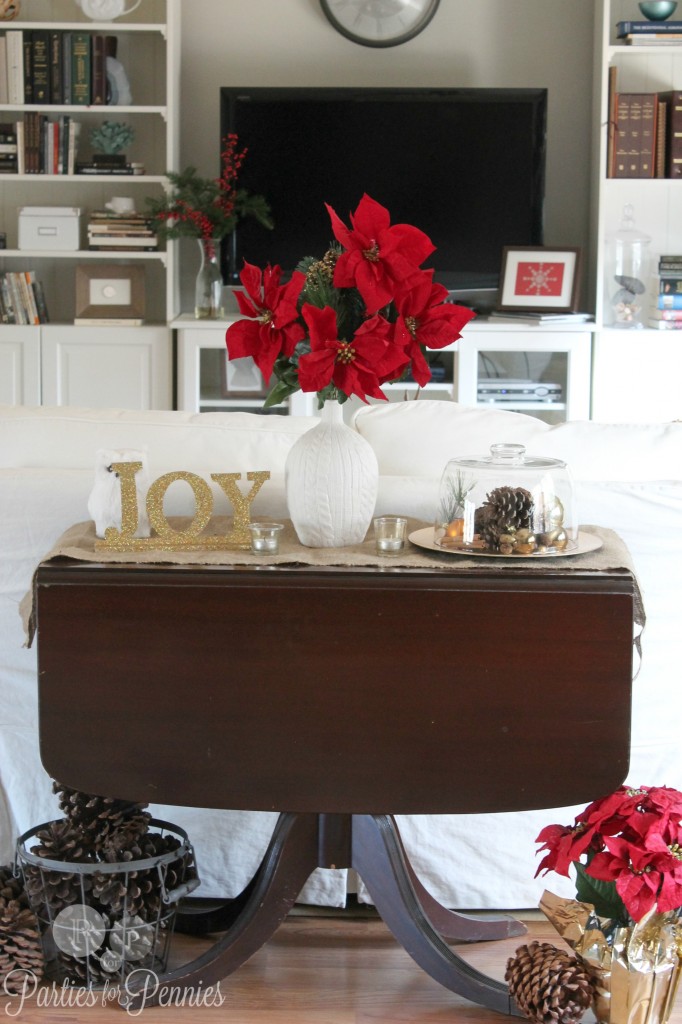 I spot another after Christmas item I got at Crate & Barrel. That beautiful white sweater-textured vase. That's not just something I pull out for Christmas though. I think I got it for $7.99 or maybe $5.99. The "joy" sign was $0.50 at Goodwill.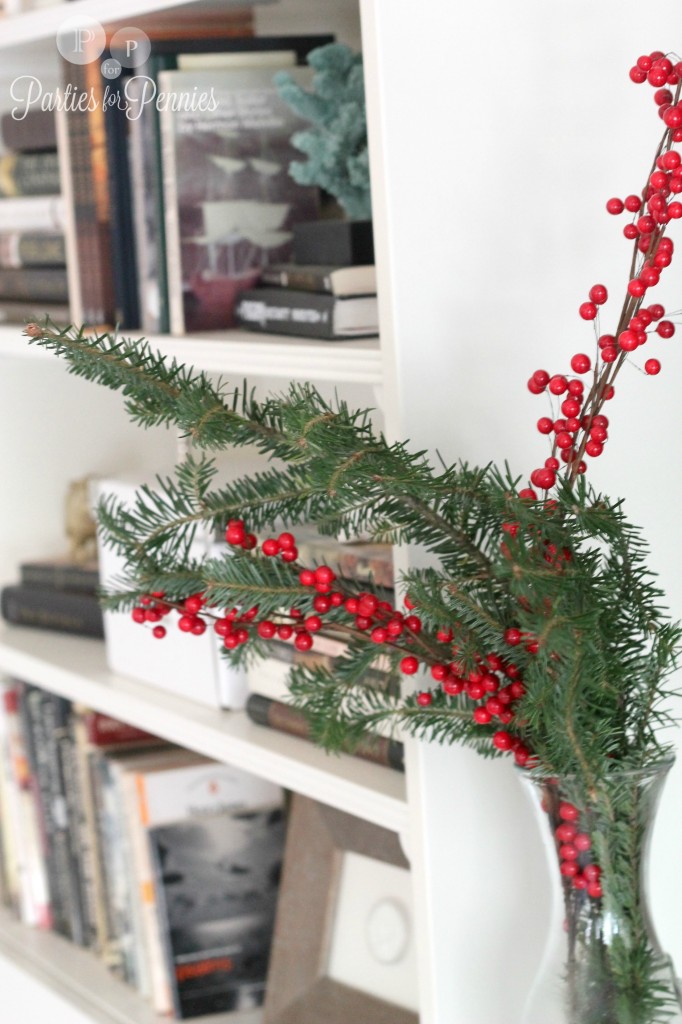 My apologies for this picture. The angle on this was completely off. You probably already do this but every single year when I get my Christmas tree, I load up on the trimmings that are off to the side. Even if you have a fake tree, swing by a Christmas tree vendor or store and snag some branches. These make wonderful arrangements that add so much to your home. Bonus: They smell soo good. ;p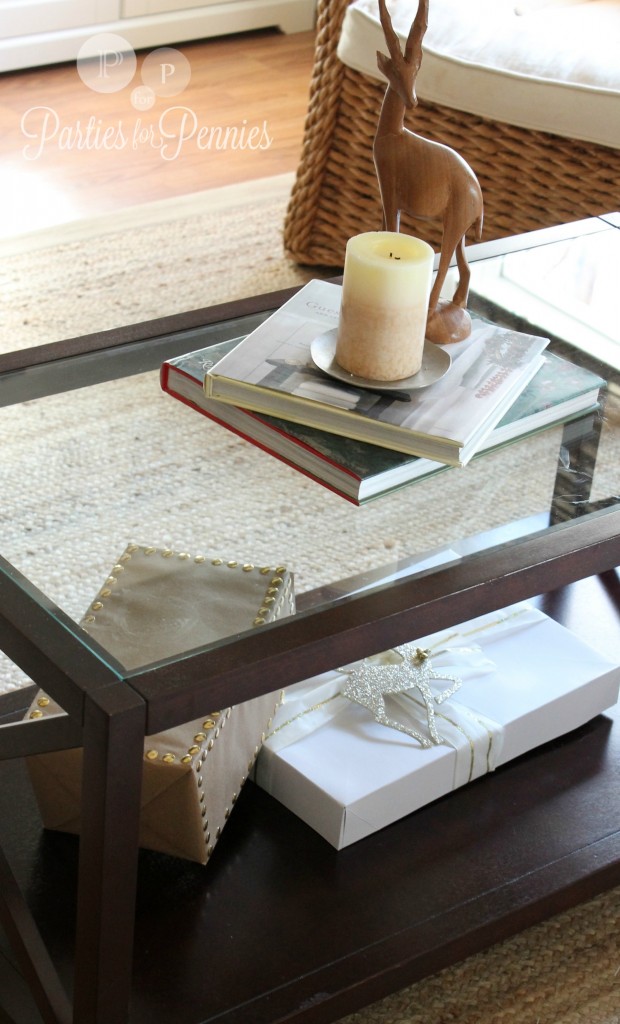 Another poor picture. Sorry for that. This actually isn't finished but I wanted to show you this idea. A really cheap and fun way to decorate your home for Christmas is to use presents. Stack them on your end table or bookshelf or even in your bathroom! It adds so much but the best part is…no clean up or storing in plastic bins! Once you've given out the Christmas gifts, your home is clean. No ceramic reindeers to wrap up, no delicate stars and no breakable bulbs to watch out for.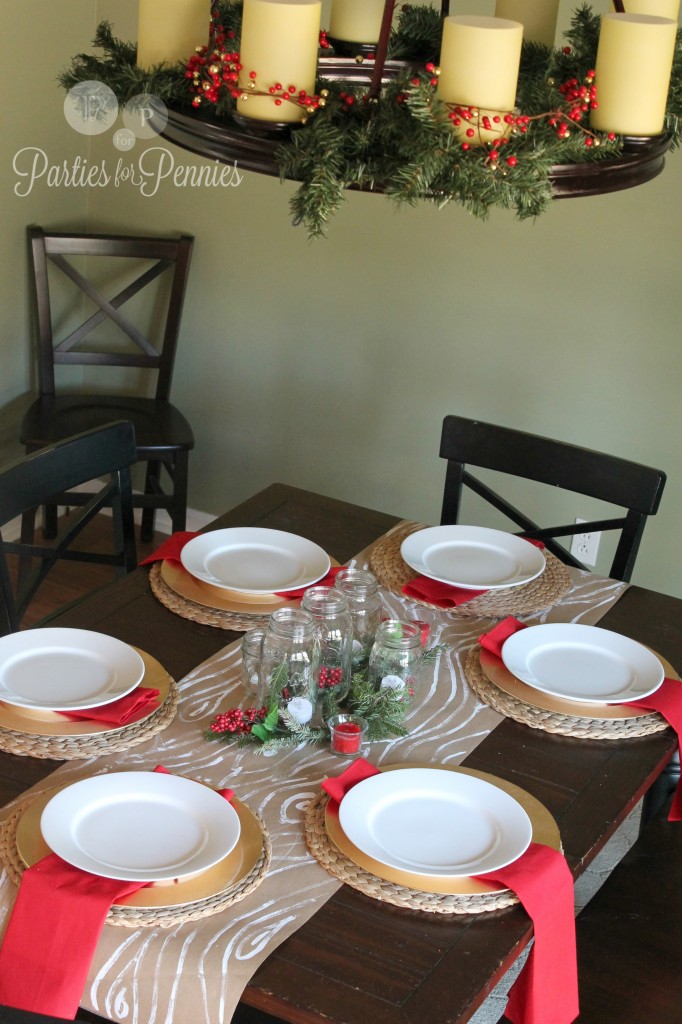 Here's our humble little tablescape. I wasn't exactly thrilled about how my faux bois kraft paper runner turned out. I've done the faux bois before but this just wasn't looking right to me. Once I got everything on the table, though, it didn't bother me as much. I'm sure you can do a better job at it. I just used kraft paper and painted the faux bois on with white paint. I tried it first with a paint pen but it was too light so I broke out the big daddy paint.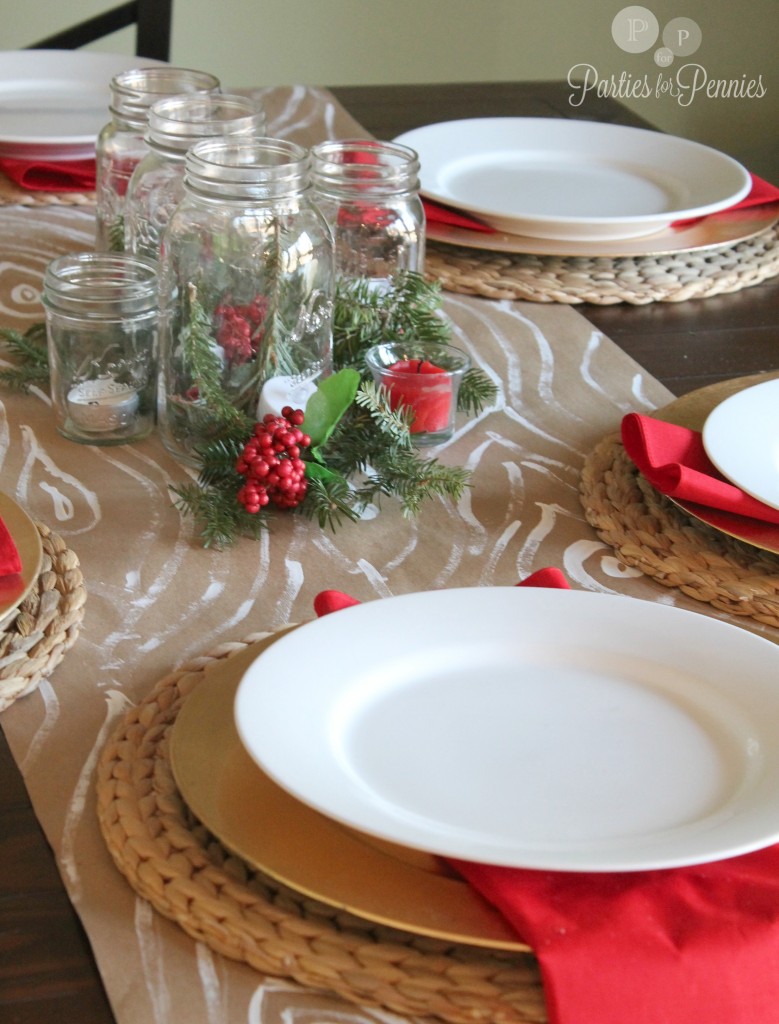 Hope you're having a wonderful holiday season so far!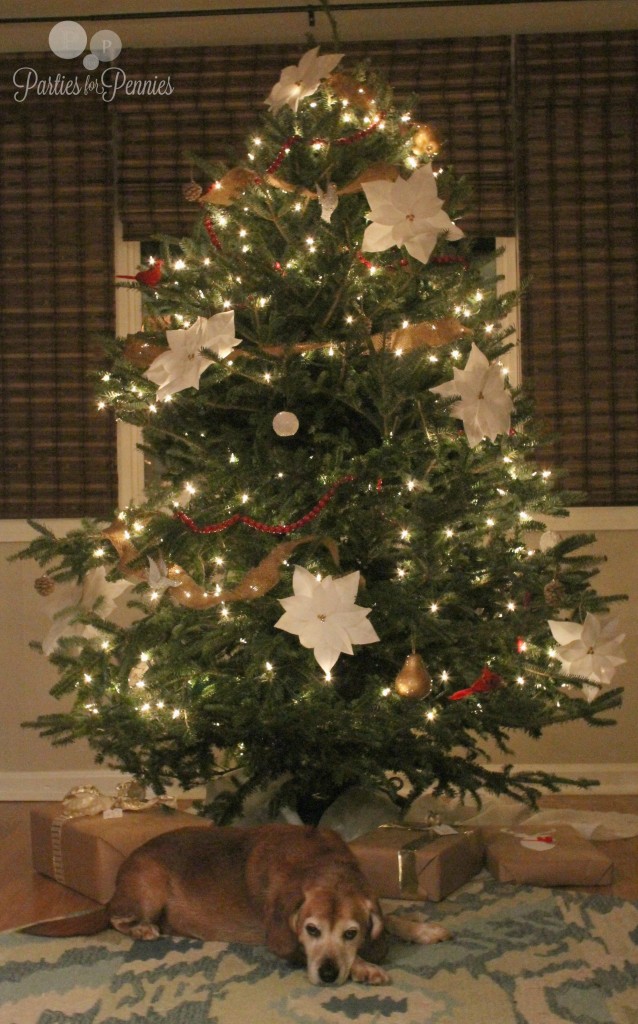 Now it's time to snuggle up with my man, our dog and some hot chocolate and enjoy all the Christmas decorations!
Stop in this Wednesday for some inexpensive homemade gift ideas.
Until then…Party On!
p.s. You can now LIKE Parties for Pennies on facebook! Click here.