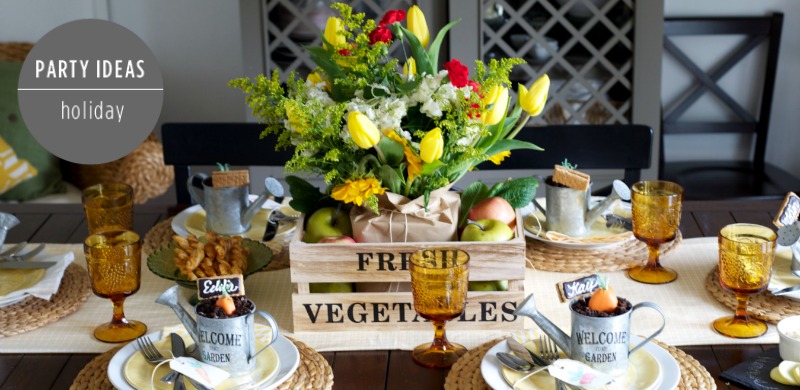 25 Mar

Farmers Market Easter Party with Snack Pack Dessert

Parties for Pennies has been compensated by Collective Bias, Inc. and its advertiser for this party post. However, all opinions and ideas are mine. #SnackPackMixins #CollectiveBias

Hey party people!

When you think of Easter, you normally think of Easter egg hunts and sitting on the Easter bunny's lap (ok, that may not be the first thing you think of). Both of these things are generally for kids. But most Easter dinners or parties involve kids AND adults.

I decided to create an Easter party plan that adults and kids will love. This is a Farmers Market Easter Party you can create yourself, with an Easy Snack Pack Dessert Recipe and printables.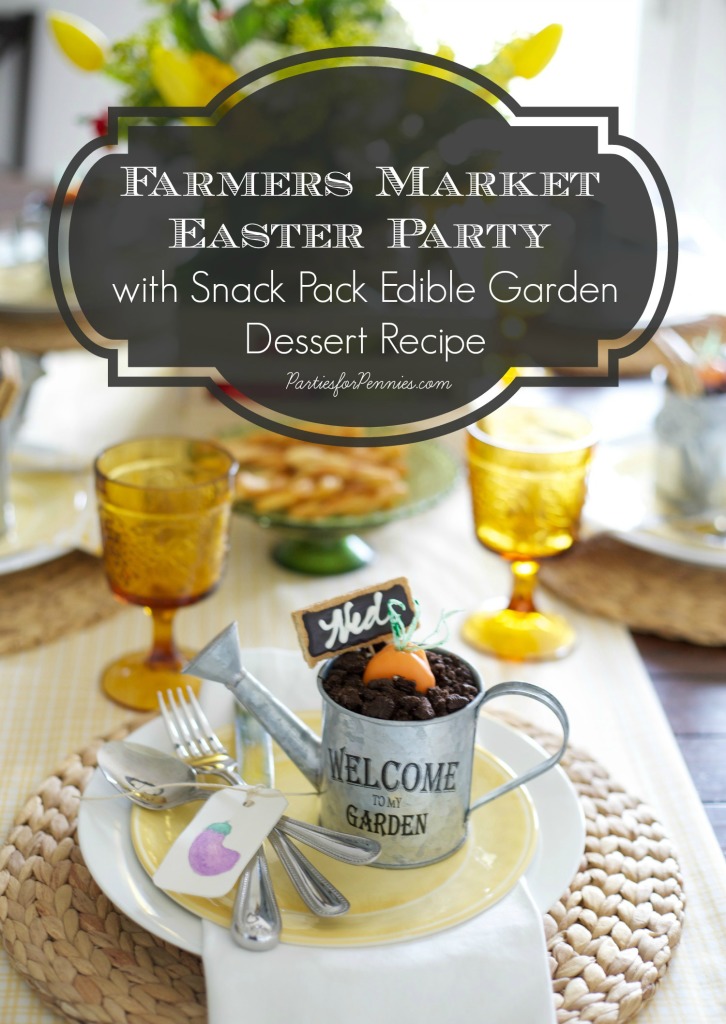 Let's jump right into the Menu for your Farmers Market Easter Party. The highlight of the entire party will definitely be this Easy Snack Pack Edible Garden Dessert.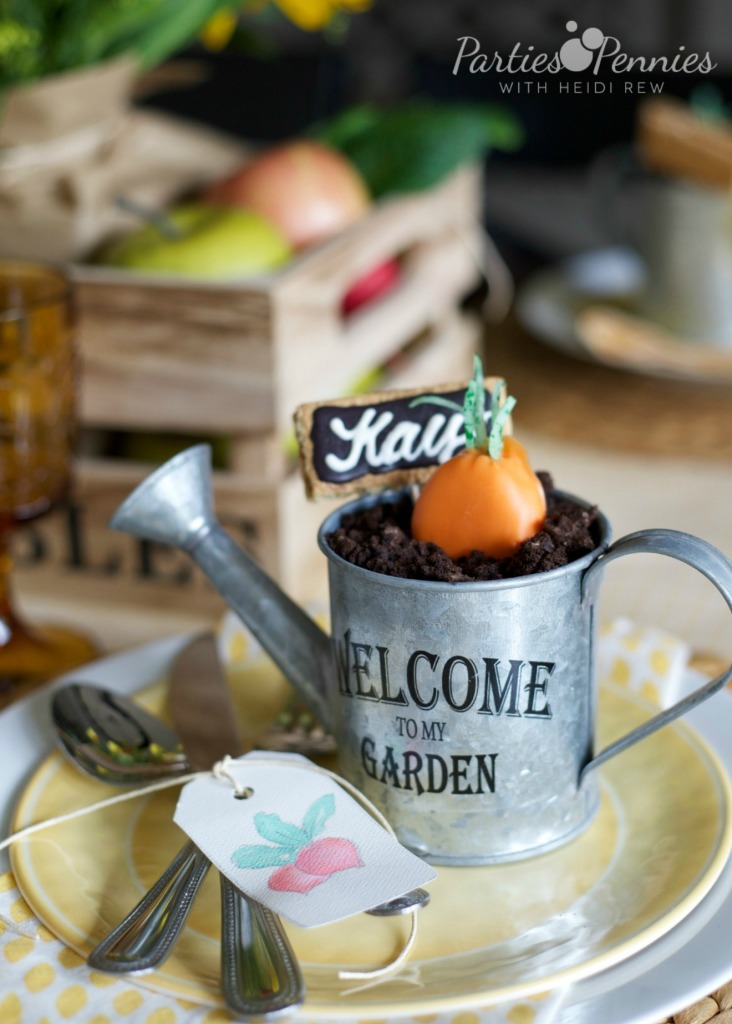 Just about everything you need is found at your local Wal-Mart. I stopped by the WalMart off 575 and Chastain Meadows Parkway in Marietta, Georgia. First, I looked for the Snack Pack display. It was on aisle 14, where the cake mix, sugar, spices, and gelatin were located. I also spotted an Easter display at the end of the aisle, with a recipe tear-off sheet. There were some awesome easy to make dessert ideas using the Snack Packs. Pick one up to make some fun after-school treats.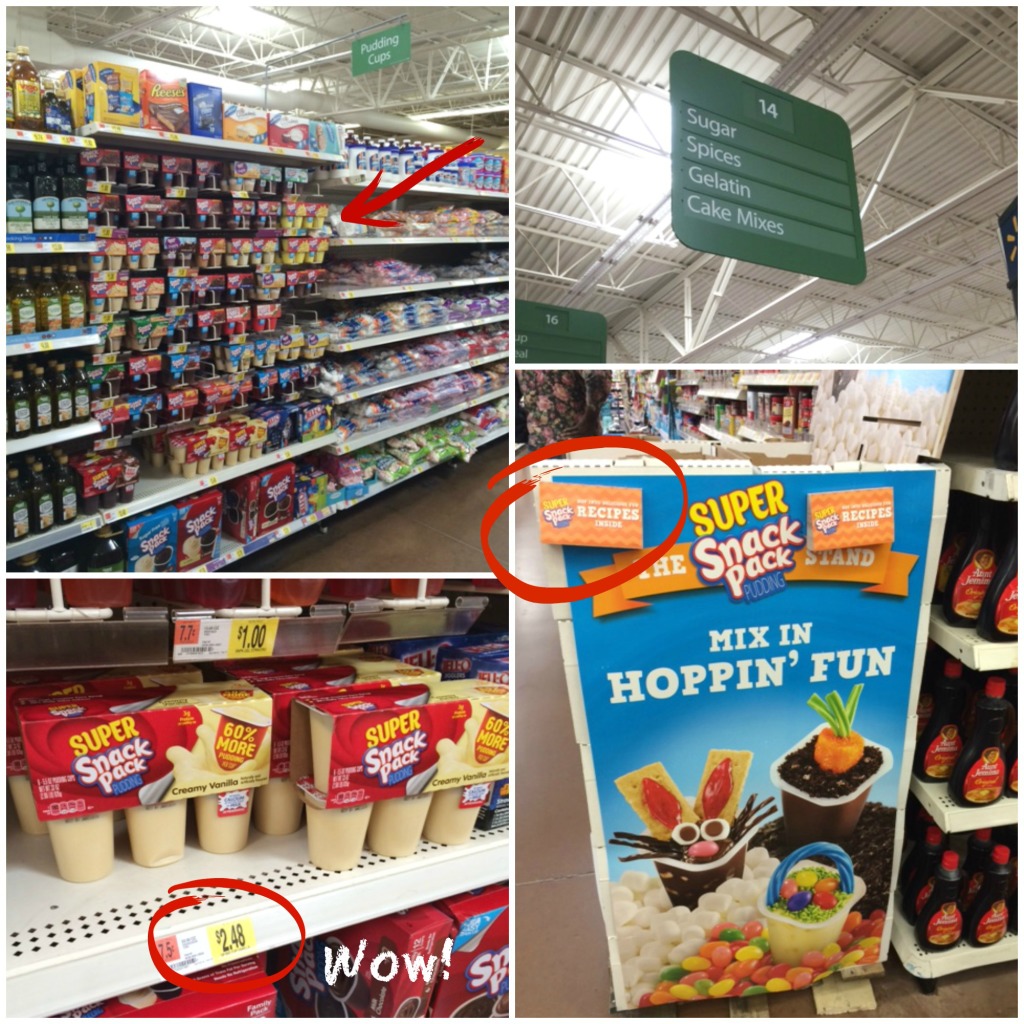 Before you head out to your local WalMart to pick up your Snack Packs, print off this great coupon.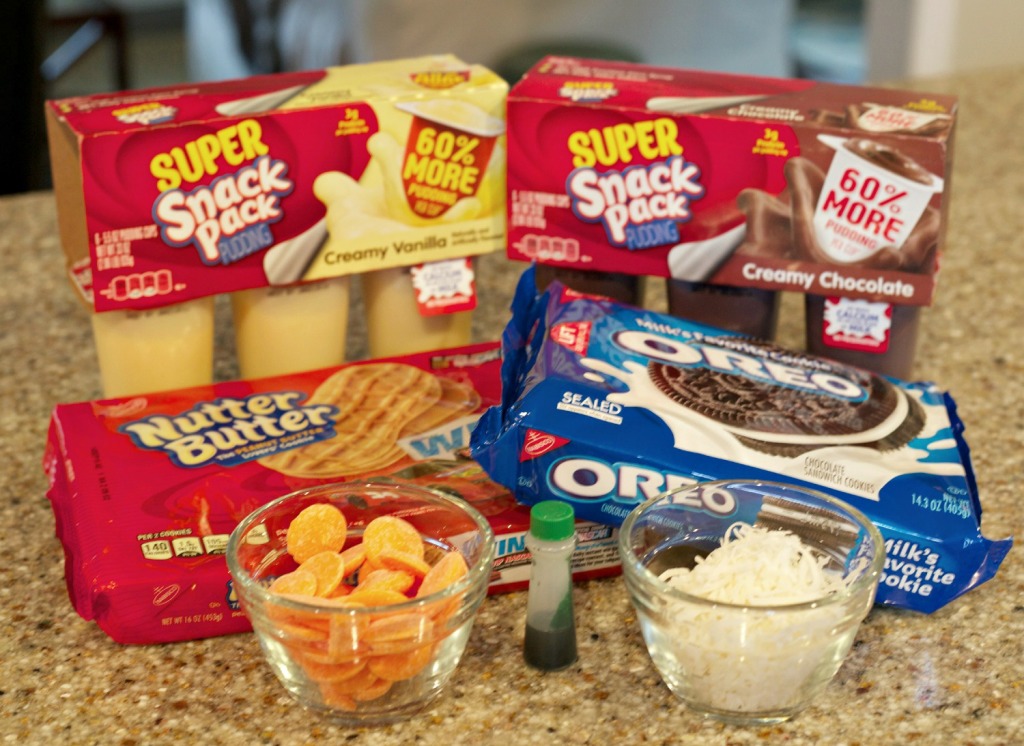 I loaded up my cart with a pack of vanilla and chocolate Snack Packs, Oreos, Nutter Butters, Honey Maid Grahams, Sprinkles, Shredded Coconut, and Green Food Coloring. One thing I noticed right away was that Snack Packs have NO HIGH FRUCTOSE CORN SYRUP (score) and the same amount of calcium as an 8oz. cup of milk! Sweet treat that's good for me, too? Yep. I'll take a Snack Pack over a glass of milk any day.
To make these easy on you, here's a list of things you'll need –
* Vanilla and/or Chocolate Snack Packs
* Oreos
* Nutter Butters
* Honey Maid Grahams
* Shredded Coconut
* Green Food Coloring
* Orange, Black, and White Chocolate Melts
* Tooth Picks
* Sprinkles
Here are the simple steps to help you create your own Snack Pack edible garden dessert. A lot of these steps your child can help with and it helps that the Snack Pack lids are easy to open.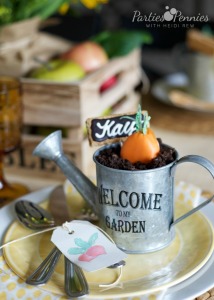 Snack Pack Edible Garden Dessert
2015-03-23 14:37:56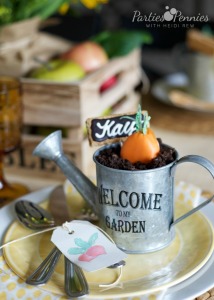 Kids and Adults will love this fun and delicious dessert. Perfect for Easter!
Ingredients
Chocolate and/or Vanilla Snack Packs
Oreos
Nutter Butter Cookies
Shredded Coconut
Green Food Coloring
Orange Chocolate Melts
Instructions
Break the Nutter Butter cookies in half. Set aside.
Pour the shredded coconut in a bowl and mix in some green food coloring. Stir until colored.
Melt your orange chocolate melts in the microwave for 30 secs. Stir after each. Only takes 2-3.
Dip the unbroken half of the Nutter Butter into the orange chocolate. I just did it with my fingers, but if the chocolate is hot, you may want to use a small tong. Lay the dipped Nutter Butters on wax or parchment paper.
Grab a few strands of green coconut and stick on the rounded section of your dipped Nutter Butters. Make sure you do this while the chocolate isn't completely dry. Set aside to harden.
Throw some of your Oreos into a plastic bag and use a mallet or rolling pin to crush them. You could also use a food processor instead (I just didn't want to have to clean that up ;p).
Once your Nutter Butters have hardened, open up your Chocolate or Vanilla Snack Pack. THIS would be a great job to give your child. Snack Packs have easy open lids that are kid-friendly. Plus, they'd love licking the tops of the lid once they're off. Speaking from experience, that was my favorite part (licking the lid…delicious!).
I chose to use these watering cans for my Snack Pack Edible Garden Dessert. You can use just the regular Snack Pack cups, if you don't have these. If you do use something like this, you may have to trim around the top of the Snack Pack edges to make them fit.
Add a little bit of the crushed Oreos to your Snack Pack.
Place your Nutter Butter "carrot top" in the middle of your Snack Pack, with the coconut leaves at the top.
Fill in around your Nutter Butter "carrot top" with more crushed Oreos and it's ready to serve.
Notes
Add an Edible Garden Stake to finish off this dessert that doubles as a place setting. See the recipe below.
Parties for Pennies http://partiesforpennies.com/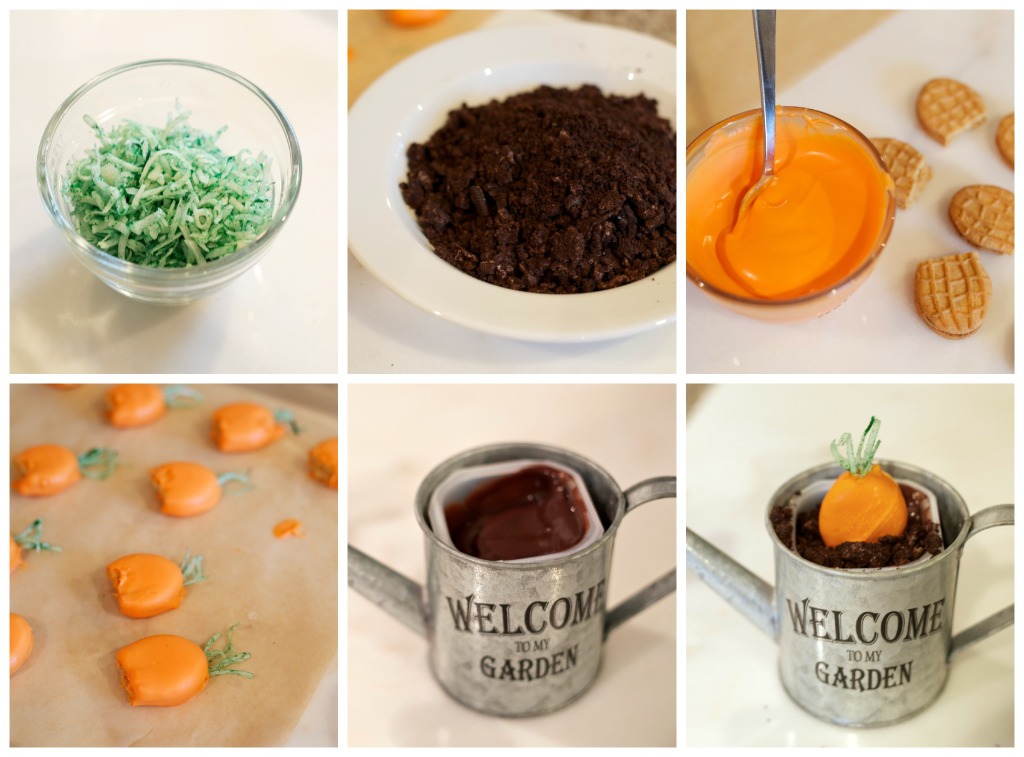 Add the finishing touch to your Snack Pack Edible Garden with these Edible Garden Stakes that double as place settings.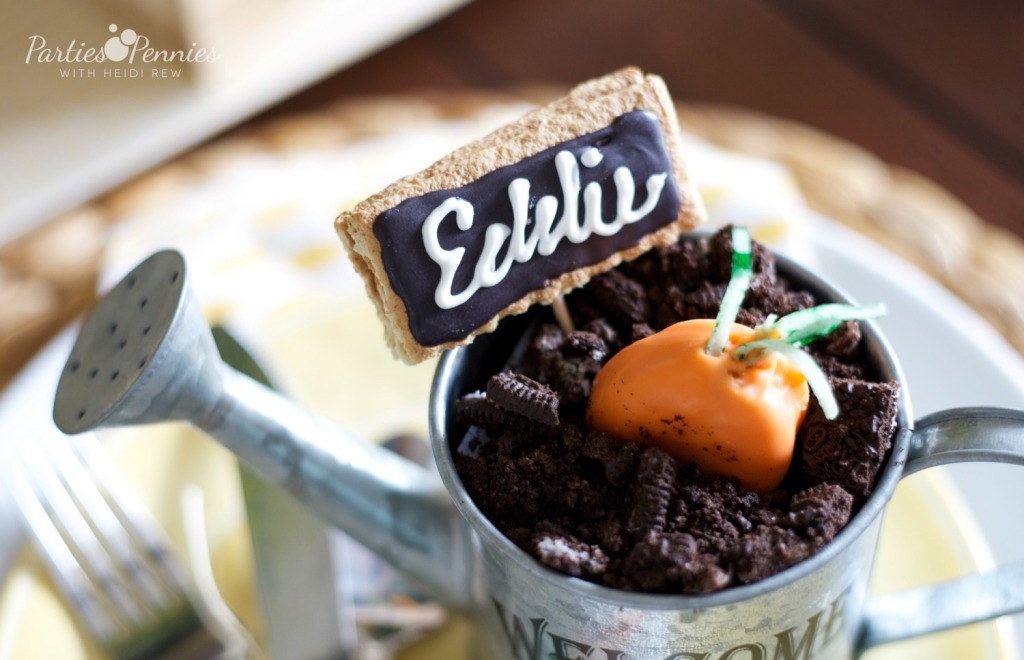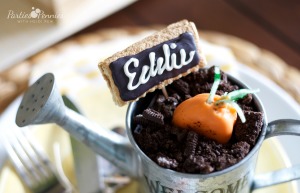 Edible Garden Stake Placecards
2015-03-23 14:53:14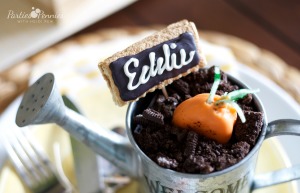 The finishing touch to your Snack Pack Edible Garden Dessert and a fun placecard.
Ingredients
Honey Maid Graham Crackers
Black Chocolate Melts
White Chocolate Melts
Plastic Sandwich Bag (2)
Toothpicks
Instructions
Break your graham crackers into 8ths (where the break lines are).
Melt your black chocolate melts in the microwave in 30 second increments, stirring after each.
Once that's melted, pour into a plastic sandwich bag.
Cut a very small hole at one tip of the sandwich bag (start as small as possible & make adjustments).
Make a rectangle outline on the graham with your black chocolate, using your sandwich bag.
Then fill it in with your chocolate.
Lightly tap the graham on the counter to smooth it out.
Once that's hardened, melt the white chocolate melts in 30 sec. increments, stirring b/w each.
Add the white chocolate to a sandwich bag and cut a really small piece of one corner.
Using your bag, pipe the white chocolate onto the black portion of your graham.
You may want to practice writing the names on wax paper first to get the hang of it.
Once that's hardened, break apart enough grahams to match the ones you just did.
Add a dollop of white chocolate (or black, whichever you had leftovers of) onto the blank graham.
Place the top end of the toothpick at the bottom of the chocolate dollop.
Add the message graham on top and press in.
Once they've hardened, they're ready to accessorize your Snack Pack Edible Garden.
Parties for Pennies http://partiesforpennies.com/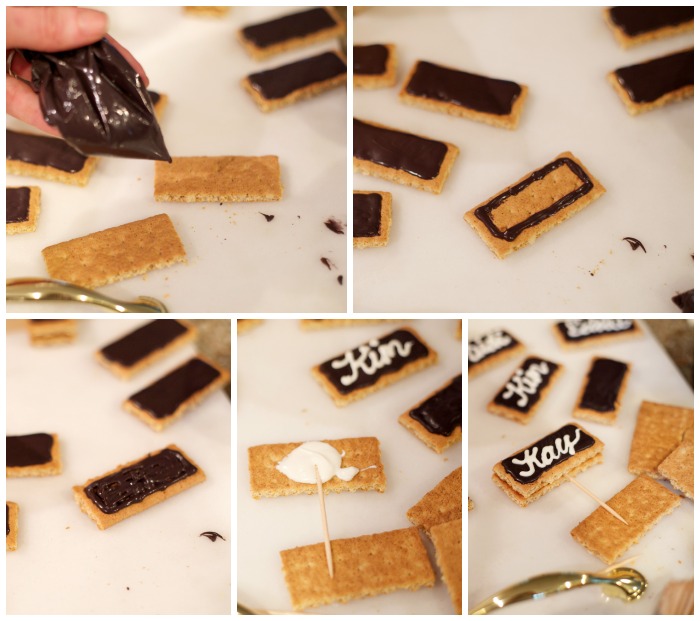 I guess we should talk about some menu ideas besides dessert.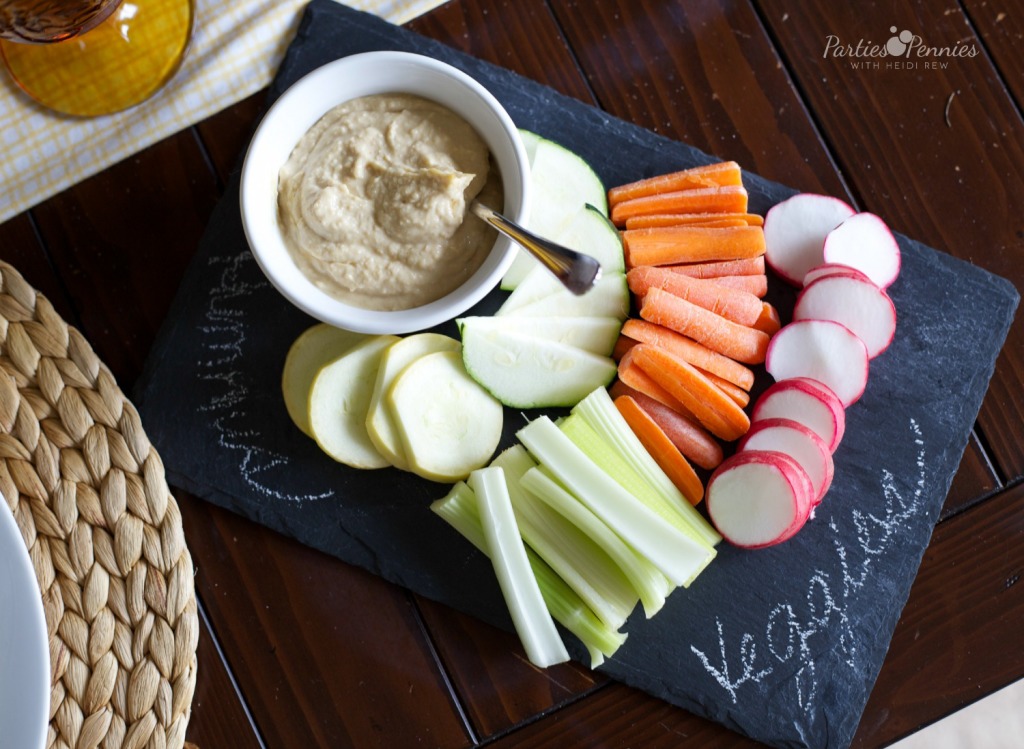 Since we're focused on a Farmer's Market theme, my menu would include – an Easter ham, a bunch of different roasted vegetables (this would be fun for your kid's to pick out some vegetables they like at the store to include), and mashed sweet potatoes. I make mashed sweet potatoes all the time and love them. I make them similar to regular mashed potatoes, except I use almond milk, a little bit of butter, cinnamon, and a little bit of honey.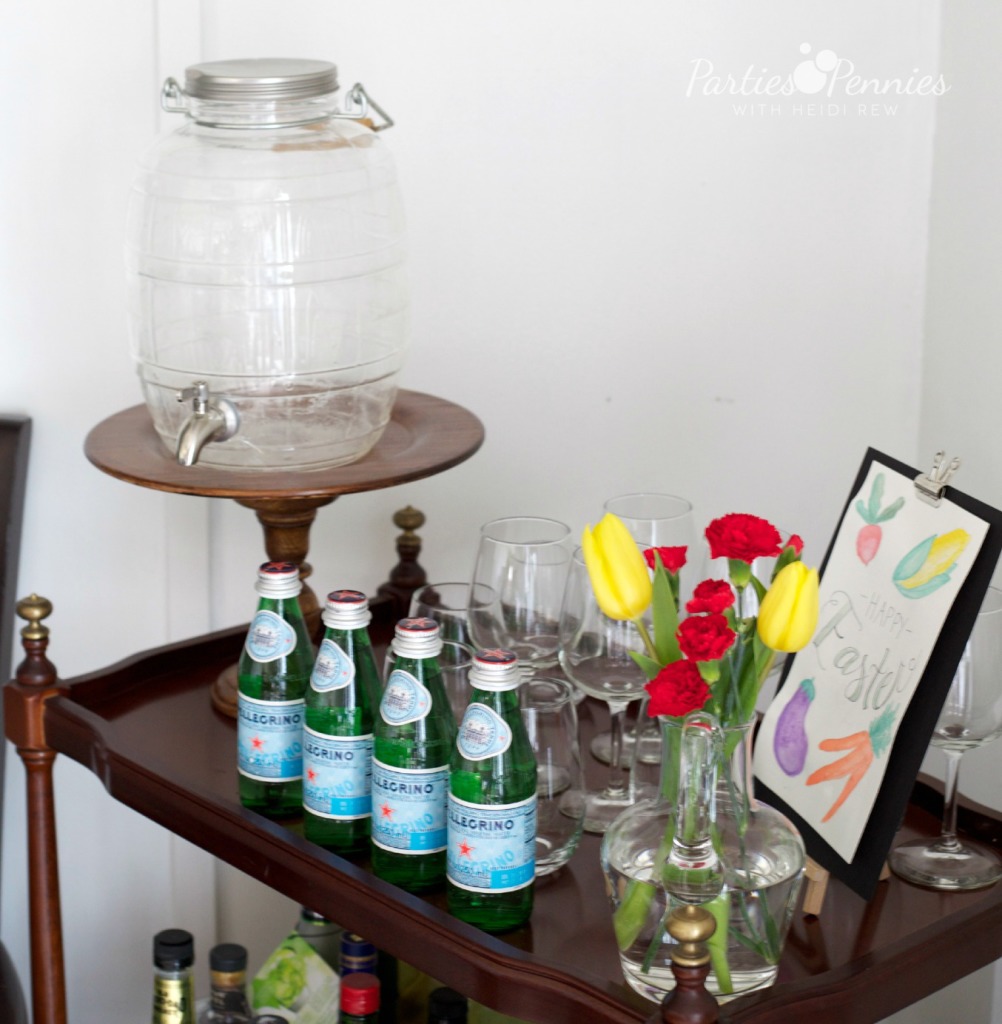 For the drinks, I'd set up an herbal tea station. Serve either regular sweet tea or green tea and offer various herbs and fruits to infuse into the guest's tea. Mint, peach slices, basil, blueberries, strawberries, rosemary, orange peel/slices, lavender, cinnamon, lime, lemon, or spearmint are all good additions.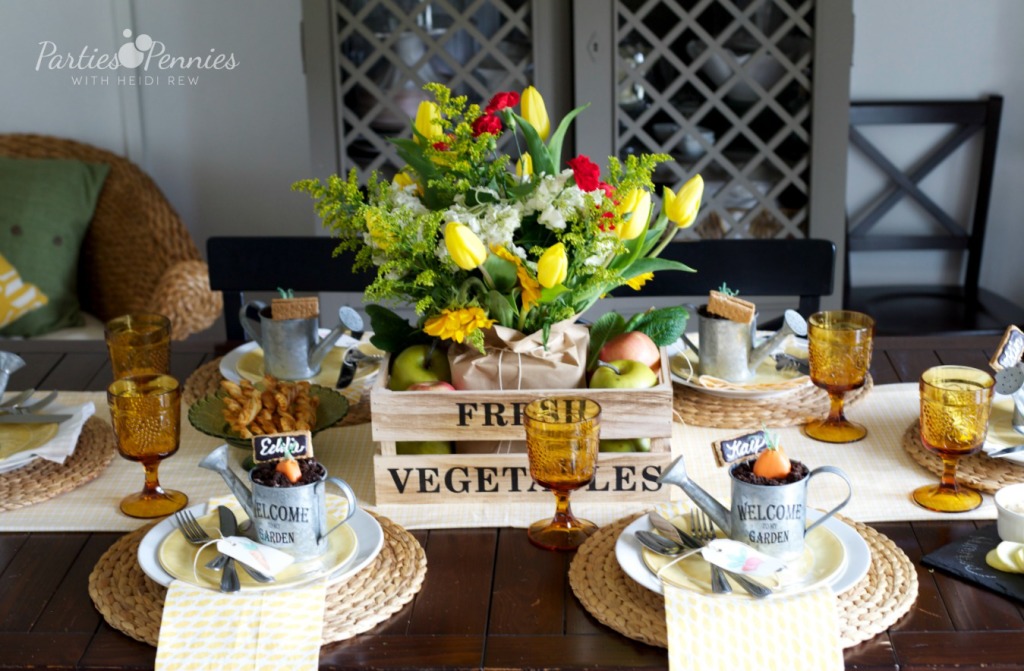 A Farmers Market theme is a great budget-friendly theme because you can use a lot of items you have around your kitchen. I filled this produce crate with vegetables and fruits I had in my refrigerator. The floral arrangement I created with simple store-bought flowers (some of these I found at WalMart). It's resting in a plain square glass vase, but I wrapped some kraft paper around it and tied with twine to add to the farmers market look.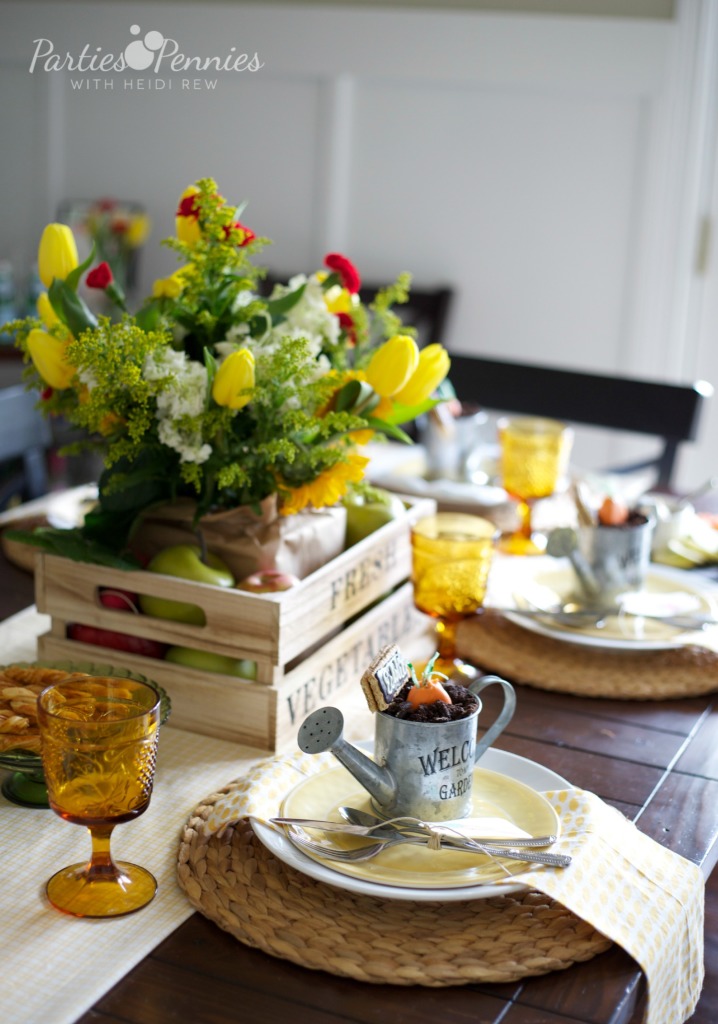 The other great thing about a Farmers Market theme is you can really combine a lot of different colors and patterns. All the plates, napkins, and runner I already had. In fact, the runner is actually a sheet I bought at a thrift store. I just folded it to create the runner look.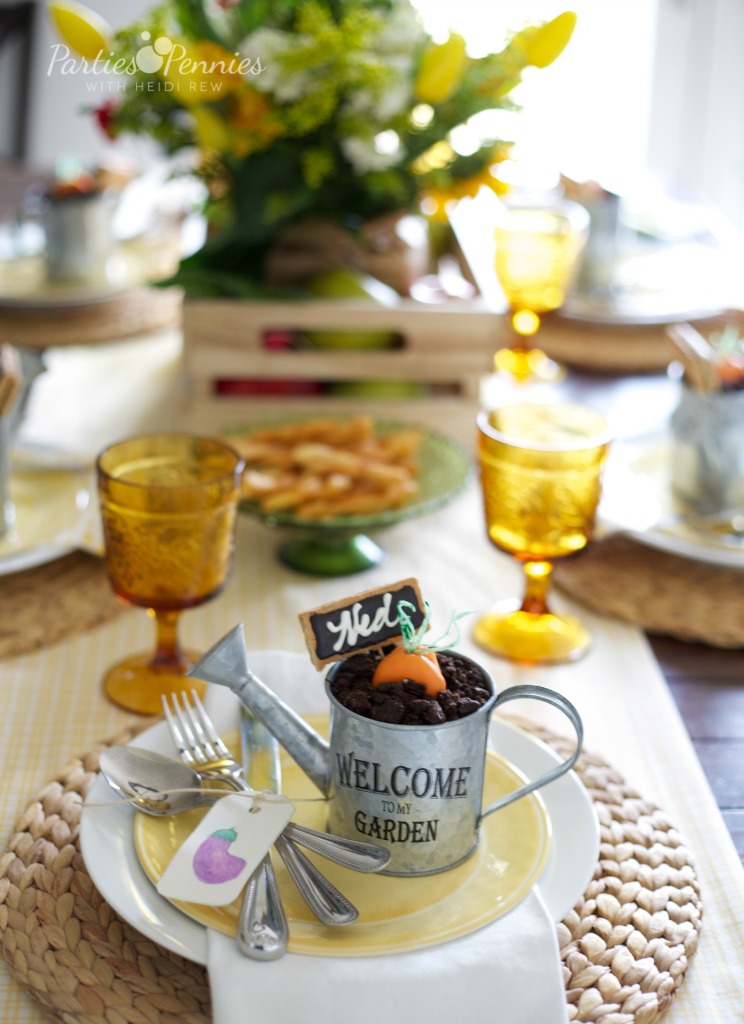 I did want to add some fun tags to my place setting, so I made these watercolor tags. I'm no artist and have never taken any classes, so I apologize to all of the professionals out there. If you don't mind my amatuer watercolor attempts, I scanned these tags into a printable so you can use them too.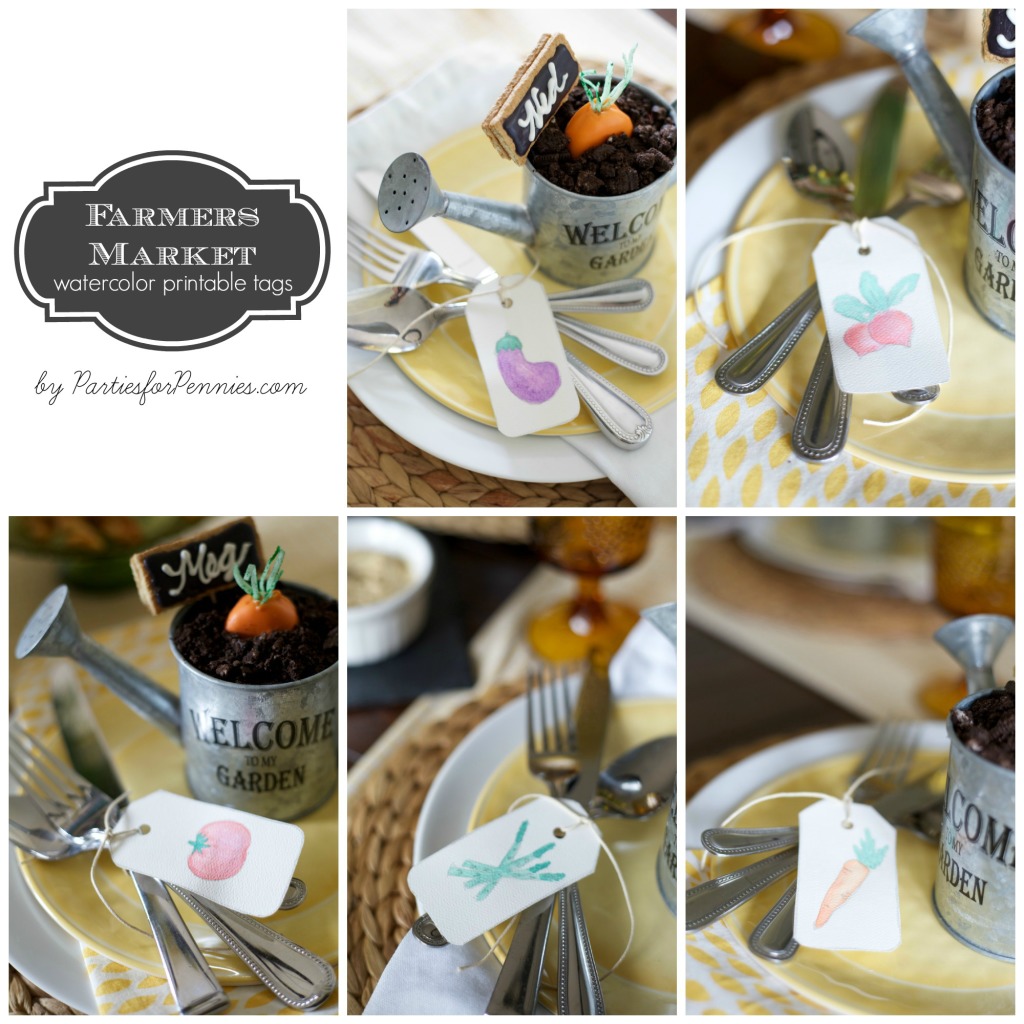 *Note: I created mine on watercolor paper, which is more of an ivory color. You can print these on watercolor paper, but I wanted you to know that they'll end up more white if you print them on regular cardstock. *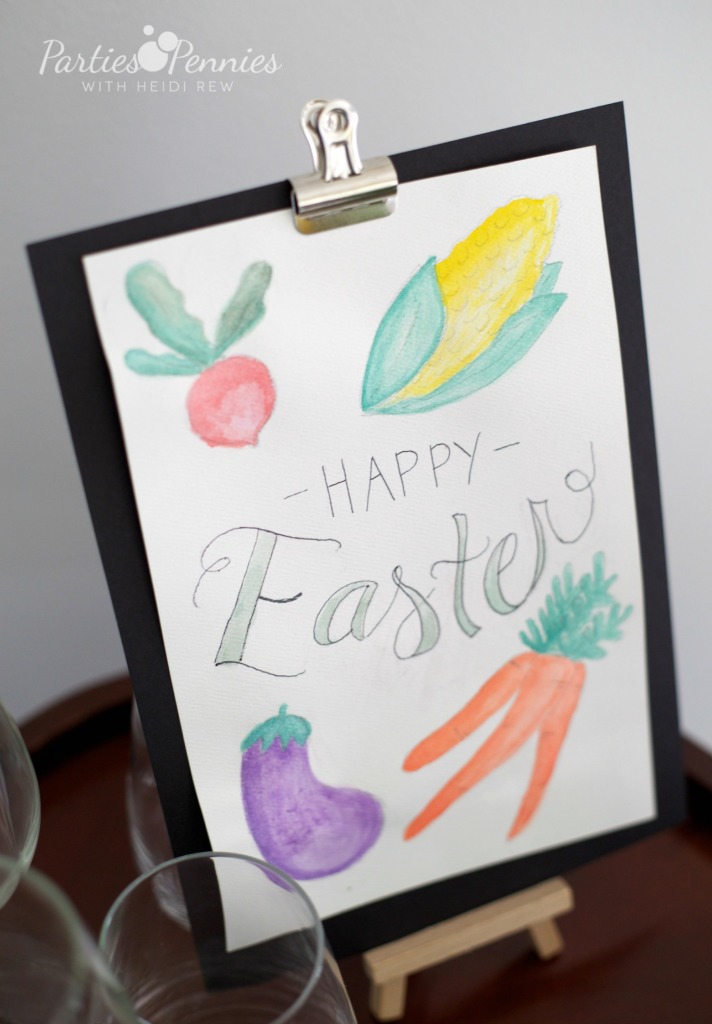 I also created this watercolor "Happy Easter" sign. The printable version for you is here.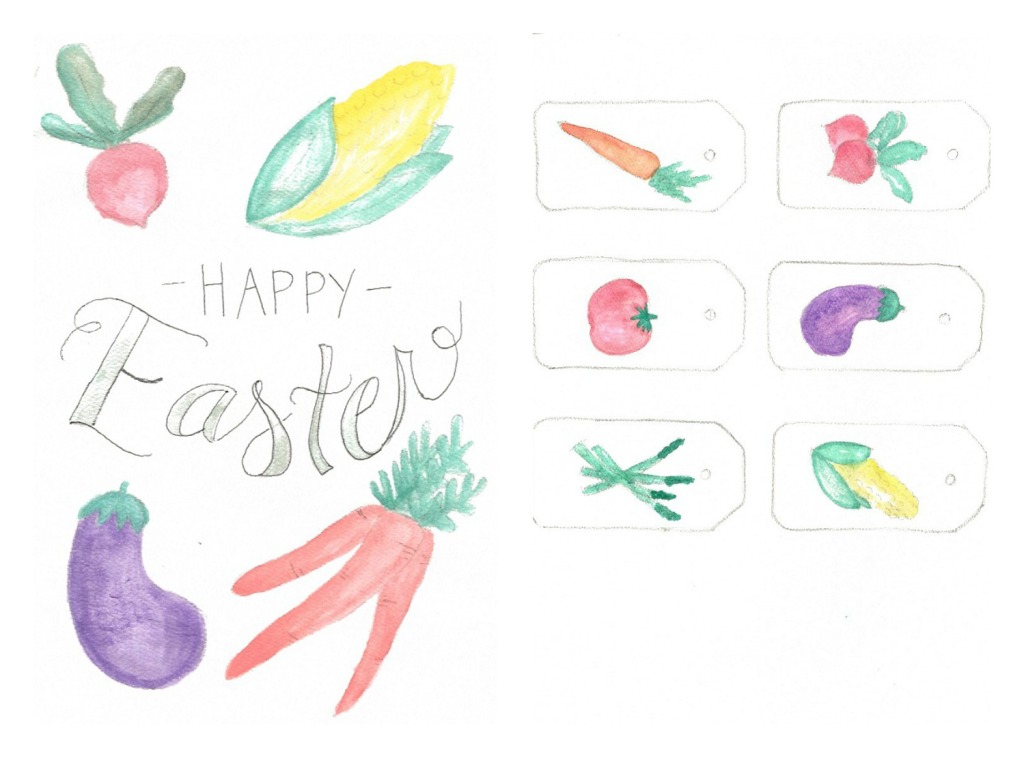 To download the "Happy Easter" sign, click HERE.
To download the Watercolor Tags, click HERE.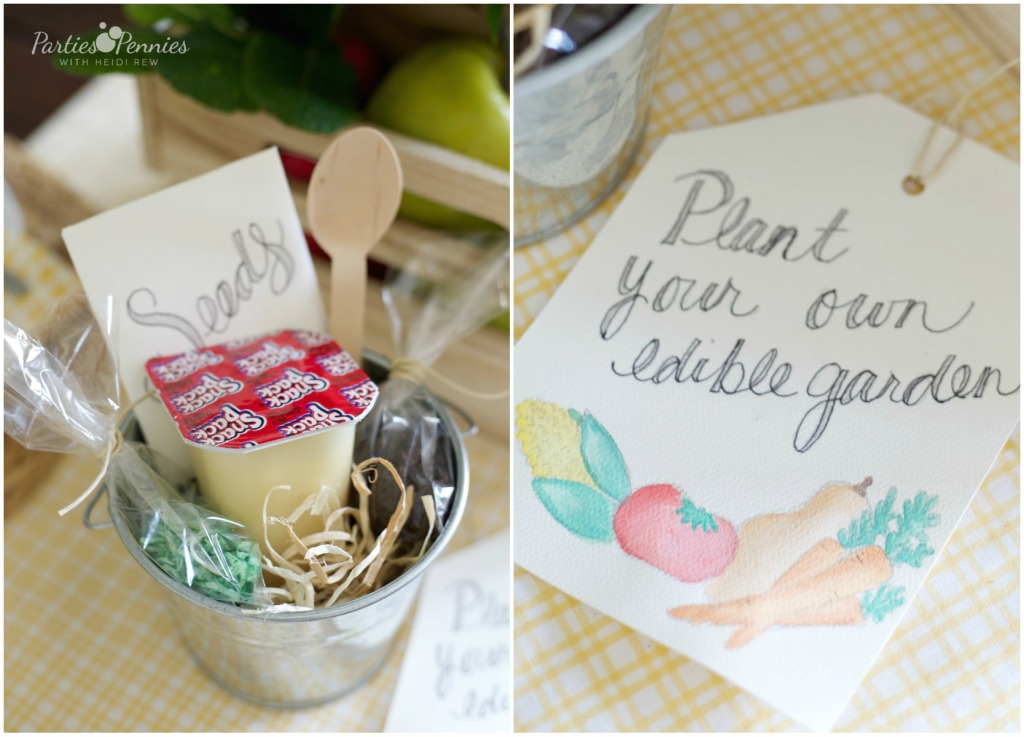 Finally, I always love to have something for guests to take home. I thought guests (especially the kids) would love to create their own Snack Pack Edible Garden dessert.
I just stuffed a pail with some raffia, added a Snack Pack, a bag of "grass," a bag of "dirt," a pack of "seeds" (actually sprinkles), and a shovel or spoon.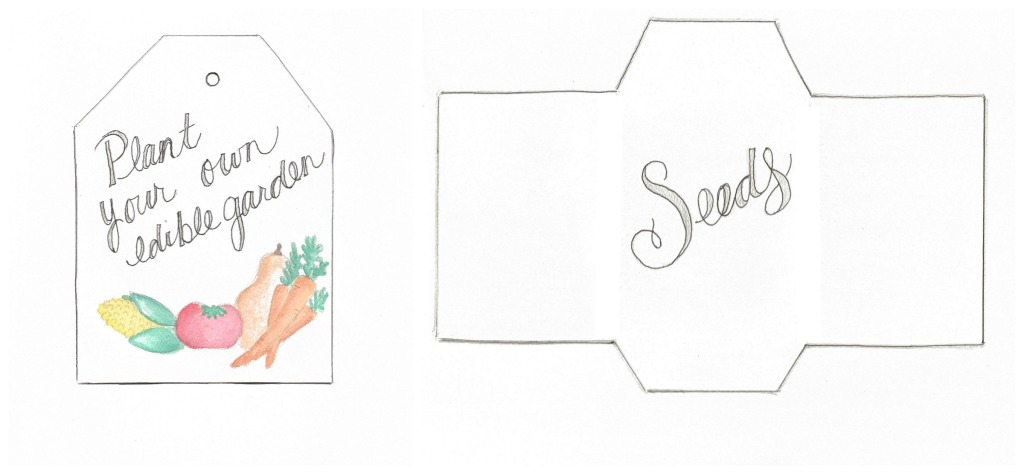 If you'd like to create your own Snack Pack Edible Garden Dessert favor pack, you can use this printable tag and this printable "seed packet."
To print off the "Plant Your Own Edible Garden" tag, click HERE.
To print off the "Seed Packet" template printable, click HERE.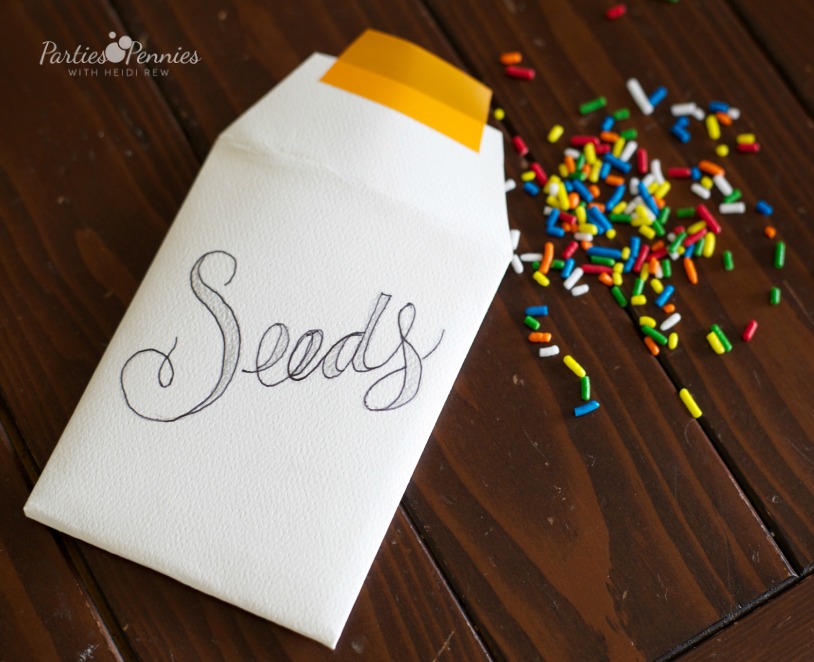 To create your seed packet, print off the template, cut around the edges, fold the longer sides in to the middle (the parts on either side of the word "seed"), use a glue stick or double sided tape to secure, fold up the smaller tab over the sides you just glued, and glue or tape the tab. Fill your packet with sprinkles, then fold the larger tab and secure with washi tape or double-sided tape.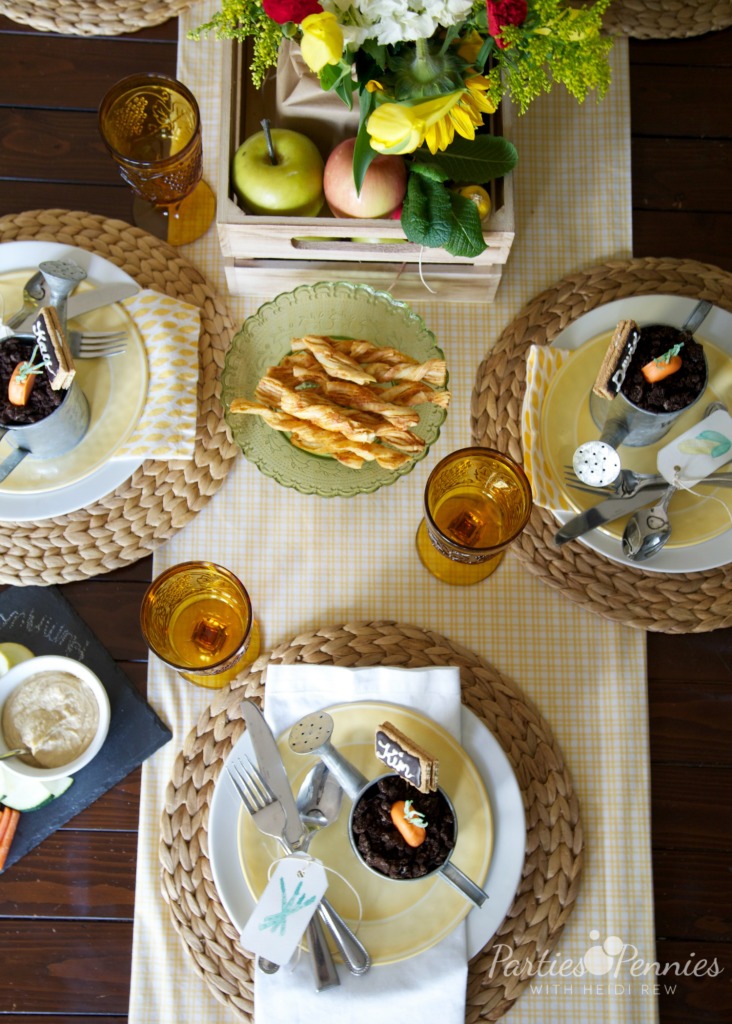 Okay…so tell me the truth…don't you think this would be an Easter party that both adults and kids would enjoy? How many people do YOU normally host for Easter? What's on YOUR Easter menu?
Don't forget to download this Snack Pack coupon…and as always…Party On!