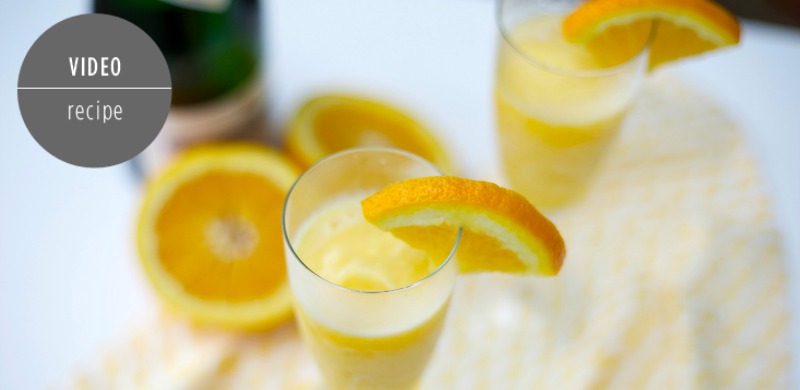 15 Apr

How to Make Frozen Mimosas

Hey party people!

Have you been experiencing some sunshine rays lately? We have in Atlanta (at least last weekend) and it's awesome. And you know what that means? Ice cream, smoothies, ice-cold sweet tea time…but, wait…there's a new drink in town and it's going to blow your cute little brunch sandals off. Sit outside, enjoy the rays, and kick back one of these Frozen Mimosas.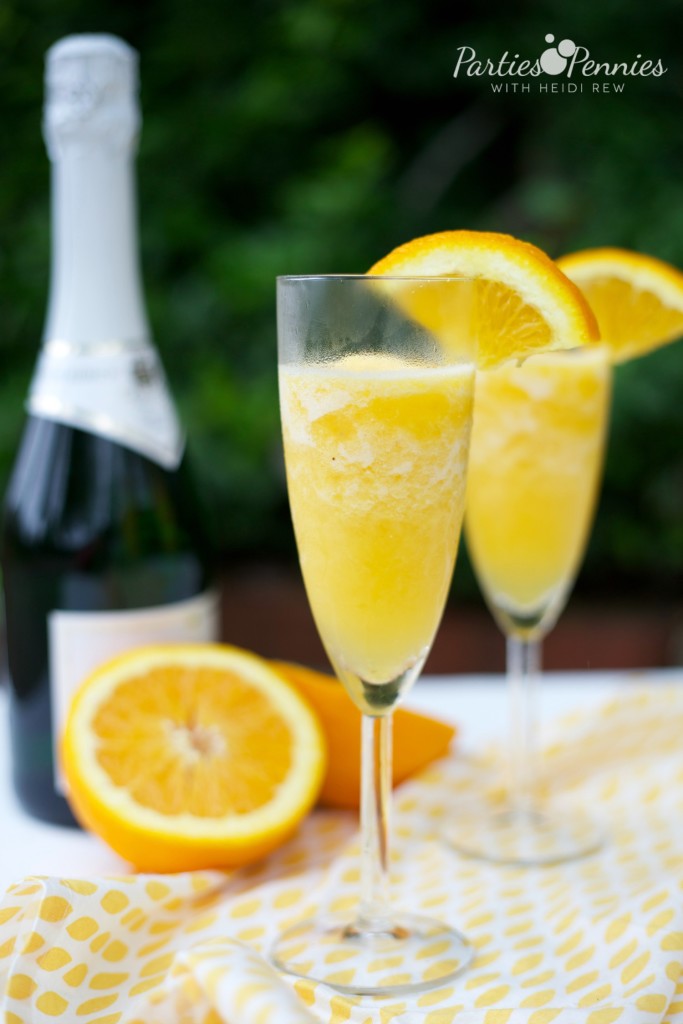 These are really easy to make, healthier (you're using whole fruits), so refreshing, and super budget-friendly. These are such a fun and special drink to serve your guests without burning a hole in your wallet.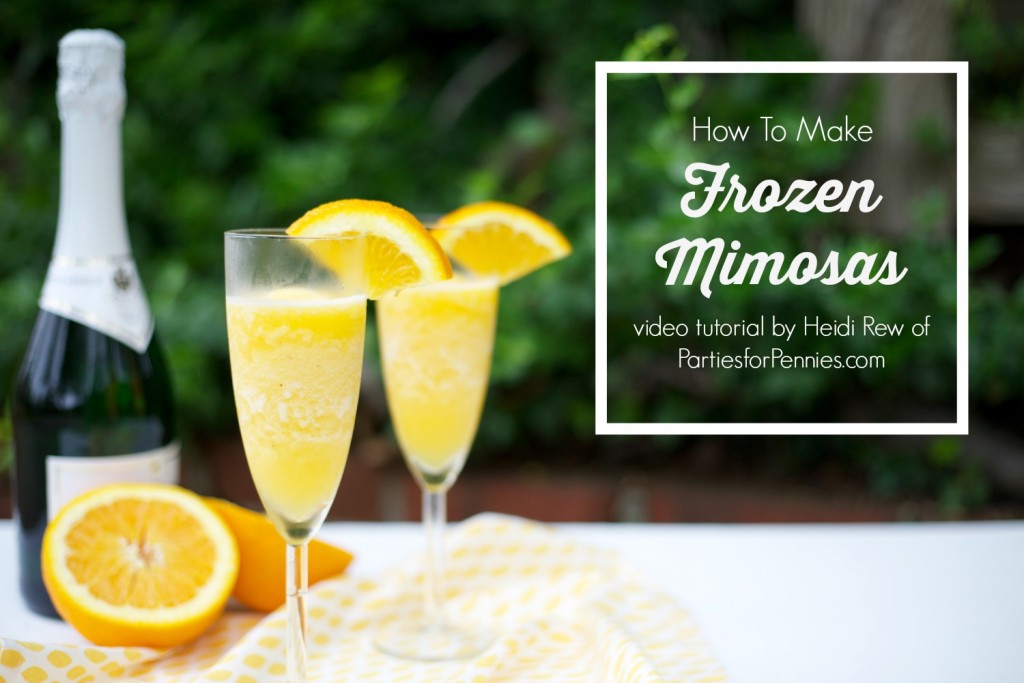 Check out this 30 second (technically just a tad over 30 sec) video that shows you How to Make Frozen Mimosas.
If it helps to have a recipe card in front of here, this is for you…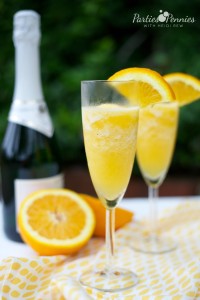 Frozen Mimosa
2015-04-13 21:08:19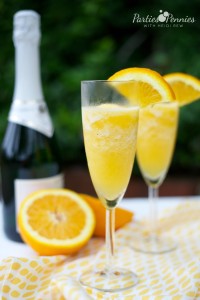 Serves 2
Enjoy a refreshing drink on a warm, sunny day! This is a healthier, refreshing, and budget-friendly drink recipe.
Ingredients
Champagne
1/2 cup Orange, peeled & sectioned
1/2 cup Pineapple, cored & cut up
Instructions
Pour the champagne into an ice tray and freeze. Do this the night before & it will be ready.
Once the champagne has frozen, add to your blender.
Pour in 1 cup of fruit per ice tray*
Blend until smooth. Pour to enjoy.
Notes
*You don't have to do oranges & pineapples. You could any other type of fruit. Have fun & be creative!
* I used a Vitamix for mine. I have not tried this recipe on a regular blender.
Parties for Pennies http://partiesforpennies.com/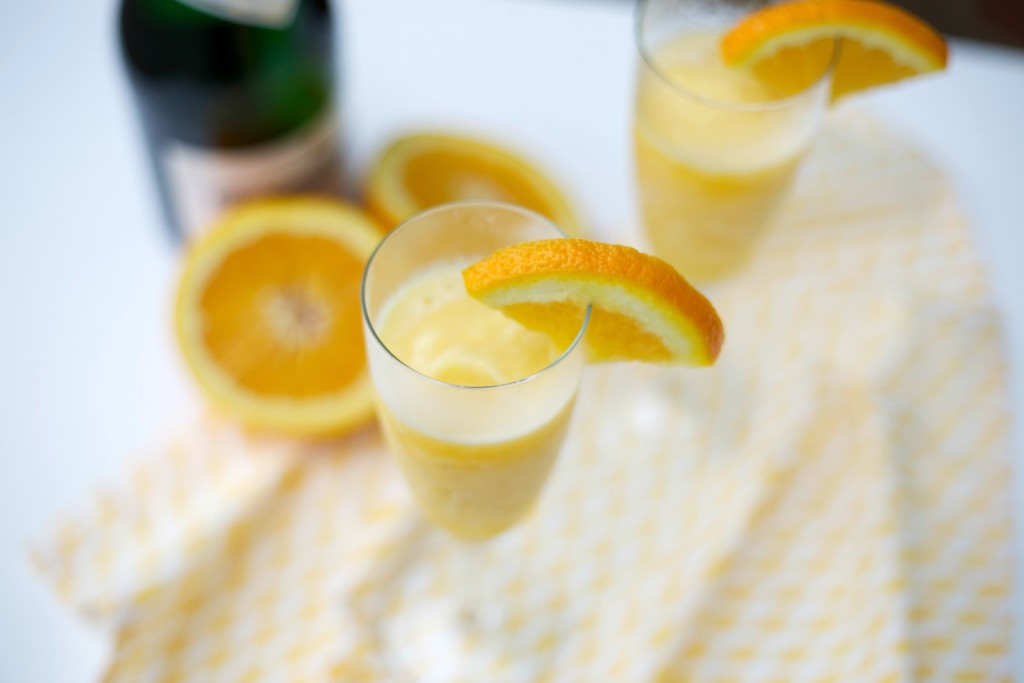 Whether you're hosting people at your home, planning a Mother's Day brunch, a bridal shower, or just needing a fun drink on a Saturday morning, this Frozen Mimosa recipe is perfecto.
Are you a breakfast person? If so, are you a savory or a sweet breakfast type? Do you prefer an omelet or pancakes?
Have a great day & always remember to Party On!