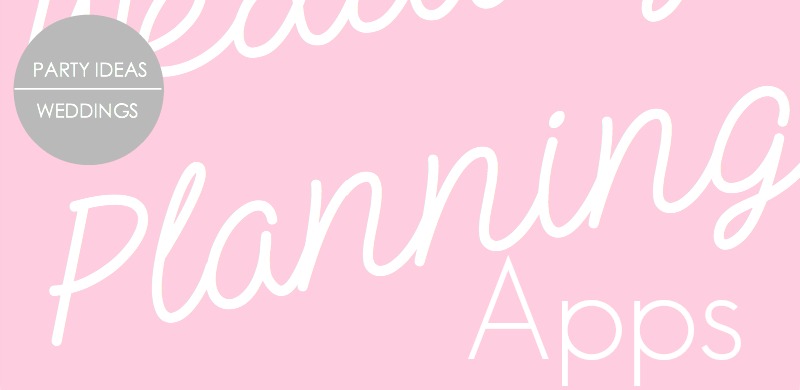 27 May

12 Wedding Planning Apps

Hey party people!

We've been talking weddings lately on Parties for Pennies. If you're planning a wedding, click on the "weddings" category to find all kinds of resources and inspiration.
Today, I want to talk about what has replaced those bulky wedding planning binders. All you need to create an incredible wedding is literally at your fingertips…your phone! Here are 12 Wedding Planning Apps that will help keep you on budget, give you checklists, and more.
1 | WEDDING WIRE
FREE
WeddingWire.com is a GREAT resource for planning a wedding. The site itself has great resources and now you can also get them all in an app! Here's the goodies you'll find:
* Wedding Checklist for all your tasks
* Budget Breakdown
* Vendor Search & Reviews
* Wedding Inspiration
* Connect with other brides dealing with the things you are in the Wedding Wire community.
* If you have a Wedding Wire account, it will sync easily with your app.
Reviews – Overall everyone is happy with it. The biggest complaint is that when searching for vendors, you can't go back. If you want to look at one vendor, it will start you back at the beginning.
2 | REAL SIMPLE WEDDING CHECKLISTS
$1.99
I adore the simplicity and organization of Real Simple – the website and the magazine. Their app is no different They have checklists for everything and it's all neat and organized. Not only that, but there's also tips from Real Simple editors for all your wedding decisions.
Here are all the checklists they offer, plus you can create your own and set up reminders.
* Ultimate Wedding Planning Checklist
* Engagement Party Checklist
* Wedding Gown Shopping Checklist
* Wedding Registry Checklist
* Maid of Honor Duties Checklist
* Best Man's Duties Checklist
* Bridal Shower Planning Checklist
* Rehearsal Dinner Planning Checklist
* Honeymoon Planning Checklist
* Wedding Vows Writing Checklist
* Wedding Essentials Packing Checklist
* Must-Take Wedding Photo Checklist
* Honeymoon Packing Checklist
Reviews: No reviews so far. Relatively new.
3 | WEDDING HAPPY
FREE
I adore that moment you can mark "completed" on a to-do list. This isn't a super fancy smancy app, but it has
awesome organization.
* Customized schedule with to-do list based on your wedding date.
* Vendor management & contacts integration.
* Uses Yelp to search vendors, instead of relying on preferred vendors.
* Calendar support, plus notifications when things are due. You can email friends and family tasks to complete ("Babe…I need the rest of your family's guest list by Monday…").
* Get premium & you can share with your entire plan of action with your fiance.
Reviews: So many people LOVE this app. Most say using the paid version is totally worth it. The only thing was the budget. Most users wished there was a way to incorporate the budget.
4 | TIE THE KNOT
FREE
Tie the Knot app is basically a wedding website for you that's also an app.They do have a new feature where
you can blog about the whole planning process. May be fun if you have close friends and family that live away.
* Countdown until your wedding.
* Blog about the journey.
Reviews: Most people loved the countdown aspect of this app.
5 | WEDDING GAWKER
FREE, but $1.99 for full access
Don't get me wrong, I love me some Pinterest, but sometimes it can feel overwhelming. Wedding Gawker is
like pinterest specifically for weddings. You can search over 51,000 wedding ideas.
* Save your favorites.
* Share with friends and family.
Reviews: No reviews yet, but I, personally love wedding gawker.
6 | ZOLA
FREE
This is the BEST registry tool ever. Have no clue what to register for? Zola has suggested registries to get you
started. Register for items from tons of brands. See something out shopping? Scan the barcode & add it to your registry. That simple. There's also a feature called Blender. It's like Tinder for registries. Swipe right to add it to your registry, swipe left to pass.
* Register for honeymoon expenses, experiences, cash gifts.
* Turn on group gifts and let others contribute to one gift.
Reviews: 100% Great feedback. Everyone loves Zola. One of the highlights is that it makes it easy to receive cash gifts.
FREE with option to upgrade $1.99
Find the perfect song for every wedding event – the grand entrance, first dance, father/daughter dance, etc. Select which event you want, what type of genre you prefer, and it will generate several to choose from with a link to itunes, lyrics, and music video. Thousands of songs included.
Reviews: Overall users said it made choosing a wedding playlist easy, but there were some issues with links not working to videos.
$2.99
Create, edit, and organize your guest list and table plan.
• Get a complete overview of guests and tables instantly
• Manage your day and evening events – sort your guests by attendance
• Track & record your guests invite and rsvp status
• Unlimited guests and tables – add as many guests and tables as you desire
• Write a table plan, choose how many seats and set the shape for each table, then add your guests to it
• Beautifully simple, clean and stylish
Reviews: No reviews yet.
FREE, with option to purchase for $0.99 without ads
If you're wanting to save money on a makeup artist, learn how to do your day of makeup with these tutorials. Watch videos showing how to apply makeup perfectly according to your face shape, highlight your best beauty features and cover irregularities!
Reviews: Most users love the app. Some had an issue with the app shutting down ocassionally.
10 | WEDDING HAIRSTYLES
$1.99
Whether you want to attempt your wedding hair yourself or get a professional to do it, this app gives you 150 fabulous bridal hairstyles. Plus, tips for each look, from face shape advice to suggestions on how to wear your veil.
Reviews: Only one review that complained they aren't attainable hairstyles.
11 | EVERSNAP
FREE
This is the perfect app to keep all your wedding event photos together. Eversnap allows you to share your photos and videos with your friends in a private album.
* Includes unlimited storage of your photos & videos for free
* You can add unlimited length of video as well
* Have a hashtag? Eversnap will load all of those into your album.
* Create a live stream of photos from your event for slideshow during reception.
Reviews: Overall great reviews. There were a few users that said it didn't load very well.
12 | MAKR
FREE, products do cost money
If you're wanting to create fun, personalized wedding gifts for your bridal party or wedding guests, this is the app for you! Design your own wedding logo and add it to t-shirts, tote bags, tattoos, etc.
• Logo templates for business, weddings, personal branding and just-for-fun (kickball, anyone?)
• Ability to import custom logos directly into Makr projects (paper goods on the iPad; t-shirts, tote bags and tattoos on the iPhone)
• Ability to export custom logos as hi-res transparent PNG files
• Design templates – the perfect jumping-off points for your creativity
• Design tools for high-level customization and design
• Ability to upload your own art files to blank templates and Makr design templates
Reviews: Most users loved it. Some felt the products were priced a bit too high.
Aren't these great? I so wish some of these were around when I was planning a wedding.
Hope these tools help. Congrats on your upcoming wedding! Party on!