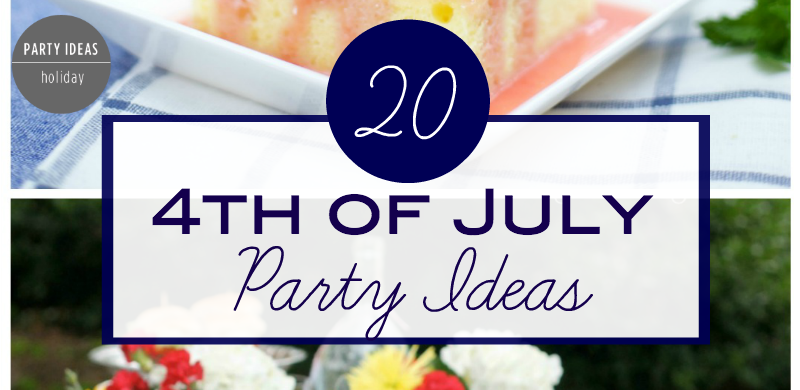 28 Jun

20 4th of July Party Ideas

Hey party people!

Gosh darn it. I love 4th of July! I love the cookouts, I love being outside, I love the fireworks, I love the color scheme. I'm just down to celebrate this good ole country of ours. Are you the same? If so, you will love these 20 4th of July Party Ideas! Whether you're having a small cookout in your backyard, feeding a crowd, or just attending a party, there's something for everyone – Fashion, Hostess Gift, Recipes, & more.
More than likely you'll be snapping some pics over 4th of July, so why not look super adores?! You will totally look so fun with these DIY Tank or Tees! (click on the photo for details)
To finish off your cute tank or tee, sport these fun DIY Patriotic Sunnies! They'd also make a great party favor and activity. (click on photo)
If chicken is your game, you've got to check out this amazing grilled chicken marinade! It's my favorite and has such a great taste!
If red meat is more your style, check out this simple recipe to make the best, most moist burger.
If you're cooking for a CROWD?? THIS is the recipe for you! It's BBQ Pork made in a crockpot. It is soo delicious! I made it one 4th of July for a crowd of 20 and it was awesome.
Have you ever had homemade coconut milk ice cream? It is so amazingly delicious and so easy to make at home. Not only is it good, but it's made with honey instead of refined sugar.
So this may be a slight stretch on "healthy" dessert, but it is GLUTEN FREE! It takes your typical Strawberry Shortcake to a whole new level. Check out this Gluten Free Pound Cake with Vodka Strawberry Sauce!
There are so many fun desserts you can make for the 4th of July! I said "Kid-Friendly," but let's be honest…even adults will like these festive treats. This Patriotic Firecracker Dessert are actually chocolate covered oreos in disguise. Click on the photo for the entire tutorial.
I made these homemade ice cream sandwiches one 4th of July for a big crowd and they were a HUGE hit! The kids were obsessed with them. I kept them in the freezer until time to serve and just brought them out on a platter with wax paper pieces (to hold them) and lots of napkins.
If you want a dessert that will dress up your table and is a crowd-pleaser…this is it! I mean…who doesn't love Rice Krispy treats??! The American Flag design is perfect for the 4th and it really is easy to make…even if it looks a little complicated.
If you've seen any "Pinterest Parties" lately, you know balloons and tassels are like cake to icing. They just go together now. Stick a few of these extra large balloons with napkin tassels around your backyard and give it an instant patriotic vibe.
Kids will especially love this table decoration! Keep the napkin & cutlery all together in this Rocketship! You can even add a name on the outside for personalized place settings.
So…I'm one of those people. I have reusable bags in my car, ready to be used. I forget them. Every. time. So, I ended up collecting a bunch of these brown paper bags. To ease my "green, environment-friendly" mind, I decided to use them for decoration. If you have some blue, red, & white acrylic paint lying around and some brown paper bags – you too can have some patriotic decor for nothing!
I love having unique drinkware and plates…but I only have so much space to store that stuff. I decided to create some patriotic cups from my plain every day cups with just a little bit of washi tape!
Create a fun way to keep napkins, plasticware (or cutlery) together and share the menu with your guests with these Printable Paper Bag Menus! They really do add so much to your table and all you need to do is fill in your specific menu and print. If you want to go for a more BBQ look…try using a kraft bag instead of white.
This blog post is FULL of budget-friendly ideas for a patriotic party. So many easy and inexpensive ways to create a gorgeous table setting!
This is such a simple project, but it's one of my highest "pins" so I guess it's a popular decoration! Can't go wrong with simple, right?
If you have wee little kids at your party, these sparklers are the way to go! They are fun for kids, with no worry for adults. Stick a bunch of them together in a vase for a festive centerpiece.
Whether you're having a huge backyard cookout or a small apartment get together, this is a fun activity that can be thrown together in a few minutes, using things you already have! See the instructions by clicking on the photo.
Even if it's just a bottle of wine, it is always a good idea to bring something as a thank you. It just tells the host/ess that you appreciate all the work they did to open their home. Here's a fun DIY hostess gift that you can make in under 20 minutes.
You can give the host/ess just the bag or stuff it with some fun treats or a bouquet of flowers. If you don't like the "Be Brave, Be Free" design, check out the 3 free patriotic printable t-shirt designs.
Hope you have a wonderful 4th of July!! Party on!