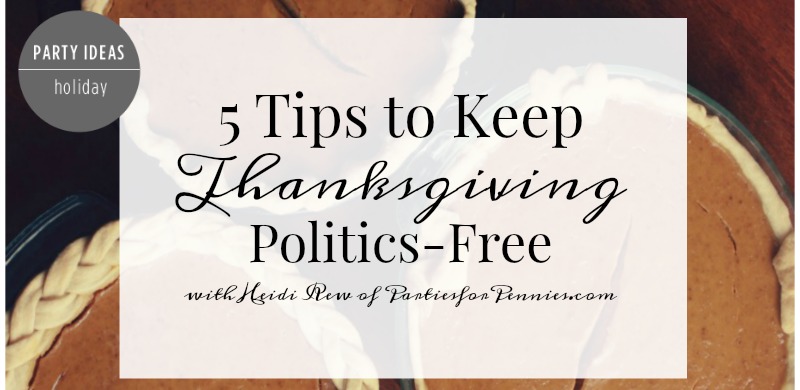 21 Nov

5 Tips to Keep Thanksgiving Politics Free

Hey party people!

With the political climate the way it is this year, you may be freaking out a little about conversation at the Thanksgiving table. Keep the peace this year with these 5 Tips to Keep Thanksgiving Politics Free!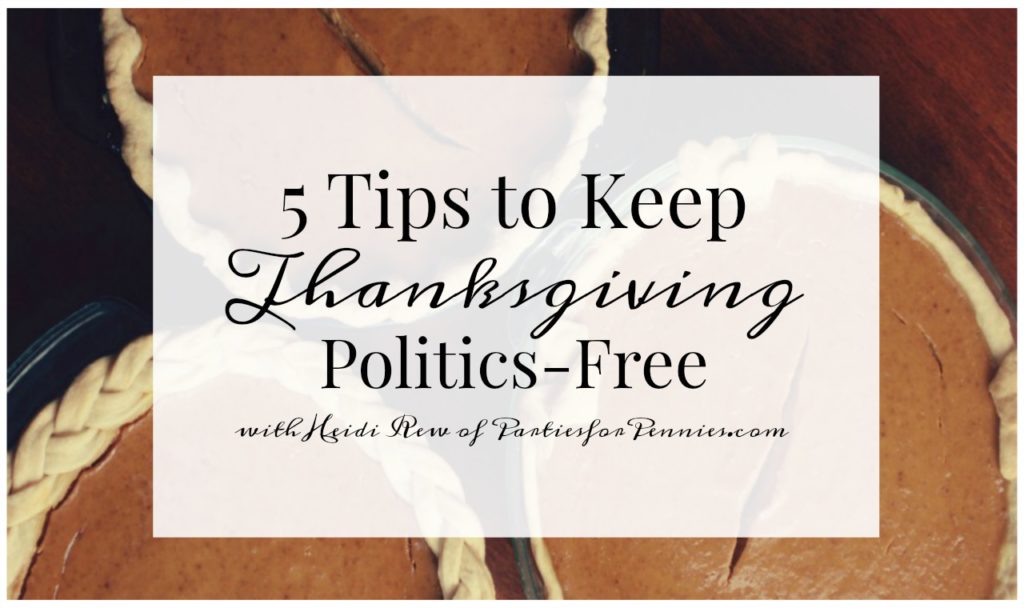 I did this little video with all the tips, but the 5 Tips to Keep Thanksgiving Politics Free are also listed below if you don't want to see my face that much. ;p
TIP #1: CREATE POSITIVE INTERACTIONS
How? Here are some ideas –
You're Awesome Because – Have everyone go around the table and fill in the blank for the person sitting to the left of them. "You're Awesome because____."
BDG Conversation Guide – What is BDG? I heard of it from Pink (the singer). She shared in an interview that this is what she does when she has dinner parties. Everyone goes around and shares |1| a BRAG |2| a DESIRE (like you Desire to get a promotion this year or start a family or save more…whatever) and finally |3| a GRATITUDE (something you're grateful for). Playing this game usually leads to some wonderful, positive conversation that may not happen organically.
Overall, as a hostess, simply creating opportunities for positive conversation can steer everyone away from negative or political talk.
TIP #2: Make FUN the Focus
It's really hard to argue when you're laughing hysterically or just having plain ole' fun. These are some fun ideas on how to do that.
Thanksgiving Trivia – Print out a fun Thanksgiving Trivia question for each person at the table. Go around and let each person read the trivia question aloud and have people guess the right answer. You could also create a FACT or FICTION game out of it. Give each person a weird Thanksgiving fact, then have them make up one. Go around and have each person read their FACT & FICTION trivia. The other guests have to guess which is FACT and which is FICTION. Here's a link to some awesome Thanksgiving trivia questions: http://icebreakerideas.com/thanksgiving-trivia/
Movie or Music Trivia – Is your family big into movies or music? Have those type of trivia questions printed out at each place setting. More than likely that will spur fun stories and reminincsing.
Made You Laugh YouTube Video Game – Everyone has a favorite viral video that made them laugh. Have each person pull up their favorite and go around and show it. The person that gets the most people to laugh wins. Again…it's hard to get in a heated argument when you're snorting. 🙂
TIP #3: Dish Duty
The first person that brings up anything political or controversial gets to clean up!! That will surely shut a bunch of people's mouths. :p
TIP #4: Start the Day Serving
When people get angry about politics so much of it is about being right, getting your voice heard, and just about yourself period. Serving others is almost a reset button for people. It reminds us of other's needs. Here are some ideas –
Serve at a local soup kitchen or homeless shelter. I volunteered for an early morning shift one year and was done before 11am.

Bring some treats to the local police or fire station, nursing home, hospital, etc.

If you want to do something where you stay put – have pens and paper handy and let everyone write a letter to a service man or woman.

You could also have everyone share their favorite charity to everyone. They could share a quick video about their charity or even a 1 minute elevator speech. Let everyone know how they can give to that charity this holiday season.
TIP #5: Give Everyone a Job!
When people are focused on a task, it's hard to get caught up in a debate. Think ahead of time of simple tasks you can assign to everyone before, during, and after the meal – Pouring drinks, Setting the Table, Putting out the butter, salt, etc.
We've got way too much division on social media and in our world today, let's help create at least this one day where we all come together and remember we're in this together and have SO much to be grateful for!
Happy Thanksgiving! Party on!