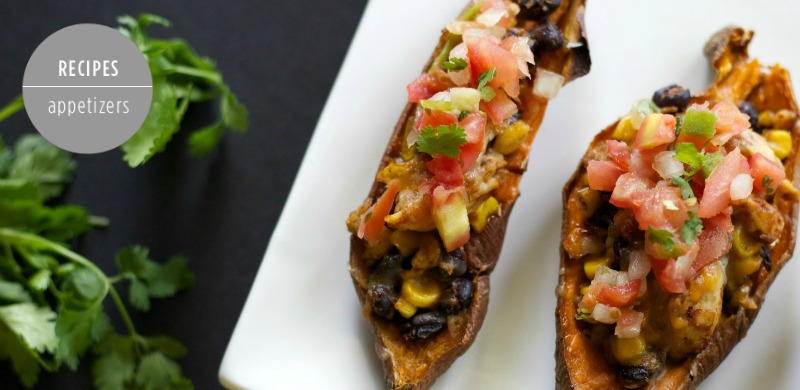 03 May

Appetizer Recipe: Mexican Chicken Sweet Potato Skins

Posted at 23:01h

in

Appetizer Recipes

,

Appetizers

,

Gluten Free

,

Gluten Free Recipes

,

Healthy

,

Healthy Recipes

,

Holiday Recipes

,

Main Dish

,

Main Dishes

,

Recipes

,

Savory

,

Sides

0 Comments

This post is part of a social shopper marketing insight campaign with Pollinate Media Group® and NatureRaised Farms, but all my opinions are my own. #pmedia #SCNRF http://my-disclosur.es/OBsstV

Hey party people!

Do you ever struggle with finding the right appetizer? Something besides the usual hummus. Something that isn't too complicated, but is unique. Something that is healthy, but also filling. Something that is affordable, but yet looks gourmet.

I've got the perfect crowd-pleasing appetizer recipe for you – Mexican Chicken Sweet Potato Skins using NatureRaised Farms® Boneless Skinless Chicken Breast Portions . And yes, they're healthy.
If you've followed Parties for Pennies for awhile, you know that my husband and I try to eat pretty healthy. We both do on-camera work, so it's important for us to maintain a healthy appearance, but we also believe that food has the ability to enhance your health or hurt it. We both want to live full healthy lives, so we try to stick to hormone-free meat, lots of organic fruits and vegetables, and only good carbs (like sweet potatoes).
One of the greatest complaints I hear from people about healthy eating is that's expensive. I'll be transparent and tell you that I rarely ever spend more than $75 a week on groceries, plus maybe $100 every other month at Sams. That equals a little over $40 for each person per week and we only occasionally go out to eat. What is our secret?
We buy our meat at Sams. We can buy hormone, antibiotic, and steroid free chicken that is 100% natural and is affordable. NatureRaised Farms® Boneless Skinless Chicken Breast Portions are found in the frozen section and come 16 in a pack. They're only $16.48, which comes out to be just a little over $1 for each chicken breast. That's incredible!
They don't have added hormones**, are fed a 100% vegetarian diet, certified either by USDA Agriculture Marketing Service or Global Animal Partnership, bred through natural selection versus genetic modification, and raised in open barns with great ventilation (if you've seen Food, Inc…you know how important this information is).
Understanding the affect food has on us, I always feel compelled to still create healthy party recipes. Parties are certainly times of celebration and I don't believe in being super strict 100% of the time. But if I can, I like to serve at least healthier versions of party food.
That's why I love these Mexican Chicken Sweet Potato Skins. Because I was able to get the NatureRaised Farms® Chicken and the sweet potatoes from Sams, each appetizer is around $0.70. Not bad for a healthy and satisfying appetizer.
Here's what you'll need to make your own Mexican Chicken Sweet Potato Skin Appetizers:
* NatureRaised Farms® Boneless Skinless Chicken Breast Portions
* Sweet Potatoes (got a huge bag for a little over $6 at Sams)
* Sweet Onion
* Organic Corn (frozen organic corn is pretty affordable)
* Organic Black Beans
* Cooking Oil (I use Grapeseed Oil)
* Mexican Seasoning
* Mexican Cheese (hormone-free)
* Pico De Gallo (homemade or store-bought)
* Cilantro
You can print or view the recipe here…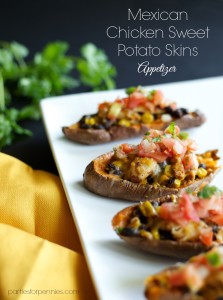 Mexican Chicken Sweet Potato Skins
2015-04-21 20:00:16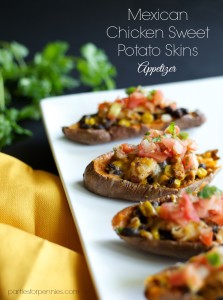 Serves 12
A healthier version of the potato skin appetizer, this Mexican Chicken Sweet Potato Skin recipe is filling and delicious.
Ingredients
2 NatureRaised Farms® Boneless Skinless Chicken Breast Portions
6 Medium Sweet Potatoes
6 teaspoons Taco Seasoning
1 1/4 cups Corn (I used frozen organic corn)
1/4 sweet onion, diced
1/2 can black beans
1/2 cup shredded mexican cheese
Cooking Spray (I use coconut oil cooking spray)
Grapeseed Oil or other cooking oil
Cilantro (for garnish)
Pico de Gallo (for garnish)
Instructions
Preheat the oven to 350 degrees.
Cover a baking sheet with aluminum foil.
Wash the sweet potatoes and pat dry with a paper towel.
Pierce the sweet potatoes with a fork & lay on the baking sheet.
Put in the oven and bake for 45 minutes.
Spray a baking pan with cooking spray and place two NatureRaised Farms® chicken breasts.
Add a little grapeseed or other cooking oil on top of the breasts.
Sprinkle with 3 tsp. taco seasoning.
Bake in the 350 degree oven for 30 minutes.*
While that's cooking, add a tbsp. of grapeseed oil to a medium-sized pan.
Toss in the diced onions and cook on med-high heat until translucent.
Add in the corn once the onions are done.
Cook the corn until slightly roasted.
Next, add the black beans.
Stir in the remaining 3 teaspoons taco seasoning (more or less to taste).
Reduce to low heat.
Once the sweet potatoes have baked and cooled for awhile, cut them in half.
Scoop out the "meat" of the potato and set that aside for a different recipe.*
Brush the skin of the potatoes with a little grape seed or olive oil.
Stick them back in the oven on BROIL, bottoms down, and broil for 3-5 minutes.
Once the chicken has baked and cooled, shred with a fork.
Add the chicken in to the corn & bean mixture and stir.
After the skins come out of the oven the second time, fill with the corn, bean, and chicken mix.
Sprinkle the top of each with some mexican cheese.
Place the skins back in the oven, on BROIL, for another 3-5 minutes.
Top with pico de gallo and cilantro.
Notes
*I just waited until my oven timer said my sweet potatoes had 30 minutes left before I put in the chicken. That way I could cook two things at once.
* Save the left over sweet potato "meat" to make sweet potato pancakes.
You can also add sour cream on top, if you prefer.
Adapted from A Pinch of Yum
Parties for Pennies https://partiesforpennies.com/
Your guests will love these delicious appetizers. They're actually filling enough that they could be used as an entree, too.
For your non-dairy guests, just leave off the cheese. They're still tasty.
So…shop at your local Sam's Club freezer section to purchase NatureRaised Farms® Chicken Breasts to make your own Mexican Chicken Sweet Potato Skins. Your body and your wallet will love you.
To find out more about NatureRaised Farms® Chicken, check them out on their Facebook, Twitter, Pinterest, and Google+ page.
What's YOUR reason for wanting to eat healthy?
Until next time, Party On!
**Federal regulations prohibit the use of added hormones or steroids in chicken