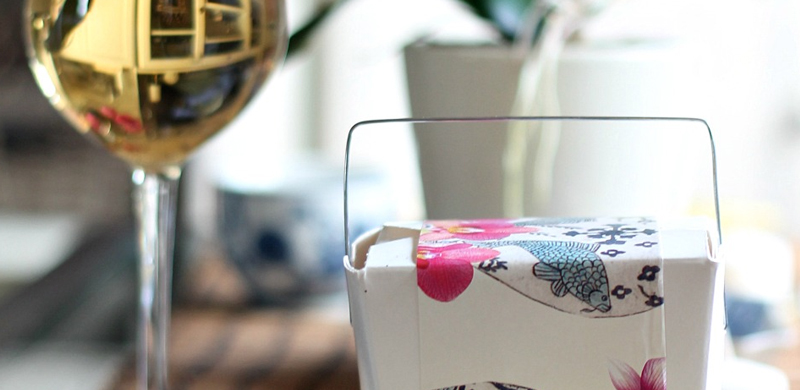 05 Feb

Asian Inspired Valentines Day Party

Hey party people!

I've teamed up with the lovely ladies of Dress Your Guests again during this month of love! On Friday, they'll share some beautiful outfit inspirations for you. Today, I'll share an asian inspired Valentine's Day party…for two or ten.
Whether you're planning a cocktail party for 10 or a romantic dinner for 2, this is an inexpensive way to celebrate the ones you love.
I went with an Asian theme after I spotted the wrapping paper I used to cover my take-out boxes with. I loved the colors and the flowers. It just seemed to inspire beauty & romance.
You can create this romantic setting too, using a lot of what you already have!
My coffee table was converted to a dinner table and our "chairs" were these beautiful pillows from Pottery Barn Teen that I ordered for our downstairs guest room.
The runner was made from two placemats and the pretty orchid was a Goodwill find for $2! Other pieces were taken from home decor I had around the house. And, believe it or not, I think all of them are from Goodwill! Macklemore would be proud.
I did end up DIYing a few pieces…like these ombre chopsticks.
I got a pack of chopsticks for a little over $1 from World Market but I wanted to fancy them up. I decided to try a pink ombre pattern.
I simply painted 1/3 of it with white paint, then covered 2/3 of that with a light pink and the last 1/3 with a darker pink color.
A simple DIY tea light holder can be made from an old baby food jar lid. I just spray painted it gold to add a little pizazz.
This was one of my favorite parts. Using some air dry clay, I created my own gold fortune cookies that I used as a place card.
To create your own –
Step 1: Pinch off a small ball of clay
Step 2: Using a roller, smooth out like you would dough.
Step 3: Use a glass or bowl (depending on how big you want it) to cut a circle from the clay.
Step 4: Separate your clay circle.
Step 5: Fold your circle over and pinch the edge together.
Step 6: Pinch the side in slightly and bend the tips toward the pinch.
Let it dry overnight. Spray with primer then gold spray paint! Add a little piece of paper with a message or name on it.
For your menu, a really inexpensive and easy dish to make is Pad Thai or stir fry. Customize to fit your tastes or let your guests add their favorite additions.
I tried to make these banana fried pastries but they didn't look very pretty so I went with a simple cinnamon sugar dusted heart with ice cream and chocolate sauce. I had an extra pie crust in the freezer so I just used a cookie cutter to create the heart, then dusted it with cinnamon sugar and baked it for 10 minutes at 375. Talk about an easy & stress-free dessert!
Now you can create your own Valentine's Day dinner party…on a budget!
Don't forget to check back on Friday! Dress Your Guests will have some fabulous outfit inspiration.
p.s. This is YOUR official invite to the party… join in on the Parties for Pennies Facebook page, Twitter, Pinterest, Instagram & Bloglovin!