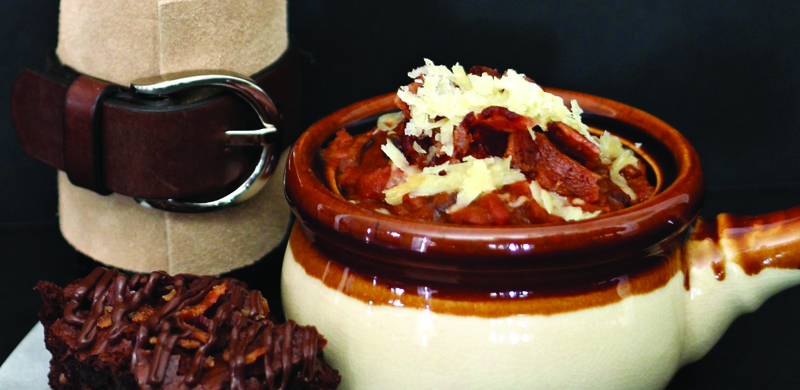 22 Jan

Beer & Bacon Superbowl Party

Hey party people!

I know there are a lot of women who enjoy football. If there's a party centered around it, I could probbaly get into any sport. But normally, I'm not a big football fan. My husband, however, is! When I think about the Superbowl and what to serve, I usually think of him & what he loves. That's where the inspiration for this post comes from.
When I was thinking about what to serve for a Superbowl party, I was inspired by bacon & beer. My husband is fond of both of these. I think if my husband had a choice, he'd leave me for bacon. It's his kryptonite. And I've just come to face the facts.He enjoys beer too, (please know that it's responsibly) so I came up with a Superbowl party menu & a few ideas around these two.
MENU
Beer Bacon Chili & Bacon Brownies
Beer Bacon Chili
This is an easy recipe and very delicious, if I say so myself.
Start with your own basic chili recipe. I substitute pinto beans for the kidney beans & add a can of black beans for mine.
* ADD 6 cooked (not super crispy) & chopped pieces of bacon to your chili. Reserve 2 pieces to use for toppings.
* ADD 2 tbs. brown sugar
* ADD half a bottle of dark beer to chili. Depending on your preference, you could add the whole bottle. 
Simmer the chili for about 5 minutes, after you add the beer. Now you've got a beer & bacon chili! Top with pieces of bacon and shredded white cheddar cheese.
Bacon Brownies
Begin with a packaged brownie mix. Mix according to the directions.
Add 4 pieces of crispy bacon to the mix. Reserve 2 for the top.
Bake according to the package.
Once it's baked, melt 1/4 cup chocolate chips in microwave, heating for 30 seconds at a time.
Sprinkle top of brownies with pieces of bacon & drizzle the melted chocolate over top.
Definitely going all Sandra Lee on this Superbowl menu!
For Superbowl parties, I like to keep it low-key. Most of the people will be focused on the game anyways. Keep it simple with rustic & laid-back decorations.
If you want to add a fun touch to it, make these belted leather koozies for your guests!
MATERIALS: 
Leather (Find this at the craft store. This piece made at least 2 koozies and was about $4. All in all, the koozies probably come to about $3-$4 each to make. This depends on the belt part.)
Belt (I found these at the thrift store for $1)
Glue Gun
INSTRUCTIONS: 
1 | Cut your leather into about a 6 inch wide rectangle. The length will be determined by your specific bottle. I'd double check the width too. (I tried it on a couple of different bottles and all were a little over 6 inches, but just double check.)
2 | Cut your belt about 1.5 inches from the buckle (on each side of the buckle). Keep it buckled.
3 | Place the leather around the bottle so the two ends meet. With a glue gun (there may be a better adhesive but this worked best for me), attach one of the buckle cut ends to one end of the leather rectangle (the width part) and the other part of the buckle to the other end of the rectangle.
Once it's dry, unbuckle to take off the koozie and buckle to secure.
DECORATIONS: 
I'd cover your serving table with kraft paper & use a chalk paint pen to write messages, give instructions or label food.
Now, you can enjoy a relaxing & delicious Superbowl party!
Do you have  a go-to Superbowl Party food? On Parties for Pennies facebook page, several people said nachos!
p.s. This is YOUR official invite to the party… join in on the Parties for Pennies Facebook page, Twitter, Pinterest, Instagram & Bloglovin!