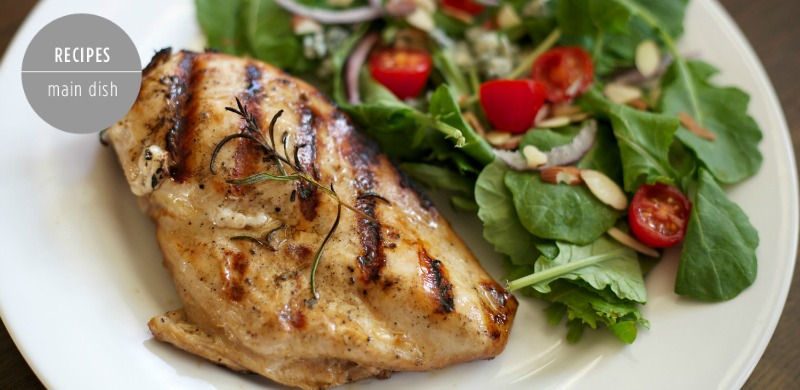 24 Jun

Best Grilled Chicken Marinade Recipe

Hey party people!

One of the things I look forward to most in the summer is grilling out. My husband, if I may brag, is totally profesh at grilling. That's his jam and he rocks it. Honestly, I mainly eat a vegetarian diet and I could probably go all the way if he wasn't so good. His steaks beat any steak I've ever had in a restaurant and his chicken is out of this world.
Recently, I came across a chicken marinade that took his grilling skills to another level. It is the best chicken marinade recipe I've ever had and I wanted to share it with you. Full disclosure…I found this recipe online and cannot figure out where I got it from. I altered some very slight things, but overall, this is not my recipe. If you come across it somewhere else, please let me know. I want to give credit where credit is due.
If you're serving a group, chicken tends to be the most budget-friendly option, too. You can read about how I found chicken at Sam's that's non-GMO/natural/hormone-free for a little over $1/lb HERE.
Here's the recipe…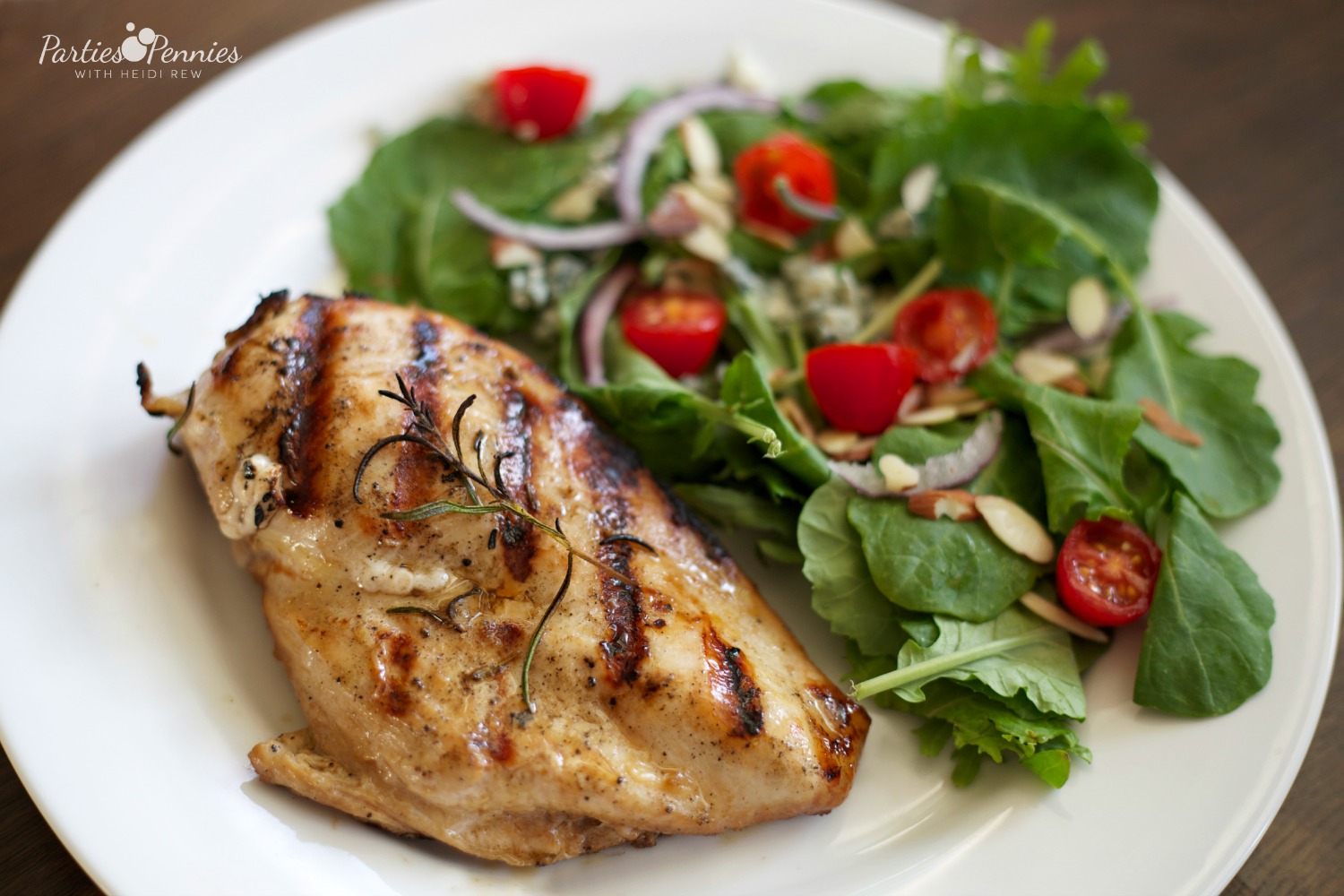 Best Grilled Chicken Marinade
2015-06-18 07:01:51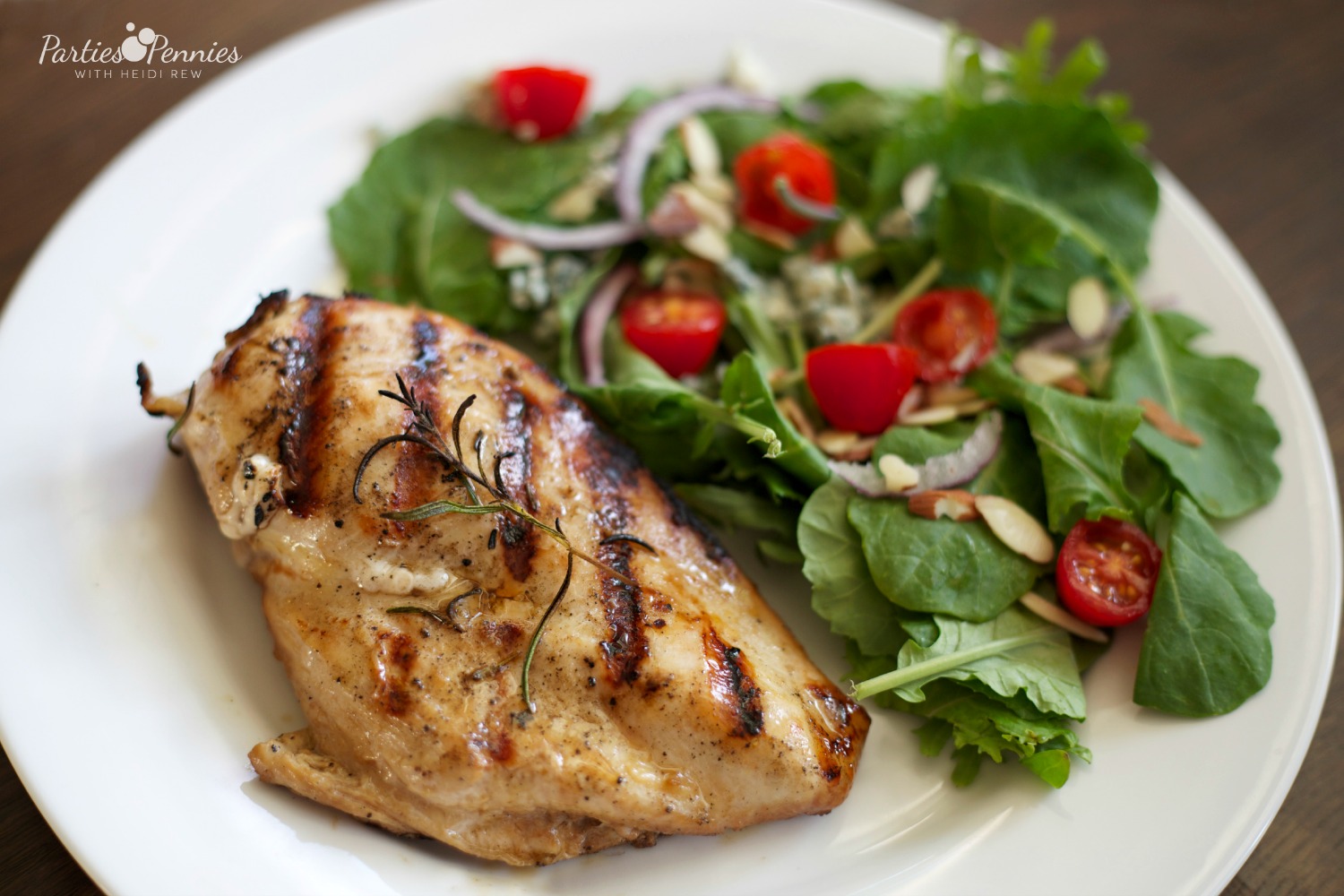 Serves 6
This marinade results in chicken that is moist and delicious.
Ingredients
6 Chicken Breasts
1 cup Grapeseed Oil (if you don't have this, you can substitute olive oil)
1/2 cup Braggs Liquid Amino Acids (get this at most health food stores)
2 Limes, juiced
3 Garlic Cloves, minced
1/2 tsp. Salt
1/2 tsp. Pepper
1/2 tsp. Tabasco Sauce
2-3 tbsp. Coconut Sugar (you can use brown sugar, if you don't have coconut sugar)
1 tsp. All-Purpose Seasoning
Instructions
Mix all ingredients together with a whisk.
Lay chicken breasts in a 9x13 glass pan & pour marinade over them.
Cover and refrigerate overnight or for at least 12 hours.
Parties for Pennies https://partiesforpennies.com/
Grill those babies up and your mouth will be so happy!
If you're wondering what that little piece is on the top of the chicken, it's a sprig of rosemary from our herb garden. I think my husband just got a little ambitious.
Hope you enjoy this marinade recipe as much as I do!
For more 4th of July entertaining ideas, check out this post.