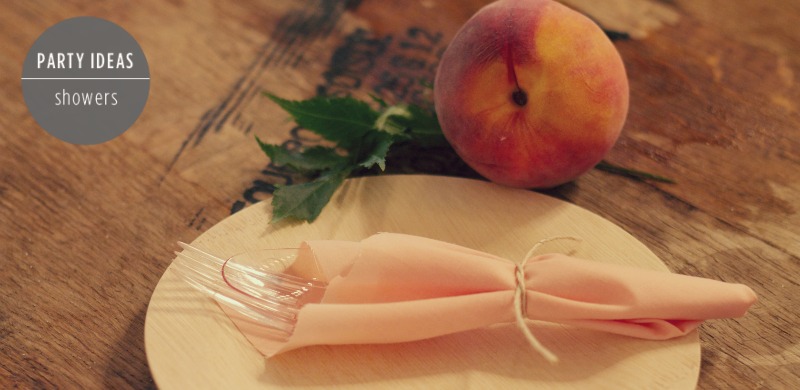 03 Sep

Brewery Baby Shower

Hey party people!

Nope. Your eyes are not deceiving you. I recently threw a brewery baby shower!

Here's why.

My blog friend, Michelle from Iron & Twine, is having twins – a boy & a girl. For her baby shower, she really wanted couples to be invited. We talked about hosting an outdoor party at one of our houses, but as the heat and humidity increased that seemed like a bad idea. I have taken Mike (my man) to one baby shower before, and he begged me to never take him to another baby shower again. I knew guys were going to be the hard sell for this shower. That's when I remembered Monday Night Brewing Company.

Monday Night Brewing is a local Atlanta brewery started by some friends of a friend. They have a great venue and public tastings on Mondays, Thursdays, and Saturdays. I knew Mike would be up for a baby shower at a brewery, so I thought the other guys would be too.

After talking with Carlan over at Monday Night Brewing, I knew it'd be perfect. They'd let us set up in one corner, no venue fee (since it was a public tasting night), and Michelle's younger brother (that's under 21) could still come. (Thanks so much to Duck too, who helped us out with a great table!)

Now…I had to figure out the vibe for the shower. It does make it tougher when you're thinking about welcoming two different genders. I started with Michelle's style. She's a mix of vintage (her home decor) and preppy (her fashion). I knew what she was planning for her nursery, so I thought a vintage preppy shower would be perfect.

Here's the inspiration board I created: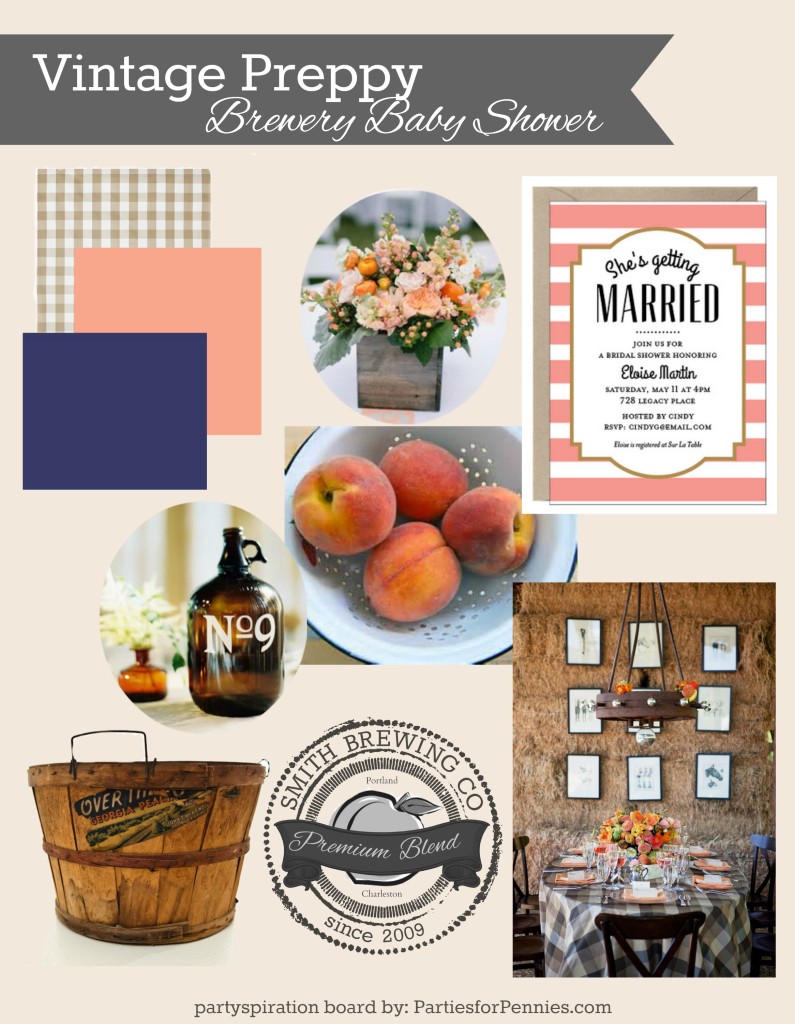 Picture Sources: Floral arrangement, Invitation, Collander of Peaches, Amber Vase, Tablescape, Peach Basket (from Etsy – old listing & no longer available), Custom Designed Smith Brewing Label by PartiesforPennies.com. 
It turned out wonderfully and a HUGE thanks goes to Lindsay Colleta! She did the massive and gorgeous floral arrangement for the shower. She is incredibly talented. If you, or someone you know, is getting married or need floral arrangements, give this girl a call. Here's an example of a bridal bouquet she did…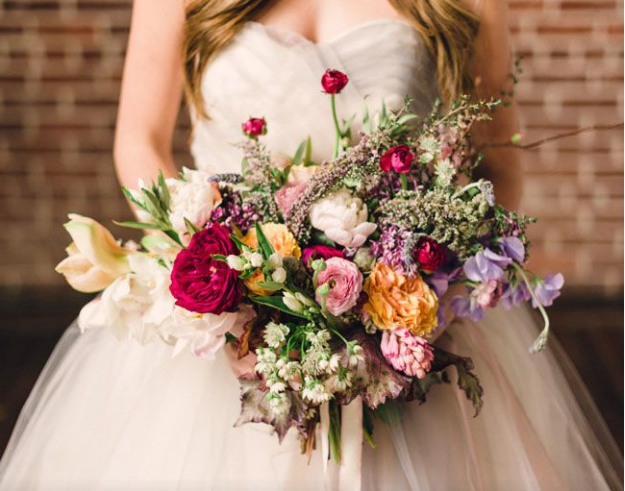 Let's start off with the invitation. If you noticed in my inspiration board, it says that they're getting married. Originally, it was an invitation for a bridal shower, but thanks to Paper Source's easy to customize invites, it was no problem changing it.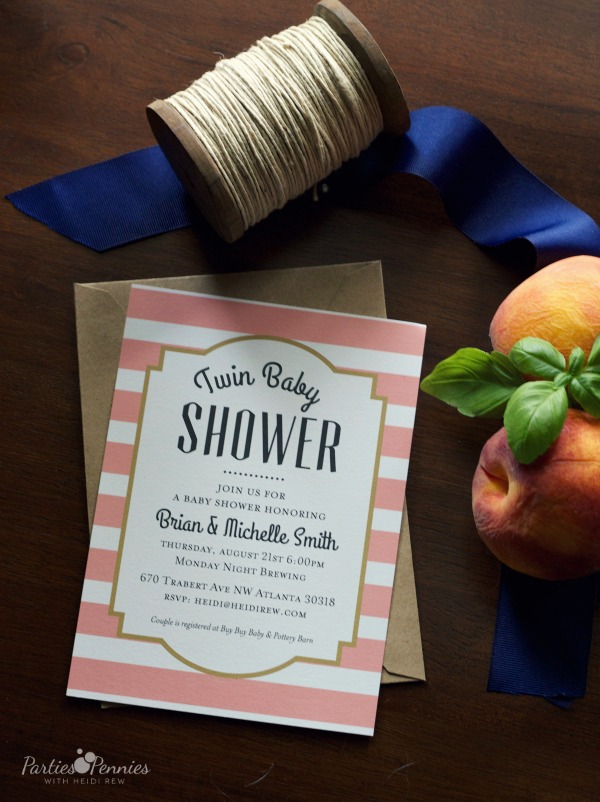 I fell in love with this invite and felt like it was the perfect blend of vintage and preppy.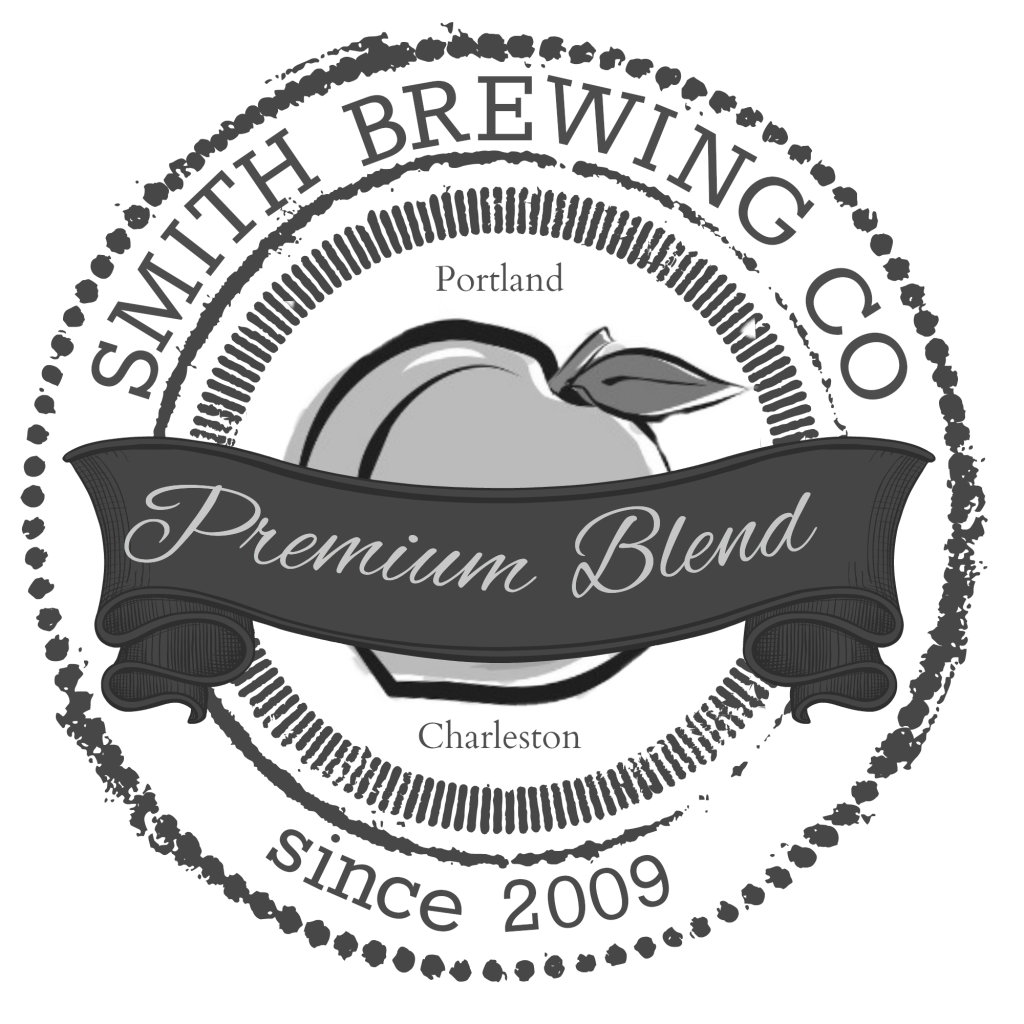 I am no graphic designer, but this turned out to be one of my favorite parts of the shower. I wanted to incorporate the fact that it was at a brewery, without being too cheesy. I decided to create a custom label for Michelle & Brian. The reason why it says "since 2009" is because that's when they were married. Brian is from Portland, Maine and Michelle is from Charleston, SC. And now they are brewing up a premium blend of twins…see…it can get cheesy REAL fast.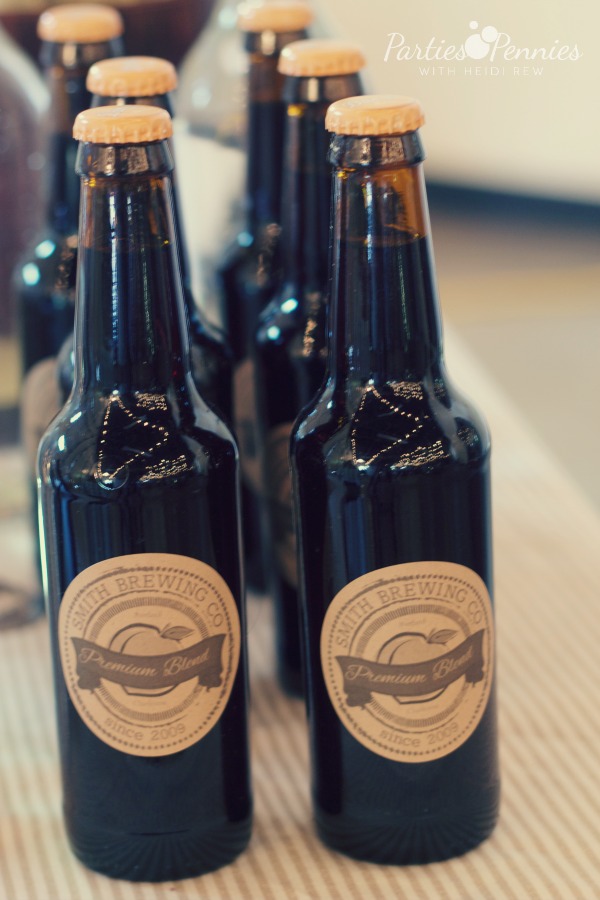 I used the labels for the root beer bottles we served and to create custom coasters as part of the favors.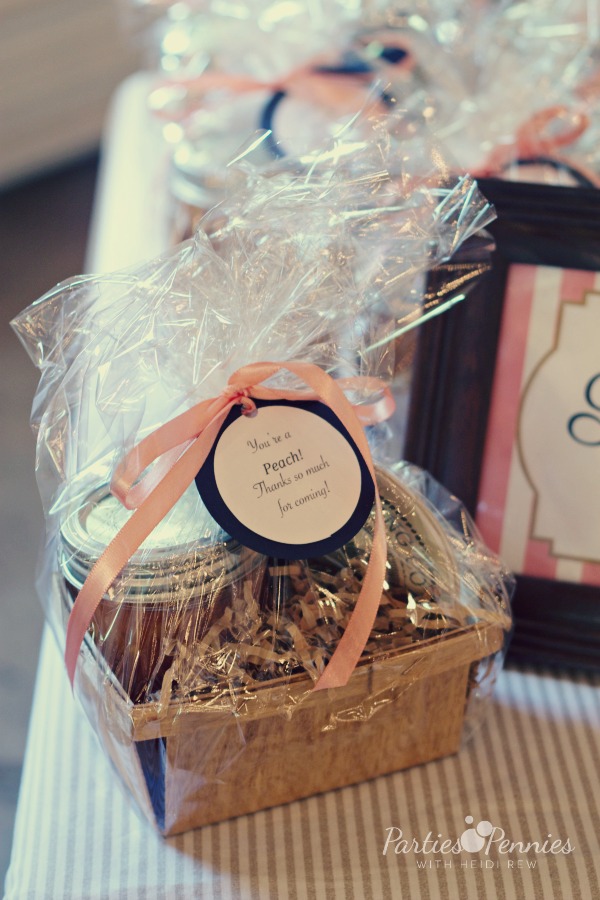 Every couple/family that came got this little basket filled with homemade peach jam and two custom coasters with the Smith Brewing label on it.
I wish I had gotten a better shot of the favor without the cellophane, but I ran out of time.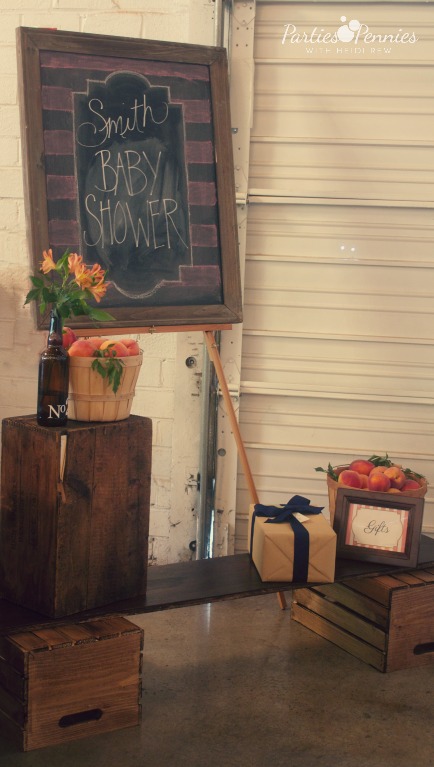 Monday Night Brewing Company was awesome to us, but we did get put by the warehouse doors. Guess we ended up with a Vintage Preppy Industrial baby shower. 🙂
I tried to set up a little area for all the presents, so they'd be off the ground.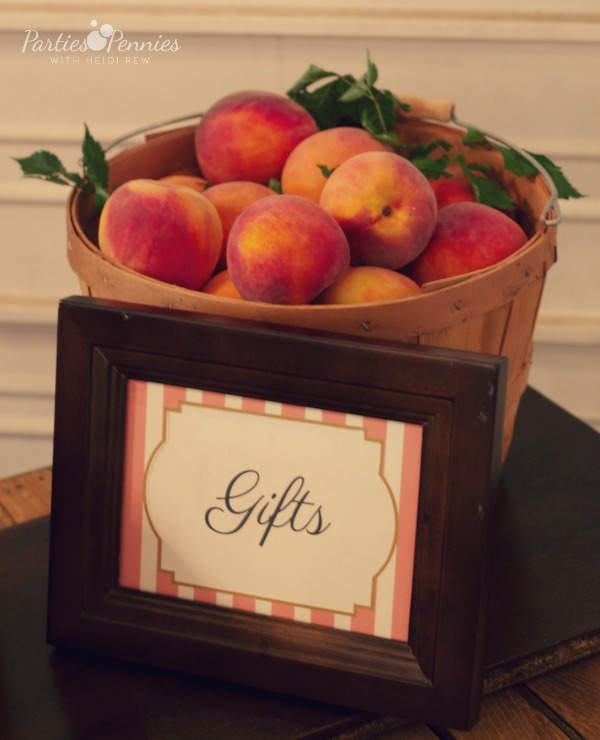 For both the "Gift" & "Favor" signs, I used two leftover invitations. I simply cut the inside out and added a text I printed off from the computer.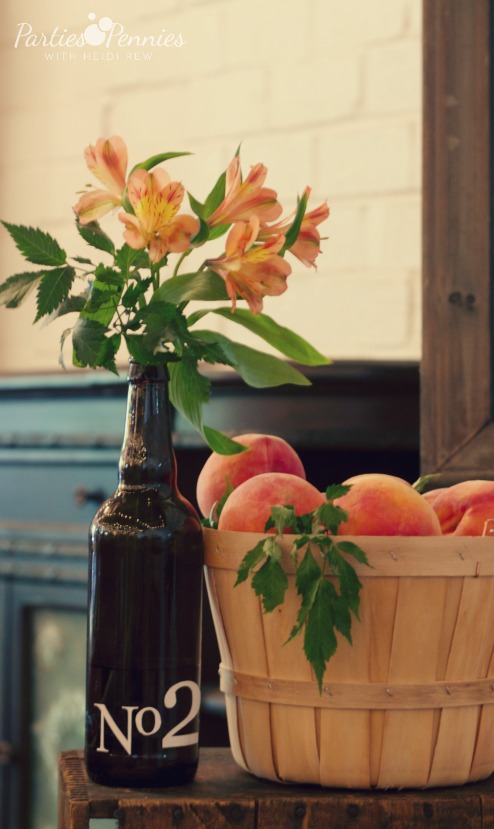 To create the amber vases from my inspiration board, I printed off the letters and numbers I needed, cut them out, and used spray adhesive to attach.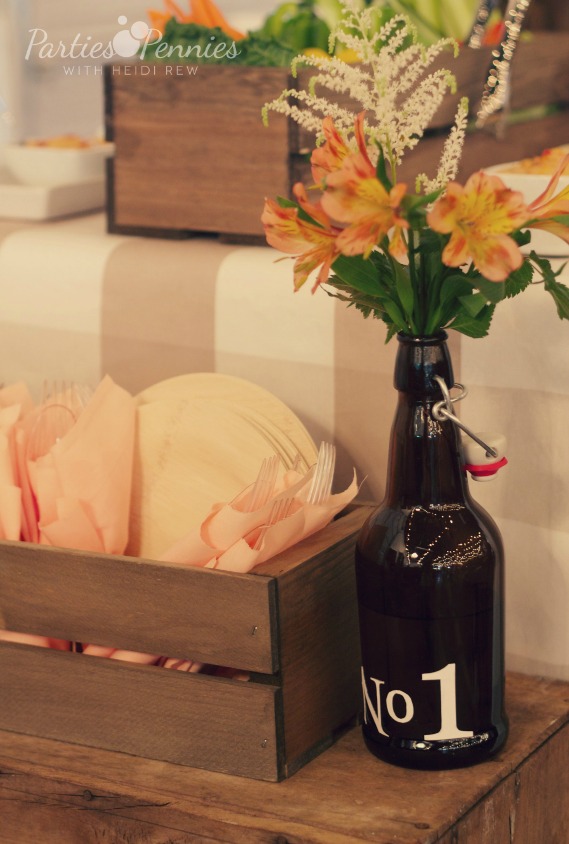 I spent a good amount of time looking for these amber vases at antique stores. Most of them were $10-$30 each. Instead, I found these at Michaels and they happened to be on sale for 40% off. They only ended up to be a few dollars each.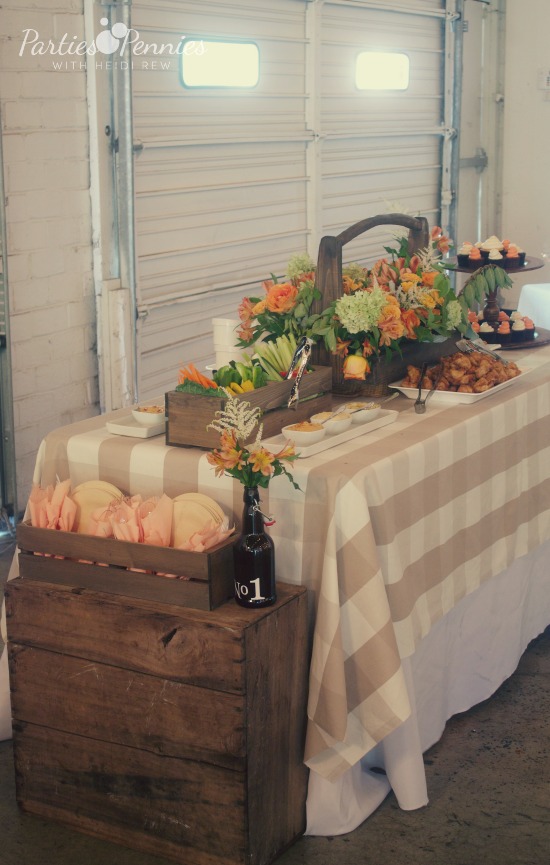 The tablecloth I found at IKEA. It's actually just material and I hemmed the cut edges.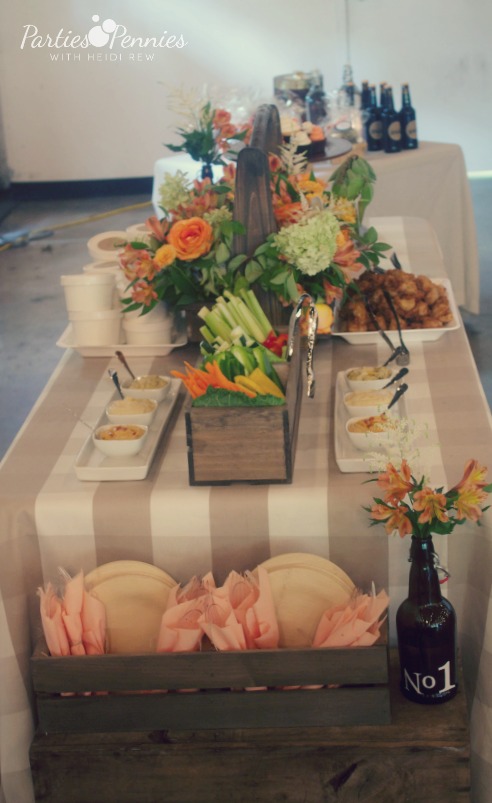 The "napkins" were one of the hardest things to find. I really wanted napkins that matched the color in my inspiration board, but they were NO WHERE to be found. So…I found some material that matched it for less than $3.99/yard and cut it up to napkin size. I probably would've spent around that much for paper napkins (especially that color), so it ended up to be a great option.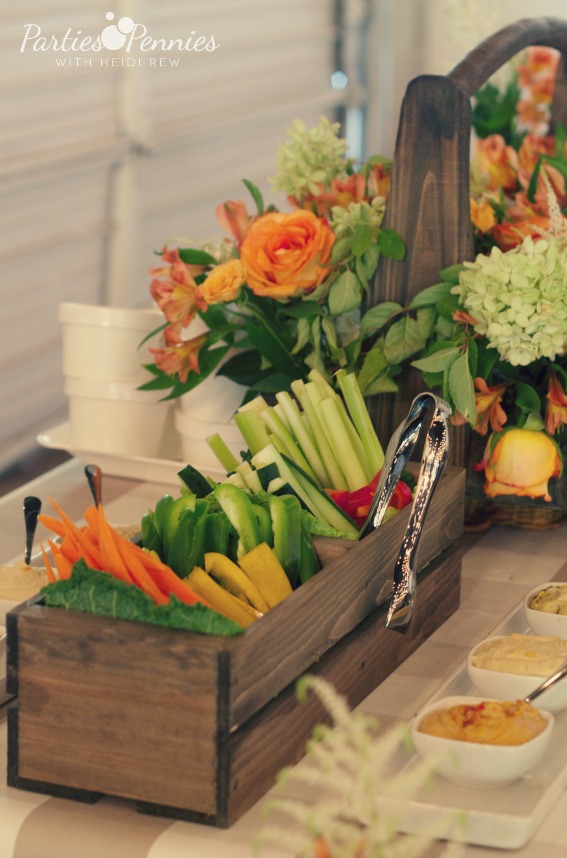 The menu consisted of: 
Vegetables with Three Types of Hummus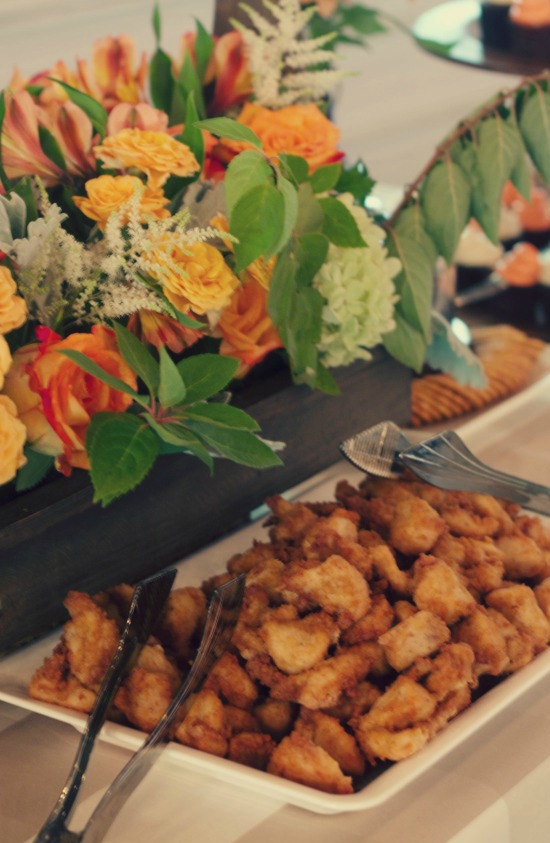 Chick-fil-A Nuggets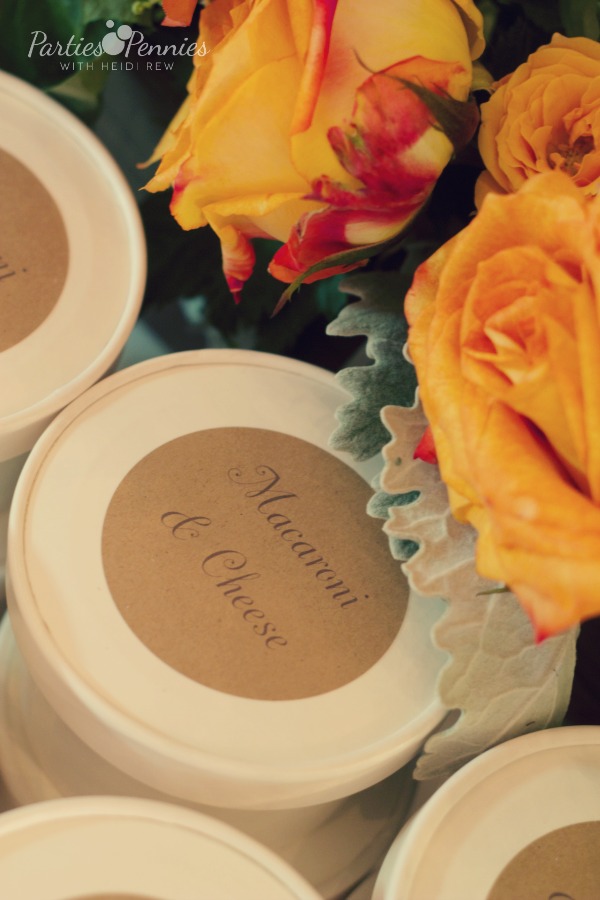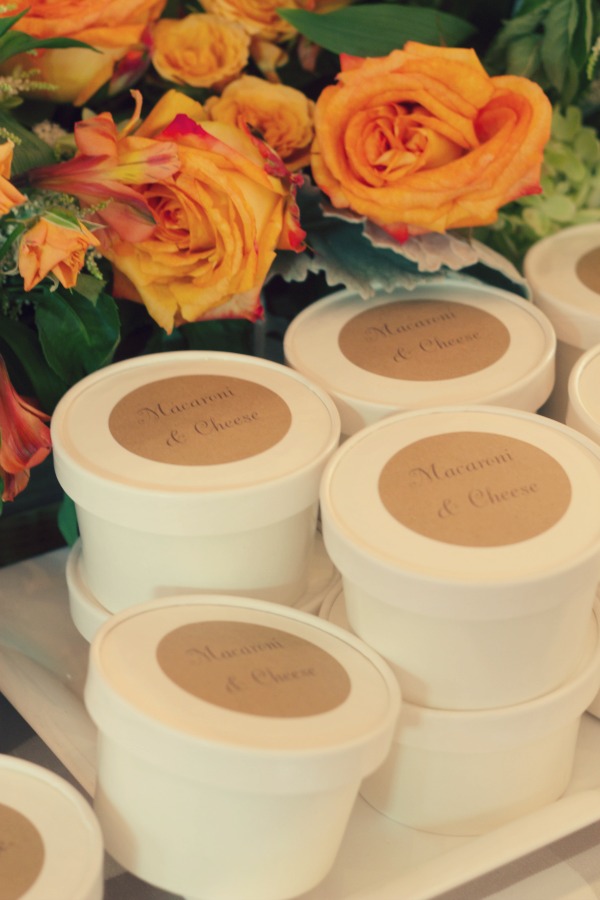 Homemade Mac N' Cheese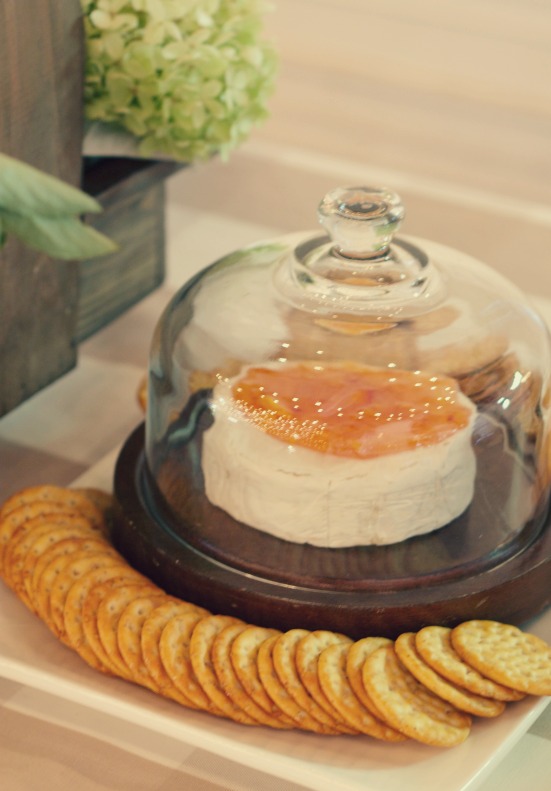 Brie with Homemade Peach Jam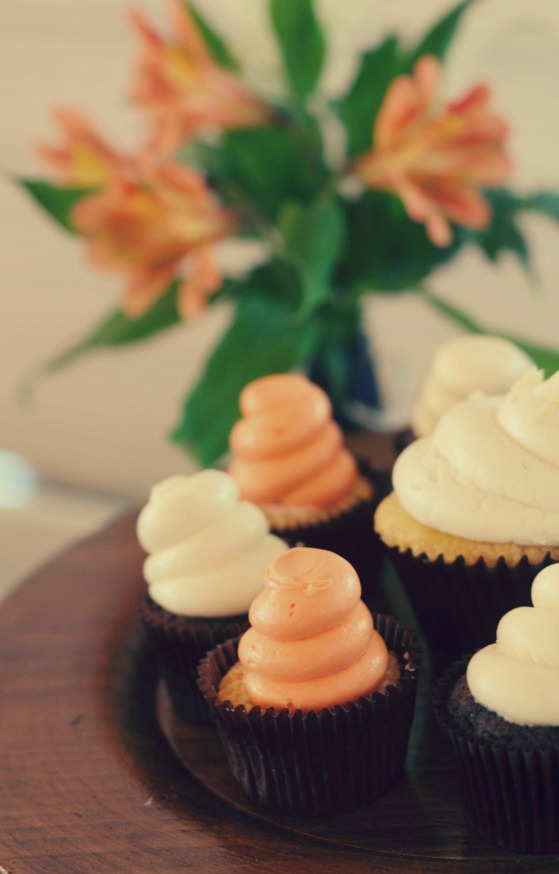 Mini Cupcakes (from Cami Cakes)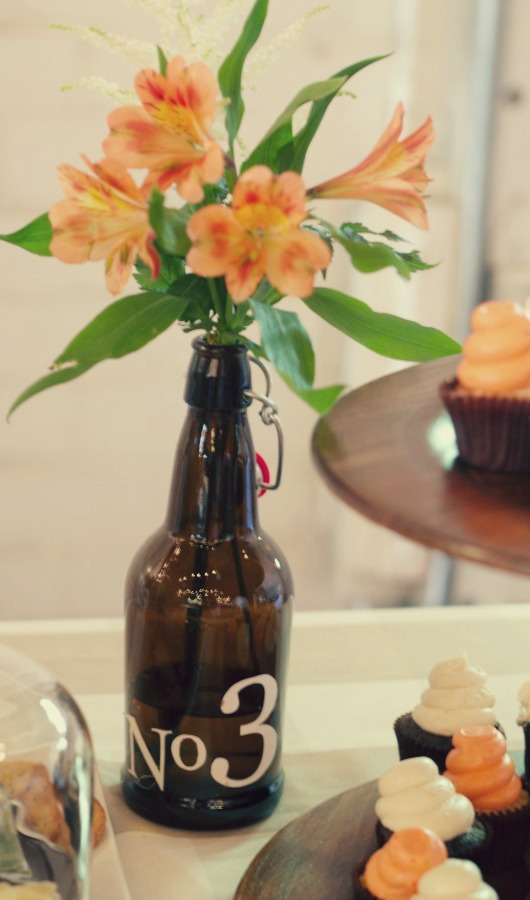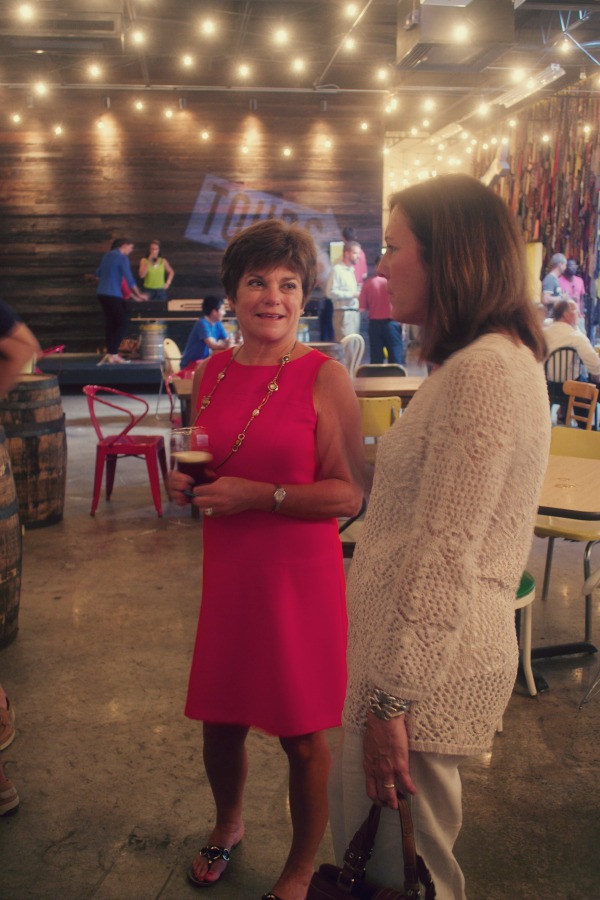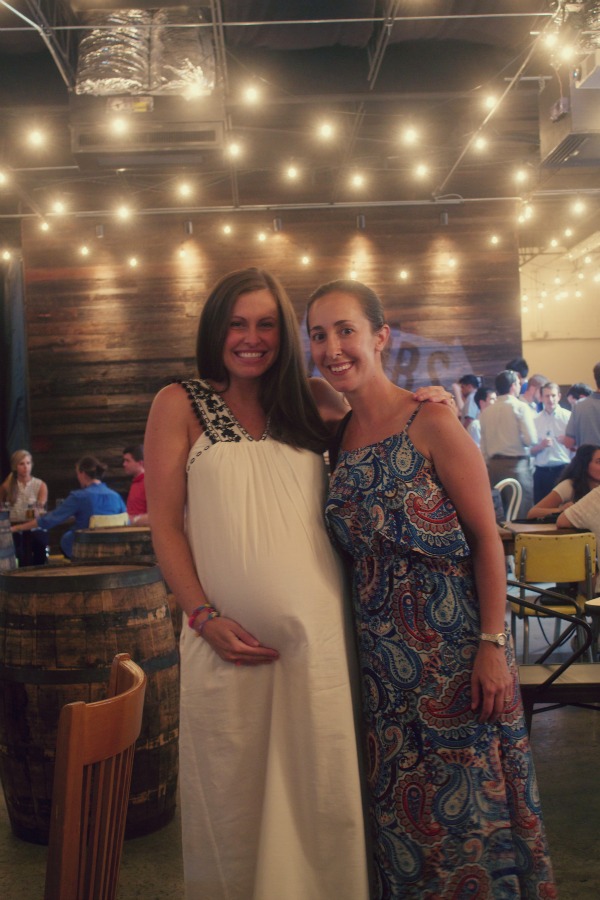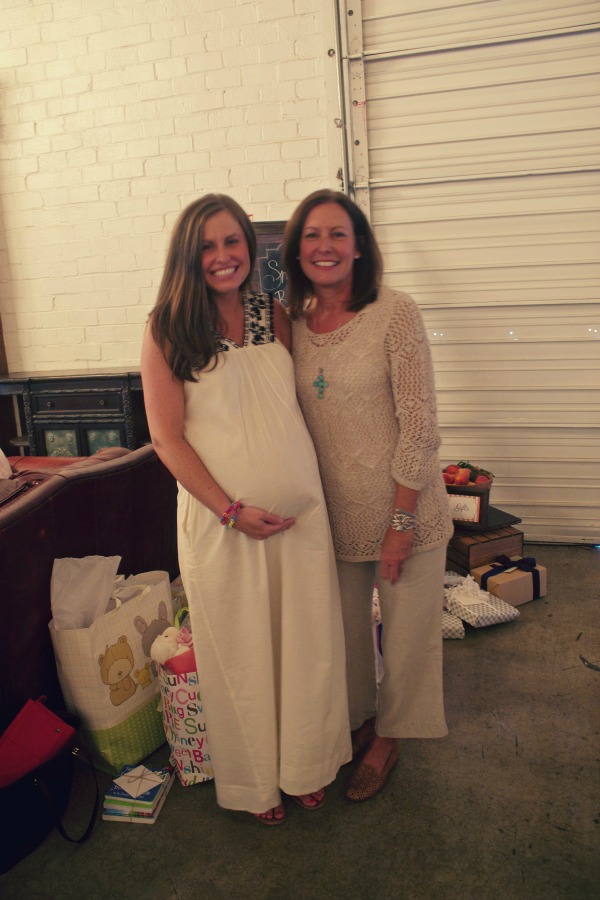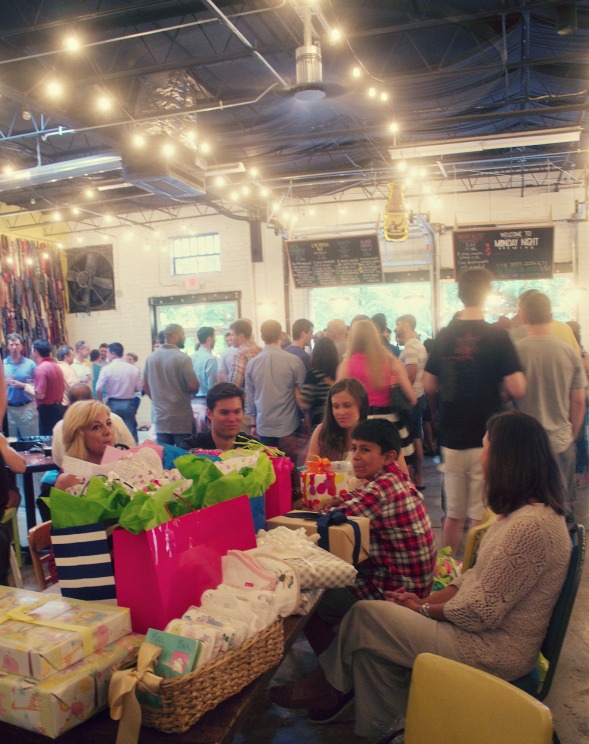 We didn't have any specific "activities," although some guests took part in the brewery tour. However, I did bring a pink and navy tie for every guest to sign. I wrote out Brian & Michelle Smith's Baby Shower honoring ___ & ___ (not sure if I can give out the names yet) and the date. Why, you ask? Because at Monday Night Brewing, they have a HUGE wall of ties. It says, "Tie One On" and people will bring their ties and hang it on the wall. When the twins are old enough to drink, and if Monday Night is still going strong, they can find their tie.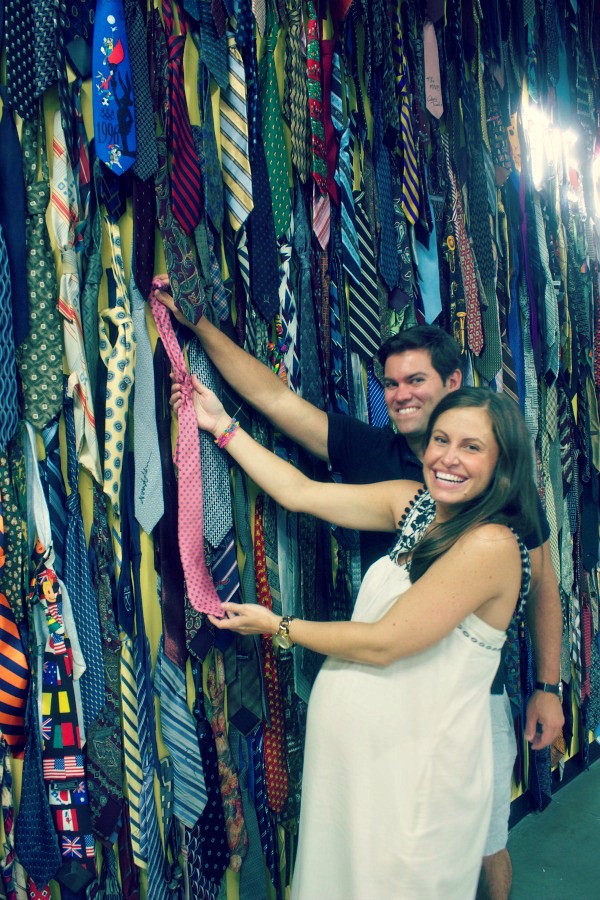 Here's Brian and Michelle adding it to the wall.
Overall, it was a very successful shower. Friends and family got to celebrate with Bri & Chelle and no guys were unhappy to be there.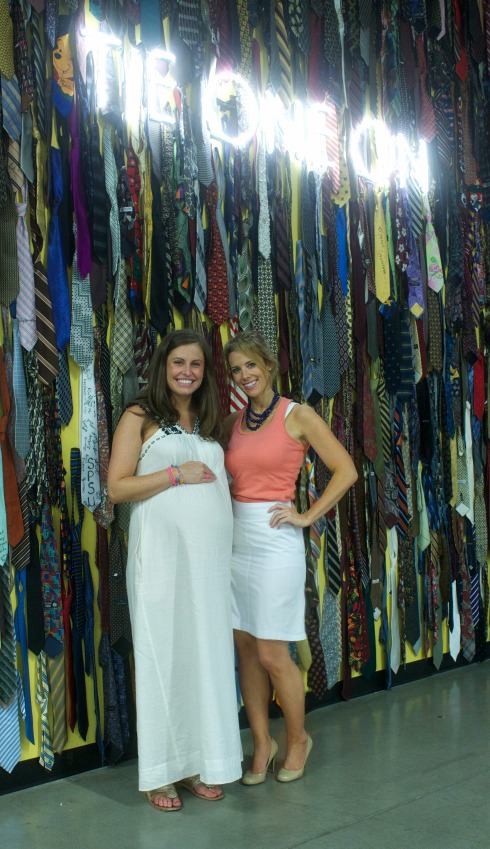 Thankful for this crazy blogging world where I get to meet great friends. Congrats Brian & Michelle.
Disclaimer: The only issue I had is with the lighting at MNB. That has more to do with me not being a professional photographer than MNB. 🙂 It was so dark, so I apologize for any pictures that make your eyes do crazy things.
SOURCES: 
Floral Arrangements: Lindsay Colleta | Invitations: Paper Source | Favor Baskets: Think Garnish | Plates: Amazon Bambu 7-Inch All Occasion Veneerware Plates, Package of 8, Natural
 | Mac N Cheese Containers: Amazon 25ct White Cup Frozen Dessert Containers
 | Kraft Labels for the Mac N Cheese & Root Beer: Amazon Avery Permanent Print-To-The-Edge Round Labels, Laser/InkJet, 2.5-Inch, Brown Kraft, Pack of 225 (22808)
 | Tablecloth: IKEA