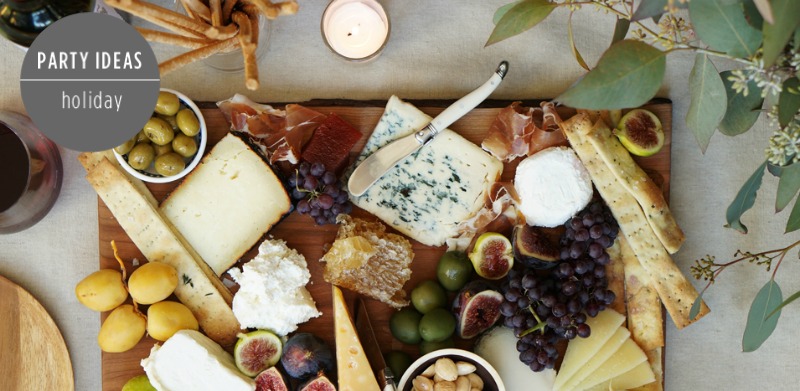 25 Nov

Budget-Friendly Thanksgiving Tips

Hey party people!

I know you're probably getting all the last-minute things done for Thanksgiving, but I just wanted to share a few last-minute Budget-Friendly Thanksgiving Tips to host the perfect Thanksgiving. These tips will help you save some money, maintain your sanity, and stress less.
1| APPETIZERS – These are a must for Thanksgiving dinner. There are always last-minute to-dos and guests need a little something to munch on so they're not sneaking a taste of mashed potatoes.
Photo Source via Honestly Yum
Don't slave away on different appetizers, ask your guests to bring their favorite cheese to share. Use a large cutting board to arrange all the cheeses your guests bring, add some nuts, dried/fresh fruit, and some crackers and your guests will be satisfied until dinner is served.
2| TURKEY TIME – One of the hardest things about hosting Thanksgiving dinner is timing! It's so tricky to plan the turkey and sides to be fresh and hot all at the same time. Here's a great info graph reminding you of how long different turkeys take and some other great info.
Photo Source via Obsev
3| EMBRACE THE MISMATCH – Don't have a full china placesetting for everyone? Or pretty matching dishes? Don't sweat it. Mismatched dishes still look really pretty. I especially love the way they combined every day dishes with the small china ones in the picture below. So beautiful.
Photo Source via Southern Weddings
4| BACKYARD PLACE CARDS – Don't worry about spending extra time creating the perfect place cards. Snip some leaves from your backyard (make sure you rinse them first) and write the name with a paint pen. Free & easy!
Photo Source via Brides.com
5 | CHEAP & EASY THANKSGIVING CENTERPIECE – While you're at the store picking up ingredients for the meal, pick up a few bouquets of seeded eucalyptus. Line them along the middle of the table. Add some candles and maybe even some fruit/pumpkins, and you've got a gorgeous Thanksgiving centerpiece. Seeded Eucalyptus smells really good, too. You'll have a high-end centerpiece in minutes and a just few dollars.
Photo Source via Ruffled Blog
6| WHAT TYPE OF WINE TO SERVE?? – Here's a few wine pairing suggestions to serve with your dinner. My favorite budget-friendly places to buy wine are Costco & Trader Joes.

Just because it's Thanksgiving doesn't mean champagne has to be left out. Serve a brut champagne as guests arrive and are enjoying appetizers.
7| HOSTESS GIFT IDEA – We're going to Mike's friends for Thanksgiving this year, so I pulled together this little Hostess basket as a thank you. A lot of times you can find all of these things for a few dollars at Home Goods/TJ Maxx.
Thanksgiving Debate Tea Towels, Kitchen Organic Antibacterial Soap, Pumpkin Spice Latte Candle , and Bread Basket
Hope you and your family have a wonderful Thanksgiving!! I truly am so grateful for you. Thanks for being such an awesome party person! Party on!