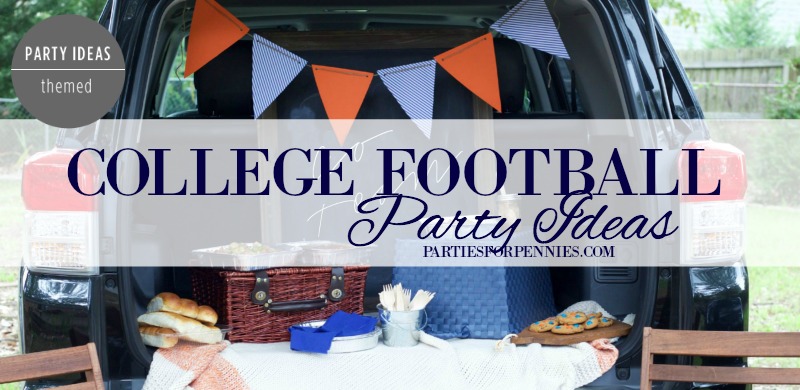 11 Oct

College Football Party Ideas

Hey party people!

College football is in full swing. We ended up going to a local game last weekend – Georgia State v. Texas St. This wasn't plan A, though. We had tickets to the Florida LSU game in Gainesville, but that got cancelled because of Hurricane Matthew. My heart goes out to everyone that lost homes and had to evacuate. I know there is lot of damage and lives lost (especially in Haiti). I was pretty disappointed that the game was cancelled, though. It would've been my first SEC football game. I know! Crazy, huh?!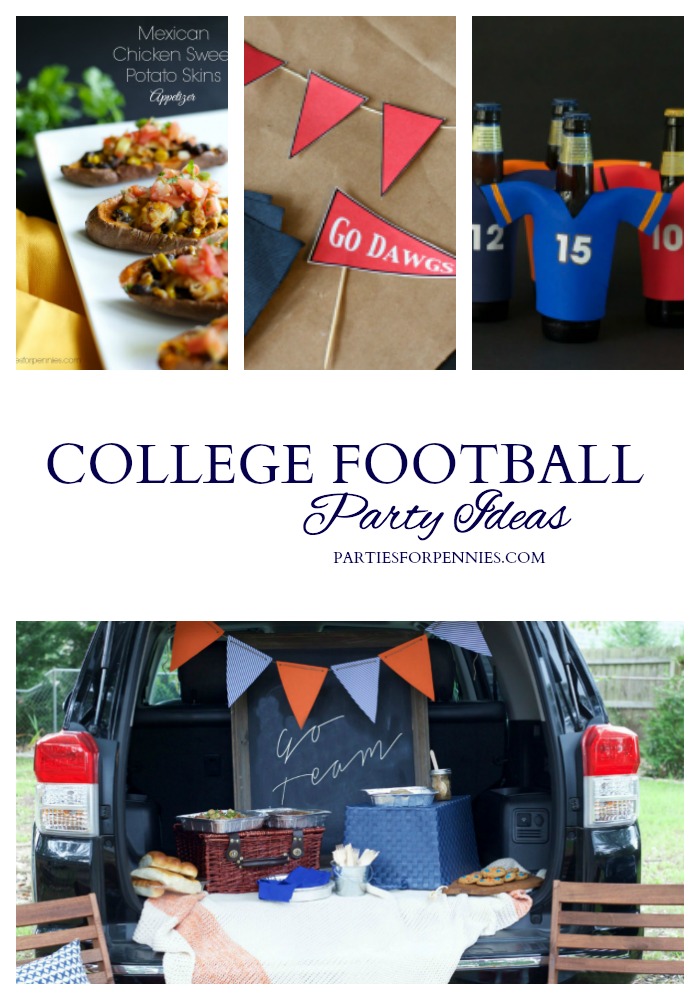 If you've got some College Football viewing parties coming up, here are some easy and budget-friendly College Football Party Ideas!
First things first – Food! Gotta have some good food!
FOOTBALL PARTY FOOD
---
|1| Mexican Sweet Potato Skins – These can really be appetizers OR main entrees. They're so delicious and much healthier!
|2| Healthy Nachos – Healthy? For real? Yep. For real. There's a little sneaky sneakster ingredient that adds some power food action to your nachos.
Bonus Tip: If you love your sour cream, substitute greek yogurt…tastes unbelievable!
|3| Grilled Cheese Bacon Sriracha Sandwich – My husband is obsessed with these! They're perfect for the fall…and especially for watching football.
|4| Beer Chili and Bacon Brownies – It doesn't take much to add a little somethin somethin to that chili to make it sing. And brownies with bacon?! Yes m'amm.
FOOTBALL PARTY DECORATIONS
---
|1| College Football Party Pennants – Transform simple store bought brownies into full fledged party food with these simple printable pennants.
|2| Tailgate Decorating Ideas – These ideas can work indoors too! Check out ideas for how to display food, DIY games, recipes, and more!
|3| More Tailgate Decorating Ideas – If you're having a college football viewing party indoors, you can still use these ideas. Use the chalkboard pennant above the TV and mums are pretty indoors too.
FOOTBALL PARTY DIYs
---
|1| DIY Football Jersey Koozies – These are so adorable! They're functional and make great little favors. Easy video tutorial to follow along.
|2| College Football Team Pom Pom Stirrers – You can use these for drink stirrers or as picks for appetizers. Just switch out the drink stirrers to tooth picks.
Now you'll have the best College Football Party in the whole neighborhood (or tailgate neighborhood ;p)! Hope your team dominates this weekend (as long as they don't play against the Gators). Party on!