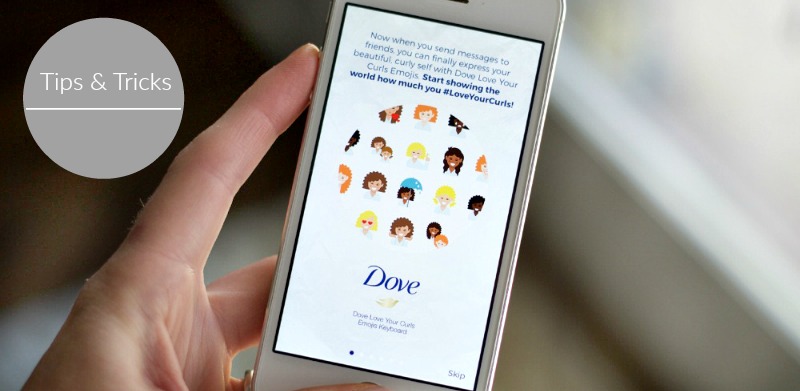 23 Nov

Curly Hair, Do Care

Hey party people!

We all have things we wish we could change, right? For me, one of those things has always been my curly hair. To say that seems silly, right? I've heard a million times, "People pay big money for hair like yours." I always wanted to respond, "Well, they're crazy if they want to try and handle this beast."
That's me 2nd from the right, if you couldn't guess.
See all my life I've struggled with my curls. From the time I was in elementary school and wanted big bangs like my friends. Unfortunately, those big bangs of mine resembled more of an unruly bird nest. Not exactly the big bangs look I was going for. At summer camp, I wanted to get my hair french braided by my counselor like all my friends. My counselor said it was too difficult to braid my curly, frizzy hair, so I decided to learn how to french braid my own hair. It took months of practice, but I finally figured it out.
Then in middle school (the always fun era of life) I discovered gel! My friend Megan introduced me (she's in the band Casting Crowns and has the most amazing curly hair), and I will forever be grateful. No one else in my family had curly hair, so how to manage it was quite the mystery. Of course…this began the many years of the crusty hair look.
Yep. It's been quite a learning curve dealing with my natural curly hair.
Difficult. That's probably the most common word that has been used to describe my curly hair.
Photography: Julie Jones Ivey
Today, I'm in an industry that is so particular about looks and hair. I do commercial acting, hosting, and TV/Film stuff. You don't know how many times I've arrived to set and my hair dresser's eyes get wide and you can see the look of sheer terror. Natural curly hair??! I've had a hairdresser flat out tell me my hair was difficult. Gee, thanks. Every time I have a callback, the client or director asks me about my hair – "Can you straighten it? Is there a way to make it less frizzy?" I've only had 1 hairdresser ever say how much they loved my hair. Only 1. That's probably why, after a hairdresser told me I should get the thermal straightening treatment done, that I did.
Yep. Last summer, I had my hair chemically straightened. Funny thing is that my hair was still pretty wavy/curly, but I could certainly straighten it a lot easier. I thought I'd book more jobs that way…just watch TV. See how many curly hair girls there are. And hosting jobs…no way would they have someone that has curly hair. That rarely happens.
I did book some jobs with straight hair, but it wasn't a crazy amount more. I still had to add extensions in my hair to make it more full. Something really weird happened, though. I started missing my curls. Really missing them. Ever since January, I've been letting them grow out and we just cut out the final sections of treated hair.
Photography: Julie Jones Ivey
In an industry where there are a dozen more girls ready to take your place and all headshots start to look the same…I had something different. Curly hair. It fits my personality. It makes me stand out. And yes. It can be difficult. But since when do truly beautiful things not happen because of the difficult?
I will probably lose out on jobs because of my curly hair (I can still straighten it, if I want), but I'm not going to sacrifice the unique to fit the norm.
Photography: Julie Jones Ivey
Whether you have curly hair or you have something else you want to change, I encourage you not to sacrifice but embrace your unique.
I can't tell you how happy I was when DOVE hair started their #LoveYourCurls campaign. I'm finally at a place where I can truly say that. And Dove hair is giving us a way to express it!!
Chances are you have explored your emoji keyboard a time or two. See any girly haired girls? Nope. Nada.
Until now. Thanks to DOVE hair. Dove Hair is introducing the Dove Love Your Curls Emojis – the first emoji keyboard designed to represent us curly haired girls.
All you need to do is download the Dove Love Your Curls Emojis in the App Store and Google Play Store to show you #LoveYourCurls! Then add to your messages!
Dove Hair did a great job including all types of curls, even baby and child.
I got to test out my new app with my best friend and sister. She loved it and I know you will too! Share this post with someone YOU know who has curly hair.
Dove Hair will also be partnering with Twitter so each time women and girls share a #LoveYourCurls moment, a custom Dove Curly Emoji will appear in the tweet.
If you share your #LoveYourCurls moment on Twitter and tag @Parties4Pennies, I'll enter you in a drawing to win a Parties for Pennies gift bag filled with all kinds of fun things. (Until November 29th 2015, 11:59pm)
Now, go download that app so you can start texting your friends!
This post is part of a social shopper marketing insight campaign with Pollinate Media Group® and Dove Hair, but all my opinions are my own. #pmedia #LoveYourCurls #pmgdove http://my-disclosur.es/OBsstV