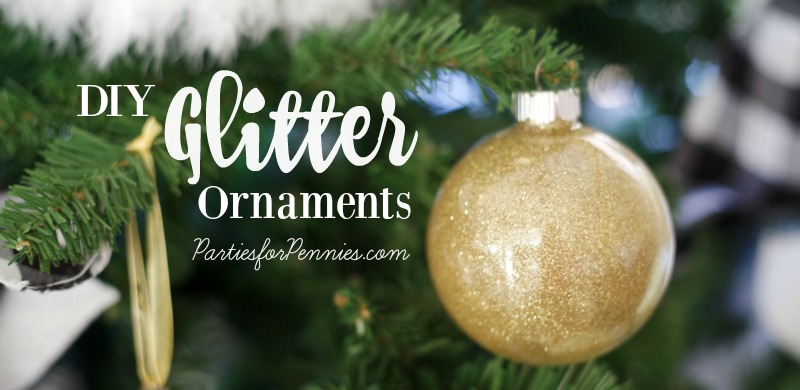 12 Dec

DIY Frozen Glitter Ornaments

Hey party people!

If you follow Parties for Pennies, you know I have an AWESOME social media manager, Kate, that helps me. She's more than a social media manager. She lets me talk through strategy (meanwhile her eyes are probably glazed over) and she has fabulous ideas. In fact, today's post was her idea.
See Kate has an adorable little girl named Ava, who is so precious. Ava, like most kids, loves Frozen. Her request for their Christmas tree? Frozen glitter ornaments. Kate took one look at how much it'd cost to buy those and was like, "Heidi…please do a DIY version!" So, whether you have a child that loves Frozen or just want a little sparkle to your tree, here's how to DIY FROZEN GLITTER ORNAMENTS. Just omit the stickers and it's a regular glitter ornament.
Supplies:
Paper – to make a cone (so you can just use scrap paper)
Frozen Stickers (you could do personalized ornaments with initial stickers or other fun additions)
Click on the supply names for link to the supply.
How To:
1| Using scrap paper, make a cone and secure it with tape.
2|Take your clear ornament, over a trash can or plastic tarp and take off the top. Carefully, spray your spray adhesive into the ornament, trying to make sure it's all covered. You may need to tap the ornament.
3| Put your paper cone in the top of the ornament and sprinkle glitter inside. You may want to tilt the ornament slightly as you do this.
4| Put the top back on the ornament and tap it around to make sure the glitter sticks around the whole ornament. If you're having trouble with it sticking, add a little more spray adhesive. I also found that too little glitter won't coat the ornament like you want. If you're having issues, just increase the amount of glitter you're adding.
5| Attach your sticker or other decoration & add it to your tree.
Warning: This can be addictive. We almost had a glitter rainbow tree. 🙂
If you want to see the other videos in Parties for Pennies 12 DAYS of CHRISTMAS VIDEO TUTORIALS, subscribe to our YouTube Channel.
Hope you're having a great Holiday season! Don't forget to Party On!