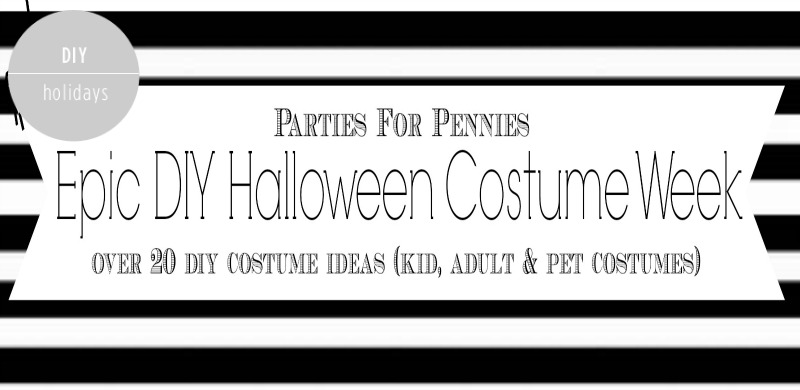 30 Sep

DIY Halloween Costumes

Hey party people!

Are you ready? All this week, I'll be posting over 20 DIY Halloween Costumes ideas, part of…

Every day this week, I will post more ideas. I tried to come up with ideas that I've never seen before or take a classic costume & put a twist on it. But rest assured, all these costumes are light on the ole pocketbook and easy to make (no sewing machine required).
Friday, I'll feature DIY Halloween Costumes that YOU'VE done, so if you have one from years past & want to be featured, email me a good picture to: heidi@heidirew.com.
First of all, I have to thank my wonderful friends who were willing to let me use their children as models pro bono. Well, I guess it's pro bono if you don't count the rice krispy treats, but those were labeled more as bribery.
My one mistake in photographing all these kids was not getting it on video! It was one hilarious moment after another.
Let's get started:
1| Firemen Costume – This is Aiden & Kellan, twin brothers. They crack me up. Some of the outtake photos are hilarious. And can you turn up the cuteness factor any higher with those glasses??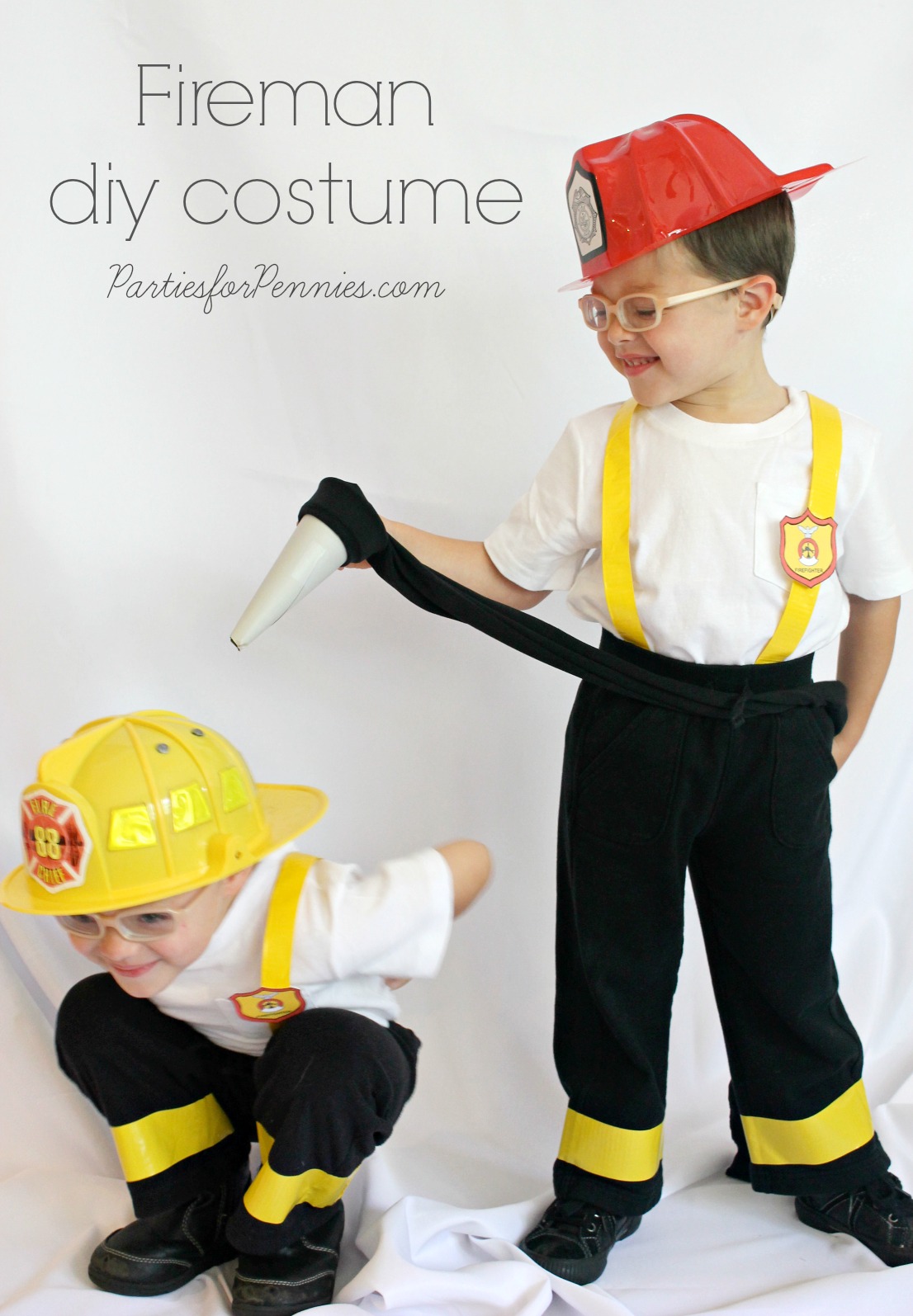 This fireman costume is something you can probably create from things you have around the house. You'll need plain black pants, a plain white t-shirt, black shoes, a plastic fireman hat, yellow duct tape & black tights.
To create this costume, you'll use the yellow duct tape around the bottom of each pant leg. You'll also use the duct tape to create suspenders. Fold the duct tape in half so it makes a skinny piece. Do two pieces like this. You can attach these to the pants by more duct tape or you can pin them on. To help the suspenders stay on better, criss-cross them in the back.
Since every fireman needs a "hose," you can create one from hose. Get a pair of women's black tights & cut a hole from the foot end. You can also use footless tights & you wouldn't have to cut them. Take a piece of gray construction paper or scrapbook paper & roll it into the shape of a cone. Tape it inside the tights (where you cut the hole) and you've got a fireman's hose.
Top the whole outfit off by printing off a fireman's badge: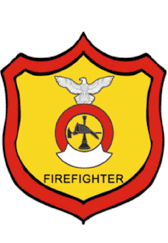 2 | Beach Bum – This is my bud, Anderson. He's the son of a really close friend of mine & is such a fun little guy. I'll never forget one of the first times I hung out with him & his sister, he started singing opera at the top of his lungs…facial expressions, hand guestures & all. I was rolling on the floor. Opera…he may be down for. Dressing in costumes & posing for photos…eh…not so much. This was as good as we could get. But…he does make a cute little beach bum.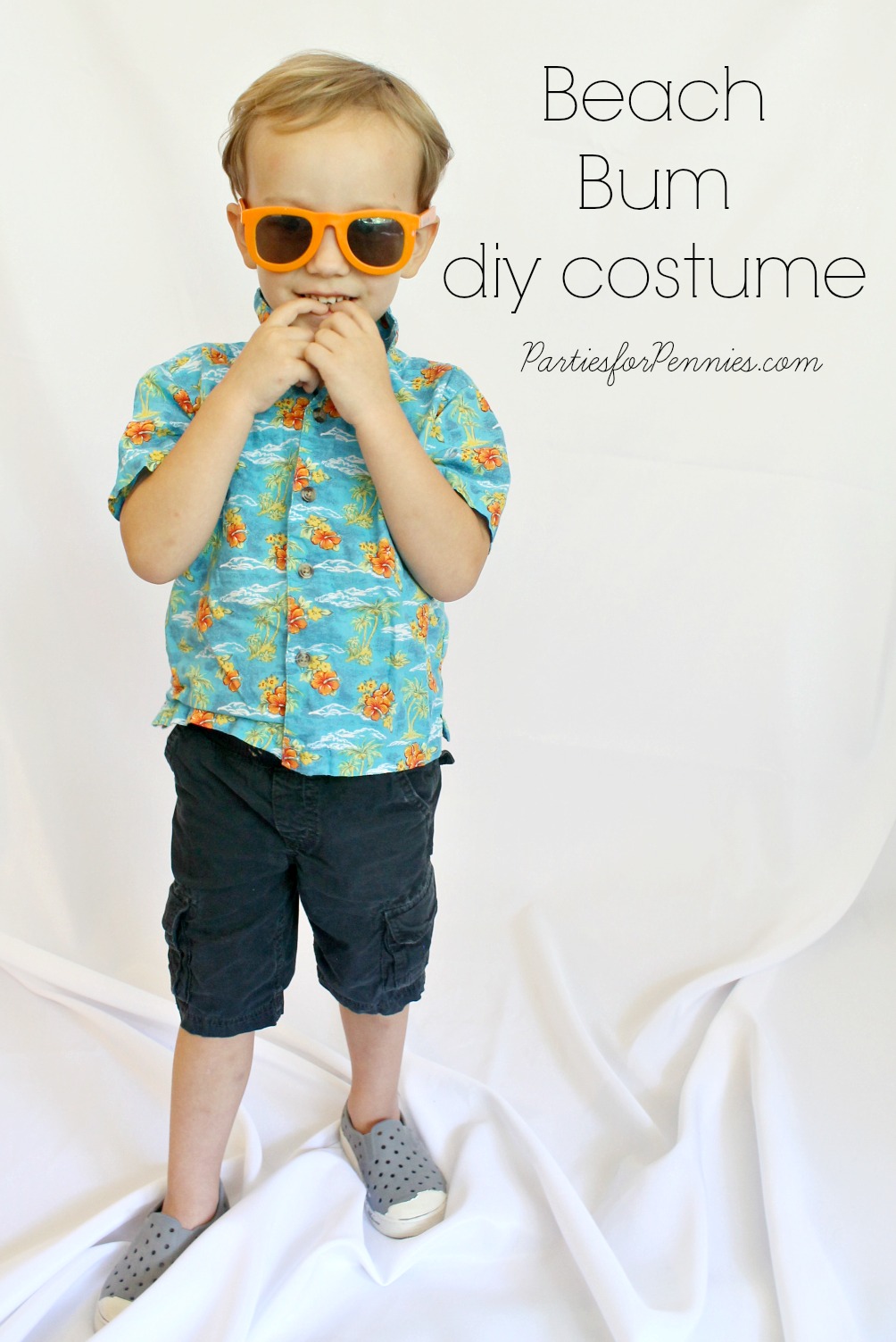 The beach bum costume is really easy. Put on a hawaiian shirt, some cargo shorts, flip flops &…of course…some cool shades. If I had thought of this enough in advance, I would've gotten a coconut from the grocery store & added a little umbrella straw for Anderson to carry around.
3 | Dancing With the Stars – This is Elizabeth. Princess Elizabeth, if you will. Her brother is the beach bum (or Anderson) and they have helped me by posing for a couple shoots (here & here). They are definitely pro-status now. I just adore Elizabeth. She's all girl but also a firecracker. I love that about her.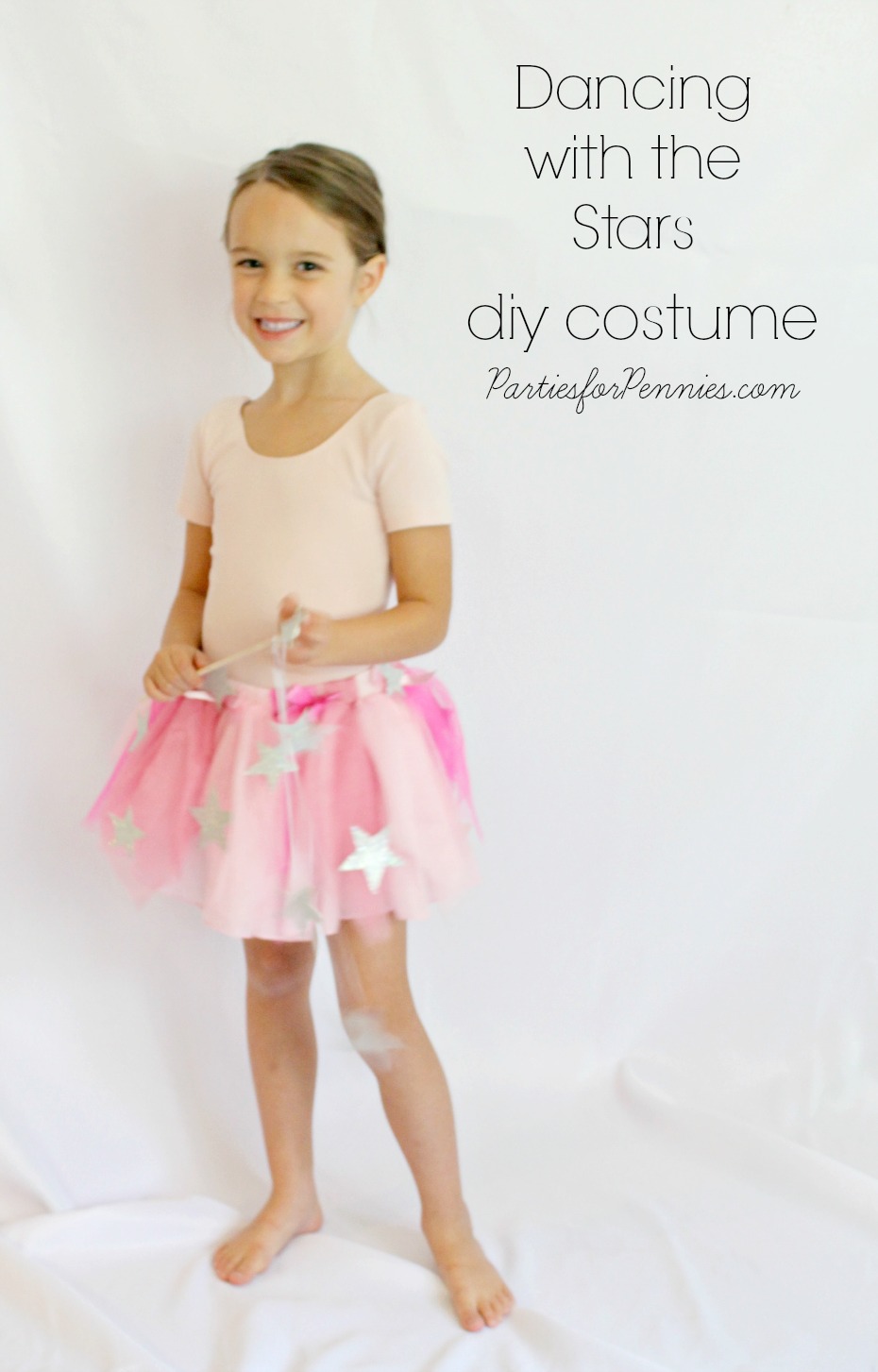 This is another easy costume to put together. Most girls probably have a leotard & a tutu. All you have to add are stars. I just got one sheet of heavy cardstock that was a sparkly silver and cut out stars, then taped them to the tutu. I also added a little star wand by gluing the stars to ribbon & attaching it to a dowel.
4 | Human Pinata – This is Hudson. You'll see his sister during tomorrow's post. He was all about posing & didn't mind at all having his picture taken. A little Ashton Kutcher (minus the cougar chasing &…well, just referring to the modeling Ashton).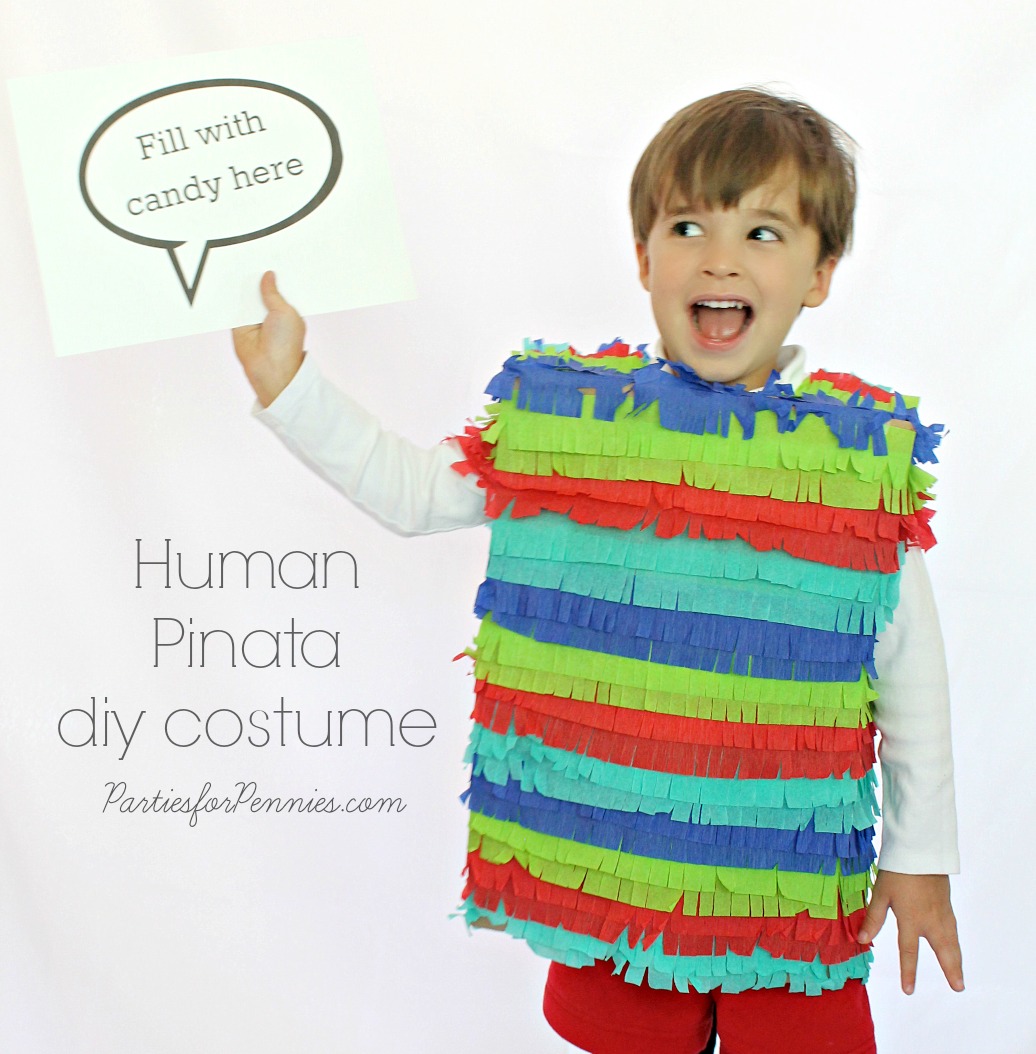 This costume is a little time consuming but can cost you less than $5 and it turns out really cute.
First, cut a "head" out of the bottom of the bag then two arm holes on the sides of the bag. Take regular party streamers & fringe one half of a strip. Start at the top of the bag (where the handles were…make sure to take those off), and line the paper bag with your fringed streamers. You can attach with tape or glue.
You can also add this accessory…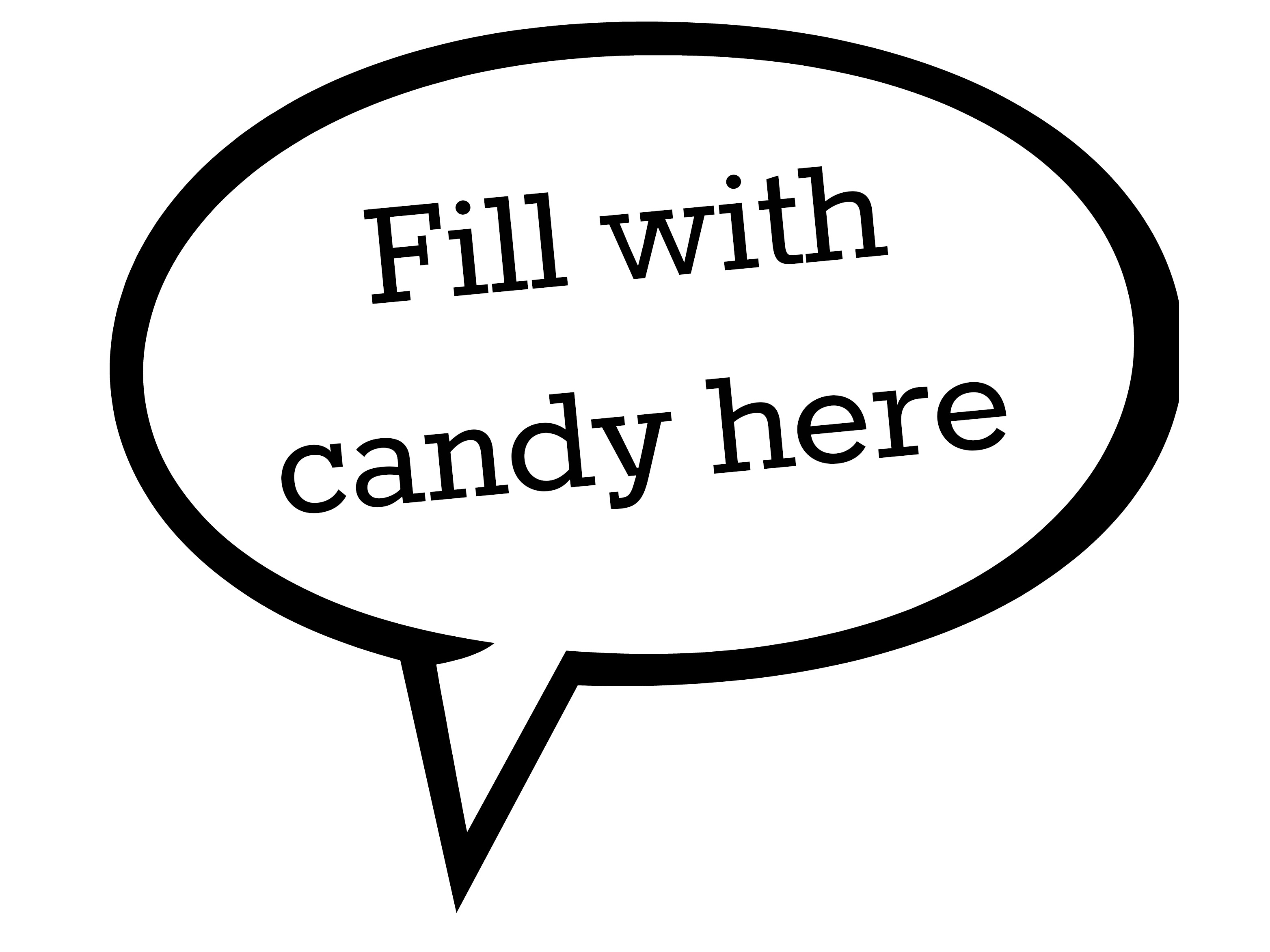 You can tape it to the costume, or attach it to a dowel so your little pinata can give the neighbors a little direction. 🙂
Download your free Human Pinata Sign, here.
Don't worry…we'll have more DIY Halloween Costume ideas tomorrow (including one of an adorable little baby).
Until then…Party On!
p.s. This is YOUR official invite to the party… join in on the Parties for Pennies Facebook page, Twitter, and Pinterest!