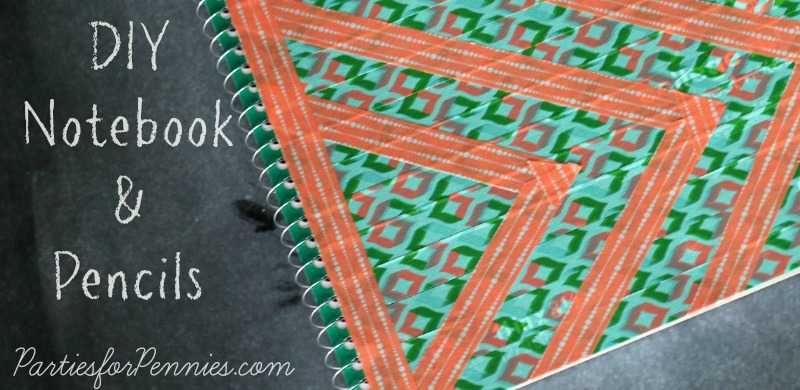 14 Aug

DIY Notebook and Pencil

Hey party people!

Here's a fun way to add some pizzaz to those school supplies with this DIY Notebook and Pencil.

Did you add doodles to your school notebooks…or "trapperkeepers" (I can't believe there is now a whole slew of kids who don't know what those are!)? As a kid, I mixed markers with stickers to create my own unique notebook.

Welcome to the 21st century. All it takes is a little washi tape & you can create an entire line of unique school supplies.
This project is so simple, I don't even know if you need a step by step tutorial.
Basically, I snatched up a couple of my favorite washi tape patterns (you can get these at most office supply chain stores or craft store) and went to work completely covering the notebook cover with washi tape. I wanted to create a fun pattern so I took the second washi tape and did a fun tribal pattern.
For the pencils, just cut a piece of washi tape the length of the pencil (from the end of the eraser down). Lay it on the pencil lengthwise and press firmly. Do one more piece and cover the other side of the pencil.
If you follow Parties for Pennies on facebook, you may recognize this picture. This was a party tip I posted last week. When you use up all of your scotch tape, replace it with a washi tape roll.
In case this is the first time you've heard of washi tape, let me explain. Washi is a japanese handmade paper. It has recently gained popularity in tape form. One of the great things about washi tape is that it is easily removed from most surfaces (but only if you pull it off…it's very secure on this notebook). I love using washi tape to jazz up plain glass vases or candle holders. You can also use it to create fun backdrops, like at the Builders Floor Covering Grand Opening Party. You can use it to embellish invitations, place cards, etc.
Man, I would've had so much fun decorating my locker if washi tape was out in my day. But then again, the kids these days don't have trapper keepers, so maybe I should be grateful.
What was your favorite school supply as a kid? Did you ever put the glue on your desk top just to let it dry & peel it off? (Please tell me I wasn't the only one)
Happy Back to School Season! Party On!
p.s. This is YOUR official invite to the party… join in on the Parties for Pennies Facebook page, Twitter, and Pinterest!