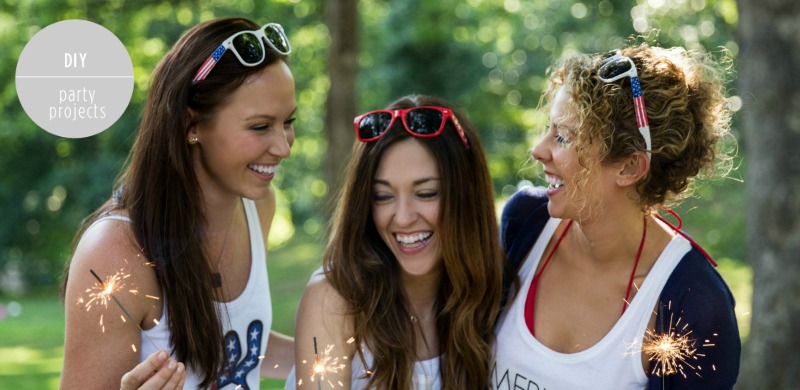 06 Jun

DIY Patriotic Sunglasses

Hey party people!

I've got a fun DIY project for you that's simple and anyone – from Millenials to elementary school kids – will love it! Make these DIY Patriotic Sunglasses or Sunnies for the 4th of July or just to sport all summer.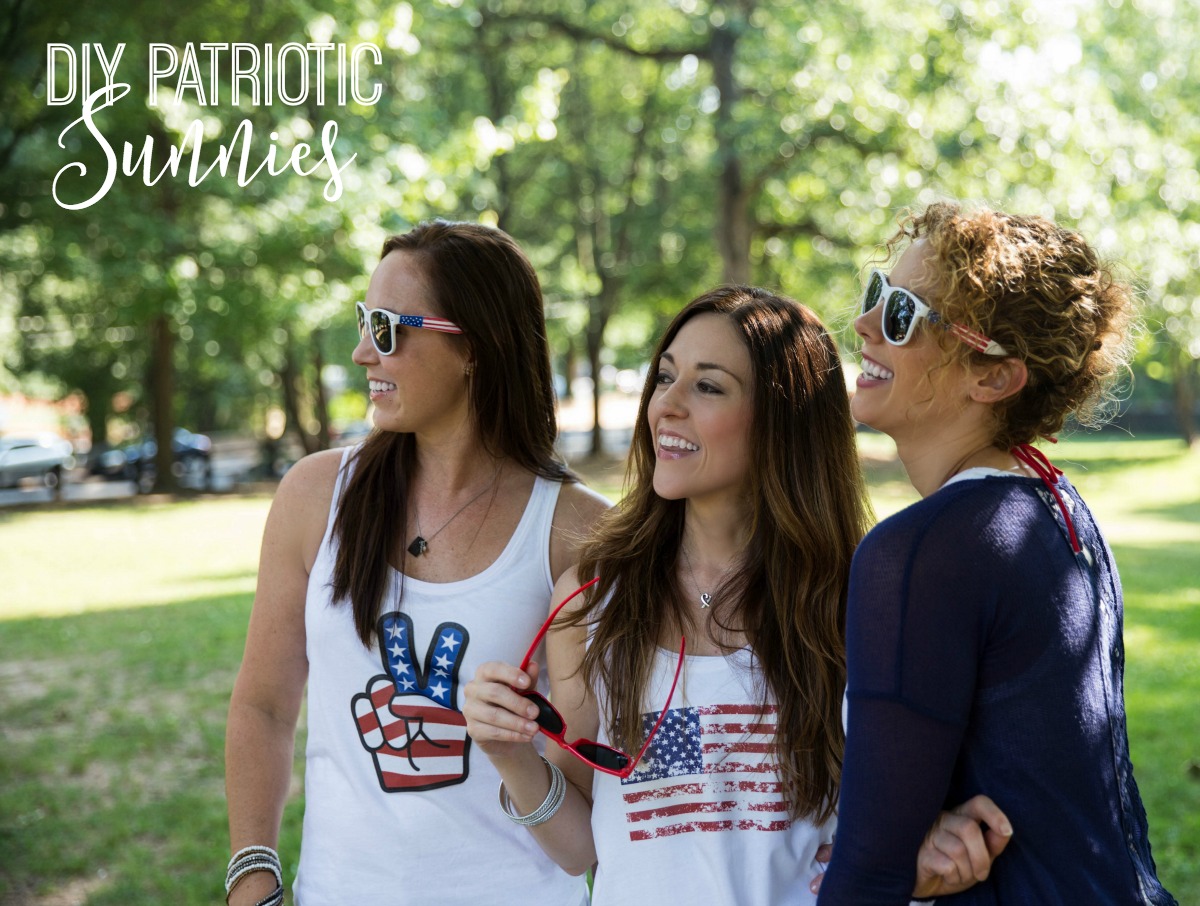 Here's what you'll need: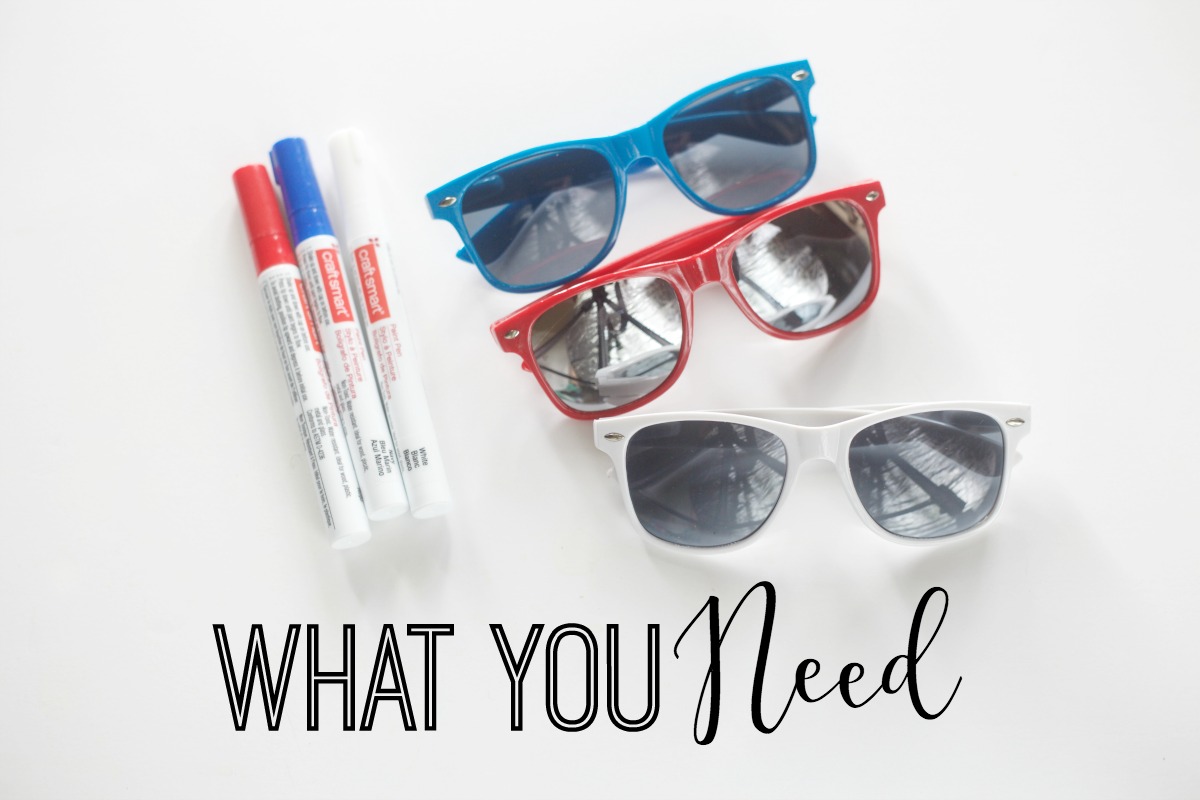 1| Wayfarer Sunglasses (find em' super cheap by clicking on the link) here's a RED & BLUE pair
2| Paint Pens (Click on the link and you can find a whole set of them. Perfect if you're doing a craft project with these, use as a party favor/activity, or giving them as gifts. You can create all kinds of fun, colorful designs.) *tip* The acrylic paint pens are better than the oil-based.

You can watch the video above to see how I created my American flag design on my DIY Patriotic Sunglasses.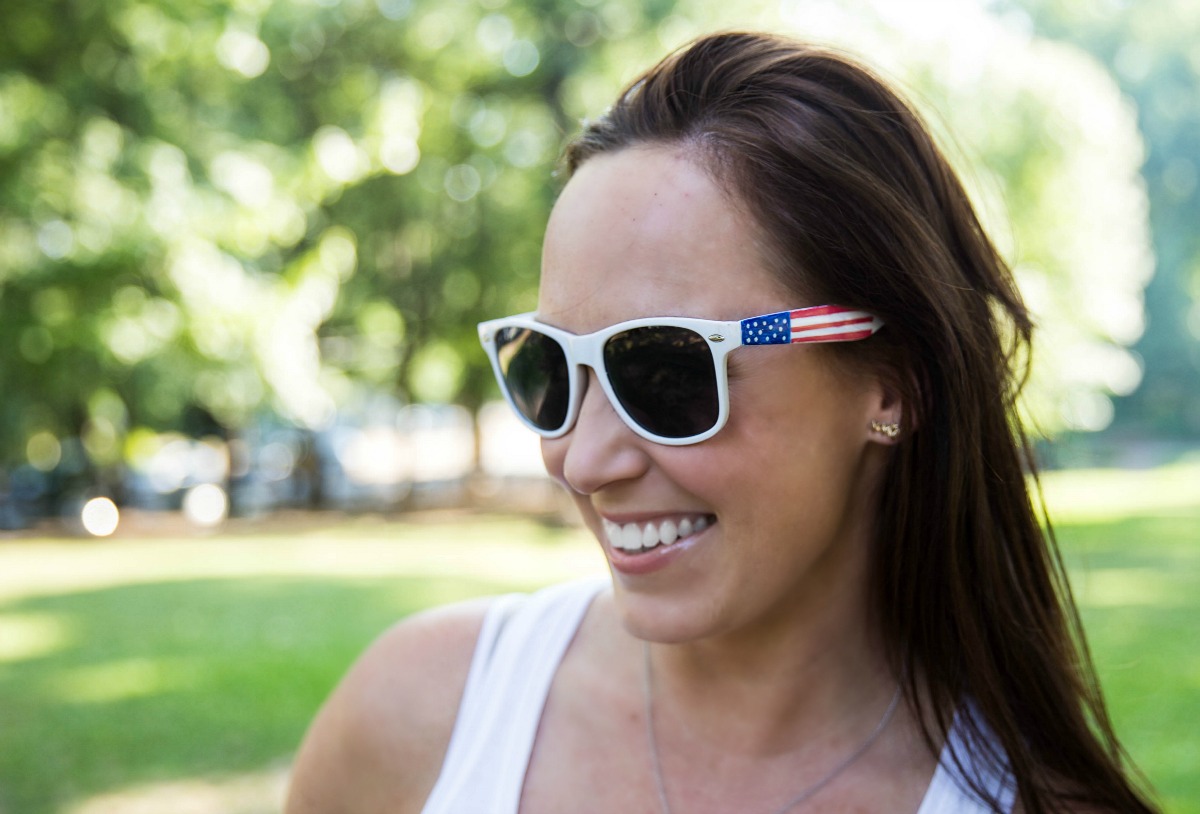 HERE'S A TIP: To create straighter lines than you see in the video (the rest of them I used this method & they were much better), take a piece of scotch tape and place it where you want the blue part of the flag to go. Color it in towards the front of the sunnies, then pull off the tape. You can use this method to get straighter white stripes, too.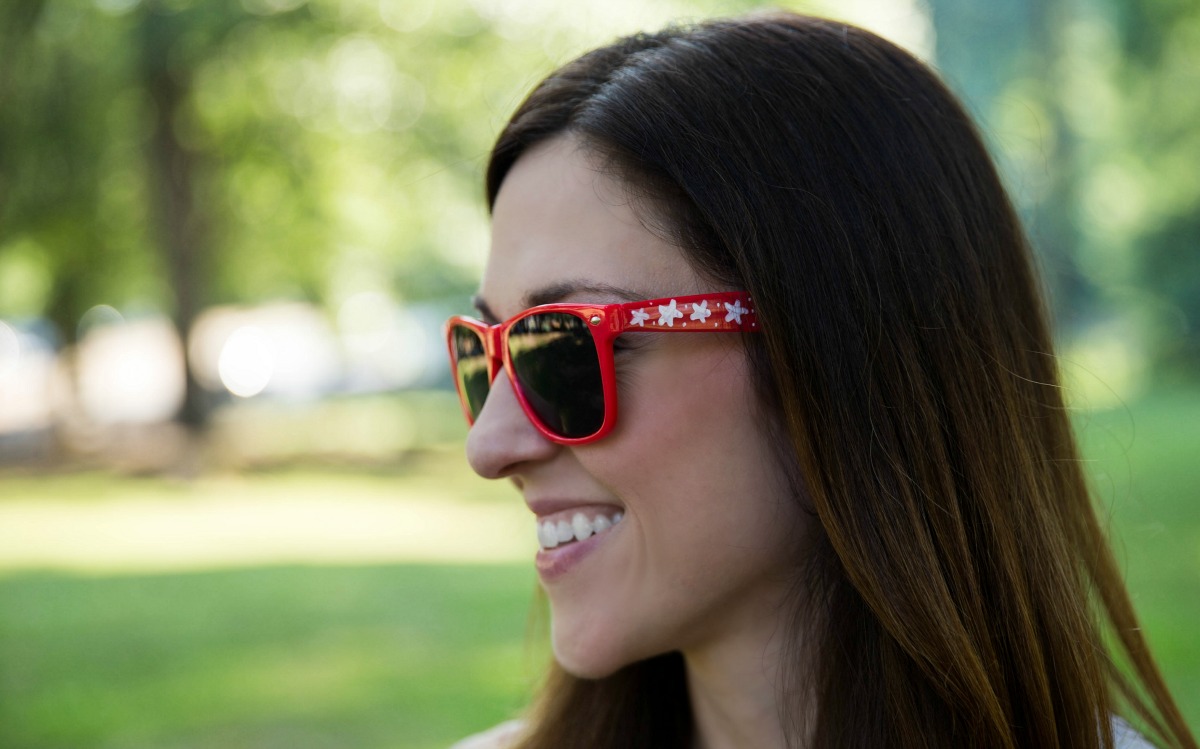 I also did one with just stripes and one just stars. You don't have to stick to the patriotic theme, you could do pineapples (yellow – body, green – stem, and gold for the outside texture), doughnuts (light brown, then top with pink – icing, dot with different colors for sprinkles), flowers, plaid or any design you choose.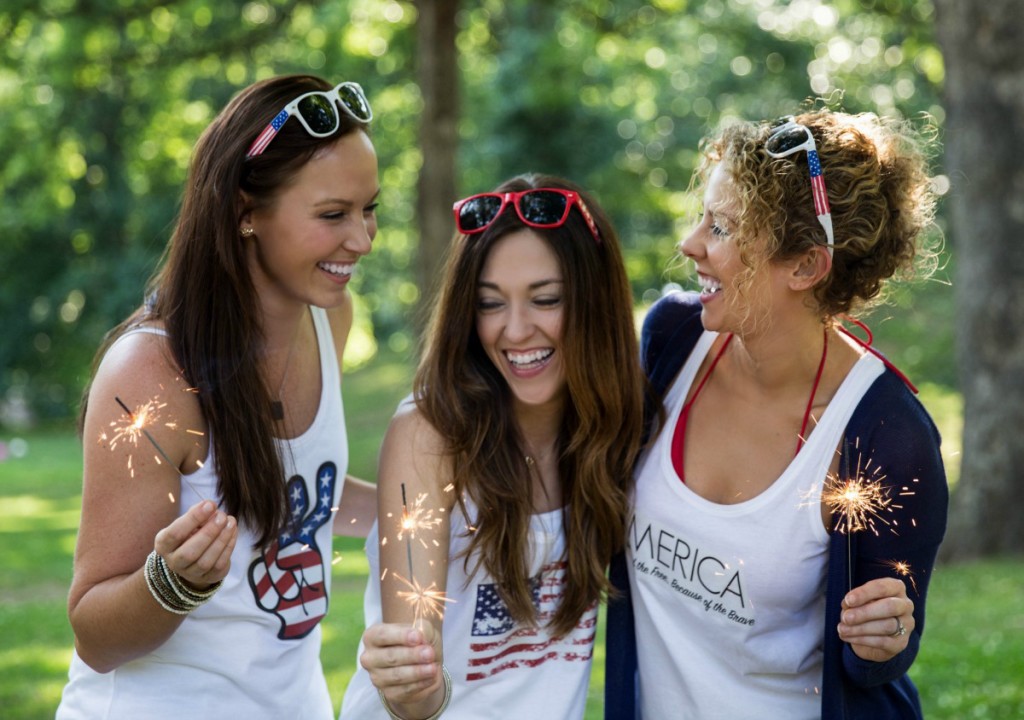 Check out my DIY 4th of July Tanks or Tees to get the designs like you see above!
Besides making these DIY Patriotic Sunglasses as a fashion statement, you can also use them as:
Party Favors/Activities – Let guests create their own design.
DIY Gifts – Personalize it initials.
Summer Activity for Kids
Here's another idea – these fun Pineapple Sunglasses I did for a Bridal Shower…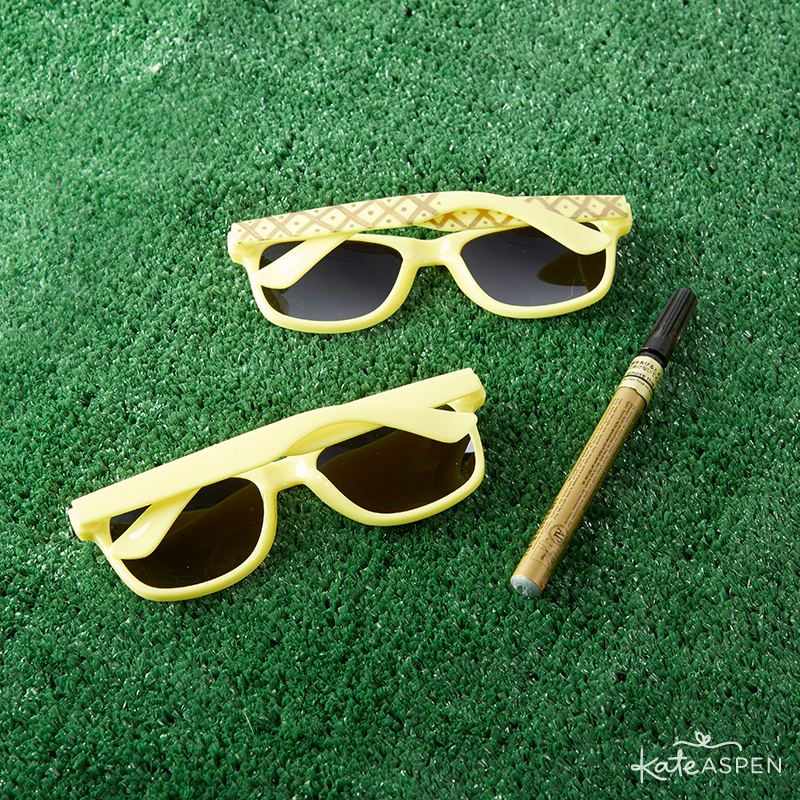 See the rest of the Pineapple Bridal Shower HERE.
If you make these, I'd LOVE to see a snap of them! Just tag @PartiesforPennies on Instagram or Facebook!
Want to say a big thank you to my gorgeous models – Allison Farmer & Kate Caldwell (Kate does the facebook postings for P4P), and the photographer for the pictures of us in the sunglasses – Morgan Turnipseed. You girls rock!!
ONE MORE THING…Every Friday, I host a #PartyonFriYay on Instagram and I'd love for you to join! Just post a picture showing how you #PartyonFriYay – cocktails, coffee, doughnuts, yoga, nails, by the pool, hanging with your girls, whatever! Tag @PARTIESFORPENNIES and I'll share my favorites throughout the weekend! Hope you can join the party!
Now…Party on! ;p