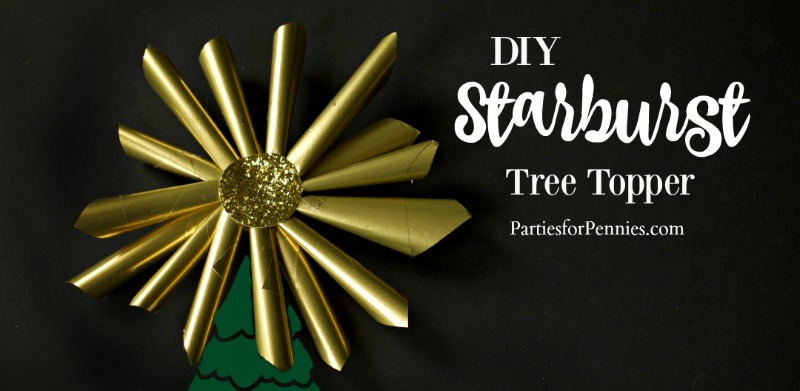 07 Dec

DIY Starburst Tree Topper

Hey party people!

Hope you're having a great Holiday season. I always struggle with the tree topper. What to do…what to do?! As a child, we had this light up angel as our topper which was beautiful. As an adult, I like to decorate my tree differently every year and love for my topper to match. Of course, this is Parties for Pennies and I don't really want to spend $50 on a new tree topper each year. So, two years ago I made this DIY STARBURST TREE TOPPER out of wrapping paper and gold card stock.
Yep…it literally cost me pennies. Here's how you can create one yourself…
Steps:
1| Cut your wrapping paper into 6″x4″ rectangles. You can make these larger or smaller depending on the size you want your starburst to be.
2| Wrap the paper into a cone shape and tape to hold.
3| Cut two circles out of your heavy gold sparkly card stock. My circles were 2.5″ in diameter. I used the circle cutter below.
4| Once you have enough to create an entire starburst (generally about 10-20), use the hot glue gun (be very careful) to attach to the back of one of your card stock circles. Keep attaching these around the circle until you've covered the circle.
5| Use the hot glue gun to attach the other card stock circle on top of the cones you just glued.
6| I was able to attach my Starburst to the top of my tree by inserting a branch in one of the cones. If you want to secure it better, add a piece of wire/ribbon with hot glue to the back of your starburst and tie to the top of your tree.
See, isn't that so easy?
Stay tuned for more fun Christmas projects that will help you save money and are really easy. It's part of Parties for Pennies' 12 Days of Christmas Video Tutorials. Subscribe to the Parties for Pennies YouTube channel to get the videos first.
As always…Party On!