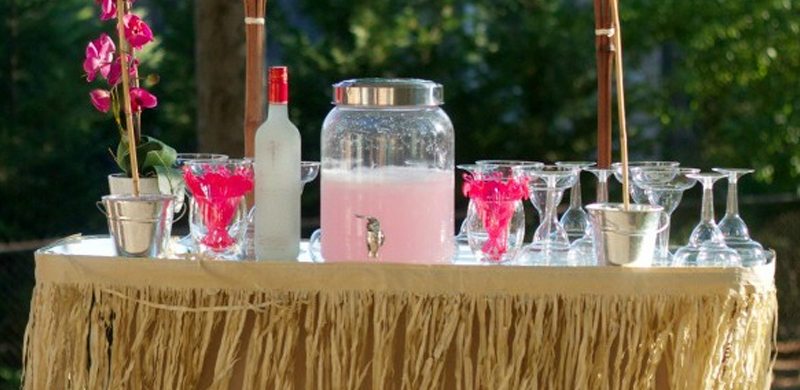 21 May

DIY Tiki Hut

Disclaimer: This isn't technically a sponsored post, but Party Pail did send me their brown tablecloths. They didn't ask me to do anything specific with it, but I wanted to be clear that I did receive a complimentary product in this post. As always, all opinions and ideas are mine. 

Hey party people!

We are continuing to talk about summer parties here on Parties for Pennies. Check out these fun mini dessert recipes and paper party decorations from earlier posts.

What says an outdoor party more than a tiki hut?! If you don't have the space or funds to store a tiki hut for your outdoor parties, why not DIY one?!
I knew I wanted to create my own tiki hut for a recent party I threw. "How to creat it" was the question I needed to figure out. I wish I could say I put on my thinking cap and solved it by myself, but it took 4 brains to figure this one out. It took my MIL, Joe (her husband), Mike (my husband), and myself to figure this one out. And if I'm being completely honest…Mike and Joe were the main problem-solvers.
I'll share how we figured it out, but you may be able to come up with an even better way.
DIY Tiki Hut Supplies: 1| Foamboard 2| Paper Tablecloth 3| Packing Tape 4| Cable Ties 5| Scissors 6| Pails 7| Bamboo Sticks 8 | Sand
STEP 1: Cut the tablecloth in strips.
STEP 2: Beginning at the base of the foam board, fold one of the tablecloth strips so that it forms a pleat. Secure with a piece of tape along the top. Continue folding the strip into pleats across the foam board and securing with tape.
STEP 3: Take another strip and do the same thing above it, covering half of the first strip. I ended up doing three rows of this.
STEP 4: Using a final strip of tablecloth, layer it on top (securing with tape), to cover the rows of pleats.
** Normally, I have photos of these steps, but I honestly wasn't sure this was going to work out. I apologize if this is hard to follow. 
Now, you have to construct a frame so that this can rest on a tabletop/bar.
We used some bamboo sticks I had to create this frame. The cable ties were what we used to connect these, then we taped the foam board to the frame.
Now…how do you keep it up on a tabletop or bar? I used 4 small pails, filled with sand, to anchor the bamboo poles. If yours is a little top heavy, you can always add some rocks to the pail.
I know this was a little more complicated than some of my other projects, but it was a great addition to this party. I can't wait to share the rest of the party with you next week.
Until then, Party On!