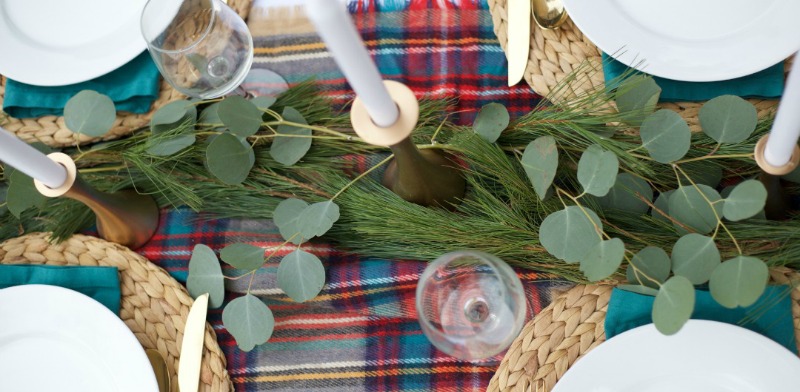 10 Dec

Easy Holiday Tablescape – How To Video

Hey party people!

Video #3 in our 12 Days of Christmas Video Tutorials is here! This is a must-watch because EVERYONE will have to set a Holiday or Christmas table at some point in their life. Here's an idea that doesn't cost but a few dollars and is so easy. Check out this How to Video for an Easy Holiday Tablescape.

See how easy it is. In case you missed it, here's what you'll need to create your own…
Here are the links to the specific things I used:
SCARF | CANDLE HOLDER (something similar) | PLACEMAT | NAPKINS | PLATES | GOLD FLATWARE | WINE GLASSES | GOLD PAINT PEN
I got my garland and eucalyptus at Trader Joe's. To save even more money on the greenery, snag some leftover Christmas tree branches from your local hardware store or Christmas tree lot. Make sure to rinse off your greenery, then let it dry before adding to your table.
For your place setting, I just grabbed a few leaves off a tree in our backyard and wrote each person's name with a gold paint pen. Magnolia leaves work great for this, too.
Stay tuned for more Christmas projects and recipes to get you through this season! Subscribe to the Parties for Pennies YouTube channel to be the FIRST to get the latest video.
Happy Holidays & Party On!