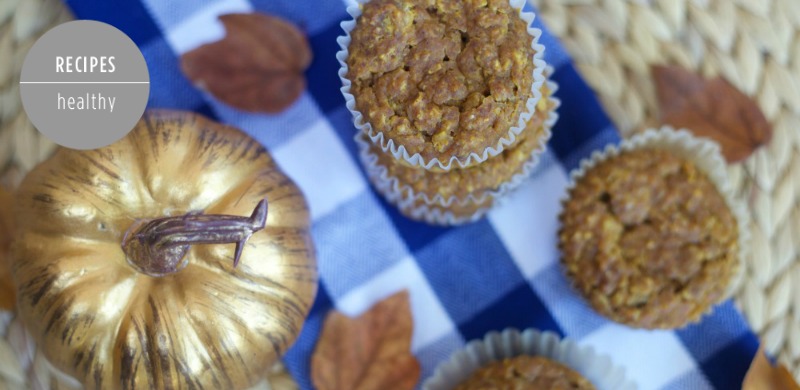 18 Oct

Gluten Free Pumpkin Oatmeal Muffins

Posted at 18:41h

in

Gluten Free

,

Gluten Free Recipes

,

Healthy

,

Healthy Recipes

,

Holiday Parties

,

Holiday Party Recipes

,

Holidays

,

Party Ideas Page

,

Recipes

,

Recipes Page

,

Showers

2 Comments

Hey party people!

I had some leftover pumpkin puree from my Gluten Free Pumpkin Cinnamon Roll recipe I posted a couple weeks back, so I was experimenting with a healthy recipe that could be a quick breakfast. What resulted were these delicious Gluten Free Pumpkin Oatmeal Muffins.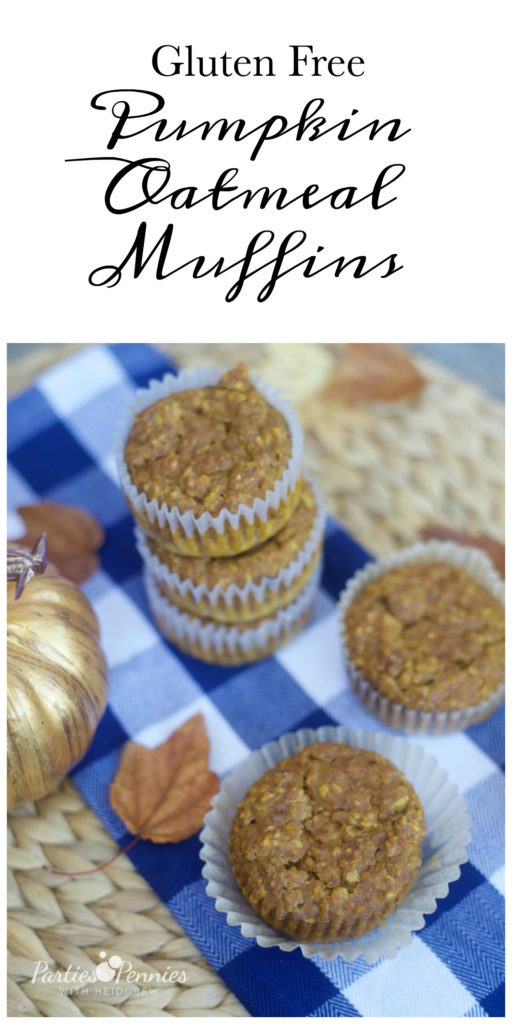 They're no cinnamon roll, but if you want the taste of fall packed into a healthy, refined sugar free breakfast food…this is it! I've loved having these stocked in the fridge, when I've got to do breakfast on the go. They can even satisfy that sweet tooth. They're only sweetened with organic pure maple syrup so they're not overly sweet. I think it's just enough.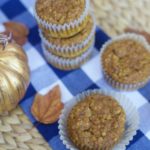 Gluten Free Pumpkin Oatmeal Muffins
2016-10-18 11:36:30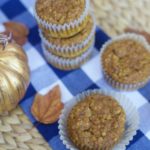 Serves 12
These healthy gluten free pumpkin oatmeal muffins are a perfect brunch or breakfast recipe, or great for a quick breakfast on the go. No refined sugar, protein packed walnuts, flax seed, and dairy free.
Ingredients
1 cup gluten free oats (quick or old-fashioned)
1 cup gluten free all-purpose flour
1 tsp. baking soda
1 tsp. baking powder
1/8 cup ground flax seed
2 tsp. cinnamon
Pinch of Salt
1 cup almond milk
1 egg or 2 egg whites
1/2 cup organic pure maple syrup
1/2 cup applesauce
1 tsp. vanilla extract
1/2 can (15oz) of pumpkin puree
1/2 cup raisins
1/2 cup walnuts, chopped
Instructions
Preheat the oven to 375
Line a muffin tin with muffin wrappers.
Mix the milk with the oatmeal and let sit for a few minutes.
Add the dry ingredients (minus the nuts and raisins) together in a bowl. Set aside.
Mix the egg, syrup, applesauce, and vanilla together.
Then add the oats mixture and pumpkin to the egg mixture.
Fold in the dry ingredients.
Finally, add in the raisins and walnuts.
Scoop batter into the muffin tin.
Bake for 15-20 minutes.
Parties for Pennies https://partiesforpennies.com/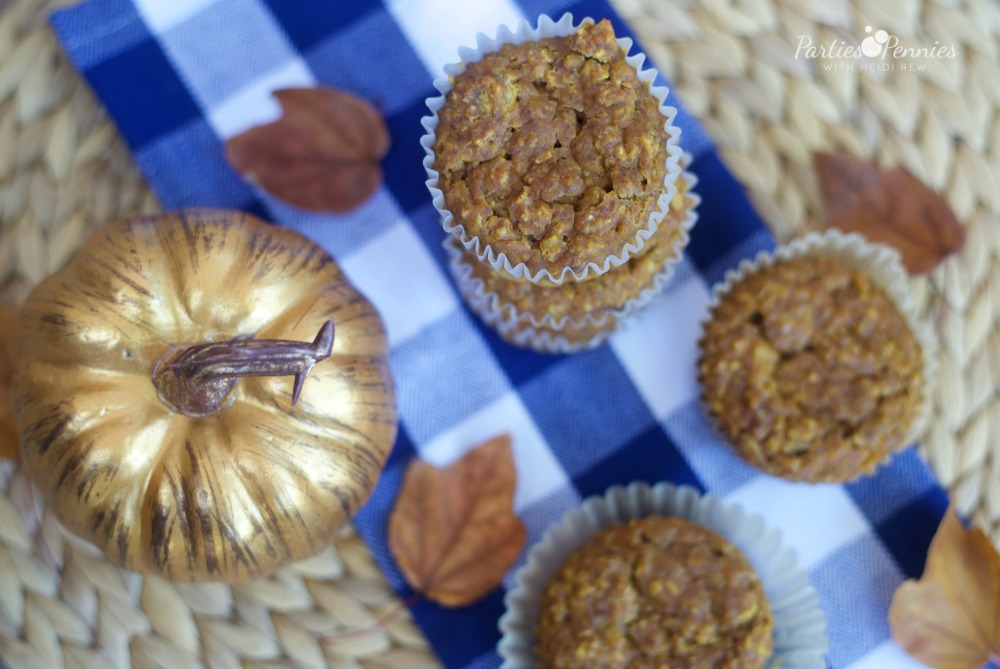 I have been wanting to try them with a little coconut milk whipped topping. Doesn't that sound great?!
These Gluten Free Pumpkin Oatmeal Muffins would be great served at a brunch (bridal or baby shower) for a healthy option! Of course, they also go great curled up with coffee, a blanket, and a lazy Saturday morning.
If you're one of the Pumpkin-everything lovers, check out this healthier version of the Pumpkin Spice Latte! Yum, yum. And, just so you know, I don't judge you for your pumpkin love. I'm all about it too…I don't care how many memes make fun of us!
Hope you have a great Fall week! Party on!