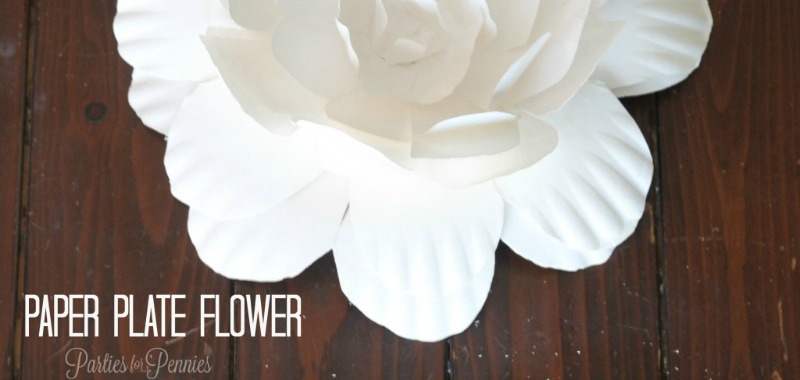 02 Apr

How to Create a Flower from a Paper Plate

Hey party people!

Who loves flowers?? I adore them. However, my budget does not feel the same way. At least it doesn't agree with how MUCH I love flowers! If I could, I'd have them in every room of our house every day. Not in the budget.

When it comes to parties, my love for flowers further surfaces. Flowers can really add a lot to a party but this is Parties for PENNIES, so here's a fun project that will allow you to have your flowers & keep your money too.
This is what you need:
Paper plates, scissors, a stapler and a glue gun.
1. Fold the paper plate in half.
2. Fold the paper plate in half again.
3. Cut out a heart shape.
4. Cut a slit down the middle of the heart but not all the way through.
5. Unfold this and cut slits in between all the "petals."
*Tip: I did two plates at a time to get it done faster*
6. Do the same thing a few times (or twice, if using two plates at a time) but make the "hearts" smaller. I did two larger ones for the base and curled them down (by curled, I mean just bended them down). Then I did two medium and two small sizes. Once I had them cut, I tried to alternate the petals in between each other. Fluff the petals by curling some up and some down. Once you have them placed how you'd like, staple them in the middle.
7. For the center of the flower, take one of the scraps from your previous cuts and cut a scalloped edge around the groves of the plate.
8. Cut across the bottom of the scallops so you have about a 1/2 inch space.
9. Bend the bottom of the scallops so they have a way to sit on the flower. To bend them into a circle, cut small slits along the bottom. Use a glue gun to secure to the center of the flower.
Now you've got a gorgeous white blooming flower that only cost you the price of a few paper plates.
I think my budget will be okay with this kind of flower…and your party budget will too. I can't wait to show you how I used these in a baby shower I threw last weekend. I'll be back with all the pictures this Friday.
Until then…
Party. On.
p.s. This is YOUR official invite to the party… on the PartiesforPennies facebook page! Click here.