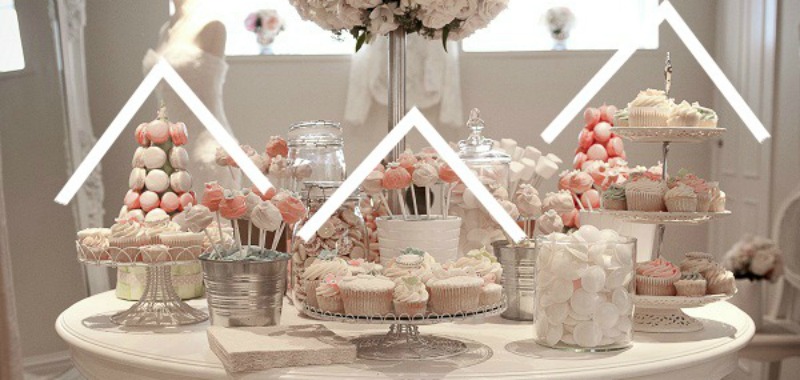 08 Apr

How to Set Up a Dessert Table

Hey party people!

Hope you had an awesome weekend! I just got back in town from my sister's bachelorette weekend in Gulf Shores and came back to beautiful weather here in Atlanta.
My sister & I (we had a Victoria Secret themed lingerie shower so I got her angel wings to wear out)
It was so beautiful when I got back, Mike cooked out on the grill. He makes the BEST steaks (I'll have to give you his marinade recipe one day). It was great to catch up with my husband after a long weekend away. I feel so lucky to have him…
…he's quite the multitasker, too. ;p
Hope your weekend was awesome as well!
Every Monday, I've been posting party info for the most asked party questions. I've been calling them party ponders. You can find out When to Send out Invitations, How Much Food to Prepare, a Party Budget Guide & Printable, and the #1 Party Tip.
Today, I want to talk about How to Set up a Dessert Table. If you've spent any time at all on Pinterest, you'll see some gorgeously styled dessert tables. Did you know that YOU can actually create one just as beautiful?
You can…and here's a little rule that will help you get started.
The INVISIBLE TRIANGLE rule. 
This helps guide the way you set up your table. There are three main different variations.
The invisible triangle guides the shape of your set-up. The above diagram shows a single triangle. You create a visually-pleasing set-up by having a center focus that's higher than the rest of the items. The remaining items descend from the center.
Here's an example from the Mad Men Party I threw last year. The cake is at the top of the triangle (or the focus), the pretzels descend from there and the cupcakes & mousse create the base.
Here's another example from a party on RealSimple.com. Not only does the cupcake stand create the focus, the backdrop accentuates it.
This is the single upright triangle set-up but you can also do an inverted triangle set-up.
An inverted triangle set-up uses two anchors on the side and then descends to the center from there.
You can use accessories, like the sailboat and lantern above, as your anchors or other menu items. In the above picture from CatchMyParty.com, you can see how they use various menu items and accessories to create an inverted triangle. The backdrop accentuates the table set-up here, as well. (Side note: In the words of Liz Lemon, "I want to go there." What a gorgeous event area or home!)
The final set-up option is multiple triangles. This allows several different items to become the focus. For a more visually-pleasing set-up, try and keep the amount of menu items to an odd number.
Overall, you could say this follows the single invisible triangle rule but there are also a lot of smaller triangles that look so beautiful on this round table.
The multiple triangles allow this table to be visually-pleasing no matter where you're standing. This would also be beneficial for a long buffett table that people would be viewing multiple sides.
Understanding the basic triangle options, gives the foundation you need to determine a menu and decorating accessories. From here, use your creativity to create your own swoon-worthy, Pinterest-pinning dessert table.
I'll be back this week to share an easy DIY project I did for the Watercolor Baby Shower that really helped my budget!
Until then…party on!
p.s. This is YOUR official invite to the party… on the PartiesforPennies facebook page!  Click here.