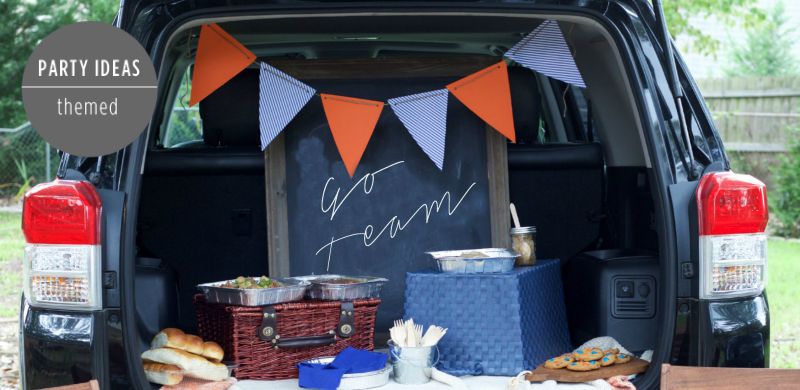 15 Sep

How to Throw a Tailgate Party

This shop has been compensated by Collective Bias, Inc. and its advertiser. All opinions are mine alone. #ShareYourSpirit #CollectiveBias

Hey party people!

We're starting to feel a crispness in the Georgia air, and that means tailgate season is here. Tailgate parties are my favorite part of football season, but they can be tricky. Any time you have to transport a party, there are 100 more details you have to think about on top of just making sure it looks good. Don't worry! I'm going to show you How to Throw a Tailgate Party that's budget-friendly and stress-free.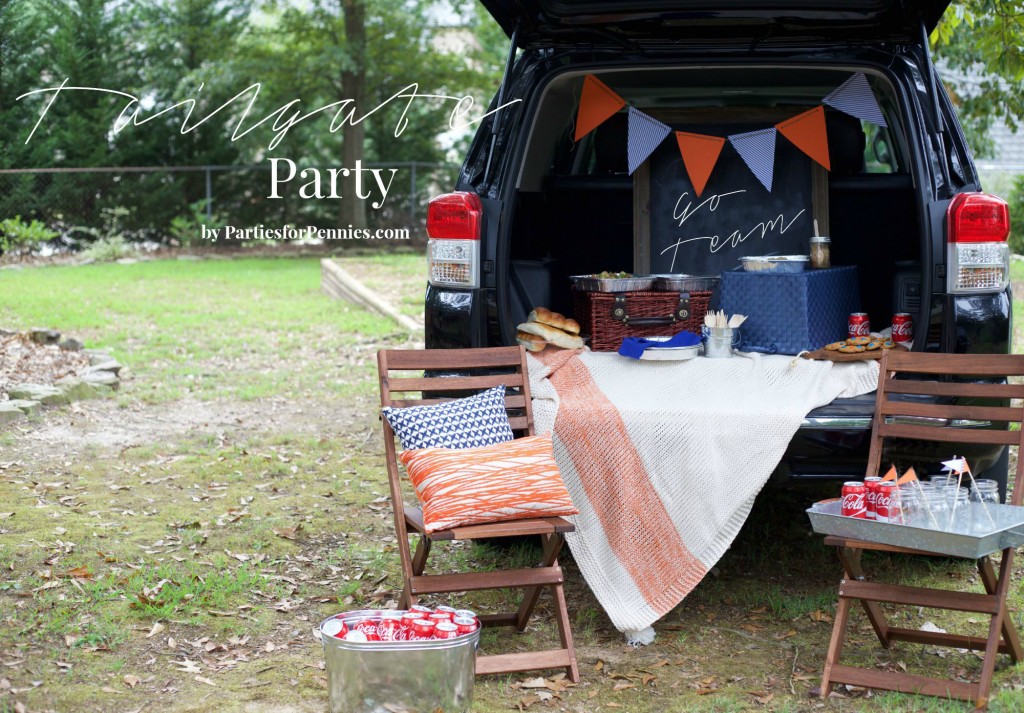 I'll show you an easy tailgate menu, with recipes, a tailgate party in a box, and 2 DIY games you can create with items you have in your home.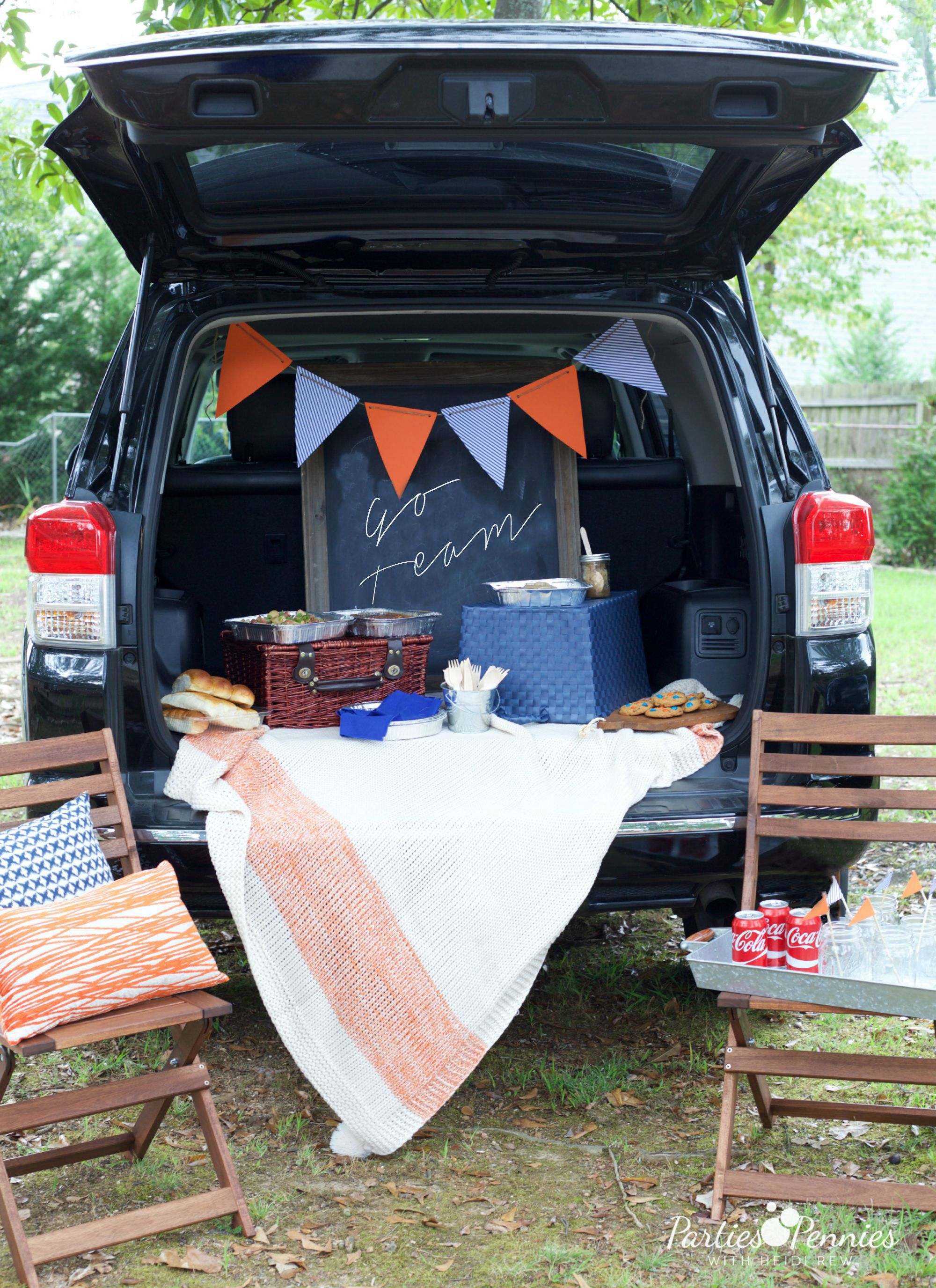 When it comes to food and party supplies, one of my favorite places to shop is Sam's Club. The prices are phenomenal and the quantities are perfect for hosting several guests. They also have a great service that is perfect if you're wanting a stress-free party. Club Pickup is an online service where you can order whatever you need and set a time and day to pick it up. Someone else can even pick it up for you!

My secret ingredient for this tailgate party? Coca-Cola! I picked up enough to use in my recipes and to serve my guests with this 35 pack of Coca-Cola cans from my local Sam's Club.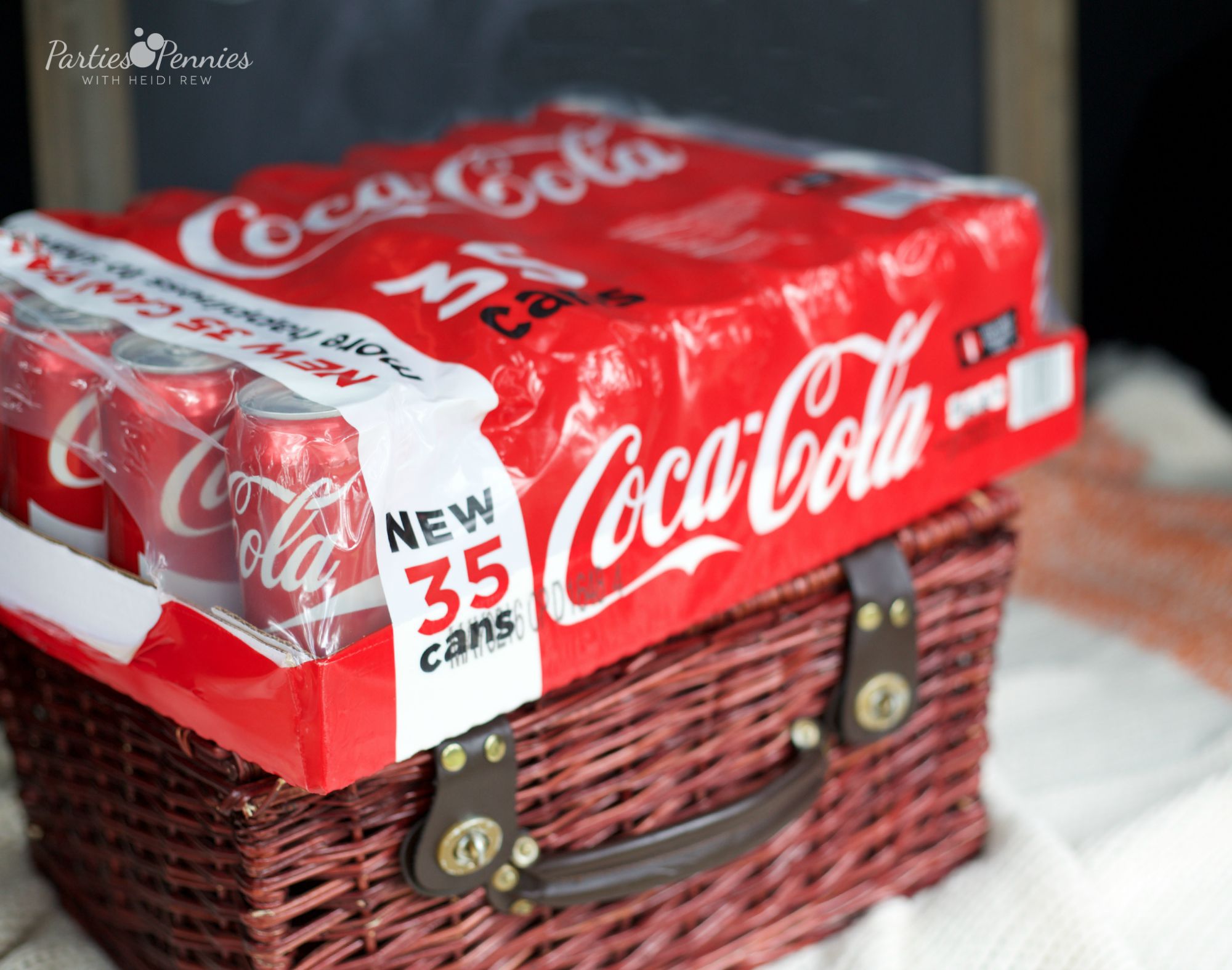 If you're like me, I get shopping ADD when I go to Sam's Club. So, if you get distracted, the Coke is located on aisle 11, next to the sports drinks. You don't have to go far once you're on that aisle. It will be on your immediate right.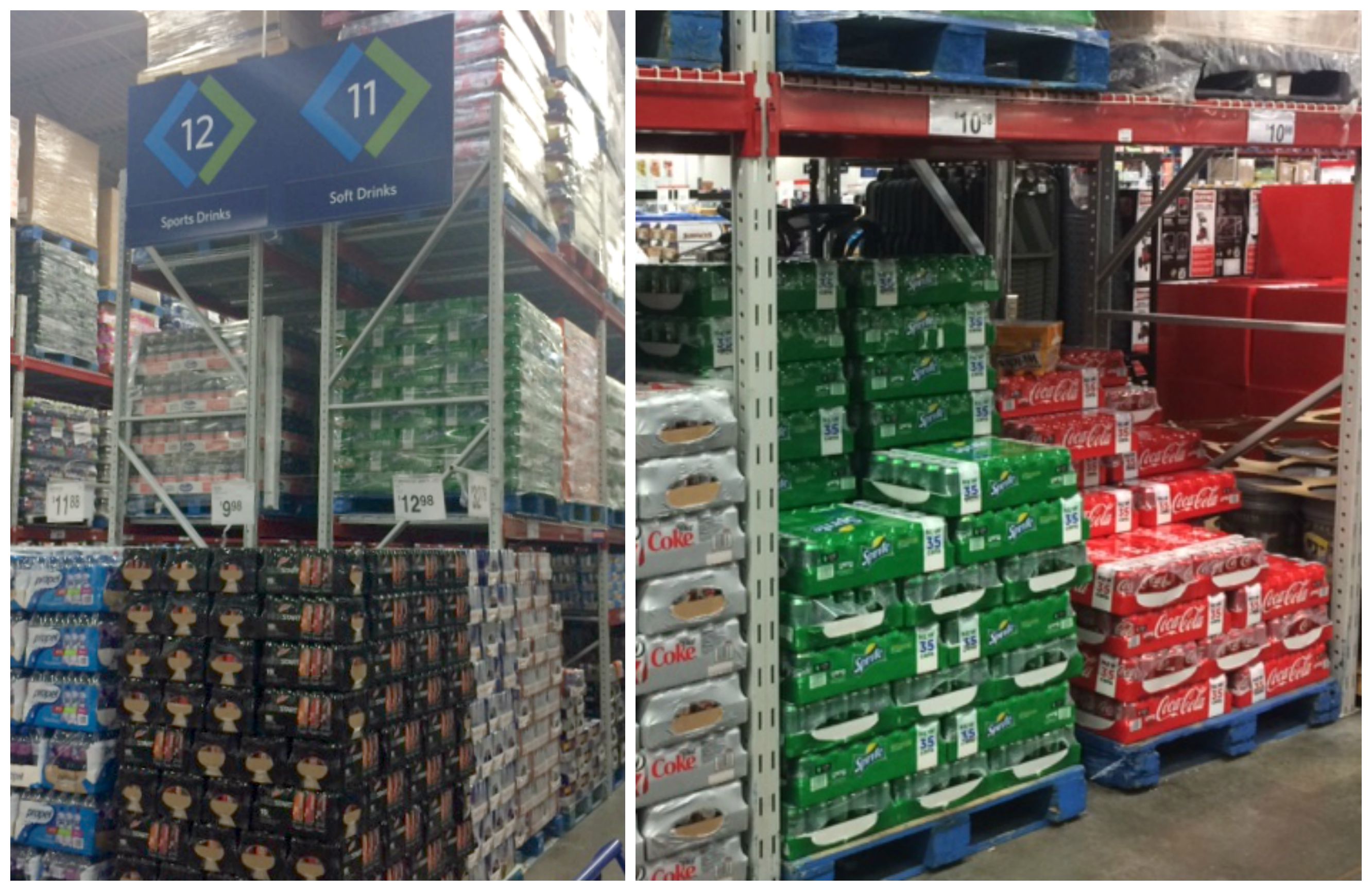 To determine how many cans you'll need, take the number of guests and multiply them by 1.5 then add 4 (for the recipes).
My menu is really easy to make ahead. The only thing I did was grill the bratwurst once we were at the game.
MENU:
Coca-Cola Marinated Bratwurst
German Potato Salad
Coca-Cola Baked Beans
School Color Cookies
DRINKS:
Ice Cold Coca-Cola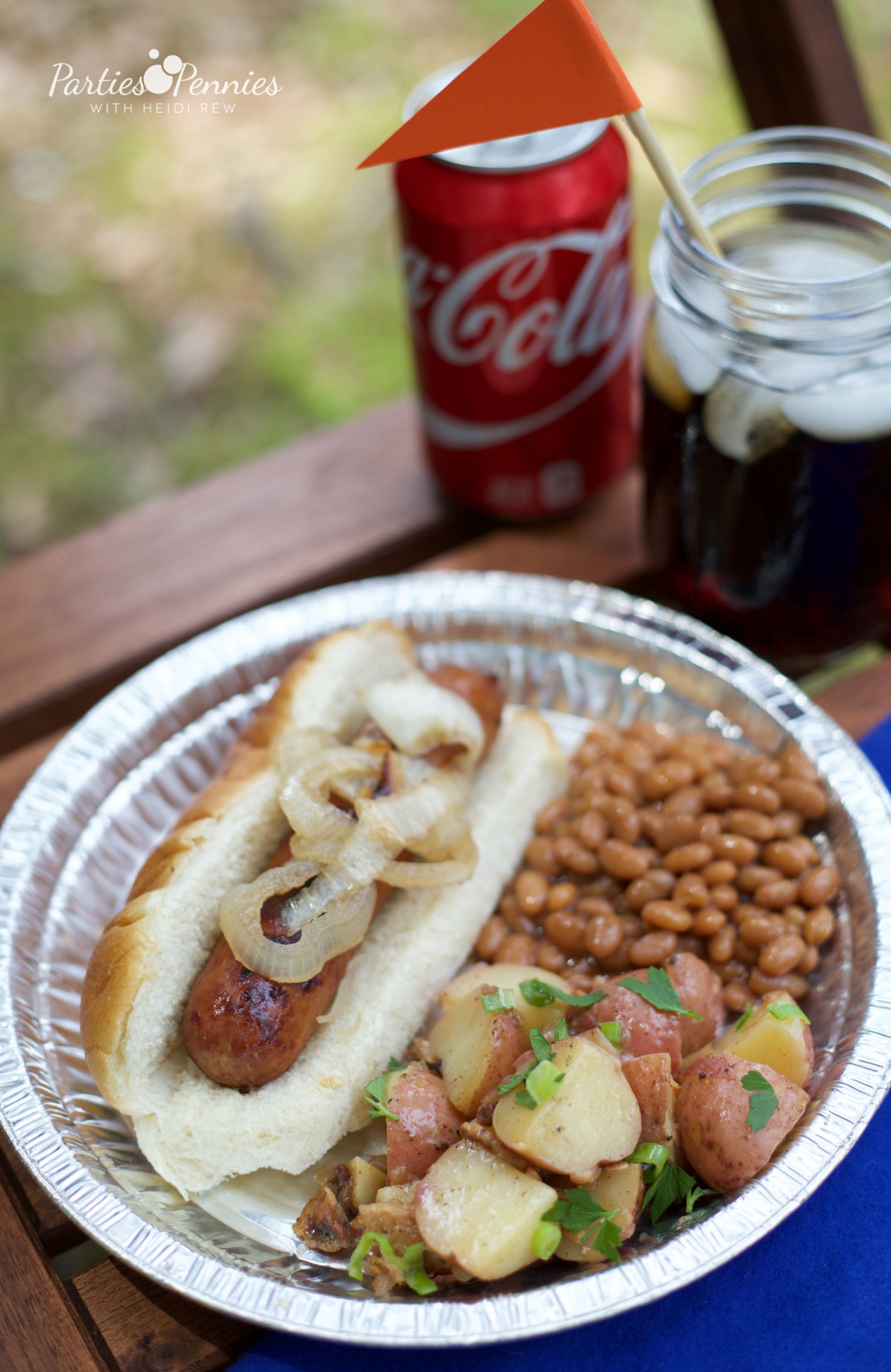 To make your Coca-Cola Bratwurst, you'll need one of those aluminum deep dish pans. Details are in the recipe card, but here are the simple instructions:
1| Slice one onion.
2| Lay half of the slices on the bottom of the pan.
3| Top with your bratwurst.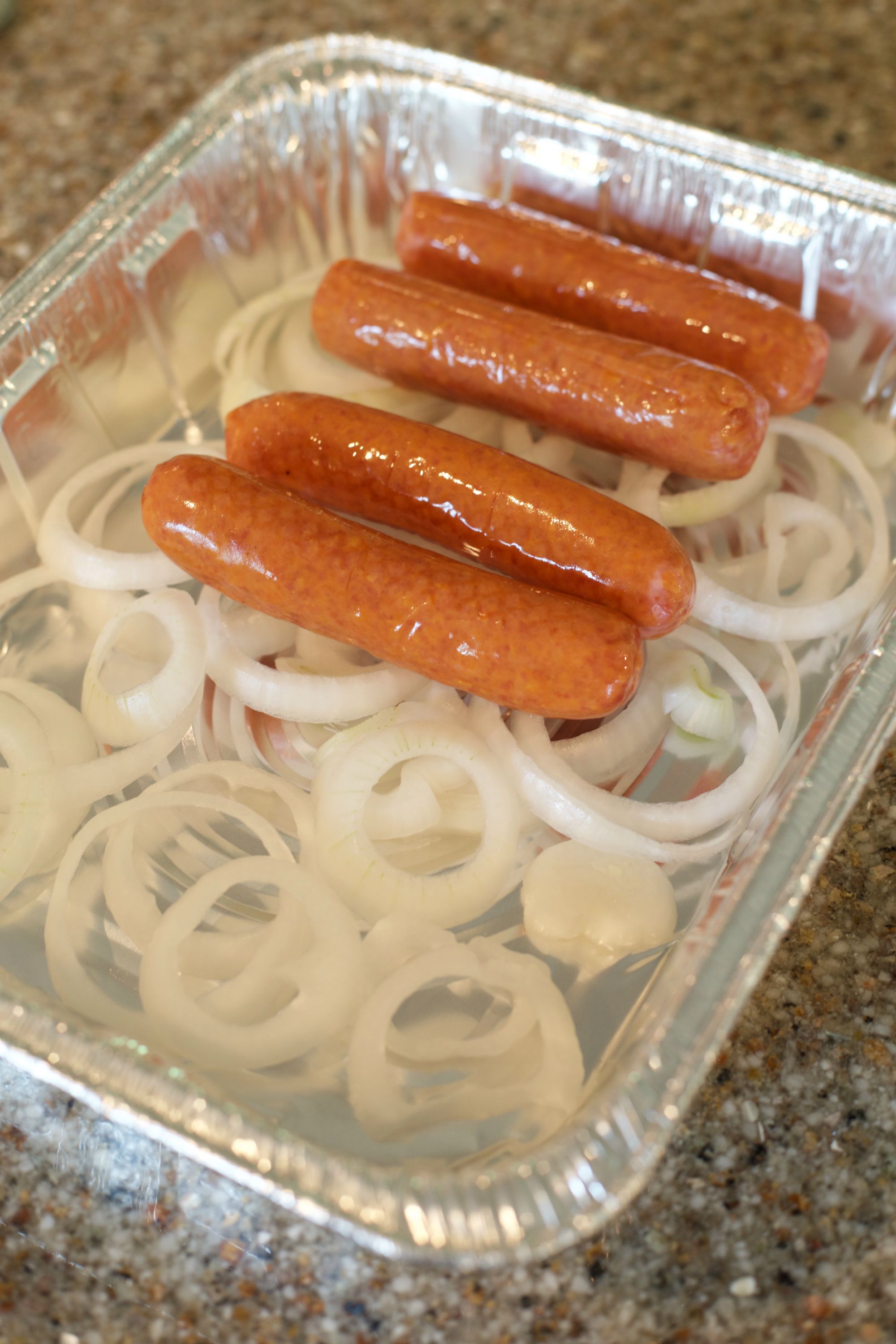 4| Layer with other half of onion slices.
5| Throw on some butter slices (about 1/2 stick).
6| Sprinkle with Creole or Cajun Seasoning, plus Salt.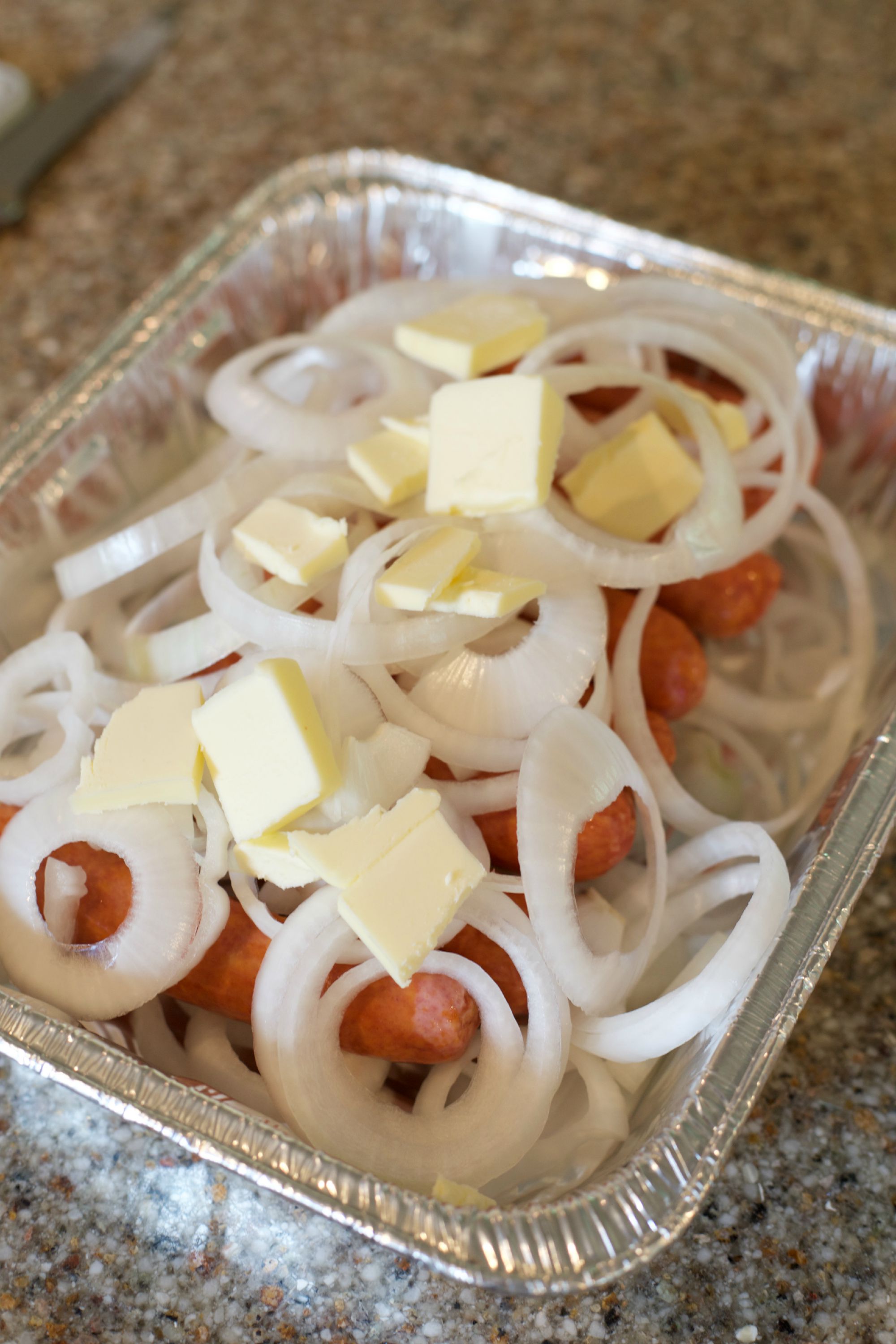 7| Pour 2-3 cans of Coke over it. The coke should fill at least 2/3 of the pan.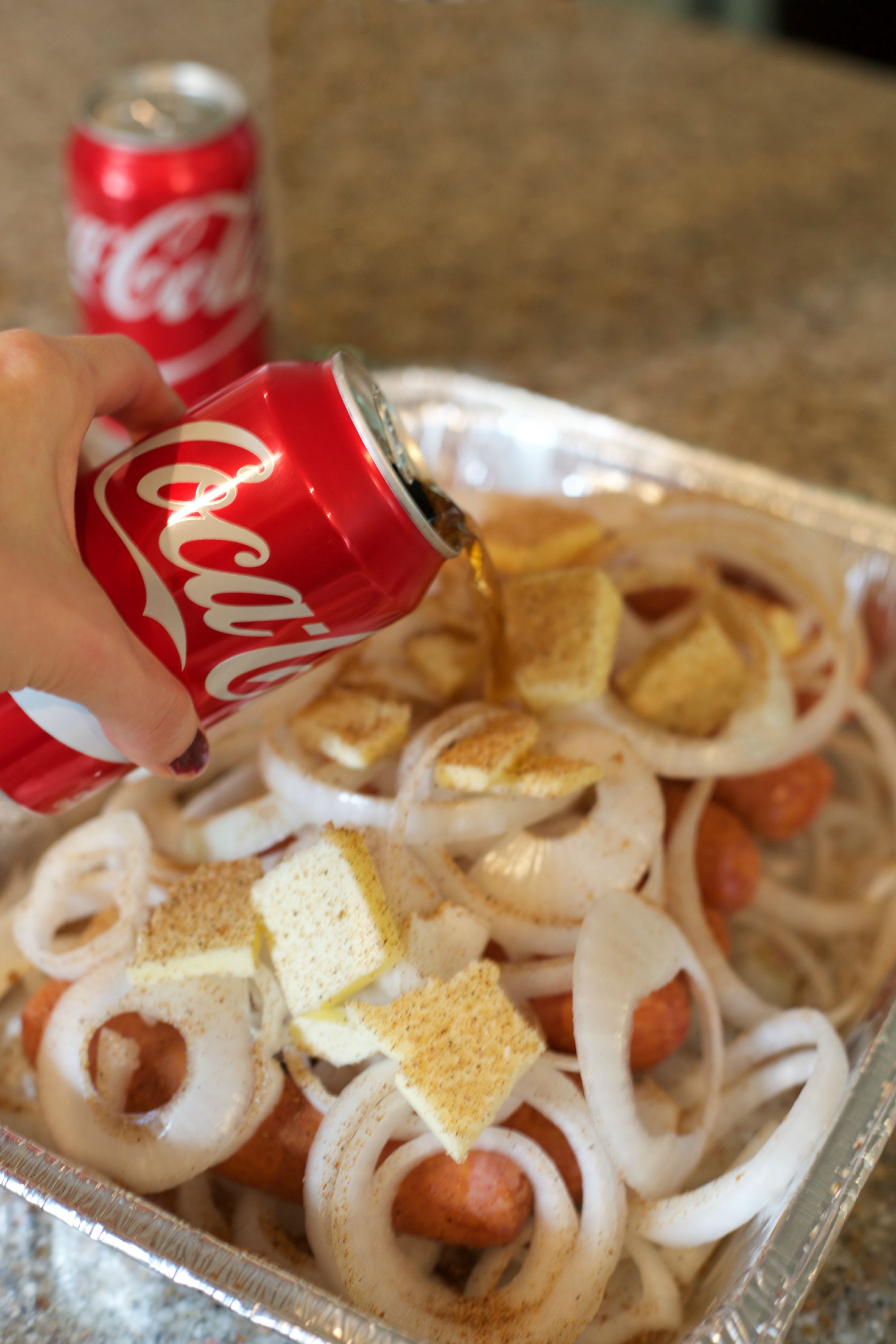 8| Bake at 375 for 40 minutes.
Let sit in hot marinade until ready to grill.
Because of the Coke, the bratwurst have this slight sweet taste to them which is incredible.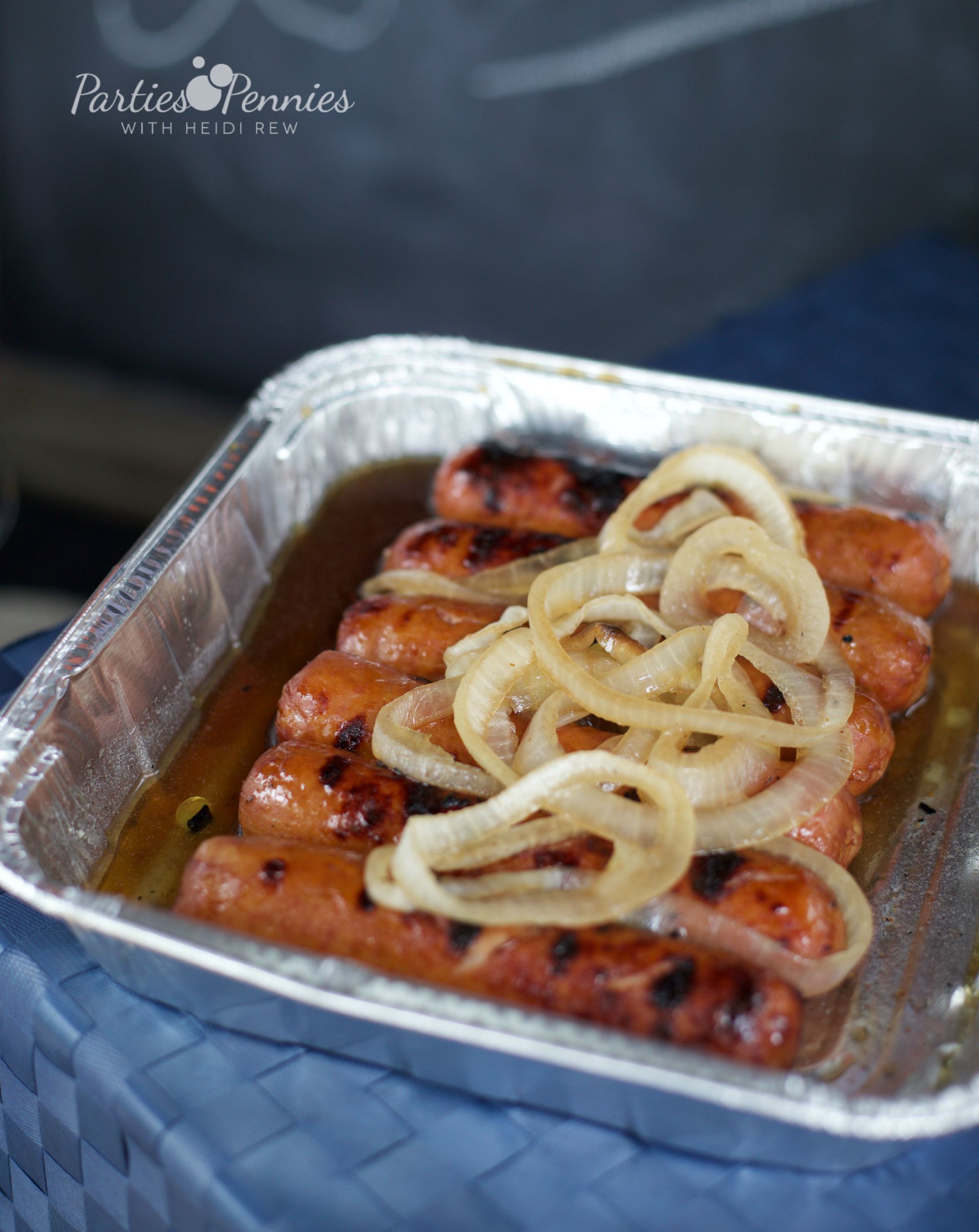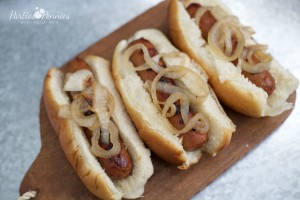 Coca-Cola Bratwurst
2015-09-14 05:36:06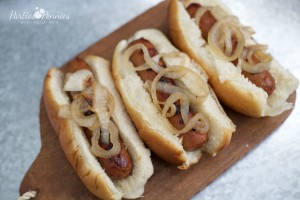 Serves 8
The Coca-Cola gives this Bratwurst a sweet taste that pairs perfectly with the saltiness.
Ingredients
Bratwurst (8-10 brats)
Yellow Onion
Butter (1/2 stick)
Creole or Cajun Seasoning (to taste)
Coca-Cola Cans (2-3)
Salt (to taste)
Instructions
Slice the onion and divide in half.
Lay half onions on the bottom of an aluminum pan.
Top with Bratwurst.
Cover with remaining onion slices.
Add slices of butter.
Season with Cajun/Creole seasoning and salt - to taste.
Pour 2-3 cans of Coca-Cola over all of it. Make sure it covers 2/3 of the pan.
Bake at 375 for 40 minutes.
Grill.
Adapted from Going Like Sixty
Parties for Pennies https://partiesforpennies.com/
German Potato Salad
– I found a recipe online for this one. Overall, it's really easy. Great to make ahead, then serve chilled.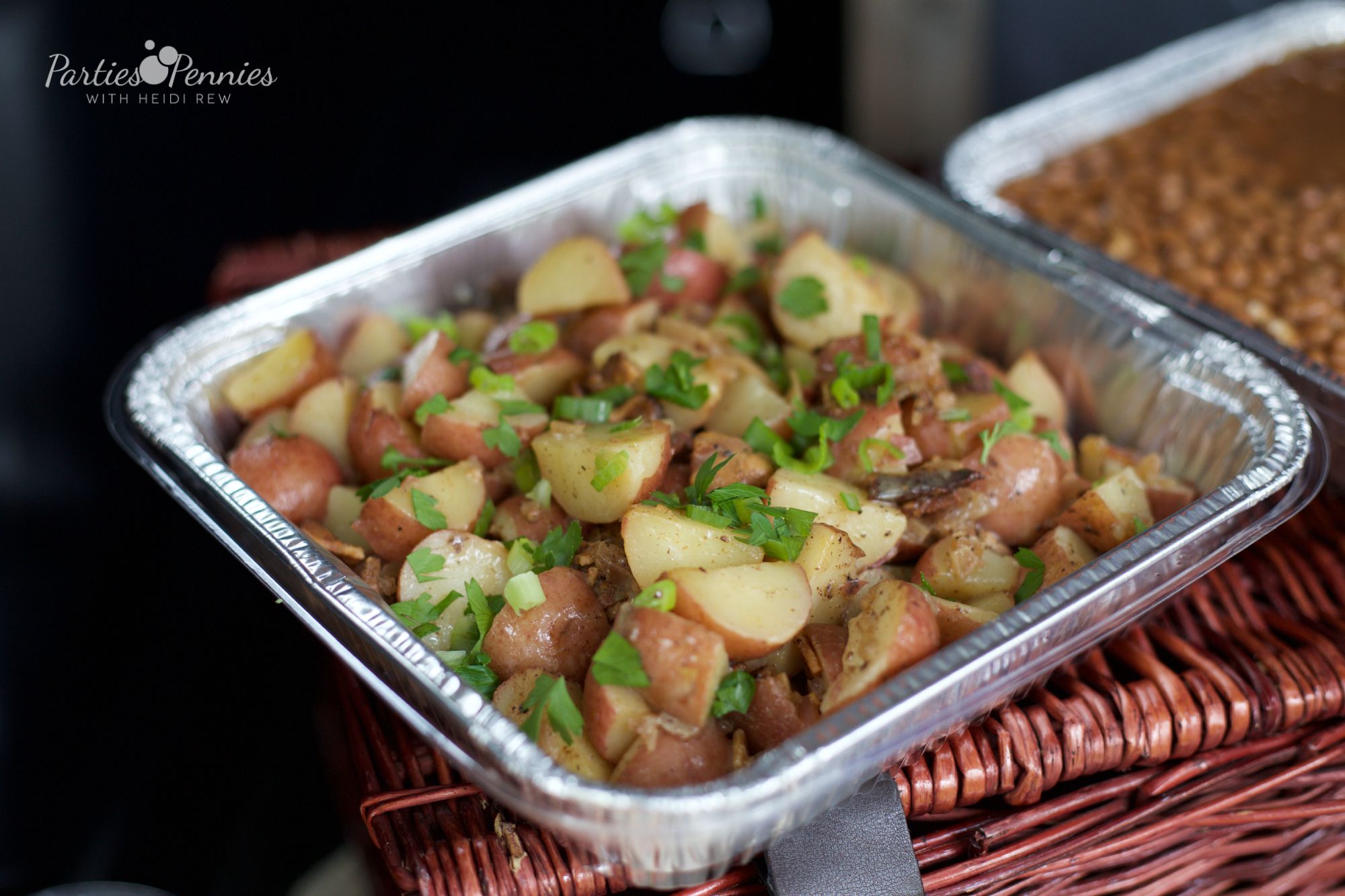 Coca-Cola Baked Beans
I generally add brown sugar to my baked beans, but instead, I substituted Coke. It turned out great! Here's my simple Baked Bean recipe I learned from my mom (so no precise measurements, sorry).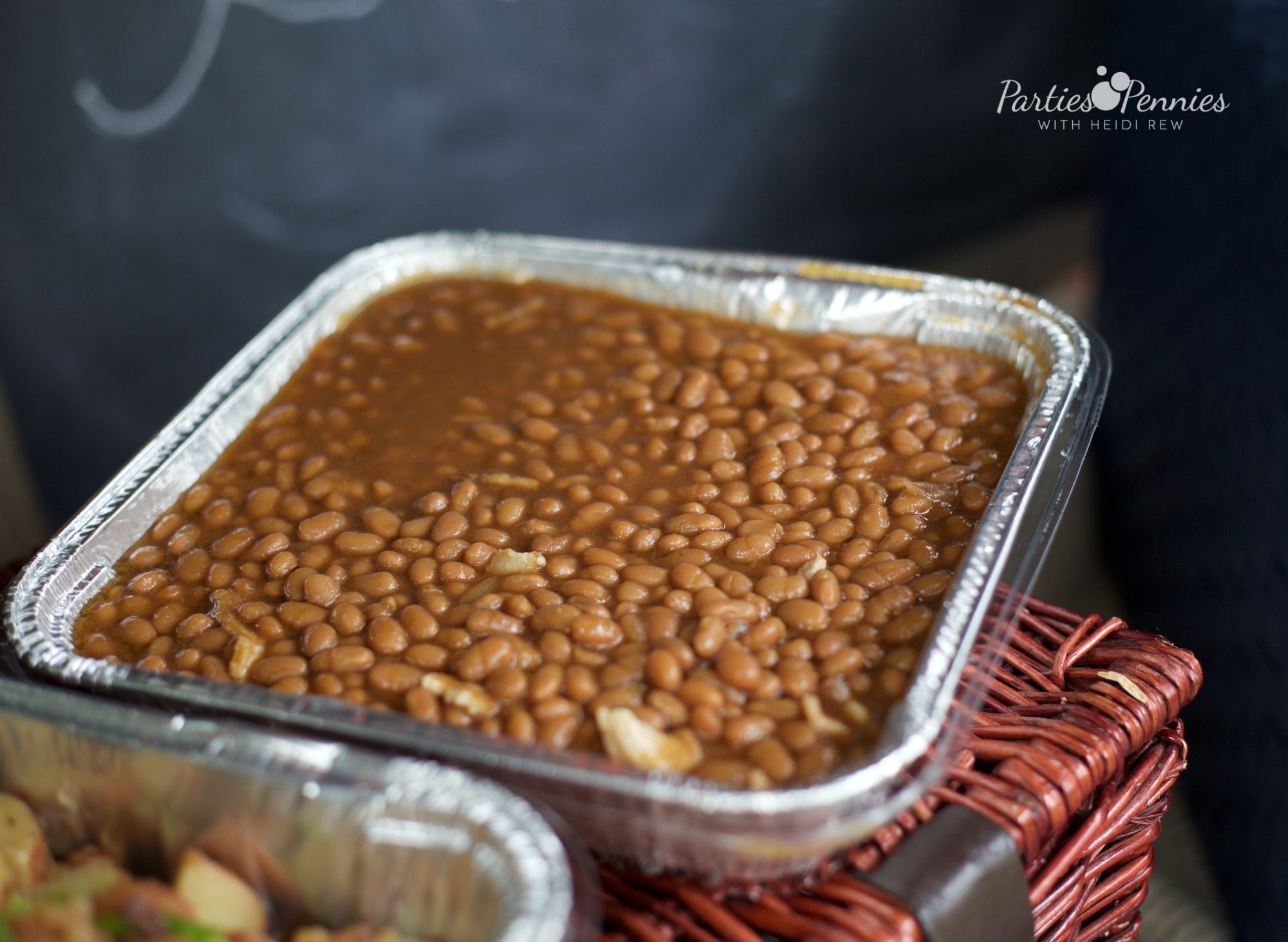 * About 1/4 cup Coca-Cola per large can of baked beans.
* Large squirt of ketchup around the pan (per can of baked beans).
* Small squirt of mustard in the center of the pan.
* Optional: Add 2-3 pieces of slightly cooked bacon slices, cut into small chunks.
* Heat on medium until it slightly boils or simmers.
School Color Cookies
These are super simple to make! Since I'm gluten free, I opted for the gluten-free pre-made cookie dough, but you can use the regular.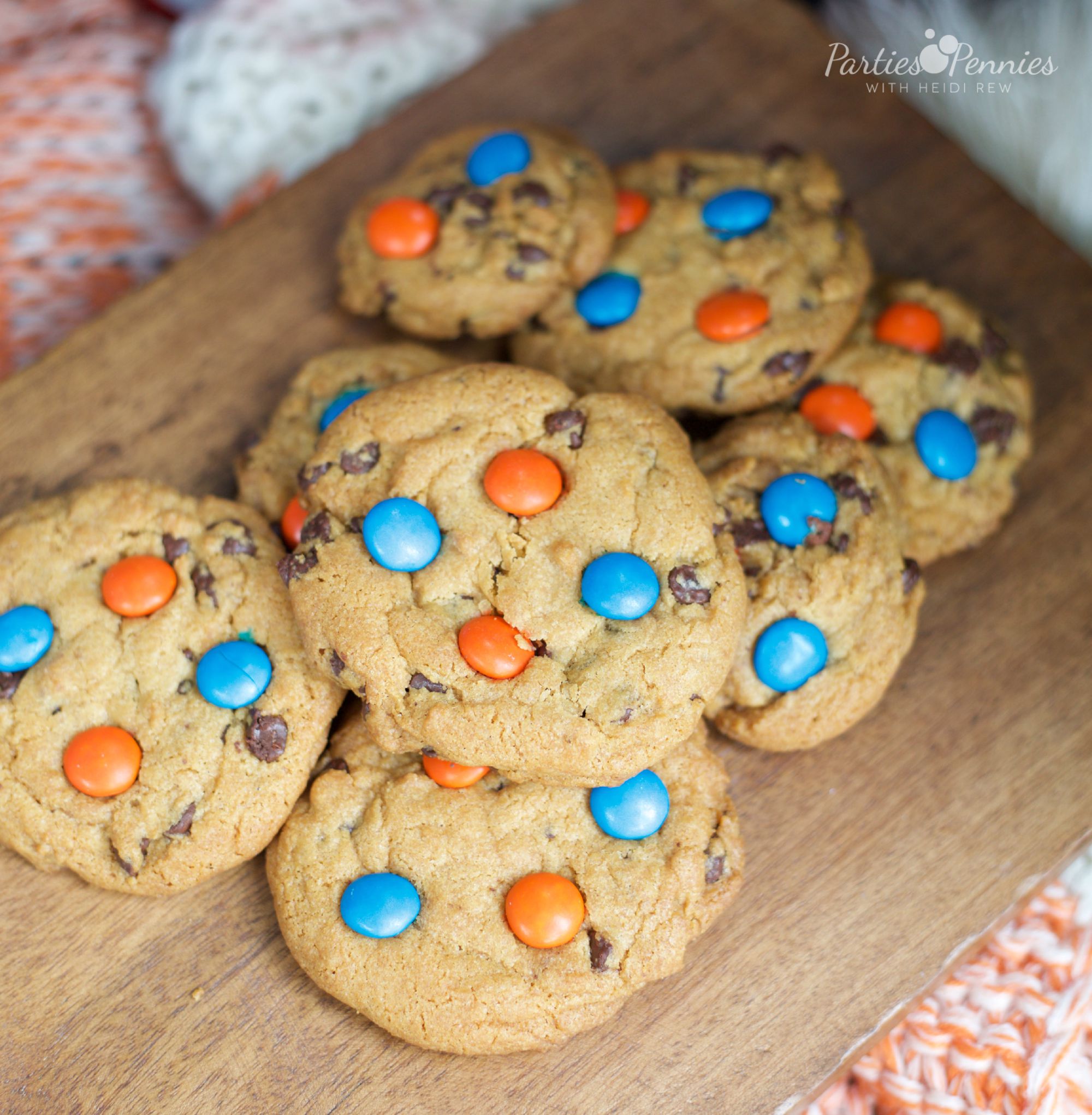 1| Use pre-made cookie dough and cook according to the directions.
2| While it's cooking, separate your school colors from the M&M bag.
3| As soon as the cookies come out of the oven, add your school color M&Ms to the top.
4| Cool & they're ready to serve!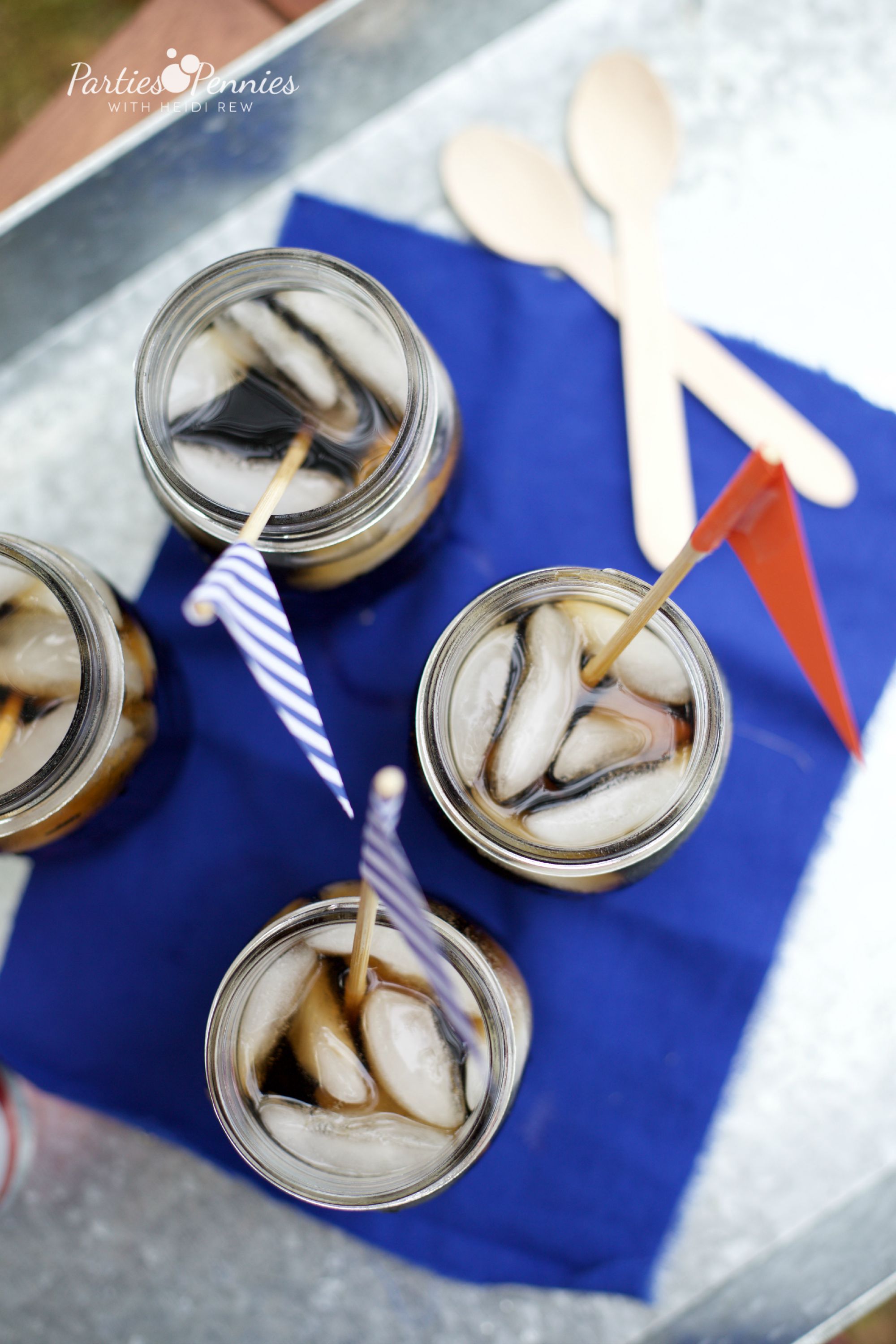 For the DRINKS, mason jars are perfect at a tailgate! They can hold any type of beverage and look great. To cut down on mess, bring along an empty plastic box with lid to toss in dirty dishes.
If you're at a tailgate, chances are you will put down your glass at some point. Keep everyones straight, by making these little drink flags. Write the person's name, initial, or favorite player on the flag.
Those drink flags are one of the things that go in our Tailgate in a Box!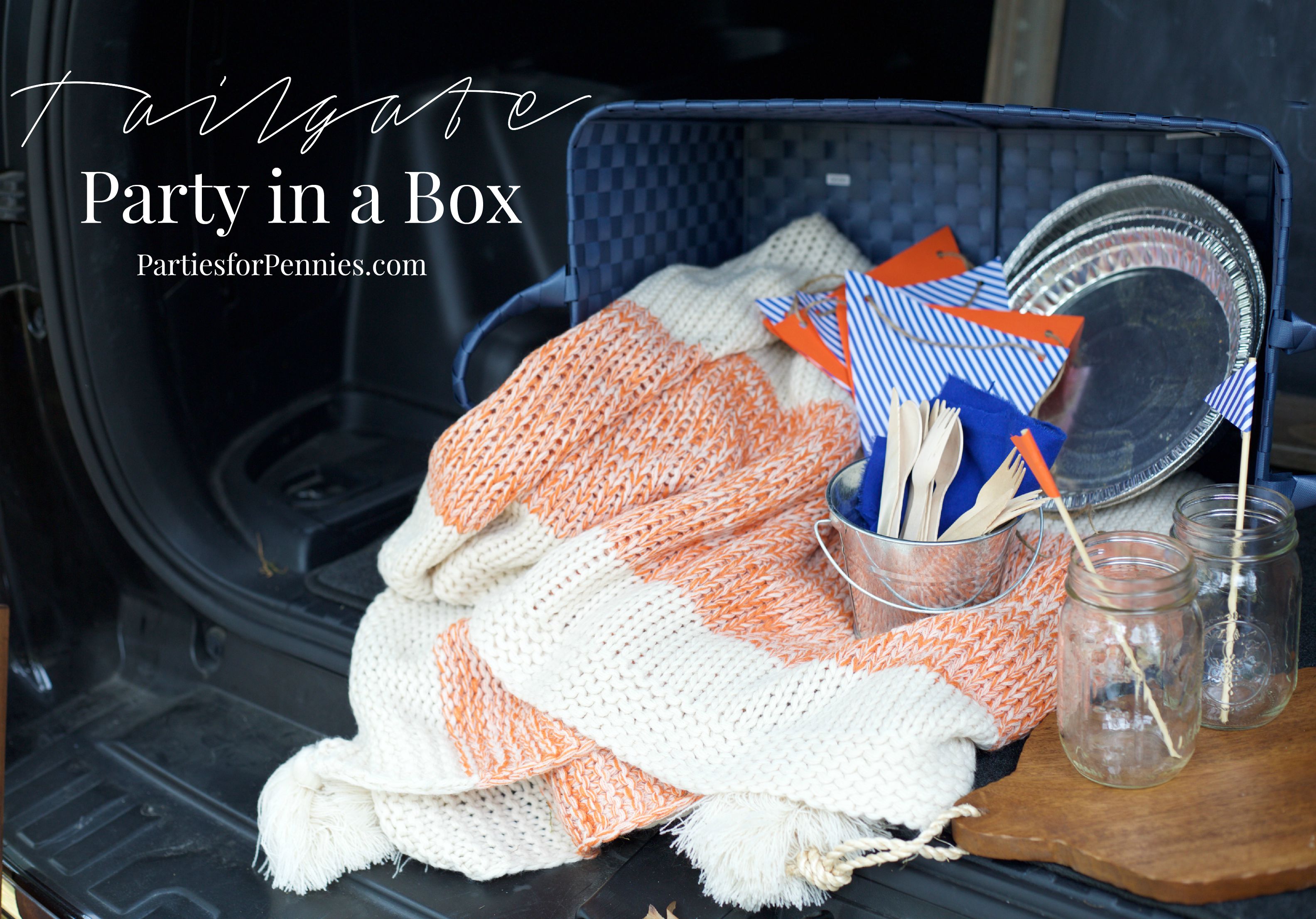 Parties can get complicated so fast. There are so many details. When you're transporting food, drinks, and decorations for a tailgate party, it CAN'T be complicated. So grab a box and a few craft supplies and let's create a simple Tailgate in a Box.
Here's what you'll need:
* Banner – create this using scrapbook paper & twine (or ribbon). Cut out triangles (they don't have to be perfect), punch holes at the top, and thread the twine through.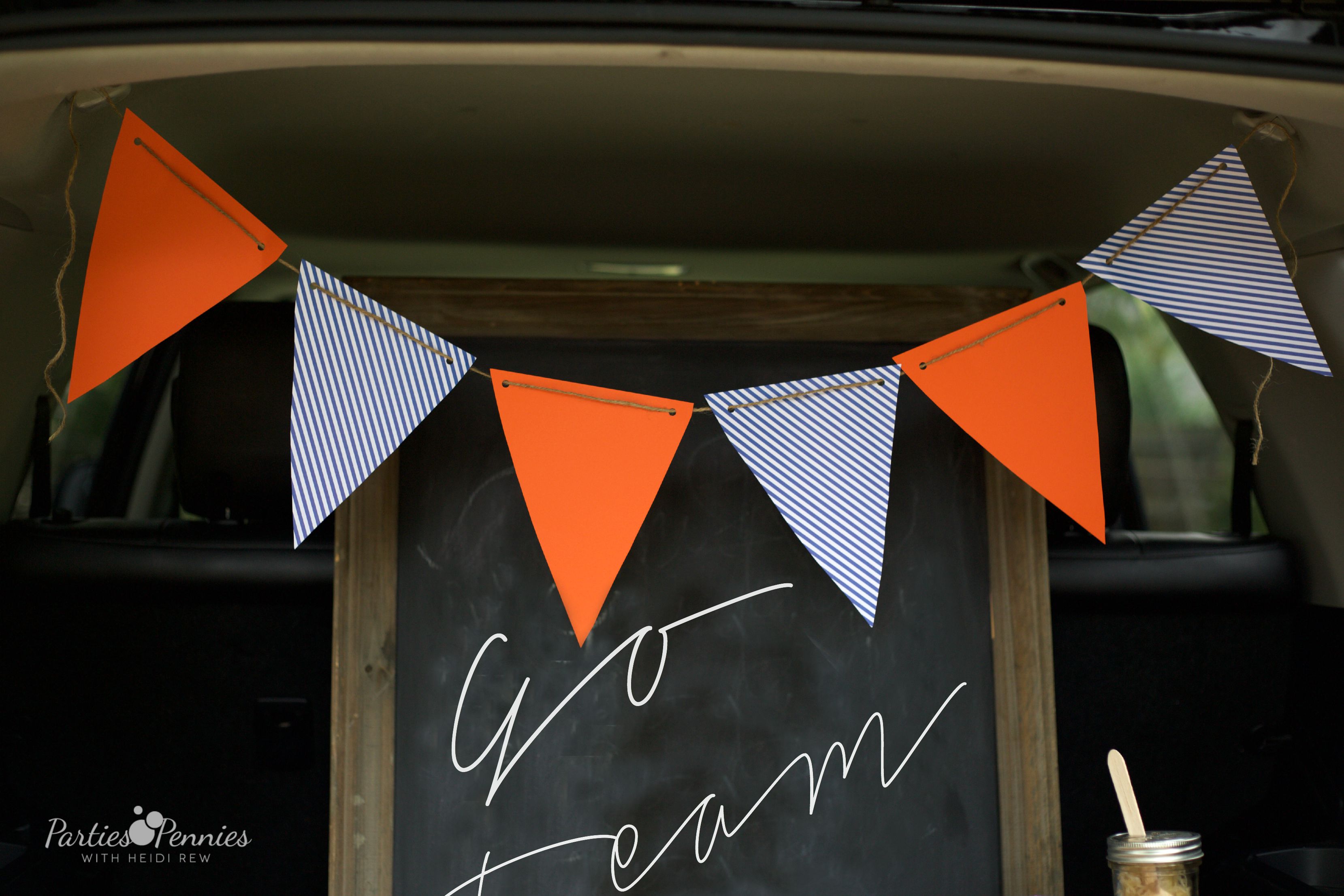 * Tape – to hang the banner.
* Mason Jars – for the cokes!
* Plates – I used old pie tins. They keep everything from sliding around and they keep the food warmer than regular plates.
* Napkins – Pick up a pack at Sam's Club or do what I did. I had some extra blue fabric, so I cut it into squares for cloth napkins. It absorbs a little better and since it was extra fabric, I didn't mind if we had to toss it after.
* Cutlery – Use whatever you prefer, but I'm a little obsessed with bamboo cutlery. It's just so cute.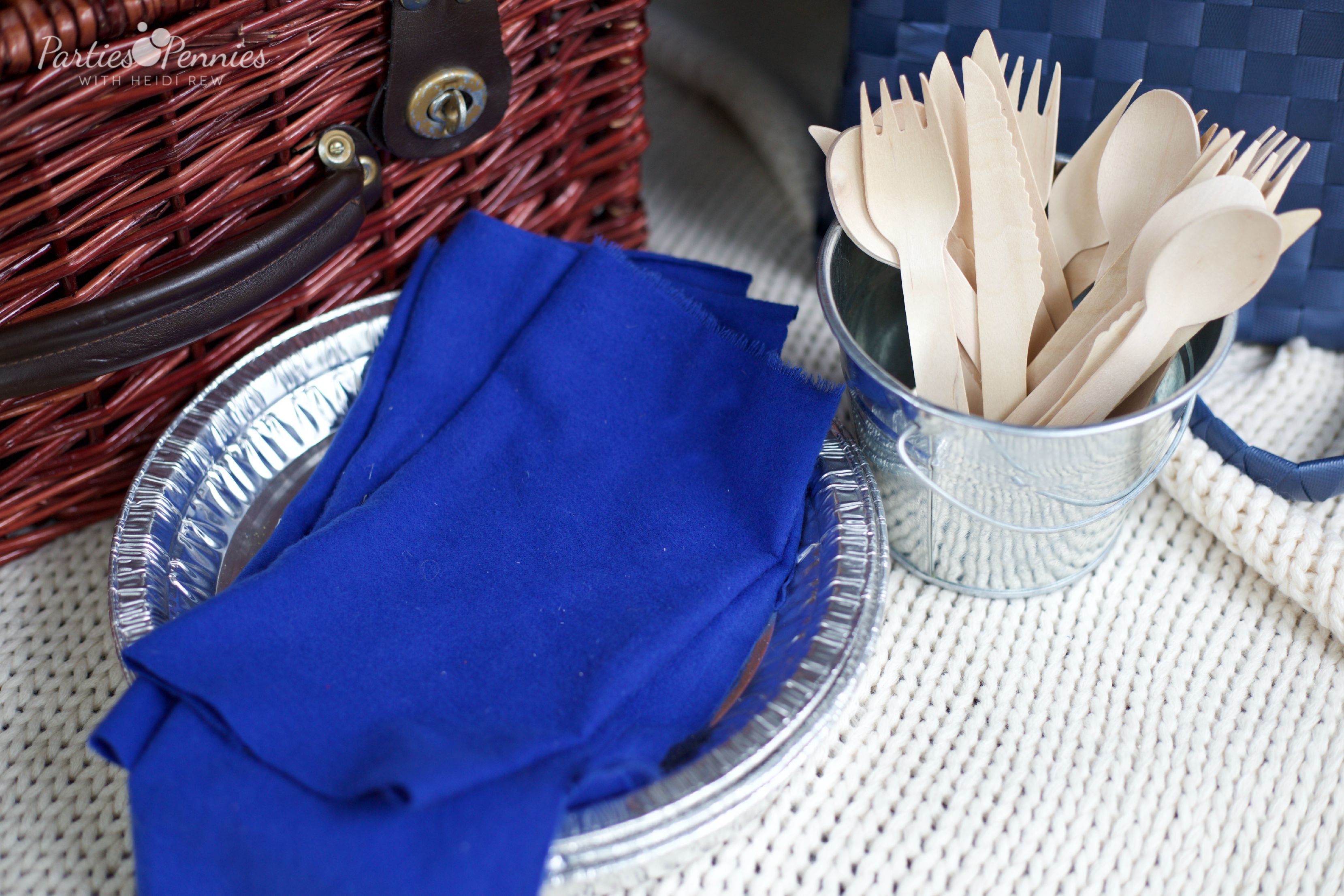 * Drink Flags – All you need for these is scrapbook or even construction paper and bamboo skewers. Cut out flags from your paper and wrap one end around the top of your bamboo skewer. Add a small piece of tape to secure. You may have to cut your bamboo skewer down just a bit. Mine were a little too long.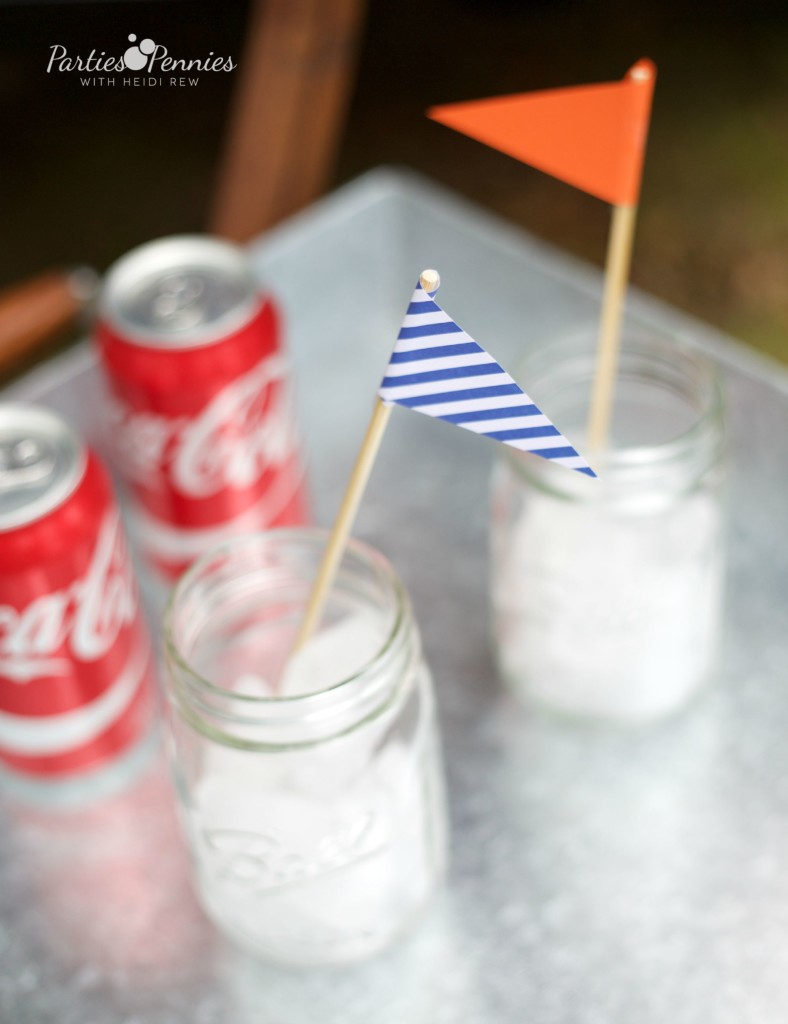 * Blanket – This doubles as a tablecloth, a protectant for your car, and if you don't get anything on it you can use it to stay warm during the game.
* A Box/Basket – Use the box/basket you transport all this in to create a beautiful set up as well! It creates varying height, which looks great!
* Cutting board – Cutting boards make GREAT food displays. I used them to display my cookies and I'm also using it for a DIY game below.
Bonus: If you have a chalkboard, bring that along. You can write out the menu, talk smack about the other team, or encourage your team.
* DIY Games – While it's always fun to hang out with friends, games make everything even better. Create two DIY games using items you have around your home.
DIY GAMES
1| Coca-Cola Can Ring Toss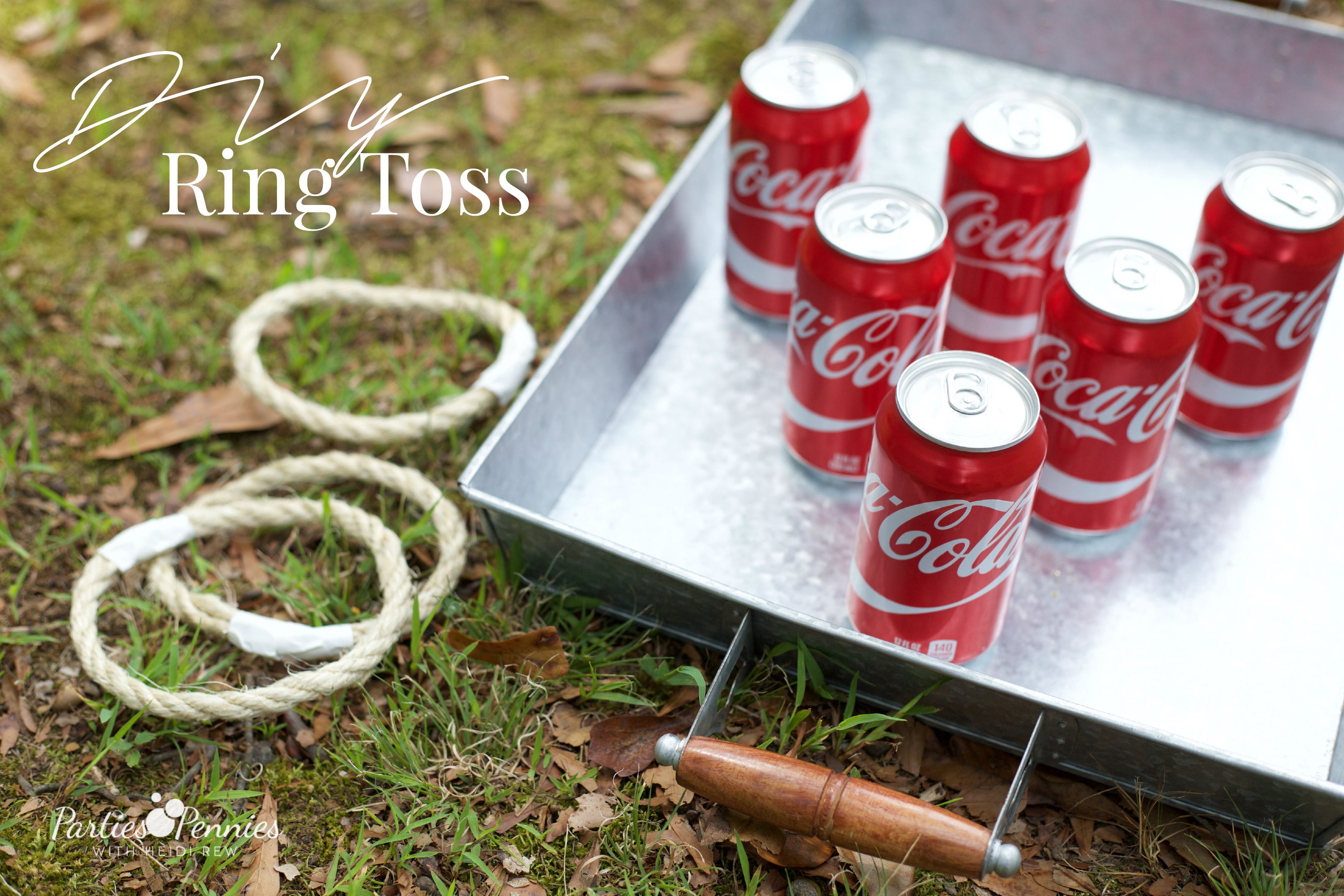 Once you're done playing, you can always enjoy the coke.
All you need to create this game are 6 cans of unopened coke, rope, and electrical, masking or duct tape.
* Cut out the rope so when you create a circle out of it, it fits around a coke can with a little "elbow room."
* Attach the cut ends by wrapping the tape around it several times.
How it's played: Each player gets 3 chances to toss the ring. Each row is worth different points – 1st row (with 1 can) = 1 point, 2nd row (2 cans) = 2 pts, 3rd row (3 cans) = 3 pts. The person with the most points wins.
2| Cutting Board Tic Tac Toe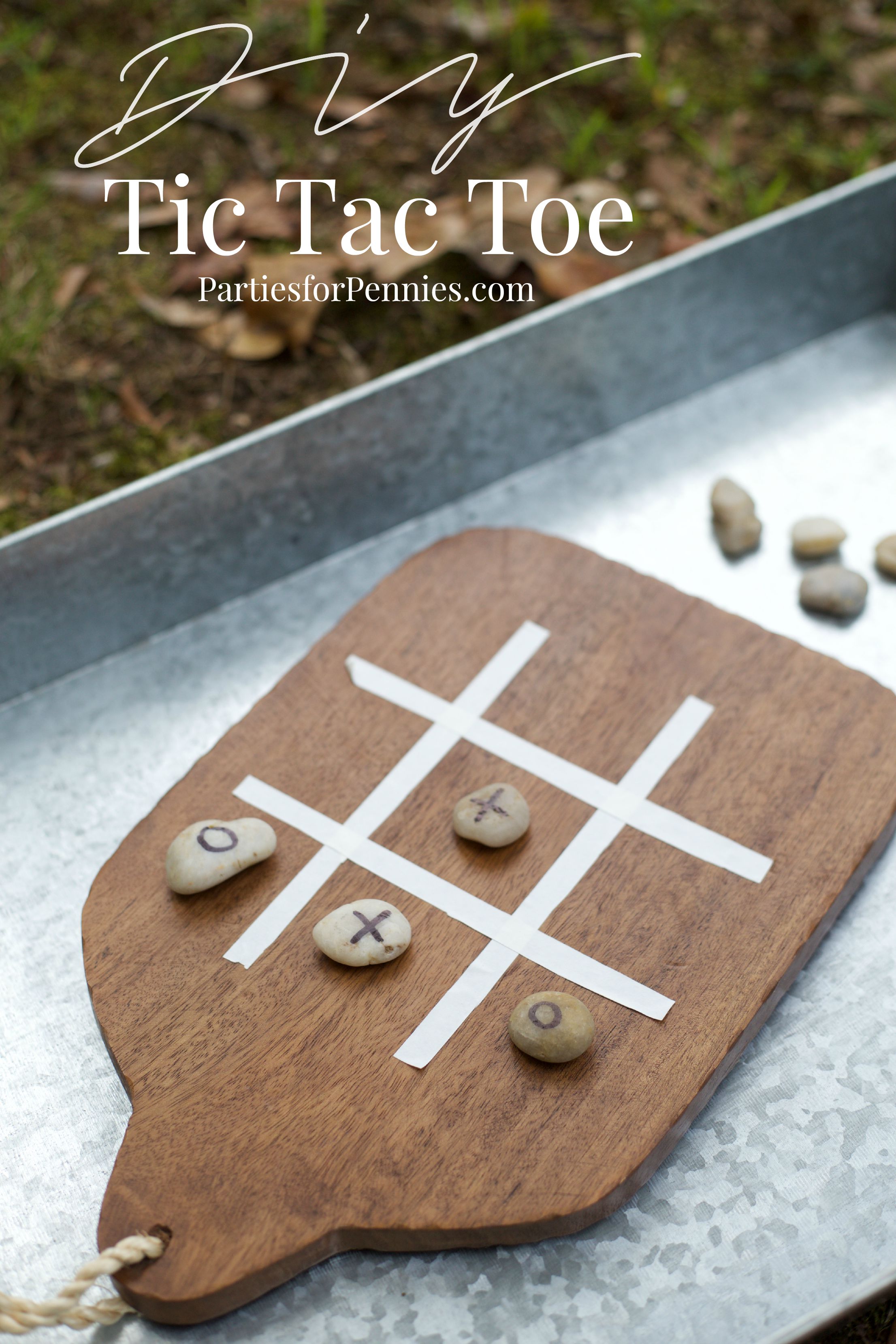 This is such an easy DIY game to make and the best part is it can return to a cutting board in minutes.
All you need is a cutting board, white washi, electrical or masking tape (make sure it will come off easily once applied), rocks, and a sharpie marker.
* Cut out the tape in a Tic Tac Toe board pattern and apply it to the cutting board.
* Use your sharpie to write X's and O's on the rocks.
How it's played: First one to get all X's or O's in a row wins.
I don't know about you, but this Tailgate Party is getting me pumped to watch some football…or at least enjoy some Coca-Cola Brats!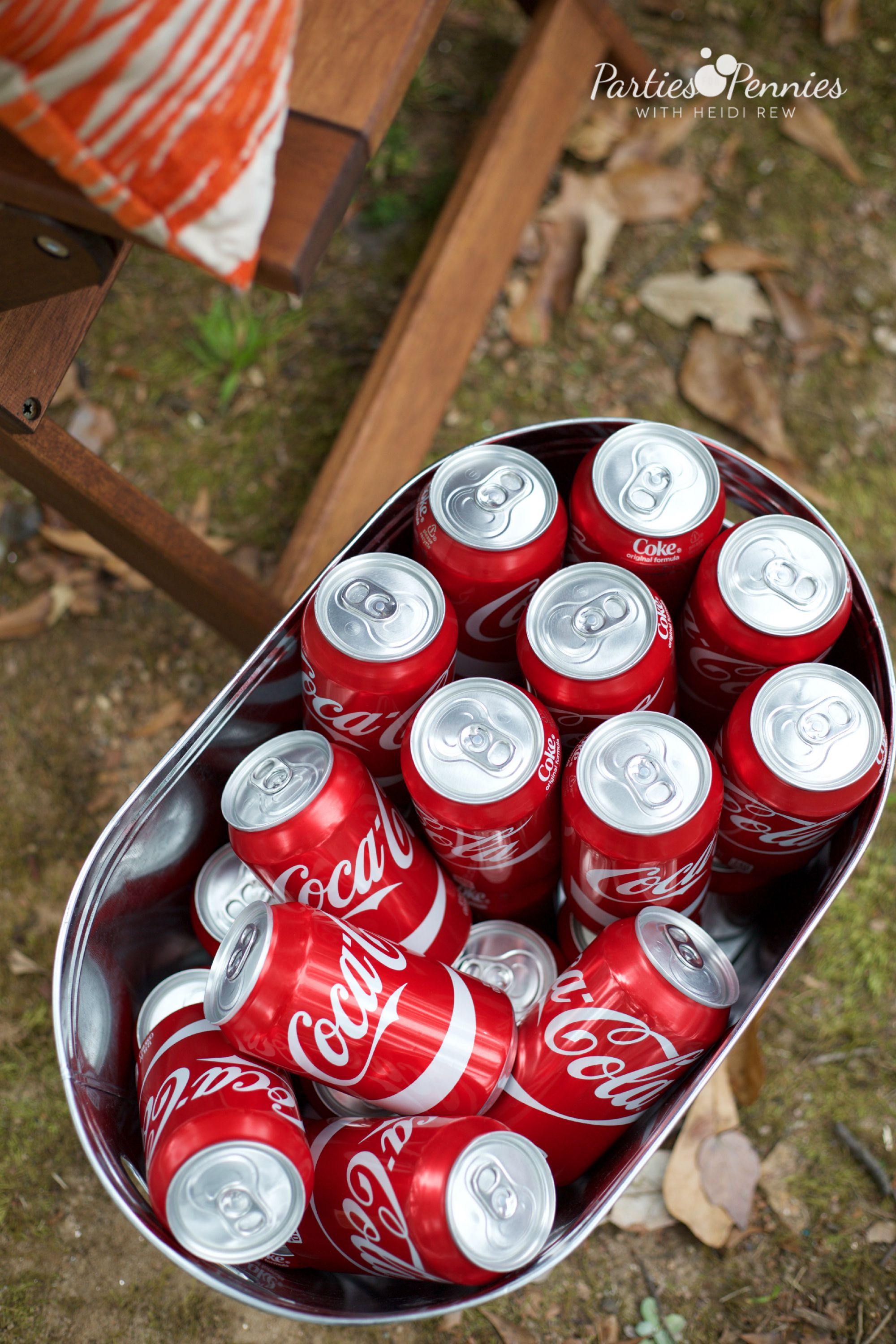 To pick up your Coca-Cola 28/35 pack and all your tailgate ingredients, stop by your local Sam's Club or take advantage of their Easy Order Online & Pick Up in store feature.
Go Team & Party On!