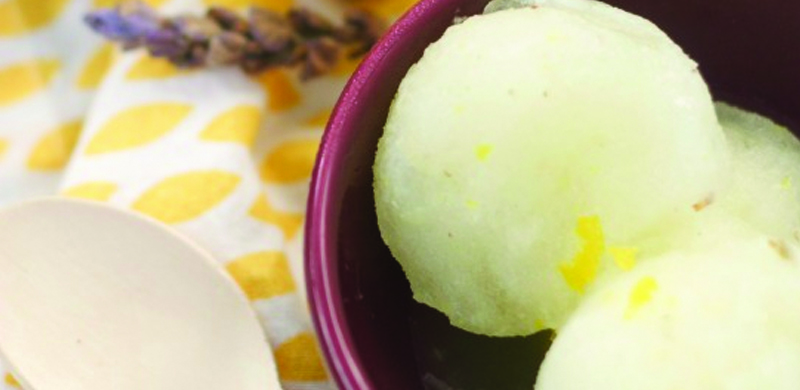 25 Jun

Lavender Lemonade Sorbet Recipe

Hey party people!

Did you ever have "homemade ice cream socials" at your church growing up? I did and they were magically delicious! We had every kind of homemade ice cream you could think of. Looking back, it seems almost a quintessential part of my childhood. We'd grab our favorite flavors (in a cone, of course), enjoy every last bit on a picnic bench, then go play on the playground. It almost felt like a scene from Summer Magic. Does anyone remember that movie?

Anyways, I've debated buying a homemade ice cream maker, but recently, I discovered something even better. We just got a Vitamix. This post is in no way sponsored by Vitamix, but I am now a convert, and can't help but talk about it. Before your mind goes there, a Vitamix is expensive. It's no Party in a Blender for Pennies, but Mike and myself sold some stuff on ebay to justify our purchase. Totally worth it. We've used it almost every single day since we got it. It takes less time than the juicer, a cinch to clean, and I fill up quicker because of the added fiber in my Vitamix drinks.
Enough of my soapbox. With 4th of July around the corner and much more outdoor activities, I wanted a refreshing dessert to serve my guests that will hopefully give them sweet memories like the ice cream social did me…minus the time on the playground.
This sorbet recipe uses the Vitamix, but you could also try a regular blender. We ended up getting rid of our regular blender, so if you try it, let me know what works and what doesn't.
There are two things I love about this recipe – 1| it's so light & refreshing, not heavy at all and 2| all natural ingredients and dairy-free. These days, there are so many food allergies and preferences, it's always good to have some various recipes in your storehouse.
You can always omit the lavender, but I think it really added a subtle flavor that gave it an even more refreshing taste.
So now…if life gives you lemons, make lavender lemonade sorbet!
Party On!