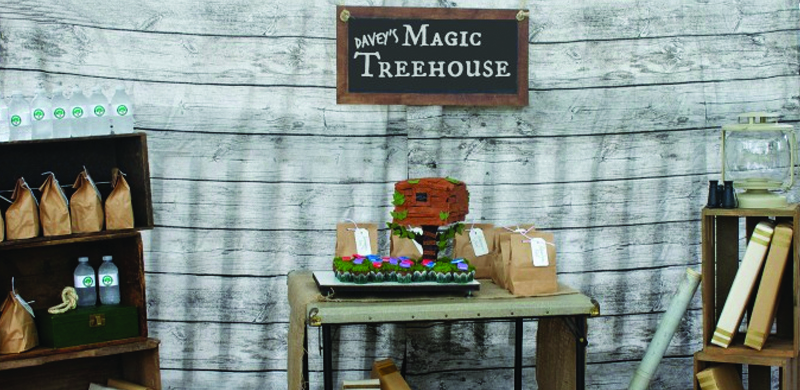 18 Jun

Magic Treehouse Party

Hey party people!

A couple weekends ago, I planned and coordinated a 6 year old birthday party for this guy.
His name is Davey and he is a huge fan of the Magic Treehouse books. The Magic Treehouse books are a series that use a Magic Treehouse to transport Jack and Annie to different time periods. During each adventure, they learn a lot and discover different clues to help them along. Since we don't have any kids, I really had to do my research. Come with us on Davey's Magic Treehouse Party Adventure!
The location was a park in Marietta, Ga with a really cool playground area. The only downside to our location was the weather. Thankfully, the rain held off, but the wind was another story. I had quite a time figuring out the best place to set everything up, so it wouldn't all go flying.
There were picnic tables for the adults, but I set out a blanket for the kids with some fun pillows (larger map pillow – from Pottery Barn *no longer available*, smaller map pillow – Ikea, and the small beige one that has a compass on it – Homegoods).
The goal of my backdrop was to make it look like the inside of a treehouse. The actual frame for the backdrop was one I had made out of PVC pipes (see the instructions here). The wood-like backdrop are two tablecloths from Ikea. I had planned on getting the same fabric from Ikea, but they were out when I went so I resorted to the tablecloths.
To add some accessories to the treehouse, I stacked old boxes on top of each other and filled them with Magic Treehouse items. The globe is because Jack and Annie travel through time and across the world to experience their adventures. The extra-large "books" are actually gift boxes I wrapped and added some  gold washi tape to the ends.
If you wanted to create your own extra-large books (they'd be great for a baby shower with a book theme, a fairytale themed party, or a "love story" themed bridal shower), just wrap regular gift boxes like you would an ordinary present. On one side, add 1-2 strips of washi tape at either end. If you don't have washi tape, you could also use markers.
I tried to use things from around my house to style this, but I couldn't pass up the lantern from Ikea. The binoculars were part of the favors, so I used one to accessorize.
(Our neighbor is able to get these crates from his work. It really helped round out my own wooden box/crate collection. Thanks Kim & Jeremy!)
The Magic Treehouse sign is just a thin wooden piece I got from Michaels. I first taped a portion of the outside off, then painted the inner rectangle with chalkboard paint. Once that had several coats on it, I took off the tape and stained that section. Once it all dried, I drilled two holes in the top corners, added some rope (from the hardware store), and added the chalkboard message*.
*The sign message is photoshopped in. On the way to the party, the chalkboard got a little smudged and I forgot to pack some chalk. You could tell what it said in person, but in the pictures, it isn't as clear.
Yes…the cake. Isn't it amazing? Sam told me a classmate of hers (they're at Life University) does cakes. I, honestly, wasn't sure what to expect. Kyle is in chiropractic school, but he does this on the side. Well…he blew me away.
Check out his facebook page – Kyle Collom | Kyle's Cakes
If you are in the Atlanta, Ga area and need a cake or cupcakes, message Kyle on his facebook fan page and he'll take care of you.
The kids went crazy over the cake and cupcakes. The kids ended up eating the cupcakes that day, and the big treehouse portion was saved for later.
The kids didn't just have cupcakes. Since the party started at 2pm, I decided to create snack packs for the kids.
The "Adventure Fuel" snack packs had baggies full of – pretzel sticks, carrots, cucumber sticks (Davey loves cucumbers), small container of ranch dressing (for the veggies), mozzarella stick, a fruit leather, and a juice box. We wanted to stick with healthy snacks, packaged in a fun way. All of the items I got at Trader Joe's.
I also made sure we had some cold water bottles for the kids.
I created Davey's personalized Magic Treehouse logo and added it onto a water bottle label. You can get packages of these water bottle labels at most office supply stores.
I wanted to make sure the adults had some snacks, too, so I set up a little table just for the adults.
Tip: To keep my dip/dressing cold, I filled that little bucket with ice and set my dip container inside. By the end of the day, it was definitely melted but kept it nice and cold for the guests. 
I served some veggies, fruit, and some salty snacks…along with sweet tea and lemonade.
With so many food allergies these days, it's always good to ask in advance if anyone can't have something. Even if I'm not able to ask, I still like to provide nut-free (especially for kids) gluten-free, and vegetarian options. I served organic olive oil popcorn, gluten-free pretzels, pretzel slims, and mixed nuts.
Before we broke out the snacks, the first activity on our list was an Adventure Scavenger Hunt where the kids found all their party favors (as well as the necessary components to a fun adventure).
We started out and I told the kids that we were going on an adventure, like Jack & Annie, but we needed some adventure supplies. The supplies were hidden around the playground, but thankfully, we have clues to help us figure out where to find them. The kids all helped each other figure out the clues.
It was a lot of fun and helped get out some energy.
These were the supplies the kids found in the Adventure Scavenger hunt: Red Backpack (like the one that Jack has in the Magic Treehouse series), Canteen, Binoculars, and a homemade Adventure Passport Book with a branch pencil.
All of these items I ordered from Amazon (except for the Passport Book, which I made myself) –
I created this Passport Book using a packet of plain kraft paper cards. I just cut them in half, cut 10 pages of white cardstock the same size, added two hole punches on the top, and attached them together with some white craft rope (found in the jewelry section of the craft store). To finish it off, I added the custom logo to the front.
These passport books were given to the kids so they could keep track of their own adventures…with the Magic Treehouse book series and beyond.
After the scavenger hunt and snack time, we took the kids on 4 adventures based on 4 of the Magic Treehouse books.
When I say "we," I'm meaning my mom and myself. That's my mom in the pink jacket and she's an incredible 1st grade teacher. The kids absolutely adore her and she LOVES her job. She volunteered to drive 1.5 hours round-trip just to help me out. Can you believe it? And I am soo glad she did. She did a fabulous job walking the kids through the different adventures and activities.
BTW…my parents have a Christian kids camp every summer. My dad's an elementary school PE teacher, so they are perfect directors. It's called Camp Icthus & they've been running it since I was seven years old. Check it out here, if you're interested in a camp for your kids.
The first activity focused on the book Dinosaurs Before Dark, so we made our own fossils.
The second adventure was from the book, Mummies in the Morning, so we made Davey a mummy. The kids loved this one and they laughed and laughed. Moral to this story – Kids can be entertained with the simplest things. Trying to remember that for down the road.
The third adventure was from Pirates Past Noon and we searched for buried treasure.
The final adventure centered around the book, Midnight on the Moon. The kids made constellation creators out of toilet paper rolls.  They got to decorate them with stickers, markers, and paper. At night, they can stick a flashlight into the toilet paper roll and see the stars on the ceiling.
If you'd like to do these same activities at your Magic Treehouse party, click here for directions and summaries.
Once the kids did all the activities, they were given a passport stamp sticker that I made. I sent them home with a few more so they could add to their adventure book.
The kids had a great time and so did we.
I hope I covered everything, but if you have any questions, just comment below or email me: heidi@partiesforpennies.com. Whether you're in the Atlanta area or not, I offer online party consultations. Click here or on the Services page on this blog.