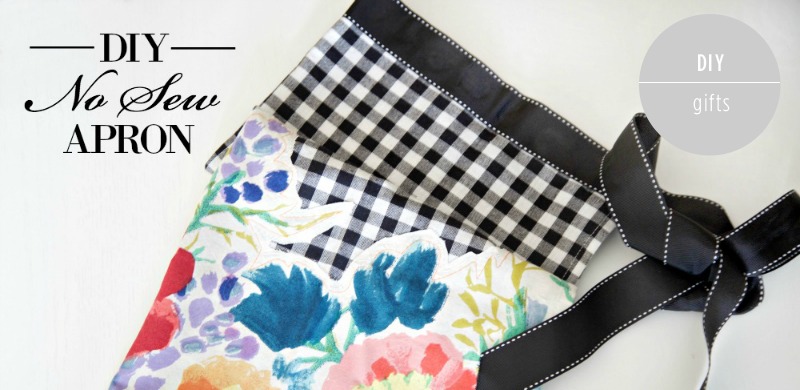 15 Nov

No-Sew Apron

Hey party people!

If you're looking for an EASY gift idea (great as a hostess gift) this Holiday season, this No-Sew Apron is perfect! It only uses 3 supplies, takes 5 minutes, and requires very little skill. 🙂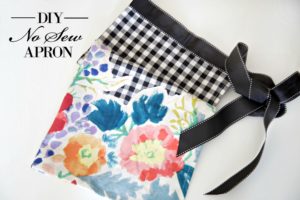 I recorded this Facebook live video at the Craft Box Girls studio last week with the how-to for this project. Have you heard of Craft Box Girls? It's a wonderful blog and site with tons of great ideas.
If you missed the Facebook live video, you can check it out on their facebook page or see it in this complilation video I put together below…
Here are the supplies you'll need:
1| A really cute dish towel (there are a bunch of other cute ones…just click on the link to see all the options) –
I'd recommend a cotton towel, not terry cloth or microfiber.
2| Wide Ribbon (click on the hyperlink to see the different colors)
HOW TO:
Step 1 – Make sure you wash and iron your kitchen towel.
Step 2 – Cut the ribbon. A good rule of thumb (if you don't know the person's waist size) is to cut a 60 inch long ribbon. The average american waist size is about 36 inches, so that gives you a good amount to play with. If it's too long, the recipient can always cut it down to size.
Step 3 – Add dots of the glue about an inch apart along the "top" of the towel.
Step 4 – Lay the ribbon along the dots of glue (make sure there's equal amounts of ribbon left on either side of the towel) and smooth.
Step 5 – Allow the glue to fully dry (at least 24 hours).
TIP: If the towel is too long, fold the top over so that it hits the back of the towel. Use your fabric glue along the seam so it stays put.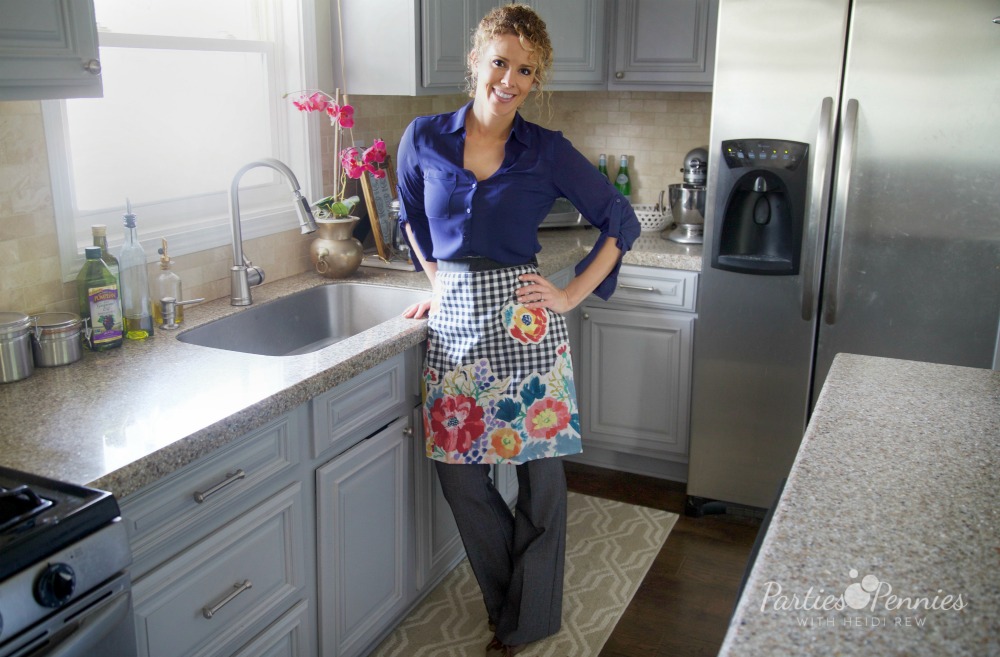 If you want to jazz up your DIY No-Sew Apron, you can add an embroidery letter to personalize it, add fabric appliqués, or bedazzle the fool out of it. ;p
This DIY No-Sew Apron is great for:
HOSTESS GIFTS
GIFTS for the BAKER, ENTERTAINER, PAINTER
BRIDESMAIDS GIFTS
KIDS GIFTS – to make for Grandmother, teachers, friends or neighbors
WEDDING PRESENT
You can give it alone or add it to a gift basket with a bottle of wine, kitchen gadgets, some kitchen soap, etc.
My mom and sister and I always bake together around Christmas. It would be so fun to make a festive one for each of us this year!
What do you think? Who could you make one of these for? If you make one, PLEASE share the photo on social media or email me: heidi@partiesforpennies.com. Tag @PartiesforPennies on Facebook & Instagram AND @Parties4Pennies on Twitter and Pinterest.
Check out more Parties for Pennies videos of Homemade Gifts HERE!
Have a great week & Party On!