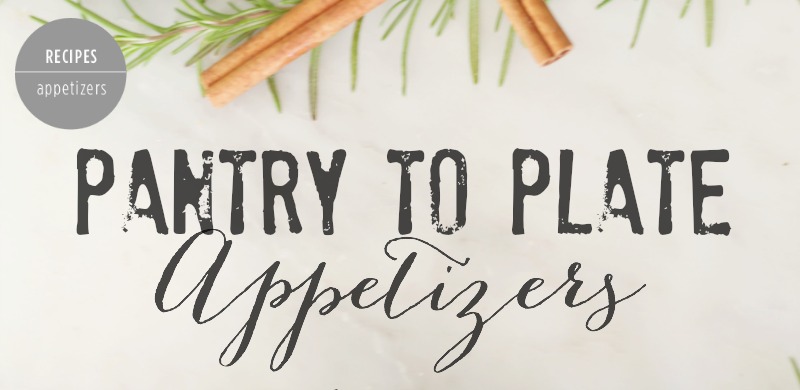 17 Dec

Pantry to Plate Appetizers

Hey party people!

Are you surviving the holidays? I know this time can seem so crazy and a little stressful. One way I've found to keep the crazy down and to keep money disappearing from my pockets is to have Pantry to Plate Appetizers on hand.
What are Pantry to Plate Appetizers?
They're basically ingredients you have on hand in your pantry that can become appetizers in a matter of minutes. Look in your pantry right now. You may be surprised to see items that can easily be turned into tasty appetizers. So, don't stress, don't stress. Whether you're hosting an event or asked to bring something to a party, here are a few ideas of Pantry to Plate Appetizers that take minutes to prepare and they're all pretty healthy (and Gluten Free).
1 | Roasted Chickpeas
I usually have some cans of organic chickpeas in my pantry – perfect to add to my favorite salads. Pop these suckers in the oven and they make delicious appetizers. Heat your oven to 350. Drain your chickpeas, rinse with water, and pat dry. In a bowl, drizzle with grapeseed oil (or olive oil…we've just started cooking more with grape seed oil) and sprinkle with your prefered seasoning. Some seasoning suggestions: Taco seasoning, Parmesan Cheese and Herbs, Cajun seasoning, and if you want to try a sweet version – drizzle with maple syrup and cinnamom. Toss and spread out on a non-stick cooking sheet for 45 minutes in your 350 oven. Turn the chickpeas over every 10-15 minutes.
2 | Homemade Trail Mix
Use your creativity and what you have on hand in your pantry to create a beautiful and unique trail mix. I mixed walnuts, almond slivers, dried cranberries, and dried coconut flakes for mine. Chocolate and cereal are some other add-in ideas.
3 | Healthier Version of Chips & Dip
Instead of the usual chips and dip, reach into your pantry for a healthier version by serving sweet potato chips with greek yogurt onion dip. To create your dip, add a pack of onion soup mix to plain greek yogurt. It's delicious!
4 | Specialty Popcorn
Specialty popcorn stores are following in the footsteps of the froyo and cupcake trends…and I am 100% supportive! I LOVE popcorn. It's super inexpensive, healthy and gluten free. We make our popcorn in a whirlypop on our stove, with coconut oil and a little sea salt. But, if you're serving it as an appetizer, jazz it up with parmesan cheese and herbs.
5 | Dried Fruit (Maybe even dipped in Dark Chocolate)
I love dried apricots. If I'm craving something sweet after dinner, these do the trick. When I saw I had a little bit of dark chocolate chips in my pantry, I melted them down and dipped the apricots in the chocolate. Mind. Blown. It was the perfect little sweet treat.
See…you can be the hostess with the mostess without staying up all night working on appetizers! Check out your pantry to see what fabulous apps you can create!