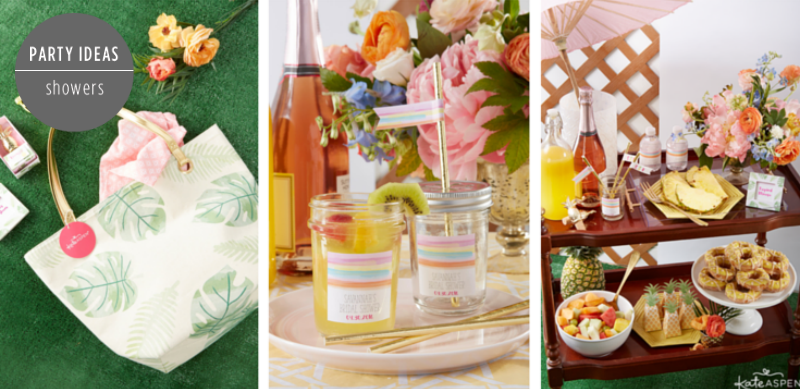 02 Feb

Pineapples and Palms Bridal Shower

Hey party people!

We're heading into Bridal Shower season and I couldn't be more excited. Why? Because I get to share this fun Pineapples and Palms Bridal Shower inspiration with you. If you've followed Parties for Pennies for a few months, you may know that I'm very honored to work with the party company, Kate Aspen, on some of their styled parties. Check out the Indian Wedding and Boho Wedding I did for them.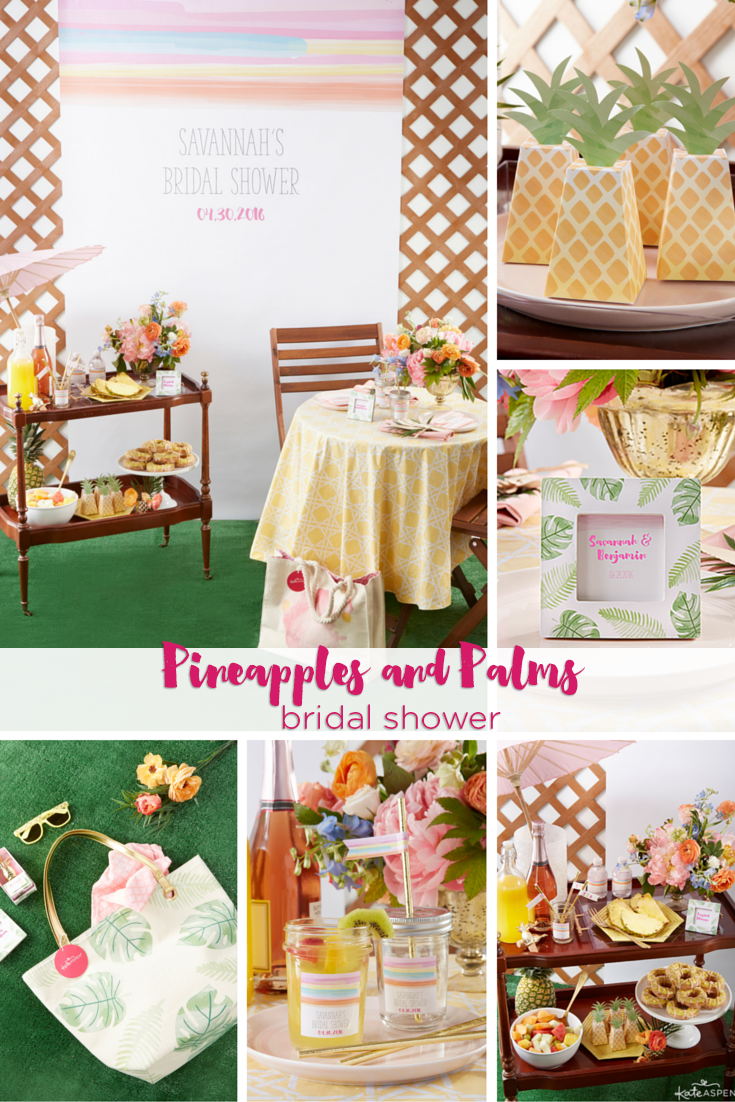 I really love their products, but I especially fell in love with their brand new Pineapples and Palms line. It's everything Palm Springs, tropical, and makes me want to go on vacation stat!
An outdoor brunch would be the perfect thing for a Pineapples and Palms Bridal Shower! Set up a couple small tables and a bar cart, throw some table cloths over outdoor tables, and you're good to go!
MENU SUGGESTION: Mixed Fruit & Pineapple Decorated Doughnuts with Mimosas to drink
Aren't those floral arrangements to die for? The talented Lindsay Colletta did those!
How do you create your own Tropical Mimosa? Super easy…
TROPICAL MIMOSA RECIPE: Mix equal parts champagne and pineapple juice (you could also do a mix of pineapple & orange juice), then add tropical fruit chunks to the glass & enjoy!
Here are some other fun details to go with your Pineapples and Palms Bridal Shower…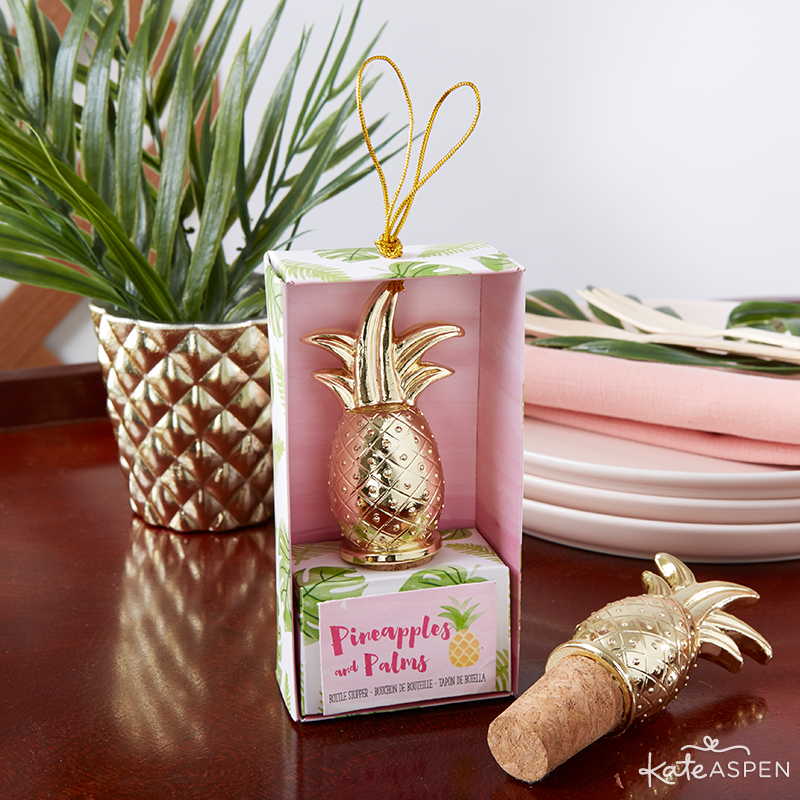 Kate Aspen Pineapples and Palms Wine Stopper
Mini Water Bottles with Labels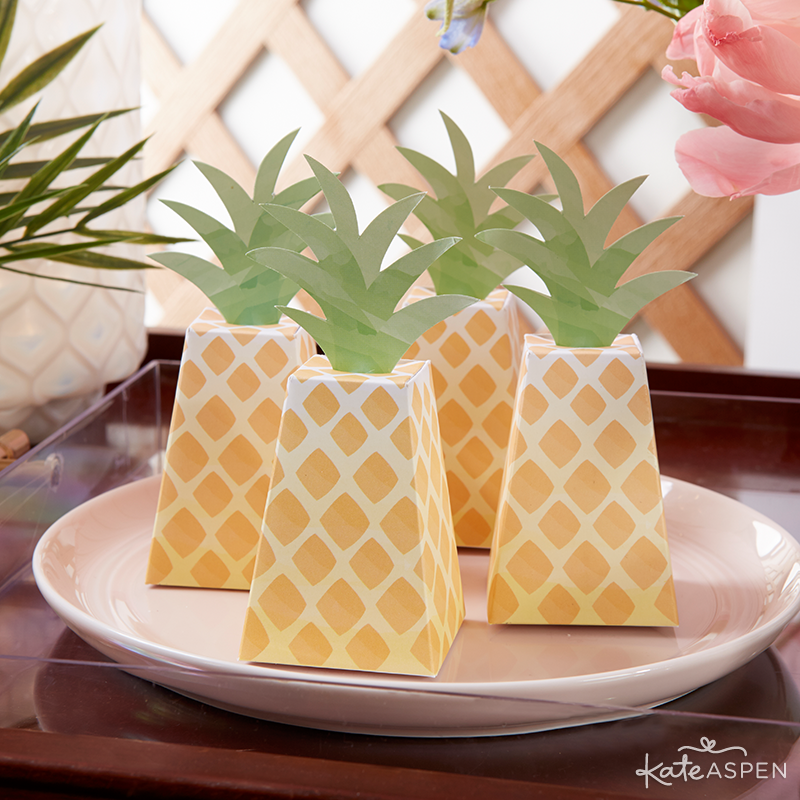 How cute are these Kate Aspen Pineapple Favor Boxes?
For this shoot, I did a couple easy DIYs that YOU can do too!
DIY ACRYLIC TRAY: Time – Less than an hour (with drying time) Cost – Less than $30
Supplies: Clear Box Frame, Superglue, Gold Spray Paint (or whatever color you want for the handles), and Bamboo Pulls
Instructions: 1| Spray paint the bamboo pulls 2| Remove the card box from the plastic frame & 3| Use the superglue to attach the bamboo pulls to either end of the tray. (Use packing tape to hold the pulls in place until the glue dries, if you don't want to hold it.) Enjoy!
A brand new item Kate Aspen offers are these beautiful totes! A perfect bridesmaid gift! Stuff it full with a summer scarf, a pretty palms photo frame (with a pic of you & her/him), a pineapple wine stopper, and DIY Pineapple Shades.
How do you make DIY Pineapple Shades you ask?
DIY PINEAPPLE SHADES: Time – less than 10 minutes Cost – $6.99/shade (plus gold pen)
Supplies: Yellow Wayfarers, Gold Paint Pen
Instructions: Use your gold pen to draw X's along the sides of the sunglasses. Add dots in the diamond shape the X's create. Let dry & look cool!
The bridal shower was fun, but I can't wait to share the Pineapples and Palms Wedding with you! Coming soon!
Do you have a friend that's getting married this year? Are you planning the bridal shower? If you need any support or have any questions, feel free to email me: heidi@partiesforpennies.com OR comment on the Parties for Pennies facebook page! Our party people give great advice!
Hope your week is going great! Don't forget to Party On!