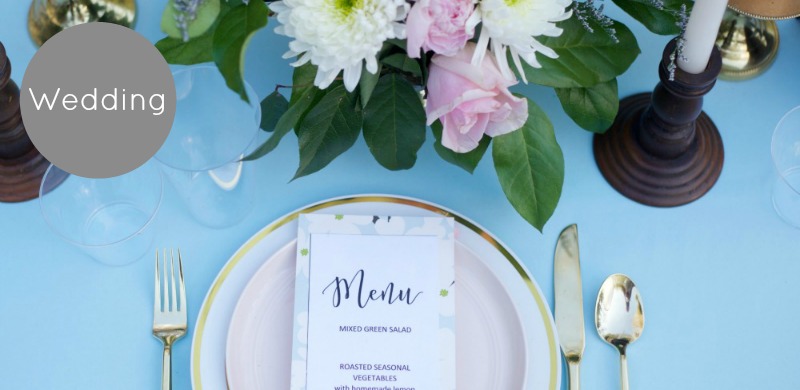 06 Apr

How to Plan a Wedding Under $5,000

Hey party people!

If you are in the middle of planning a wedding or have thrown a wedding, you KNOW how pricey they can be! Every little thing adds up. There are so many details to consider. The stress has caused panic attacks, multiple glasses bottles of wine consumed, a whole pack of Oreos devoured, and many tears shed. Well, take a deep breath, relax, and let me help ease that stress. I'm going to share with you HOW TO PLAN A WEDDING UNDER $5,000!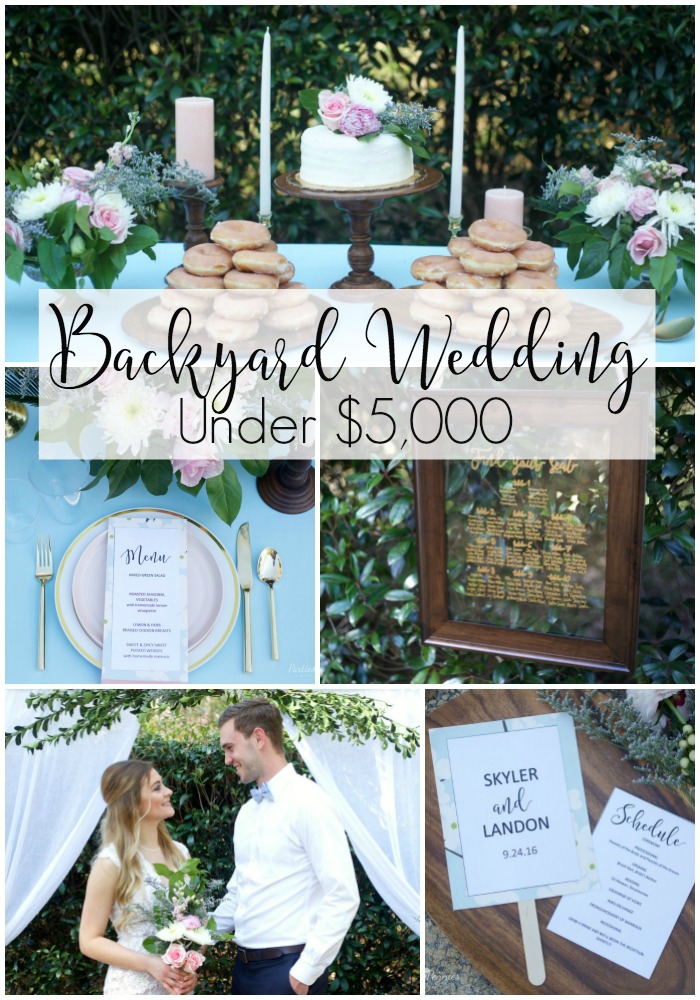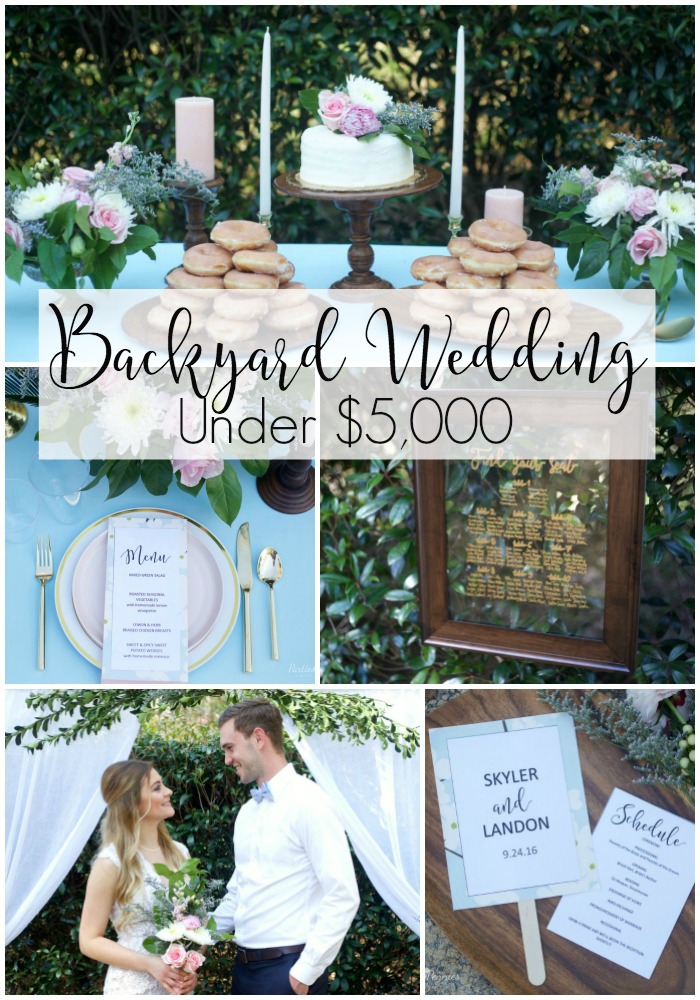 This is slightly embarrasing to say, but I've been married twice. Two weddings planned. Both weddings under $5,000. First wedding had 150 guests and the second wedding had 115 guests. I'm hoping you only ever have to plan one, but I wanted to share that to encourage you that it CAN be done (plan a wedding under $5,000, not get married twice…yikes)!
I had to pay for 90% of my first wedding and 100% of my 2nd wedding. The first wedding I planned in 11 months. The second wedding I planned in 5 months. Wherever YOU fit in that spectrum of planning time or budget…I got your back! Now…let's get started on the HOW TO! (Keep scrolling to see photos of both of my weddings.)

The venue is always one of the most stressful decisions. It sets the tone for SO much and if you have a very tight budget, it can be even more stressful. First, I'll share the 2 different venues I chose for my weddings and then I'll give you some additional ideas.
1st Wedding: Wedding Event Facility (for the ceremony) + my church
The wedding event facility charged a small price for JUST the ceremony ($600). If you wanted the reception and deluxe package, it went up from there. They had this gorgeous outdoor area that was exquisitely landscaped. That was where we had the ceremony and the reception was held at my church nearby. The church was free, with a $50 cleaning fee.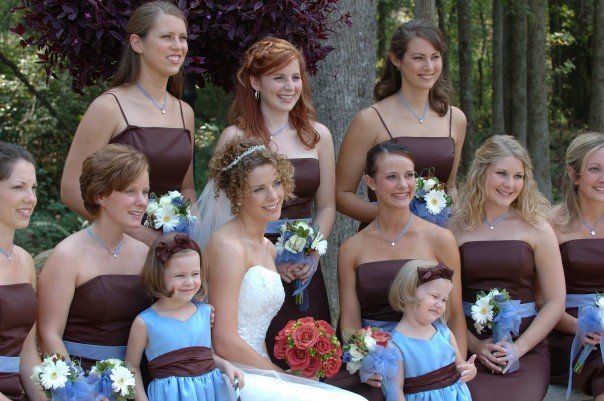 I didn't keep too many photos from my first wedding, but this was taken at the event facility.
2nd Wedding: Backyard Wedding Reception
My current husband and I had our actual ceremony on a beach in Hawaii. It was super simple with no frills. Just him, me, and our officiant who was this sweet 65 year old hippie woman that wore a mumu, went barefoot, had long beautiful white hair down to her lower back, and was named Omarosa. The whole package, with photographer, was only $1,000.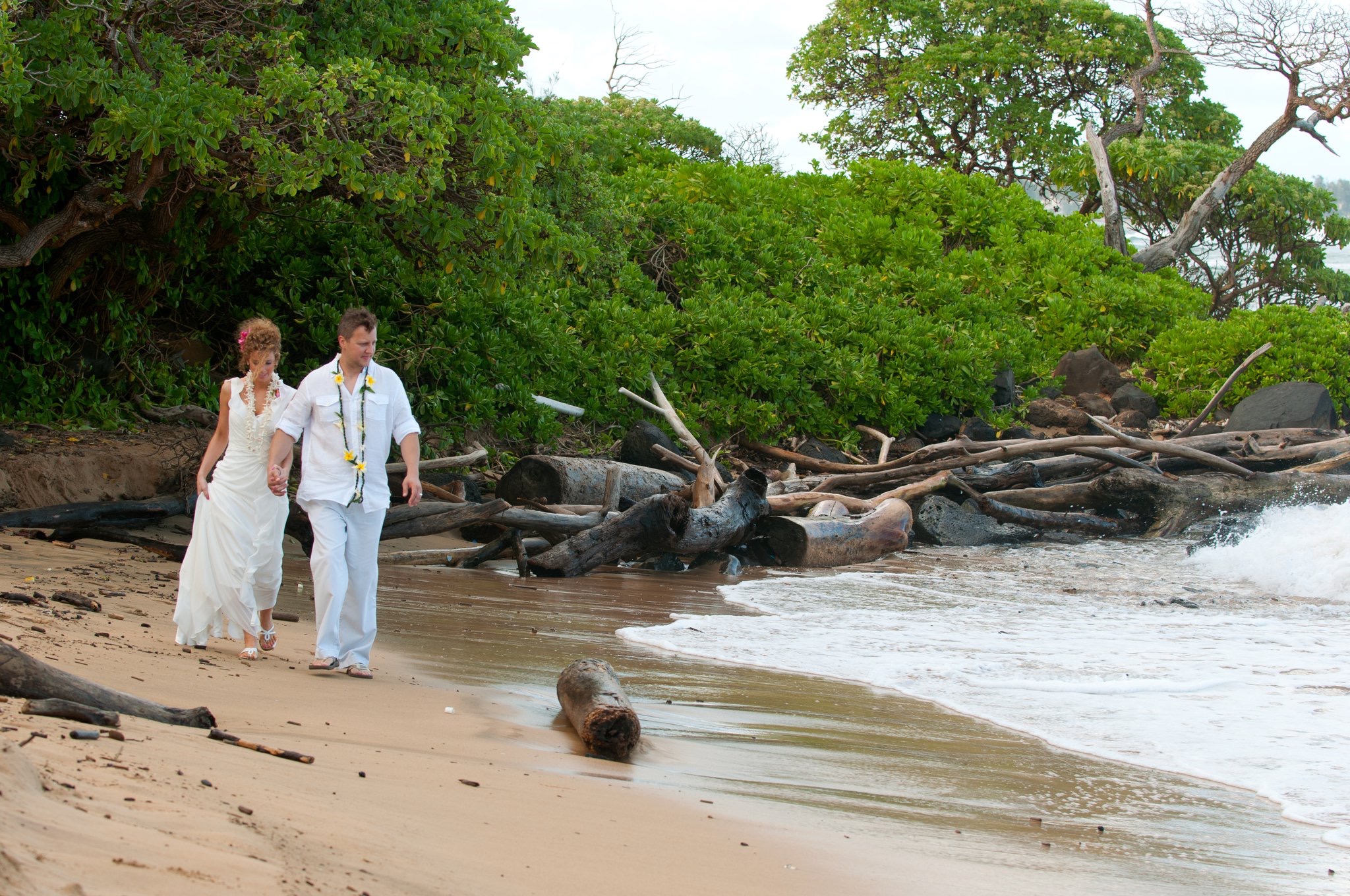 Thankfully, our parents were okay with this arrangement. I guess it had to do with the fact that this was our 2nd marriage. After we honeymooned in Hawaii, we came back and threw such a FUN Backyard Wedding (see the photo below)! It was so awesome!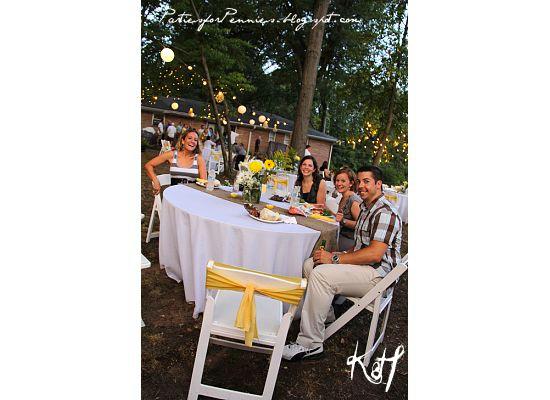 HERE ARE SOME ADDITIONAL BUDGET-FRIENDLY WEDDING VENUE OPTIONS:
Event Facility for Ceremony, then cheaper option for reception – see below for options.
Church
BACKYARD
Local Community Center – we live in a city that has an event facility for weddings and they offer an UNBELIEVABLE rate for those that live in the community.
Local Park
I have to say that one of my FAVORITES is the BACKYARD wedding! It's totally free, you have plenty of time to set up and tear down, there's something comforting about it, and it creates a really beautiful memory. My husband bought our house right before he proposed, he proposed at our house, then we had our reception there. Such sweet memories. I love that I can look outside and still imagine all our friends and family dancing and laughing.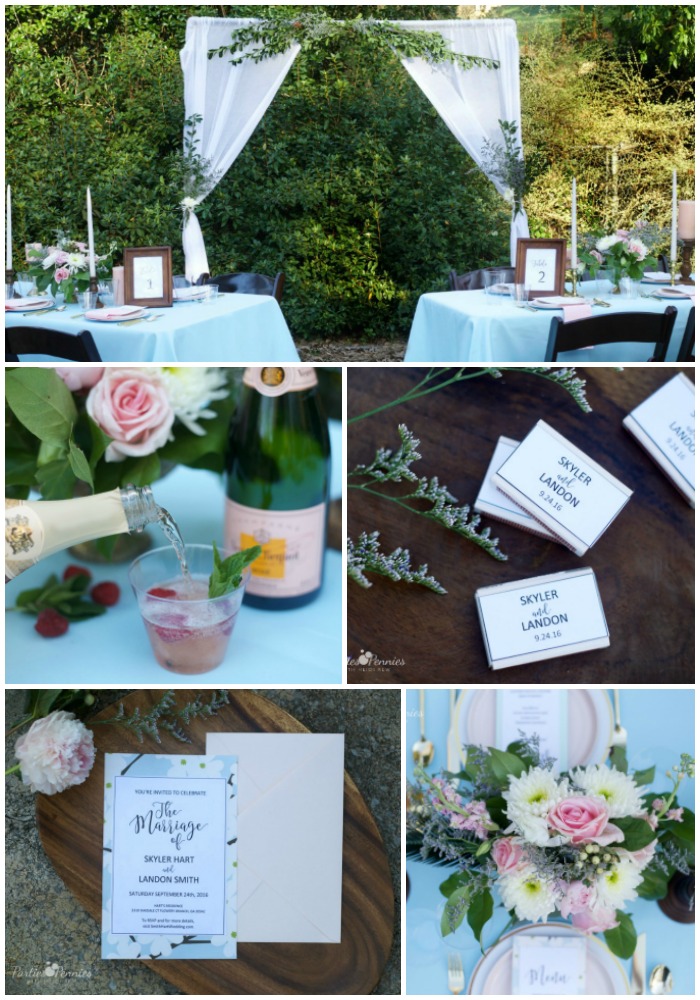 Food is another HUGE cost. Most people will say that you can't get food for less than $25/per guest. For my first wedding, we had a sweet friend from our church do the catering and she did it for $2,000. That was just the cost of food. I know not everyone feels comfortable letting a friend do that. For my second wedding, we had my FAVORITE restaurant cater it for $15/per person. It's called Souper Jenny and they offer gourmet soups & salads. We had these delicious gourmet sandwiches on pretzel bread, amazing salads (regular and fruit), pasta salad, and other delicious goodness. Everyone raved about the food. Souper Jenny delivered it and set it out on the tables in large bowls and serving dishes, then came and took the dishes afterward.
Call around to local places to see if you could get family style large dishes to serve. Aim for $15-$20 per person to keep the budget on track.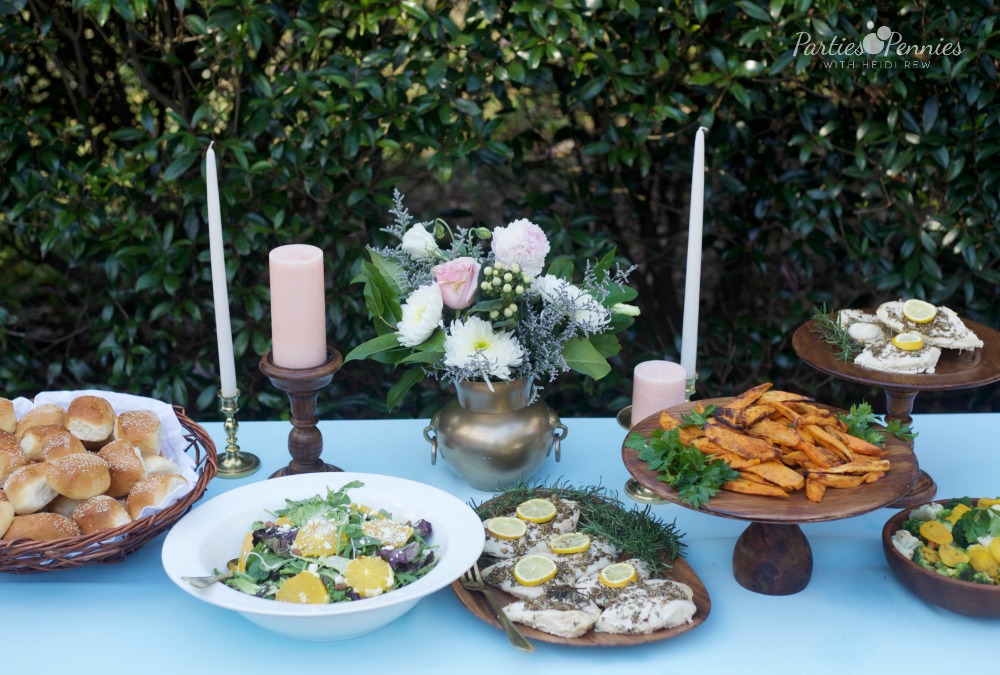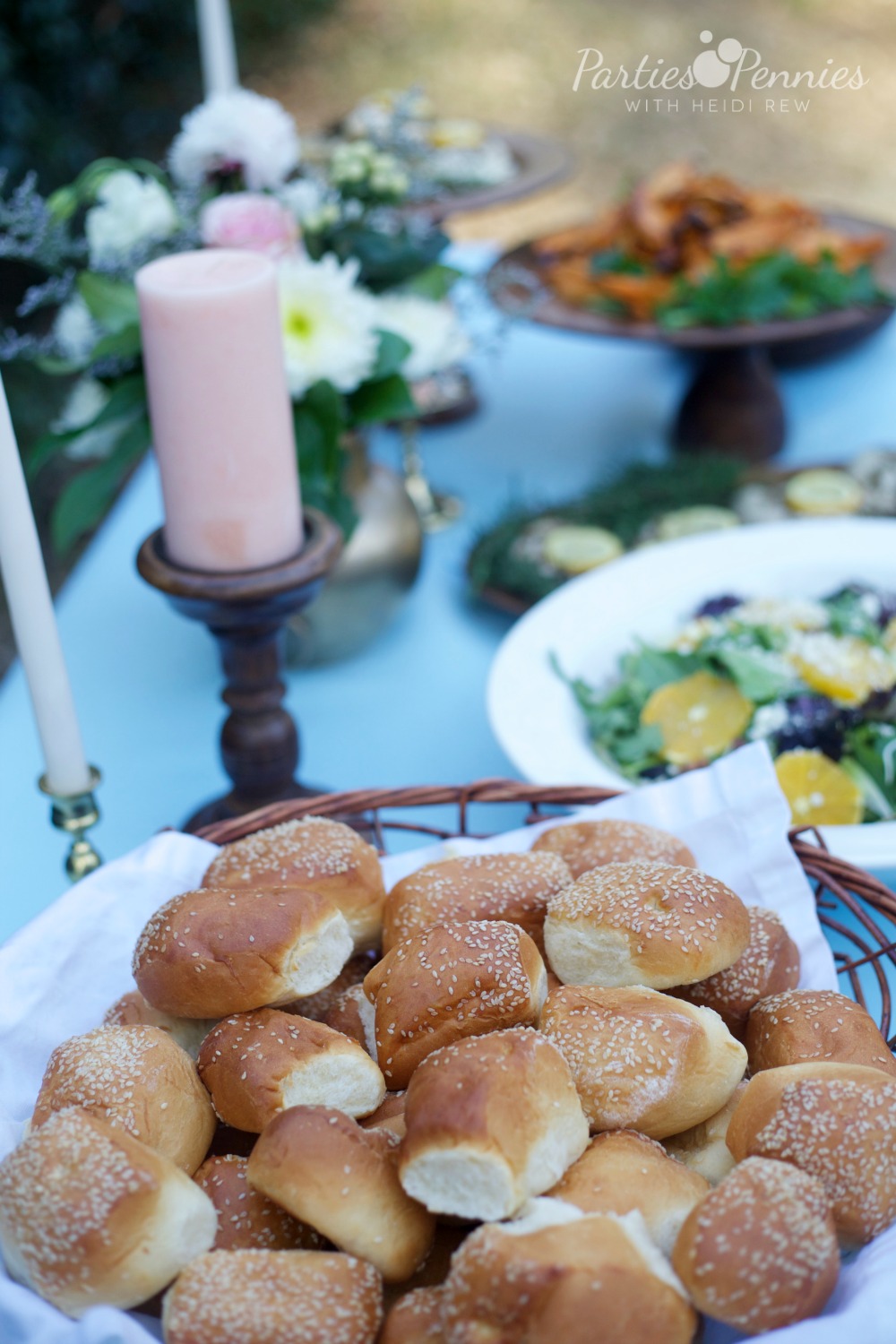 OTHER OPTIONS:
Food Trucks – This option totally eliminates the additional worry about food set-up and tear down. Get the Food Truck to just pull up your drive way to serve your guests.
DIY Buffet – If you have someone willing to help you set it up and tear it down, shop a membership warehouse for large salads, pre-made meats, sides, rolls, etc. I got all my food for this Backyard Wedding Reception inspiration at our local membership warehouse.
BBQ or Mexican Buffet – If you're going more casual, you can get your local Mexican or BBQ restaurant to cater for less than $15/per person.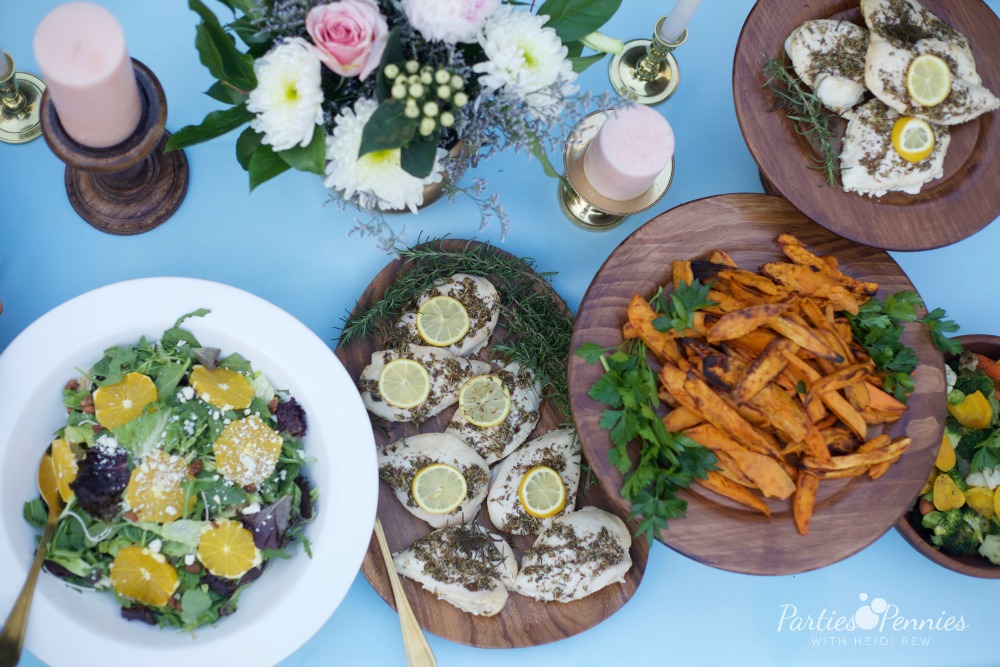 If you're planning on serving alcohol, you know this is gonna be tricky with your budget. Here's a great tip – Rosé. Rosé is a wine that goes with just about any food and is a fun blend of white and red. There are a lot of budget-friendly, delicious options too.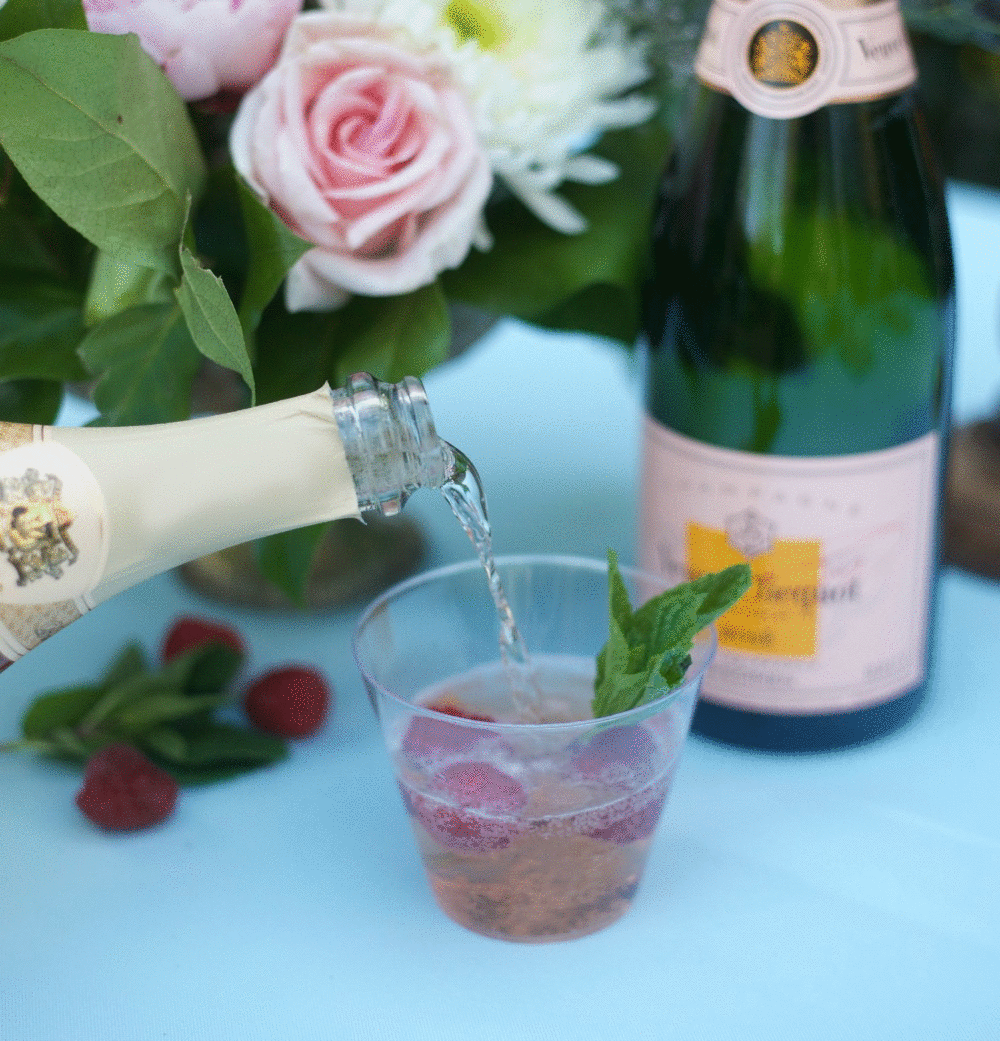 OTHER OPTIONS:
Set up drink tubs with ice. Stock each with something different – beers, sodas, waters, etc. Tie a bottle opener to the handles and set a small bucket on the ground to catch bottle tops.
Signature Mixed Drink – Create a special drink for the occasion, but keep it budget-friendly with just 2 ingredients. Examples: Pineapple Juice and Coconut Rum, Vodka and Cranberry Juice, Jack and Coke, etc. You can also add fun garnishes to what you're serving. I added raspberries and mint leaves.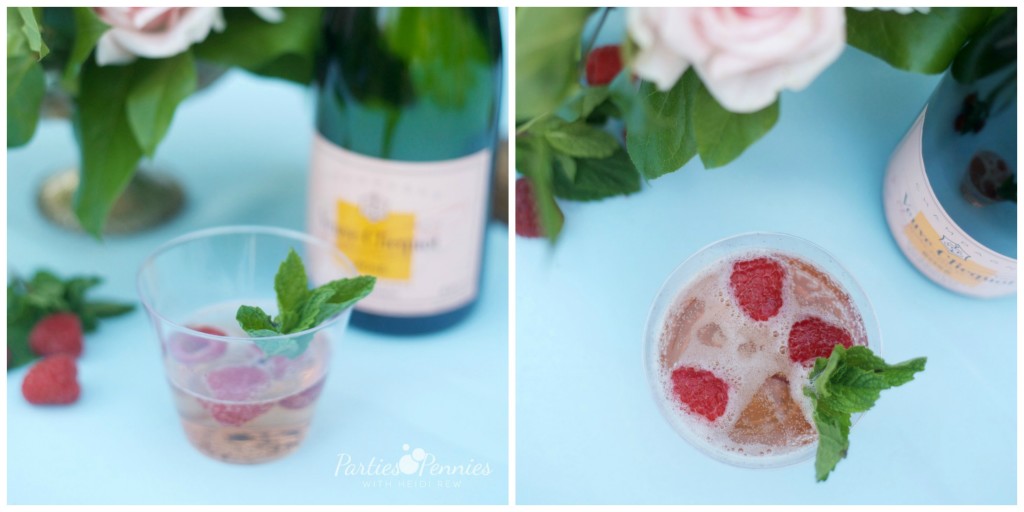 If you still want to have a wedding cake, order a plain iced cake from your local grocery store bakery. Decorate it with flowers, laser cut initials of the couple or fun saying, ribbon, or even candy. This cake was just $16 from my local grocery store bakery. I added farmers market flowers to the top, inserting them into a floral water pik tube first, then placing on top of the cake.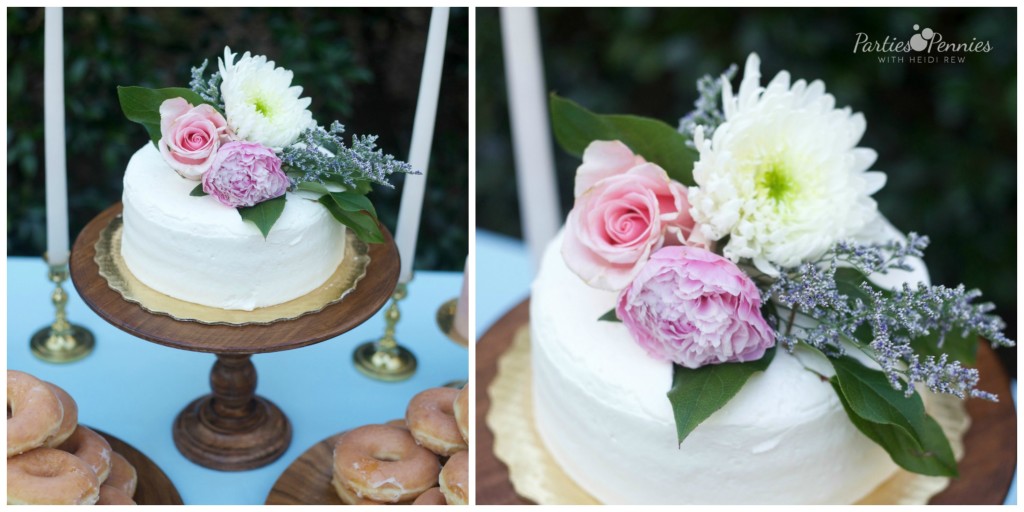 OTHER OPTIONS:
Doughnuts! Who doesn't love doughnuts AND for just $0.74 each for plain glazed, it's super affordable.
Food Truck – For our backyard wedding, we had an ice cream truck arrive for dessert! It was so much fun & so delicious. It ended up to be about $2/guest, which is pricey than the doughnuts but that was our "cake," so it worked out.
Popsicles – King of Pops is an Atlanta-based popsicle company and you can have them bring out their popsicle cart or order some & pick them up. Set up your own cooler to save some money.
Cookie Buffet – Stock up at your local membership warehouse and set up a cookie buffet for guests.
Bark Buffet – I haven't seen anyone do this but I think it would be SO fun and unique (as well as budget-friendly). Make up different types of chocolate bark ahead of time – Oreo, Healthy Dark Chocolate, Peppermint, Toffee, etc. Set it up almost like a candy bar. You can even set out little to-go boxes for people to take the leftovers home.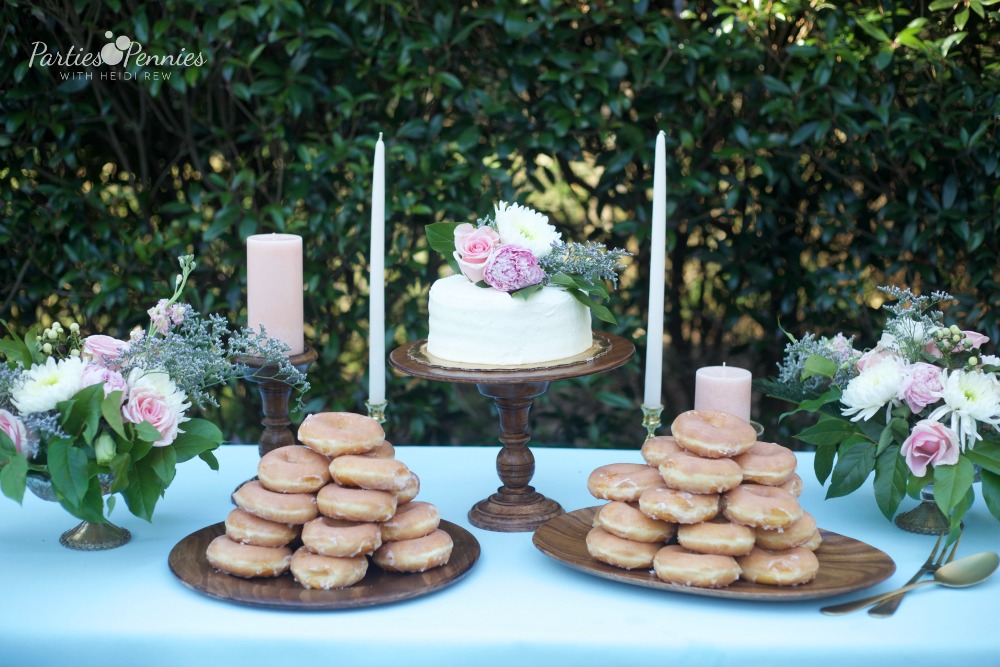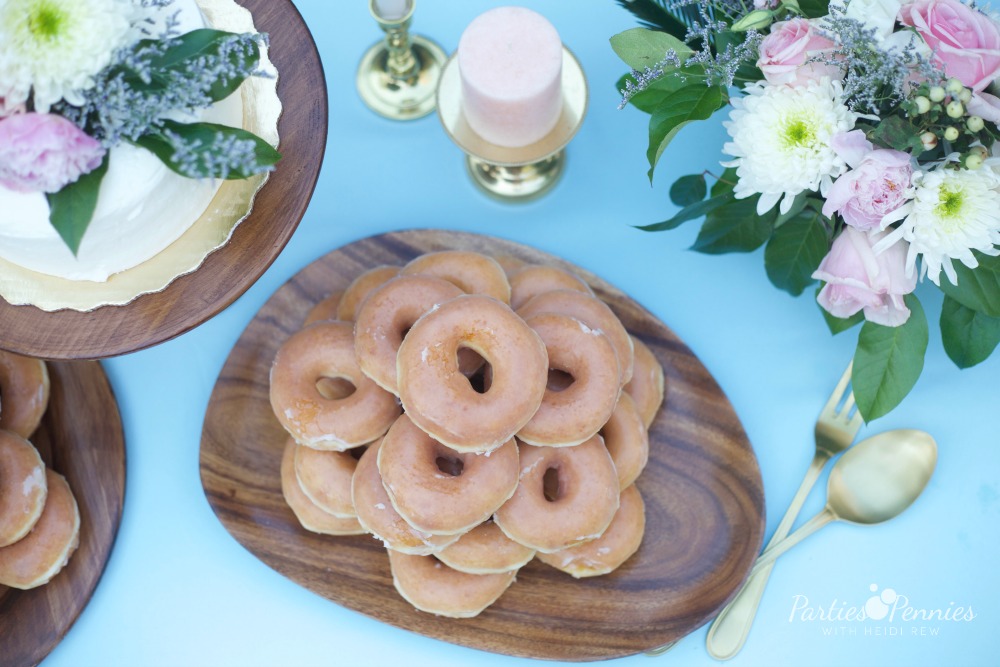 Did you know you can have personalized invitations for almost FREE??! I've created, along with my awesome graphic designer Madison, this editable invitation that can go with ANY theme and ANY color scheme! All you have to do is download this HOW TO PLAN A BACKYARD WEDDING for under $5,000 PDF! The PDF is a small fee, but it includes the editable invitations, a budget-breakdown that specifically tells you how you can keep your budget under $5,000, a timeline to-do list, supply list, favor signs, table numbers, editable ceremony outline, DIY fan, and MORE!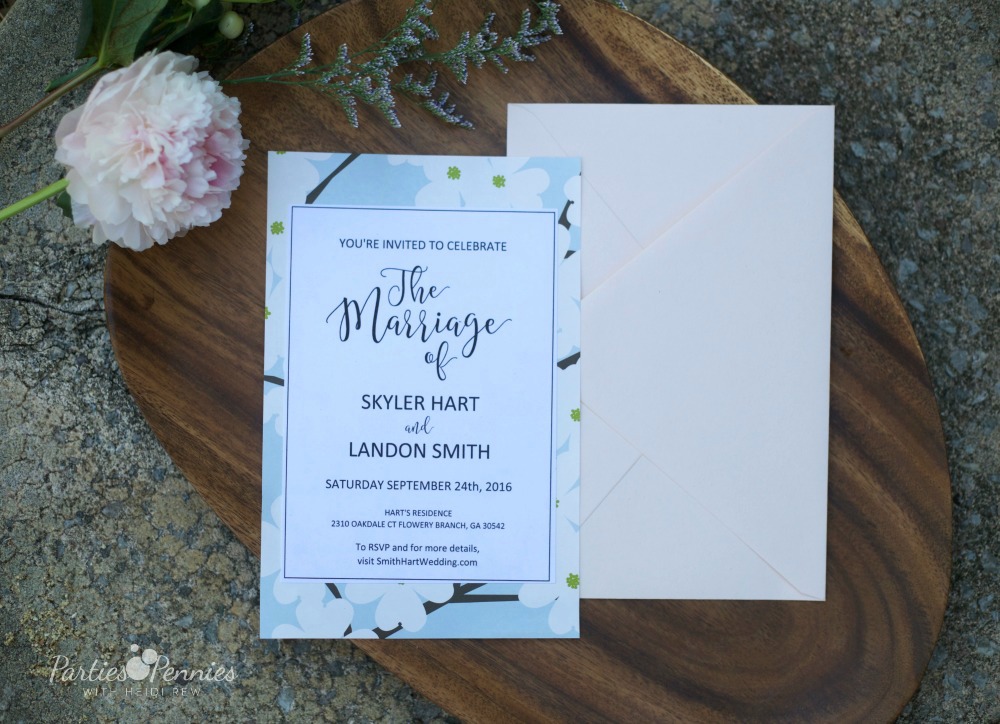 I give you my top tips for finding the BEST deals on envelopes, paper, and more in this PDF!

You can add some unique touches, like I did by adding this scrapbook paper behind the invitation, too.

For both of my weddings, the centerpiece and bouquets were DIYed. Both times, the flowers were bought from our local farmers market. The prices are incredible! For both weddings, I spent around $200 total for flowers! The only downside to this is that you may not know exactly what type of flowers they'll have the week before your wedding. I called ahead to ask them what they usually have in stock around the time I needed. The other downside is the time that is involved in arranging them. Check out the Wedding PDF for more information on exactly WHAT type of flowers to look for and include in your arrangements and bouquet.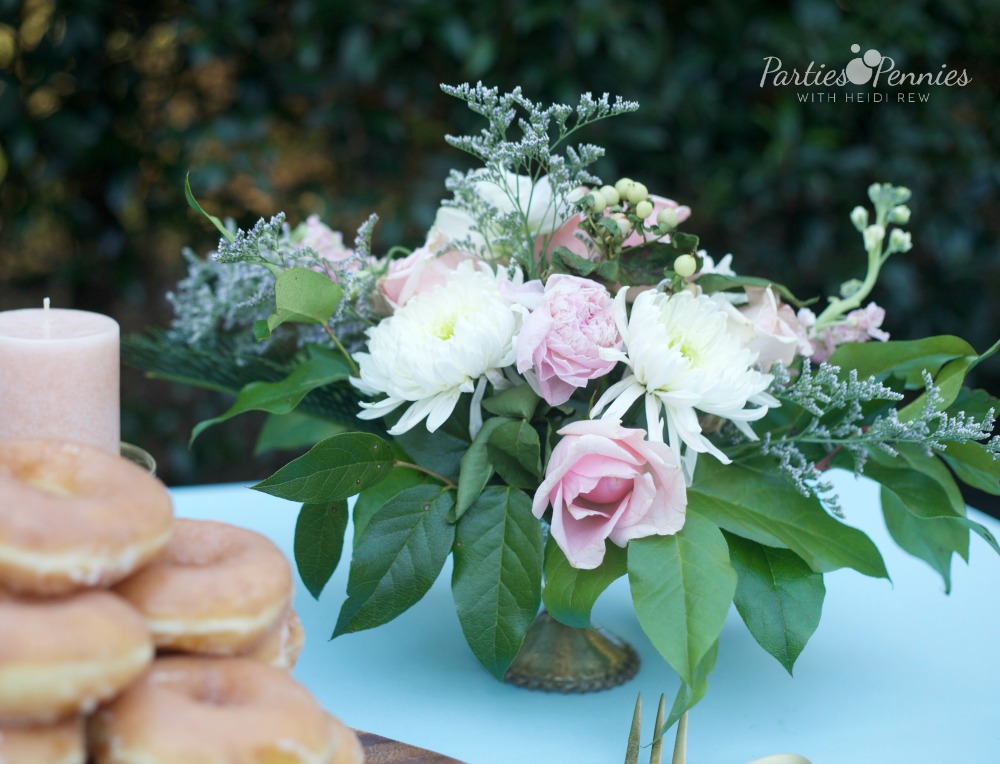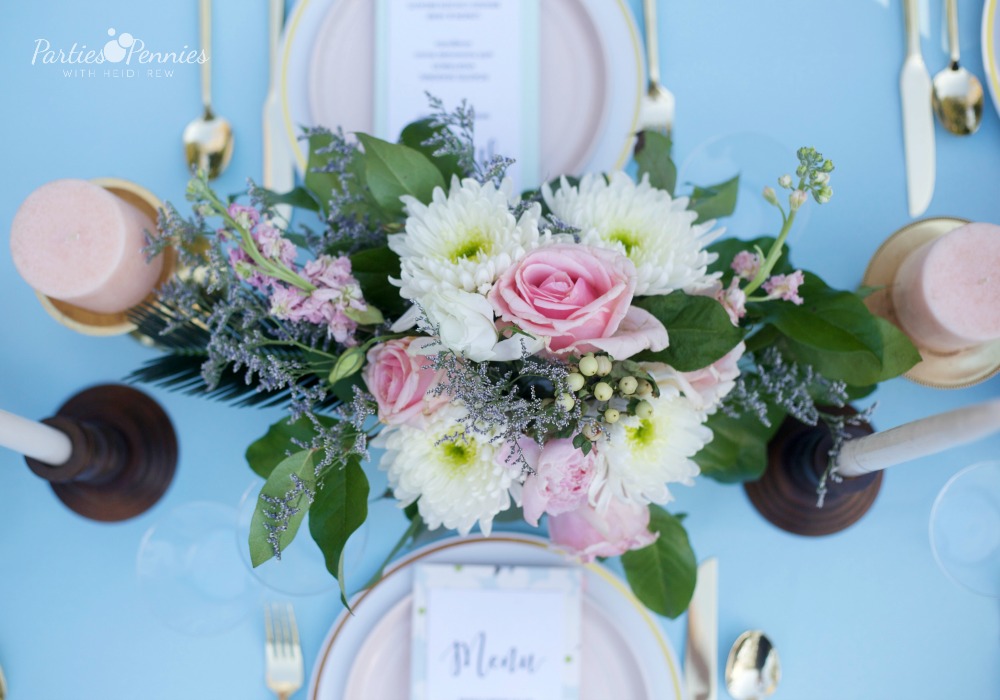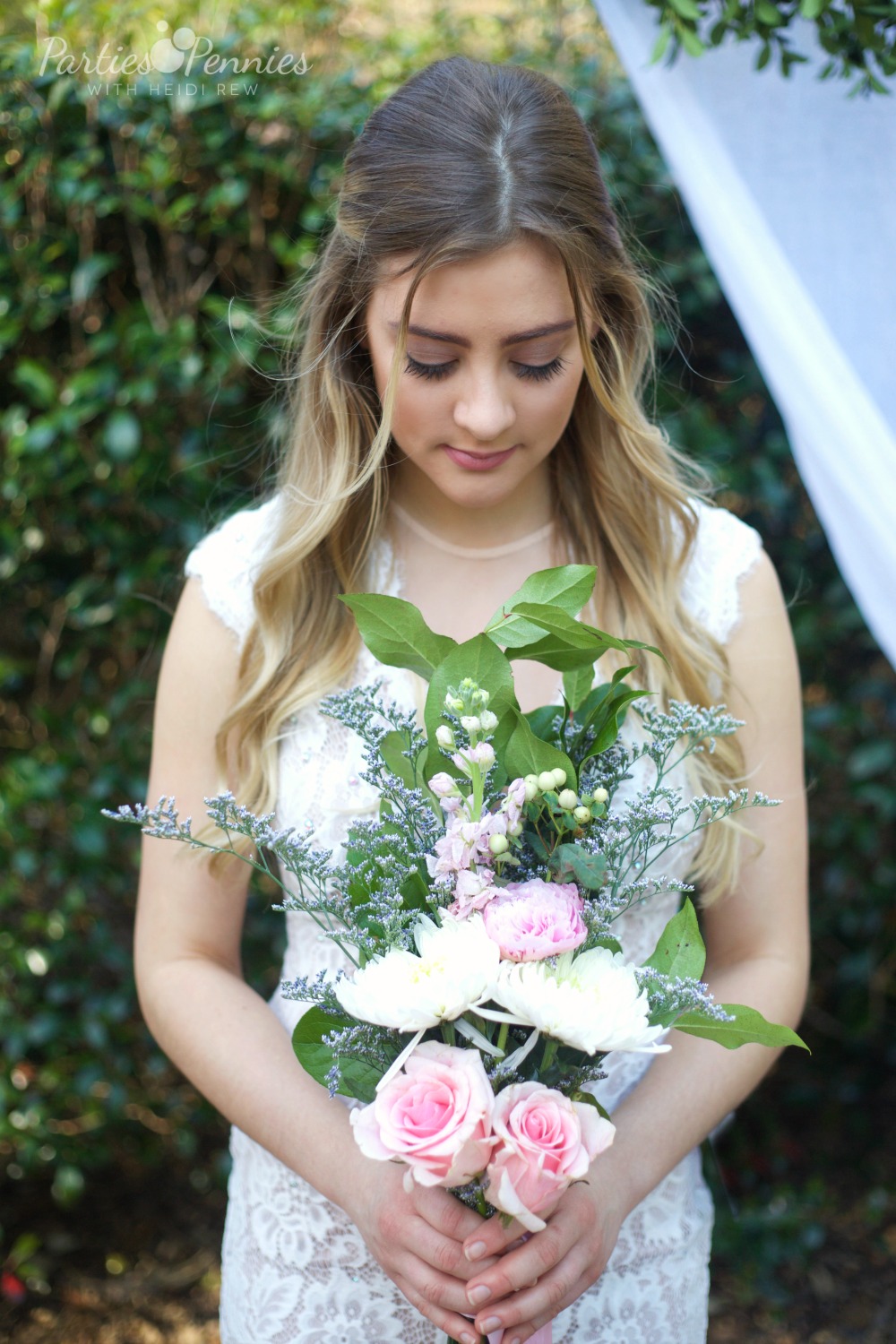 FOR MORE IDEAS & INSPIRATION –

Both weddings, we used people photographers who were just starting out. They gave us a great deal and the photos turned out great. For the Hawaiian ceremony, the photographers were included and the package mainly went toward that and the officiant.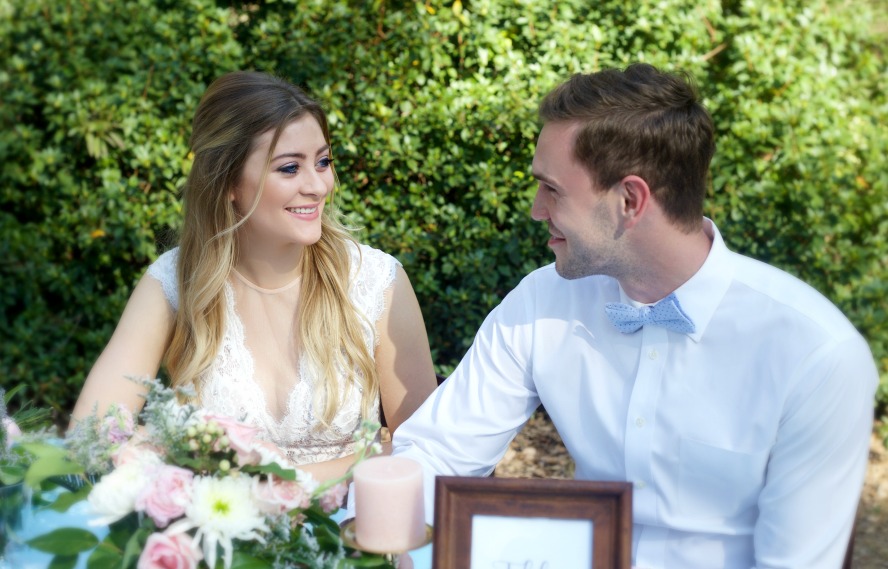 HERE ARE SOME OTHER OPTIONS TO CUT COSTS:
Pre-Wedding Photo Shoot with your other half – Schedule a day ahead of your wedding (or after if you want the 1st glimpse of the wedding dress to be walking down the aisle) with a regular photographer to snap photos of you and your bride/groom. Typically, you can find a great one to do a session for between $200-$350. The day of your wedding, have friends and family take photos. You'll save a TON of money, but still have those gorgeous photos of you & your love to treasure. Plus, you'll have the luxury of taking your time. No one will be rushing you to get the ceremony or reception started.
Call up your local Photography School and see if there's someone that would like to get some experience. Still ask to see samples of their work. I've been in photography school and there are some amazingly talented students there.
Friends & Family – Chances are some of your friends and family have a nice camera and are decent at taking photos.


If you don't have a long hair hippie like Omarosa to officiate you, ask a friend or family member that means a lot to you to officiate. Ask someone that is really significant to you and your fiancé. If they aren't ordained, have them go online and get certified to officiate. I give you the name of free place online to do this in the HOW TO PLAN A BACKYARD WEDDING for under $5,000 PDF.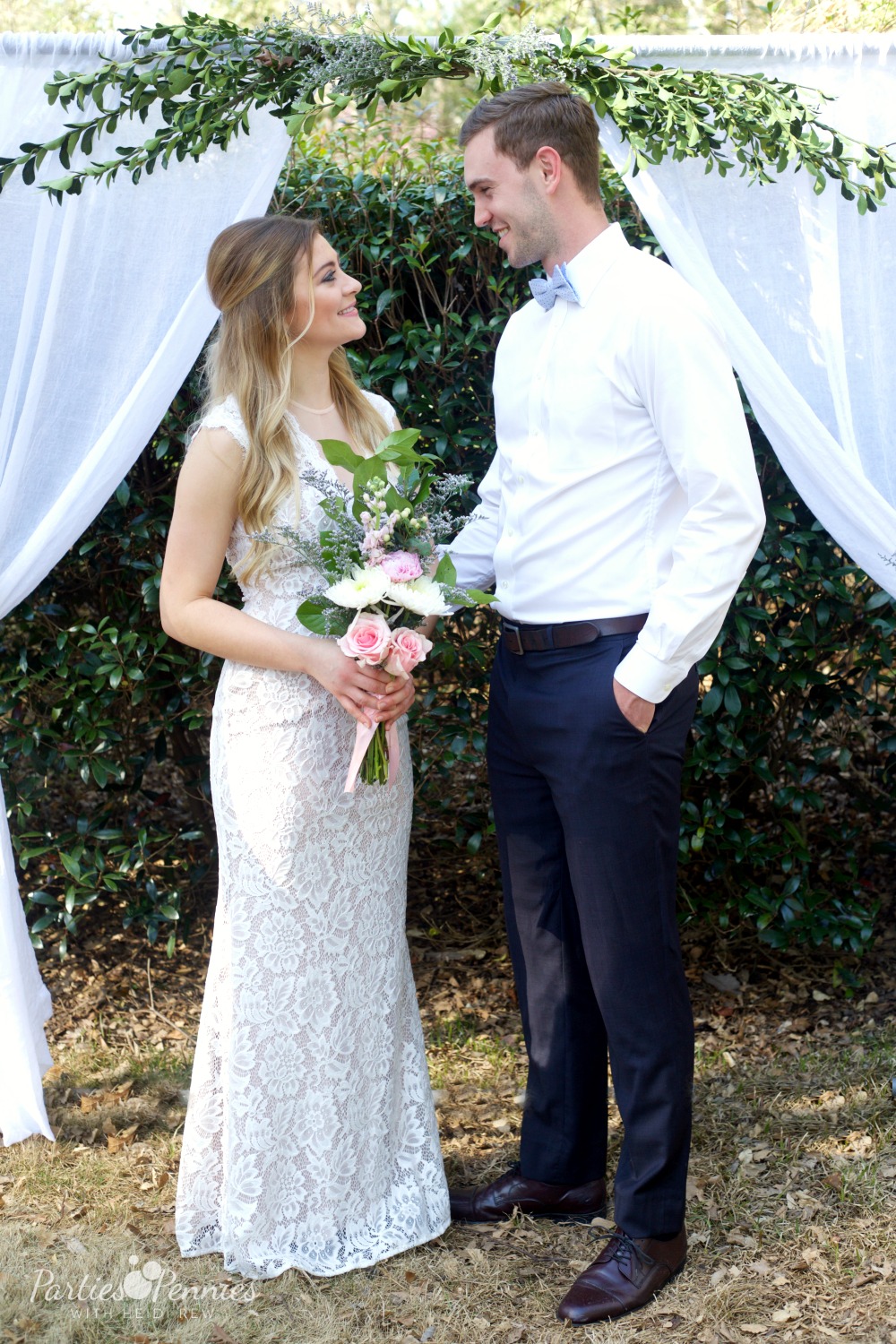 Rentals can certainly add up…ESPECIALLY when planning a Backyard Wedding. I plan budget-friendly parties all the time and I still use rental places. My FAVORITE Atlanta rental company is PEACHTREE TENTS & EVENTS! They are so wonderful to work with and have an extensive selection. That's where I rented those gorgeous cherry folding chairs!
HERE ARE A FEW OTHER TIPS TO SAVE $$ ON RENTALS:
Rectangular Tables are Cheaper than Circular
Basic Folding Chairs are typically just a little over $1 each! You can always dress them up with strips of fabric tied around the back, greenery added to the back, or even tulle.
Check Craigslist, Facebook Yard Sale Groups, and Recycle Your Wedding on The Ruffled Blog to find linens, vases, and other items for great prices. For my backyard wedding, I found a girl on Craigslist that rented me my tablecloth linens for $5 each. She had bought them for her wedding and was renting them out to cover her expenses.
Buy them. For something like table linens, it is sometimes more cost effective to just buy them then resale them. Here are some tablecloths I recommend.
Tents – These are tricky. Obviously they'd be a huge cost if you need one. That depends on weather. If you're concerned, try and work it into the budget but ask your rental facility how much notice they need to cancel it. If the weather looks like it's going to be beautiful, maybe you can cancel a week out.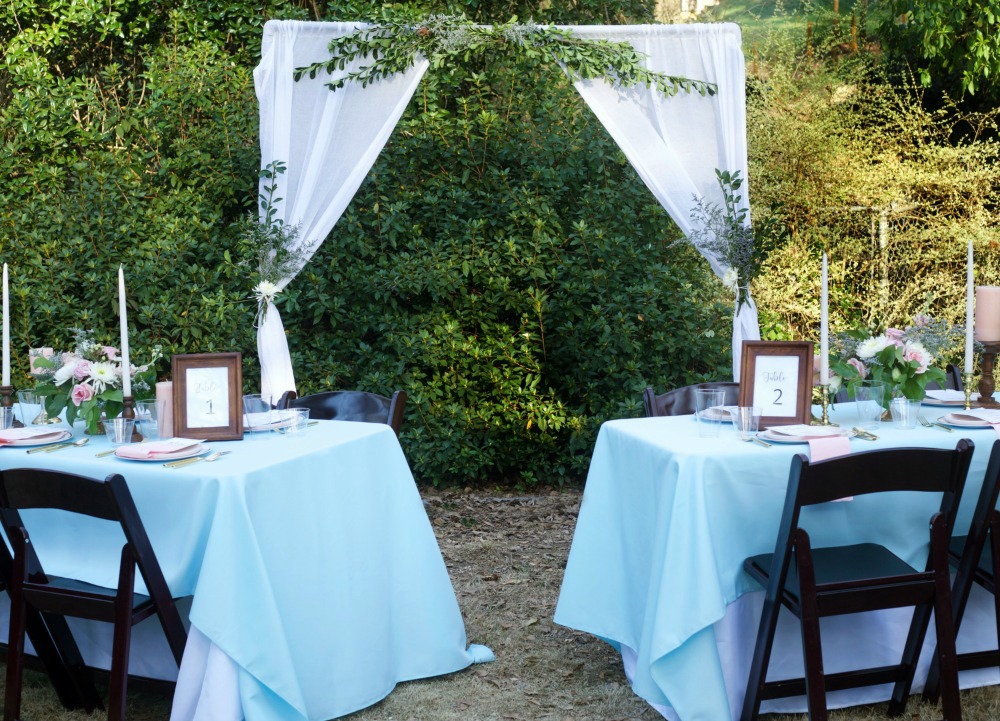 Here are 2 of my favorite favor ideas! Both are under $1/favor and the favors WE gave for our backyard wedding.
Bath Salt Buffet – Who doesn't love a night of pampering??! Set up a buffet, like a candy buffet, with different scented bath salts. Let the guests fill a bag with their favorite.
HOW TO:
1| Buy epsom salts in bulk, as well as added fragrances and color.
2| Mix the scent and coordinating color into several different batches.
3| Fill apothecary jars with each various scent, add a label*, a scoop, and add the bath salt favor sign*. (*included in the HOW TO PLAN A BACKYARD WEDDING for under $5,000 PDF)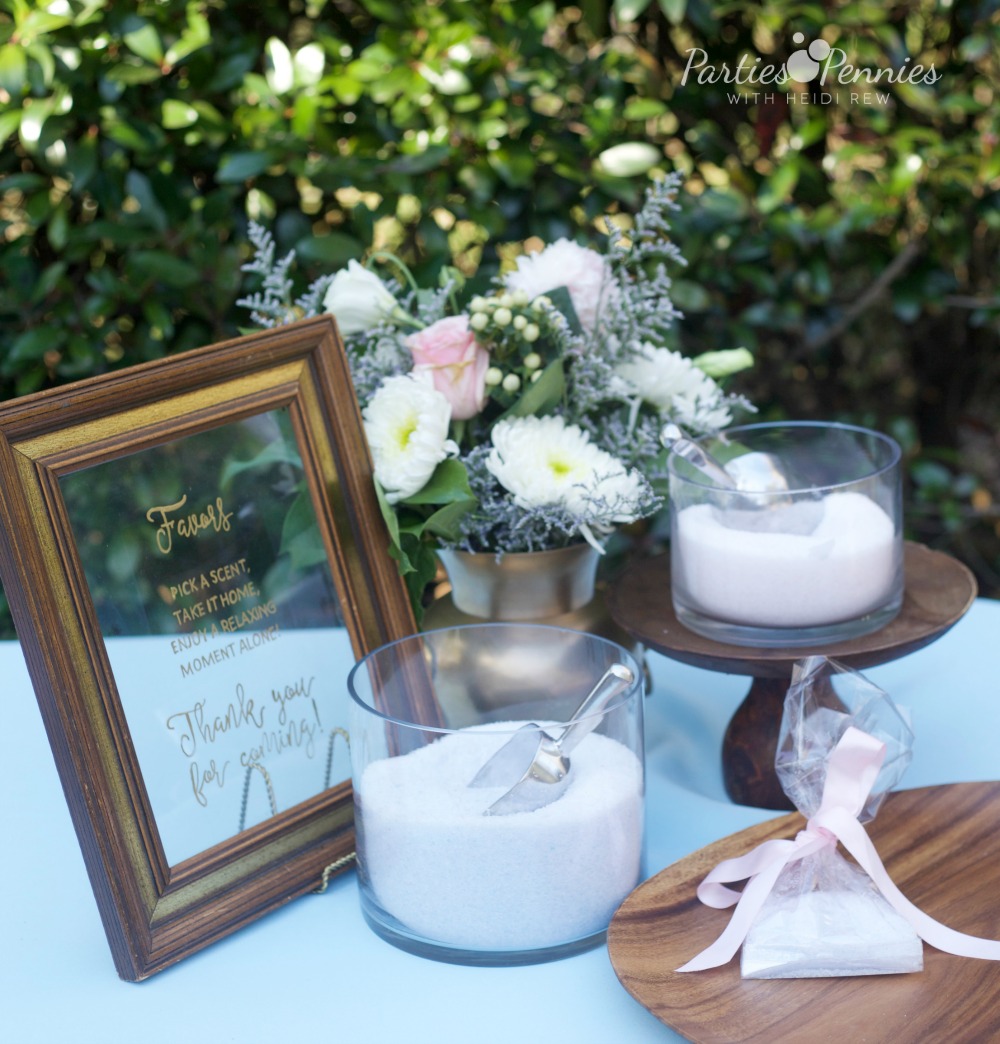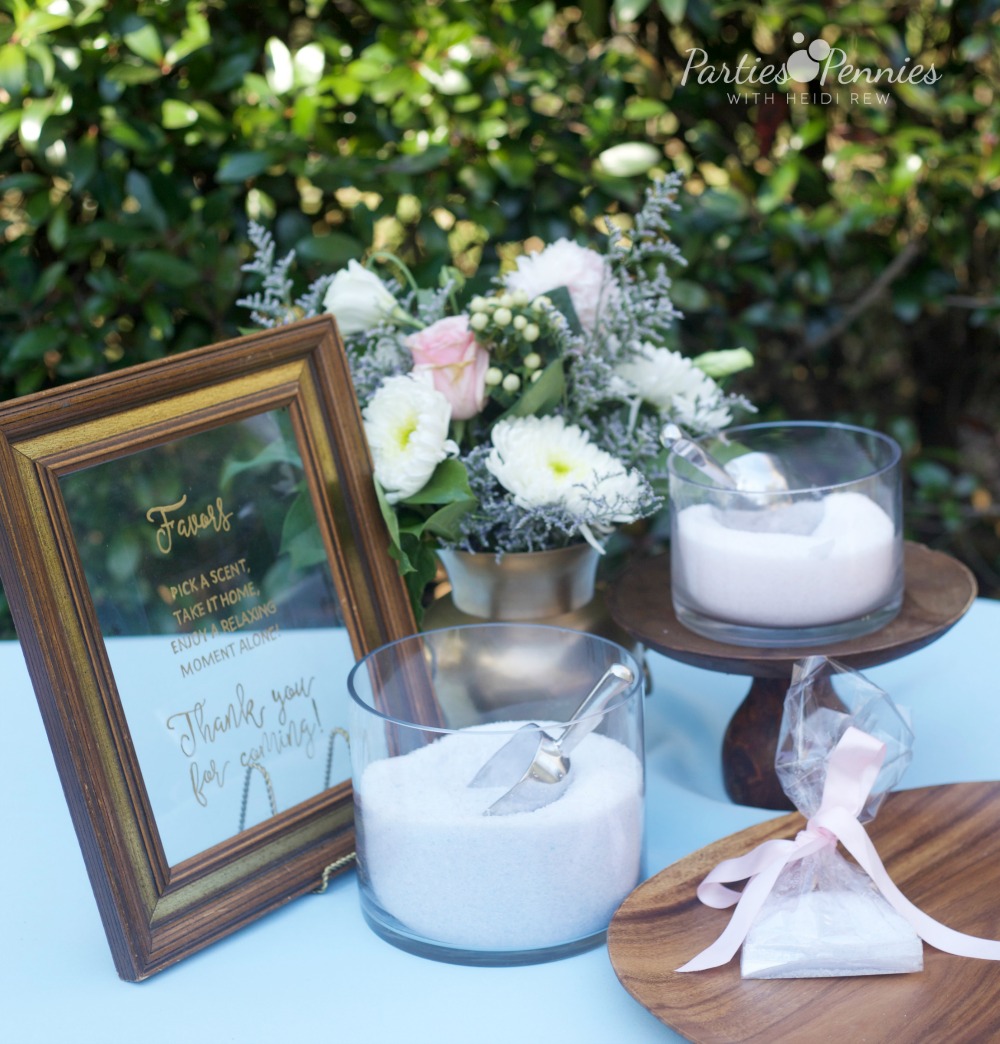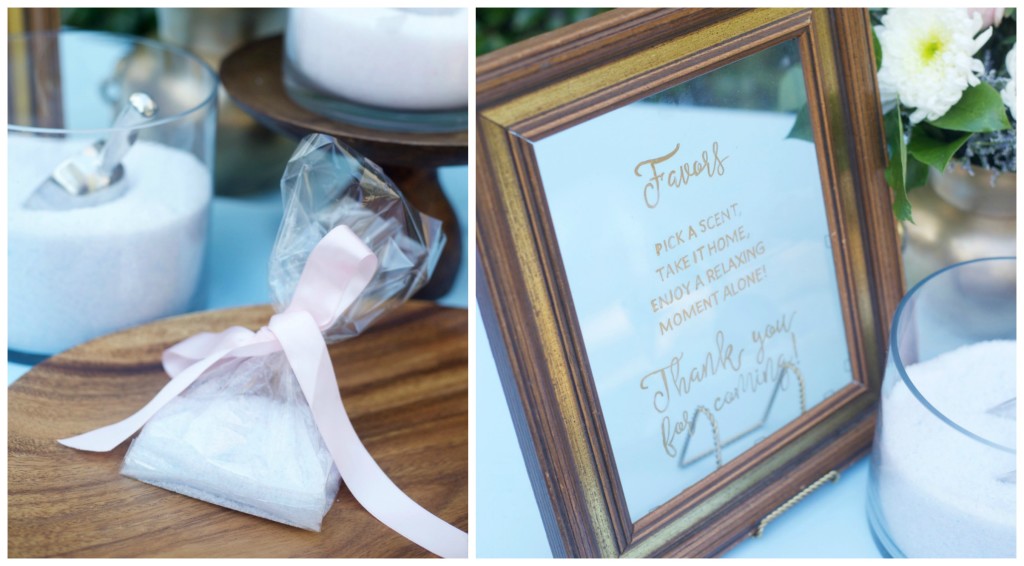 Personalized Matchboxes – Whether it's to light a candle, cigar, fire pit, or in case of a zombie apocalypse, matchboxes are useful and budget-friendly.
HOW TO:
1| Buy plain matchbox favors.
2| Edit the matchbox labels*. Cut out and glue to the top of the matchbox. (*included in the HOW TO PLAN A BACKYARD WEDDING for under $5,000 PDF)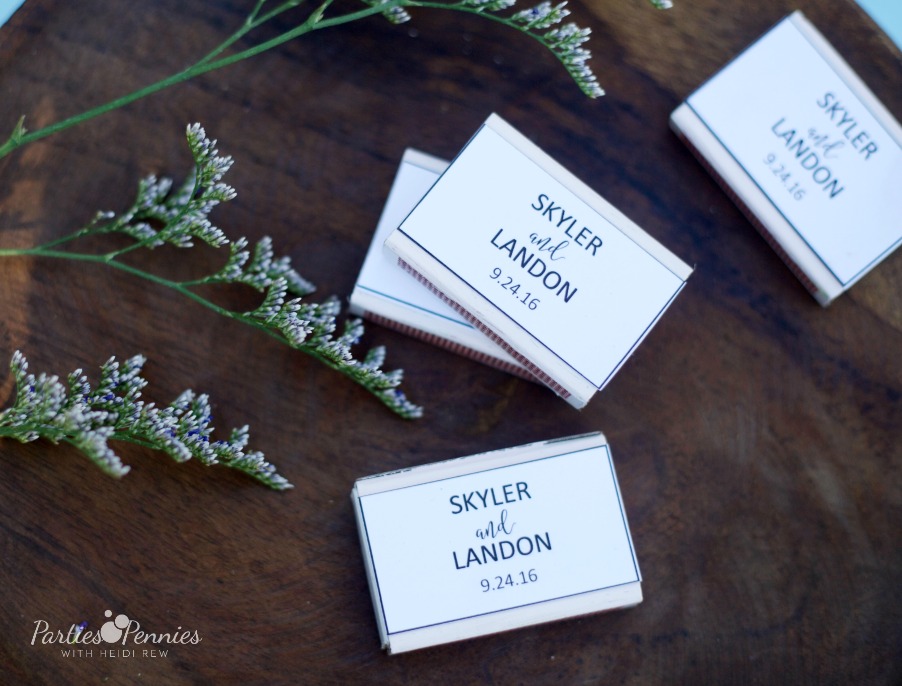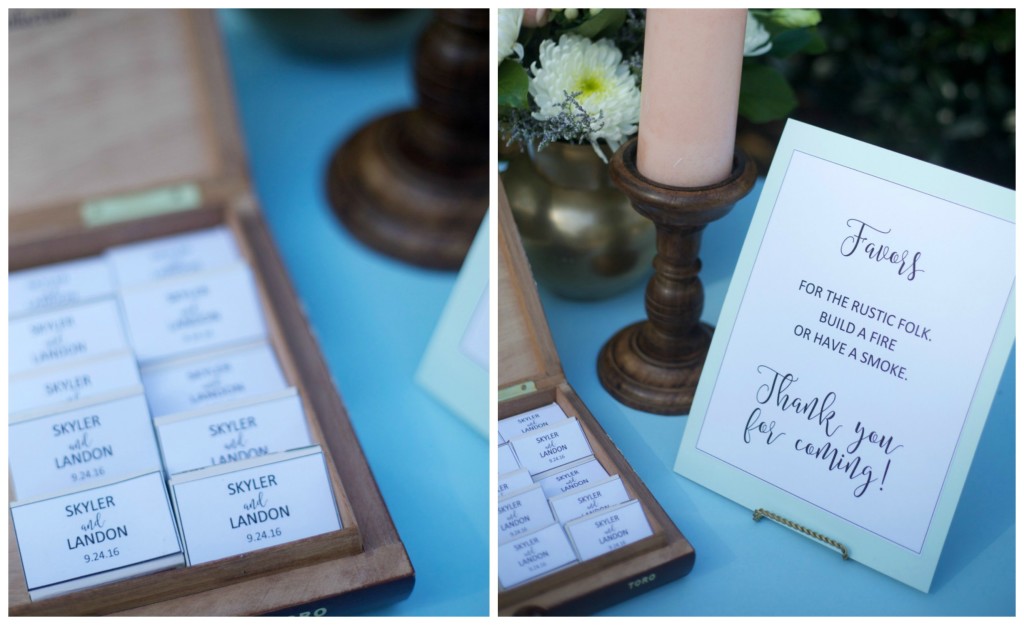 One of the BIG decorations for this inspirational Backyard Wedding was my DIY PVC BACKDROP. I created the frame using my tutorial here. Check out this video to see how we put it all together…
INSTRUCTIONS:
1| Make the DIY PVC BACKDROP frame.
2| Buy sheer (or regular) curtains and thread them through the top pipe of your backdrop.
3| Tie them to each side pole with some twine or string.
4| Use cut greenery (I literally cut these from our backyard) to decorate the sides and top. I used craft wire to attach the greenery to the poles. I also added some floral stems I had leftover.
This entire backdrop cost me under $50!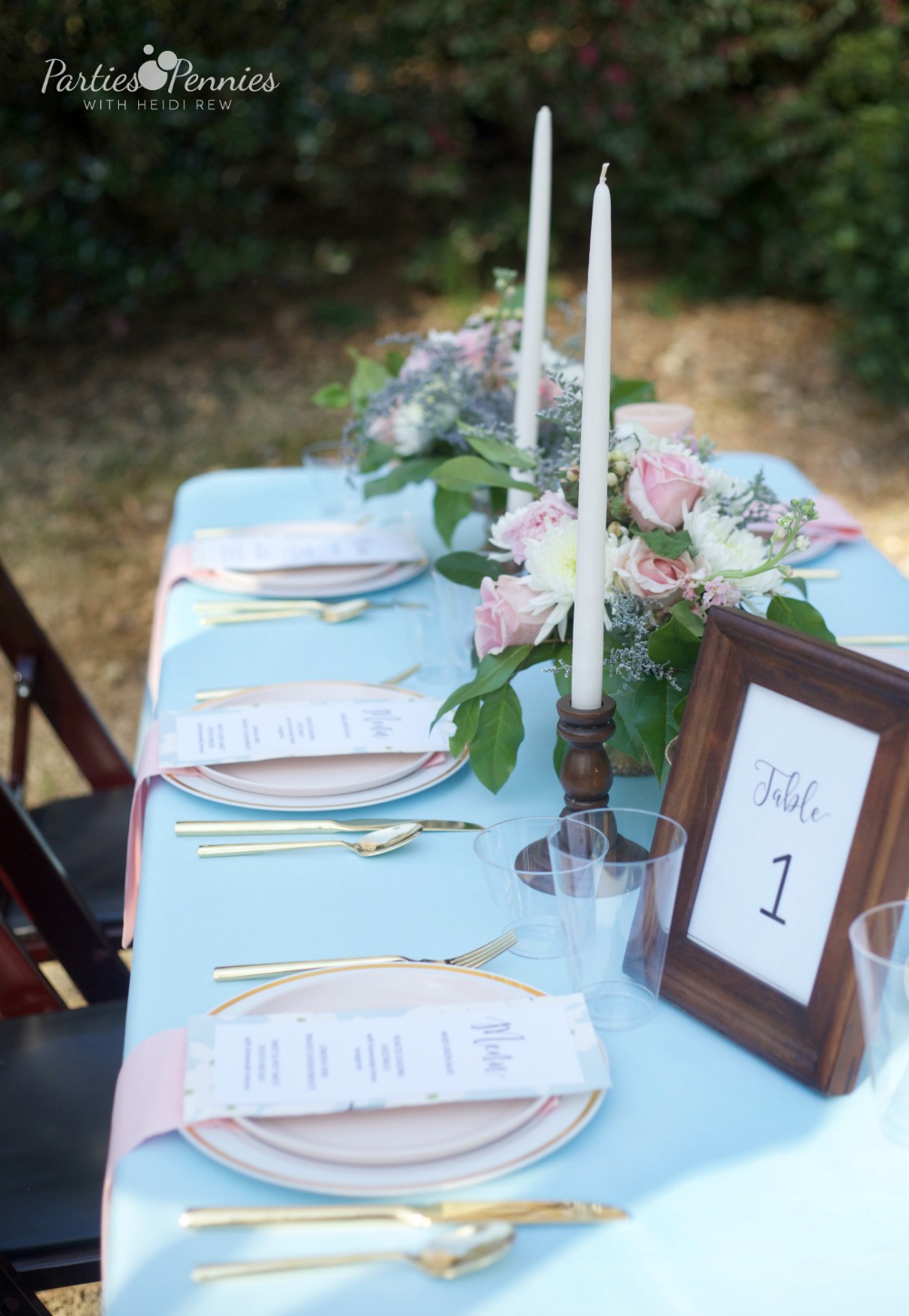 OTHER DECOR IDEAS:
Check out thrift stores for inexpensive vases, candle holders, and even frames.
WHITE LIGHTS! We had a HORRIBLE looking backyard. Before we bought the house, it was a crack house. The backyard was in bad shape – glass, trash, not a lot of grass, etc. We picked up all the glass, but just so you know it was not something you'd see in Better Homes & Gardens. Add some white lights strung across & it instantly transforms a backyard. Find some great prices on white lights at membership warehouses, amazon, or even borrow from friends and family. With all the white Christmas lights, you should be able to round up enough.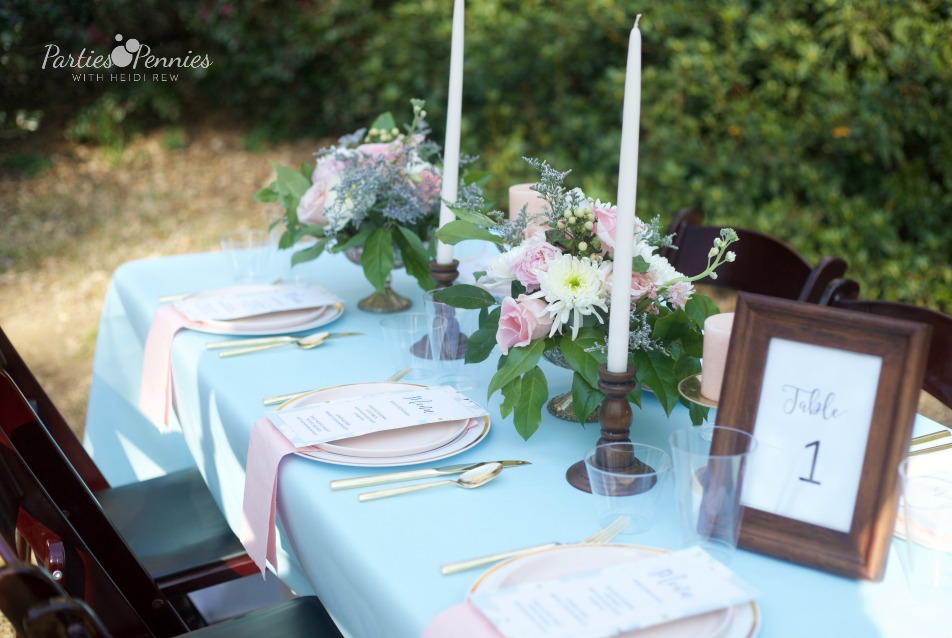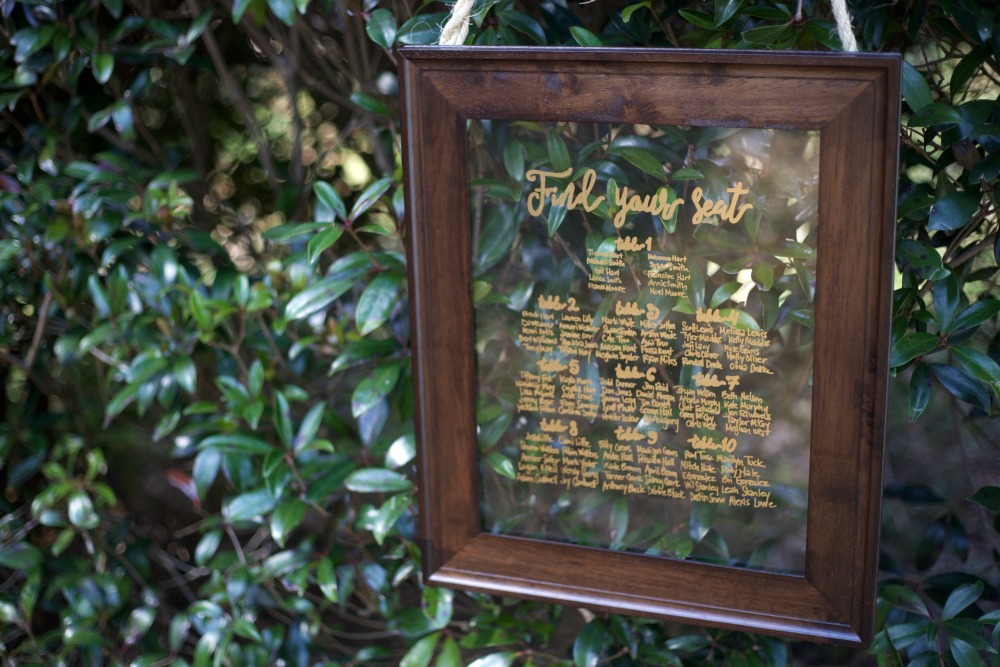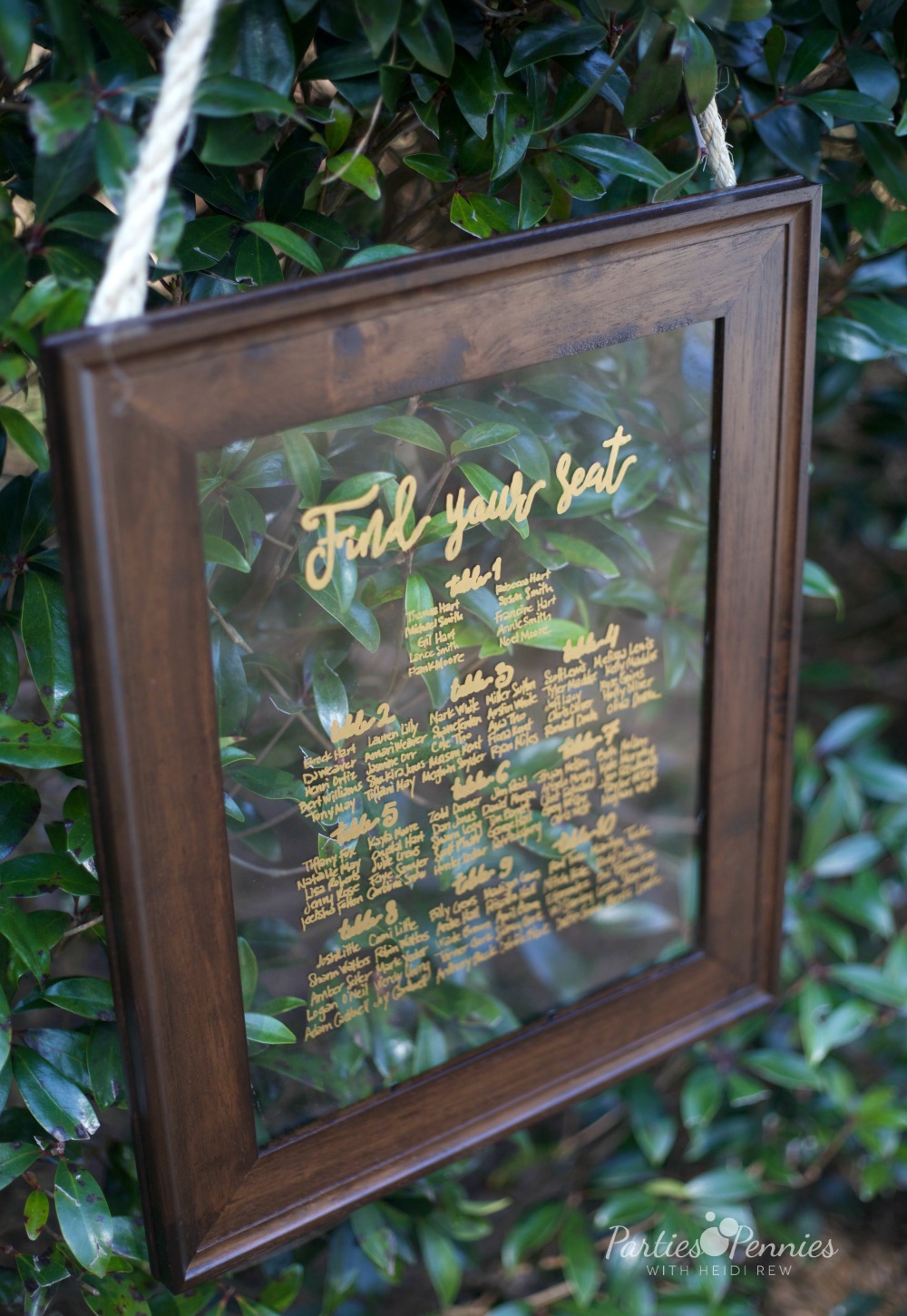 TABLE NUMBERS – Download the HOW TO PLAN A BACKYARD WEDDING for under $5,000 PDF and you'll get editable, printable table numbers! Stick them in a 5×7 frame or create your own fun way to display them! You can also use the same technique I did with the frame above. Print out the table number, trace over it in gold, and you'll have that clear glass look.

My first wedding dress I got at Bridals by Lori (Say Yes to the Dress…before they were filming there). It was a dress Lori designed herself but it had been a sample, so it was hugely discounted. The second dress was bought online from a Chinese company. If you don't want to take a chance on a dress from overseas (as far as shipping goes), here are some other budget-friendly ideas:
Rent the Runway – You can find some gorgeous dresses for $100 – $150.
Recycle My Wedding or other 2nd hand online used wedding dress options.
Vintage Clothing Stores
Department Stores – the dress our bride is wearing was under $150 from a local department store.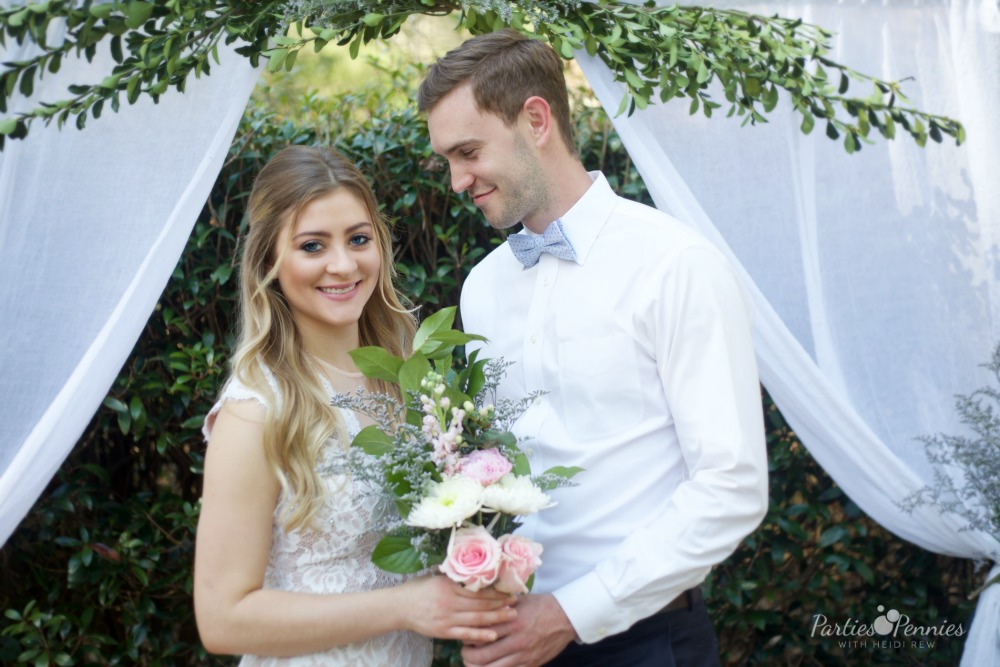 Rent the Runway is another option as a cheaper alternative to Bridesmaid dresses. I know a lot of friends who find a dress at a department store for under $50 and it looks beautiful. Others choose a color and a few styles and let the bridesmaids each pick their favorite.
Like our groom here, have the groomsmen wear solid slacks and a button down shirt. Pick out a fun bow tie for them and they'll be thanking you they don't have to wear a jacket.
Special Thanks: Graphic Design – Mad&Dusty | Chair Rentals – Peachtree Tents & Events | Floral Vases – Lindsay Coletta | Assistant – Kate Caldwell | Models – Chase Anderson & Alex Bartee | Location – Jeremy & Kim Golden – Huge thanks to everyone!
You CAN plan a gorgeous wedding AND not break the bank!! I promise! You totally GOT THIS!! Party on!