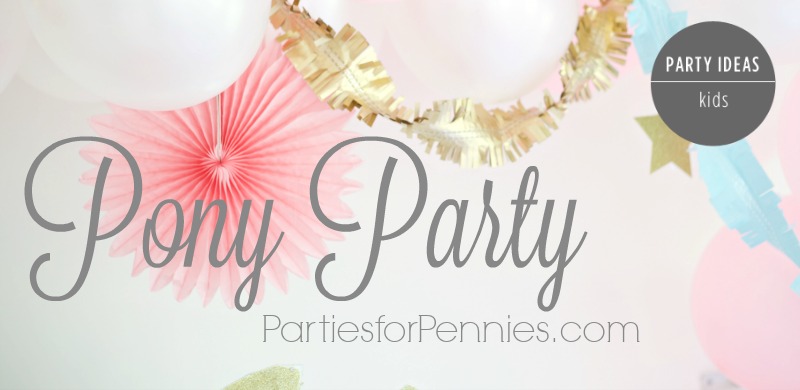 28 Oct

Pony Party

Hey party people!

If you follow Parties for Pennies on social media, you know I have an awesome partner that has been helping me with social media over the past few months. Her name is Kate and she is super talented. She's an actress, but has graciously carved out time to help P4P too.

Kate has an adorable daughter named Ava. Ava turned 6 a month ago and Kate asked me to help her with the party. Ava is a girl after my own heart because she asked for a PINKIE PIE PARTY, from My Little Pony. Not only did I love My Little Pony as a child, but Pinkie Pie is the party pony. She always comes prepared with confetti cannons and balloons and cupcakes. Yep, Pinkie Pie is my favorite, too.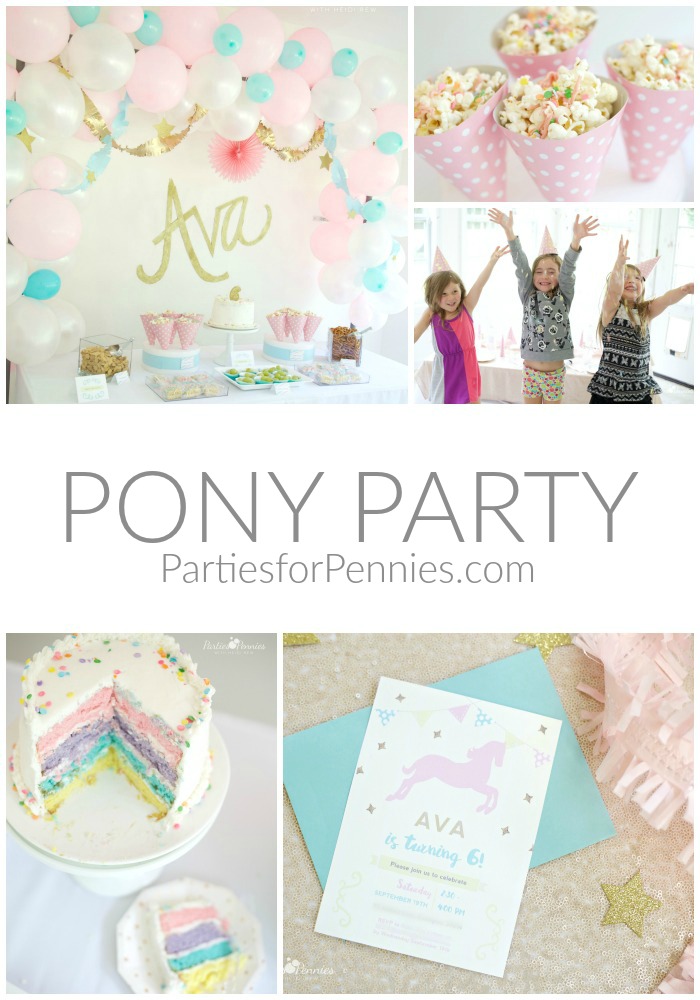 If you'd like to create a party that PINKIE PIE would be proud of, check out my PARTY PLAN for how to throw a PONY PARTY…
INVITATIONS:
Here's the invitation I had Carmia of Clementine Creative create for this party. (This will be available to download later)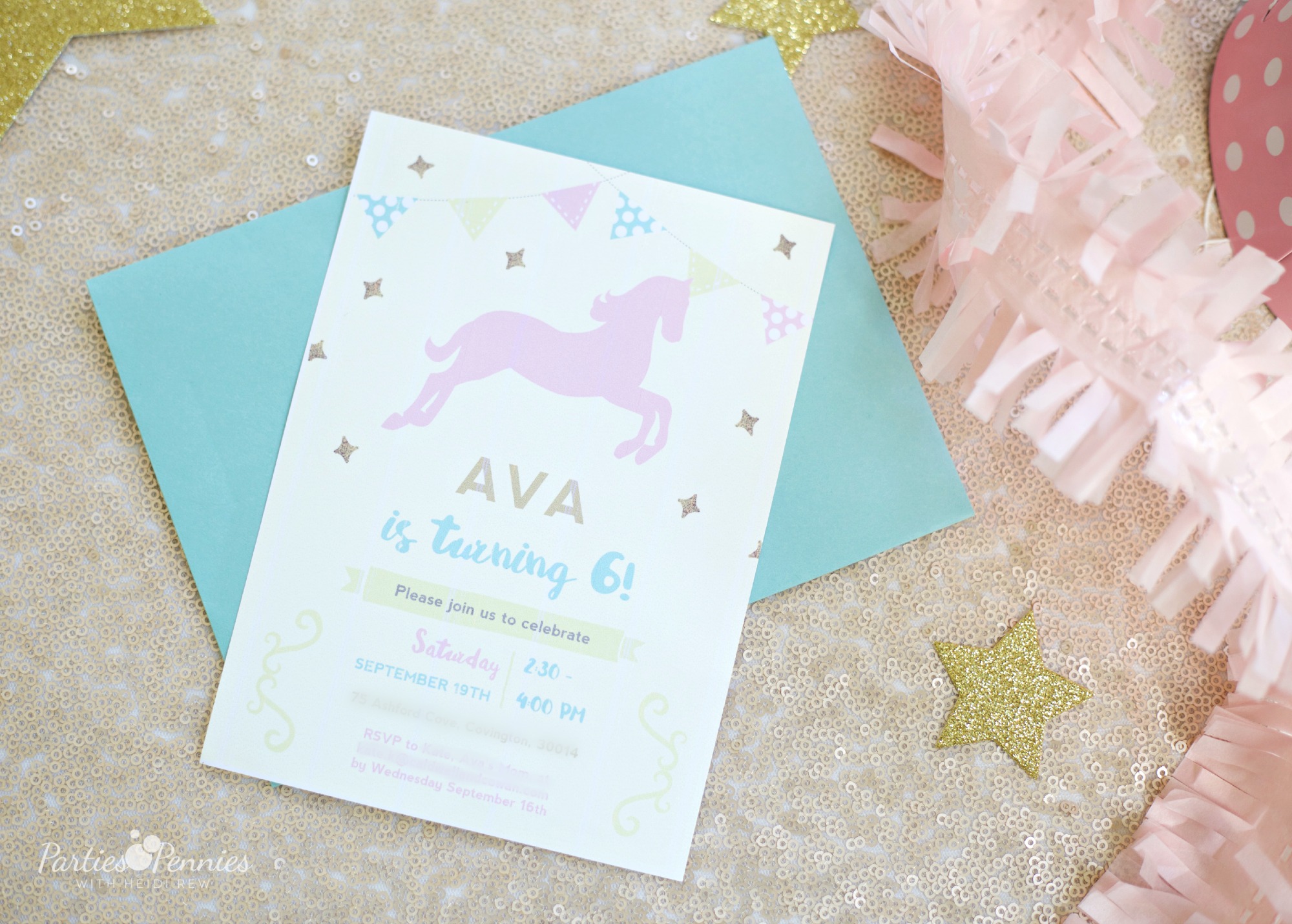 For an added touch, I drew gold stars on the inside flap of the envelope and around the guest's name.
DECORATIONS: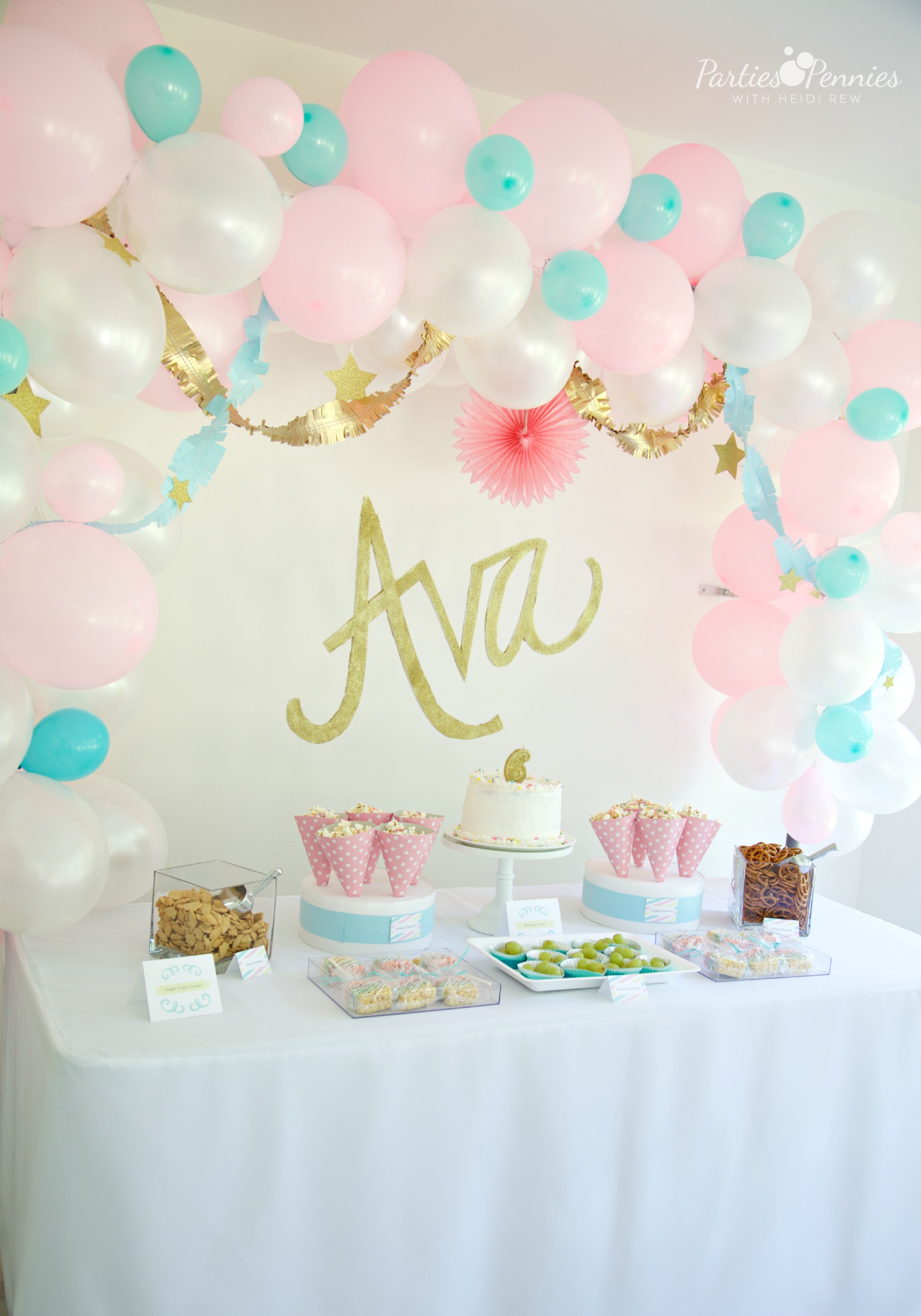 The "wow-factor" decoration was the balloon arch with gold "A." I created this using my DIY Party Backdrop (from PVC pipe) + lots of balloons and party decorations. The gold "A" was made by cutting the letter out of foamboard, using spray adhesive, and covering in gold glitter.
I didn't get a chance to video the entire process, but here's a little snippet of me (and Kate) creating the Balloon Arch.
What I did was blow up a TON of balloons (Kate was a lifesaver in this area). TIP: Use this little ditty. Saves a ton of time and breath.

Once we had the balloons ready, I tied about 7-8 together with curling ribbon. They looked like a balloon garland. This made it easier to just wrap them around the backdrop frame. Once they were wrapped, I tied or taped them to the pvc pipe. The balloons were the "base," so once those were all done I just added some streamers, gold cut-out stars, and party fans.
The other decorations were a sign saying "Ponyville,"a pretty light pink/champagne glittered tablecloth, this DIY "A" marquee light-up letter, and more streamers and party decorations as a table runner.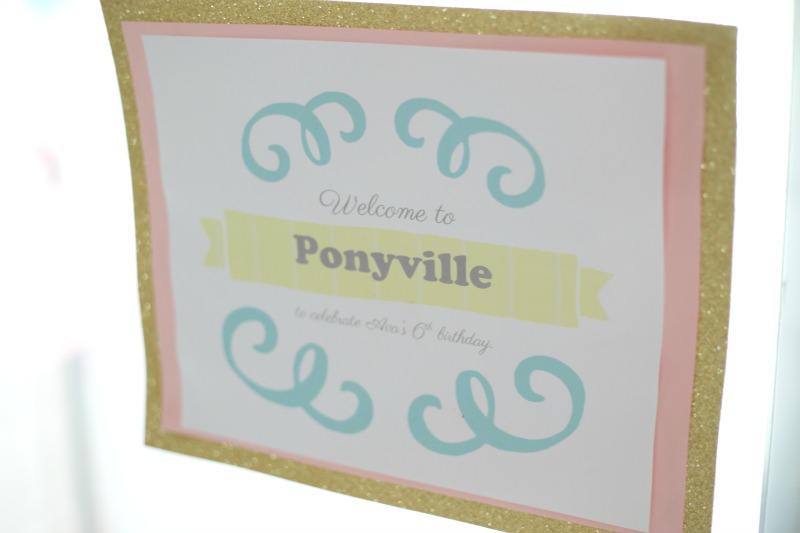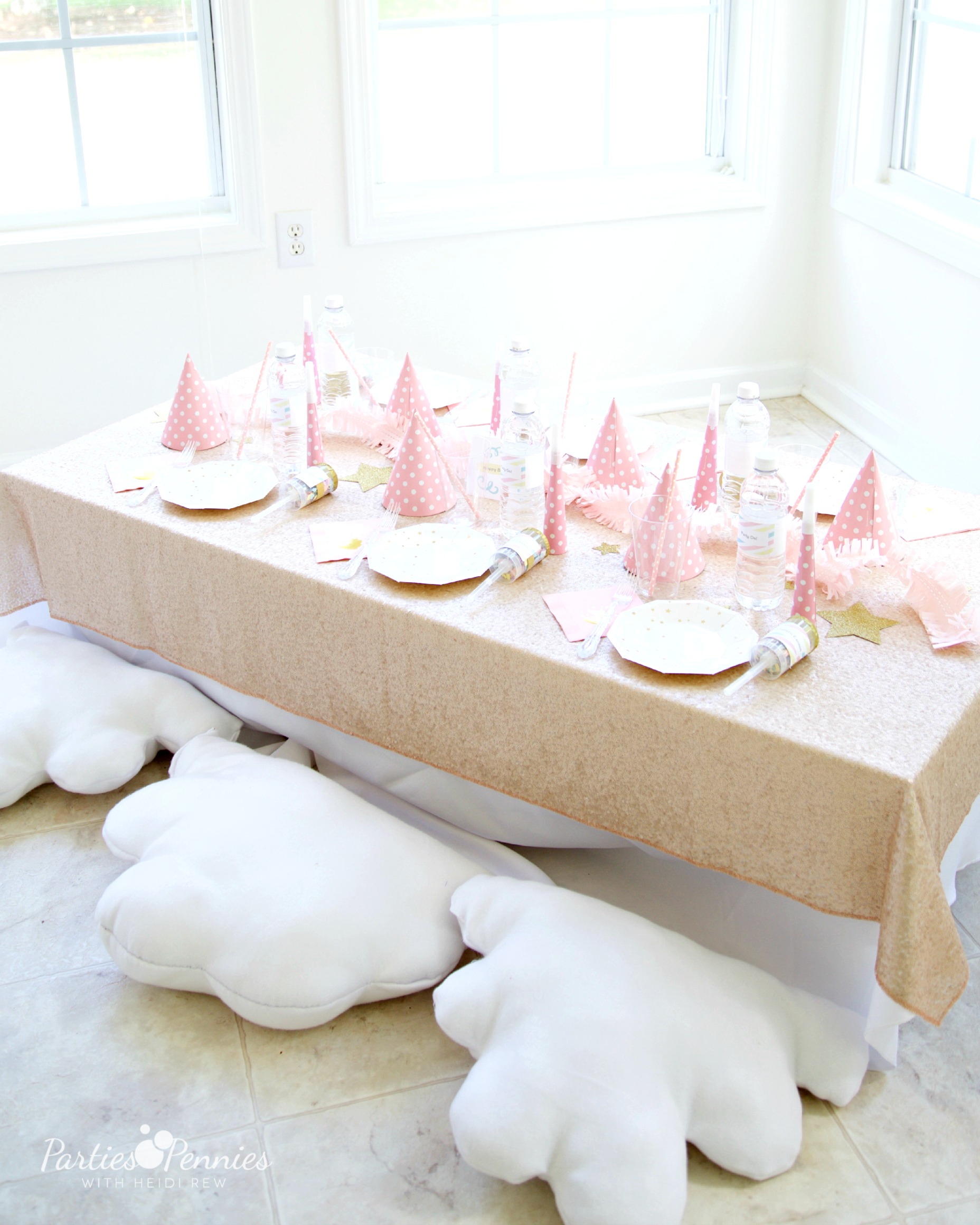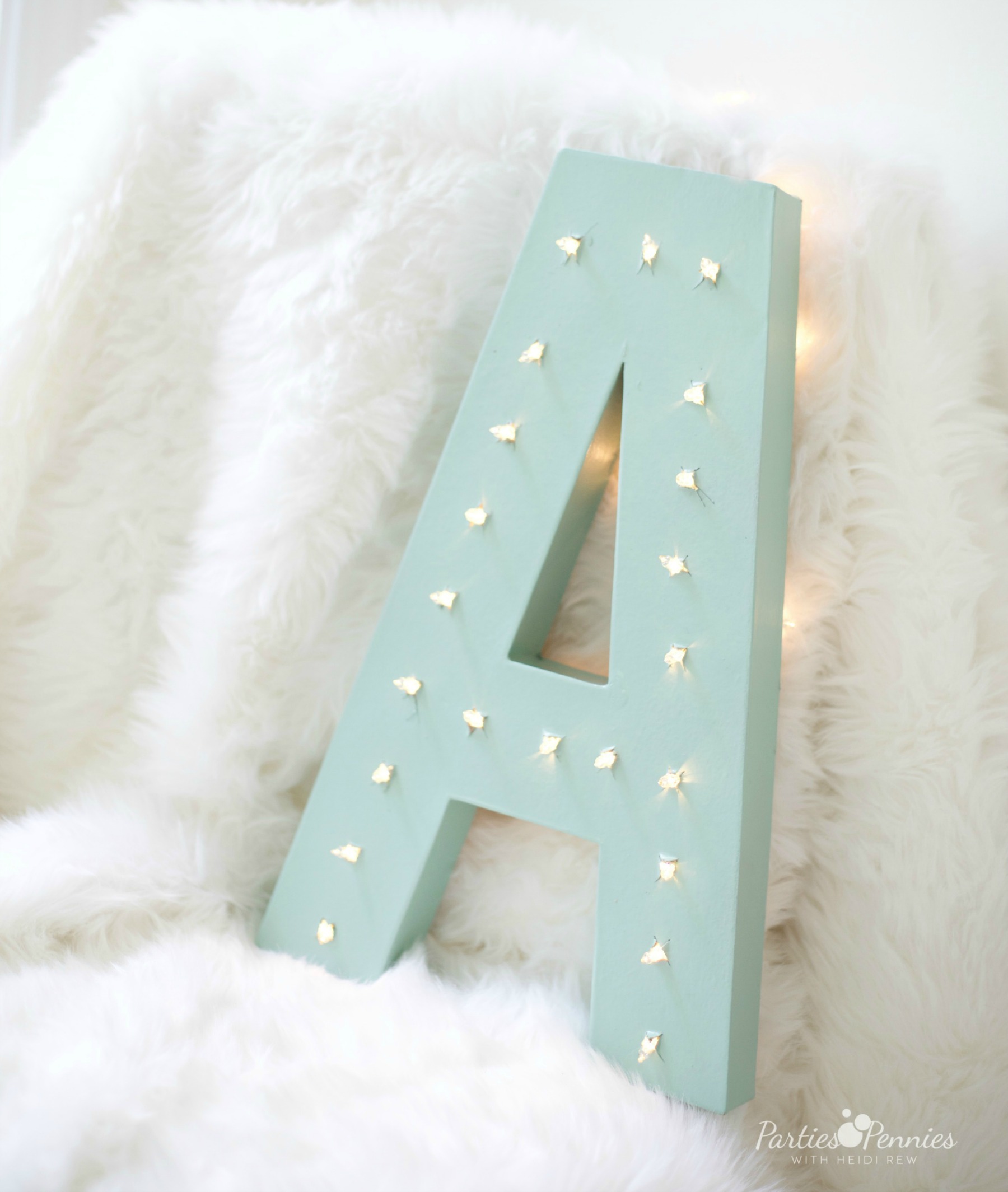 TABLE:
At the table, I had these adorable plates, napkins, plasticware, cup, pink straw, party blower, party hat, and confetti cannon. To say the confetti cannons were a huge hit is an understatement. The girls LOVED them.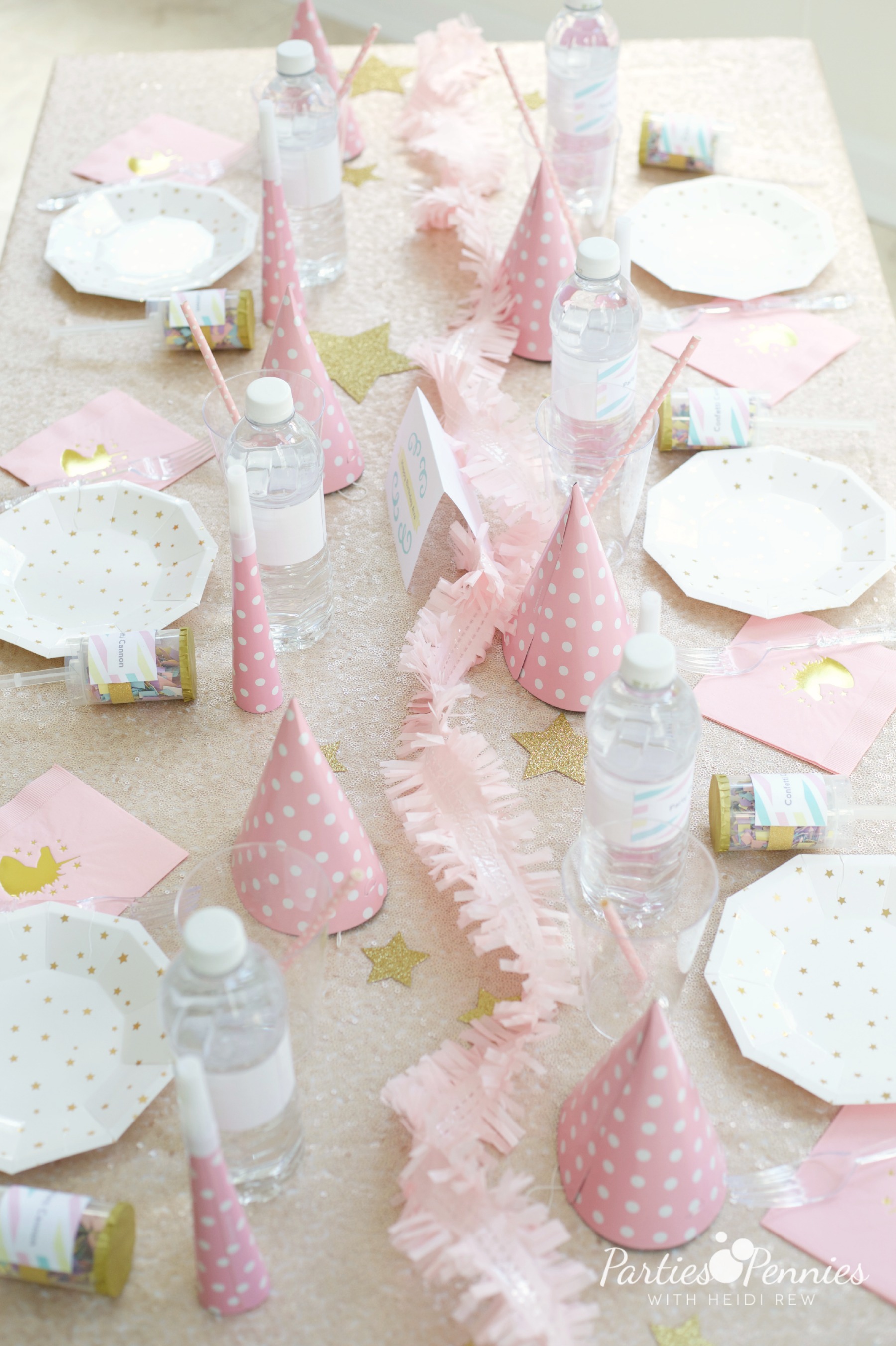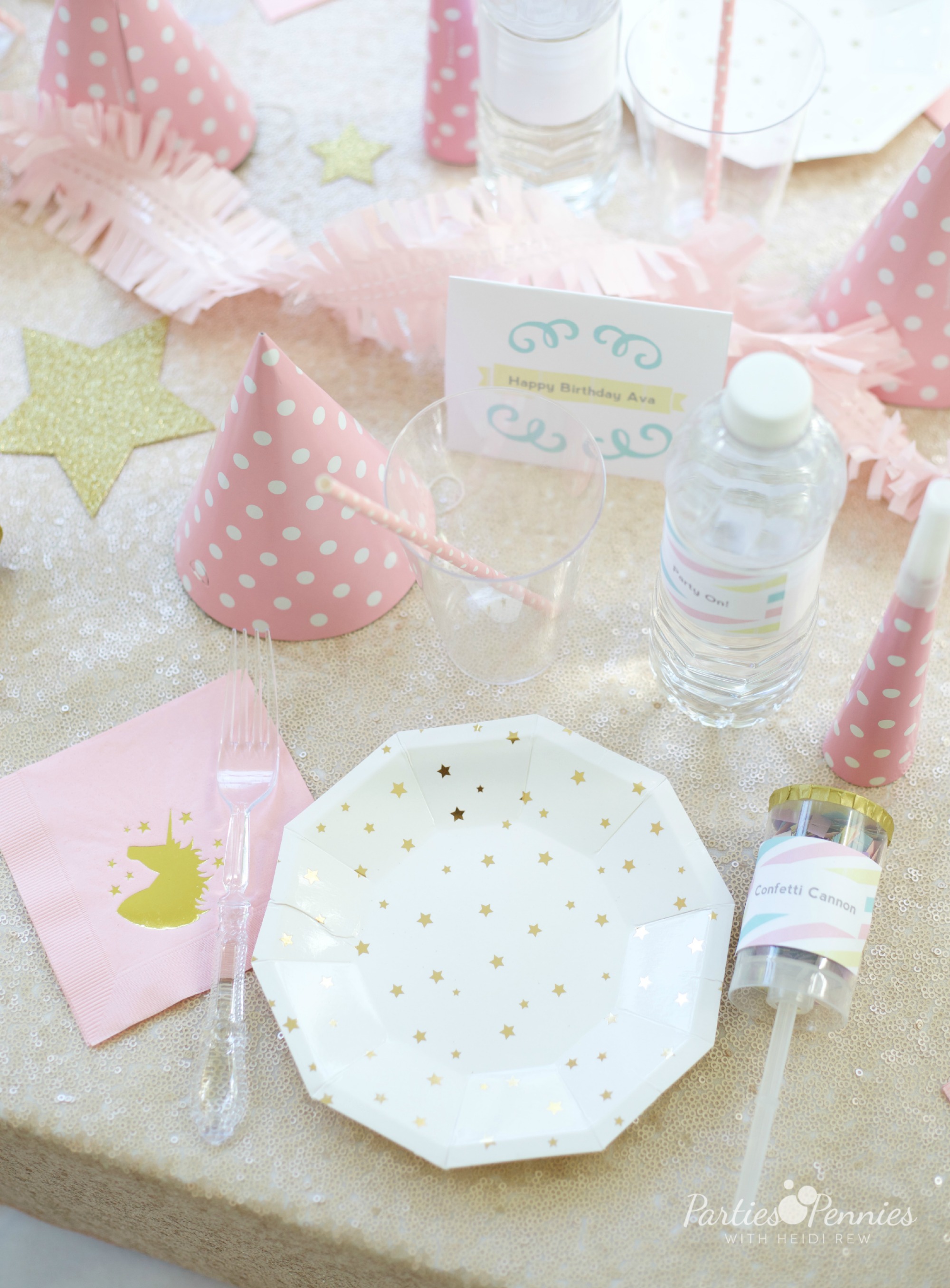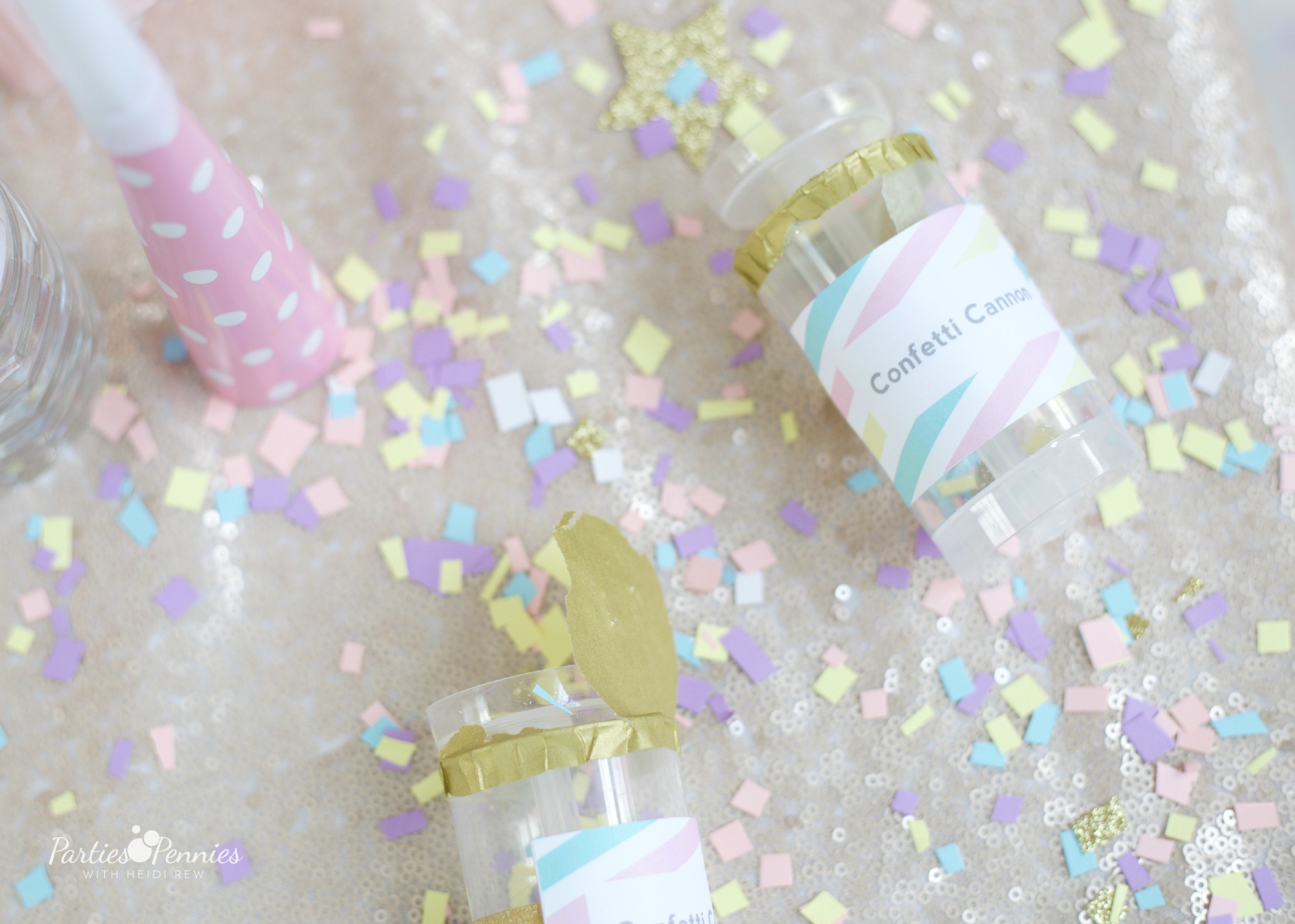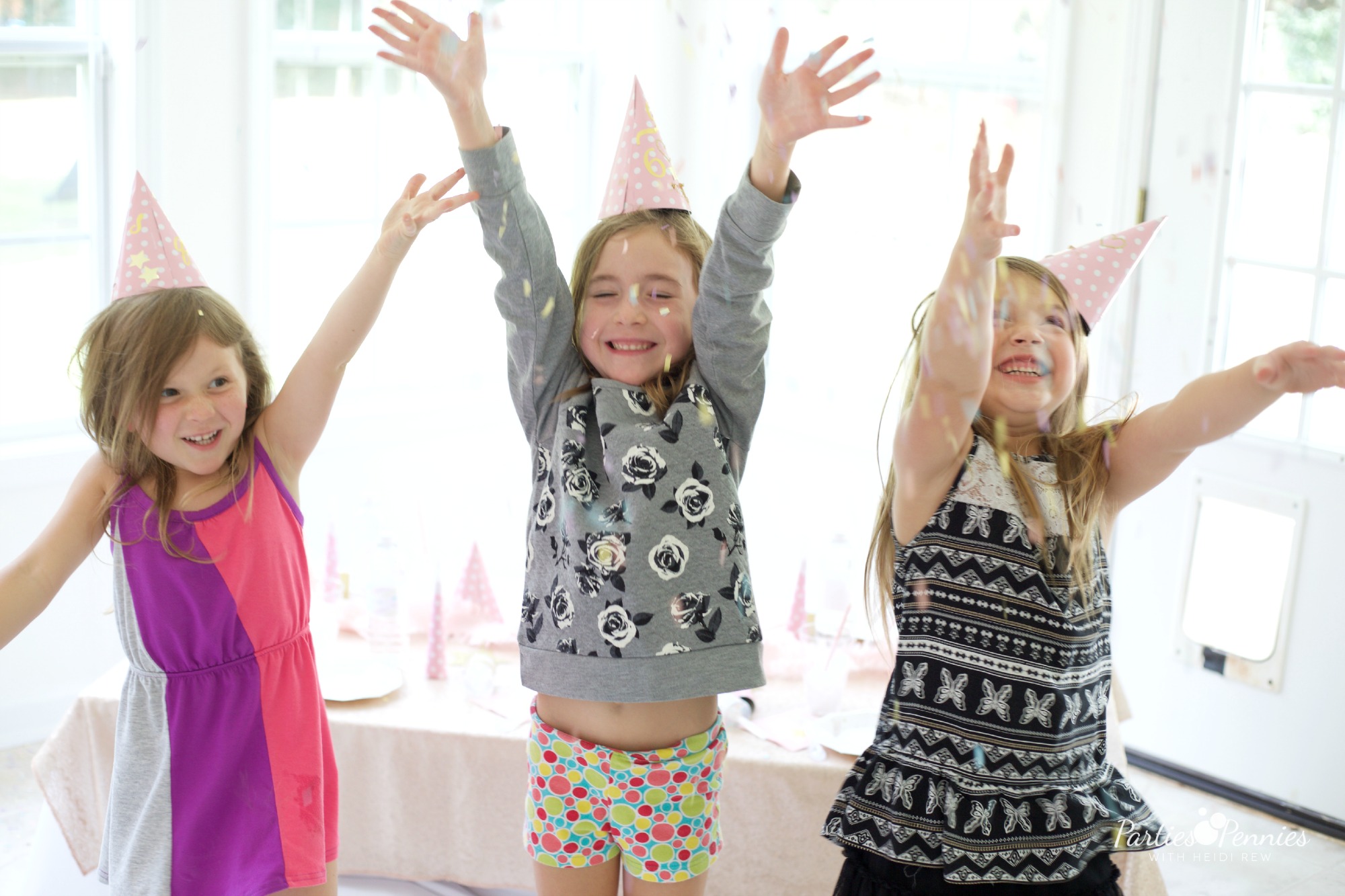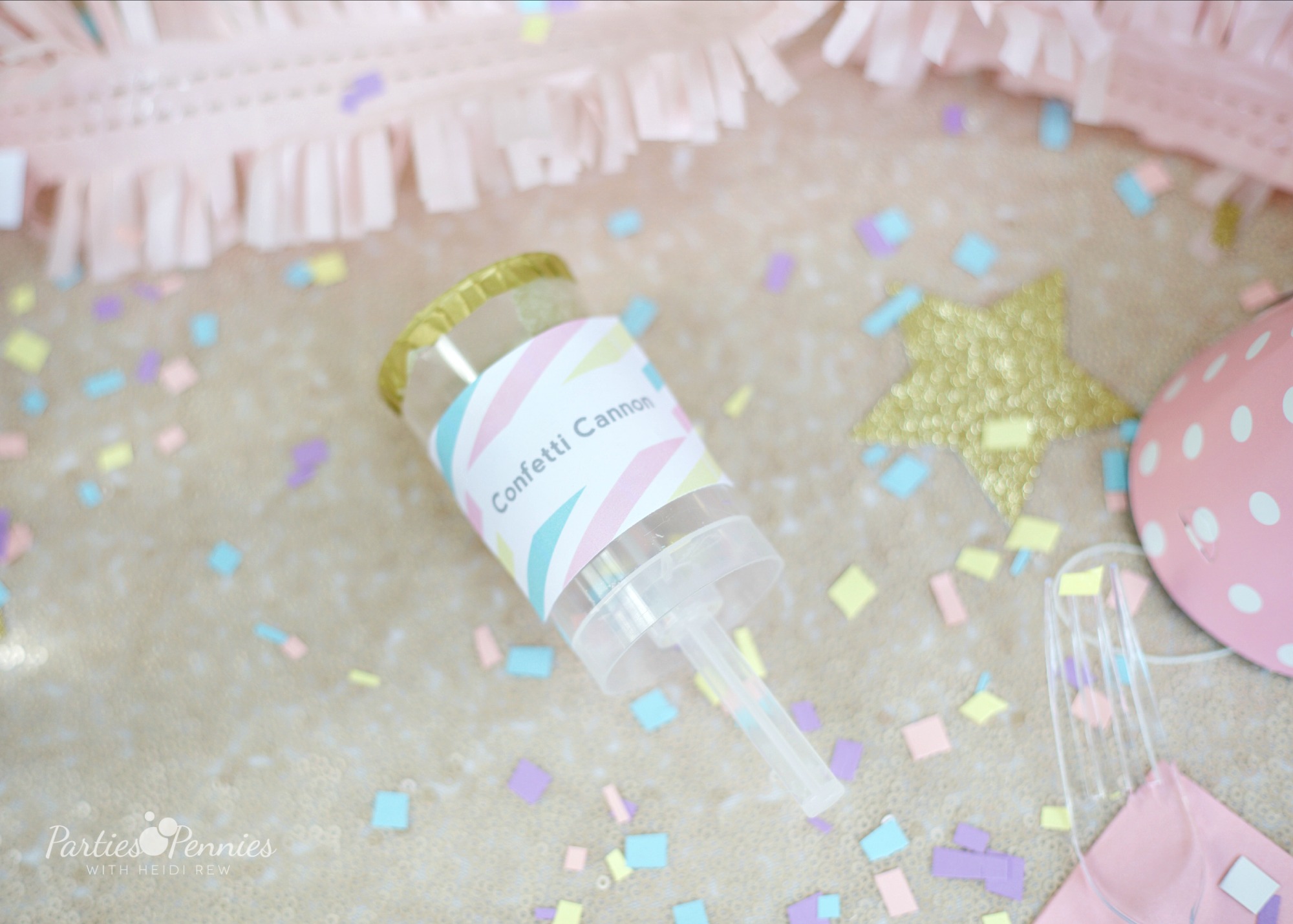 I created them from cupcake push-pop containers. Instead of using the normal top, I replaced it with gold tissue paper I glued to the top. If you're looking for a really DIY version of this, check out the one I created from a toilet paper roll.
MENU:
This was an afternoon party, so we just did light snacks and sweets. I tried to name them with the Pinkie Pie Pony theme in mind.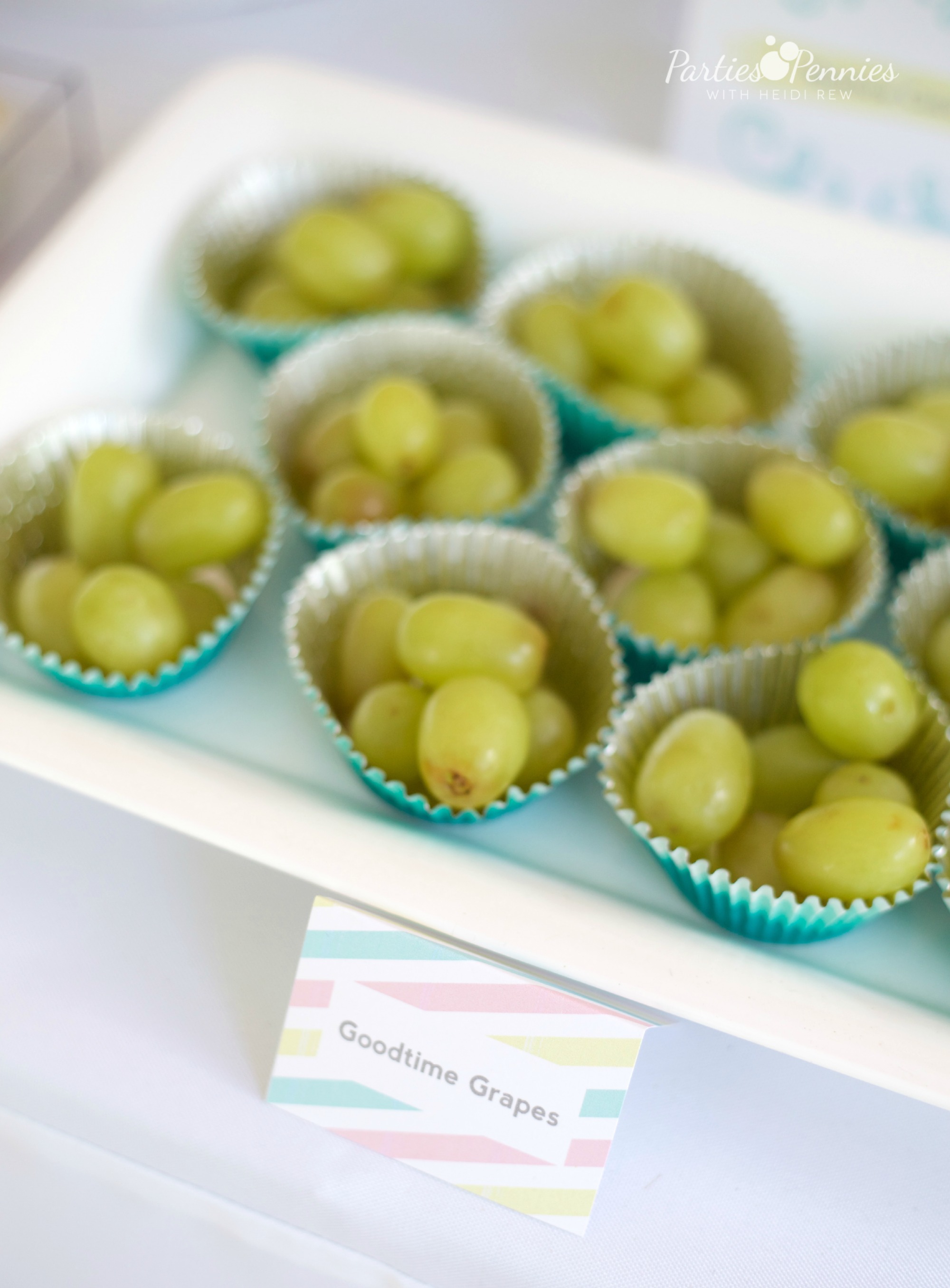 Goodtime Grapes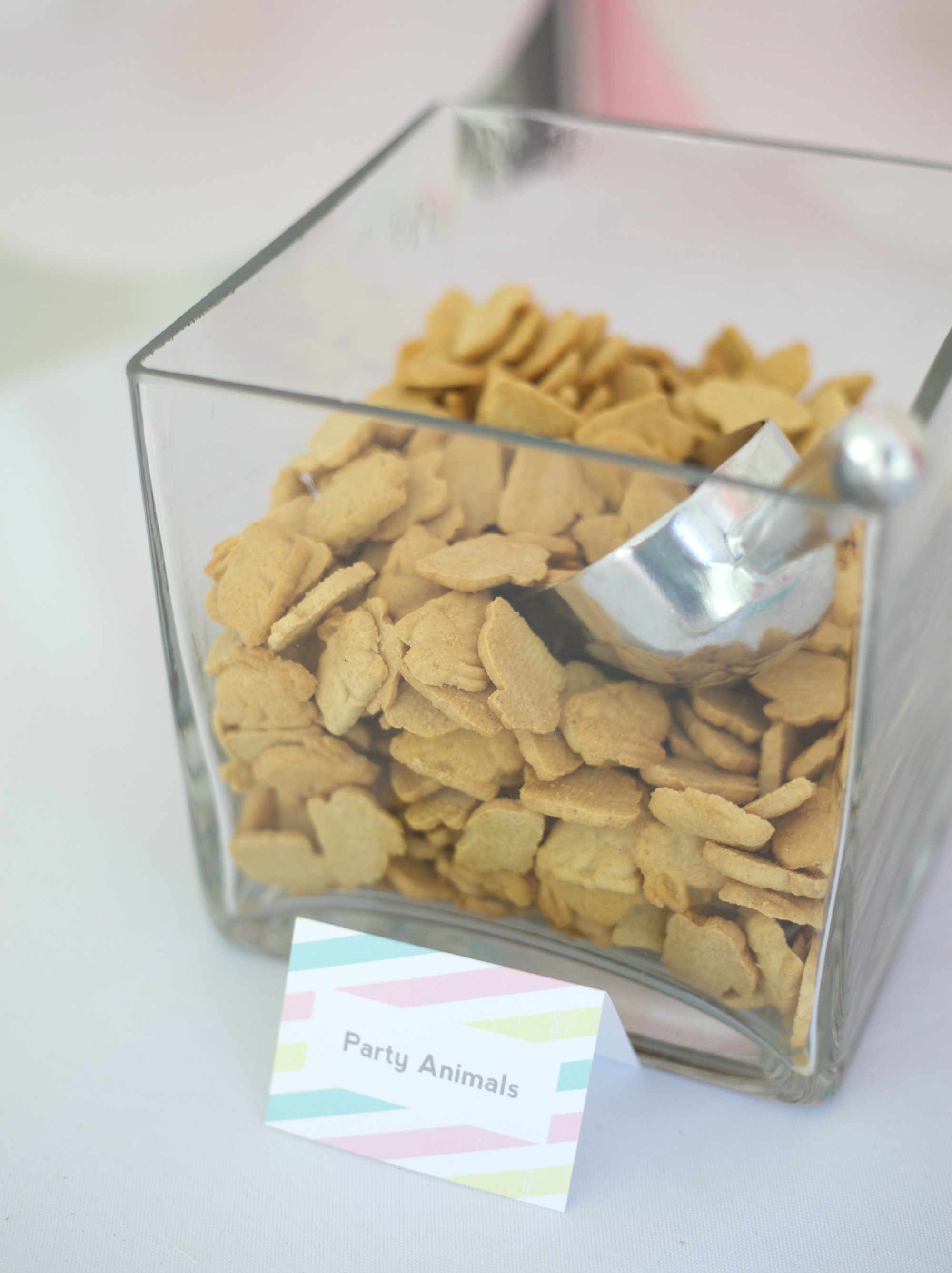 Party Animal Crackers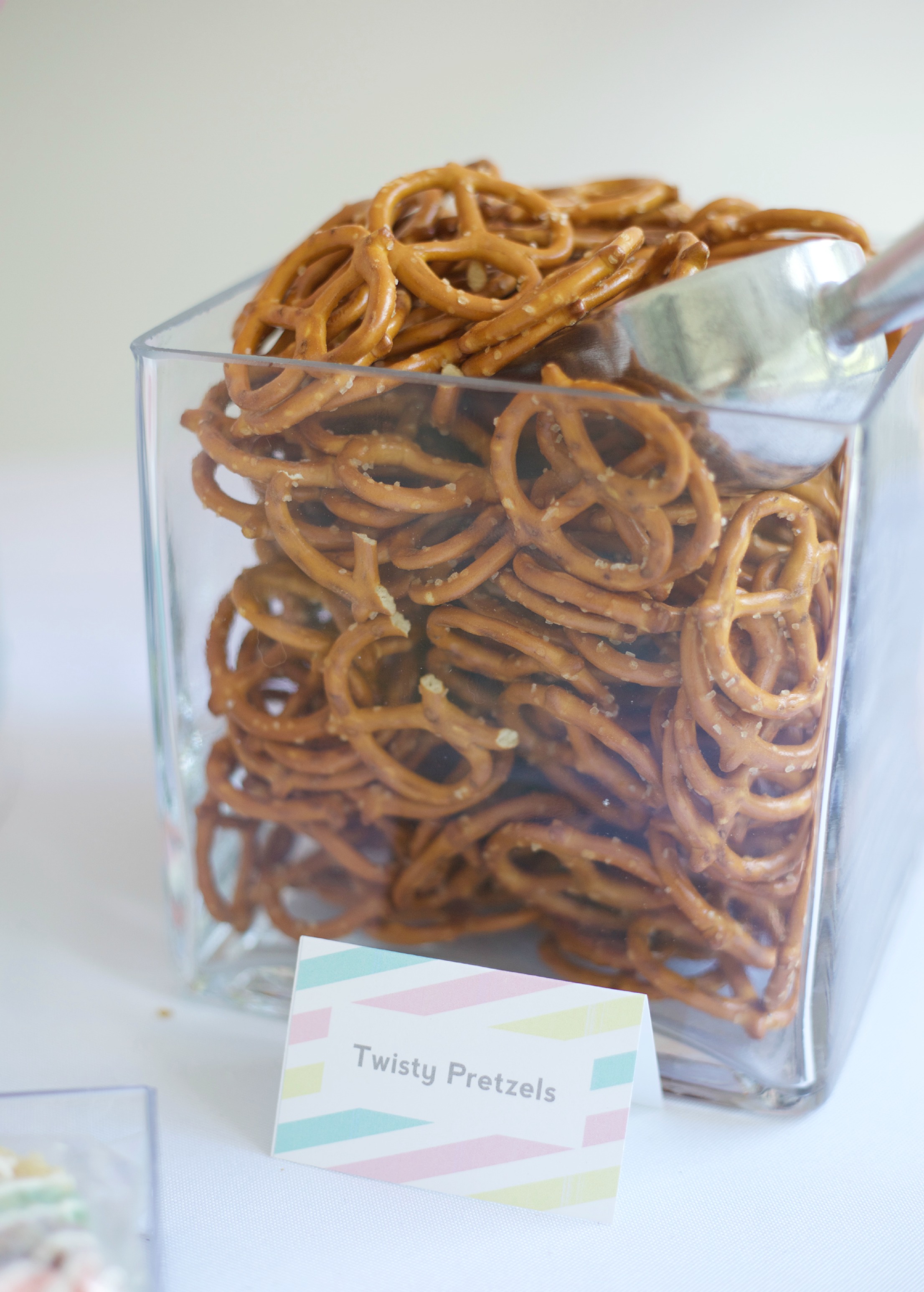 Twisty Pretzels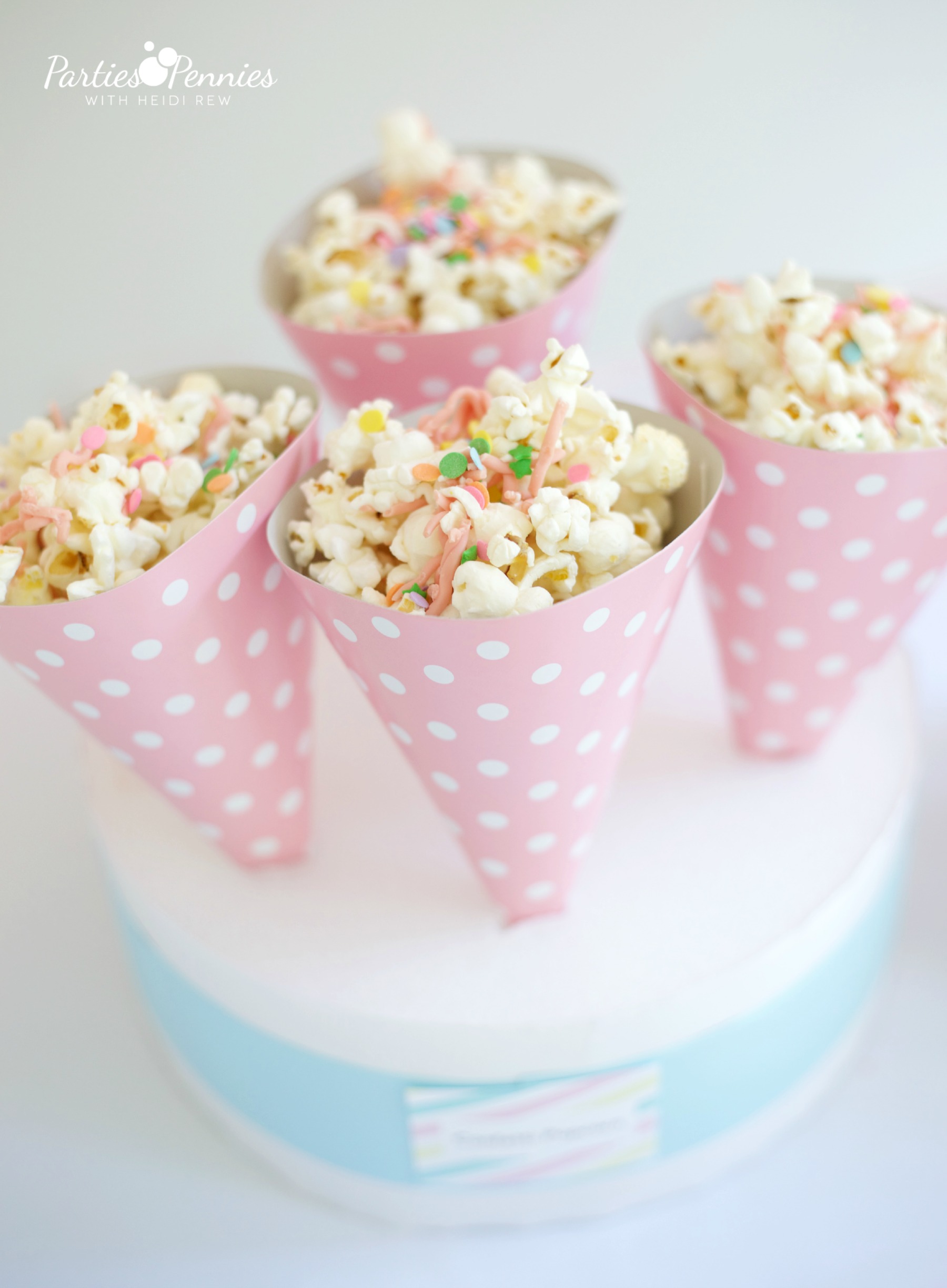 Confetti Popcorn – made with regular popcorn drizzled with white chocolate and sprinkles. TIP: Use party hats for popcorn cones. The round popcorn "stands" are just styrofoam. I stuck the end of scissors in it to create the holder.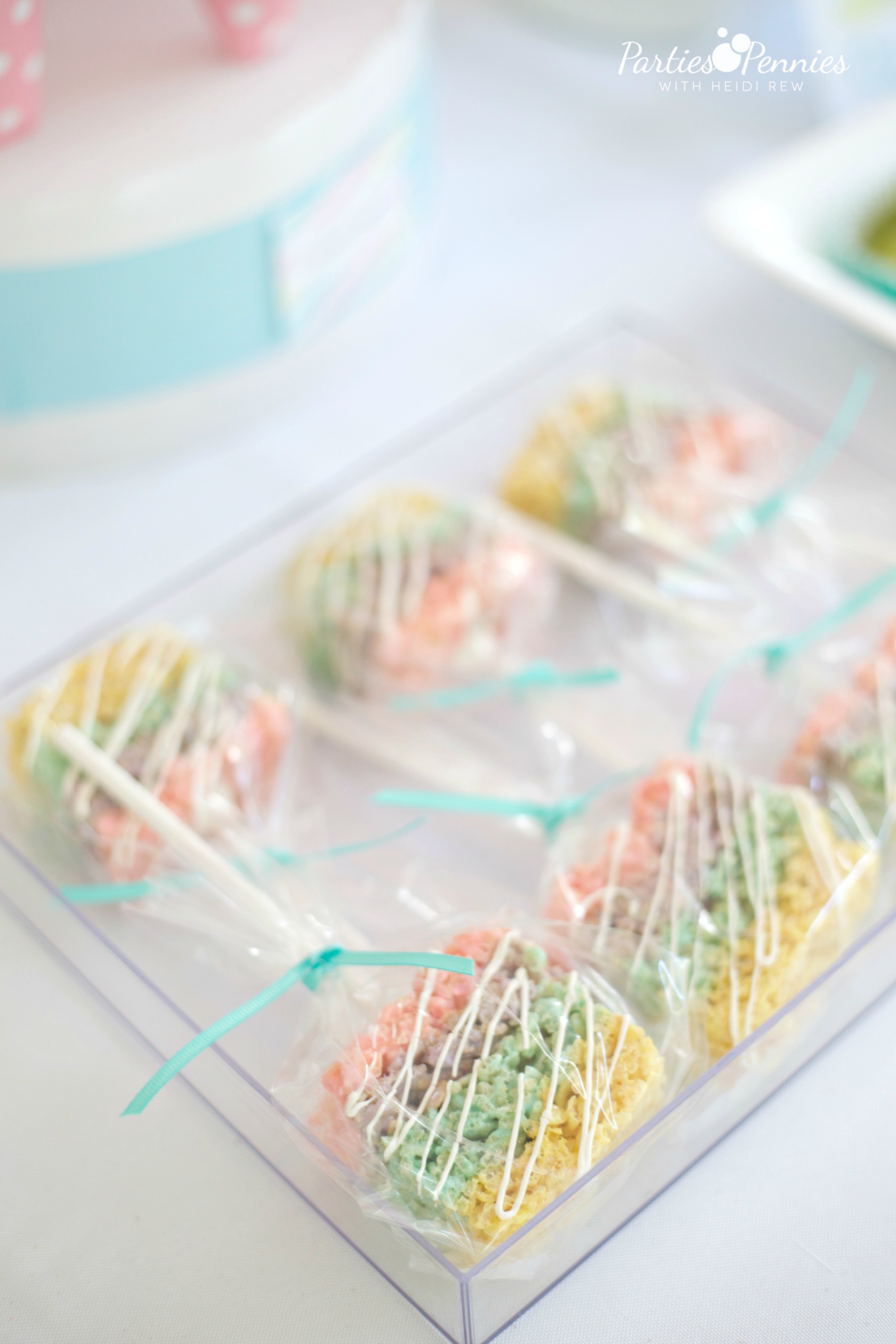 Rainbow Rice Crispy Pops – TIP: This "acyrlic" tray is actually a plastic shadow frame from the craft store. I use them for all kinds of parties!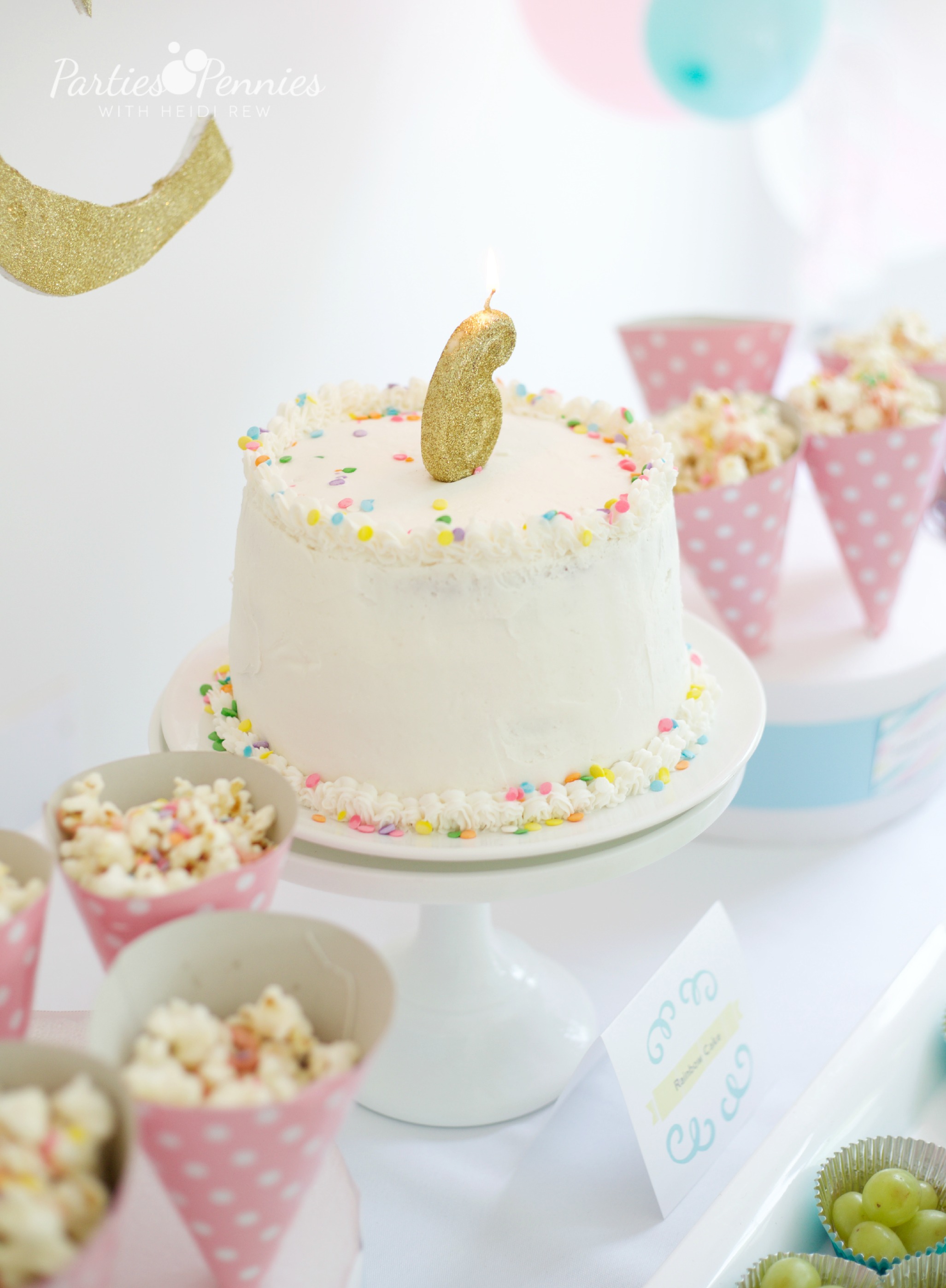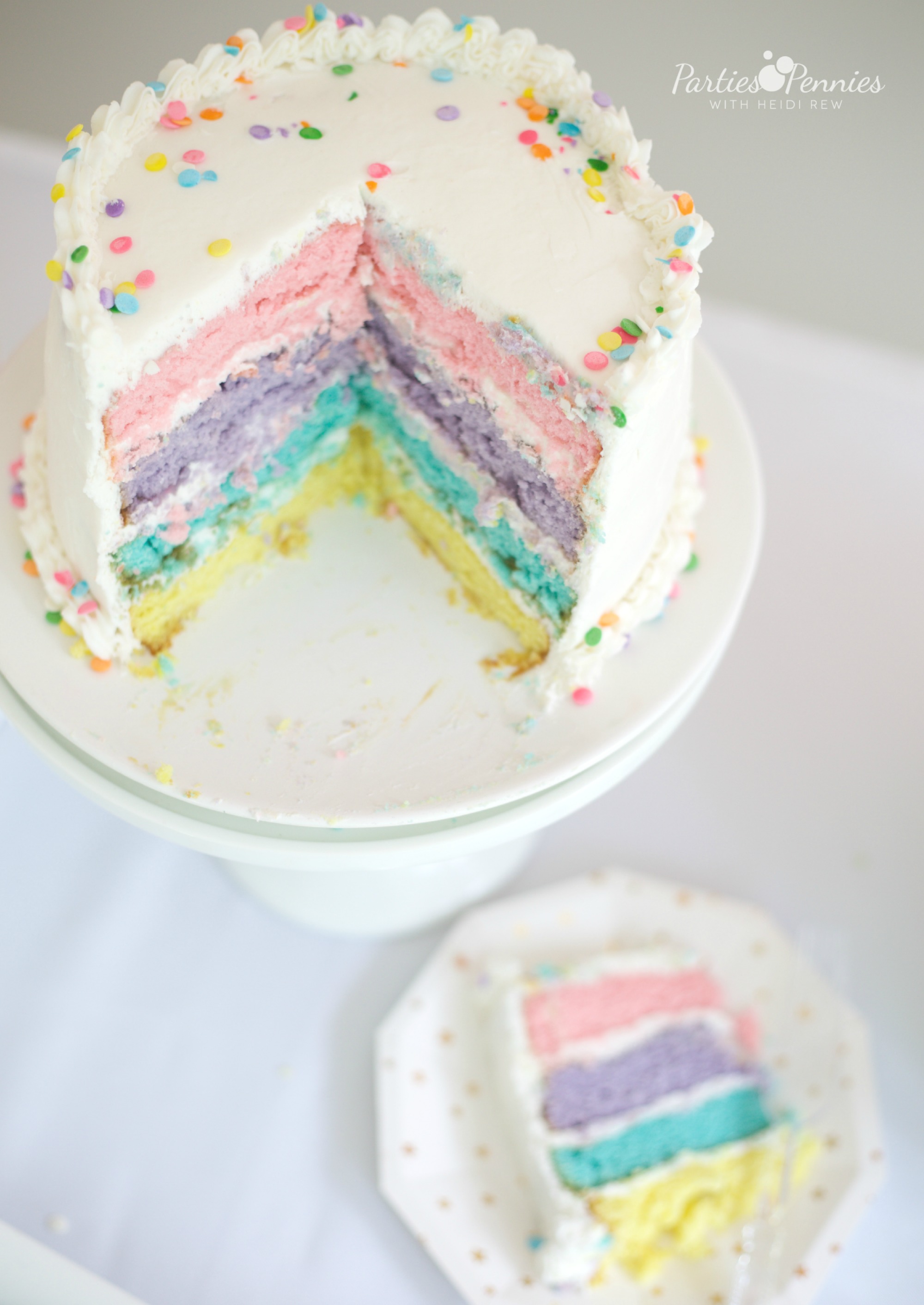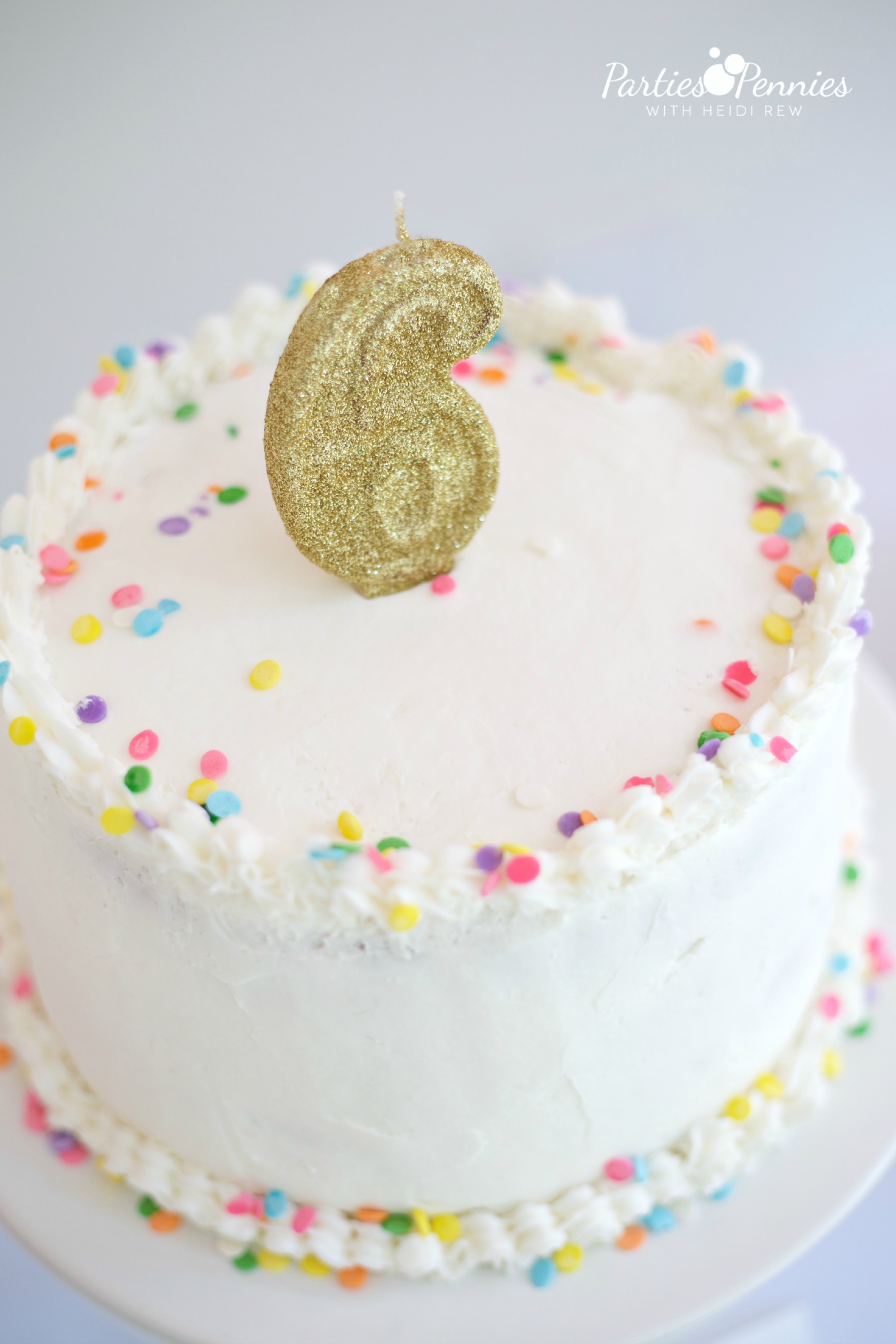 A Rainbow Sprinkles Cake. I made the cake for the party because Ava has a dairy allergy and I found that Duncan Hines has a cake mix that's dairy free. You just substitute 1/3 cup applesauce per egg it calls for. The icing was pre-mixed from the cake section of the craft store and didn't have any dairy in it.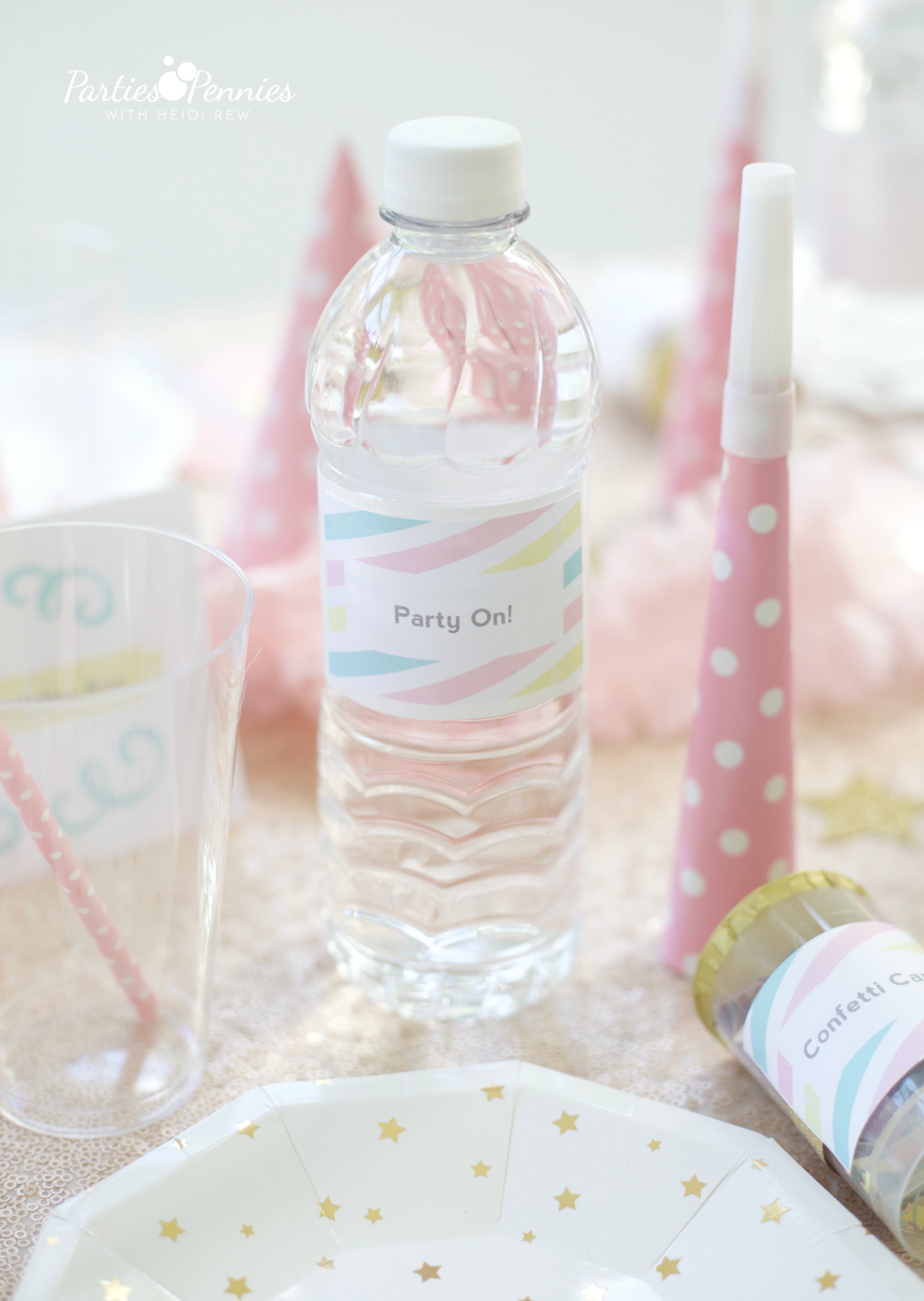 To drink, all the girls got water and pink lemonade.
ACTIVITIES:
Party Hat Decoration – As soon as the girls arrived, I let them decorate their party hat with stickers and glitter glue.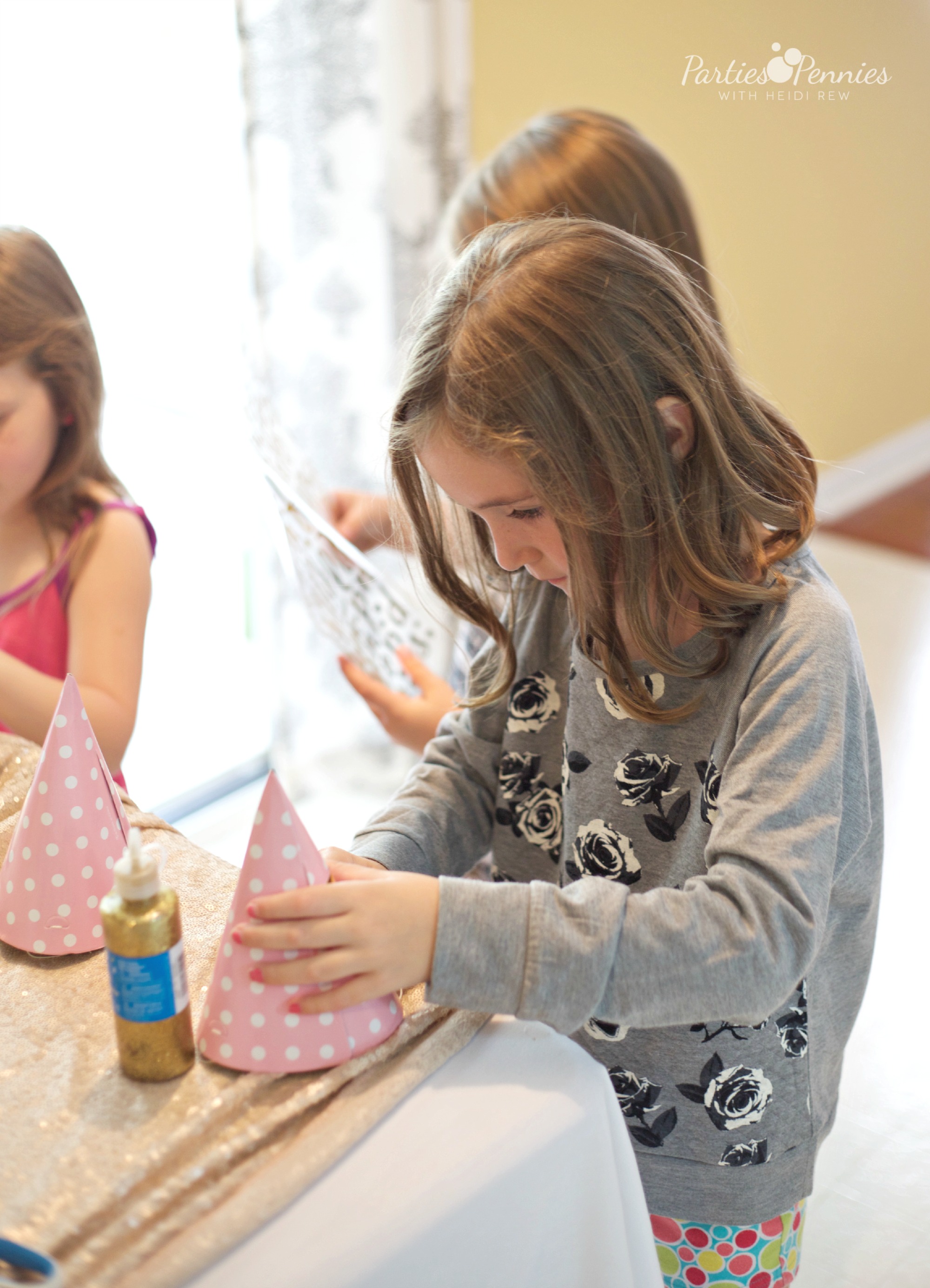 After they ate, we did temporary My Little Pony tattoos. Those were a huge hit. I also had pink hair chalk but none of the girls jumped at that.
One of the most entertaining activities (for me at least) were the jokes. Pinkie Pie is all about telling some jokes, so I printed a bunch of kid jokes and had them at the table. Some of them were too advanced for the girls to read, so I ended up reading them. The girls were hilarious! Every time I'd give the punch line, they'd DIE laughing. I don't know if they quite got the jokes, but you wouldn't know it. Here's a little video I shot of them. I thought if I ever have a bad day, I want to go back and watch this!
* Side Note & Warning: Apparently my voice gets really dramatic and weird when I'm talking to children. Let this not be a reflection on my voiceover career. ;p

FAVORS:
There were a lot of favors for this party. One of my favorite (and the girls) were the cloud pillows. Since My Little Pony is set above the clouds, I thought it would be fitting if the girls got to sit on clouds. I made these with white flannel material and pillow stuffing. I drew a pillow outline free hand on the material and cut two pieces at a time. Then I sewed it together, leaving a small opening at one end to stuff it. Once I turned it right-side out, I stuffed it, then stitched the opening.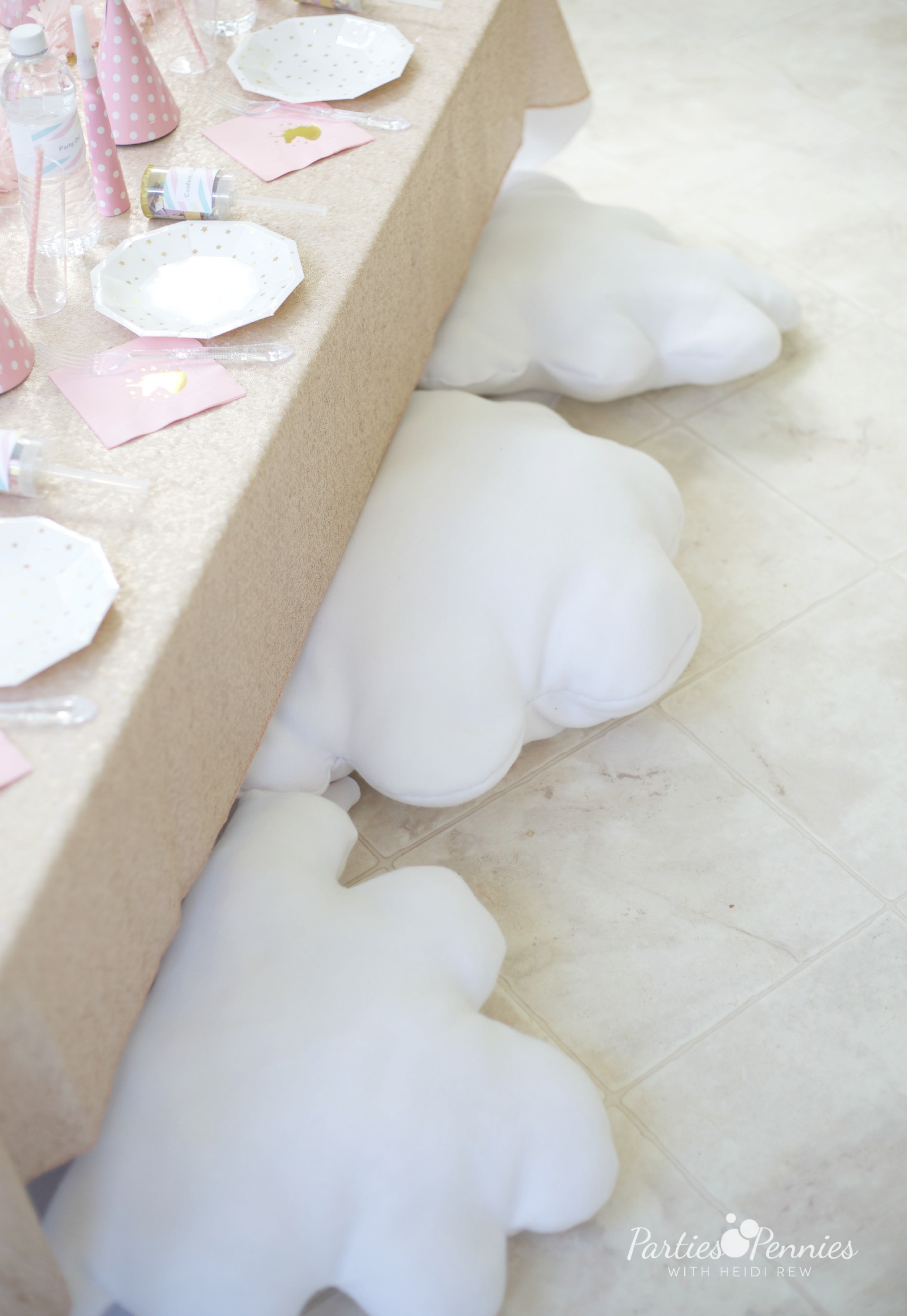 I have to give mad props to my parents. My sewing machine wasn't cutting it, so I went to my parent's house to use theirs. My mom helped me with them, even though she had papers to grade for her 1st grade class the next day and my DAD even helped sew some of the pillows! My dad is a PE teacher, used to be a wrestler at Auburn. Total guy. So I was shocked he offered to help, but he rocked it.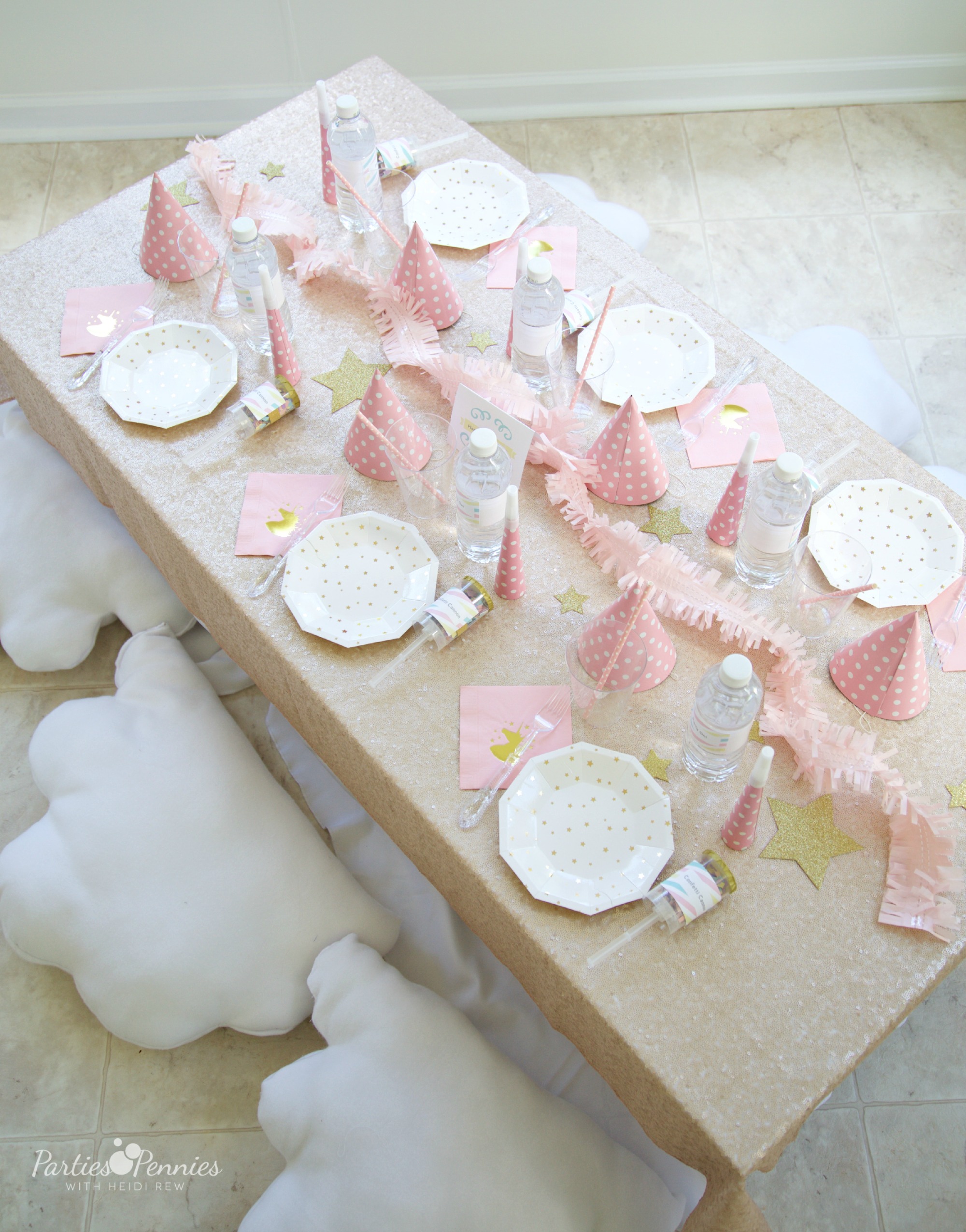 I bought 6-7 yards and it was enough for 7 pillows, plus I had a good amount of extra material (probably could've done 2 more pillows).
If the pillows are too big of a DIY project for you, here's what I sent home with the girls in their confetti bags –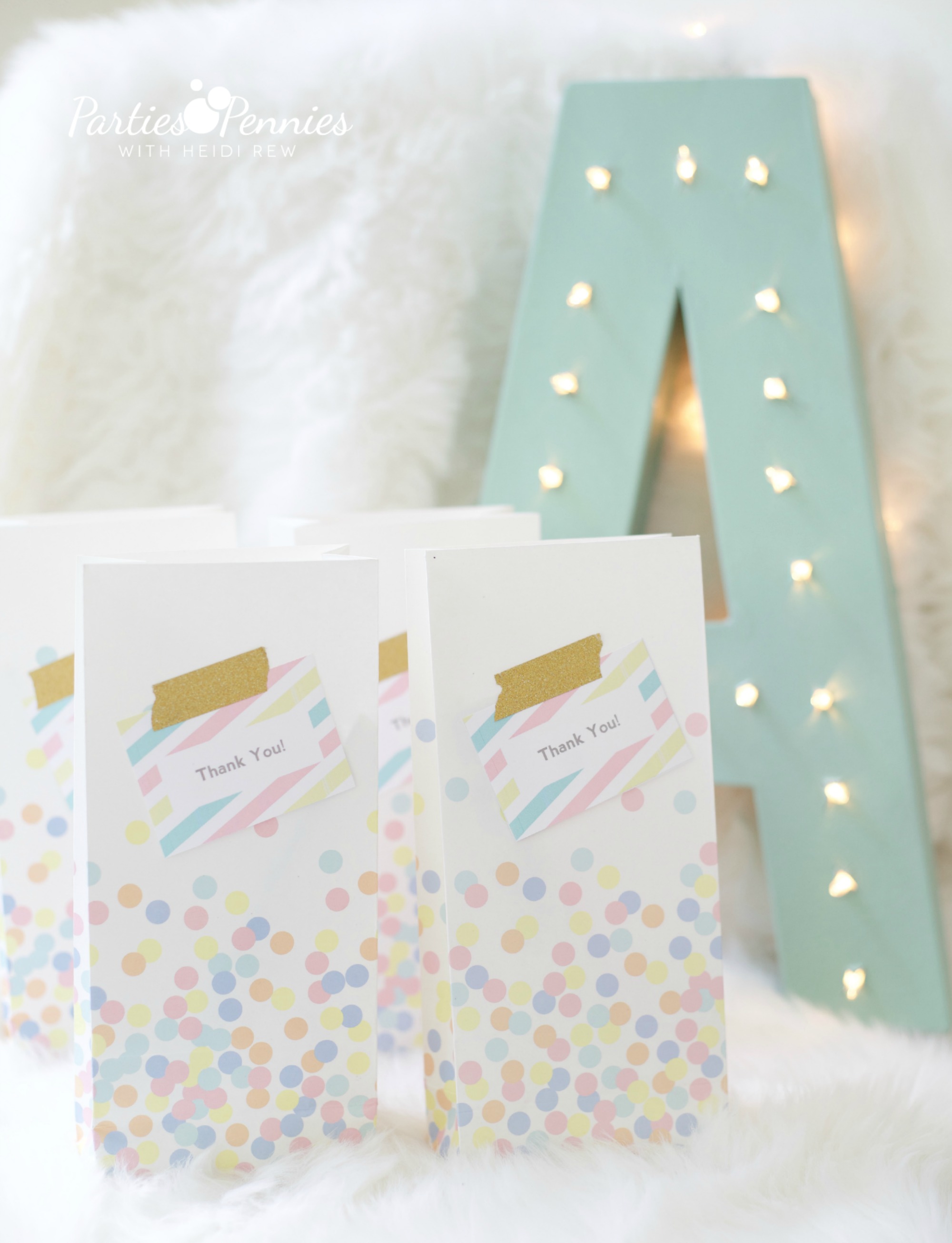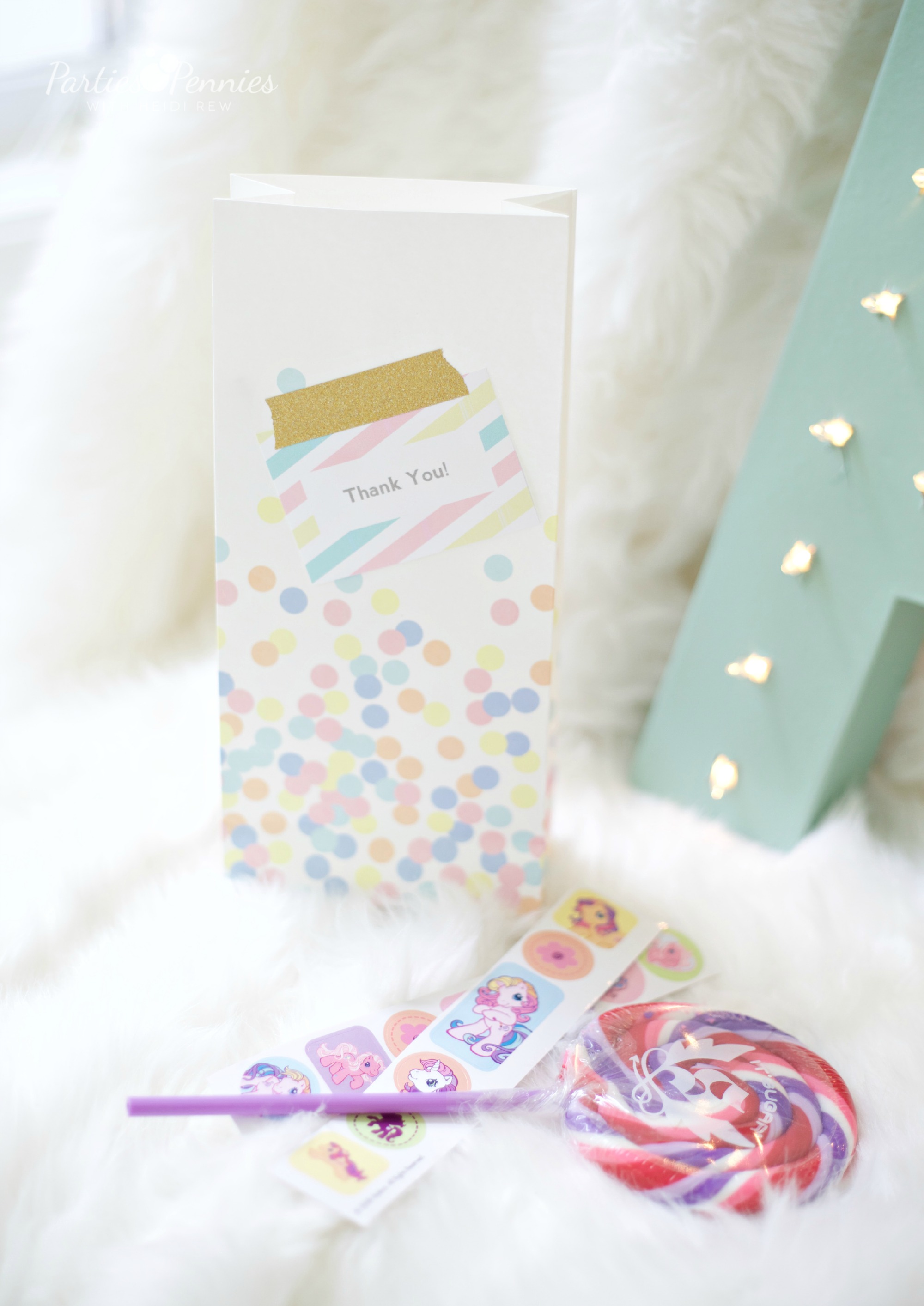 A big Lollipop, My Little Pony stickers, and a pencil that said "Party On." The pencils I had from when I ordered a bunch to give away at a conference.
I definitely think Pinkie Pie would approve of this party. Even if she didn't, I know one girl who was beaming.
Hope this helps YOU create a fabulous PONY PARTY or Pinkie Pie party!
In the words of Pinkie Pie and myself…Party On!
LINKS TO PRODUCTS I USED:
Unicorn Napkins, Pink Star Plates, and the Confetti Dots Favor Bags were from Shop Sweet Lulu.