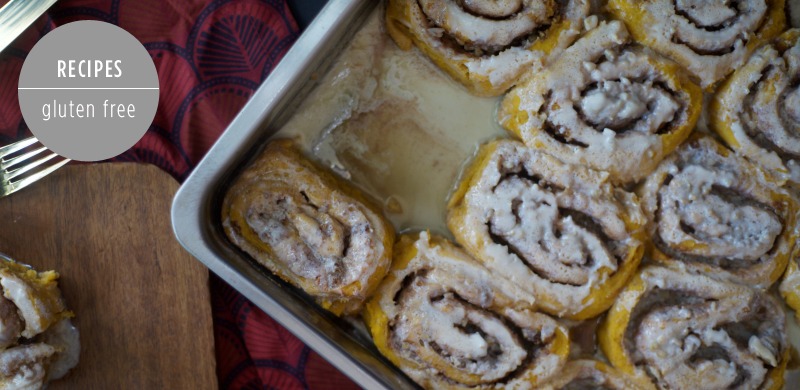 27 Sep

Pumpkin Cinnamon Rolls – Gluten Free

Posted at 21:03h

in

Dessert Recipes

,

Desserts

,

Gluten Free

,

Gluten Free Recipes

,

Holiday Parties

,

Holiday Party Recipes

,

Holiday Recipes

,

Holidays

,

Party Ideas Page

,

Recipes

,

Recipes Page

,

Sweet

0 Comments

Hey party people!

Would you love an easy recipe that is so delectably delicious and perfect for fall? Then, try these mouth-watering Pumpkin Cinnamon Rolls…that are gluten free too! Yep. Gluten free and still delicious.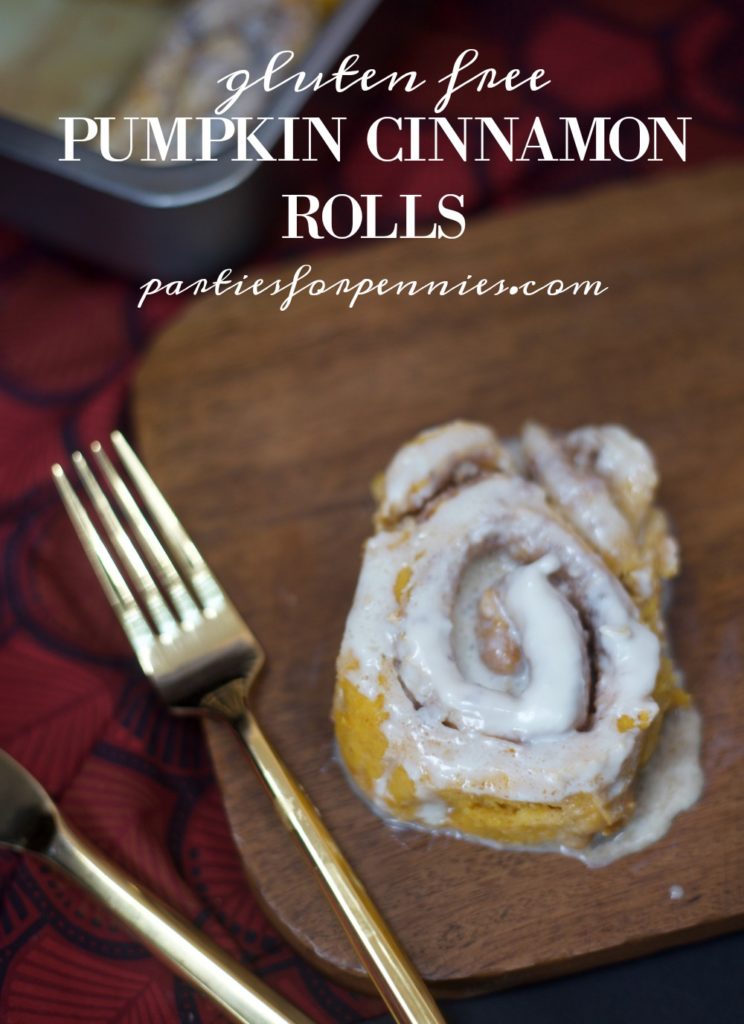 I make these every Fall (they're especially delicious around Thanksgiving) and they are huge hits. They're so moist (I apologize for people who shutter at that word…they are though!) and fill the house with the best smell.
You may not be gluten free, but I've shared these with lots of people that aren't and they're still huge fans. I wouldn't say that they're totally healthy, though – there's still sugar and that amazing cream cheese icing, but the pumpkin is good for you. 🙂
The main element to this recipe is Bob's Red Mill Gluten Free Pizza Crust, which makes it a little easier than straight up homemade cinnamon rolls. Here's the printable recipe to add to your fall must-make recipes!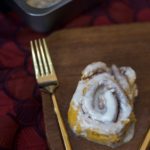 Gluten Free Pumpkin Cinnamon Rolls with Cream Cheese Icing
2016-09-25 11:49:24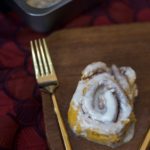 Serves 10
These Gluten Free Pumpkin Cinnamon Rolls are the perfect breakfast for a crisp fall morning paired with a cup of hot coffee. Even those that aren't gluten free will fall in love with these delicious rolls.
DOUGH
1/4 cup butter
1/2 cup sugar
2 eggs
1 cup warm water
1 package Bob's Red Mill Gluten Free Pizza Crust (this has a yeast packet in it that you'll use)
1 can pumpkin
2 teaspoons pumpkin pie spice
Gluten Free Flour for dusting
FILLING
1/4 cup butter, melted
1/2 cup brown sugar
1 1/2 teaspoon cinnamon
1 1/2 teaspoon pumpkin pie spice
1 cup walnuts, chopped
ICING
1/2 cup butter, softened
8 oz. cream cheese, at room temperature*
2 cup powdered sugar
1 tsp. vanilla
DOUGH
Add 1 tbsp. of the sugar to the warm water. Add in the yeast packet and let stand for 5 min.
Cream together the butter and the sugar, then add eggs one at a time.
Add in the can of pumpkin.
Add in the pumpkin pie spice to the Bob's Red Mill Mix and mix with the wet ingredients.
Heavily dust a 19 inch piece of wax/parchment paper with the gluten free flour.
Melt 1/4 cup of butter (from filling recipe).
Pour the cinnamon roll batter on the floured surface.
Use a small roller, dipped in the melted butter, to smooth out the dough.
Make sure the dough is evenly rolled out across the wax/parchment paper.
Sprinkle any remaining butter on the dough.
FILLING
Mix together the brown sugar, cinnamon, pumpkin pie spice, and walnuts in a small bowl.
Sprinkle across the buttered dough.
Beginning at one of the long sides of the dough, roll up, using the wax/parchment paper.
Roll it all the way to the other side in a spiral.
Cut in 1 inch slices so that they look like pinwheels.
Lay them in a greased 9x13" baking dish.
Cover with plastic wrap and place in a warm place for 30 minutes to rise.
Preheat oven to 375. Bake for 25 minutes (if you have a glass pan, you may need a few extra minutes).
ICING
Cream together butter and cream cheese.
Add in vanilla and powdered sugar.
Ice warm rolls and serve!
Notes
* At some stores, you can find dairy free cream cheese, if you want to make this a dairy free recipe.
Adapted from Bob's Red Mill Cinnamon Roll Recipe
Adapted from Bob's Red Mill Cinnamon Roll Recipe
Parties for Pennies https://partiesforpennies.com/
In full confession, the Pumpkin Cinnamon Rolls in these pictures are iced with a store-bought container of cream cheese icing. I always make my own, but I thought it'd save some time. DON'T DO THIS! ;p The homemade cream cheese really does make it! Learn from my mistake. Real cream cheese icing is a lot thicker and you just can't replicate that cream cheese icing taste.
Now, all that's left to do is brew up a nice pot of hot coffee. I'm telling you this recipe may be a Fall staple for you from now on.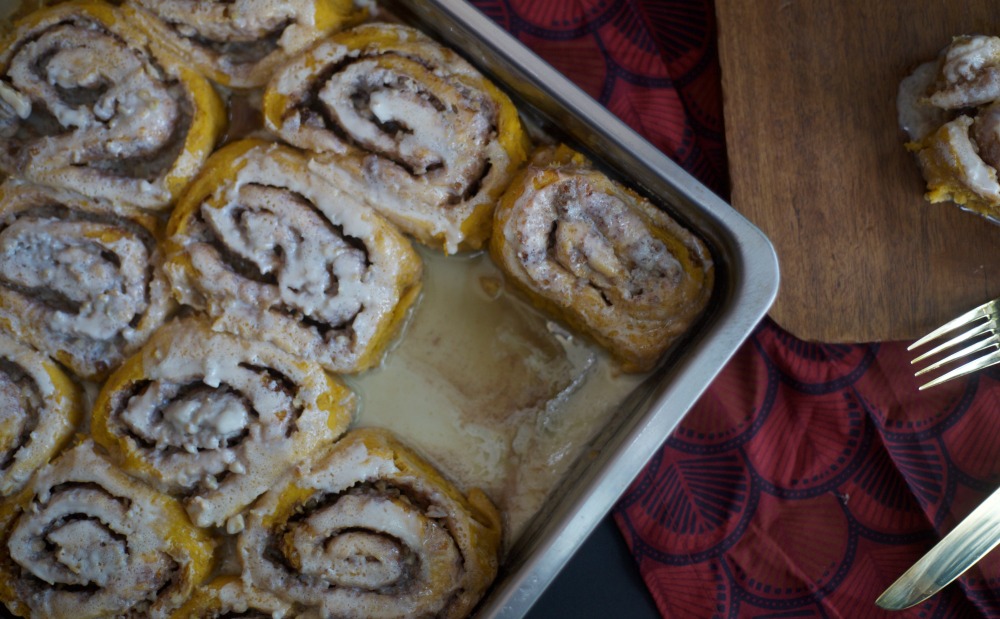 Here's a little tip – Make the cinnamon rolls up the night before and leave them to rise overnight. In the morning, they're ready to pop in the oven. I don't know about you, but I prefer nice and easy in the morning.
Hope you enjoy these little bites of heaven. 🙂 Party on!