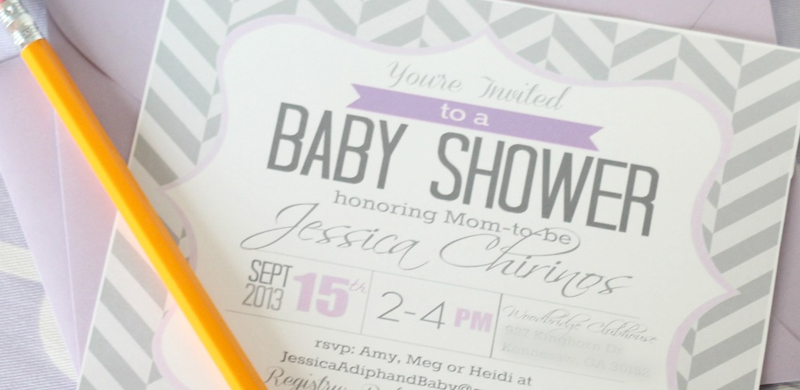 18 Sep

Purple, Yellow & Gray Baby Shower

Hey party people!

Despite the many party fails, the baby shower for my friend Jessica actually turned out great.
Instead of a theme, I decided to use the nursery colors: purple, yellow & gray.
I DIYed the invitations & even added a fun addition to the envelope flap. Find out what that was & how I did it here.
This welcome sign I created from foamboard, chevron patterned painters tape, and my own design.
You may have seen my original favor fail here, but thankfully my sister Meg came up with a brilliant plan.
Meg made homemade lemon sugar scrub and packaged them in empty baby food jars. Talk about a lifesaver! They turned out so cute & still budget-friendly.
We didn't do any baby shower games (I'm not a huge fan of them, if I'm completely honest) so instead, I made cards numbered 1-18. Everyone at the shower took a different card & wrote a birthday message to Ariana (Jessica's baby). Every birthday from now until 18, she can open up a birthday card from one of her mother's friends/family. I can't take credit for the idea, though. I was inspired from this post from Martha Stalwart.
I also made a diaper cake for the first time. I figured out a really easy way to do it & I'm going to show you in a video tutorial coming soon!
I was really lucky to have some great co-hosts! Nicole (she let us use her clubhouse), my sister Meg (who was a HUGE help!!), Sarah, (Jessica is in the middle), Amy, and not pictured is Lesa (Jessica's mom).
The shower took place in the afternoon so I wanted to serve something really light & healthy. I set up a salad bar. It made it easy when someone offered to bring something, too.
Lesa brought the lettuce & walnuts. Amy stocked up at Costco with cheese, tomatoes, carrots & bread.
I was able to use some square vases I had to serve all the toppings.
Do you recognize that tablecloth? That was a tablecloth I stenciled myself on a $3.99 Ikea flat sheet. See all the details here.
We had a variety of dressings for guests. The lemon vinaigrette was made by Jessica's mom & I made the parsley vinaigrette dressing.
In addition to the salad bar & bread, I also made these fruit cups.
This was one of my favorite things about the shower!
I've been hunting for a bar cart for our dining room for awhile. When this shower came up, I increased the hunt because I knew the bar cart would be a perfect drink station. After coming up dry at all the thrift stores & craigslist, I asked all my FB friends if they had any ideas or leads. That's when Phyllis messaged me! She said she had a bar cart collecting dust and I could have it if I wanted. (Wha?? I have the best FB friends in the whole world :-))
When she sent a picture of it, it was a little dusty & I couldn't quite tell the condition. I figured I may have to paint it or re-stain it. But Phyllis was so sweet & even cleaned it up for me. It looked awesome…no touch-ups necessary! Seriously, Phyllis…thank you soo much! (Let me know if I ever do a party project that you really like & want to have!)
Meg came up with another great idea! She made lavender lemonade. It was delicious & refreshing…and went perfect with the purple & yellow colors.
Here's my little dessert table. The backdrop is simply a tri-fold foam project board spray painted purple & lined with wood trim.
In hindsight, I should've just used white ribbon or just put painters tape down before I spray painted it. It ended up to be a little of a pain. The wood trim ended up to be more expensive than I had expected and to cut those edges just right was quite the chore.
And while we're on what I'd do differently…I would've added something to give the apothecary jars some height. They just get lost back there. 🙂
Jessica's mom, Lesa, brought this beautiful & delicious strawberry cake.
These are called Boyfriend Cookies & Sarah contributed these. They are oatmeal, peanut butter & chocolate cookies! I didn't get a chance to taste one but everyone said they were awesome.
This little DIY Gray Milk Glass Stand was supposed to hold my French Macarons but those were a complete party fail (read more about them here). I envisioned this mini pyramid of macarons perched upon this stand, but since it didn't work out, I decided at 8:00pm Saturday night that I'd make lemon & blueberry whoopie pies.
I make them from a cake mix, so they were easy to do. Here's the recipe for chocolate whoopie pies I made last year.
These need no explanation. 😉
I did, however, think I'd end up with leftovers but these were the first to go. Guess no matter what your age…Rice Krispy treats are delicious!
Outside, we set up several tables so people could enjoy the beautiful sunshine.
That pretty purple pattern was from the Online Fabric Store. I just cut enough to cover the top part of the table & had a plain white tablecloth underneath.
For each table, I had several white milk glass vases and some type of decorative item.
These were just wooden letters I picked up at the craft store and decoupaged them using scrapbook paper.
That little baby bassinet was something I found at the thrift store, cleaned it up & spray painted it to match the rest of the decor.
The best part about these little centerpieces was that Jessica was able to take them home to put in Ariana's room.
This was another thrift store find that I got a little spray paint happy with!
I have to say that I was able to find a good amount of white milk glass vases at thrift stores but my friend Michelle, of Iron & Twine blog, was my milk glass goddess! ;p She has an awesome collection & let me borrow them! Your collection was put to good use…thanks Michelle (check out her blog…she's kind of a big deal & you will love it…money back guarantee).
One of the coolest things about the shower was that Jessica's sister was able to join us via Skype. She lives in England but she was able to sit through the whole thing…even get in a group shot!
It really was a wonderful shower…not just because everything came together but because we were celebrating our friend's new joy. Not too long ago, we were celebrating Jessica's birthday and she shared that she found out she was pregnant right before she left the house. Now…in a little over a month, we'll get to meet beautiful Ariana. Can't wait!
Thanks for checking out my sweet friend's baby shower! Stop back in on Friday because I have a really fun kids party project!
Until then…Party On!
p.s. This is YOUR official invite to the party… join in on the Parties for Pennies Facebook page, Twitter, and Pinterest! 
LINKING UP TO: