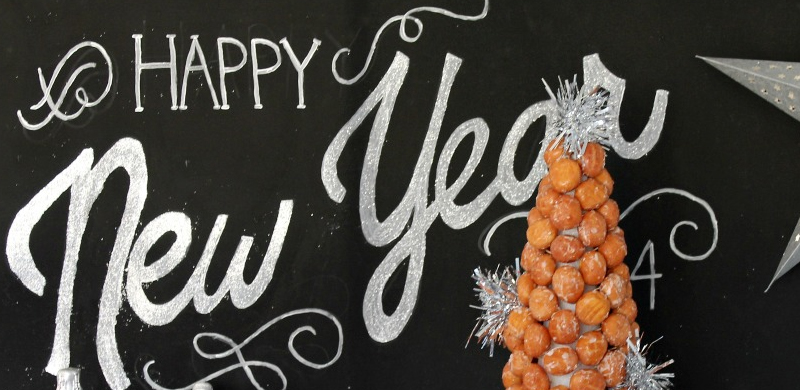 27 Dec

Sparkly New Years Eve Party

Hey party people!

Hope you had a wonderful Christmas! Since New Years is right around the corner, let's jump right in & talk about NYE parties! Here is a New Years Eve party I set up to give you some inspiration…and Kate, from Dress Your Guests has the inspiration you need to look your best with great fashion suggestions coming up tomorrow!
Instead of a cake or leftover Christmas goodies, try something different…like a donut hole tower.
Once your guests have grabbed their donut holes, let them choose their preferred dipper. I set out caramel topping…
…cream cheese frosting…
…and chocolate sauce.
These are just a few options. You could also set out:
Whipped Cream
Vanilla Pudding
Maple Icing
Vanilla Icing with options of sprinkles
Raspberry Sauce
Powdered Sugar
The list is endless!
To go with the theme of New Years and to help everyone keep track of their glasses, use numbers to set each one apart.
As guests arrive, let them write on a champagne bottle their wishes for the next year. Once the clock strikes midnight, pop open the bubbly and toast to all the wishes. (See more details on how I did this here)
Have a fun mixed drink to share with your guests? Set out these disco ball stirrers.
I made these using a pack of disco ball ornaments from Michaels and regular stir sticks.
I, for some odd reason, have been obsessed with coasters this season. You can see the Kate Spade Inspired coasters I did here. Those were a lot of fun to make but I found a much easier & faster method!
Step 1: Buy the square cork coasters from the craft store and sheets of sequined vinyl (found, usually, in the felt area).
Step 2: Use spray adhesive to attach the square cork coasters to the bad side of the sparkly vinyl. 
Step 3: Once it's dried, cut around the square coaster. 
See…very easy!
To decorate my donut hole tower, I snipped off a piece of silver tinsel garland and hot glued it to the end of a toothpick. It easily fit right into my styrofoam cone.
There are all kinds of things you can use leftover Christmas tinsel for…especially New Years Eve decorations! Check out this tinsel garland lantern I did last year.
The backdrop was simply black paper that I tried my best to decorate. It still ended up a little crooked. If you want it perfectly straight, you can always have someone from Kinkos or another office supply store blow it up & print it off. Just create your own New Years greeting in your computers word processing software.
The runner I created from plain white wrapping paper and black paint. I was inspired by this art from West Elm.
It was so easy to create & took me about 5 minutes.
From this party inspiration, here are a few budget-friendly tips to help you ring in the New Year without ringing out your wallet.
1| Create your own runner using plain white wrapping paper or leftover festive Christmas paper. 
2| Spend about $20-$25 to create a fun donut tower, with toppings, instead of spending a lot of time & money on gourmet treats. 
3| Instead of worrying about what your guests will think if you serve the cheap champagne, spray paint the bottles and write messages on them so no one will be the wiser! 
4| Spread the New Year cheer all over your home & protect your furniture by DIYing your own sparkly coasters!
5| Reuse Christmas tinsel for decorations. 
6| Make your own drink stirrers using mini ornaments. 
Hope this was inspiring! I normally don't post on the weekend, but this weekend you're getting a bonus post & it's AWESOME! Kate, from Dress Your Guests, will be sharing the perfect outfits to wear to that NYE party.
p.s. This is YOUR official invite to the party… join in on the Parties for Pennies Facebook page, Twitter, Pinterest, Instagram & Bloglovin!