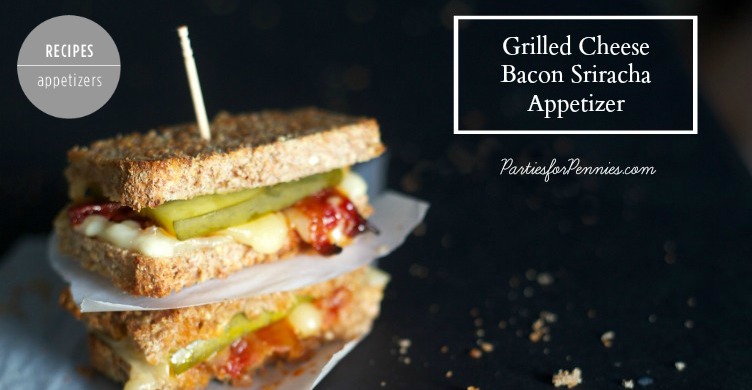 21 Jan

Super Bowl Party Appetizer

Hey party people!

Oh my gosh. You are going to LOVE this recipe. It is the perfect football watching food. If you're throwing a party, it's a great appetizer but it also makes a perfect entree.
It all started with this…
Trader Joes was sampling these suckers, and I knew I had to bring some home. They are pretty incredible. A little spicy, sweet, and salty. (I am not getting paid to endorse this product, btw)
My mom always made us grilled cheese sandwiches with bacon when I was a little girl. But this sweet sriracha bacon jerky just took it to a whole new level.
So, here's how you make a Grilled Cheese Sriracha Bacon Super Bowl party appetizer that is easy and inexpensive.
Ingredients:
Bread (I used Ezekiel Bread, but use whatever kind you prefer)
White American Cheese
Butter
Sandwich Dill Pickles
Trader Joe's Sriracha Bacon Jerky
First preheat your oven to 375 degrees.
1 | Cut the crusts off the bread. This is optional, but if you're serving them as appetizers they're prettier without the crusts.
2 | Melt 1 tablespoon of butter per sandwich and spread over one side of each slice.
3 | Place a piece of cheese on the unbuttered side of one of the slices of bread. You can add two slices of cheese to each sandwich or just one. I only did one because the slices were pretty thick.
4 | Layer with slices of the sriracha bacon jerky.
5 | Top the bacon with slices of pickle.
6 | Top with the remaining slice of bread.
7 | Stick in the oven (375 degrees) and set a timer for 5 minutes. After the timer goes off, flip the sandwich over and bake for another 5 minutes. You may need to extend the time, depending on how crispy you like your grilled cheese.
There are a couple ways you can serve this –
1 As an appetizer. Cut diagonally, into rectangles, or in 4 squares.
2 As an entree. Leave whole.
Either way, you can make them up earlier in the day and have them ready to pop in the oven.
You are welcome to try spreading mustard or other sauce on them. I tried mustard and felt like it competed too much with the sriracha bacon. The pickles added a great taste, though.
Hope you enjoy this Superbowl Party Appetizer…or anytime snack! Party on!