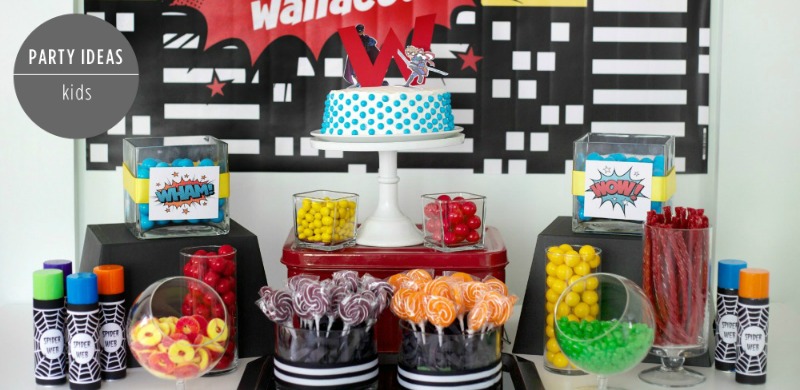 03 May

Super Hero Party

Hey party people!

A SUPER HERO PARTY is a fun party theme no matter what age or gender! Besides a kid's birthday party, this is perfect for a Halloween party or even an adult party!

I've planned all the details for you – from decorations, menu, activities, favors, and more! Check out all the ideas here, plus download printable invitations, backdrops, timeline, to-do list, shopping list, and more specific ideas with the Super Hero Party in a PDF!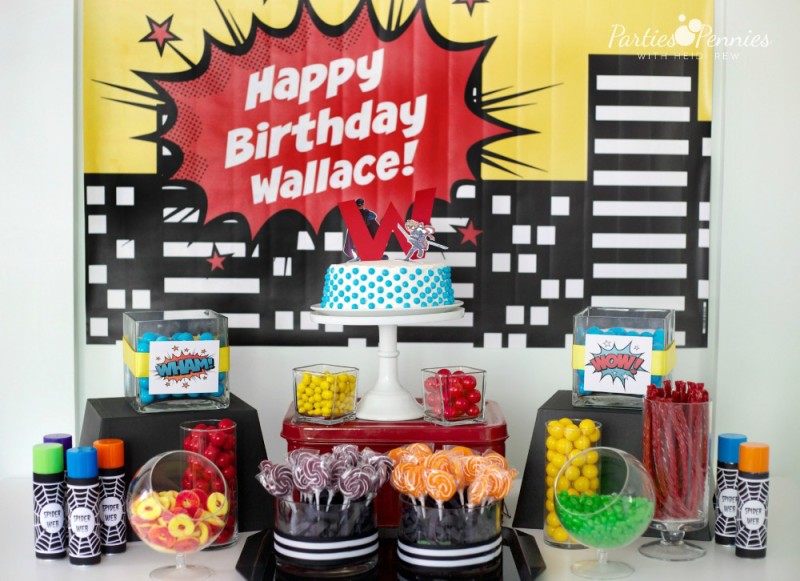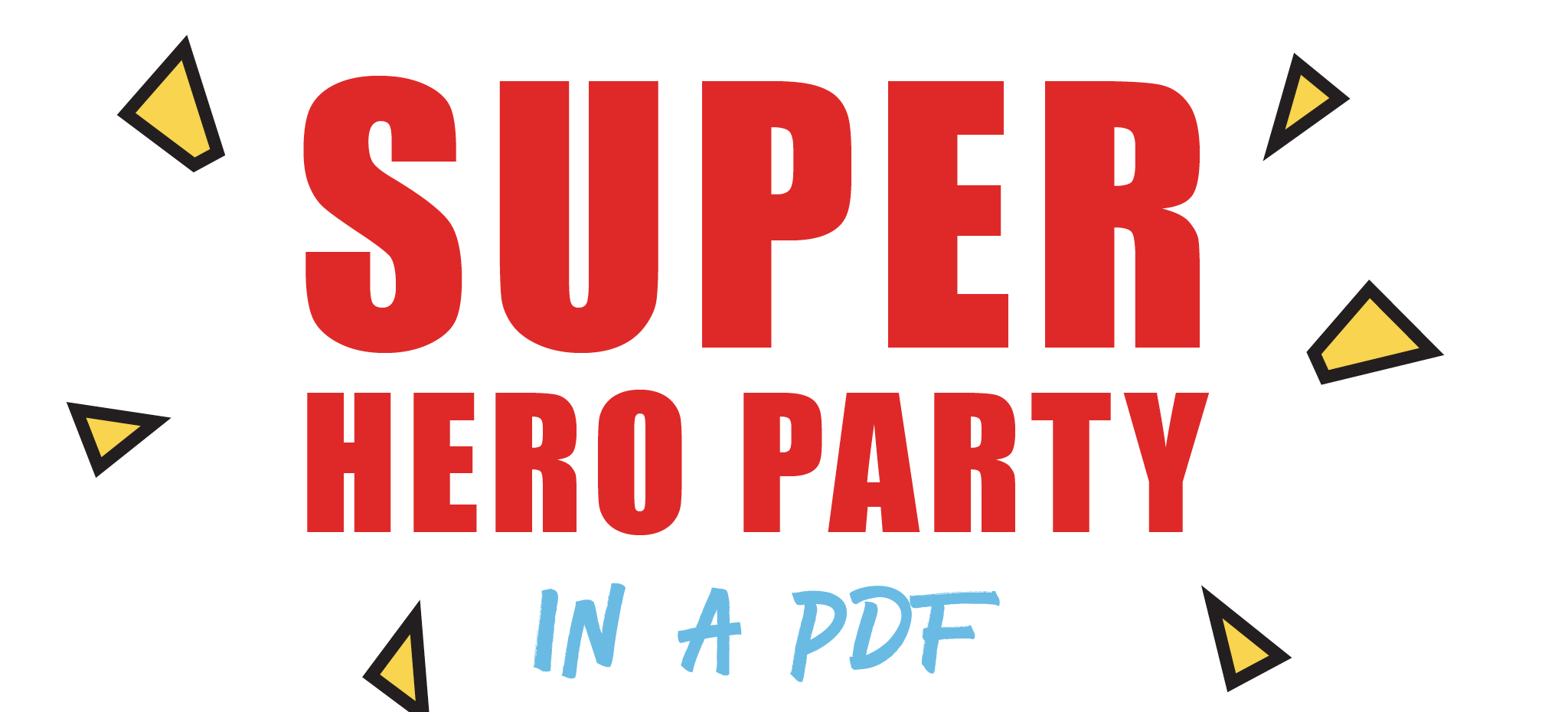 Check out this video tutorial I created to show you all the fun details & how-to!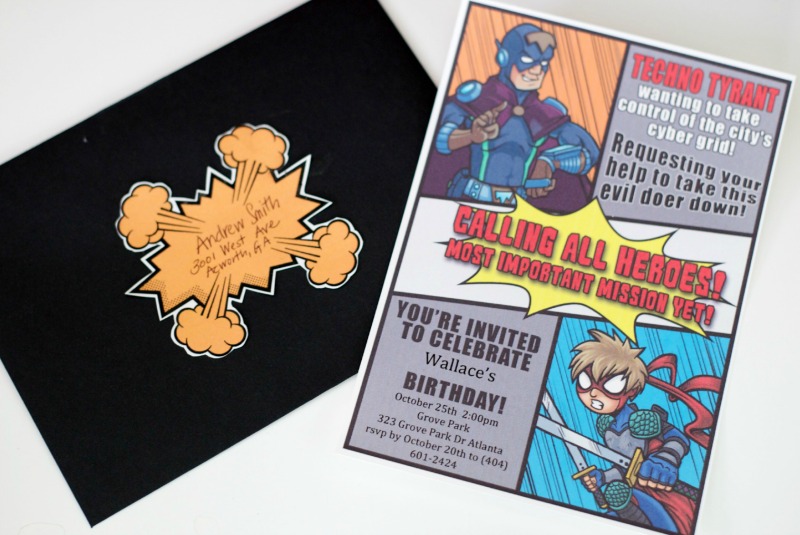 You may have a certain Super Hero request – Spiderman, Superman, Batman, etc for your party. All of these ideas can be interchanged with whatever Super Hero you planned, but I also put together a personalized Super Hero & Super Hero story JUST FOR YOU!
It starts with the editable, printable invitations. They're done in a comic book style, but with a BRAND NEW Super Hero – EDGE! The story of the party starts with Techno Tyrant, who is trying to take over your city's cyber grid. Techno Tyrant and Edge were designed by the EXTREMELY talented Jeannette Hall.
Personalize it by replacing the name and details, print, and send! I even have Super Hero address labels you can add to the front.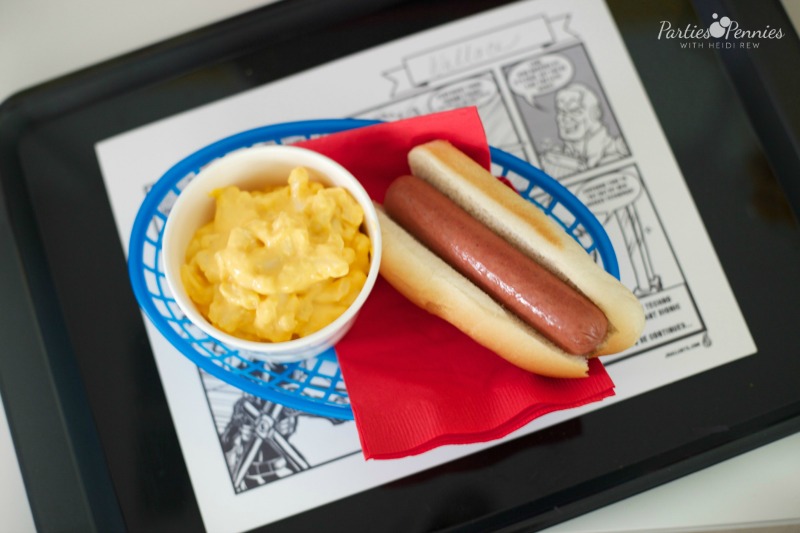 The menu is simple – hot dogs, mac n cheese or chips! Perfect Super Hero fuel. Serve in a fun basket like this or on a paper plate. Then the story of Edge & Techno Tyrant continues with this personalized comic place mat underneath. Add the guest's name to the top and let them color it.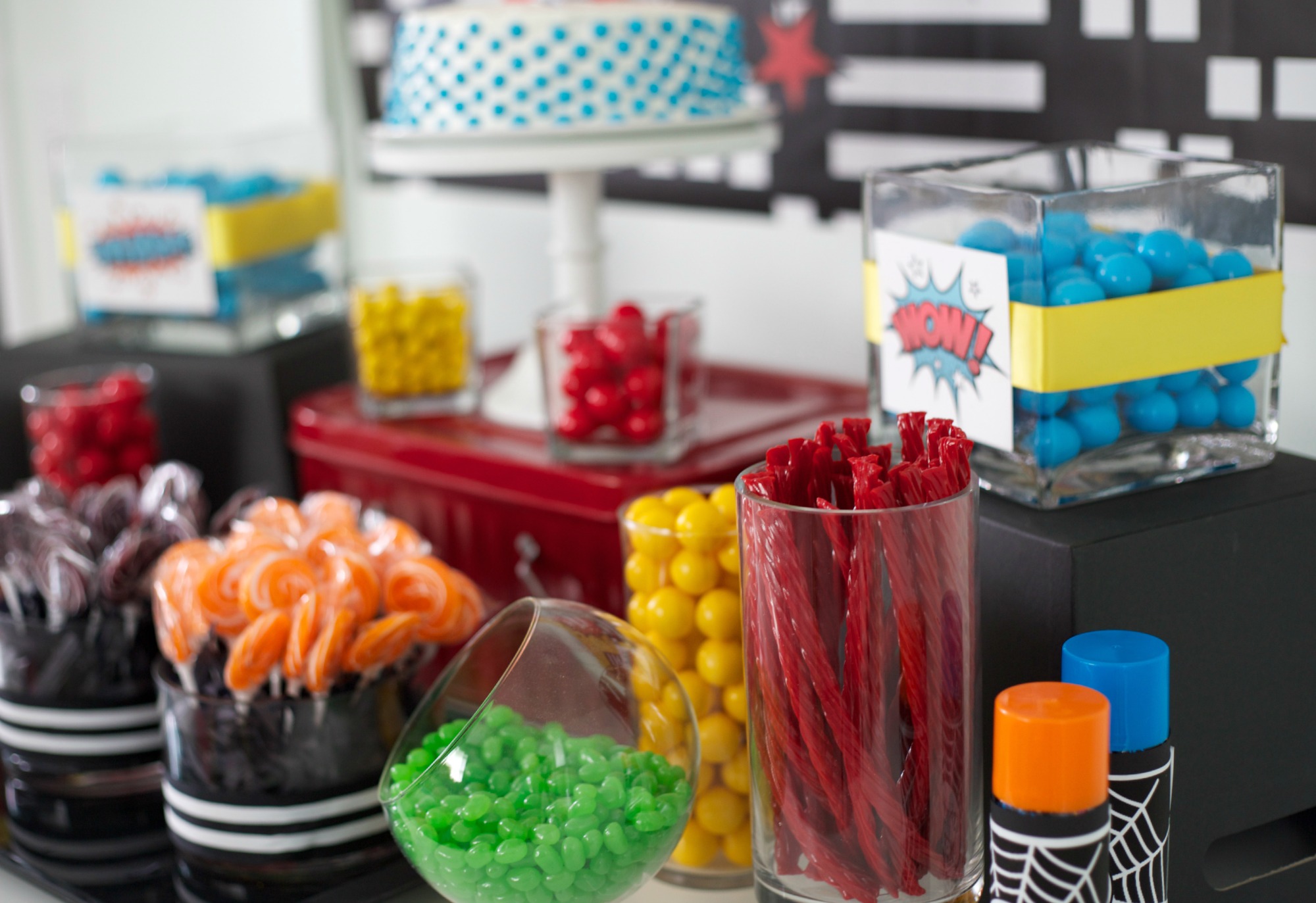 A fun colorful candy bar is the perfect addition to this Super Hero Party! Add Super Hero Power Phrases on vases and dishes to add to the decor. Find printable Super Hero phrases in the Super Hero Party in a PDF.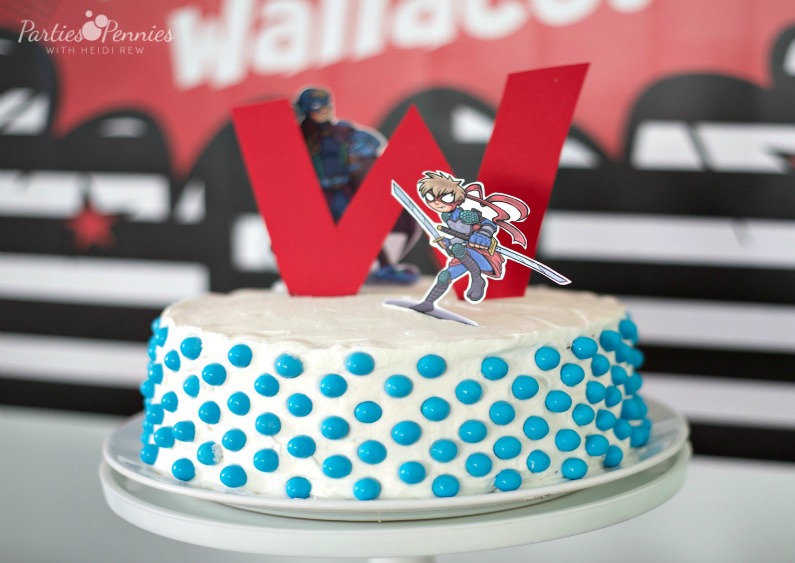 For the cake, save some money by buying a plain grocery bakery cake and adding blue sixlets along the edge for that Super Hero look. Top with a printable initial letter, Edge, and Techno Tyrant for the finishing touch.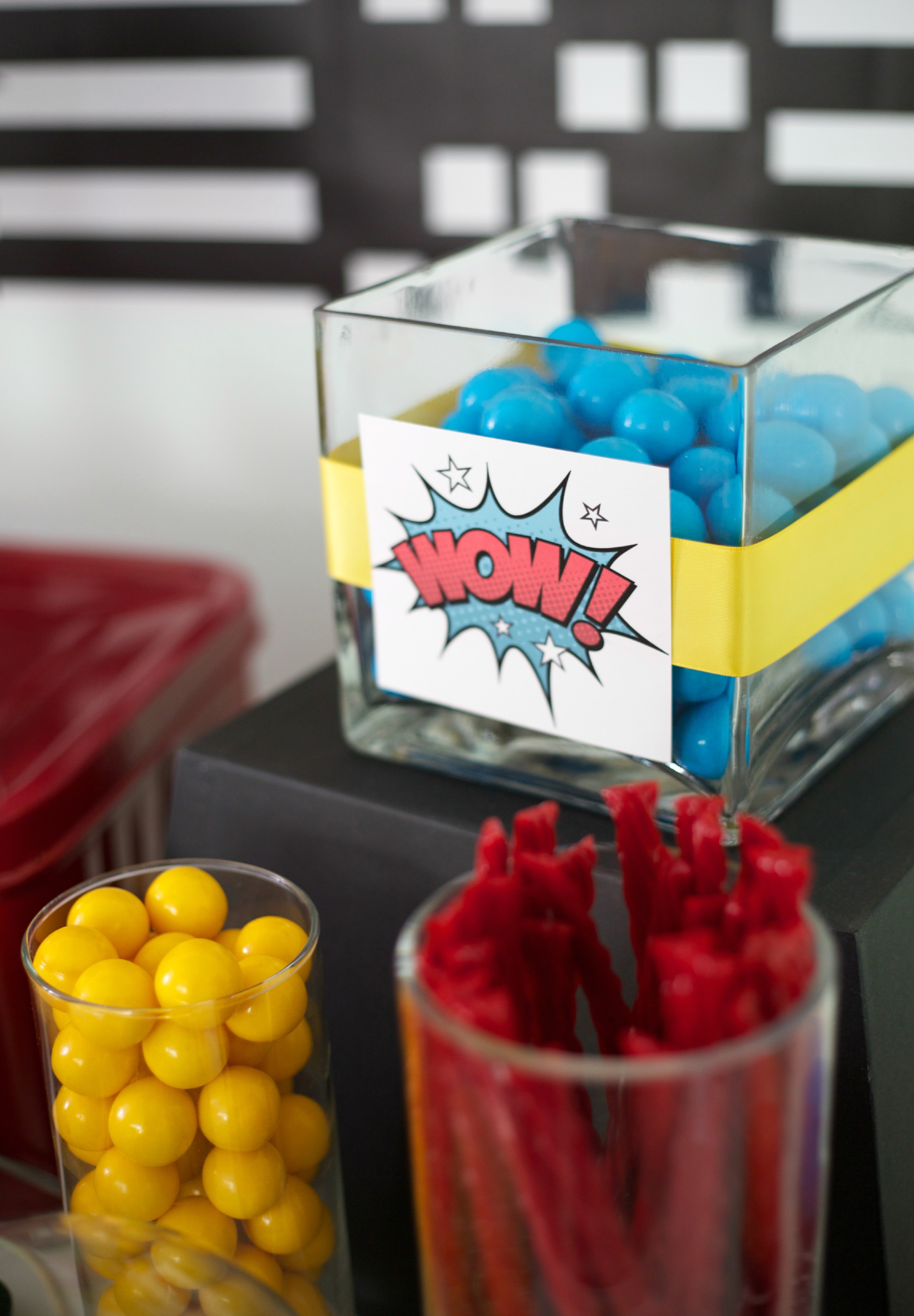 Looking for the best prices on bulk candy? Check out THIS Parties for Pennies post!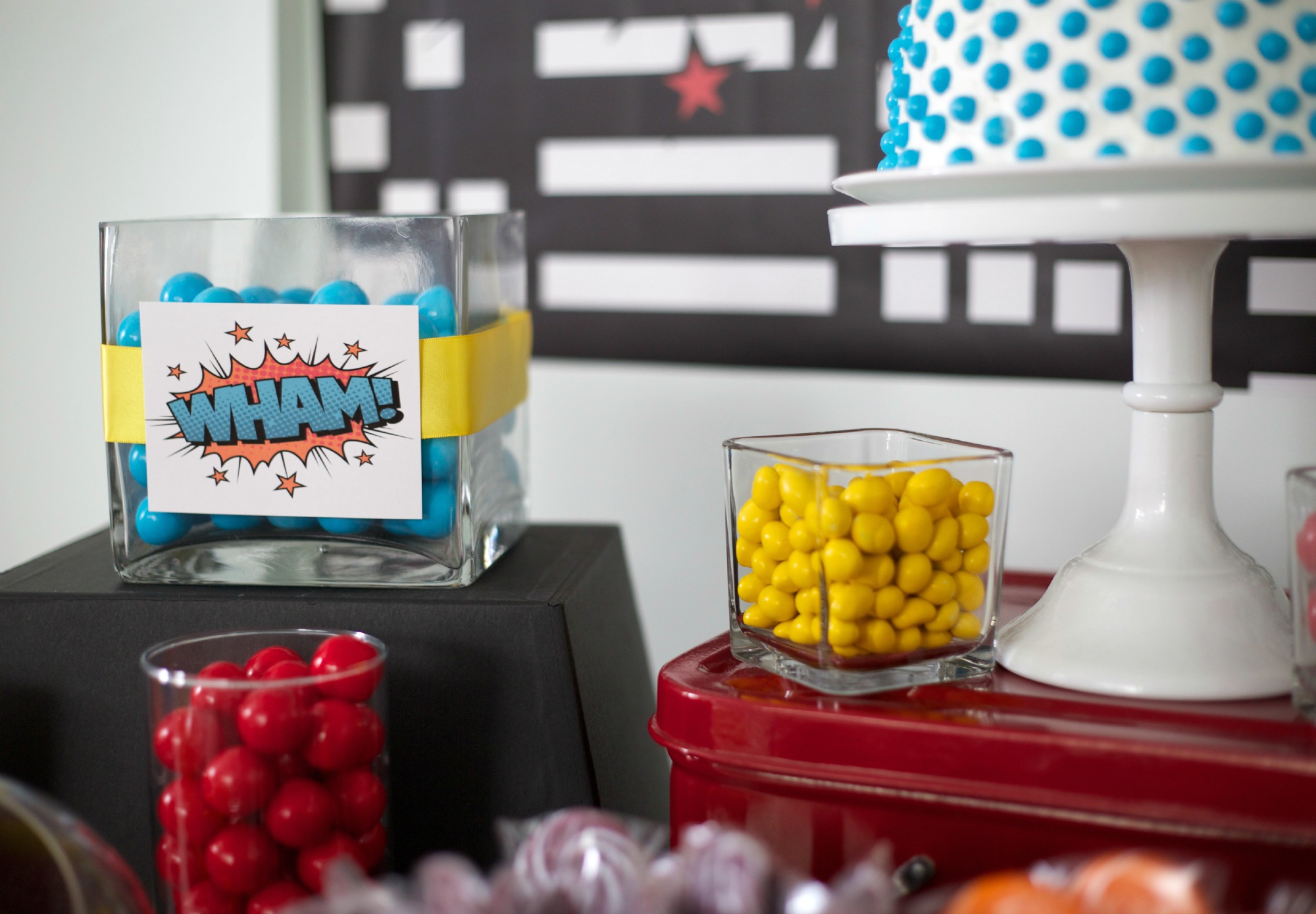 And the BIG WOW of the party is this PERSONALIZED backdrop! Personalize it and use the file to create this backdrop in minutes. Download the Super Hero Party in a PDF for instructions and the editable file.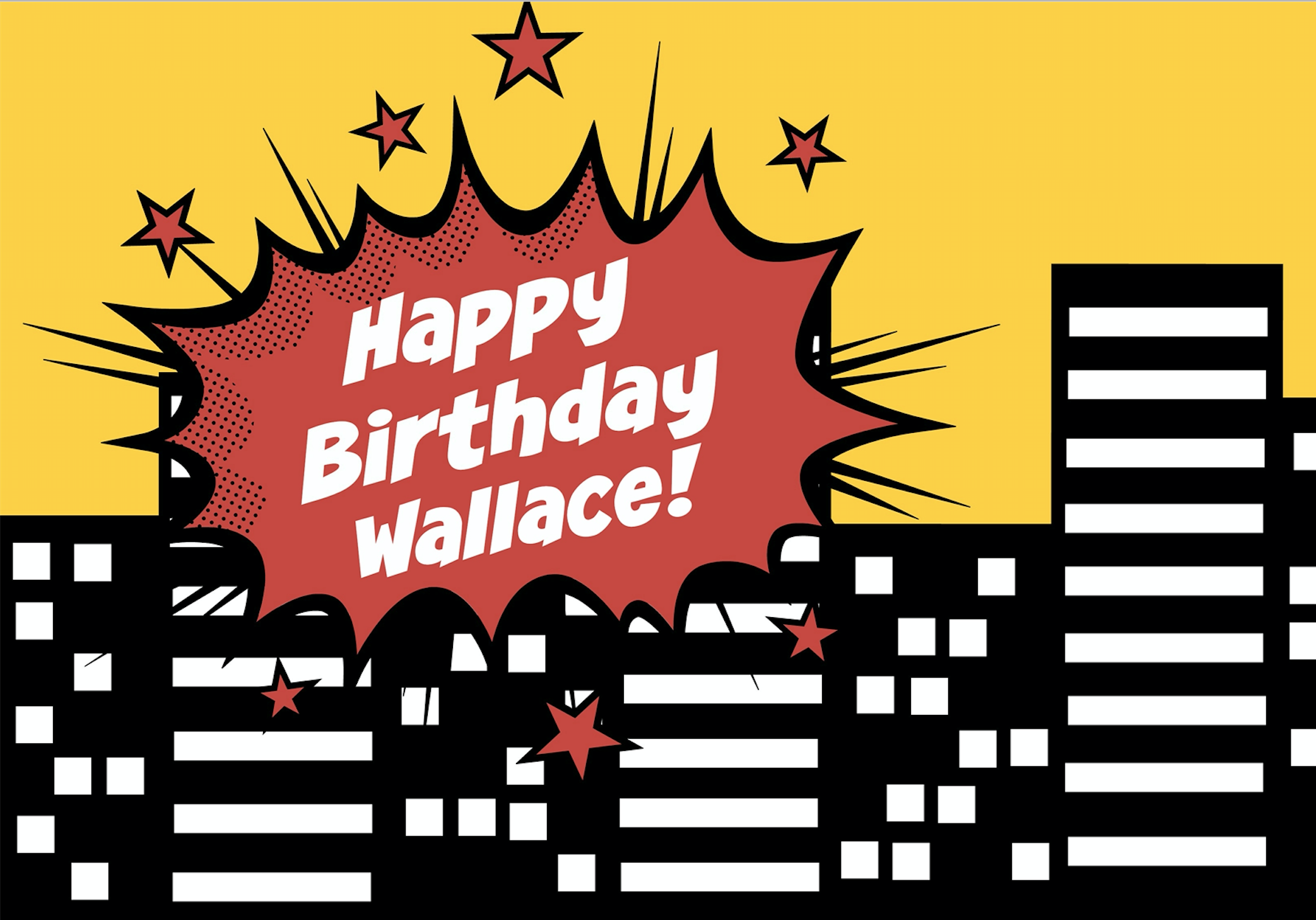 One of the MOST FUN & budget-friendly party favors for a Super Hero Party is SPIDER WEB (aka silly string)! Simply print out the Spider Web printable in the Super Hero Party in a PDF and use tape to wrap around a silly string can. The guests will have so much fun using their spidey powers!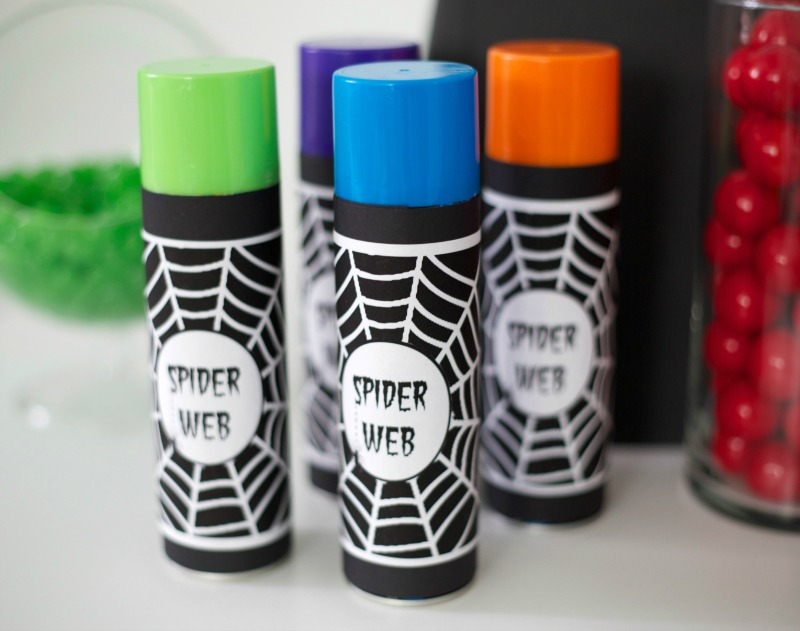 Another fun favor for a Super Hero party are personalized felt capes. Just buy the felt, cut out, add some ribbon at the top through cut slits, then add names or initials with felt letters on the back.
For more details including GAMES/ACTIVITIES (Super Hero Challenges), Fun Super Hero stories, shopping list, to-do list, all the printables, and more download the SUPER HERO PARTY in a PDF HERE!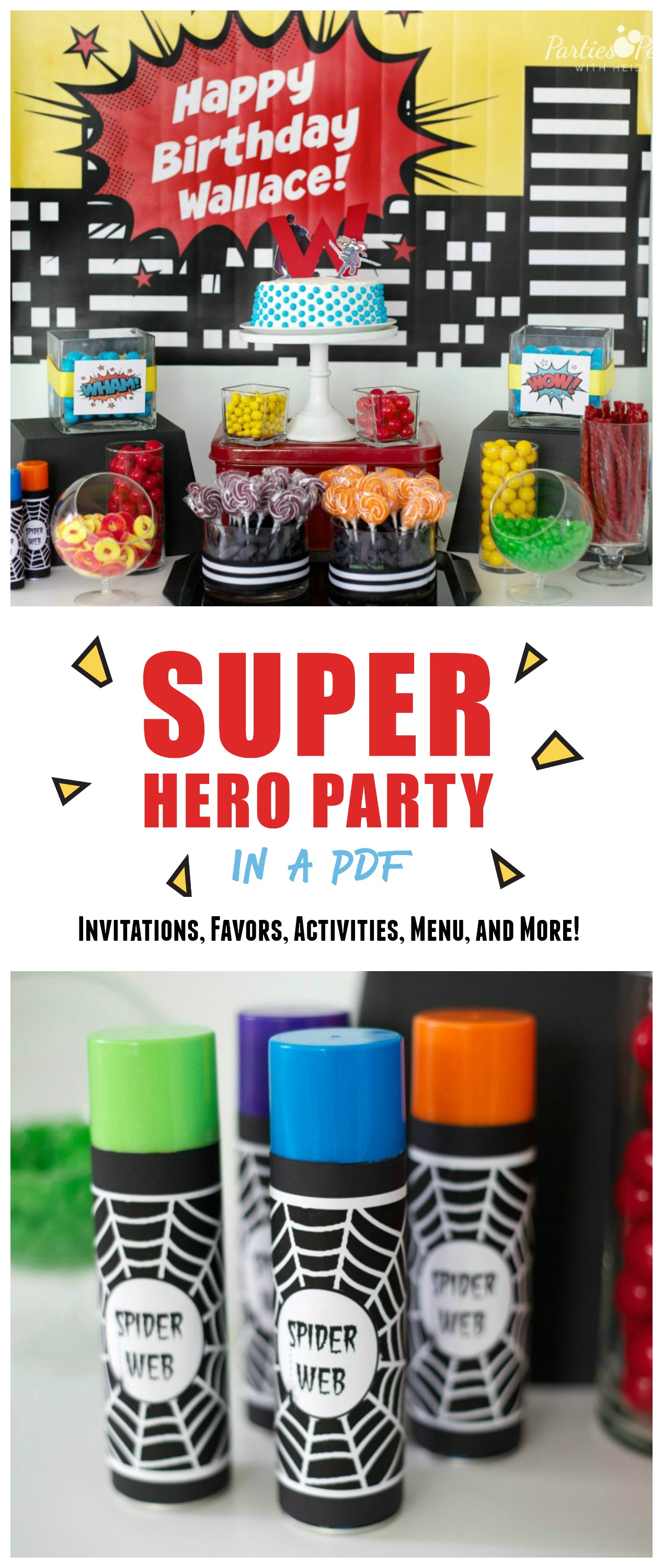 Even Super Heroes can Party On!
**Huge thanks to JEANETTE HALL, graphic designer extraordinaire, for making my vision come to life with Edge, Techno Tyrant, and all the fun graphic design elements! Thanks so much to MADISON & DUSTIN BEAULIEU of Mad & Dusty for pulling all of this together in the fun PDF and for the AWESOME Super Hero phrases (you ROCK Dustin)!**