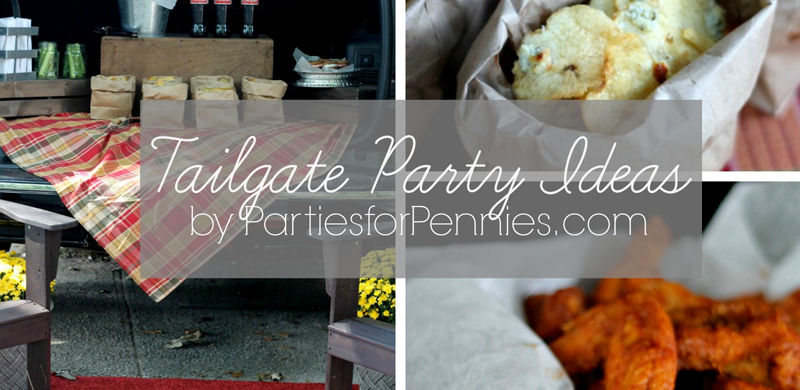 07 Oct

Tailgate Party Ideas

Hey party people!

Are you ready for some….FOOTBALL??? Don't like football? Okay…how bout…Are you ready for some…FOOD & FUN?

I am not much of a football watcher but if there's a party involved…I will be ALL IN! That's why I get so excited about Tailgate parties!
The best thing to do for a tailgate party is keep it simple. The last thing you want to do is lug a ton of decorations or high-maintenance food 20 miles to the game.
Here are several tips to keep your tailgate party simple and stress-free:
1| Get double use out of your boxes or cooler and use them to stage your food.
2| Make a simple pennant using chalkboard paper & change the wording when you feel like it! "Go Team" or "Rise Up" (For the Atlanta Falcons) or whatever other phrase to show your support!

3| Use a blanket to create a "tablecloth" and…if nothing spills, you could use it to keep warm during the late night games.
4| Store veggies or salads in clean, empty pasta jars.
5| Serving french fries or chips? Dish up individual servings in plain lunchbags. Just roll down the sides & they're ready to serve.
These chips are blue cheese chips & they're semi-homemade. Here is the recipe or the steps (not sure if this really counts as a recipe).
Semi-Homemade Blue Cheese Chips –
* Take real blue cheese & pulse just 3 times in a food processor (just to break up the big chunks).
* Lay plain potato chips on a non-stick cooking pan & spray with olive oil cooking spray.
* Sprinkle blue cheese crumbles on top of the potato chips.
* Bake for 5-7 minutes at 425 degrees.
6| For dessert, sandwich a little whipped vanilla icing in between two chocolate chip cookies & add sprinkles that coorespond with your team colors to the sides.
7| Keep the meal simple & easy to prepare with these wings! I've done a great crockpot recipe before by Caveman's Feast (my husband turned me onto these recipes…shocker, isn't it…with the name Caveman Feast ;p…he was probably tired of girly salads all the time). Here's the recipe for crockpot wings, if you'd like to try them.
Whatever team you cheer for, I hope this gives you some inspiration for your own tailgate party! Happy Football Season!
p.s. This is YOUR official invite to the party… join in on the Parties for Pennies Facebook page, Twitter, and Pinterest!
LINKING TO:
Party of Three Linky Party with Celebrations at Home, Bird's Party & The Celebration's Shoppe