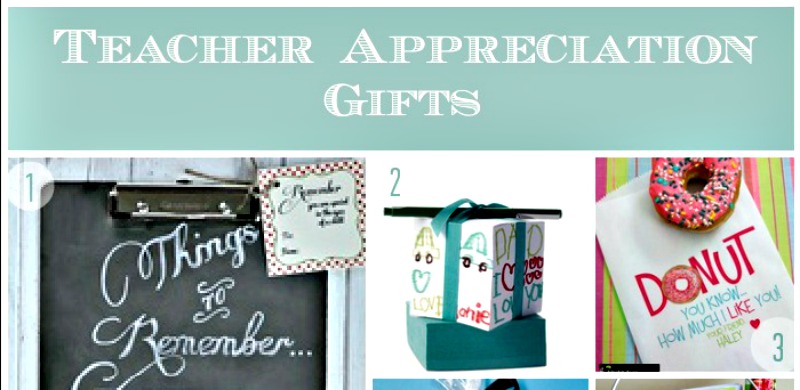 07 Mar

Teacher Appreciation Gift Ideas

Hey party people!

Thank you again for being so patient this week with all these blog issues! My saving grace has been the guys at Sideways8. They're the ones that take care of this blog and my heidirew.com site. Thanks again to the rock stars you have been this week!

Now let's get back on board this party train!

I am a little backlogged with posts but that worked out well because one our fellow P4P party guests, Michelle, posted this on facebook:
Hey there, Heidi! I have a question for your creative mind. Next week is Teacher Appreciation Week and I wonder if you have any "Penny Ideas" for us moms on a budget who would love to tell those who love and teach our children that we appreciate them.
I did some market research to make sure I was giving you good suggestions. My parents are both teachers. My dad is an elementary school PE teacher (the BEST) and my mom is a first grade teacher.
Here are some teacher appreciation gift ideas I found. All of which are easy on your budget, creative and practical.
Here's where you can find these fun ideas (and please "pin" from the original source):
(1) Chalkboard Clipboard by Simplicity in the South – Isn't that so charming?
(2) Kid's Doodles Notepad by Martha Stewart – This was posted as a Father's Day idea but it would work great for teachers as well and it allows your child to be involved.
(3) Donut You Know How Much I Like You? from Etsy – Aren't these bags precious? Buy several of them to reuse for the different teachers each year. Surprise the teacher with a fun breakfast treat on a crazy week!
(4) Highlighter Treat Bag – This link came up empty. 🙁 This is such a simple gift but so useful. My mom especially said she NEEDS dry erase markers. She said all the teachers around her say they're always running out. Grab a bunch of highlighters/dry erase markers, put them in a cute bag and you're done.
(5) Bucket O' Fun Things by Just A Girl – She's actually a teacher too! This was on a Holiday Gift post but it would be an adorable teacher gift. Grab a fun bucket (you can usually find these in the dollar spot bins at Target), throw in some stationary, pens and a gift card.
(6) DIY Apothecary Jars by Parties for Pennies – Use regular jars (pasta, jelly, whatever) and fill with fun candies, pens/pencils, dry erase markers or a gift card and you've got an inexpensive gift.
(7) Thanks A Latte Card by Eighteen25 – Using a coffee sleeve as a pocket for your gift card, create your own fun card.
(8) Colored Pencil Vase by HappyClippings – Practical, simple and pretty to look at…this vase will certainly wow!
(9) Personalized DIY Post-It Notepads by PartiesforPennies – Scroll down on the linked post to find out how to create your personalized post-it notepads from scrapbook paper.
(10) Hand-Picked Berry Gift by Dixie Delights – I love this idea! Simply buy a box of strawberries and include a note that says, "I couldn't have picked a better teacher." It'd also be fun to add a fun strawberry smoothie recipe on the back. I know teachers get a lot of sugary gifts. This would be a sweet & healthy gift.
In addition to all these gifts, my mom said dry erase markers are a hot commodity and gift cards. You could give a gift card to a store like Target or even a restaurant around the area. It doesn't have to be a swanky restaurant. It can be their favorite fast food stop or even a grocery store.
Another idea, I ran this by my mom too, was custom-designed notecards. Notecards designed by your child. Get a pack of 10 blank white notecards from the craft store and have your child draw on the front.
If you need some more inspiration, check out the Parties for Pennies pinterest page! And…your teacher appreciation week may not be next week, so don't panic. The national Teacher Appreciation Week is May 6-10. 🙂
Tomorrow, I'll have a DIY favor idea and recipe for you. It involves chocolate!
Until then…Party On! (As long as our server isn't a party pooper)
p.s. This is YOUR official invite to the party… on the PartiesforPennies facebook page! Click here.